For most homeowners, the basement is nothing more than a depository for junk or essential equipment such as the furnace or water heater. But, it may be time to have a basement remodel and turn that space into whatever you like, be it a guest room, a children's playroom, a craft room, a home office, or a recreation room. Only your imagination limits the possibilities.
Basement Remodel Tips
Whether you what to slightly renovate your basement or want a complete basement makeover, it's necessary to plan effectively to ensure the space turns to exactly what you want or need it to be. Here are some tips for your successful basement renovation!
1. Know What You Want First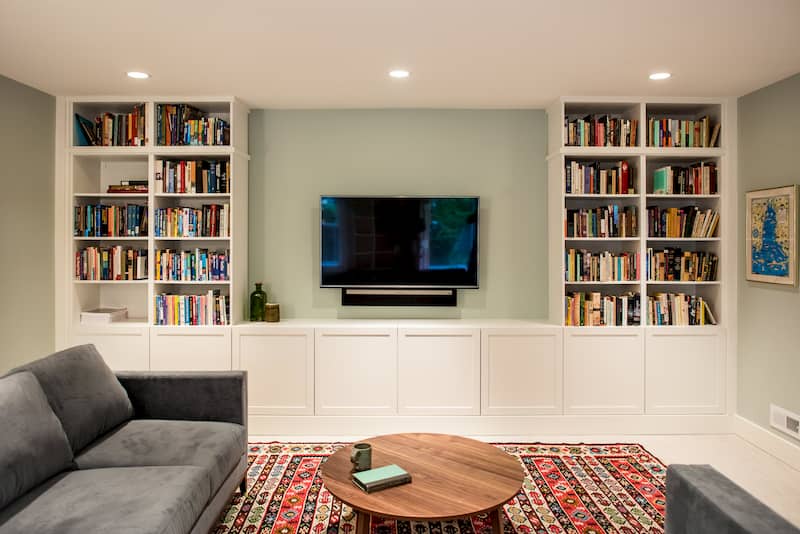 Image Source: crddesignbuild.com
Good planning is vital to any successful renovation, and basements are no exception. Since most basements tend to be cold, dark, and insulae, they can not be used for every use. Therefore, you need to think about what you want to use the basement for first before you begin to renovate.
Consider using the basement space for activities that dont need much light. For instance, home theaters depend on low-light levels and dampened acoustics for better performance. Also, the basement isolation helps create a sound break for a play area, a teenager's spot, or a place you can practice a musical instrument.
Nevertheless, you can also decide to add enough windows or artificial lighting if you need to use the space for activities that need more light.
Remember, even though you are working on this project today, it's important to consider how you might use space 5, 10, and even 15 years from now. For example, what you might design as a playroom today might become a movie room in 5 years or your teenage son's bedroom in 10 years. Ensure that the design you pick can easily be transformed as your needs change over the years.
2. Check for Moisture
Before renovating your basement, you must manage this space's moisture successfully. You don't want to build drywall or install beautiful flooring only to find that you have cracks in the foundation wall or water seeping throughout your newly renovated basement.
Image Source: bobvila.com
With moisture issues under control, you can create practically anything in your basement. You must thoroughly examine your basement to determine what moisture issues you are dealing with. If you have minor moisture issues, you can simply treat them with the best water lock paint. With major moisture problems, you can use the best dehumidifiers and air conditioners; if they dont help, you can contact companies that will help deal with the moisture
3. Think About Your Lighting
Even though there are basement renovation projects that will do well in dark places, it's paramount to think about your lighting. Most basements usually have minimal light, and with height restrictions, it's difficult to install any kind of lighting you desire.
Image Source: homeremodelingkc.com
Therefore, we recommend recessed or can lights if you have a low ceiling. Nevertheless, if your ceiling height is abit higher, let's say a minimum of 8′ with drywall, you can consider installing decorative lights such as hanging lights or ceiling flush mount lights.
If you need more lighting for your space, you can consider some other interesting architectural lighting, such as some lighting between the risers and the treads on your stairs or under your stairway railing.
As you plan for the lighting, you must plan for more lighting than you think you need. After all, it does not mean you will have to use all the lights; you can just switch on the ones you need at a particular time.
4. Prioritize Wall System Planning
When renovating your basement space, you will need to prioritize wall system planning. With proper walls, your space will not only be aesthetically pleasing, but it will be easier to run electrical wires while still providing space to install receptacles. Plus, the walls will also help enhance temperature control.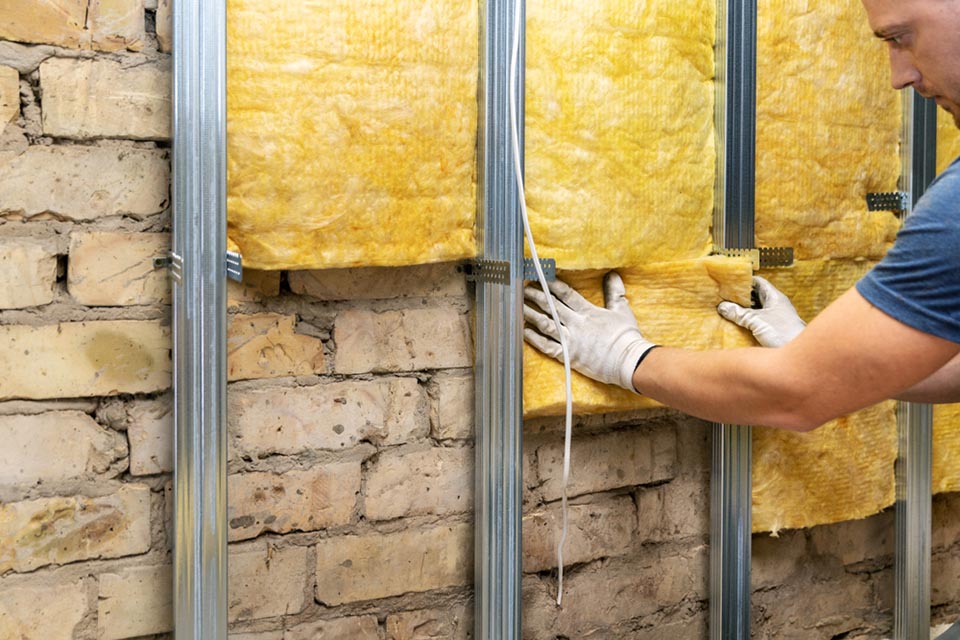 Image Source: saveonenergy.ca
When choosing the walls to install in your basement, we recommend you go for steel studs since they are long-lasting and do not rot in case of any moisture problems. Another great solution for the walls is using rigid foam boards. These boards are ideal for the basement environment because they are water-resistant and durable.
5. Develop an Electrical Plan
Your finished basement will require a good electrical plan, and at the end of your project, you must provide a certain number of electrical outlets to comply with the electrical code. For instance, if you are adding a basement bathroom, it needs the full complement of the electrical work. Of course, you can always contact a licensed electrical contractor to help if you are conversant with electrical installation.
6. Plan Heating and Cooling in Advance
You will also need to plan well for heating and cooling before you start your basement renovation. In most homes, heating and cooling work perfectly on their own, meaning the basement stays cool during the summer and warm during winter.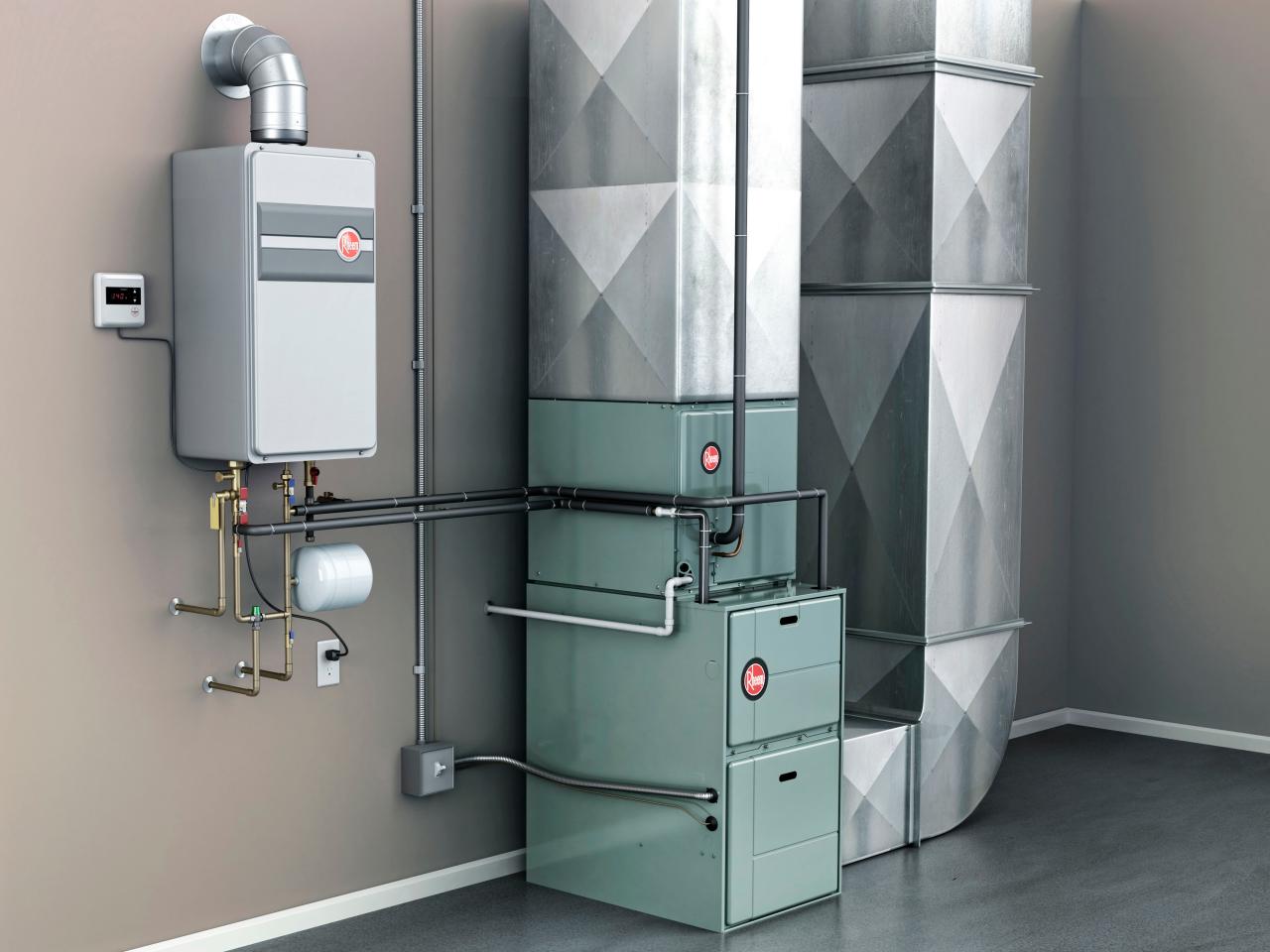 Image Source: hgtvhome.com
Nevertheless, some homes will need you to add supplemental heating and cooling systems. We recommend using electrical baseboard heaters for the heating system and upgrading your existing HVAC system or using an evaporator air cooler for the cooling system.
7. Incorporate Exit Requirements
Image Source: PellaBranch.com
Besides the main doorway, other egress or exit points must be incorporated. The egress window or doors are especially important if you consider your basement remodel to include a bedroom. It's necessary to note that most local building codes have exit requirements for finished basements. So you will need to create exits to fulfill these requirements.
8. Consider Your Flooring Options
Since there is a possibility that water may damage your basement in case there is flooding or a leak in the water system, it is paramount to have a good flooring solution. The luxury vinyl plank is the best flooring option that is 100% waterproof and extremely durable.
These materials come in various colors and styles, and you can pick one that suits your design. They are also flexible, allowing them to mold to the contour of thr concrete floor of your basement.
Image Source: HarmonyBasements.com
If you dont prefer the luxury vinyl plank, you can always opt for carpets, especially if you use your space as a living room or bedroom. Carpets are plush and cozy, which helps make your space a little warmer.
However, you need to ensure that you dont install your carpets near the hot water tanks or next to your laundry area. This way, you will prevent damage to the carpets if these areas leak.
Basement Remodel Ideas and Inspirations
Image Source: acculevel.com
1. Renovate your Basement into a Theater Room
A large unfurnished basement has endless possibilities and can be transformed into almost anything to complement your home. You can embrace the absence of natural light in your basement and create a stunning home theater.
Image Source: pintrest.com
To achieve a perfect theater room, we recommend creating sound protection for this space, so when you are enjoying your movie, the rest of the house can be business as usual. Using QuietRock drywall, foam, or fiberglass insulation in the ceiling cavity or stud bays can help.
Also, we would recommend investing in leather theater chairs and recessed fixtures with soft lighting to help set the room in the mood. You will also need to choose paint colors or tonal schemes to help create a functional theater room. Dark shades, such as brown, gray, and black, will help cut down or eliminate the reflection of light, giving you a clearer screen while watching your movies.
2. Colorful Basement Playroom
You can also remodel your basement into a playroom. We recommend incorporating lots of color, texture, and patterns to achieve a perfect playroom, especially if the room is primarily meant for your kids.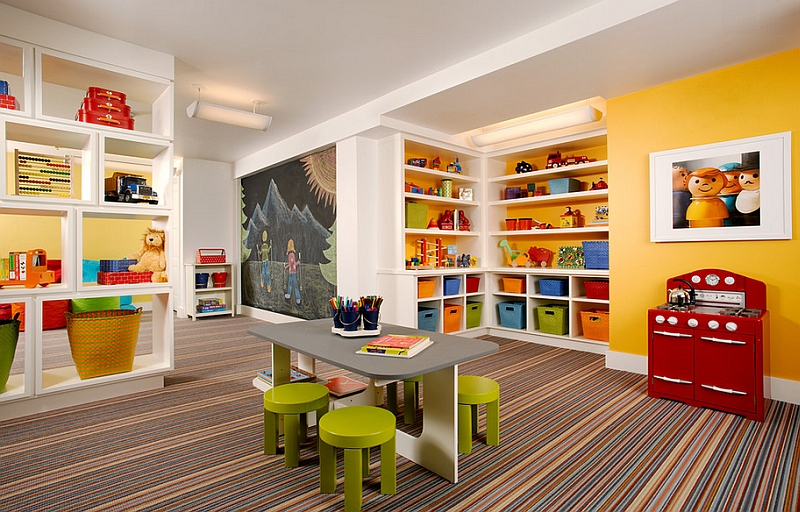 Image Source: decoist.com
To estimate your kid's brain and promote creativity, we recommend thay you paint the basement walls with bright colors like blue, orange, or blue. Also, you can include colorful rugs, furniture, paintings, and artwork. Designing unique flooring designs with rug-designed games like hopscotch, tic-tac-toe, or racetracks is another way to add to the fun learning zone.
Consider installing a chalkboard paint or a blackboard at the child level so your kids can create works of art using colorful chalk. Additionally, if you have a spacious basement, you can add built-in shelves with pullout receptacles for organizing small pieces.
3. Kitchenette in the Basement
You can also transform your kitchen into a kitchen. A basement kitchen can delight with its functionality and looks. However, you will need a thoughtful design to achieve your kitchen layout without compromise.
Image Source: nextluxury.com
The best way to create a compact kitchen in your basement is to use a one-wall layout along an entire wall, depending on the required features. For example, your basement kitchen could accommodate cabinets at floor level and on the wall, along with counters, a refrigerator, or a wine fridge. Additionally, you can add items such as a microwave, combo oven, or even a stove, sink, and dishwasher. 
Remember that you will need adequate ventilation if you plan to include cooking facilities in your basement. Also, you will need adequate lighting, so if your basement space doesn't have the natural light of any kind, consider installing recessed lighting into the ceiling.
4. Basement Craft Room
If you have a small space or an old-shaped room in your basement, you can also consider transforming it into a craft room. We recommend creating a functional work surface and plenty of organized storage options.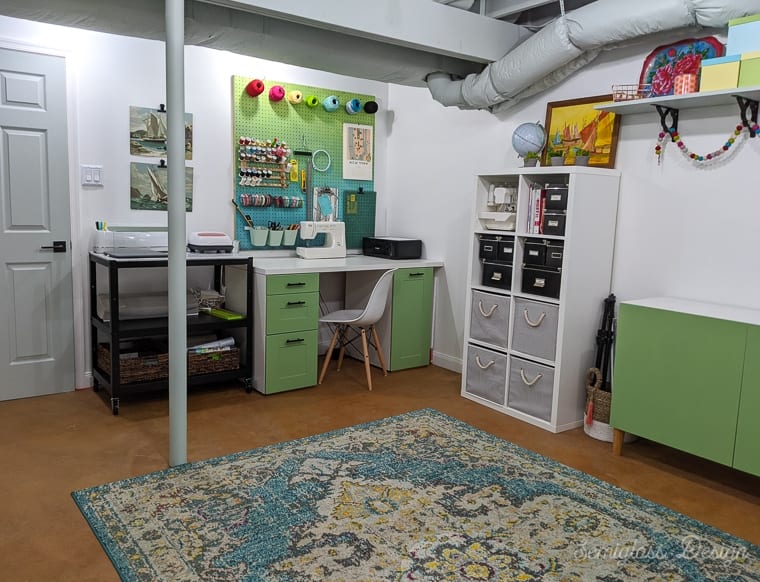 Image Source: extraspace.com
To achieve this, you will make good use of your basement walls by building large peg boards and shelving. You can also add movable table panels to create the needed work environment for your projects.
We also suggest adding adjustable pendant lights above the tables to allow for light control. You can also fill your space with inspiring art that helps you get your creative juices flowing. Ideally, you can also leave one side of the wall empty so thay you can display your craftwork there for inspiration and motivation for future projects.
5. Basement Laundry Room
When designing a laundry room, it's essential to balance the functional and aesthetic elements. From the proper positioning of your washing machine to the tiles you select, ensure you make your basement laundry room a place you'll want to be in. Especially if you have stacks of dirty laundry to wash, dry, and fold daily or weekly.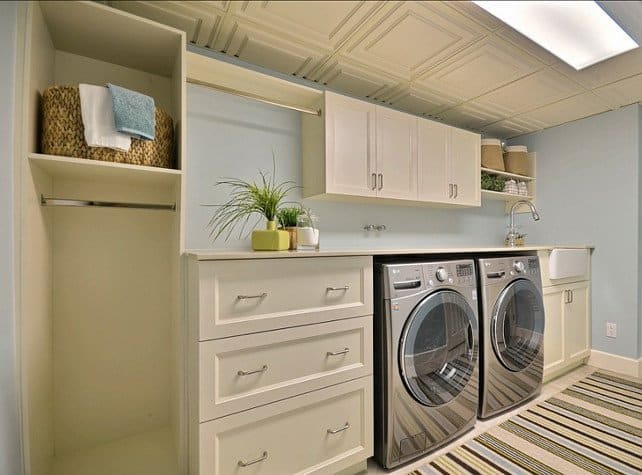 Image Source: donpedrobrooklyn.com
If your basement has a low ceiling and a limited amount of natural sunlight, we suggest you consider a light palette of warming neutrals. Again, if your basement is windowless, you can use clever lighting solutions by dotting light sources around your laundry area. Along with overhead lighting, you can add LED strips, spotlights, or mirrors to help bounce light, making your space appear bigger. 
6. Dry or Wet Basement Bar Perfect for Entertaining
Image Source: mplsbasementremodeling.com
You can also convert your basement into a bar that meets all your entertainment needs. For a dry or wet bar, it's all about the decor. We suggest going for low lighting, neon signs, a marble countertop, plenty of lovely glassware, stylish bar stools, and storage shelves for your favorite tipples. You can also add a small refrigerator or wine fridge and skillfully-placed television.
7. Gorgeous Wine Cellar and Tasting Area
Image Source: BobVila.com
If you do not have sufficient space for a full-sized bar, why not just add a small wine cellar in your basement? We suggest that you create a floor-to-wall ceiling wine rack with a middle illuminated bottle display. Then you can have elegant light fixtures to provide decorative lighting and shadow patterns over your ceiling. You can also have a wine barrel that acts as a fitting tasting table.
8. Turn a Basement Space into a Bedroom
Do you need an extra bedroom for your kids or guest? Then, converting your basement into the best way to create more space. The first step towards converting your basement into a bedroom is to upgrade the insulation. Not only will proper insulation keep the heat inside during cooler months, but it will also decrease the noise in your basement bedroom.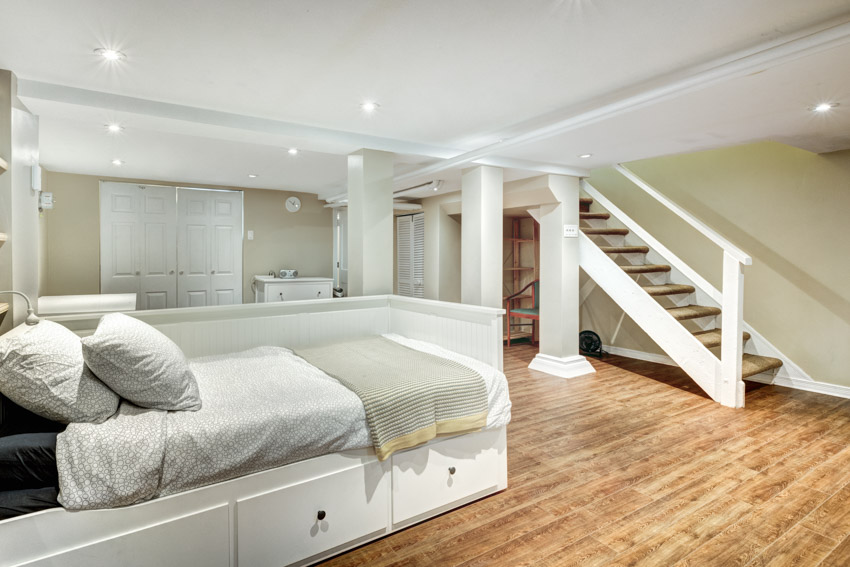 Image Source: designingidea.com
We also recommend choosing a color scheme that matches the rest of your room to create a sense of cohesiveness in your entire space. And because most of the basements do not have windows, we advise that you consider installing lighting fixtures to ensure that your basement bedroom is well-illuminated. Also, remember, when designing a basement bedroom, you will need plenty of ventilation to aid healthy sleep. 
9. Make a Small Apartment
Converting your basement into an apartment is another great way to utilize your basement space. To create a completely liveable basement space, we recommend you ensure you have all the useful amenities.
Image Source: hgtvhome.sndimg.com
Other than the basic essentials like a bathroom, bedroom, kitchen, and living room, you can add a lounge area and a laundry area. To get the best out of this space, you must create a defined living space and functional layout, enable heating and cooling with an independent system, and install the needed electrical and plumbing system.
10. Modern Home Gym with Ample Amenities
You can also create a modern home gym in your basement to help you meet your fitness goals. We recommend installing recessed lights to ensure that your gym space is well-lit. Yopu can also install a large mirror to help reflect the lights and create a fallacy of a bigger space.
Image Source: pintrest.com
It is also necessary that you choose the best color scheme for this room so that you can lift your mood and make the room inviting. For example, if you intend to have high energy, high impact, or heavy workouts, you can use warm colors like red, orange, or yellows. For other more relaxing, calm, and soothing workouts, like yoga, go for cool colors, like blues, teal, and purples.
You can equip your basement gym with an elliptical, stationary bike, weight-lifting machine, or any other equipment that you might need for your gym. We suggest you have a storage area where you can store your essentials, maybe on one side of the wall.
11. Basement Guest Space
You can also convert your basement into a guest space. Ideally, you want to make the space feel house-ish but not too literal. To achieve this kind of space, we suggest you go for a bright color or a whimsical wallpaper to help keep the room from becoming overly serious or too nautical.
Image Source: Pintrest.com
Adding furniture to the room, such as beds, table lamps, and end tables, will make your space more functional. Remember, if you have enough lighting in your basement, you will need to install a modern chandelier, and recessed lights keep the space from feeling too dark.
How Much Does a Basement Remodel Cost?
The total cost of a basement remodel can vary depending on the task you are working on, the current condition of your basement, and your location. The national average for remodeling a basement ranges from $12,232 to $33,173, yet it can be as small as $4,00 and as much as $50,000.
Below are the key factors affecting the cost of basement remodeling.
1. Basement Condition and Size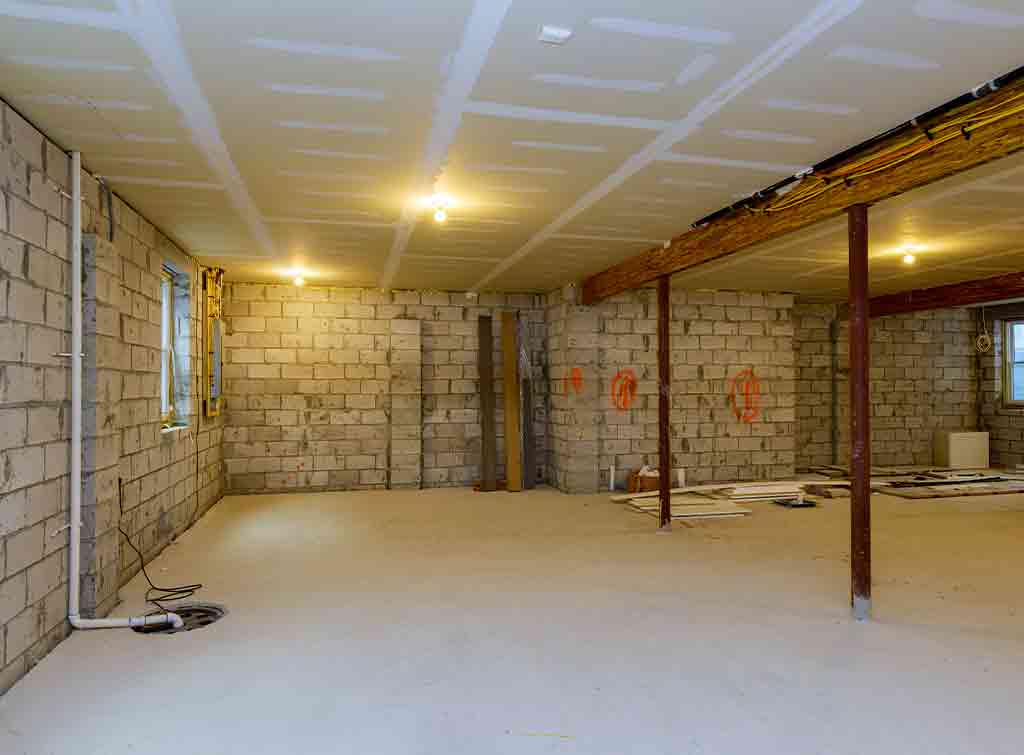 Image Source: Checkatrade.com
Partial basement remodels of a 700 square feet room can cost between $9,000 to $52,500, while a full remodel of a basement with up 4,000 square feet can cost up $300,000 on the high side. In addition, if the basement has leaks or moisture issues, it will cost more to remodel since basement waterproofing can cost as much as $6,000.
2. Labor
You will need to factor in additional labor costs when remodeling a basement. For example, if you need to hire a designer, you wil need to add between $2,000 to $13,000 to the basement remodel cost. In addition, if you want to hire a licensed plumber or electrician, you will need to add between $400 to $2500.
3. Permits
Image Source: BobVila.com
The local building authority may require a permit if your remodeling projects include adding walls or installing plumbing or wiring. Permit and inspection fees will vary depending on your location and may be a ratio of the project's estimated cost. Normally, permit fees to range from $100 to $2,000.
4. Cleanup and Repair
Image Source: waterproof.com
If the basement has water damage or mold, cleanup can cost between $1,200 to $5,100 to the overall cost of the basement remodel. If professional mold remodeling is necessary and wallboard and flooring have to be replaced, the price could start around $10,000 and go up from there. On the flip side, a simple flooring replacement and a new coat of paint could cost less than $3,000.
How You Can Save Money on a Basement Remodel
While basement remodels will increase the value of your home, the basement renovation cost can be high. The good bit is that homeowners may still save some money. Here are tips you can use to save up some money without compromising the overall quality of your renovation:
Image Source: angi.com
Conduct thorough research before trying out any ideas on your unused basement space. You can browse through different home designs and visit trade shows or open houses to get some inspiration. This way, you can create and select a budget-friendly design that suits your desires.
Complete your set goal. If you start working on a certain basement remodeling project, you must see it through to the final look. This is because if you make changes once the [project has begun, you may spend more than you planned.
Get Multiple Bids From Contractors. If you start working on an unfinished basement, you likely can't do everything by yourself, and you will need to bring in contractors for big duties like plumbing and electrical work. When hiring contractors, ensure that you get a minimum of three bids. Compare their prices and go for the one that offers reasonable rates.
Save on Walls. One of the most expensive aspects of remodeling a basement is installing drywall. However, you can choose an open-space layout to avoid spending much money. Also, you can look for other cheaper ways to divide the space. For example, you can hang curtains or hang wall dividers on a track.
Opt for cheaper flooring, such as Ceramic tile, which can stand up to moisture and is reasonably priced.
Featured Image Source: tollbrothers.com