When it comes to bathroom spaces, storage space comes as a second thought. Since bathrooms are notorious for lacking decent storage space, you might find yourself having to DIY a few bathroom shelves to make room. Adding storage shelves will also keep your bathroom orderly while accommodating your needs. Not to mention, shelves are a practical idea. Here are the best bathroom shelf ideas for a neat and organized space.
15 Bathroom Shelf Ideas
1) Simple Floating Shelves
Floating shelves are a great idea if you're pressed for space and have a small bathroom. They also mix the functional aspect with aesthetics, which is why the idea is popular. Floating shelves are also adjustable, so you can always move them should your needs change. Remember, this type of shelf idea also means you can customize the size to fit within your space.
Image Source: porcelanosa.com
A series of floating shelves can help to declutter your counter space and can hold items such as toilet paper, a jar of cotton balls, and shampoo. You can also accessorize with a real or faux succulent plant for a pop of green. Additionally, a well-designed and placed series of floating shelves will look more like a piece of art than storage space.
2) Built-in Shelving Unit
The best thing about built-in shelving units is that they can hold a lot. Of course, this style of shelving is perfect in medium to large bathrooms since it adds more storage space and requires construction. Additionally, you can use a built-in shelving unit to host a hamper to collect dirty clothes. This does away with messy clothes everywhere.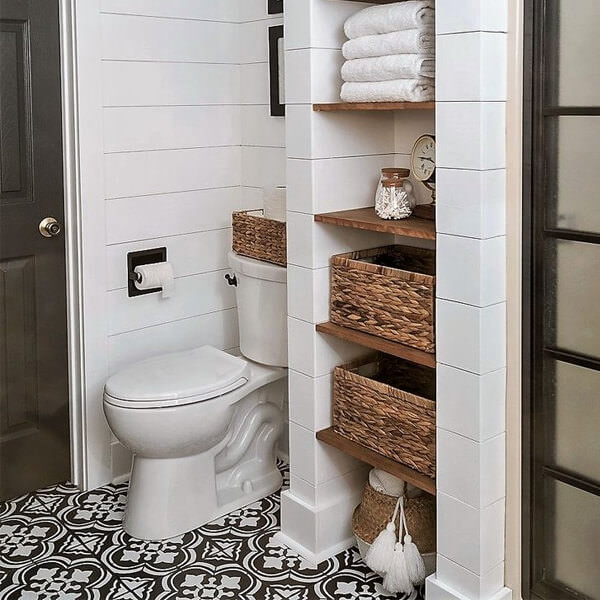 Image Source: qssupplies.com
Even with a simple frame and basic construction, this shelving idea is an excellent one. However, with built-in shelves, you also have to contend with the open shelving design, which could easily expose any towel or toilet paper roll that's out of space. Therefore, you can use bins and baskets to contain small accessories. Furthermore, the bins or baskets should be one design and color to ensure a balance.
3) Low-Shelving Concept
Low shelves free up wall space and give you easy access to items like towels. Additionally, low shelving can be fit under the sink, making your bathroom feel more inviting and easy to use. With low shelves, you can select between an open or closed concept for your bathroom storage. Of course, this means the space above your sink can use other décor ideas and remain free of clutter.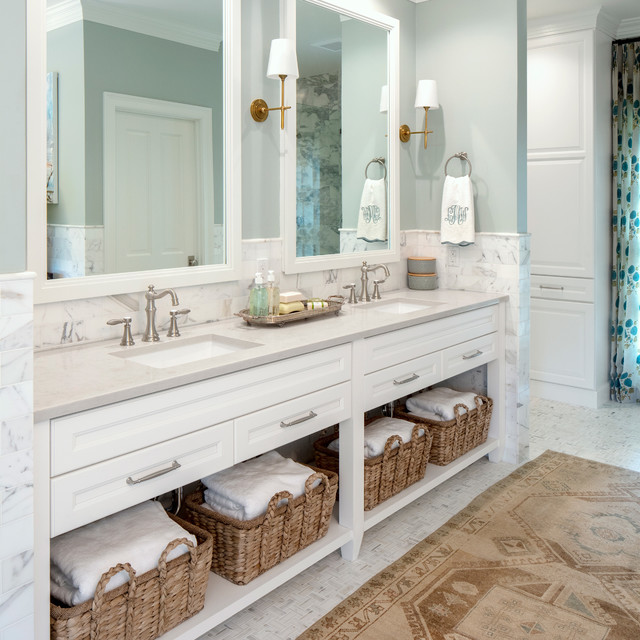 Image Source: houzz.com
As you maximize space to accommodate bathroom essentials, you will choose under-the-sink shelves that fit your taste and style. Wood is the most common material, however, you can just as well pick metal and glass shelves for the space under your sink. Additionally, you can use your new storage space to store extra towels, soap, and makeup.
4) Over-the-toilet Ladder Shelf
Small bathrooms generally benefit the most from an over-the-toilet ladder shelf. They are convenient and easy to move around, so there's no installation required. Additionally, it's a great way to emphasize your style while making use of the space above your toilet. Not to mention this idea offers a lot of storage space, and you can easily store anything from the best air fresheners and towels to toiletries.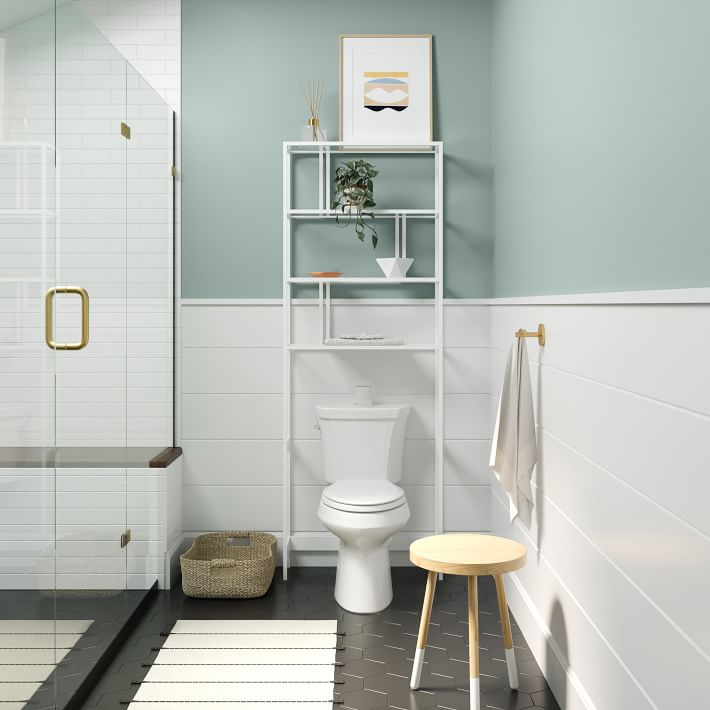 Image Source: westelm.com
Due to its freestanding vertical orientation, it doesn't get in the way of your movement in the bathroom. Having everything you need in one place when you're taking a bath or shower is also convenient. Stability is critical when it comes to over-the-toilet storage since no one wants a rack that will topple over every time you reach for the toilet paper. Here's where the material your shelf is made of comes in. Wood and metal are the most common materials. But there are also plastic and glass shelves.
5) Modular Shelf Ideas
Modular shelving gives you control of your space, making it easy to customize it with your preferred layout. Additionally, it can create a beautiful focal point and a modern take on a vanity when installed well. Remember, with modular shelving ideas. You can easily decide how many shelf levels to install and at what height. A modular shelf also allows for the addition and removal of shelves.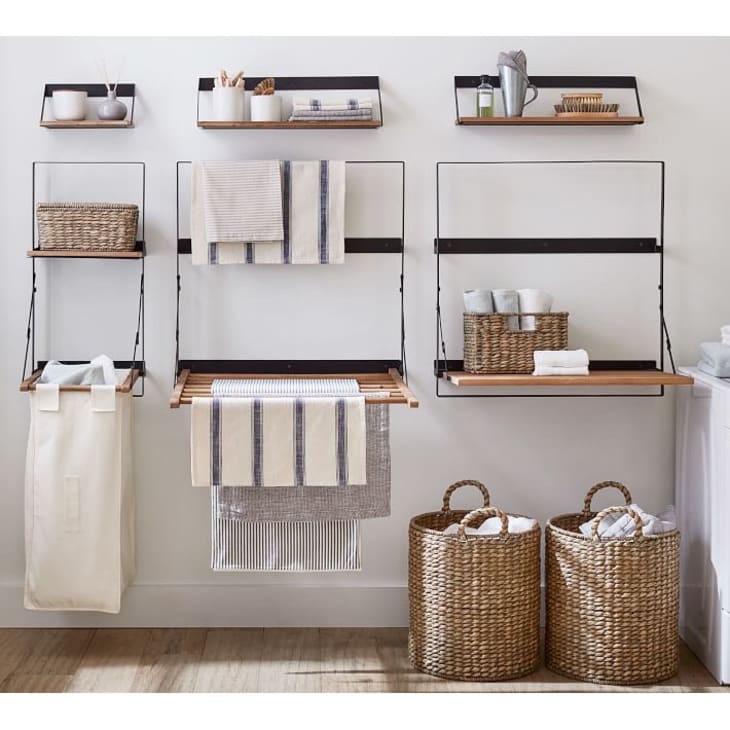 Image Source: apartmenttherapy.com
Since modular shelves are less bulky compared to a widespan shelving system, there is room to maximize space and storage capacity. Not to mention, you will put empty wall space to good use. You can even dedicate an entire row of shelves to bathroom decor without a problem. This bathroom shelf idea offers a seamless design that blends well into any area.
6) Window Ledge Bathroom Storage
A window ledge makes a good place for extra storage space in a small bathroom. When thinking about storage, especially in a smaller bathroom, learn to utilize all the space that's available to you. Your small window ledge can make a huge difference to storage since you can create a functional space on it with a few storage wicker baskets.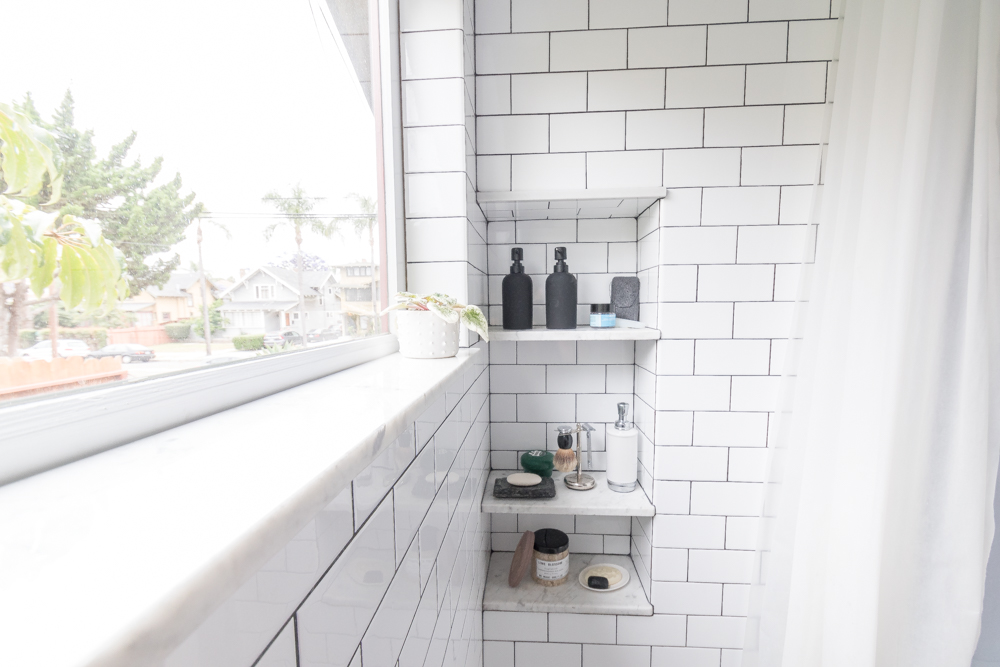 Image Source: thegoldhive.com
It is recommended to use wicker baskets to store towels and face cloths, so they are easy to access, not to mention wicker always looks good since it blends perfectly into any décor. They are also affordable and present a great way to add a touch of nature to any room. Your bathroom will look better, and you'll have more storage options.
7) Rolling Cart Storage
A rolling cart is an easy solution for any bathroom. Not only is the right cart eye-catching, but it is also very functional for any space. A cart offers plenty of room for most hygiene necessities like washcloths and items that might normally end up in small medicine cabinets on top of your sink. Carts are also very sturdy and can easily handle the weight of towels, oils, creams, lotions, and shampoo.
Image Source: robbreport.com
Carts come in different sizes, each suited for different-sized bathrooms, so you can always select the best size for your needs and still be left with ample space around your bathroom. Carts also come with easy-to-maneuver wheels and an ergonomic handle that make moving them around the bathroom very easy.
8) Bathroom Vanity With Tower Storage
A bathroom vanity that comes with tower storage is an excellent space saver because it makes use of that space around where your bathroom mirror would be. To make the most of your bathroom space, ensure the tower reaches the ceiling to maximize space. Of course, with a custom-designed tower, you can have as many shelves and storage nooks as you need to avoid clutter.
Image Source: millcreekbathandkitchen.com
A vanity with tower storage also ensures you keep all your supplies and toiletries in one location to simplify cleaning. This bathroom shelf idea is excellent if you are remodeling, even on a budget. There are many premade cabinet shelves you can use for this purpose and make the most out of floor space in your bathroom.
9) Carve an Alcove Shelf
An alcove shelf is best for when you're remodeling your bathroom. It adds a great aesthetic and functional quality to your space. Additionally. since the alcove shelf is carved within the wall, it doesn't take up much space, and you can easily find it helpful for storing towels. The extra space can also hold wicker baskets for other items.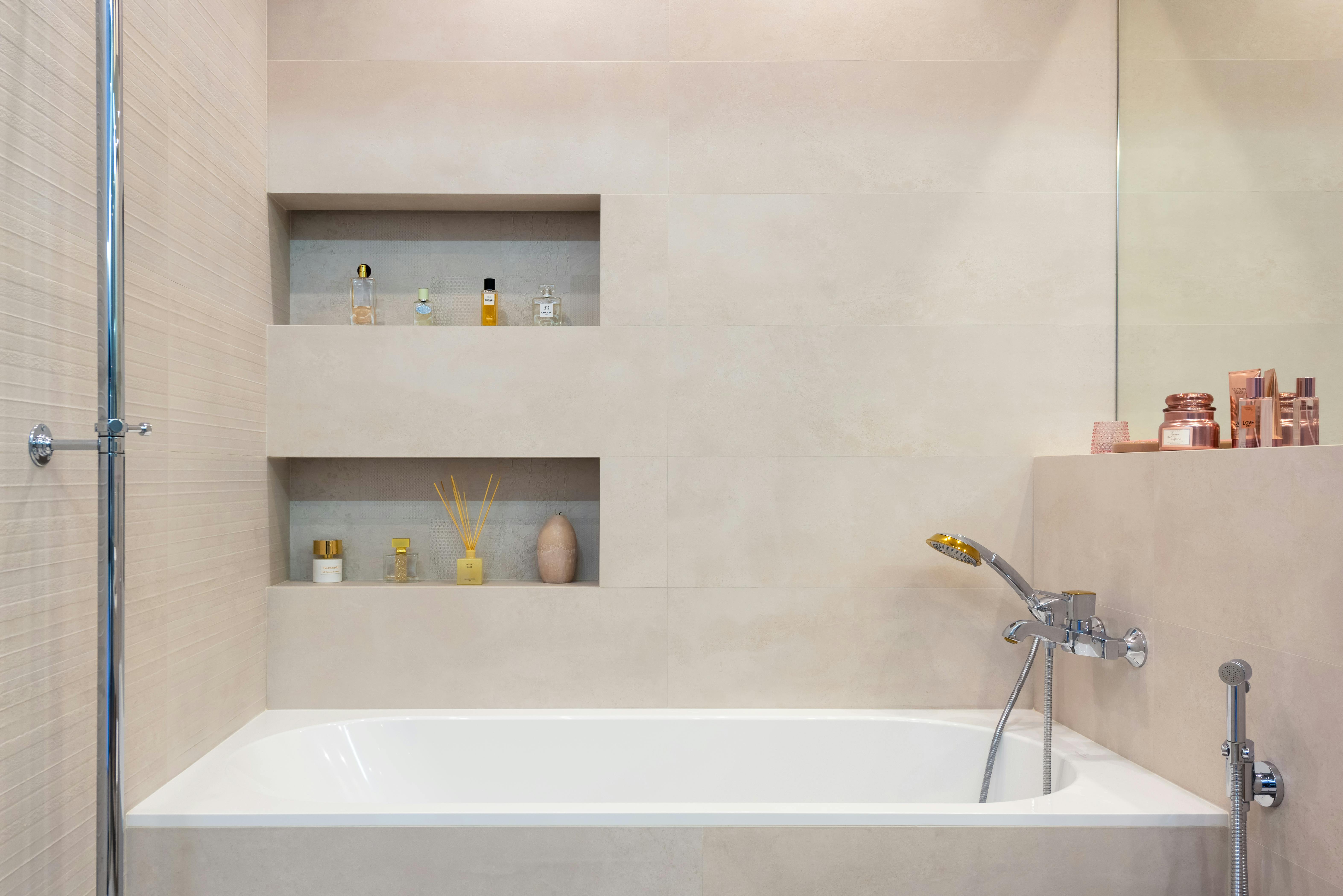 Image Source: pexels.com
Alcove shelving tends to be small. However, as you renovate, you can go for a larger shelf with enough surface space for whatever you designate it for. Remember, visual clutter can make your bathroom look small and messy and give it a claustrophobic feel. A simple alcove shelf will eliminate clutter and provide storage giving even small spaces an airy feel.
10) Cabinet Shelves
Cabinet shelves have been around for a long time. When it comes to hiding the visual clutter of open shelving, the functionality of a cabinet with a door is unmatched. You can keep clean towels and hide things you don't want in the open, such as extra toilet paper, toothpaste, and other personal belongings. Additionally, light-colored cabinets create a classic feel, while cabinets with sharp edges and dark colors, give off a minimalist and modern feel.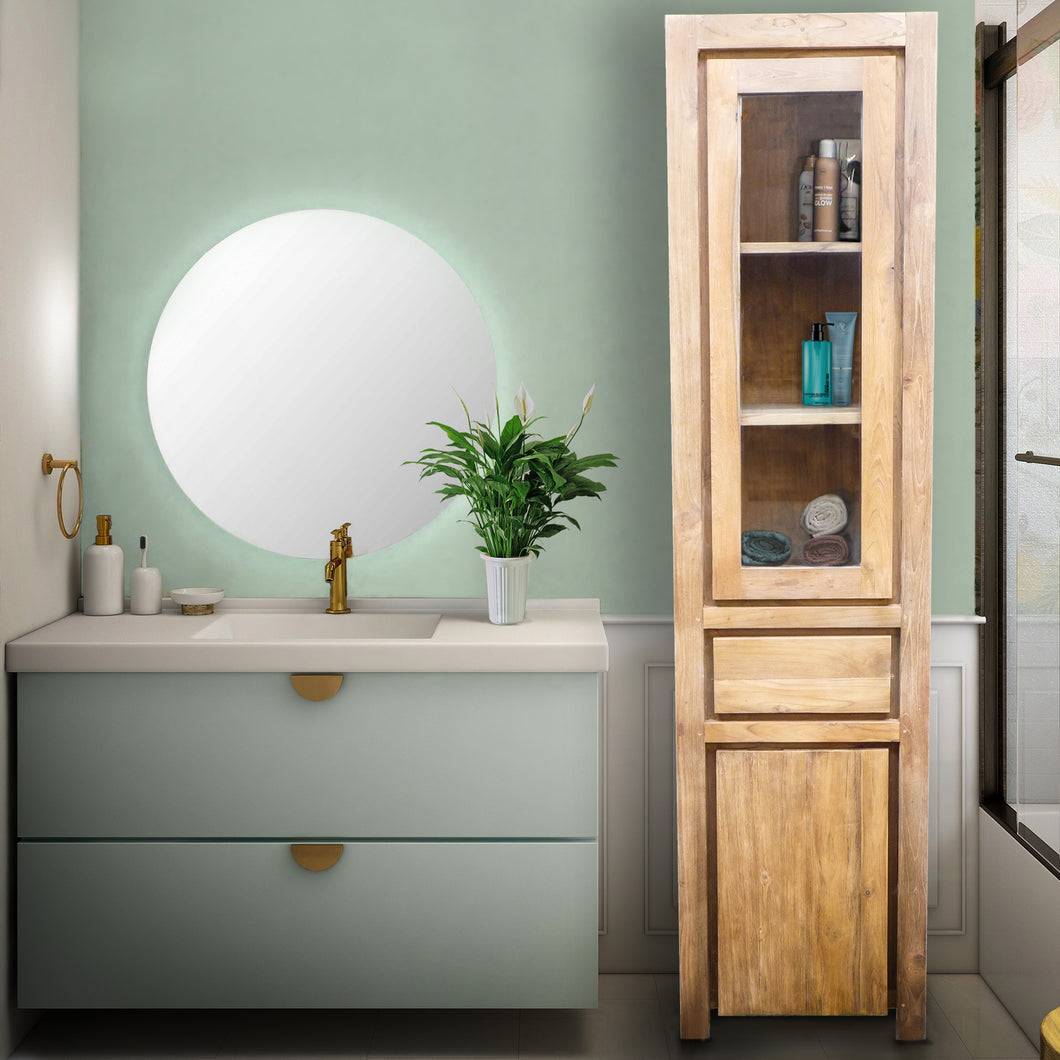 Image Source: chicteak.com
Cabinets are DIY friendly, so you can give it a go with that weird-looking space by the side of your toilet bowl or the blank wall above your bathtub. Cabinets are also premade so you just have to install them. Since cabinets have customizable options, you have the freedom to design bathroom cabinets that perfectly reflect your preferences.
11) Over-the-door Rack
Storage options are always available, even if your bathroom is limited in square footage. If you don't have any other options to store folded towels, toilet paper, and body wash, you can use an over-the-door rack. You will have enough space to go about your routine and move around without restriction. Additionally, a door can support a lot of weight, so you don't have to worry about weight restrictions.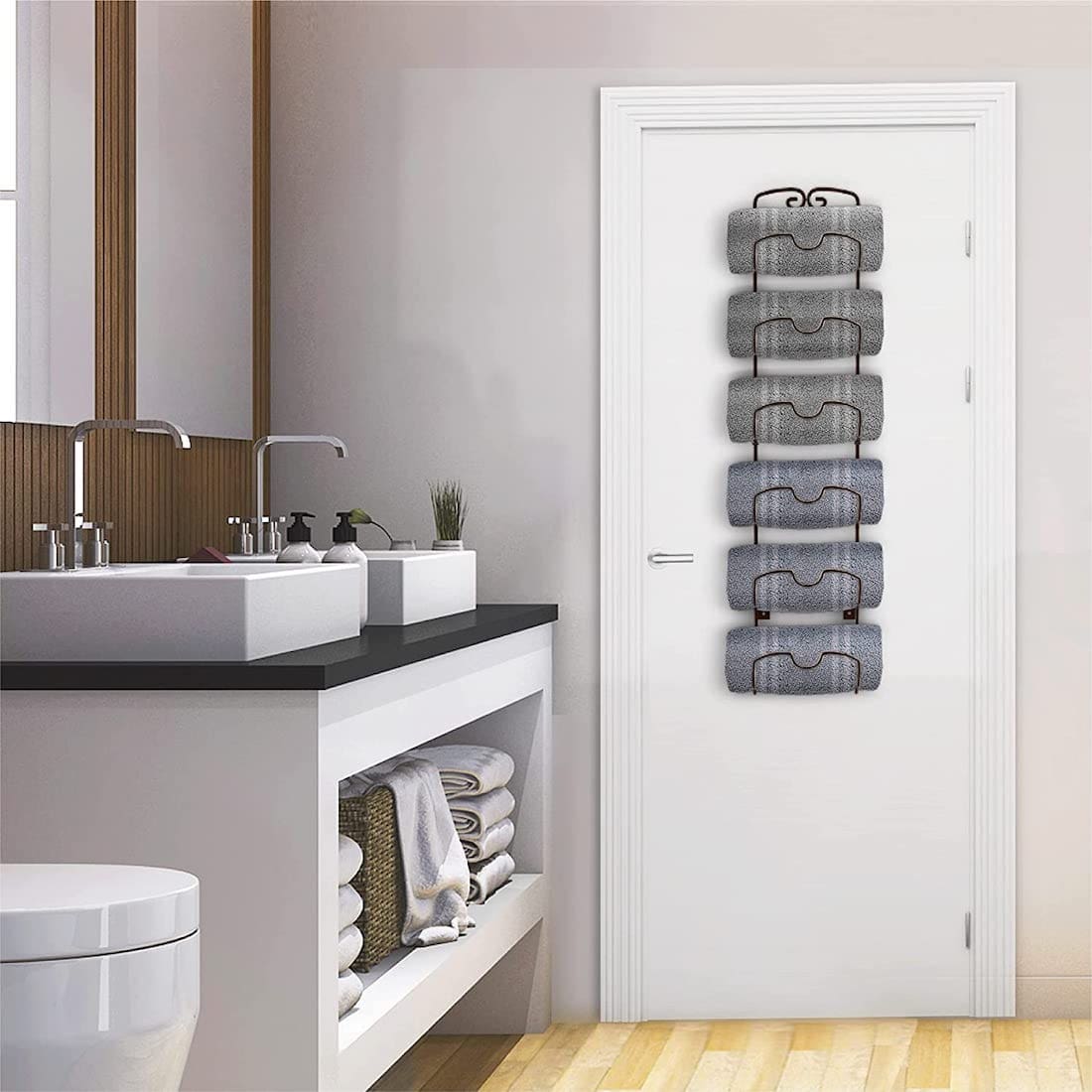 Image Source: stylecurator.com
Having a designated place to keep all bathroom essentials enhances the functionality of your bathroom but also creates a visually appealing and serene environment. Furthermore, a stainless steel rack in your bathroom can significantly enhance your space-saving measures, with rubber stoppers to keep it securely in place.
12) Corner Cupboard
Every bathroom has a weird corner. It could be the negative space under or above your sink or the space beside your toilet. Either way, the corner always makes it look like something is missing. However, with a small corner cupboard, you can easily declutter your bathroom and find another area for your body washes, hair tools, toilet paper, and toothbrushes.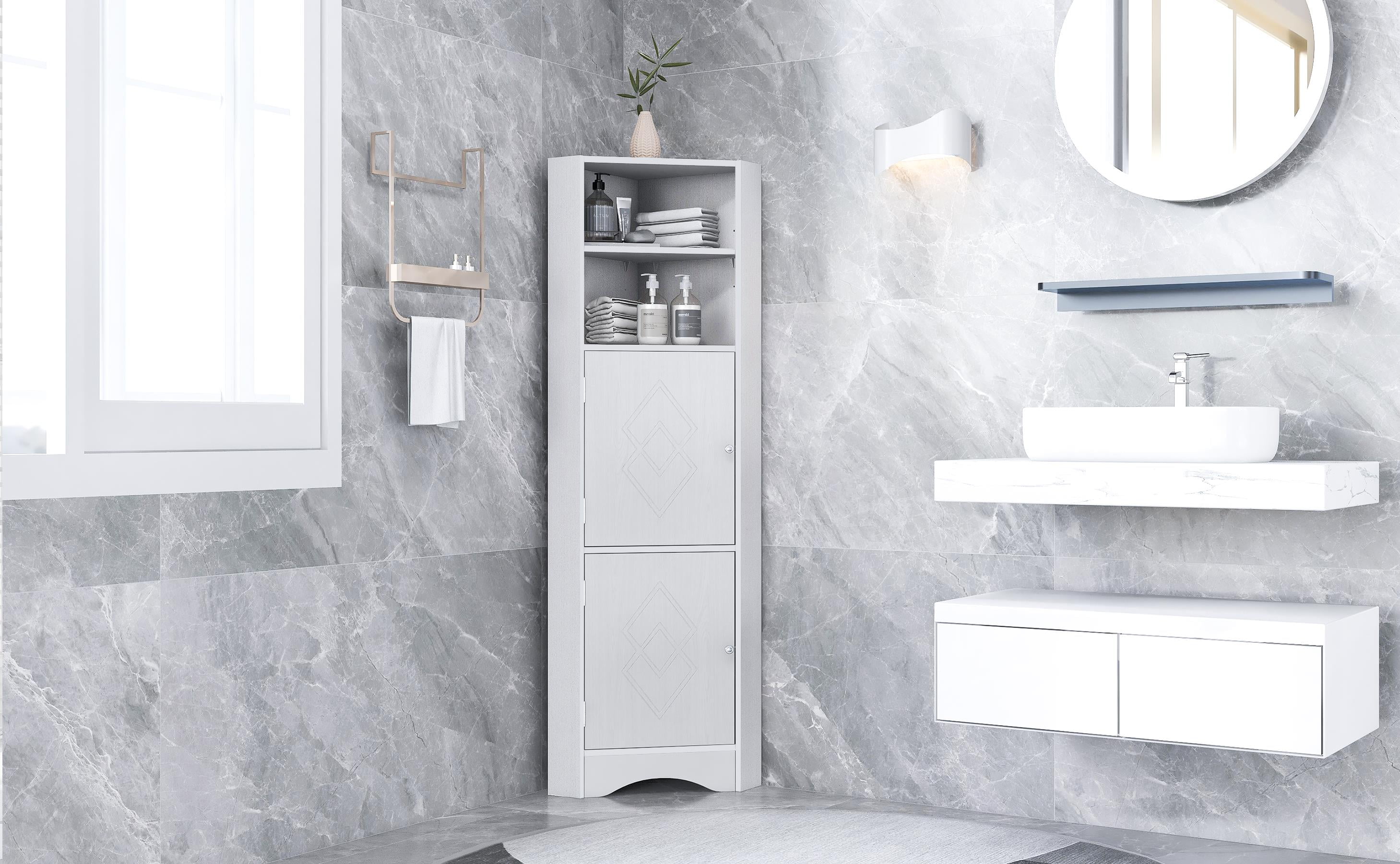 Image Source: walmart.com
Apart from providing a storage option, corner cupboards are available in many styles and offer an opportunity to reflect the style of the bathroom design. You could also go with a strong visual impact with red or blue for the corner cupboard for a unique design.
13) Use Crates for Wall Mounted Shelving
This creative way of creating more storage is perfect if you want to reflect your personal style in a rustic bathroom idea. Upcycling wooden crates and using them as shelving is a brilliant idea that's also budget-friendly. You can use the crates for storing towels and other baskets of toiletries for a clutter-free space and for preserving precious floor space.
Image Source: pinterest.com
In a small bathroom, cabinetry shelving would look very bulky and out of place. Therefore, using crates gives your bathroom an artistic edge you never knew it needed. Furthermore, you can use a crate to create a beautiful makeup and beauty products nook in your bathroom if you don't have enough space in your bedroom.
14) Over-the-sink Shelving
The space over the sink in a bathroom is usually underutilized. With the right shelving idea, you can convert it into a functional and beautiful space. Furthermore, a wooden over-the-sink shelf helps you to keep things well organized while giving you more storage space closer to the sink. Most shelves over the sink are easy to assemble and require minimal installation.
Image Source: aliexpress.com
With this idea, you can go with closed or open shelving, and the space will still look amazing. Open shelves are the most common style, making them a versatile option for any bathroom since you can easily access and display your items. With simple, easy access, you will never have to ransack through a cluttered cabinet again.
15) Think Small With Bathroom Caddies
Sometimes your shower space might need more storage to hold all your skincare and body washes. Using a shower caddy, you can neatly stock up all your bathroom supplies to be easily within reach and use. Additionally, they look beautiful in any space and don't require any installation since you can easily peel and stick them to the wall, and they also go with any color in your bathroom interior.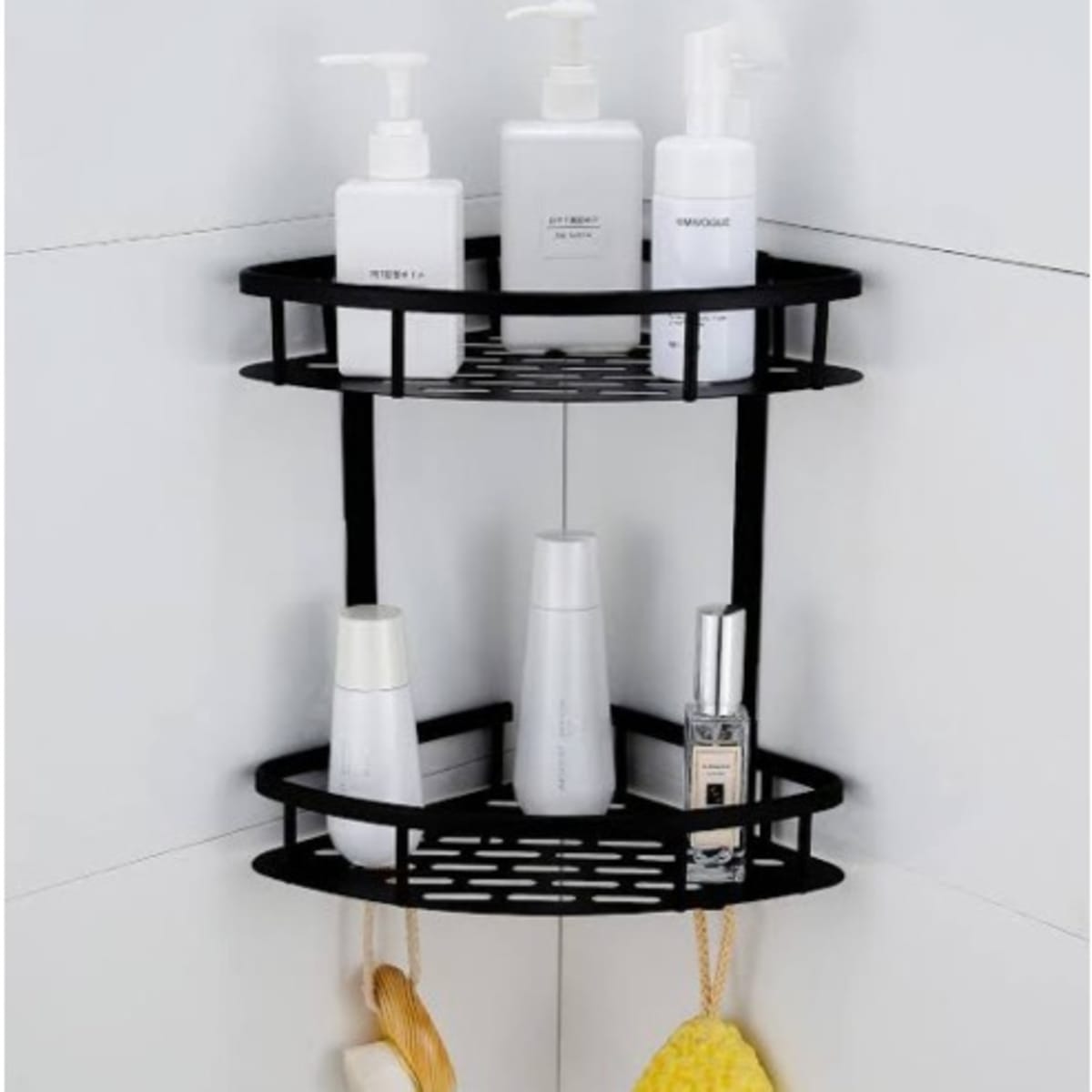 Image Source: konga.com
Most shower caddies are made of stainless steel, so they will last long since they are resistant to rust. Additionally, they can hold heavier bottles without breaking or coming off the hanger hooks. A simple shower caddy can transform your shower space for the better. Apart from that, they are very cheap.
Guide to Styling Bathroom Shelves
The first step is improving the space in your bathroom by using shelving ideas. Then you have to style them since clutter doesn't automatically go away. Bathroom shelves can hold everything from daily essentials like skincare serums and washcloths to decorative items like fresh flowers or framed artwork. Therefore, styling bathroom shelves should not be an afterthought. Here are some tips for styling your bathroom shelves and having them look presentable.
a) Use Bins and Boxes to Declutter
Open shelves have their benefits. However, one of the biggest downsides is that you can always see if the shelves are cluttered. Bins are mandatory to contain any small items. It is also recommended to group similar items together like cotton balls and skincare products together. Additionally, this will keep everything looking tidy and still allow you easy access.
Image Source: betterhomesandgarden.com
There are a few things to look out for when considering bins or boxes. Similar material for all the bins assures symmetry. Furthermore, the same color also guarantees that your space looks well put together. Wicker and plastic are some of the most versatile materials to help you declutter. Not to mention they look great.
b) Always Choose Adjustable Shelves
Adjustable shelves provide the luxury of changing the height and location of the shelves depending on your needs. Additionally, adjustable shelves come in many forms, including freestanding shelving units and small accent shelves. Your choice of shelf is determined by how much storage you need, your space parameters, and your aesthetic.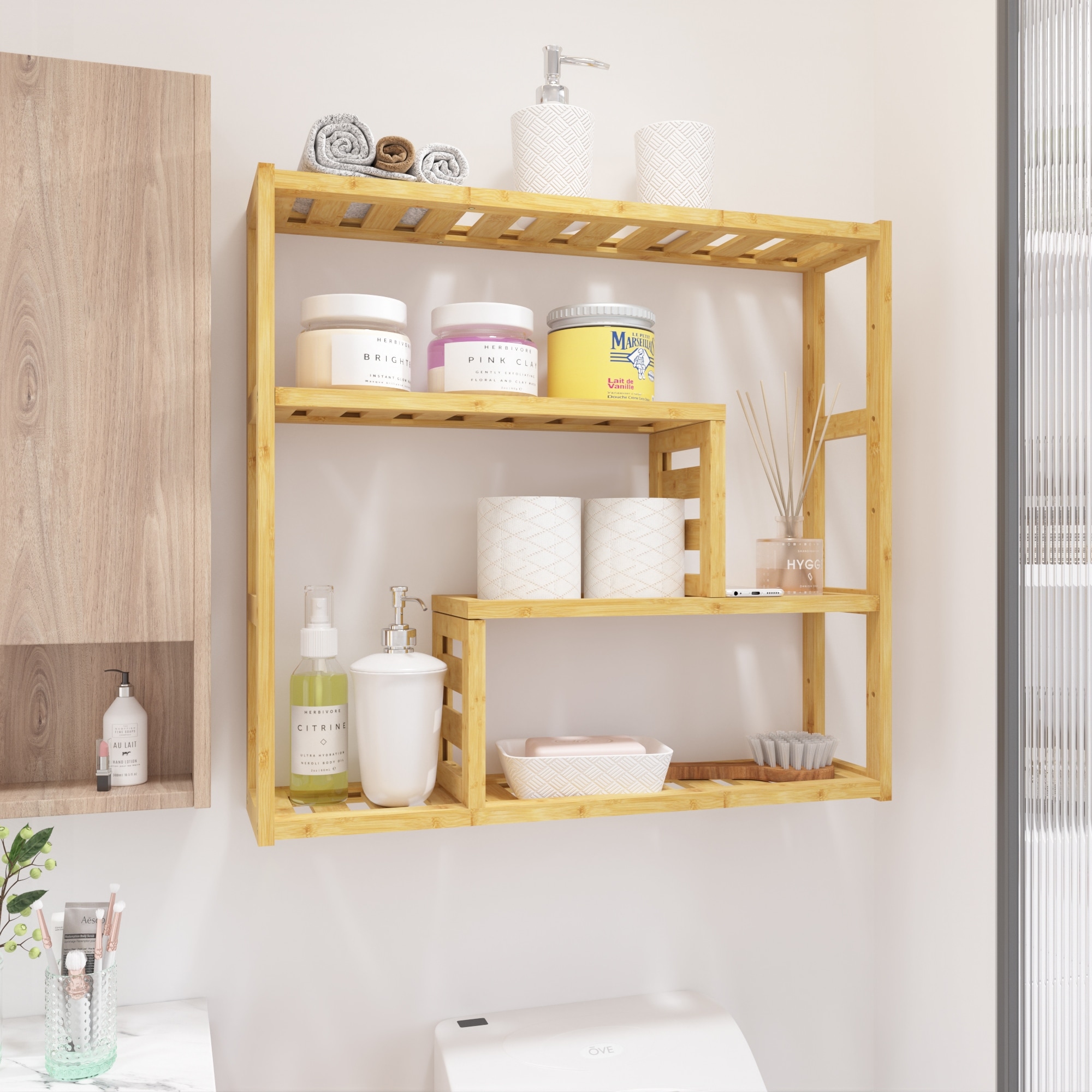 Image Source: overstock.com
Adjustable shelves have several benefits since they give flexibility in storage and are fairly easy to clean. Furthermore, they dramatically free up space and help improve traffic flow within the bathroom. Not to mention, you can use every inch of vertical space that's available to you.
c) Work With Functional and Aesthetic Pieces
For well-balanced shelves, group items in odd numbers and arrange them in vertical heights for the best outcomes. To make your shelf functional, you can add items like toilet paper, hand towels, and other daily essential items. Remember, functionality should always come before aesthetics. However, it's not a bad idea to include aesthetics in the mix.
Image Source: ahundredaffections.com
For aesthetic purposes, you can use objects to imitate a spa, like candles and bath bombs. Additionally, a pop of green, like a real or faux Ficus plant, should bring extra personality into the room. Furthermore, other trinkets like your favorite candle and light lamp.
d) Go With Fresh Flowers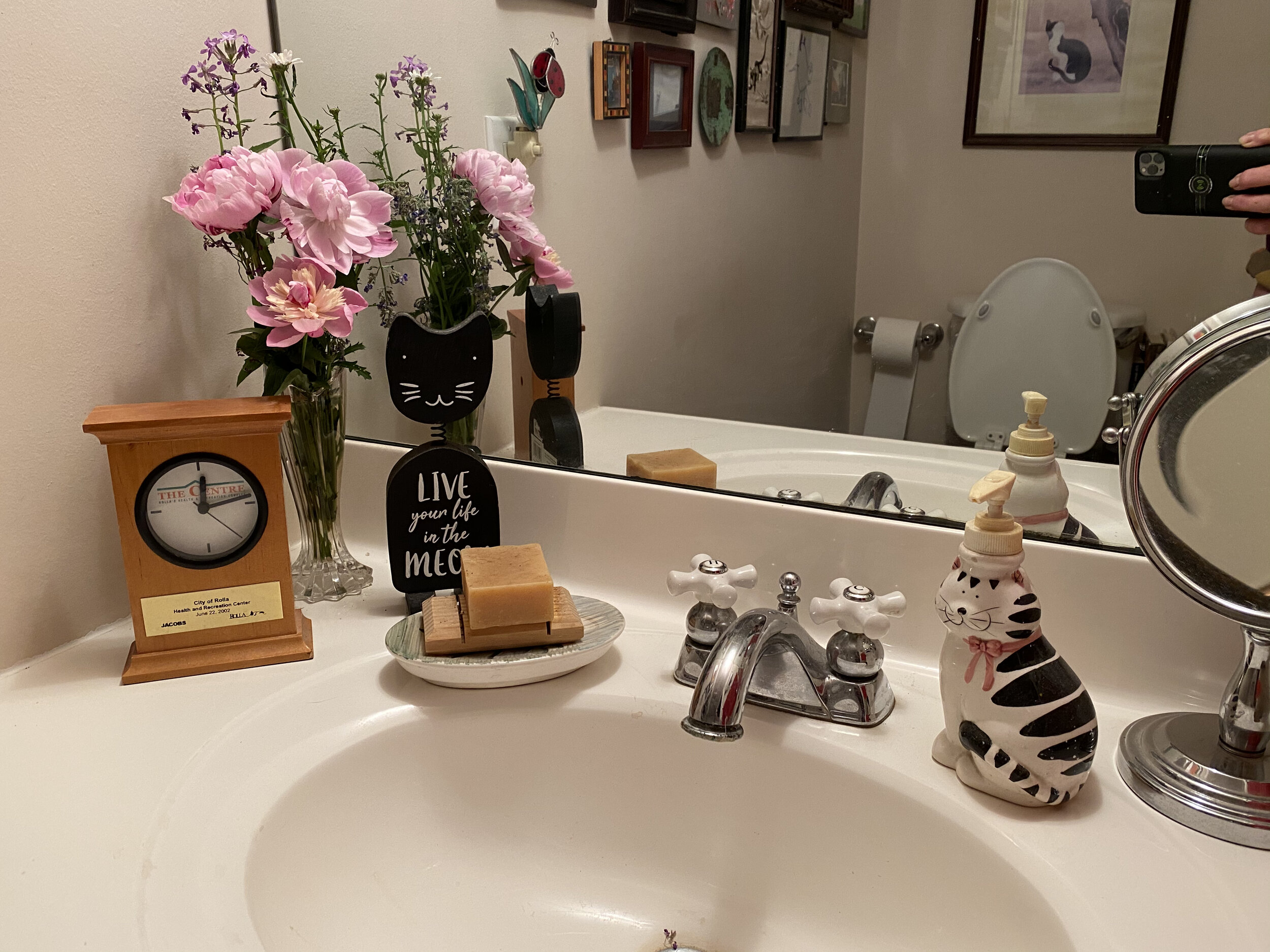 Image Source: madejustforyou.com
Fresh flowers will always be a win. It doesn't matter if you're going for a classic, modern, or traditional look, fresh flowers always add a fresh and airy feel to a room. Not to mention handpicked arrangements will give your space more personality. All you need is a few stems in slim vases for the best look, and you can easily pick them from your garden.
Frequently Asked Questions About the Best Bathroom Shelf Ideas
i) How do I make my shelves look nice?
You can start by adding smaller pieces of art, small vases, interesting ornaments, plants, and functions, including a pretty soap dispenser, a bathroom tumbler, or your favorite perfume or candle. For more personality, you can look for similarities in style but variety in height, size, and texture.
ii) Where do you put shelves in a small bathroom?
One particularly functional place to add a shelf is right above the sink. This is a great place to store toiletries you use often and takes some pressure off a small sink area. The space above the toilet is as good as any to install shelving.
iii) How do you make shelves look elegant?
Elegance is a matter of knowing how to arrange items. You can pleasingly layer multiple decorative objects, but the most important part is leaving some blank or white space between the two groupings. The goal is to have a stylized look on our shelves instead of looking like we have a bunch of objects thrown on the shelves.
iv) Can you put shelves behind a toilet?
Yes, you can. Behind toilet shelves are an excellent design choice to add storage space to a tiny bathroom without compromising the floor area. Over-the-toilet storage shelves give you more space for your toiletries while adding a bit of personality to your powder room.
v) How big should bathroom shelves be?
The size of the shelves you get depends on the size of your bathroom. For instance, 14-inch (length) deep shelving is perfect for small bathrooms. With larger shelving, your bathroom decor items will not look like they're dangling from the shelves. If you want glamour, 19 or 24-inch long shelving is recommended.
The Bottom Line
Depending on your aesthetic, and the color of your bathroom, you can choose from an array of styles and designs. Additionally, not only do storage options make items even more accessible, but they help small bathrooms feel bigger. Regardless of the size of your bathroom, you can dedicate an entire wall to storage or place a single small shelf in just the right spot.