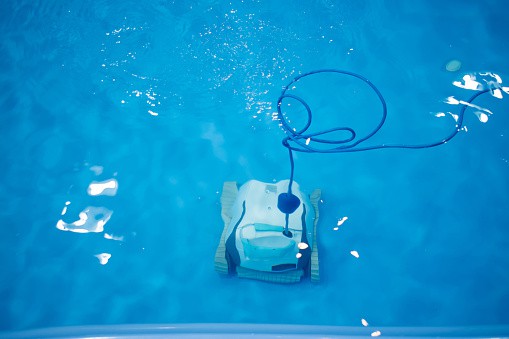 Best Above Ground Pool Vacuum- Automatic and Manual Cleaners
If you're worried about the dirt and debris in your above the ground pool, the easiest way to keep it clean and healthy is using the best above-ground pool vacuum. In the absence of an above-ground automatic cleaner, cleaning the pool is not an easy job and requires hours of manually scrubbing the entire pool,
Above-ground pool vacuums have become a popular and relatively affordable way to ensure the hygiene and longevity of your pool. Unlike inground pools, which gave an integrated filtration system, above-ground pools rely on removable electric pool vacuums and passive external to remove debris from the pools. These vacuums can sweep or scrub the inside of the pool without the need for draining, making them a great choice for swimming pool maintenance.
Finding the best pool vacuum cleaner on the saturated market is not a simple task. To help you find one that perfectly matches your needs, we have a review of the five best above-ground pools and the main features you should consider when choosing an above-ground pool vacuum.
5 Best Above Ground Pool Vacuums
1. Dolphin Nautilus CC Plus Robotic Pool Vacuum Cleaner
Dolphin Nautilus CC Plus Robotic Pool [Vacuum] Cleaner...
Hello, free time! Let the Dolphin Nautilus CC Plus robotic vacuum...
The clean you need without the hassle. The Nautilus CC Plus was...
Ditch the pumps and hose. Unlike the energy hogs that are...
Clean your pool with the touch of a button. Schedule the Nautilus...
With more than 35 years of cleaning the world's residential...
The Dolphin Nautilus CC Plus Robotic Pool Vacuum Cleaner is the best above-ground pool vacuum because of its ability to simply operate it. It features an automatic scheduling function that enables users to have a hands-off cleaning. It comes with two scrubbing brushes to deeply remove grime, a 60-foot cable with a 360-degree swivel for easy movement, and a large twin cartridge filter to capture different sizes of debris.
This pool cleaner requires minimal user intervention and has plenty of power. It uses its own power supply to navigate in the pool and can also climb the walls of the swimming pool, scrubbing even the waterline area. It comes with its own filter media where you can rotate between the standard duty filters for fine corrugated or general debris filters.
It is a good match for pools with a length of up to 50 feet because it can be programmed for a two-hour cleaning cycle. The Dolphin Nautilus CC Plus Automatic Pool Vacuum Cleaner also comes with an onboard scanner that shows the efficient path of travel in your above-ground swimming pools. This allows for thorough cleaning to happen within the cycle.
2. Pool Blaster Max Cordless Rechargeable, Battery-Powered, Pool-Cleaner
Sale
Pool Blaster Max Cordless Rechargeable,...
INCREASED POWER: The Max offers increased vacuum suction with the...
WHOLE POOL CLEANER: Clean entire pool or Spot-Clean in seconds....
CAPTURE MORE DIRT: The Max features a large debris capture...
CORDLESS CLEANING: Perfect for quick and easy cleaning in the...
MORE RUN TIME: The lithium ion battery powered Max is designed to...
If you're in search of an in-ground or above-ground pool cleaner that has the ability to clean almost every dirt in the pool, then you should consider getting the Pool Blaster Max Cordless Pool Cleaner. This machine can clean out most, if not all of the debris and dirt from the pool, including leaves, silt, dust, and sand, in just 60 minutes.
It uses a lithium battery which means you can use it wirelessly. This makes it easy to clean around the pool ladder and also the hard corners around the walls. It uses a great multilayer filtration system that focuses on removing debris so as to ensure the pool doesn't remain with any exposed debris. This multilayer filter collects both large and fine debris in the pool.
This Max Cordless Rechargeable, Battery-Powered, Pool-Cleaner will show you how to clean the above-ground pools in just one hour. Its filtration basket features a fine mesh. It comes with a nose cap, body cleaner, vacuum head, filter bag, and lithium battery charger.
3. DOLPHIN E10 Automatic Robotic Pool Cleaner
DOLPHIN E10 Automatic Robotic Pool Cleaner with Easy to...
The easy way to a clean pool. The Dolphin E10 robotic pool vacuum...
Take back your free time. The Dolphin E10 will have your pool...
Dolphin does all the hard work for you. The E10 was designed to...
Save energy with every pool cleaning. The E10 does not require...
With more than 35 years of cleaning the world's residential...
The DOLPHIN E10 Robotic Pool Cleaner is one of the best automatic pool cleaners, perfect for a small above-ground pool. It is quite affordable and supports several modern cleaning technologies, including advanced brushing technology. It features better transaction services and better dynamic for its improved wheels.
This above-ground robotic pool cleaner is lightweight, weighing just 13.7 pounds. This makes it simpler to lift and carry without needing help. Operation is easier, with just a single button click. It only comes with one button on the control board used to turn the machine on and off. With advanced filtering and powerful pool floor scrubbing capabilities, you can easily clean the pool without much effort.
The DOLPHIN E10 Automatic Pool Cleaner will help clean out almost all types of debris in the above-ground swimming pools. It comes with an advanced brush that quickly and effectively removes the bacteria and algae from the pool surface. It also has a great suction rate, and each cycle lasts for about 90 minutes.
4. Intex Auto Pool Cleaner
For above-ground pool owners looking for the best above-ground pool vacuum for Intex pools, you should consider getting the Intex Auto Pool Cleaner. It comes with a powerful pool pump that gives it excessive cleaning power. This ideal vacuum pool cleaner features four small plastic wheels that help it move around the pool.
However, the wheels are not very powerful, which means the vinyl liner won't spin and scratch properly. It is not a suction pool cleaner since it is operated using water pressure. It features a 24-foot long hose which is great for a rounder pool that is 24 feet in size and a rectangular one that is not more than 16 feet. This whole cleaning process depends on the return water inlet location since it is a pressure-based automatic pool cleaner.
It has a small brush set at the base, which hangs on the floor, making it possible to remove most debris, sand, and dirt. Once the pool is cleaned, the debris stuck on the net needs to be removed and thoroughly washed with flowing water. Ensure the skimmer basket and filter are clean after the cleaning process.
5. Poolvergnuegen The Pool Cleaner Automatic Suction Pool Vacuum
Poolvergnuegen PV896584000013 Hayward 896584000-013 The...
2-wheel drive cleans pools up to 16' x 32'
Patented self-adjusting turbine vanes provide maximum power at...
Patented tire treads for enhanced climbing and obstacle...
Patented adjustable roller skirt optimizes suction on uneven...
Multiple pre-programmed internal steering sequences ensure full...
The Poolvergnuegen, The Pool Cleaner, is one of the best suction pool cleaners that boasts excellent efficiency. It features a modern Derbys management technology that will allow you to clean out all types of debris and dirt from the pool. This pool cleaner can make the pool cleaners work more manageable, but it may provide limited services in case you a lot of debris in your pool.
However, it can quickly clean the pool in a short time. It features two wheels on both sides and a flexible turbine van set. Pool owners can easily adjust the turbines according to the floor environment of the pool such that the large debris won't obstruct its movement. This will prevent the hassle of adjusting the vans and help you save time.
It features a steering technology that supports an automatic system that changes the position and direction quickly during pool cleaning. It has multiple steering cycles to ensure the cleaning is efficient. The strong tire treads give it a climbing ability to scrub the walls and enable it to work in any pool size and volume. The three interchangeable throats help in cleaning large debris.
Factors to Consider When Buying the Best Above Ground Pool Vacuum
1. Types of Above Ground Pool Cleaner
Above-ground pool vacuums come in different types, including;
a). Robotic Pool Vacuums
Robotic above-ground pool vacuums are independent, but they may require a bit of setup that includes plugging in the cord then placing it in the water. The robot will therefore clean the pool all by itself. They also come with filter bags.
b). Pressure
The pressure side pool vacuums depend on the pressurized water from the pump to clean out the debris and dirt. Like robotic vacuums, they have filter bags and may not require backwash.
c). Suction
The suction pool cleaner is usually connected to your pool pump and depends on it. It features a long hose connected to the skimmer to ensure it reaches every edge of the pool. You may need to backwash the filter and clean the skimmer basket after you clean the pool. This means that it requires a great deal of maintenance, but they are one of the best choices available in terms of affordability.
d). Battery
The battery-operated vacuums are mostly handheld vacuums that have no hose or cords to deal with. When the vacuum cleaner has a full charge, it can clean the dirt, leaves, algae, and other debris for a continuous 30 minutes, with some going up to one hour.
2. Pool Shape and Size
The performance of an above-ground pool cleaner will depend on the size and shape of the pool. This is because it determines how much energy and power is required to clean the pool. Basically, a small to medium-sized can work well with a suction cleaner, but if the pool is too big and has lots of debris and dirt, then robotic cleaners are recommended.
3. Hose Length
If you consider choosing the suction cleaners, you need to ensure that it comes with a proper hose length. This is one of the most critical features to achieve an effective above-ground pool cleaning process. If the vacuum doesn't have enough length, it's pretty much useless, no matter how powerful it is.
4. Pool Filter System
It is crucial to know the filtration rate of the pool cleaner to ensure you will get better quality water. It is also necessary to ensure the water has gotten an excellent cleaning as you would have intended. Ideally, the pool cleaners should be able to filter at least 70 gallons of water every minute.
5. Dirt Types
While searching for a swimming pool cleaner, you need to know the common types of dirt found in the pool. The dirt in your pool can greatly influence the type of pool cleaner you purchase, so it's not wise to ignore this factor. The common dirt types in your pool may be small debris, sand, or larger things like leaves. The robotic pool cleaner is recommended for picking bigger debris, while the suction cleaner is best at picking smaller debris.
6. Maneuverability
No matter the type of above-ground swimming pool cleaner you choose, it should be easy to control. If you're not comfortable using the automatic ones, you need to ensure that the handheld ones can easily manoeuvre and are easy to use.
7. Suction Power
Depending on the debris found on your pool floor, the vacuum should be powerful enough to clean out the largest and the smallest debris and dirt found in the pool. You need to ensure the vacuum has the maximum suction power you need to clean the pool thoroughly.
Frequently Asked Questions (FAQs) on Above Ground Pool Cleaners
1. How long should vacuums for above-ground pools run?
Although the pool filter might clean all the water in two hours, you might run it for a shorter period to save energy. However, the time depends on several factors, including the size of the pool, the amount of debris, and the season. During summer, the chances of bacteria are higher, and it is recommended to run the vacuum for about 12 to 14 hours a day. However, bacteria and algae may not thrive in cold water.
2. How often should you vacuum your above-ground pool?
It is recommended that pool owners should vacuum the Above ground pool once a week. However, this largely depends on the pool's environment, that is, if debris and dirt accumulate in your pool quickly. Also, after heavy storms or sand storms, your pool may require cleaning. Mostly, how often you should clean the pool is dependent on the observations you make on the pool.
3. Do above-ground robotic pool cleaners pick up algae?
Yes. Most above-ground robotic pool cleaners have the ability to pick up algae because they move all over the pools cleaning the water lines, floors, and walls. Advanced robotic cleaners feature a brushing technology that is efficient in cleaning out algae, dirt, gunk, and debris from the pool.