When revamping your home, the process is not only about furnishing or painting. You need reliable flooring remodel tips, ideas, and cost estimates to make the big and technical decision. The floor is the largest uninterrupted space in a home; therefore, it can set the tone of a household by itself.
If you are on the verge of a floor remodel project, it is important to understand all project features in terms of cost and durability. Generally, most homeowners would want to go for feasible remodeling ideas of low costs and long life despite the availability of numerous flooring remodeling ideas.
Flooring Remodel Tips

Image Credits: viterotiles.com
Typically, renovation comes to mind when your existing flooring is worn out or needs an upgrade. This makeover will require a new choice of materials that depend on a mixture of budget, functionality, and design. Below are some of the tips for choosing flooring remodel ideas.
a) Use Durable Materials
Renovation is mostly done on high-traffic and worn-out surfaces. Choose flooring materials with high resistance to damage. Such materials can withstand wear and tear for a very long time without the need to be replaced. Some of the flooring materials you could choose from for durability are;
i) Concrete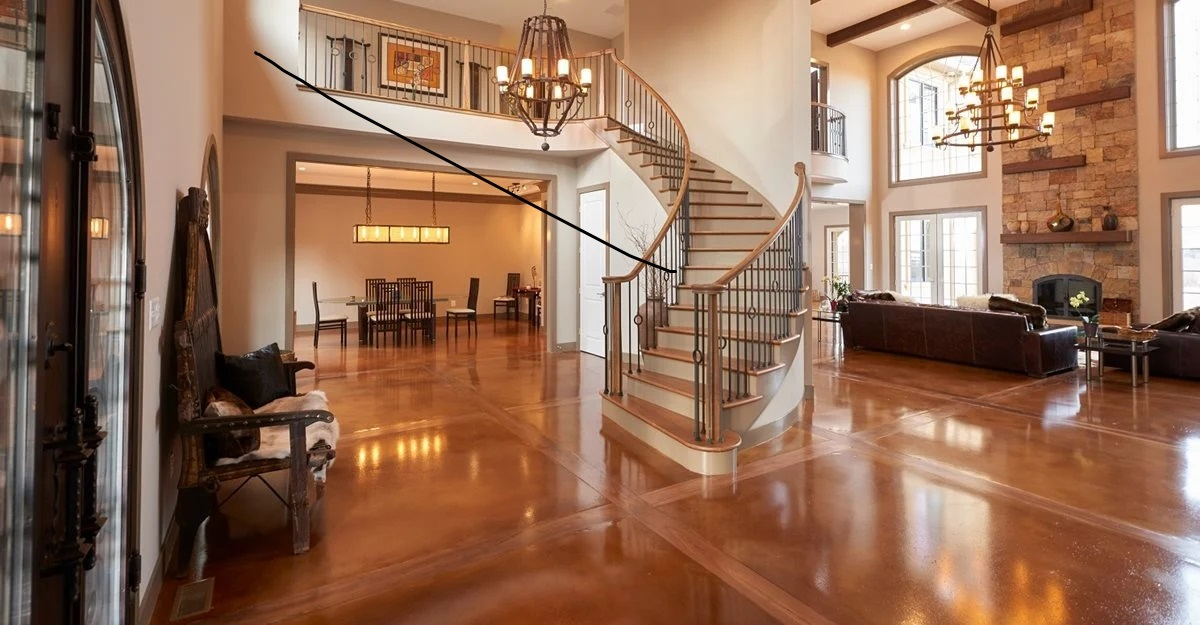 Image Credits: concretenetwork.com
Concrete is an excellent flooring option that is durable and easy to maintain. It can be stained or painted to nearly any color, making it able to provide a sleek and modern surface.
In addition, concrete flooring can be resurfaced in various textures and finishes and polished for a smooth, shiny look. It is a good option for almost every floor surface of the house. But concrete flooring can be cold.
ii) Hardwood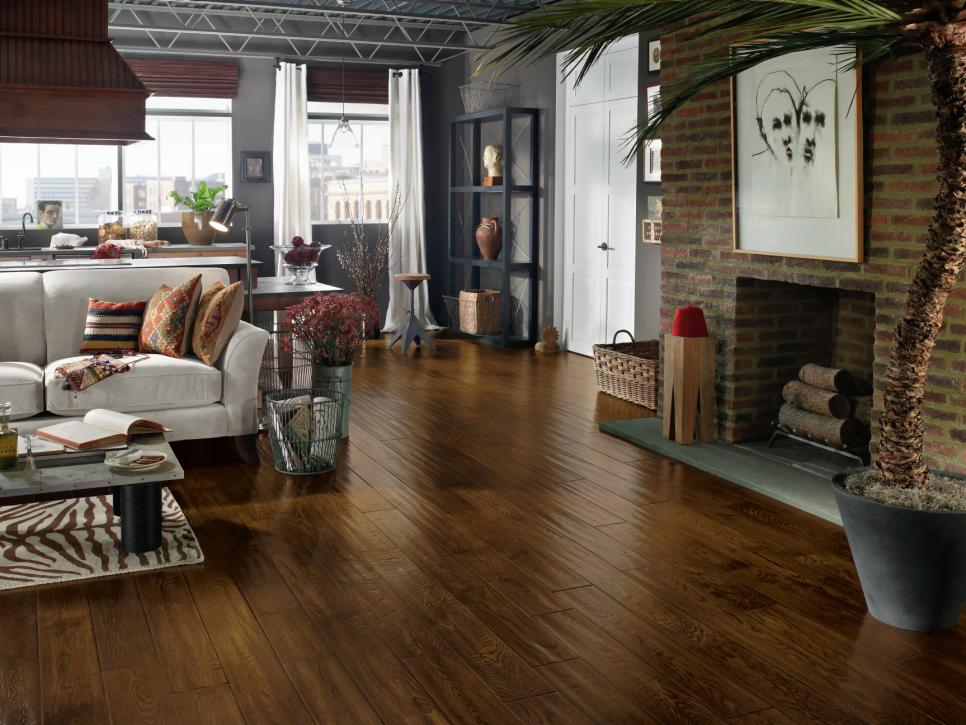 Image Credits: hgtv.com
Hardwood flooring is becoming a classy and trendy option for a floor makeover. Hardwood floors blend well with any home décor because of their unmatched beauty. Additionally, hardwood is perfect for every room, with special consideration for the kitchen and basements.
The available hardwood options for your flooring include natural wood like red and white oak, bamboo, teak, Brazilian cherry, tigerwood, hickory, and good quality engineered wood.
iii) Tiles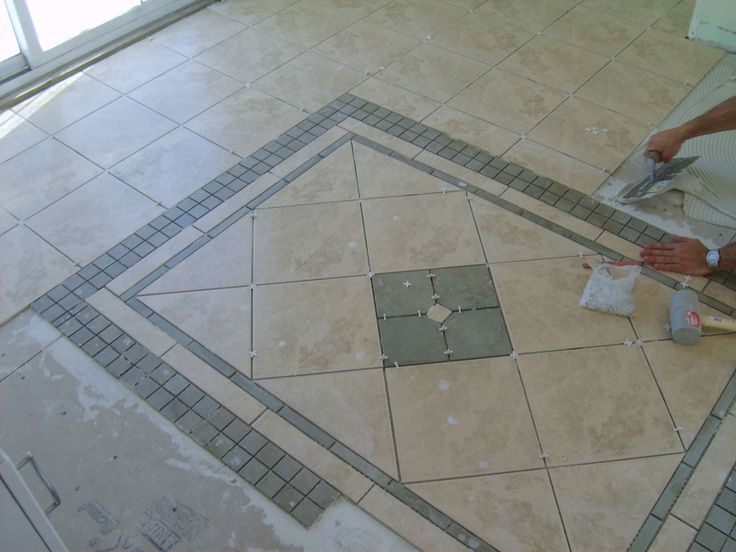 Image Credits: pinterest.com
Tile flooring is a great choice for high-traffic areas in your home because it is easy to maintain and long-lasting. In addition, its resistance to water makes it a better choice for the bathroom and kitchen. There are various floor tiles that come in materials like ceramic, porcelain, glass, marble, natural stone, and many others.
Presently, tiles are digitally printed and can take the appearance of wood and fabric. Therefore, it is easy to choose the colors and designs that suit your décor.
iv) Natural Stone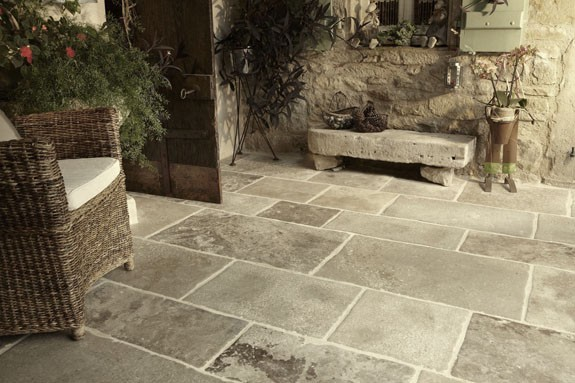 Image Credit:medium.com
Natural stone should be on your list if you are looking for flooring material with luxury and an antique aesthetic. The types of natural stone flooring that dominate the market include marble, granite, travertine, and slate.
Natural stone looks good outdoors as it does indoors. It is resilient and comes in different patterns and colors; hence can blend well with every design and trend.
v) Vinyl
Vinyl flooring relies on synthetic plastic PVC. Modern or heterogeneous vinyl has multiple layers, making it gentle under the feet compared to ceramic tiles. Vinyl floorings are available in various styles and textures, including those that mimic rough stone finish, hardwood, and tiles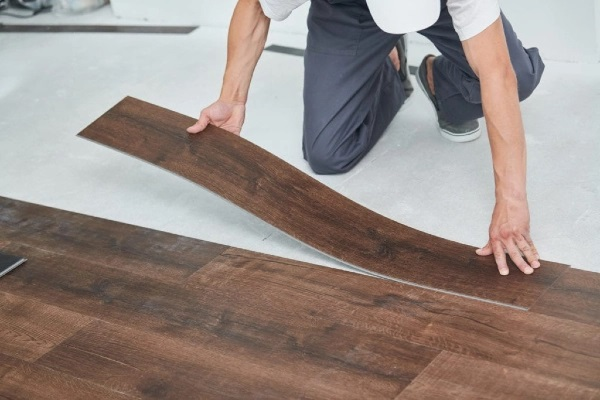 Image Credits: propertyguru.com
Vinyl flooring is affordable and can be used in any part of the house. The most common types of vinyl flooring materials include luxury vinyl, composite tile, and sheet vinyl.
vi) Laminate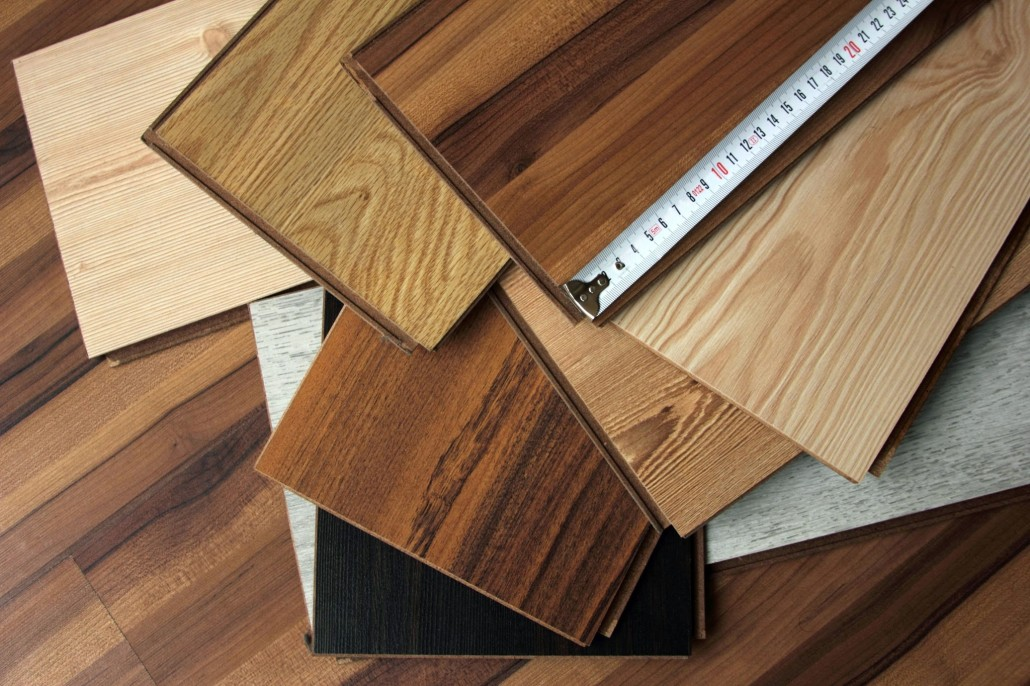 Image Credit:viaductimports.com.au
Laminate flooring is a cost-effective, attractive, and high-performing option for incorporating hardwood, tile, or stone. Laminate has a glossy, dense fiberboard that protects a digital photo of any surface you are imitating. The laminate's glossy sheen makes it unique.
b) Consider Affordable and Efficient Modes of Installation
Some flooring materials are DIY projects because they are easy to install by following simple instructions with simple hand tools. This will save the installation cost you could have used with the flooring contractor. Likewise, other materials are complex and need experts for installation. Either way, incorrect installations ruin the material's elegance and affect its durability.
c) Use Appropriate Materials for Underlayment
The underlayment of the floor determines the results. In as much as you'll choose the perfect material for your flooring, inappropriate underlayment may ruin everything. The use of the surfaces will determine underlayment. Also, choose appropriate materials for the different rooms, such as the kitchen, bathroom, hallway, and basement
d) Upgrade Your Look
A fresh new look for your floors is why you would decide to revamp your flooring. Maybe you've bought a house with flooring not holding up well since the beginning of your stay, or the carpet you bought isn't practical enough to change the look.
Whatever the reason, if you hope to bring your floor to an up-to-date look, check on the trending flooring ideas and choose what you like. Natural colors, whites, and light greys are trendy but unless you're renovating your floor for sale, pick the flooring you love.
e) Use Hypoallergenic Materials
In case of an allergic reaction from you or any of your household members to things like dust, pollen, and cold, it is wise to find out if your flooring could contribute to the allergic symptoms.
There are flooring ideas that are hypoallergenic. Even though others, like old carpets, could keep dust and pollen within their pads, others, like Berber carpeting, do not retain allergens. Still, you could also clear the allergens by changing to new carpets.
Hard flooring choices are excellent if you prefer completely switching from one flooring to another to keep allergies at bay. Hardwood and tiles would do a perfect job here. A good example of hypoallergenic material is cork
cork
Cork is a natural biodegradable material obtained from the bark of an oak tree. Cork is ground, compressed, and formed into sheets using resin for flooring. Cork flooring has become popular for most homes for its sustainable and environmentally friendly nature.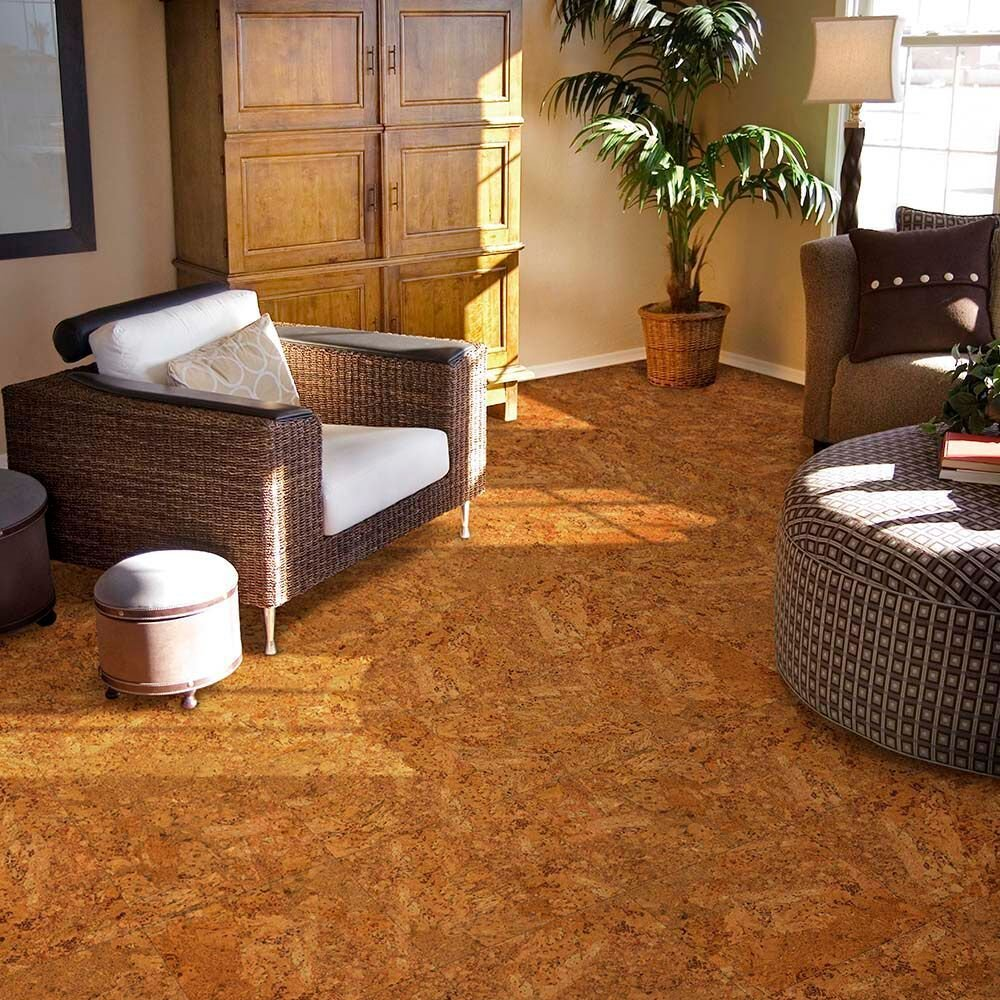 Image Credits: homestratophere.com
It comes in different colors and patterns and can be made to mimic colored tiles and sheets. Cork flooring not only brings a natural feel to your home but is soft and an excellent insulator. Unfortunately, unlike other flooring materials, cork is not durable and is also susceptible to several forms of damage.
f) Insulate Your Abode
Some flooring ideas are not the best option for cold climates. Carpet flooring is a good heat and sound insulator for your home. To some extent, it is an option you could use during the cold weather and have it removed during warmer seasons.
Generally, choosing flooring that keeps temperatures stable throughout the seasons and can also be sound dampening is prudent. A good example is a laminate. Because heating and cooling costs are rising, remodeling your floor is a better and cheap option to keep your home well-insulated with a new look. other materials you can use to insulate your home include;
i) Rubber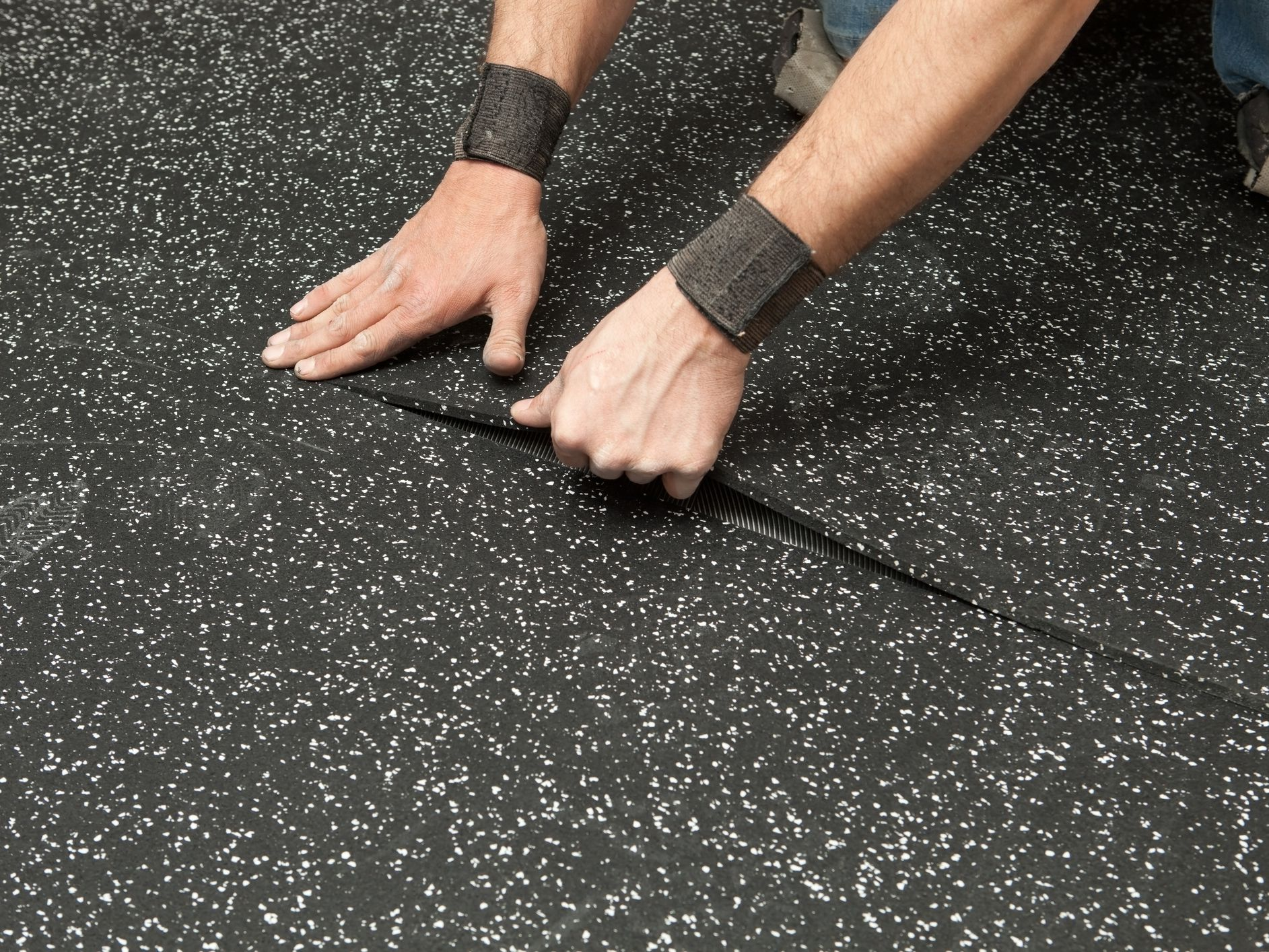 Image Credits: thespruce.com
Rubber flooring makes a great insulator but is for limited use. Plus, it can be made from natural rubber or synthetic rubber. Rubber flooring is suitable for interior and exterior décor due to its resilient nature. In addition, rubber provides durable, easy-to-clean surfaces suitable for hard-wearing environments like gyms, basements, and utility areas.
ii) carpet
A carpet is excellent if you want to add warmth and comfort under your feet in your home. Mostly, it is used as part of home décor, meaning carpet flooring is available in various attractive patterns and colors.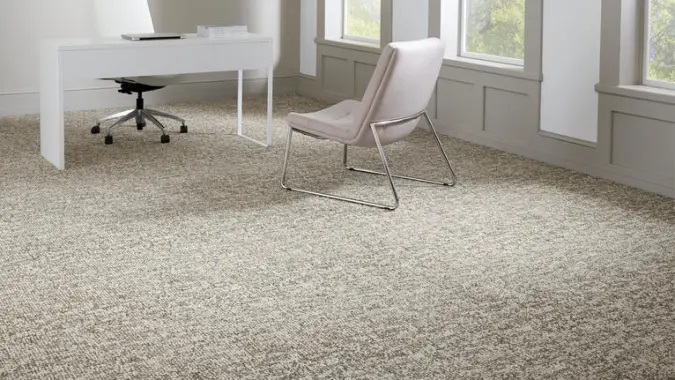 Image Credits: thecontructor.org
Other carpets, such as cut and loop ones, can create a unique patterned geometric look without overhauling the old carpet. However, carpet flooring is limited to home floor surfaces like living rooms, bedrooms, and high-traffic areas such as hallways and stairways.
g) Replace Over Repair
Some damages on your floor can be mended with a repair rather than a whole renovation. Simple cracks on your tile floor can be easily repaired, but severe damaged, stained, or squeaky flooring may need to undergo a complete renovation, beginning with the subflooring.
Choosing a replacement also brings consistency to the floor throughout your home. Plus, if your flooring is old, a replacement will maintain your home's elegance as compared to a repair.
h) Aim at Higher Returns on Investment
Floors show wear and tear after a few years of use, and you may want a fresh look for your house when putting it up for sale because new floors offer a significant return on investment.
Renovating your home with neutral modern flooring can be appealing to buyers who won't have to worry about the hassle of renovating the houses themselves.
Flooring Remodel Ideas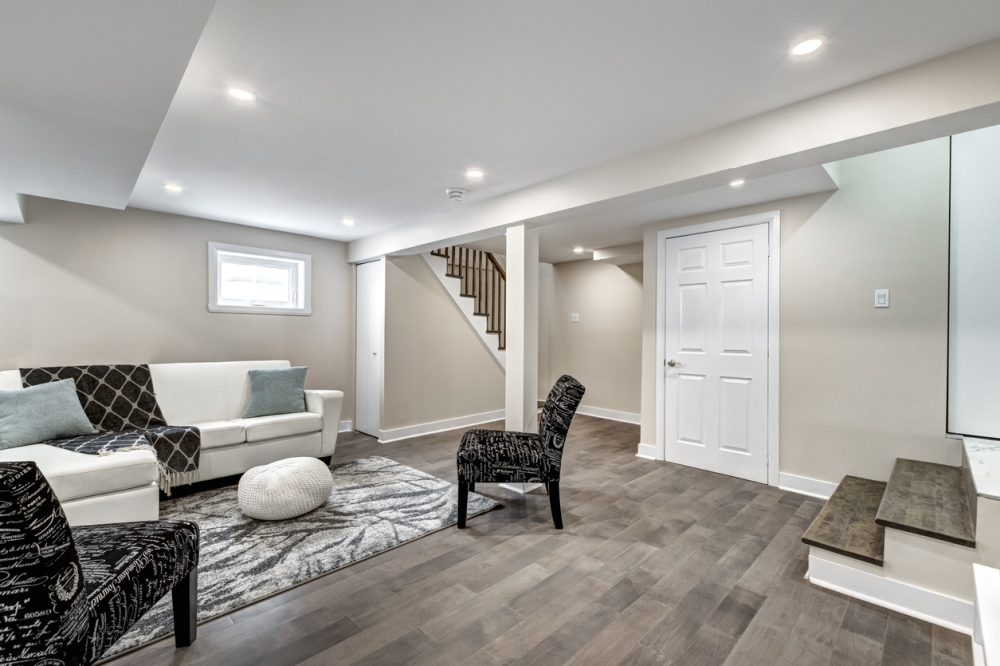 Image Credits: homedit.com
When looking forward to renovating your floor, design, and color are important, but factoring in comfort and durability is way more satisfying. Check out the following ideas you can implement to upgrade your floor and still maintain its elegance
1. Add a Fresh Coat of Paint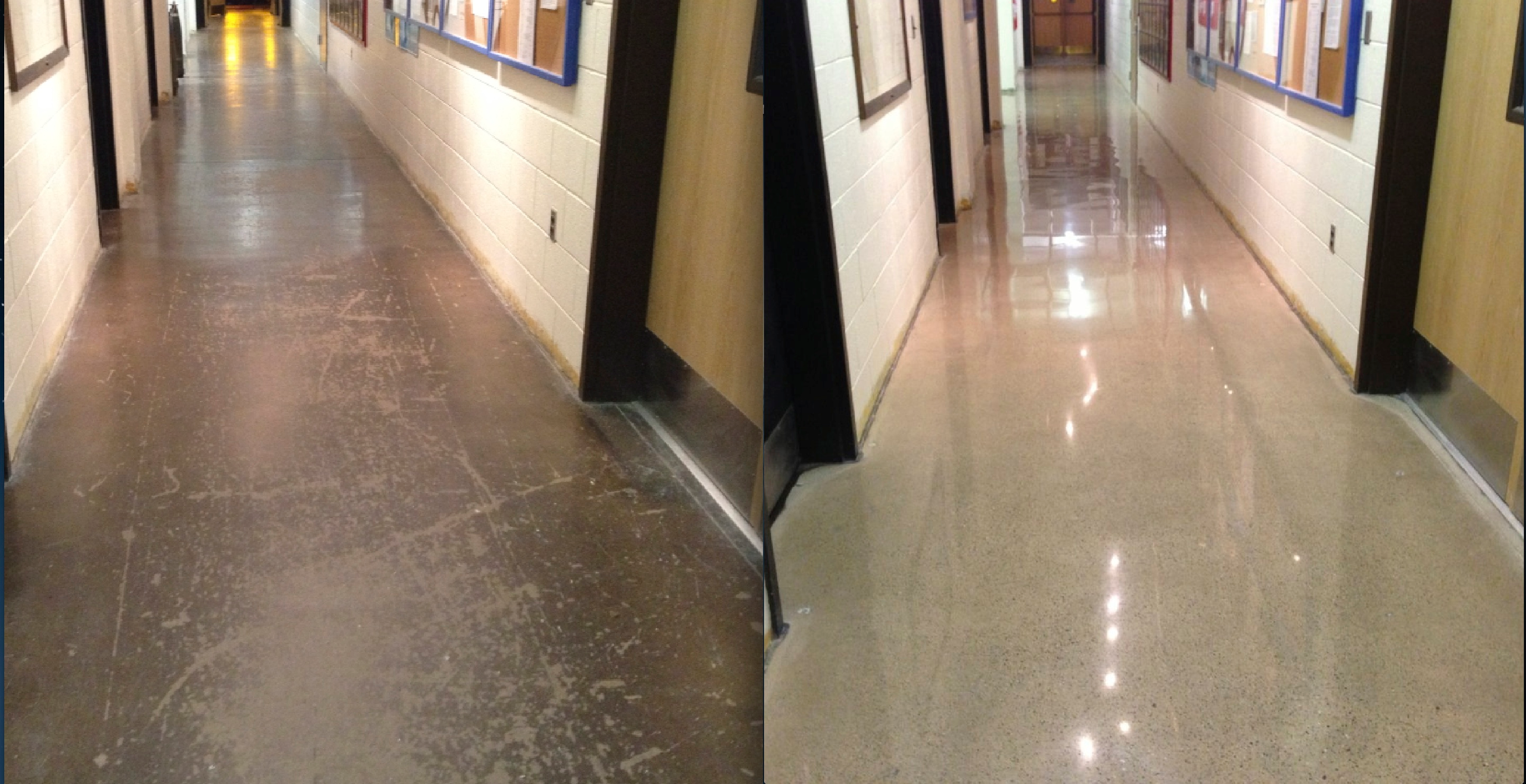 Image Credits: thebluebook.com
If you are looking for a quick-fix, cost-effective, and not necessarily a permanent upgrade to your floors, polishing them is a great idea. Polishing hardens and protects the surface while providing a super shine and reflexivity.
Polished concrete, linoleum, wood, and tile floors are ideal for interiors and require low maintenance. You can also add patterns and designs to your floor using paint to spice up your home
2. Use Ceramic Tile and Laminate in Place of Wood Flooring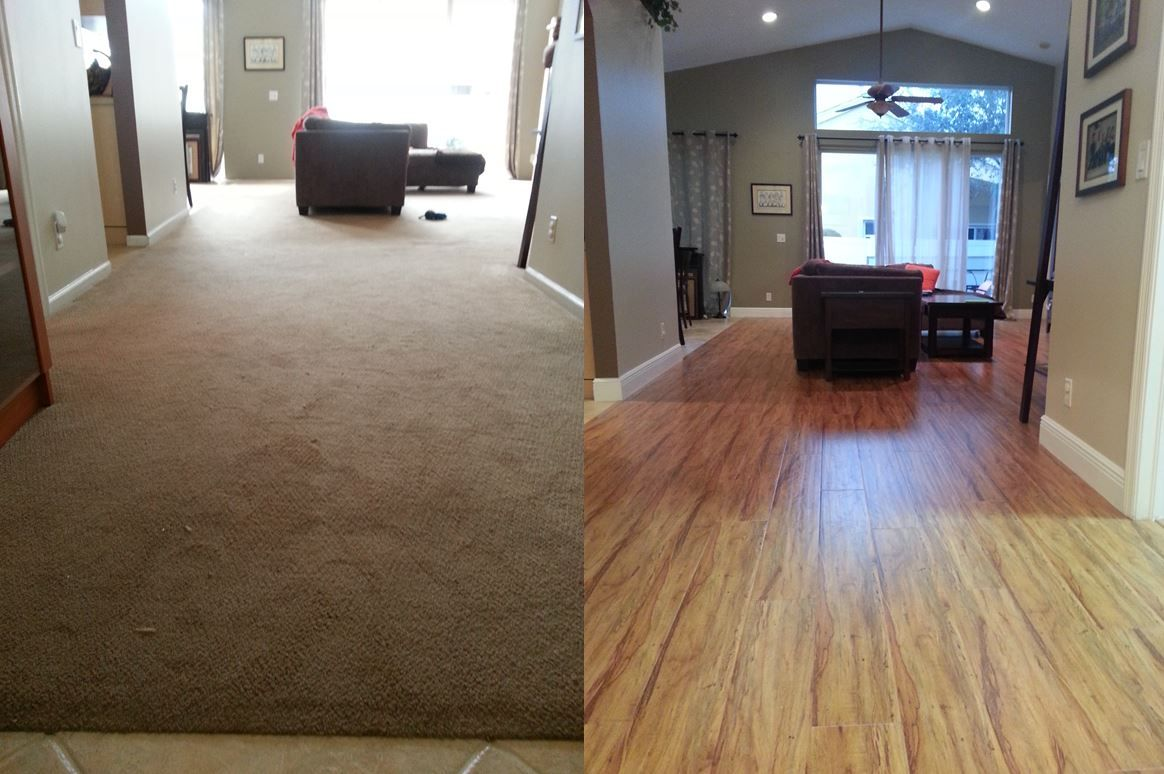 Image Credits: pinterest.com
There are ceramic tiles designed to give you the feeling and satisfaction of a wooden floor. If you don't want wooden floors for your house or the cost of wood seems higher, you can use ceramic tiles to bring elegance to your home.
3. Install Sustainable Flooring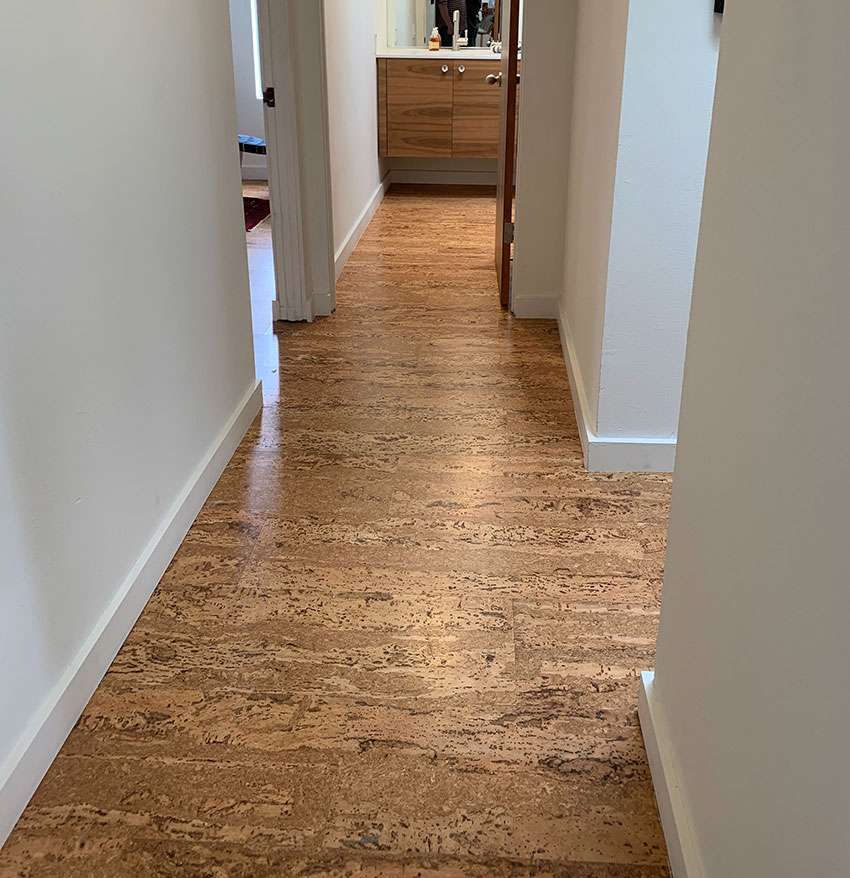 Image Credits: atomic-ranch.com
Consider using eco-friendly materials such as cork, reclaimed wood, bamboo, and rubber when designing a sustainable floor. Options like bamboo flooring blend style and durability because it is strong and is available in different patterns and colors
4. Revive Your Hardwood Floors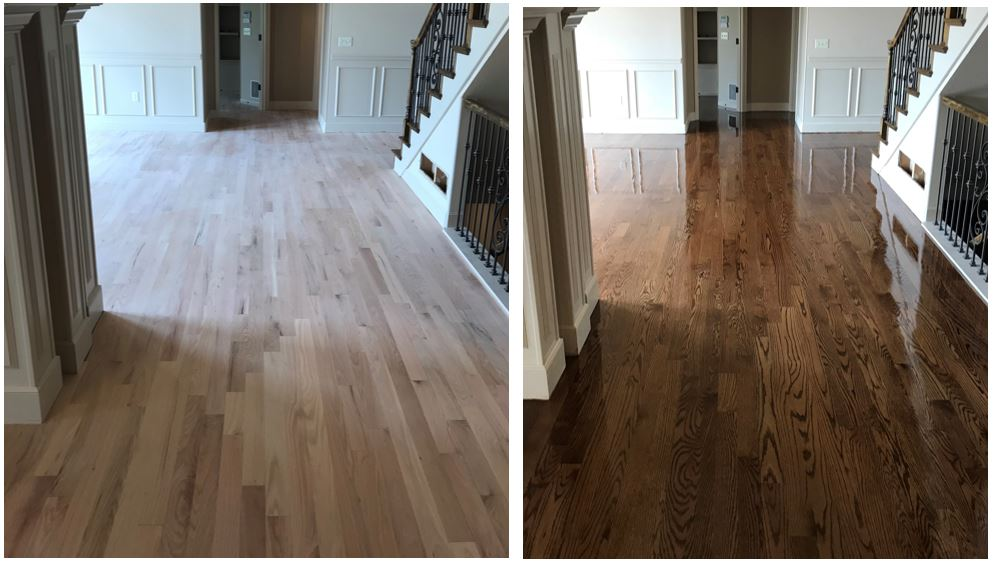 Image Credits: jrkflooring.com
Instead of replacing your solid hardwood floors because they're scratched or dulled, restain or refinish the surface to bring back the shiny natural look of your wooden floor. Refinishing is an affordable DIY project that buffs out scratches and dullness to give your home a refined look for the next few years.
5. Bring Heat to Your Feet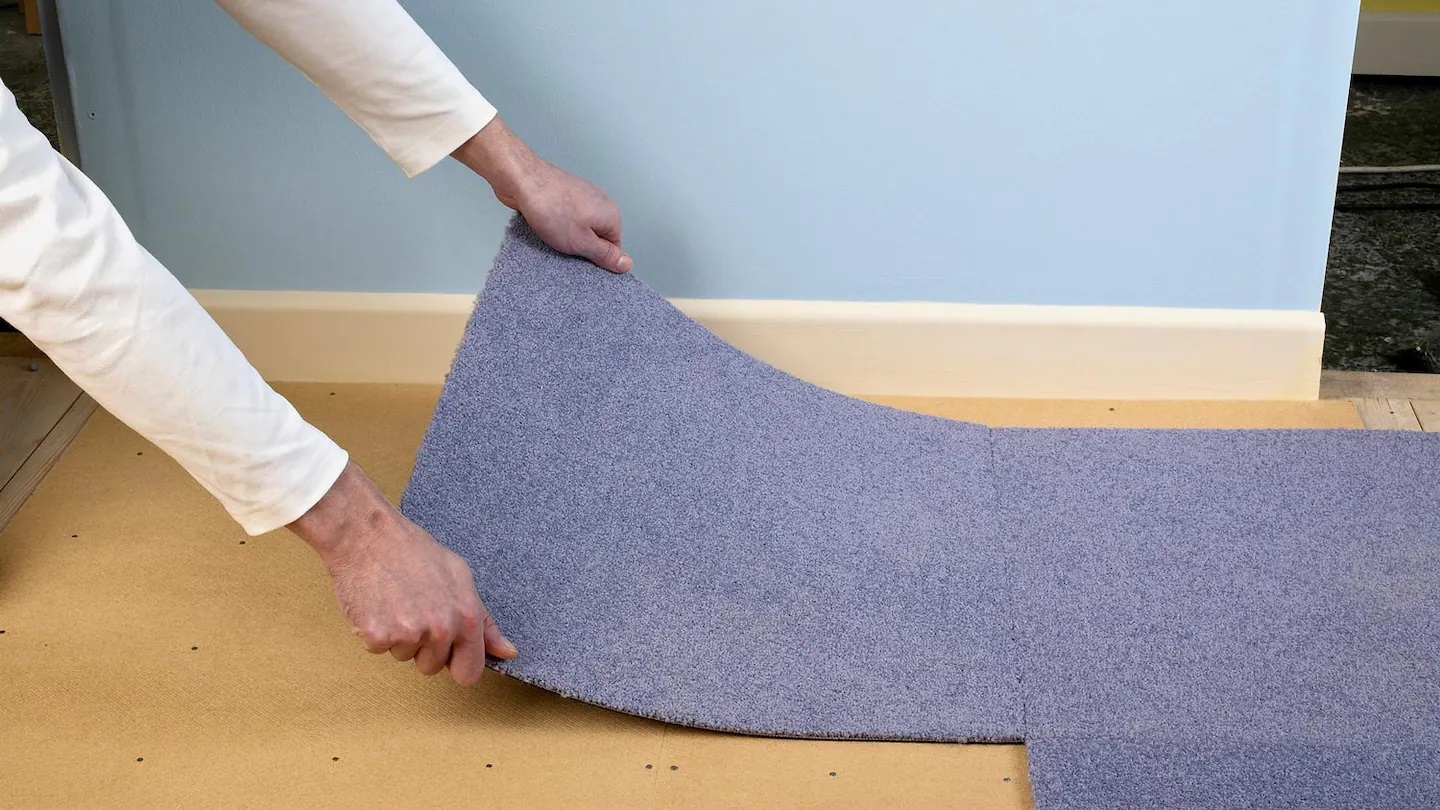 Image Credits: angi.com
Cold climates make you feel like you are stepping on ice cubes while on concrete and tile floors. Install floorings that are heat insulators, such as rubber and carpet floors. These materials can be installed on the existing concrete and tile floors.
Carpets come in different patterns and colors. So, besides warmth, it will give your home a new look that is beautiful and welcoming. You can choose carpet fabric that blends your décor for a magical interior. Also, you can install in-floor radiant heat to provide you with warmth under your feet
6. Avoid the Mess Using Vinyl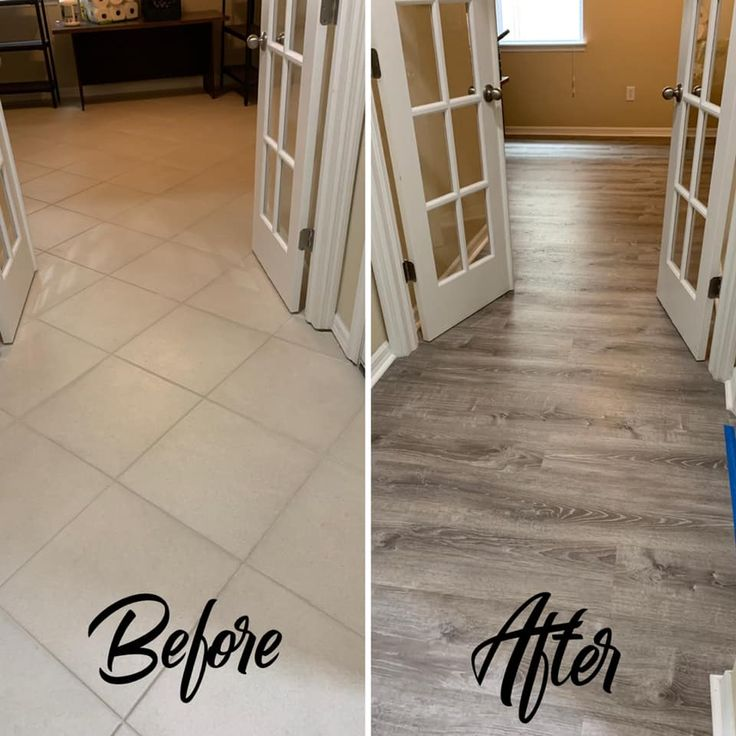 Image Credits: pinterest.com
Suppose you need a sturdy floor that is easy to clean and maintain. In that case, luxury vinyl is water resistant and can mimic expensive solid materials such as hardwood, ceramic, or porcelain tiles without paying a high price. Plus, vinyl can be installed right onto your subfloor or the existing floor as long as the surface is clean and flat. For a budget-friendly option, consider remodeling your floor with peel-and-stick vinyl tiles.
7. Use Marble for an Elegant Finish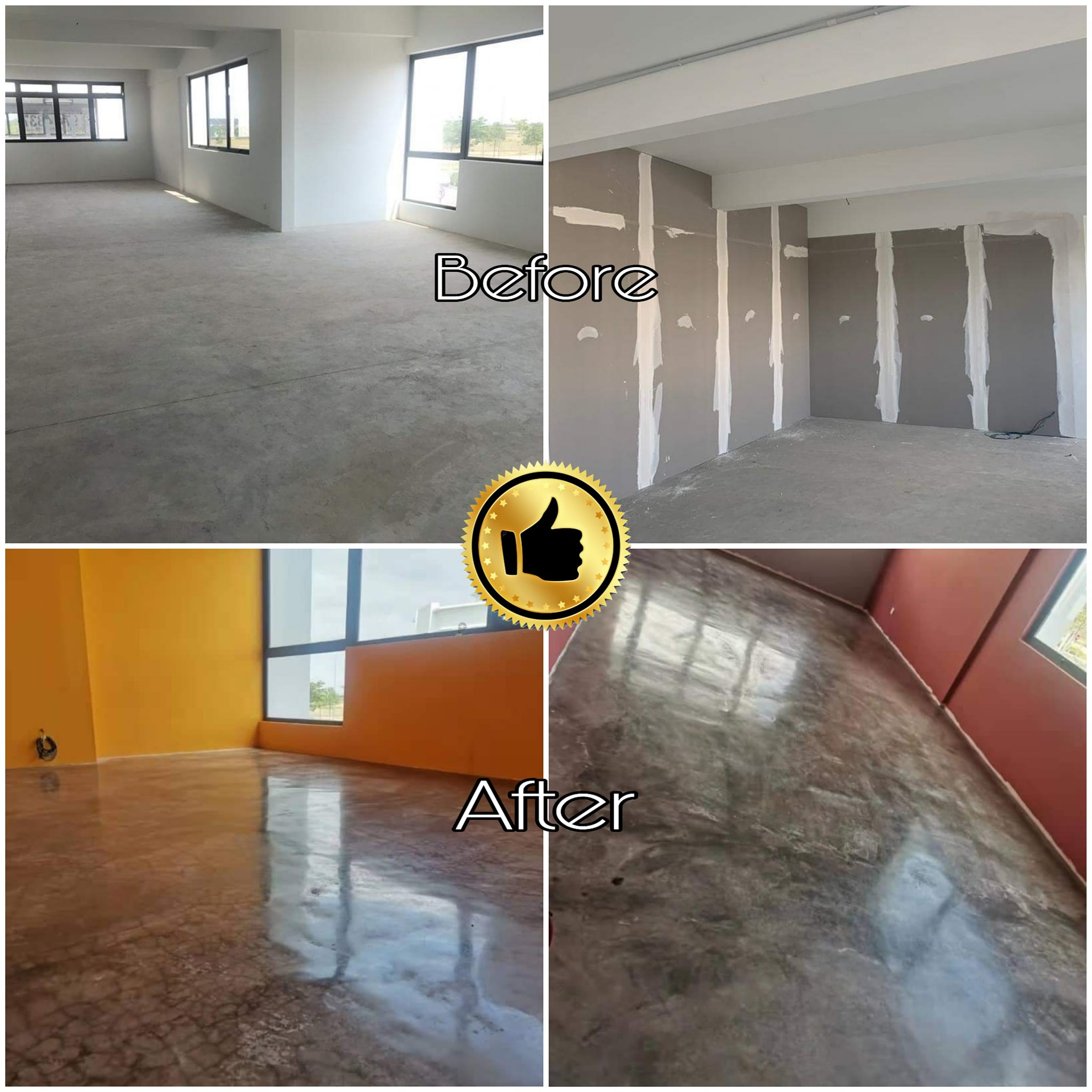 Image Credits: web.facebook.com
Though pricey, marble is one of the most elegant floorings that you can pick for your remodeling. It comes in white, grey, and oyster colors with an oyster shell mirror texture that is perfect for spaces like the living room. In addition, it is neutral with a timeless quality that enables it to hold up well with the high traffic areas.
Benefits of Using the Right Kind of Flooring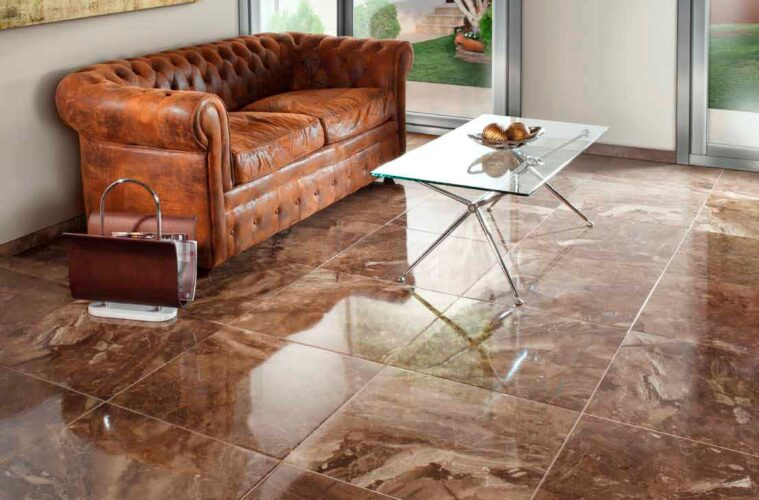 Image Credits: thearchicturedesigns.com
i) Enhance the Look  
Good flooring adds style and comfort to your home. It makes your space look bigger and creates a great first impression.
ii) Easy to Clean and Maintain
Most floorings can be steam-cleaned, swept, or vacuumed to remove any dirt or dust built-up.
iii) Sturdy and Ageless 
One of the main reasons for choosing flooring material is its strength and durability.
iv) Adapt to Every Décor Theme 
Flooring materials come in various patterns and colors that blend well with the most interior design theme. The flooring will always look elegant and match with mirrors, wall art, and other decorative stuff.
v) Long-lasting and Cost-effective
Most flooring materials are easy to maintain, long-lasting, and cost-effective. Flooring like wood floors and natural stones are not easily damaged. Over time, this will lower the cost of maintenance or repairs.
Tips To Help Select Flooring For Your Home
1. Location
Selecting flooring that will suit the area in which it is being installed is important from both a style and lifestyle perspective. Are you installing in an area like a bathroom, kitchen or laundry that is used often or in a bedroom that you would prefer a cosy, warm flooring choice to help insulate on a cold morning? There is a wide range of styles to suit your home design, so functionality is a key consideration.
2. High-Traffic Areas
Consider your lifestyle when selecting your flooring. Do you have children, pets or are installing flooring in shared spaces? Additionally, areas near the front and rear doors of the home will often benefit from more durable flooring. Selecting a hard floor such as laminate or vinyl will be more resistant to wear than carpet for example.
3. Installation
Maybe you are renovating your property and are looking for a budget-friendly flooring option. To save money, you could consider installing your flooring yourself. Laminate, hybrid and vinyl flooring are often easier to install than carpet or timber, as they can come as click-together planks for a straightforward install.
4. Your Budget
When determining your flooring budget, it is important to select flooring that is of a high quality to last for years to come. This can include budgeting for underlay, the right flooring for your lifestyle and for the overall aesthetic of your home. For example, Laminate, hybrid and vinyl come in a variety of styles, colours, and patterns so you can choose laminate flooring that looks like timber or stone, but at half the cost. Carpet can create a soft, plush style whereas timber is often more expensive but can introduce a different element of texture into your space. This can often rule in or rule out products before you begin shopping.
5. Floor Maintenance
We recommend considering the ongoing maintenance of your flooring choice, to ensure that your flooring lasts the test of time. Laminate, hybrid and vinyl flooring require very little upkeep and can be cleaned with a broom, vacuum or damp mop. Timber flooring can scratch easily from shoes, pets or children and need to be cleaned quickly in the case of a spill. Carpet needs to be vacuumed regularly to remove dirt and grit, and steam cleaning can also extend the life of the product.
Flooring Remodel Cost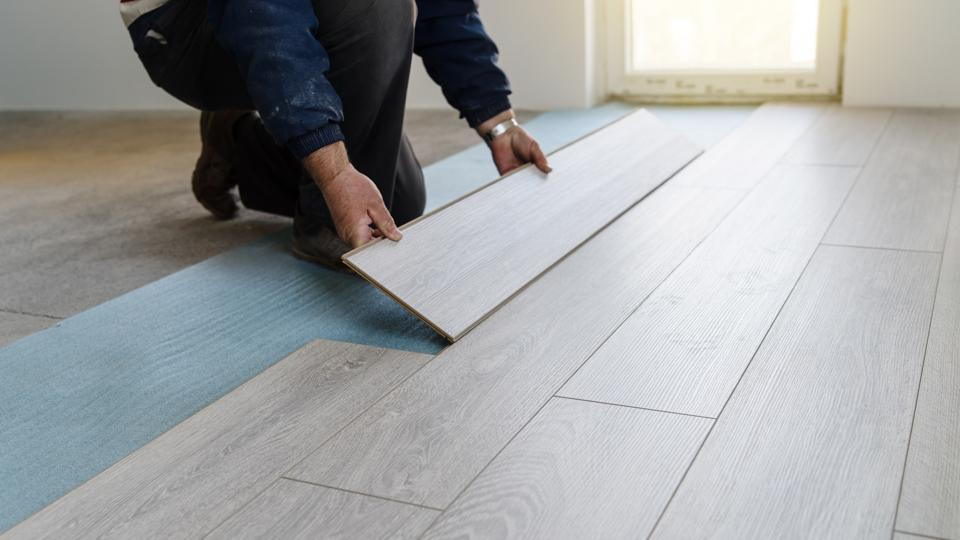 Image Credits: forbes.com
Installation of new flooring in your home is one of the best ways to elevate it, taking it from drab to fab in the shortest time. Even though there are remodeling ideas that you can do yourself, in most cases, you'll require a professional for a better outcome. But, whichever the case, knowing how much the whole project will cost you is key.
Generally, flooring costs between $1500 and $4500, with an average of $3000 to cover 500 square feet. The average flooring installation cost varies for different kinds of flooring after considering the factors discussed herein.
a) Materials
The bottom line of the flooring installation project is affected by the main component, which is the floor material you choose. Material cost is the biggest variable in flooring installation per square foot. There are several options you can choose from depending on your budget. For example, laminate would cost $0.68 to $2.59 per square foot, while tile and carpet go for $1 to $3 and $2 to$5 per square foot, respectively, with hardwood coming in a bit pricey, costing $3 to $12 per square foot.
b) Labor
Besides material, labor takes in the second largest factor when it comes to flooring installation. Easier installations like the peel-and-stick vinyl, carpet flooring, and floating hardwood floors on existing floors would cost less than more intensive jobs like gluing planks or laying heavy tiles and natural stones. However, cases of large surfaces may require more than one worker's services, which will be an additional cost.
Additionally, contractors running their businesses and doing their own work will charge you less than contractors assigned by big box stores aiming for larger profit margins. But in general, labor cost for installation per square foot of laminate is between $1 to $2, hardwood averages $3 to $9, and carpet and tile costs $1 to 3 and $6 to 8, respectively.
c) Underlayment
If you choose laminate and carpet flooring as your remodel ideas, underlayment is necessary because it is a moisture barrier between the subfloor and the flooring. Carpet padding costs between $0.25 and $0.90 per square foot. You can choose the best underlayment for peel-and-stick tiles to enhance durability and efficiency if it is your remodeling choice.
d) New Subfloor
Problems with the subfloor include moisture and sinking, which you can only discover upon removing the existing floor. Fixing such problems or replacing the subfloor will incur additional costs to your flooring remodel budget. Averagely, a new subfloor will cost $2 to $2.50 per square foot.
e) Removal of Existing Floor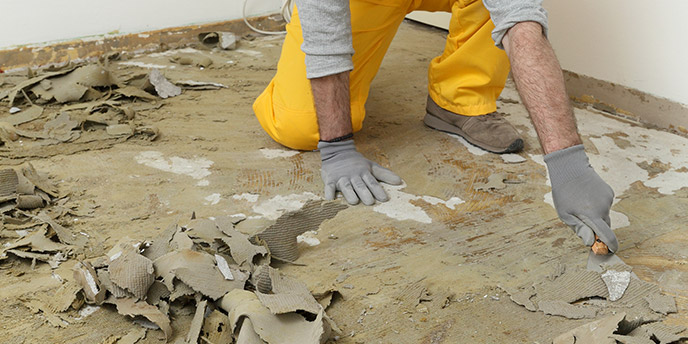 Image Credit:budgetdumpster.com
When remodeling your floor, installing some flooring on the existing ones is possible. Additionally, it is recommended that the old floor be removed first to fix any problem with the subfloor, if there is one. Also, installing new over old may result in high floors that may bring issues with opening and closing doors. Some flooring installers may offer removal services for free, while others don't. Check with your contractor to know the costs you are facing for the removal and disposal of the existing floor.
f) Finish
For concrete, hardwood, and natural stone, a floor finish is recommended to keep them in good condition. You may choose to refinish your existing floor to revive the gloss. Sealing these floors costs between $1 and $4 per square foot. Additionally, the average cost of refinishing a hardwood floor ranges from $3 to $8 per square foot.
Other floorings, such as concrete, can be polished or coated for a makeover. The cost of this kind of remodeling depends on the type of coating material you choose. Averagely, paint typically ranges from $2 to $4. Stains cost $2 to $5, with overlay and epoxy being on the higher end of $2 to $30 and $10 to $15, all estimated per square foot, respectively.
g) Additional Materials
Apart from underlayment, you need to add extra materials, including transition strips, to prevent cracking or fraying on your flooring and decorate it to make it look better. In the case of hardwood flooring, you may need extra pieces for stairs, quarter rounds, nose molding, and trim to hide the joins.
The transition strip costs range from $1 to $30, depending on the material and finish. But for the extra piece of flooring material, 10 to 15% of your estimated material would be a sensible estimation.
General Flooring Installation Costs
In consideration of all the factors above, the average cost to install flooring is as follows
Hardwood: $6 to $22 per square foot
Laminate: $1.7 to $4.6 per square foot
Tile: $6 to $20 per square foot
Carpeting: $3.5 to $11 per square foot
Stone: $6 to $20 per square foot
Vinyl: $3 to $7 per square foot
Frequently Asked Questions on Flooring Renovations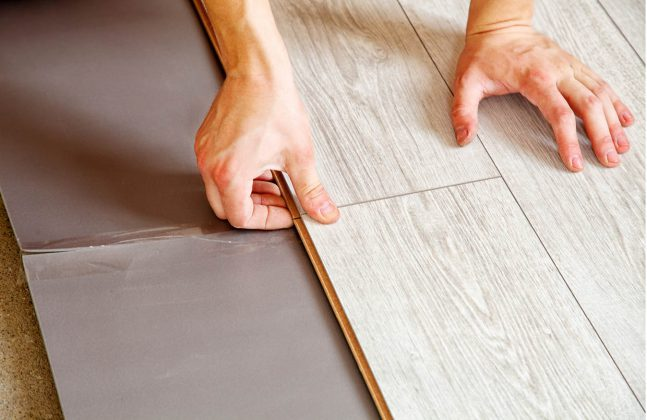 Image Credits: allthingsfloring.com
The following questions will guide you on when and how to remodel your floor, but most importantly, you'll be able to identify what you need for your remodeling process.
1) Do I need to restore or replace the existing floor?
Depending on the level of damage or the reason for the renovation, floor remodeling can be done through replacement or restoration. You may want to cover the old floor with new material or remove the existing floor and replace it.
2) What is a flooring remodel budget?
The flooring remodel budget will depend on the surface area and flooring materials you choose for remodeling. The budget also differs depending on your remodeling, restoration, or replacement mode. With a good budget, you can buy quality flooring at a lower price.
3) What are the best aesthetic preferences?
It is important to settle on the flooring material that suits your preferences because there is a variety to choose from, ranging from colors, finishes, and textures. If it's still a challenge, you can do research online or consult a flooring expert, then have your choice discussed by your contractor.
4) What is the type of space where the floor will be installed?
The type of flooring is highly determined by the space you are installing it in. It should be suited and safe for that space. Choose materials with high resistance, easy maintenance, and water repellant for a kitchen. As for the living room, there is more flexibility but avoid too slippery flooring if you have kids.
5) Do I hire a flooring contractor?
Some floorings are easy to install yourself with simple instructions. It may take longer to install them, but it is economical. Complex materials require experts to install flooring. These are mostly the resistant materials that come with a warranty.
6) Do I buy my materials myself?
Buying own materials is advisable in the case of self-installation. However, consulting a contractor will reduce the chances of making mistakes regarding the quantities, subfloors, and finishing products. Contractors may access discounted prices due to their continuous purchase in large volumes.
7) Do I have to live elsewhere during the renovation?
Depending on the stages involved in the renovation process, it doesn't take long. If you are remodeling a large surface area, it is in line to leave the house for a while. Some subfloor structures and finishing products may also take a while before you can use your home again. You can consult with your contractor to make earlier plans for your next temporary residence until your home's elegance is restored.
Conclusion
The floor is an important part of every home that provides warmth and style to the space. Several flooring remodel options are available, but it is important to consider your needs and preferences before settling on any option.