Getting the best architecture software is crucial in today's architecture sector. Because of the brilliant architectural marvels surrounding us, clients expect to see more than just blueprints, concept drawings, and physical drawings.
They want to be wowed with virtual representations filled with details of what their final physical asset will look like. With building information modeling and 3D modeling, you can now seamlessly design interiors and populate your buildings. If you choose one of the best architecture software options we have for you, you'll even be able to adjust the lighting effects while accounting for how external forces will affect your structure.
Other advantages you'll enjoy with building information modeling and design software are that you'll get to save a lot of time and enjoy a more efficient workflow as the standard processes are automated. However, note that you won't enjoy these benefits if you choose the wrong software.
There are various forms of architecture design, each offering you different options and specific features. Some of these types include:
BIM software
CAD software
Architectural modeling software
Architectural drawing programs
2D and 3D modeling software
Architectural sketch software
Architectural planning software
Architectural layout software
It would be best to choose an architecture design software that suits your needs and works best with your work setup. That said, let's look at some of the best architecture software for great architects and designers like yourself.
Best Paid Architecture Software
1. AutoCAD

The AutoCAD architecture design software has been a pillar of the architectural and construction sector since its release in 1982. Many architects, engineers, and designers owe their genius works to AutoCAD. Autodesk has incorporated built-in architecture toolkits and specific building designs into this incredible architecture software.
For example, the pre-built objects for walls, doors, windows, and mechanisms for creating sections, plans, and elevations from model geometry speed up your design process. You'll find that many architects use AutoCAD as the first step on their way to creating 3D models.
The reason is that AutoCAD allows you to develop drawings that represent your buildings at a more fundamental level. After designing the drawings, you transfer them to other software packages to work on the more advanced modeling concepts.
Because of how popular this AutoCAD architecture software is, many other design packages are compatible with its files.
Nonetheless, the main caveat to AutoCAD is that it is firmly aligned with older working practices. This means that it may not be the best when working with a team that has adopted Building Information Modeling (BIM).
In this case, Autodesk offers Revit, which we'll look at next.
2. Revit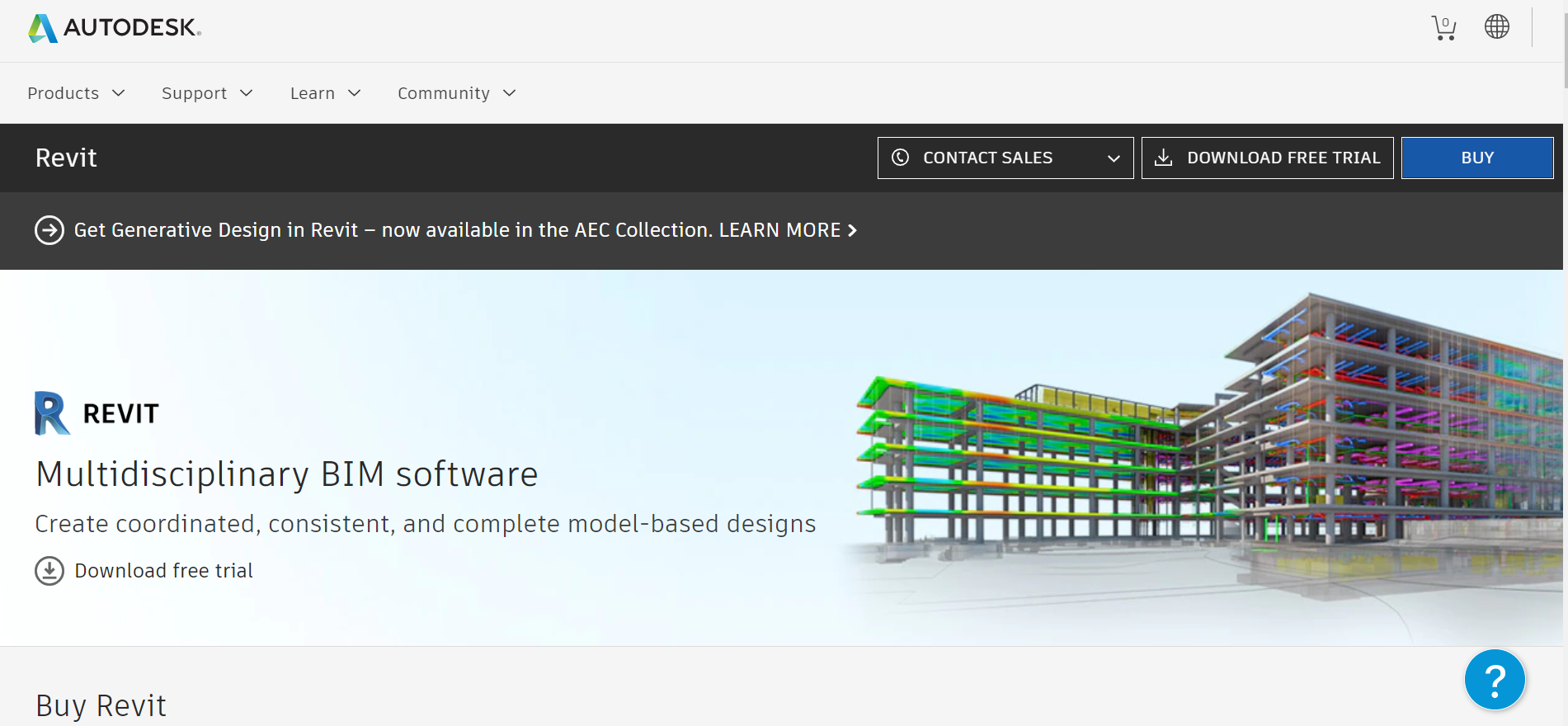 Revit is a Building Information Modeling (BIM)-oriented design tool perfect for architects. This highly efficient tool has smart object connectivity and is part of a whole new generation of Autodesk products, especially for architectural studios.
This is because this design software is created to handle complex projects requiring Building Information Modeling (BIM). As a modern architect, you understand that the BIM concept is vital in today's architecture. We live in a world where environmental awareness is prevalent, and sustainability is high in design concepts.
Revit offers tools that are effective for BIM and center around automation. All the changes you make to your model are recorded and coordinated to ensure that you create projects that incorporate BIM at every turn.
Revit is made to design and model a building and coordinate multiple architects, engineers, and project partners who collaborate on the same project.
Architects and designers who use this best architecture software work with objects and not vector between points. This allows them and you (once you start using this design software) to work faster and with a lot more confidence.
However, it's important to state that Revit isn't like AutoCAD. Although they both use a command-line interface, you might struggle initially after you make the transition. Nonetheless, after you've scaled the steep learning curve, this architecture software offers you a competitive edge over all the other architects using traditional design applications such as AutoCAD.
3. 3DS Max

This software is a flexible modeling system with powerful plugins to allow you to do great 3D modeling and animation. Complete with AutoCAD support, this architecture design software existed way before Windows 3.x. It was one of the first tools to offer a hardware-accelerated rendering of 3D images.
The one thing that makes this architecture software stand out is its ability to create visuals and fly-through animations to promote a project instead of the standard design from the floor up. Used in collaboration with the vanilla 3DS Max, you can choose from the three special collections.
These include Architecture, Engineering and Construction, Media work and Entertainment, and Production Design and Manufacturing. The Architecture, Engineering, and Construction collection includes AutoCAD, Revit, and Civil 3D. We'll look at the latter next on in this guide for the best architecture design software.
In addition to these particular applications, 3DS Max has other steel detailing tools, structural analysis, vehicle path calculations, and building performance analysis.
4. Civil 3D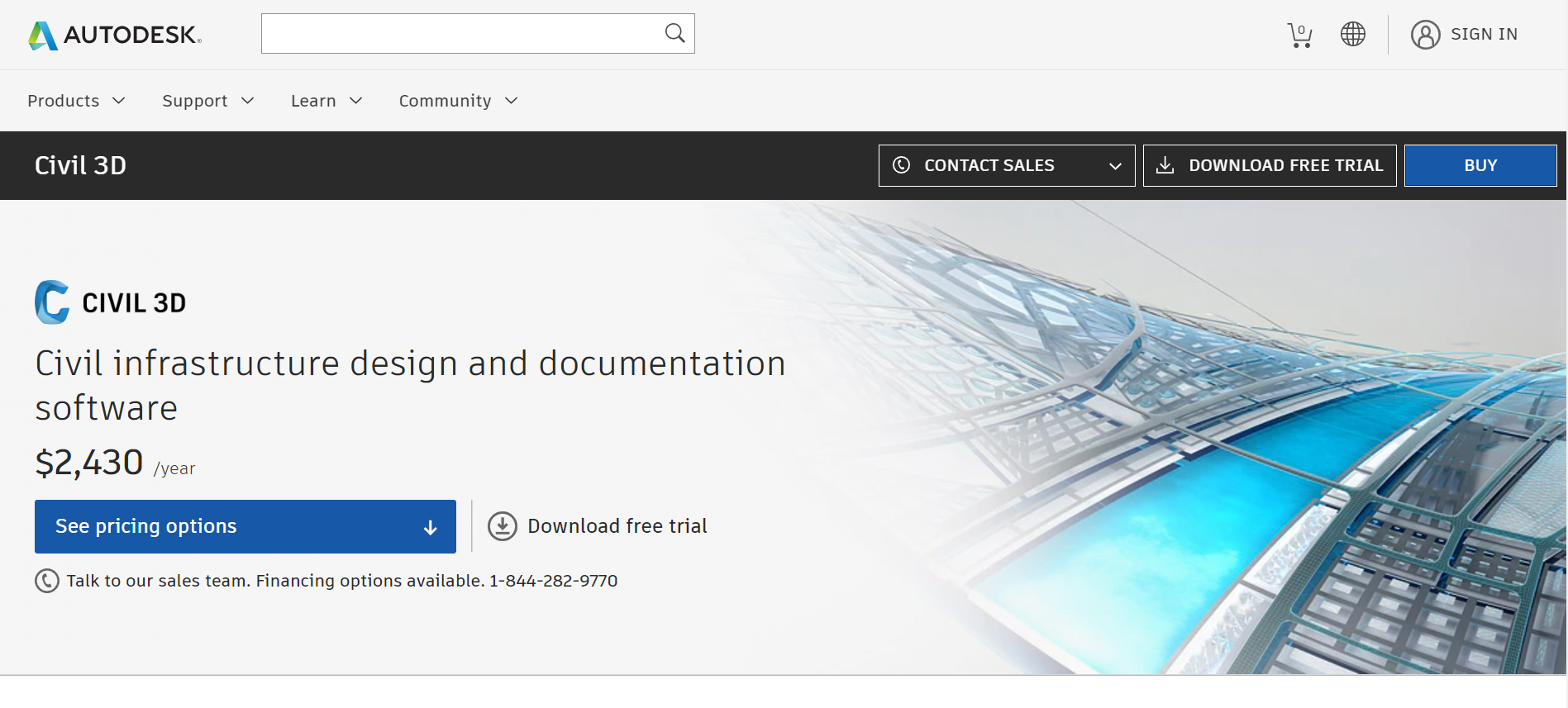 You can think of this architecture software as AutoCAD with a civil engineering twist - hence the name. When you think of CAD software, drawing and modeling are the two main functions needed by architects and builders when using it. However, Autodesk goes a step further to create Civil 3D, which includes several other functions and tools that come in handy.
The best part about this architecture software is that it is created to work well with other Autodesk products such as AutoCAD, Revit, and 3DS Max. Civil 3D also offers a design and documentation pipeline for Building Information Modeling (BIM) workflows.
This architecture software's useful ability is integrating images with terrain modeling, service schematics, roads, and construction geometry. A single highly annotated package contains all these elements. Therefore, this and its other features mentioned above make this software great for architects and engineers.
Engineers will love how this architecture software allows them to focus on their specific area and observe how changes might interfere with the designs.
5. Rhino 3D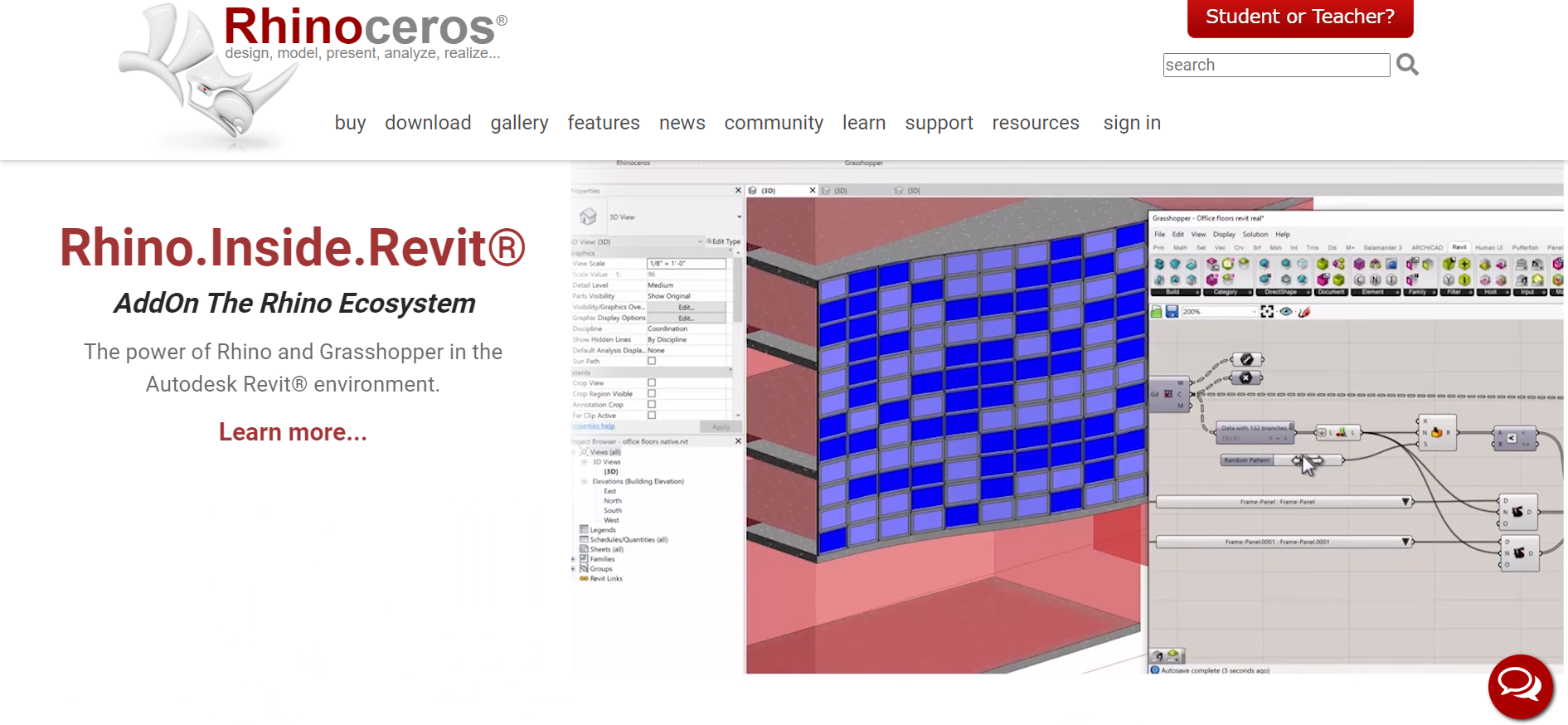 Rhino 3D has become one of the most popular tools for architectural design since its creation in 1998. You can enter drawings or physical models into the software, and then Rhino 3D will create 3D models and give you the documentation for your design.
This architecture and design software gives you all the tools you need to edit designs. You can also scan real-world data into recent versions of Rhino 3D and use the data to improve your 3D modeling and designs.
You can also create animations and professional renders with this architectural software. Another thing that makes 3D Rhino the best is that architects can translate solid objects and surfaces into the software. Talk about a flexible design package.
This architecture design software also allows you to work with polygon meshes and point clouds. Therefore, if you are an architect who doesn't like investing too much time into learning about the intricacies of computer-aided design (CAD), you'll love this design software.
If you have some programming skills, you'll get an added advantage because you can adjust the Rhino 3D workspace to suit you using RhinoScript and creating your plugins. Nonetheless, even if you can't program, don't worry, as you will still have a fantastic experience with this architecture design software.
You will have access to a database of pre-built plugins that you can use to customize your workspace. You can also export your Rhino 3D designs using 3D printing and laser cutting.
6. CATIA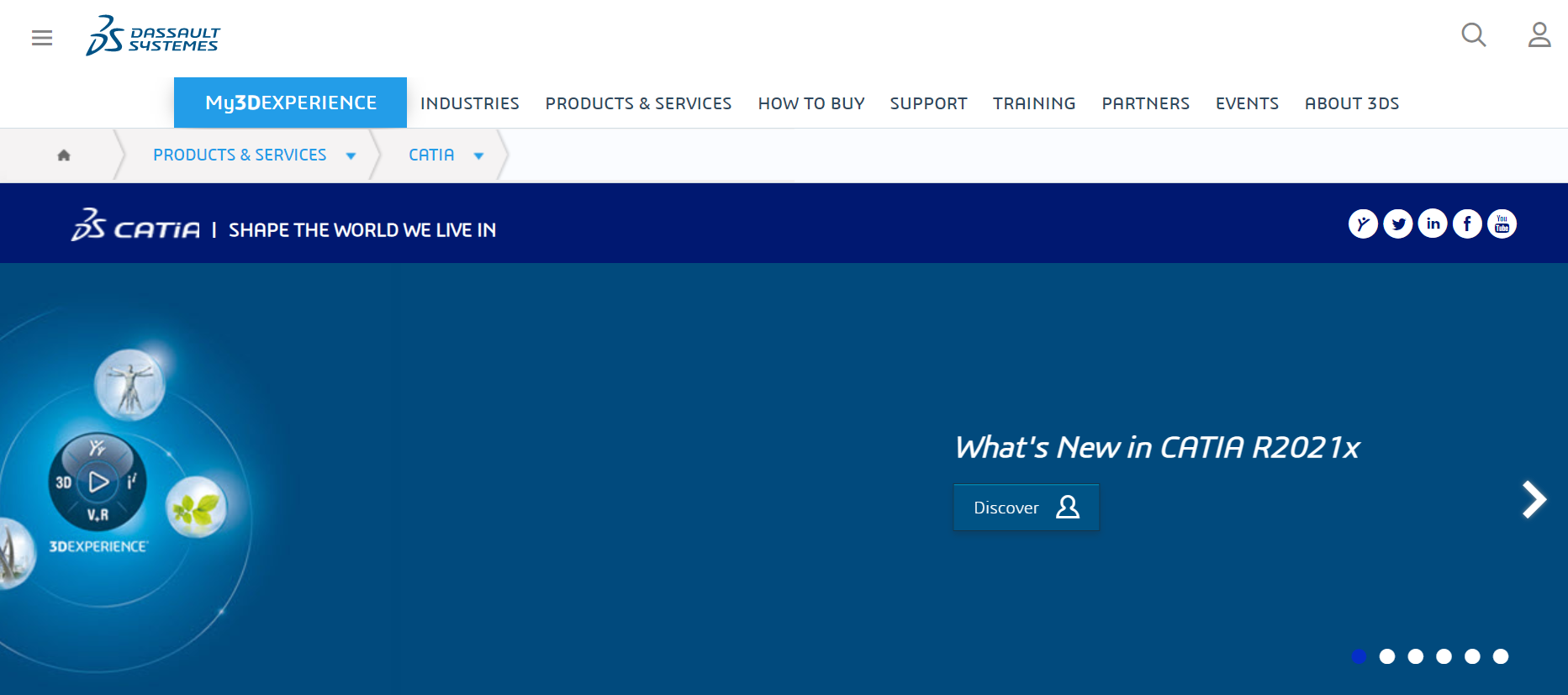 This architecture software offers high model complexity making it great for designing buildings as well as jets. Although it may be a bit expensive than our other architecture software options, it is extremely powerful and well worth the money.
The creators, Dassault Systèmes, originally conceived this software to precision model military hardware. This means that CATIA can easily handle complex architectural problems while generating finely details models that will leave you and your clients in awe.
Dassault Systèmes was ahead of its time when it created this architecture design software. It included collaboration and security controlled distribution in its software way before other CAD software systems did.
CATIA recently expanded these coordination features to incorporate Cloud functionality. Because of its powerful features and functionalities, this CAD software doesn't post its exact pricing. You need to ask for a quote to get custom pricing for you.
7. SketchUp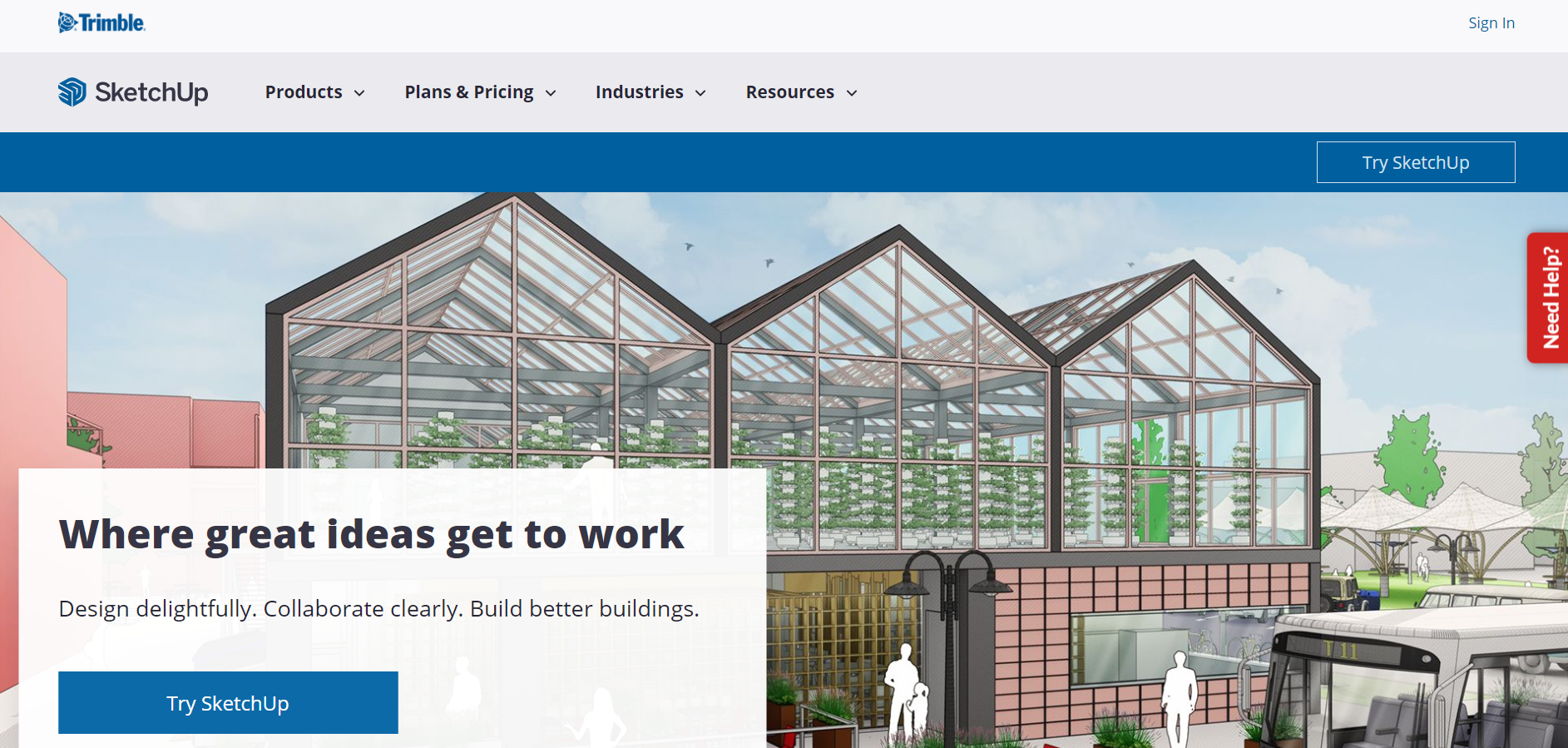 Many architects prefer SketchUp over any other design software because of its real-world application. This best architecture software has various helpful features thanks to Google. Google purchased SketchUp back in 2006, and although it later sold it, it wasn't before adding some convenient tools.
For example, you can pull satellite images and topographical images from Google Maps onto SketchUp. SketchUp is currently owned and developed by Trimble, who releases a new version of this fantastic design software annually.
If you are entering the 3D modeling world, this 3D modeling software is excellent for you as it is as easy as CAD can get. Designers and any architect should construct complex solid geometry with this design software after watching a few easy-to-follow tutorials.
Due to its free release, SketchUp has become very popular. This has generated a large active community that's always ready to help any inexperienced user. This user-base has also led to an extensive object library, a vast resource of pre-constructed parts that you can drop into any project.
Although it's not the best for designing a building in its entirety, this design software is an excellent tool for quickly prototyping a design at the conceptual stage.
8. ArchiCAD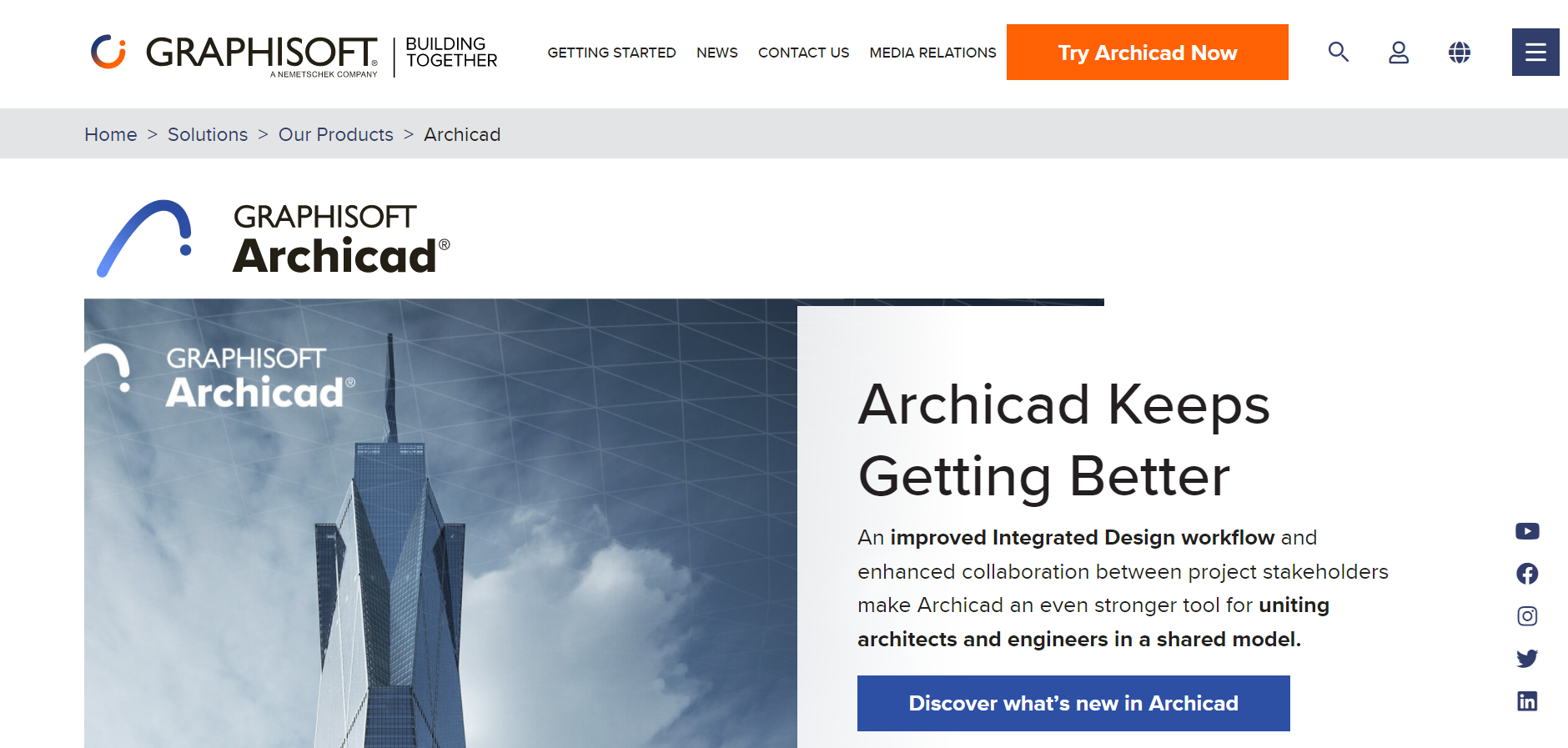 Developed by Graphisoft, this open BIM is a complete tool for an architect as it allows you to do visualization, 3D and 2D grafting, and building modeling. If you want to handle both the design and engineering work, the ArchiCAD software will help you.
ArchiCAD is in a league of its own when it comes to the field of visualization. This is because ArchiCAD offers you a high-quality and photorealistic architectural rendering. Also, ArchiCAD is famous for its ability to store large amounts of information in 3D models.
You can use ArchiCAD to design spectacular urban areas, buildings, and interiors as it gives you a wide range of design tools to let your creativity shine.
9. Chief Architect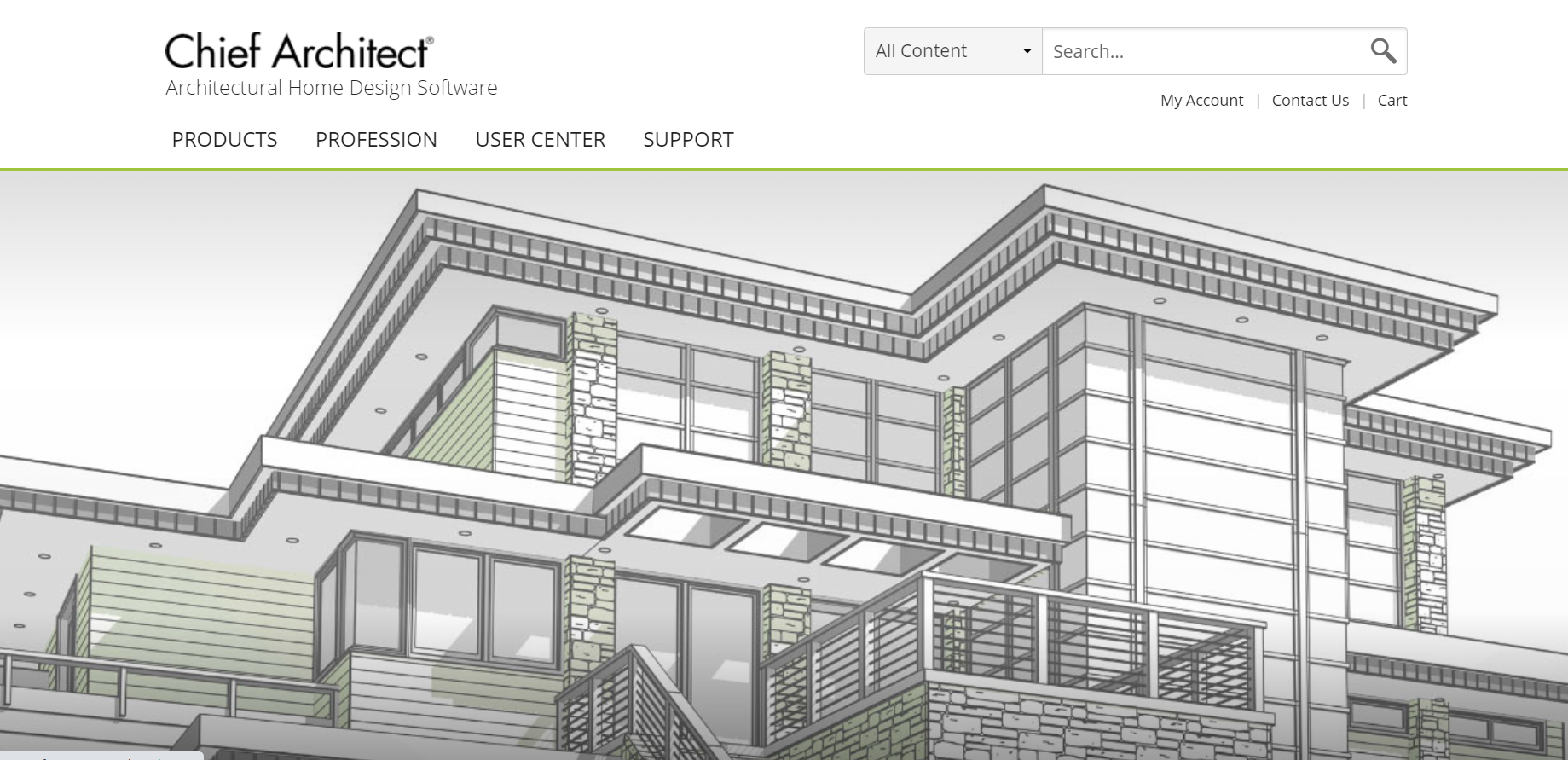 Chief Architect can be used by home builders, interior designers, homeowners who want to remodel, and of course, architects. Because more homes are built than giant office complexes and retail parks, this architecture design software is unlikely to go out of business.
If you like what you see with this software, you can select their Premier product which easily handles complete buildings, including all their details. However, you could also take a pick at their product selection and pick the best package for you. For example, if you focus more on interior designing, you could choose Interiors.
Nonetheless, if you want to construct 3D models of interior and exterior spaces without a sweat, we recommend that you use Premier of Architect Interiors. After that, you can project these concepts and designs into 2D plans and elevations.
10. Grasshopper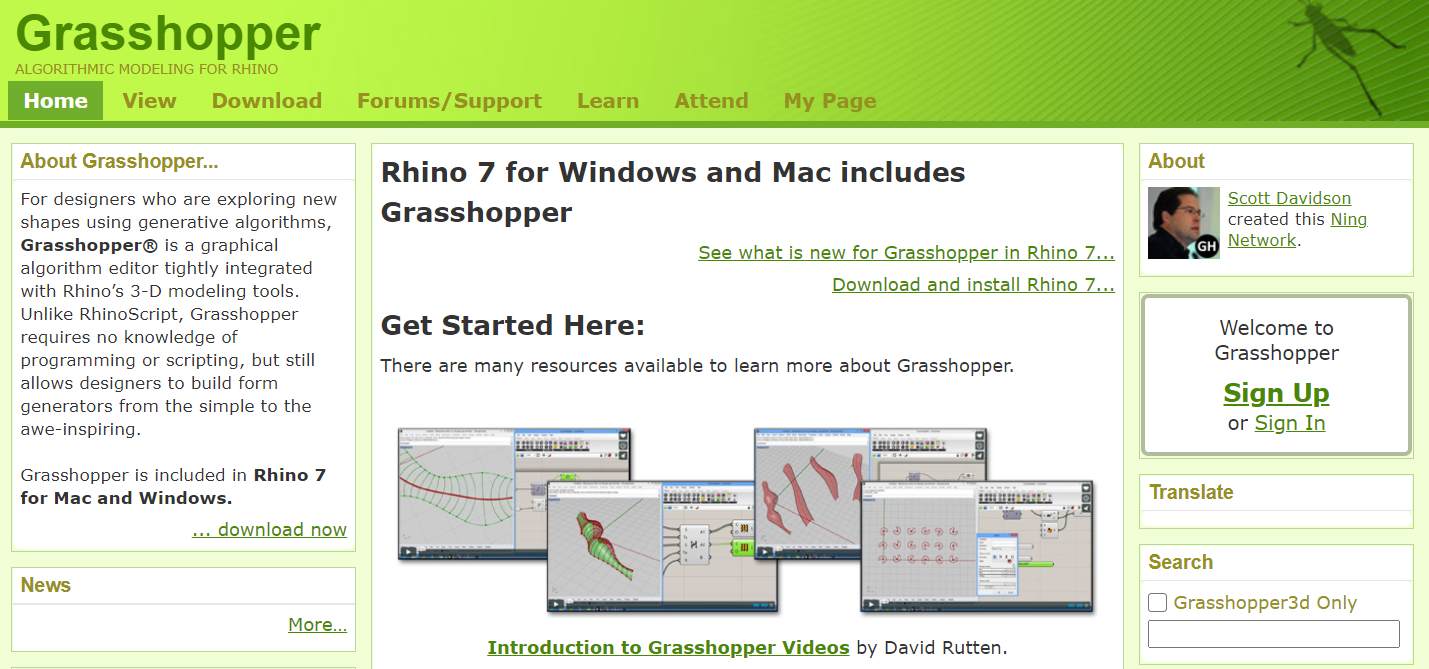 Grasshopper allows you and your design team to use parametric design to improve the efficiency of your workflow. It does this because it has several tools that help you automate most of the menial tasks. Grasshopper has excellent use of variables that makes actions such as copy-pasting basic elements such as lines easier.
This function is what differentiates it from other design softwares. Other softwares use matrixes to reduce the time these annoying tasks take. However, even if the process is made faster, the process is still annoying. This is why Grasshopper's use of variables is still the best option.
You only need to enter a number into your chosen variable to create the desired number of elements. You can also create modules that are centered on these common tasks. This modeling software allows you to create an entire library of previously used elements and ideas after frequent use.
You can then easily access these modules with just a click of a mouse. The fact that it's an open-source software makes Grasshopper all the more popular. There is a community around this fantastic software that is constantly developing new plugins. Grasshopper also links closely with Rhino 3D, which is an advantage as it eliminates the need to grasp coding when using Rhino 3D.
Best Free Architecture Software
Thanks to free architecture software, you can now seamlessly design complex and intricate architectural designs, whether new to design or a seasoned architect.
You can visualize plans and designs even before they are materialized, and this allows you to quickly test your ideas while still maintaining a proper workflow of your projects. The advantages of using architecture software in architectural design are endless.
For example, by using design software, you make design and information management fast and efficient, helping you increase your output and productivity.
Several cool features come with a good architecture software toolkit. Most of these toolkits are expensive because they make your design work a breeze. Luckily, there are some fantastic free architecture softwares with 3D modeling, CAD, modeling software, and so much more.
Here are the best free architectural design softwares.
1. Blender

Blender is a free and open-source 3D creation suite. If you're a lover of 3D, this architecture software will blow your socks off. This design software incorporates the entire 3D pipeline and includes modeling, animation, compositing and motion tracking, rigging, rendering, simulation, video editing (Movavi Video Editor Plus, and Final Cut Pro editing software are great video editing software options), and 2D animation pipeline.
This 2D and 3D design software is user-friendly and works well no matter if you work at a big design firm, a student, or freelancing. You can customize this architectural software however you like to suit your process and floor plan you're working with.
With this excellent free 2D and 3D architecture software, you also get to enjoy the Cycles Render Engine feature. Cycles is Blender's built-in powerful unbiased path-tracer engine. This architectural software feature offers you stunning ultra-realistic rendering for a fantastic design.
The benefits you get from this user-friendly feature include:
VR rendering support
CPU and GPU rendering
Real-time viewport preview
PBR shaders and HDR lighting support
2. FreeCAD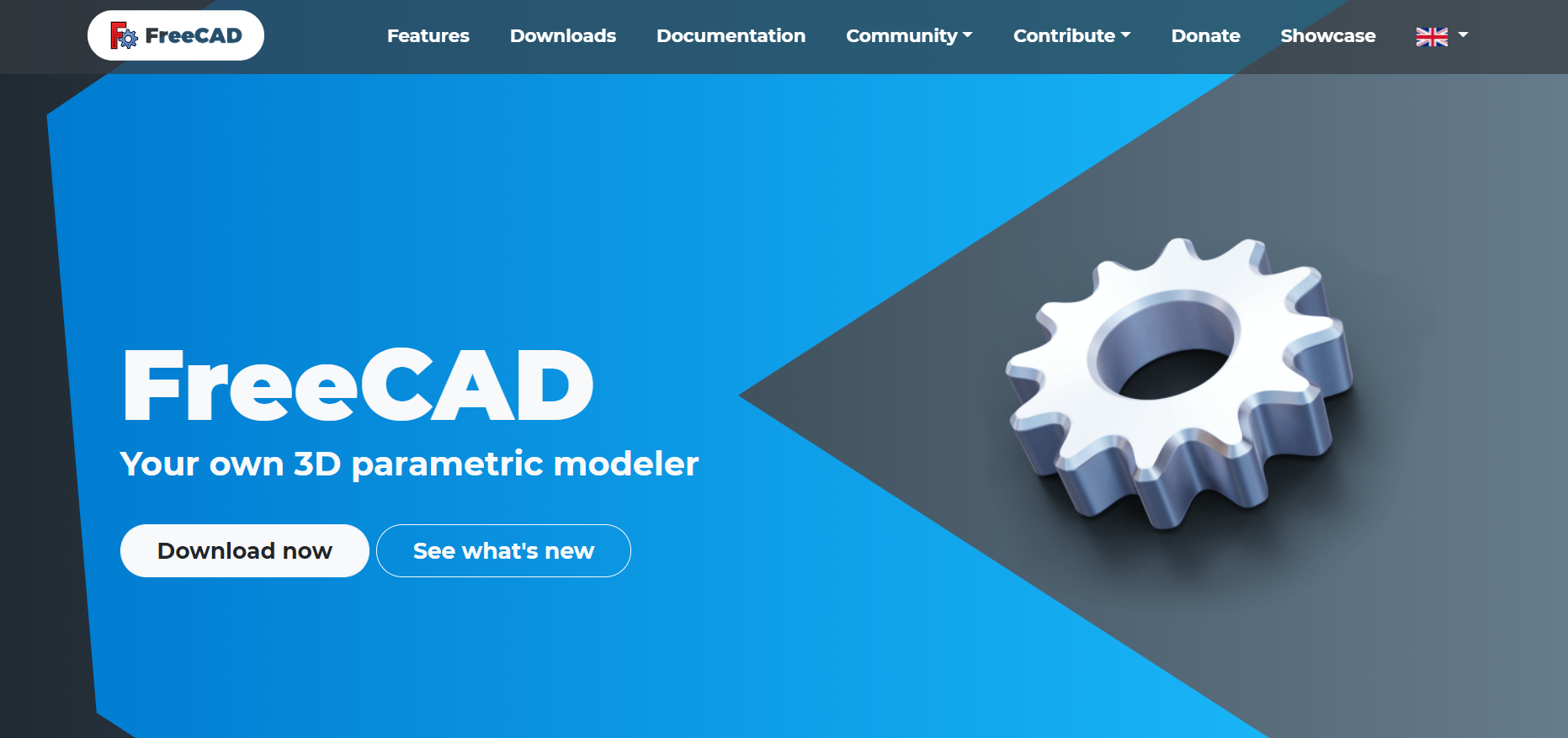 Using FreeCAD is like having your own 3D parametric modeler. This architecture software is an open-source parametric 3D modeler manufactured to help you design real-life objects no matter their size. Parametric modeling enables you to modify your design easily.
By simply going back into your model history and changing the parameters, you can have your desired model look exactly how you want it. This architecture CAD software also allows you to sketch geometry-constrained 2D shapes.
You can also use these 2D shapes as a base upon which you can build other objects on your floor plans. This open-source parametric 3D modeler contains various components that you can use to adjust dimensions and extract design details from your 3D models. This then helps you create high-quality production-ready drawings sure to impress your clients.
This architectural design CAD software is multiplatform and works well on Windows, Mac, and Linux. FreeCAD is also an extensible software. It can read and write to several open file-formats, including IGES, STL, SVG, STEP, DXF, IFC, DAE, OBJ, and many more. This nature allows you to integrate this design software into your workflow seamlessly.
3. LibreCAD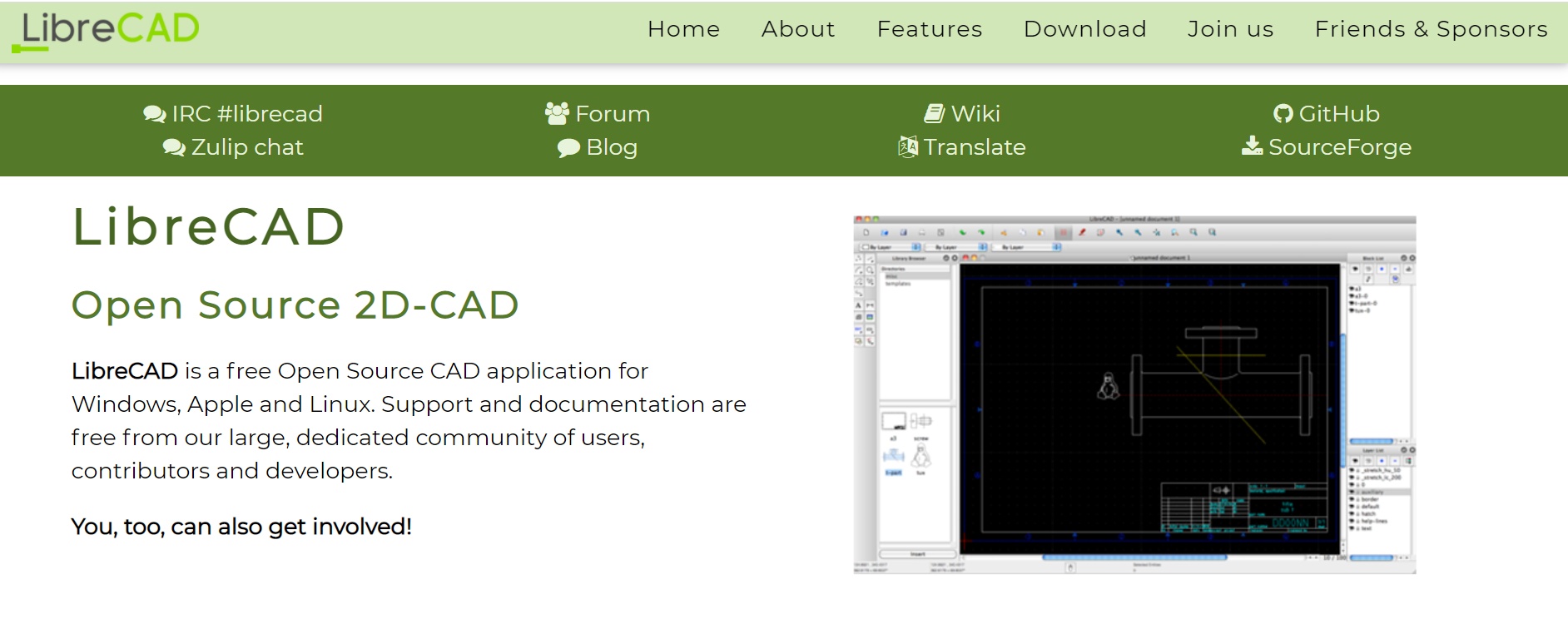 LibreCAD is an open-source 2D-3D CAD application that works well on Windows, Apple, and Linux. If you are a fan of communities and you love contributing and collaborating with other contributors and developers, you'll enjoy using this design software.
Developed by an experienced team and supported by an incredible community, you might enjoy the fact that you can easily hack and copy LibreCAD.
This 2D and 3D architecture software began as a project to build CAM capabilities into the then community version of QCad for use with a Mechmate CNC router. Because QCad CE was built around the outdated Qt3 library, it had to be ported to Qt4 before it was enhanced. This led to the formation of CADuntu. However, the name CADuntu didn't stick for long before the community renamed it LibreCAD.
This open-source architectural design CAD software allows you to make different technical drawings, including interior design schemes, buildings, room plans, mechanical part schematics, and diagrams. The main supported file format with this architectural design software is DXF.
However, LibreCAD also allows you to export files to PDF and SVG.
Thanks to the fantastic master developer on their team, LibreCAD is Qt3-free except in the 1.0.0 series. You'll find that for LibreCAD 2.2.0 series, Qt5 is mandatory. Some of the features that you'll enjoy with this architecture software include:
Open-source and GPLv2
Availability in over 30 languages
Cross-platform support for Windows. macOS and Linux
4. SmartDraw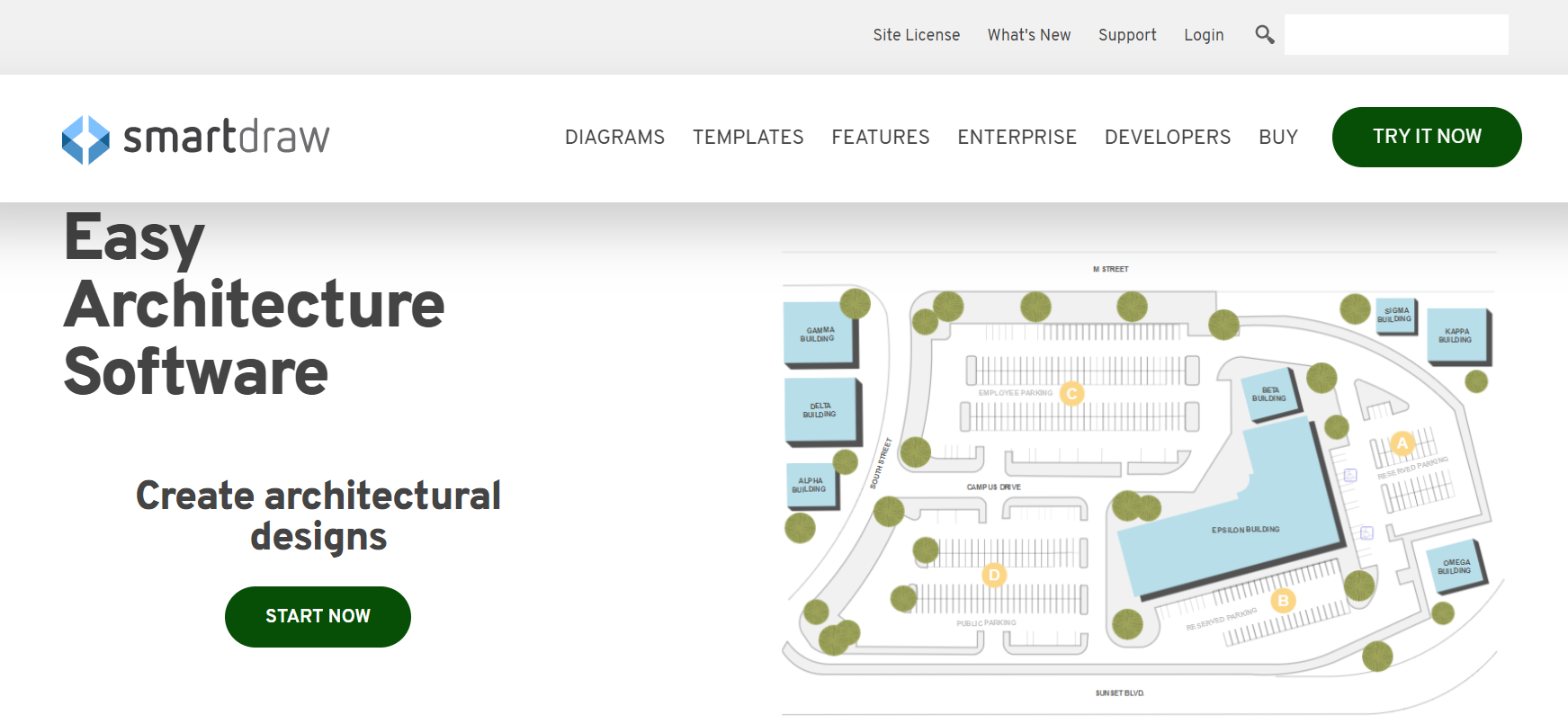 SmartDraw is a design app with a strong focus on making the design process quick and simple for architects, designers, and any other party using the app. It is available as both a cloud solution and a downloadable choice for Windows.
This software offers you dozens of templates to choose from, modify and customize with the help of ready-made symbols. This means that you can make as many architecture design variations as possible and then pick the ones you like.
If you work in a team and like to collaborate and sync your progress with your team members, this architectural design software's got your back. It supports integration with tools such as Trello and Jira, thereby allowing you to optimize your workflow.
This web-based free version allows you to export your drawings and floor plans in different formats. Therefore, you can print your 2D drawing and other drawings or import them into your other apps. SmartDraw comes with several templates that will make your work easier as you create landscapes, architect plans, office spaces, facilities, house drawings, and more.
5. OpenSCAD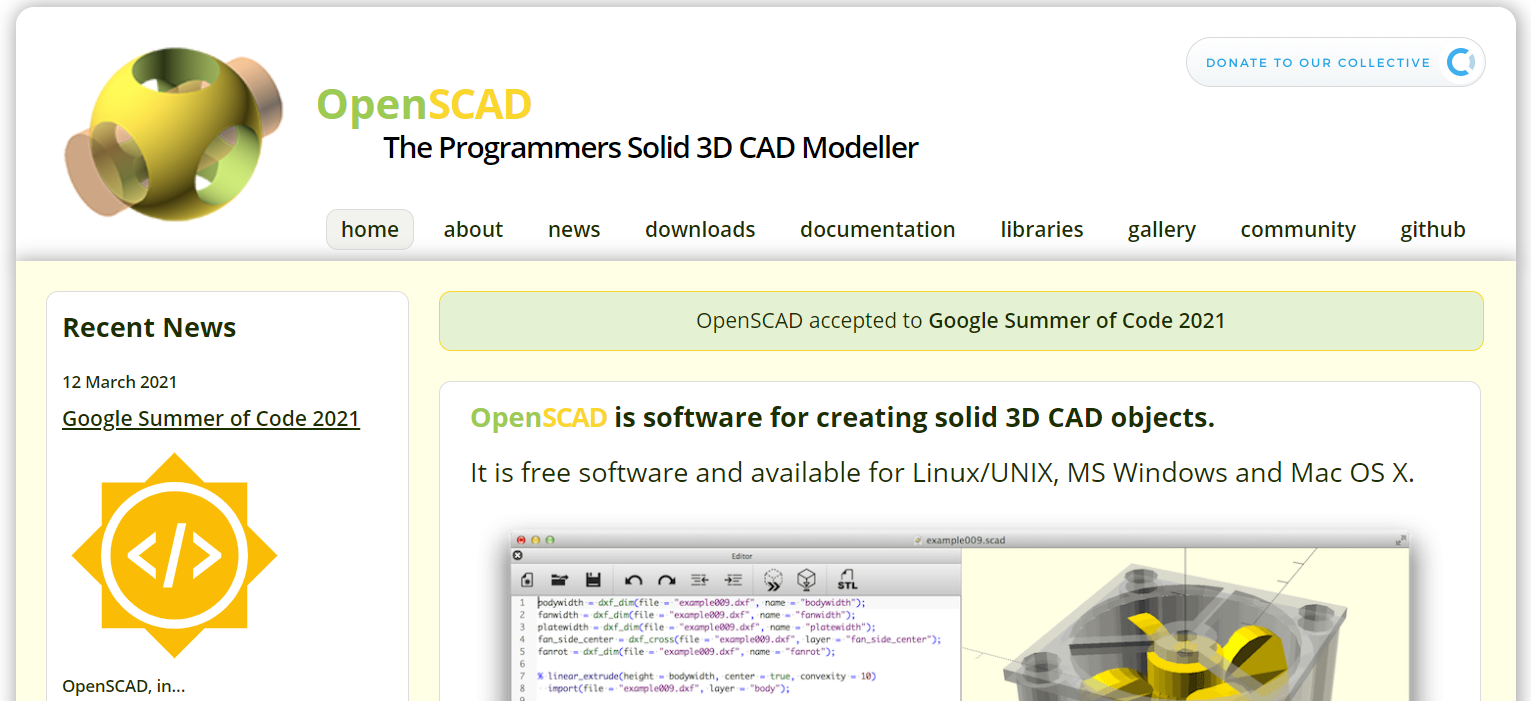 OpenSCAD is another open-source solution that allows you to create solid 3D models from your floor plans. This architecture software is available for Windows, Mac, and Unix. The thing that makes this free software stand out from other 3D modeling applications is that it focuses on the CAD aspects of 3D modeling instead of the artistic side.
This software works more as a 3D compiler and not so much as an interactive modeling tool. It renders 3D models based on the description of their properties in the script file. This architecture design aspect gives you complete control over the modeling process.
6. MyVirtualHome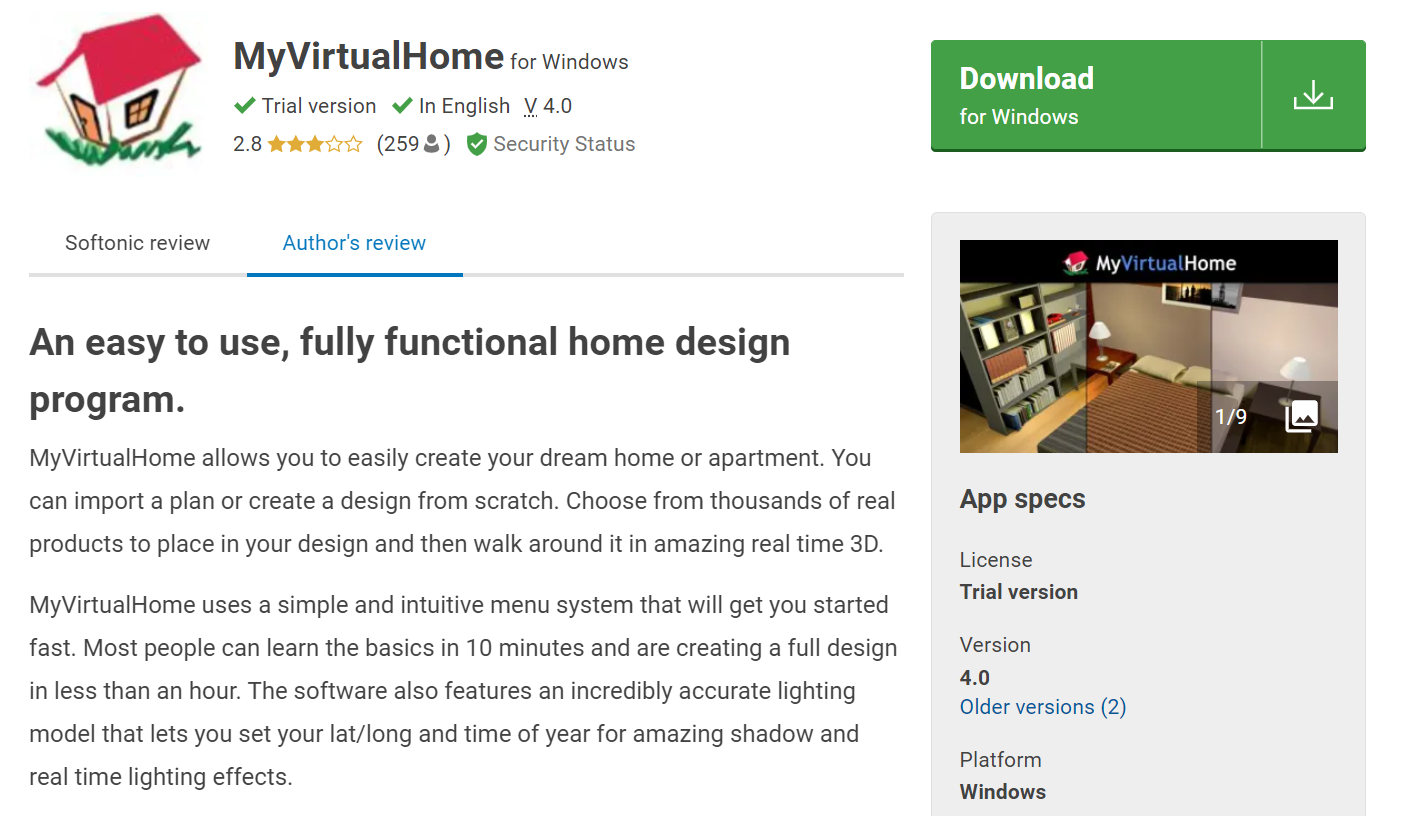 Are you a fan of video games? If you are, you'll love MyVirtualHome as its creation was inspired by base-building video games. It is a 3D home design app that includes a set of standard blocks and modifications which you can use to plan your architectural design.
This free version software enables users to plan the designs and space of their homes, offices, and any other project. Because of its simplicity, this designs project software is geared towards beginners and those who aren't proficient in visual design.
This architectural design software doesn't require technical support as it's effortless to use. You can easily set up your latitude, longitude, and season thanks to the accurate lighting model provided by this drawing and design tool.
These features allow you to add a realistic lighting effect to your virtual project. You can also choose and deploy standard room blocks, which you can modify by changing color schemes and adding furnishings.
And the best part? You get to take a virtual tour into your creation from a first-person perspective. This will allow you to notice any drawing mishaps in your project and allow you to change your designs.
7. BRL-CAD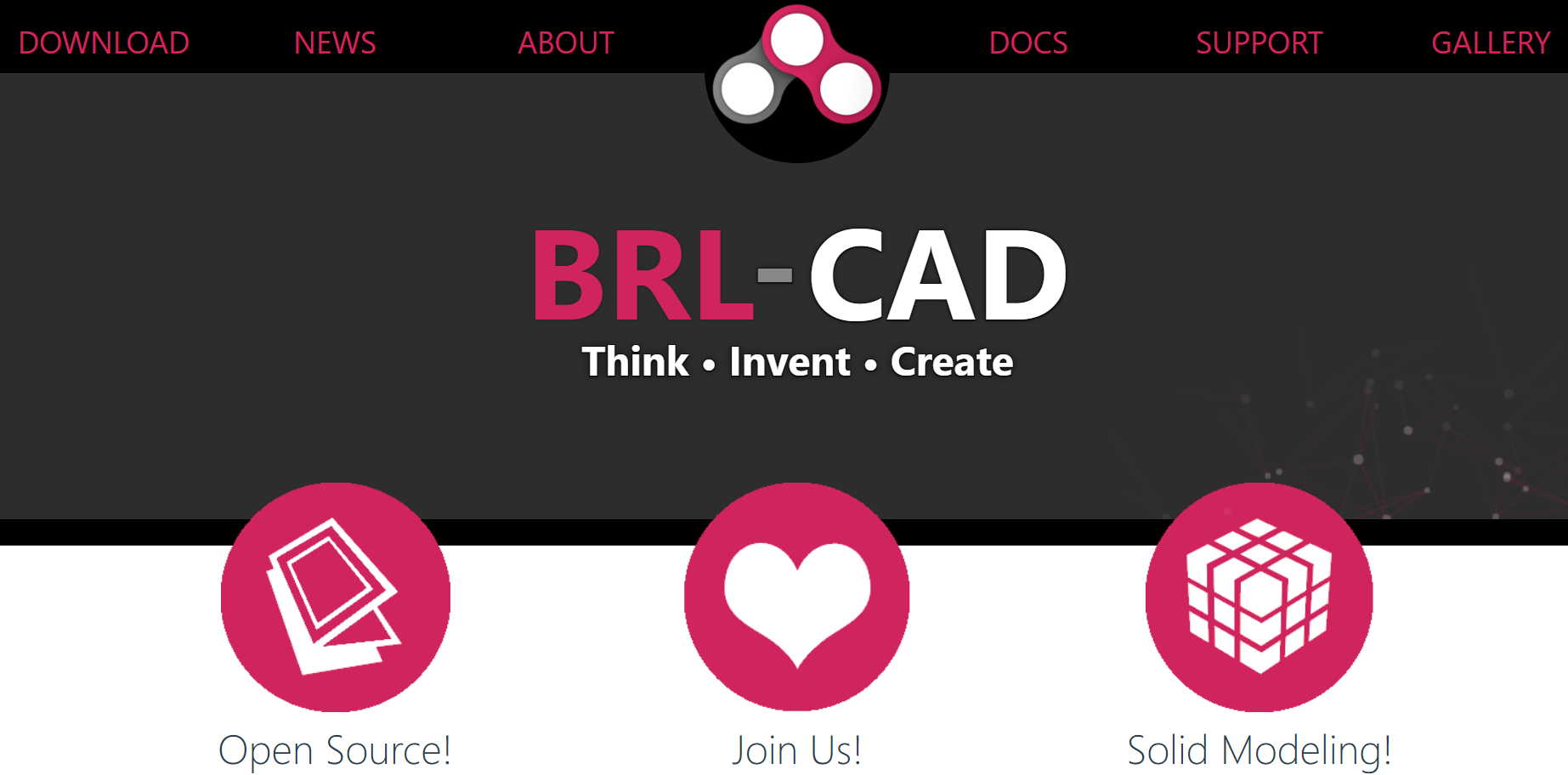 BRL-CAD architectural design software is both an oldie and a goldie. Having been around for over 30 years, this software is one of the oldest modeling applications designed for constructive solid geometry design (SGD).
This software is an open-source, cross-platform system that enables you to create, analyze, and edit your 3D models. It also allows you to use them later in other tools and systems without transferring and exporting files.
You can also use this architecture software for interior design purposes. This architecture software includes high-performance ray-tracing for rendering geometric analysis, interactive geometry editing, geometry libraries for application developers, and a system performance analysis benchmark suite.
All these user tools make this software great for all kinds of architects. The Hybrid CSG and B-rep kernel and other innovative methods make this tool excellent for precise 3D geometry.
How to Find the Best Architecture Software
We've looked at the best architecture design softwares that the industry has to offer. So, how do you get to decide the one that best suits your needs? Although all of these software products offer you excellent and innovative features, you must pick the one that's right for your operations.
Here are some questions you can ask yourself to determine which software is best for you.
1. Can One Tool Serve Multiple Purposes?
If you're looking for a one-size-fits-all architecture software, choose the option that covers a variety of bases. Check the intended user purpose behind every software option you're considering, then see if it works for you.
For example, if you're looking for a 3D modeling software and one for precision drawing, choose an architectural software that can handle both of these functions.
2. Which Phases of Architectural Design Do You Need Architectural Software?
The answer to this question depends on your design process areas that you're looking to upgrade. Once you know which areas these are, you can then choose a software that can help you with this process.
Knowing this will help you distinguish between the features that are essential to your process and the ones that are merely impressive but irrelevant.
3. What Requirements Must Your Architecture Software Meet?
This depends on your individual requirements. As we've mentioned in the above question, you need to know your design needs and then choose a tool that meets all the requirements. All the architecture softwares we've discussed above are all great options.
However, some will meet your design needs more than others. If you are working in a design team, discuss with your members and identify the necessary software requirements.
Conclusion
Each of the architecture softwares we've discussed above can help you realize your visions. Choosing the best one comes down to your needs. If you are new to architecture or design, you might want to start with SketchUp or ArchiCAD.
These softwares come at lower prices compared to the rest and also offer more flexibility. However, if you are a veteran and prefer more established softwares, you can opt for AutoCAD, Revit, and even CATIA. If you are looking to create more comprehensive design packages, go for Grasshopper.
We hope that you get the right architecture software for your needs. Let us know which one you choose and how it goes.