TVs are popular for the countless entertainment hours they offer. Therefore, they are an essential element in most living room setups. In addition, TVs need to be set up in a position that supports comfort and easy conversations with family and friends. But what happens when the only possible option is setting up the TV in front of a window?
TV placement in a room is dependent on several factors. These include socket placements in the room and the space available in your living room. Additionally, your home structure and design, including windows and doors will affect where you place your TV.
In this article, you will learn if it's convenient to set up your TV in front of a window and tips to make this option work for you. In addition, we will look at other television location options to consider depending on your living space and comfort.
Can You Position Your TV In Front of A Window?
You can choose to put a TV in front of the window if there is no other place to set it up. For example, this could be a living space designed with many windows like a sunroom. Unfortunately, choosing this entertainment equipment location comes with its issues.
Natural light from outside the house results in sun glare while watching the TV. In turn, this makes watching TV hard on your eyes and uncomfortable. In addition, a TV put in front of the window is bound to suffer damages thanks to overheating from the sun or strong wind.
Like most people, having a window open allows as much natural light into your living room, making the space feel warm, airy, bright and cheerful. However, putting a television in this position means blocking some sunlight from coming through. Additionally, the room may feel somewhat unbalanced as the TV becomes the center of the room.
Lastly, it's essential to remember that using a wall mount on a window can be a bit difficult. This means that you will need a television stand for the TV. In addition, with such a stand, you can put the television at a lower than normal height to minimize the sunlight blocked and get as much light as possible into the room.
Tips To Consider When Putting A TV In Front of A Window
While it is not the best option to place your TV by a window, you may still consider this option if there is nowhere else to set it up. However, there are several factors you ought to consider to make watching TV a comfortable experience. In addition, these tips will help reduce the chances of any damages occurring.
1. Direction Natural Light Comes From
Ideally, avoiding the position in front of a window is key as sunlight naturally and unavoidably passes through unless something is blocking it. Therefore, you want to put your TV in front of the window position receiving less light. Additionally, ensure that the window is not opposite the one receiving more light.
Image Source: wickerparadise.com
This window TV location helps reduce glare and heat. You want to ensure that the television is quite shaded, although the room receives plenty of natural light.
2. Number of Electrical Outlets
The number of outlets available arguably determines where you will place the TV. Therefore, if you choose in front of the window as your entertainment spot, you want to ensure enough electrical outlets to complete your setup.
If there are no outlets available, you may have to consider another location for your TV. You may also consider using an extension cord to deal with such a problem. However, if you are to settle for the latter option, ensure that the cables are secure and safe, especially if you have pets or kids.
3. Blinds
Using blinds to cover the windows is a practical solution that makes watching television comfortable for your eyes during the day. This is because blinds reduce the sun glare while still letting a little light into your room, especially if you don't like to watch TV in the dark.
Image Source: westbrookbaptist.org
Blinds options vary depending on your decor and preference. For example, you could choose to use frost roll-up blinds or woven or bamboo blinds if you prefer natural options. Nonetheless, you will still reap the same benefits. In addition, you can also completely roll down the blinds as you watch TV during the day to prevent the sun's heat from damaging it.
4. Adding Window Tint
Image Source: majesticglass.com.au
Another practical tip if you choose to position the TV in front of the window is to add window tints. Going for a darker film on the glass will reduce the glare on the television. In addition, you can either choose to tint the windows on your own or hire a professional to do it for you.
5. Setting Up the TV Inside A Custom Entertainment Equipment
If you have a higher window instead of a wall-sized one, you can take advantage of it and place a custom TV console with the TV inside. Such custom TV stands will help provide shade from the heat and reduce glare. In addition, you could add shelves and storage areas on the stand to bring character into the room with books and other decor pieces.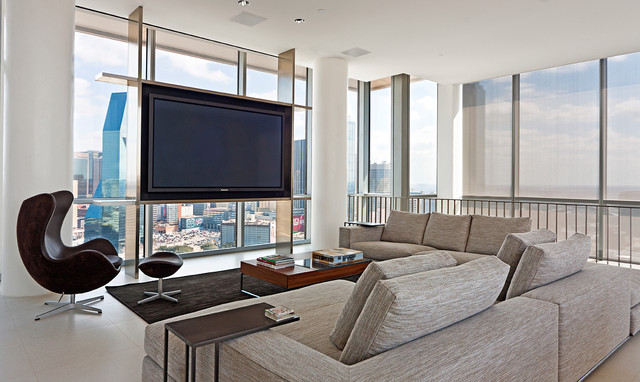 Image Source: houzz.com.sg
A corner TV stand is also a practical solution as it ensures the television is not directly in front of the window. However, you may need to have a corner TV stand custom-made to fit your space and make it more functional.
6. Consider A TV Lift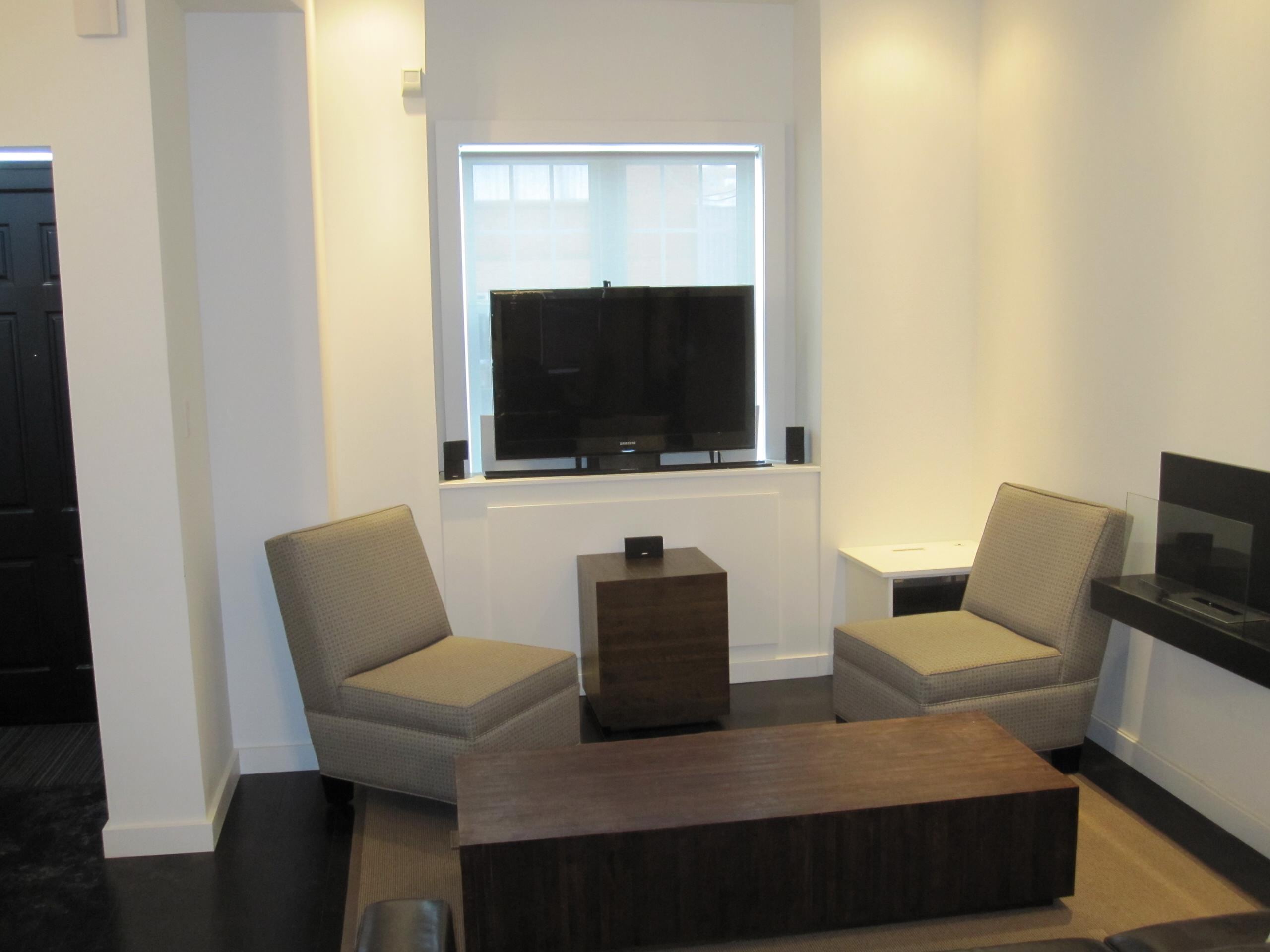 Image Source: houzz.com.sg
Using a TV lift rather than a regular stand helps to ensure that the window still serves its purpose. With a lift, the TV is stored in a cabinet that uses a lift to pull it up and down when needed. Additionally, this allows you to store the television inside the cabinet when you are not watching and open the window to let in light and fresh air.
7. Ceiling Mount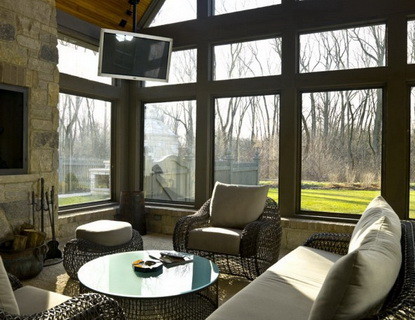 Image Source: removeandreplace.com
A ceiling mount acts as a practical alternative if there is no wall to mount or space to place your entertainment equipment, especially if you have a bay window. However, you need to ensure the TV is mounted to be comfortable to watch and does not strain your neck and eyes. In addition, you could add blinds to reduce the light coming in.
8. Add an Air Conditioner
Image Source: whitealuminum.com
Overheating is a major problem to consider if you decide to position your television next to a window. Fortunately, solving this problem is super easy. You can add an air conditioning unit or fan, depending on the size of the room, to counter the heat. In turn, this cools the room and ensures that your TV does not overheat.
9. Build a Higher Fence
Our final solution is to build a wall or high fence right across the window. Not only does this help reduce overheating and glare, but it also provides privacy in a room filled with multiple windows. You can also add an outdoor setting to make the room and your view cozier.
How To Set Up Your TV
1. Determining the Right Height and Distance
Height and distance are important to consider when placing your TV. Ideally, you want to ensure that your placement and overall room arrangement are comfortable and functional.
When it comes to height, ensure that the TV is at eye level when you sit down, not standing up. If you have to mount it up at a higher point on the wall, make sure it's angled down to an eye level. However, it's always advisable to go for a low wall mounting level or a low-level TV console so that your head is in line with the middle of the screen.
Your viewing distance will largely depend on the size of the room and the television, the layout of the room and whether your television is high definition(HD) or not. You want to station your entertainment console at such a distance that viewing the TV does not strain your eyes.
For example, you can place your couch 3-5 feet away from a 26-inch TV or 9.5 - 15.5 feet from a 75-inch screen. In addition, it is essential to ensure that your television fits your room. This means that it can be the focal point of your living room, but it does not dominate the space at the cost of your décor.
2. Should the Couches Face the TV?
When deciding if the couches should face each other or the TV, keep the room's purpose in mind. If the room is designed to be an entertainment space, the couches will make more sense to face the television. However, if it is a socialization and entertainment room, you want the TV to be watchable but not in direct sight. A good example is the picture above.
3. Living Room with A Fireplace
The fireplace is a focal point in most living rooms. However, placing a TV in a room with a fireplace can seem daunting. Should you mount the TV above the fireplace? Place it on the opposite wall? Set it up on the side of the fireplace?
Supposing your fireplace is not as tall, mounting your TV above it will be just fine. However, you want to angle it such that it is easy and comfortable to watch. In addition, having the television in this position makes the room cozier by allowing the fireplace to be the main element in the room.
Unless that is the only available position, positioning the TV with a wall mount above the fireplace may strain your eyes and tire your neck due to the angling. Therefore, you should consider setting it up next to the fireplace. Although it sounds a little weird, this position is comfortable and lets you enjoy the warmth of the fireplace while watching at the right TV level.
Avoid putting your TV on the opposite side of the fireplace by all means. Doing so makes it and the fireplace competing focal points and challenging when it comes to furniture arrangement. In addition, if you are building your home and want to mount the TV above the fireplace, go for a rectangular, low-level fireplace that will not interfere with the height placement of the television.
5. Bedroom
People have varied opinions about having a TV in your bedroom. Some claim that it affects your sleep cycle, while others don't seem to mind it. Nonetheless, having a television in your bedroom allows you to watch different shows from what your kids or other people in the household are watching.
One of the positions you can set up the TV in your bedroom is on top of a dresser or a piece of furniture. This position should also be across the foot of the bed. If you have a small, less spacious room, you can place it inside a cabinet. However, avoid having your TV in a corner or on a small piece of furniture.
Similarly to the living room, mounting your TV on the wall is also a viable option. However, position it to not interfere with your décor or artwork. You cal also use mounting brackets and hang the TV from the ceiling.
A prop chair or support pillow will ensure you watch TV comfortably. You can also reconfigure your mattress if you have an adjustable bed. Another tip is to have speakers around your bed or nightstand so that you don't have to crank the volume too high. In addition, a pair of wireless headphones will come in handy if your partner needs to work or sleep in the same room as you.
6. Small Room
If you are short on square footage in your apartment or house, there are several suggestions you could use to keep the TV out of your way. These include mounting it on a swing arm or placing it inside a console. In addition, you could have it on top of a vintage stand with a gallery wall or plants next to it.
Ideally, you want the television to blend in with other items in your home rather than be the main feature. Again, if you have a room divider in your apartment, ensure that the TV does not take up so much space and easily blends with other important elements.
Conclusion
Having a TV ensures that your entertainment needs are covered. However, it's important to ensure that you position it at a comfortable height and distance to avoid hurting your eyes and neck. In addition, while you can set it up in front of a window, it is essential to find solutions to prevent overheating and glare. That said, your room arrangement and furniture will determine the ideal TV placement.
Image Source: homediyhq.com