Whether it's your kids spilling ketchup or your pet peeing on your carpet, your carpet is constantly dealing with a stain here and there. We also can't help that accidents do happen. Replacing a carpet is expensive, and it wouldn't make sense to do it every time we got a stain, so the best thing is to find the best products that can help you tackle the problems that are bound to arise. Navigating the stain remover world can be a little confusing. Hence, we created a guide that walks you through what to consider choosing the best carpet stain remover and selecting the best carpet stain removers.
The Best Carpet Stain Removers
1. Folex Carpet Spot Remover - Best Overall
Folex Carpet Spot Remover, 32 oz
Removes pet accidents, grease, oil, ink, red wine, coffee, blood,...
Water-based, non-flammable and odor free
VOC, solvent, and petroleum free
Safe to use around children and pets if used as directed
Made in the USA
The Folex Carpet Spot Remover leads the pack as the best carpet stain remover for removing tough stains and spots on carpet and upholstery, rugs, and clothing. With thousands of reviews, this carpet stain remover has been said to tackle it all, pet, wine, food, cosmetics, dirt, and grime. You can also use the cleaning product on laundry stains and water stains. It doesn't leave any sticky residue, and you don't need to rinse or vacuum once you've used it. It's non-toxic and non-irritating to the skin.
2. Rocco & Roxie Supply Professional Strength Stain and Odor Eliminator - Best Pet Stain Remover
Rocco & Roxie Stain & Odor Eliminator for Strong Odor -...
CERTIFIED GENTLE AND SAFE Chlorine free and color safe. Safe to...
ELIMINATES STAINS, ODORS AND RESIDUE If it's gross, it's...
EVERY SURFACE, EVERY TIME For use on carpets, floors, furniture,...
ENZYME ACTIVATED The key is getting to the problem deep-down....
100% SATISFACTION GUARANTEED An Amazon best seller—for a...
The Rocco & Roxie Stain and Odor stain remover contains enzymes that eliminate odors along with organic stains like vomit, feces, and urine. This pet stain remover can claim to work in up to 10 minutes on surface stains and one hour or more for deep-set stains. It a seal of approval from the Carpet and Rug Institute, which means that it has been deemed non-damaging to carpets. The stain and odor remover contains natural enzymatic bacteria activated in contact with stains and odors, feeding on ammonia crystals and organic matter until they eliminate the stain.
3. Wine Away Red Wine Stain Remover
Sale
Wine Away Red Wine Stain Remover, 12– oz
Works on fresh and dried stains without the use of bleach or...
Featured in: Good Housekeeping, Food & Wine, Today Show, Rachael...
ALSO EFFECTIVE ON: coffee, blood, ink, fruit punch, sauces, red...
Has a fresh citrus scent.
Selected by Disney to be part of their Food & Wine Festival
If you enjoy having a glass of red wine, this carpet stain remover is a must-have. The Wine away red wine stain remover can easily be considered a miracle cleaner. Not only will it clear your red wine stain, but it also works on other stains like coffee, blood, fruit punch, ink, sauce, or even pet accidents. It works on fresh and dried stains without the use of bleach or phosphates. Once it removes the stain, it will leave your house smelling of fresh citrus. It is safe to use on washable upholstery and clothing, and it is also easy to rinse out. It doesn't leave any residue behind; hence it won't attract any grime.
4. Biokleen Bac-Out Enzyme Stain Remover
Biokleen Bac-Out Enzyme Stain Remover - 32 Ounce -...
Destroys stains and odors safely and naturally with an unique...
Full Strength Formula is ready to use - No diluting required
Eco-Friendly, Natural, Plant-Based, No Artificial Fragrance,...
Great on pet accidents, wine, diapers, laundry, drains, carpets,...
Proudly made in the USA
If you have children or pets, you definitely wouldn't want to expose them to any potentially harmful chemicals; hence you can always consider chemical-free products. The Biokleen Bac-Out Enzyme Stain Remover is a chemical-free carpet stain remover with live enzyme-producing cultures that attack stains that result from pets, food, and organic waste. The stain remover also contains citrus extracts and plant-based surfactants that aid the enzymes in removing the stains and odors. The spot remover is completely free of chlorine, ammonia, and other chemicals. It is eco-friendly, non-toxic, plant-based, has no artificial fragrance, colors, or fragrance. It can also remove stains from laundry and those found on clothing.
5. Bissell Professional Power Shot Oxy Carpet Spot
Bissell Professional Power Shot Oxy Carpet Spot, 14...
Professional Power Shot Oxy removes tough, set-in stains like red...
Outcleans the leading aerosol spot cleaner on tough stains like...
Eco-friendly formula and packaging—biodegradable detergent,...
StainLift Technology permanently removes stains and odors
The Bissell Professional Power Shot is ideal if you're looking for a deep cleaning carpet stain remover. It won't just tackle what's on the surface, but it will penetrate into the carpet backing too. It can remove tough set-in stains like pet soils, coffee, grape juice, motor oil, makeup, and red wine. The good thing about this stain remover is that it takes only five minutes for the stain to come out, and you can continue to clean even after blotting with a damp cloth.
What to Consider When Choosing The Best Carpet Stain Remover
a) Types of Stains
There are four types of stains:
Water-Based Stain: They usually come from liquids and food. These stains are removed using a water-based solution. If you need something more potent, you can consider a carbonized or oxidized solution to help break up the area.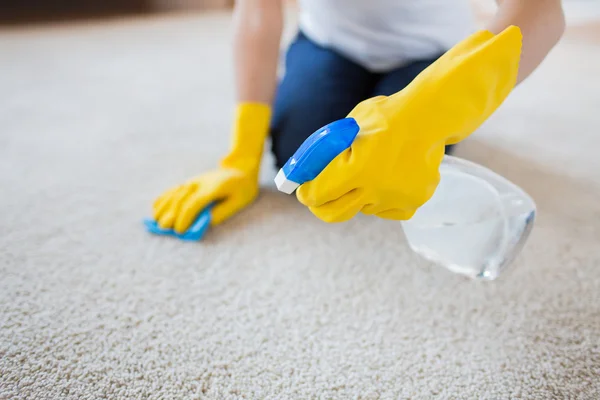 Carbonized cleaners are mostly used to remove grease stains from cooktops and grills rather than stains from carpets. However, they're still highly effective on carpets.
Oil Based Stain: Oil stains tend to be quite hard to remove, and you have to careful in you handle them. To remove them, a water-soluble cleaner is ideal. These can be alkaline cleaner, and even baking soda can work. However, before applying any product, blot the stain out as much as possible without rubbing it. This is one of the hardest stains to remove because most of the carpets sold today are made from petroleum fibers like polyester and olefin that end up trapping and holding onto the grease molecules.
Organic Based: Organic stains include things like vomit, blood, and urine. To remove these stains, you'll need the help of bacteria. For these stains, the best carpet stain removers are Enzyme-based or enzymatic cleaners.
Dark red food stains: These tend to be very stubborn thanks to the natural tannins in wine, fruit juices, tea, coffee, and more. Tannins are darkly colored, organic molecules that are usually used as natural dyes but can badly stain carpets and fabrics. You need a solution that can lift red marks without bleaching your carpet.
b) Types of Stain Removers
Professional Cleaners: Certain stain removers are labeled "professional strength." These are highly potent and contain harsh chemicals. However, some stain removers are also just reserved for professional use. They must be handled with care and can only be used in ventilated rooms. To use these products, you need to be aware of how they are used.
Enzyme Cleaners: They consist of live enzymes that feed off of organic matter found in the stain. The enzymes keep feeding till the stain is gone, and they will slowly die as they don't have any more food.
Oxygen-Based Cleaners: They are activated when exposed to the stain and oxygen. They are great for colored stains. The oxygen creates a reaction that breaks down the color molecules and this reaction will continue as long as there are molecules and oxygen. Stains that you can clean using an oxygen-based cleaner is red wine and pet vomit.
c) Active Ingredients
There are two potent compounds and bioactive agents found in various carpet stain removers that make them work.
Surfactants: A solution with surfactants is ideal if you have a grease or oil stain. The compounds lower the surface tension of water.
This has the effect of making water molecules "slipperier" and more likely to stick to grease and oil molecules, lifting them from your carpet or fabric surface. They can be synthetically created in a lab or come from natural substances like coconut oil. Plant-based surfactants are rising in popularity, as they tend to be gentler and more environmentally sustainable. Plant-based surfactants tend to carry the label "bio-degradable" or "non-toxic."
Enzymes: Enzymes are proteins that speed up biological processes, like digestion and decay. They are extremely useful when dealing with organic stains from food, blood, and waste. Enzyme-based stain removers are designed to completely clean and destroy odors.
d) How to apply
There are three basic ways of applying stain remover to your carpet. What you choose depends on the size and type of the stain and the carpet's fiber and care instructions.
Spray on: Most stain removers are spray-on formulas. All you need to spray and wait a few minutes, then wipe clean. However, it is always important to carefully read the product's instructions to ensure that it is designed for your particular carpet or fiber surface. Certain delicate materials like wool, sisal, and cotton might require extra special handling and products.
Shampoo: These are ideal for larger stained areas. They are concentrated liquid detergents that can be sued to clean rugs in the washing machine or by hand. However, it is important to read the product's instructions to determine how much water to add and what types of carpeting it can work for.
Sit and Soak: Enzyme-based formulas tend to need much longer to work than chemical or surfactant-based formulas and might need to sit for several hours to several days to dissolve the stains completely. Sometimes, they may also require additional steps, such as covering the treated area with a damp cloth to speed up the chemical reaction.
e) Odors
Stains can sometimes be followed by an unpleasant odor that also needs to be treated. Fragrances like citrus are usually used in cleaners due to their effectiveness in covering up odors. When considering your carpet stain remover, you should be careful if you have pets, as they can be extremely sensitive to smells when it comes to fragrances. It's important to note that there are products that might be labeled around children and pets but can still have a pungent odor. Certain natural stain removers might also have a smell that is similar to that of chemicals. So, it is important to read customer reviews and see how they found the odor. Though in most situations, it's best to choose a product labeled as "low odor."
f) Dealing with Residue
Some stain removers might leave a sticky-like residue that attracts dirt and dust and leaves your carpet dirty.
Others dry sticky if not rinsed, and this can cause the threads of the carpet to stick together. To rule out if your remover leaves a residue, do a spot test somewhere that is not noticeable, then check for residue afterward. When doing the spot test, make sure you allow the area to dry completely before determining whether the product is suitable.
g) Drying Time
Chemical evaporations and odors tend to be destroyed during the drying time. Hence most labels tend to warn you to keep the area clear during this time.
It is important to consider the location of the carpet when selecting a stain remover. For example, if it's in the bedroom where there isn't a lot of activity, a long drying product would be suitable, unlike the living room, where there is constant activity. There a product that can be applied, treated, and removed within minutes would be ideal. You can also quicken the drying process in different ways. One way is by using a fan or air condition unit to give the room better air circulation.
h) Following Safety Instructions
As with any product, it's always key to follow the user instructions. When dealing with carpet stains, it is important to follow the directions as doing it the wrong way could damage your rug or carpet.
Some stain removers require you to work on the stain beforehand. For example, it could be blotting out the stain if it's wet. You might also find that at your first attempt, you don't reach the desired results. You can always give it another round and keep repeating as needed and as stipulated by the directions. You might find one that can be repeated immediately, while others require hours or even days between treatments.
Products that require a longer reaction might not be ideal for families with younger children. It's also important to consider the carpet cleaner is removed once you finish. Some require rinsing, while others don't. You might find one that requires vacuuming, although this isn't usually that common.