Any interior designer will tell you that paint can completely transform a space. However, if you are a beginner, I recommend learning the secrets of a perfect paint job before embarking on any project.
With that in mind, painting walls and trim the same color is okay because it is a daring and beautiful design that is now becoming a popular trend.
It has numerous advantages, such as making a room appear bigger, seamless, and more open. It also eases your work in figuring out what trim paint to use. A crisp white trim is a popular trend, but it is not a mandatory design rule you must follow.
Why Paint Walls and Trim the Same Color?
1. Cohesive Design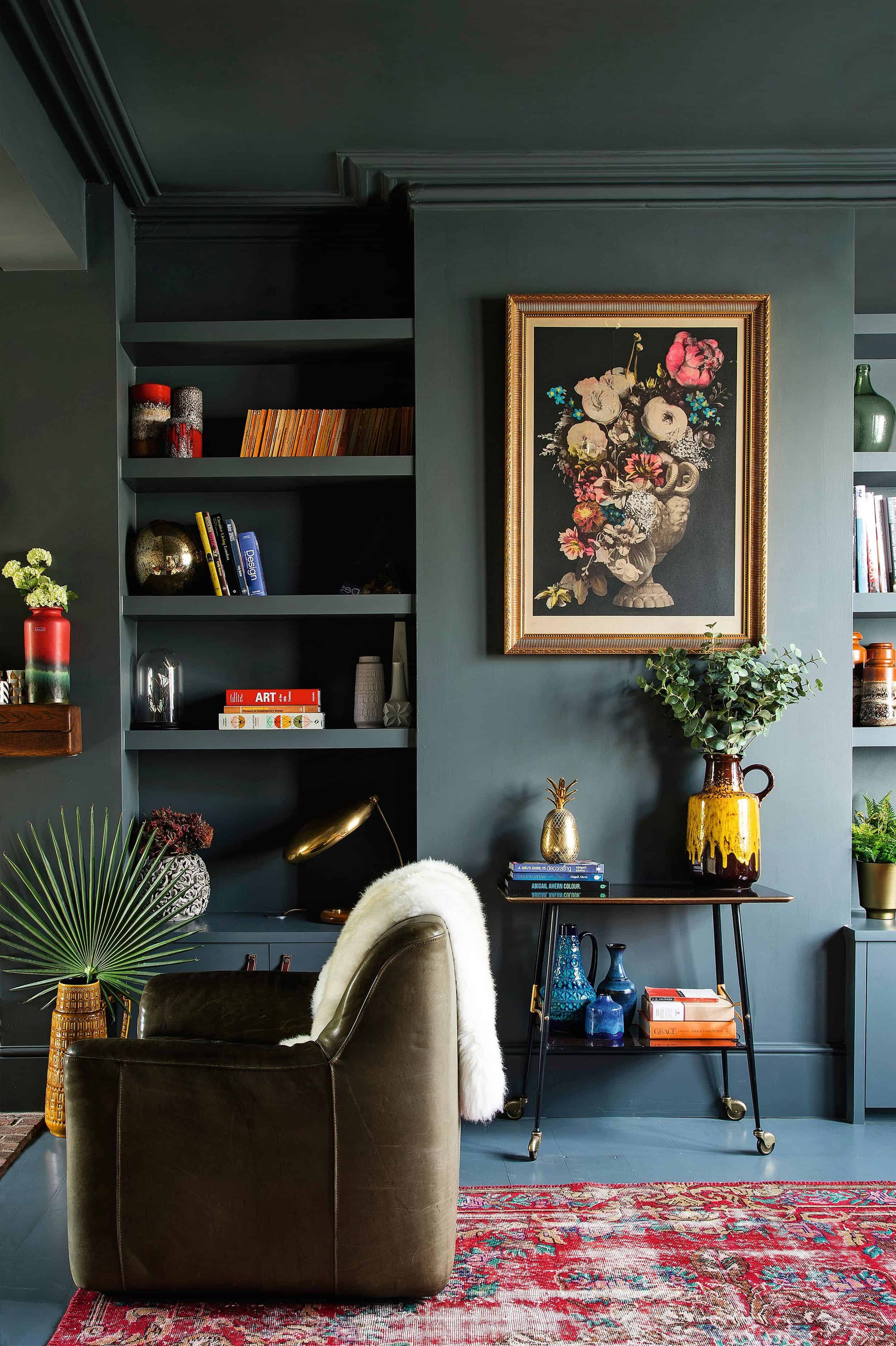 Image Credits: aglassofbovino.com
Painting walls and trim the same color makes them blend; therefore, they are beautiful without anything standing out. Whereas painting the walls dark and a contrasting trim color like white will be noticeable.
You can use different finishes, such as a glossier paint sheen, for the trim so that it doesn't slip into the background. Moreover, you can opt for interesting architectural elements such as a molded trim to make it more elegant.
2. Opening a Small Room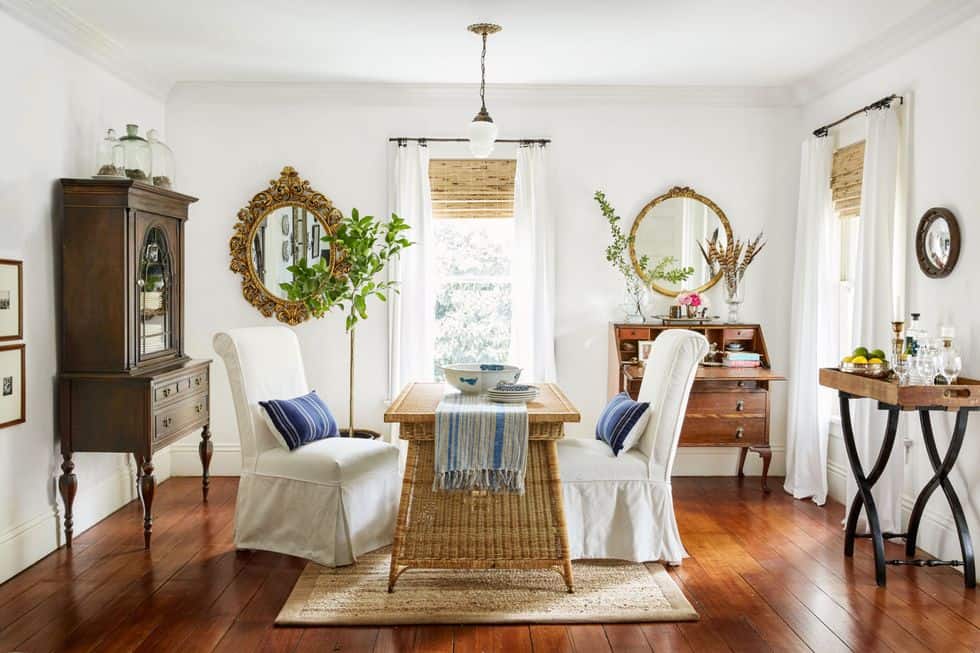 Image Credits: aglassofbovino.com
Painting the trim and walls of small spaces the same color makes the rooms appear bigger than they are. You will experience the same effect if you paint the walls the same color as the crown moldings on your ceilings. The ceilings will appear higher than they are.
The reasoning is that the eye tends to travel further higher when the paint is seamless. However, spaces appear smaller when the colors on the walls and trim contrast because a break is created between the two surfaces. Consequently, the eye can't move freely within the room in one sweep.
3. Simple Design
Image Credits: bigdogpainting.com
The trend of painting walls and trim all the same color results in a simple design that is easy to style, no matter the color you pick. Instead of renovating your entire home, all you need is a fresh coat of paint and, this time, paint the trims the same color as the walls to give them a classic look.
4. Built-in Feeling
Image Credits: thezhush.com
Painting walls the same color as your cabinets and trim results in a built-in and cohesive feeling. As a result, your cabinets look custom-made, so you won't spend a lot of money to get the high-end look.
All you have to do is paint your cabinets the same color as your walls. Here is an example of the best paint for your kitchen cabinets for a fresh, shiny look.
5. Hiding An Ornate Trim
Image Credits: metrie.com
Most older houses have an ornate trim. If you have one of these houses and would like to modernize your house, the easiest way is by painting your walls, trim, and ceiling molding the same color.
You may even take a step further and paint your window trim the same color to give the room a clean and modern look. Consequently, the eye flows throughout the room in one swift move without any distraction or breakage. Even the ornate trim blends in with the rest of the room's color.
6. Making a Space the Focal Point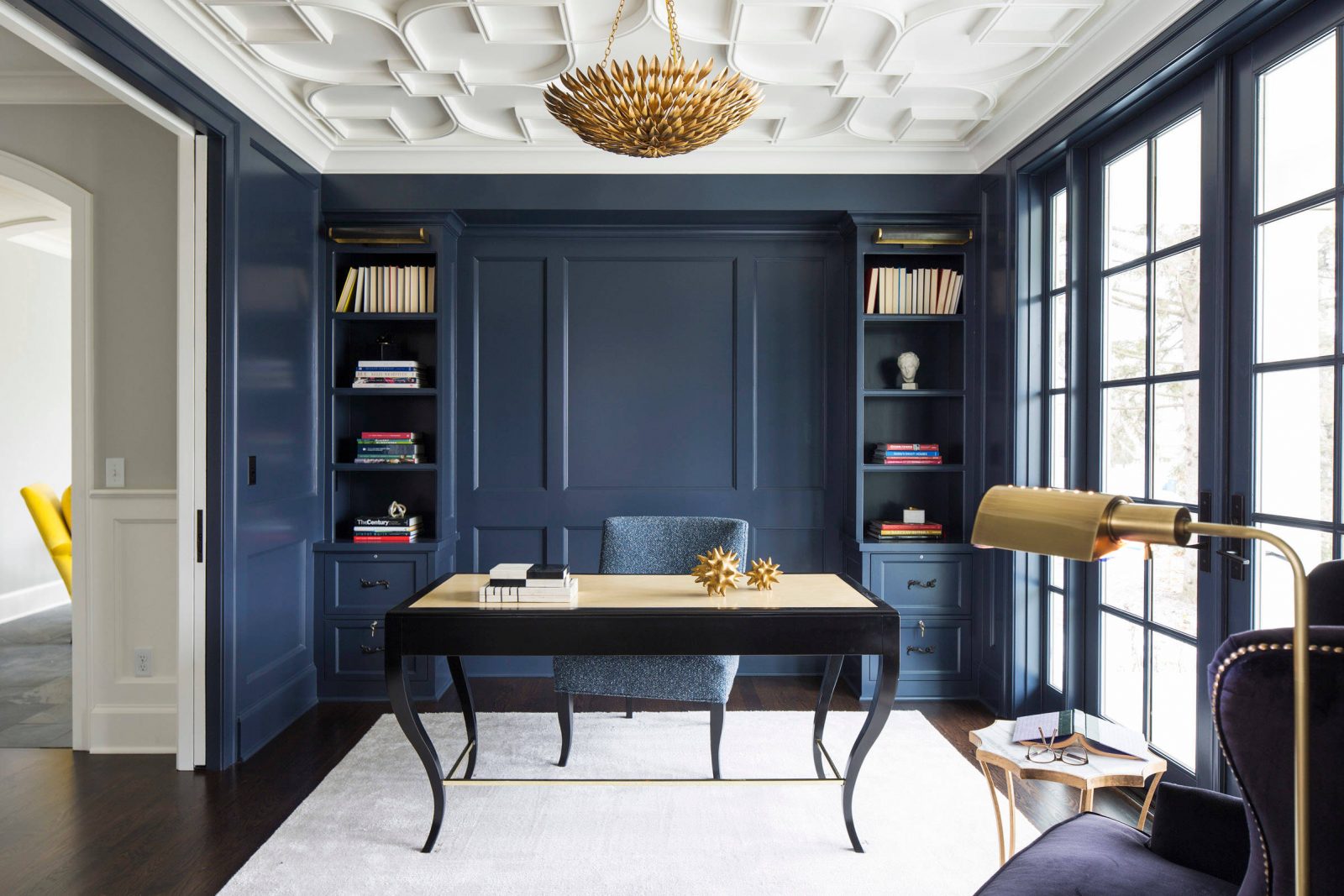 Image Credits: jimenezphoto.com
There are several ways to use paint in your home. One of them is to highlight a certain space in your home. For instance, you can paint your walls and trims a contrasting color from your ceiling to showcase the beams in your ceiling.
It could also be the crown molding or a unique wall niche you want to show off. Then, all you need to do is paint the rest of the area the same color and then paint the focal point a different color so that it stands out.
7. Masking Paneled Walls
Image Credits: clare.com
Most people view wood paneling as an old design style, but it can give a space a modern touch when handled well. For example, if you have wood paneling in a room and would like to update the room, paint it the same color as the rest of the walls to give it a modern touch.
Remember to paint the trim the same color, too, so that you can update the unfashionable and dated room by making the wood paneling less pronounced.
8. Over the Top Look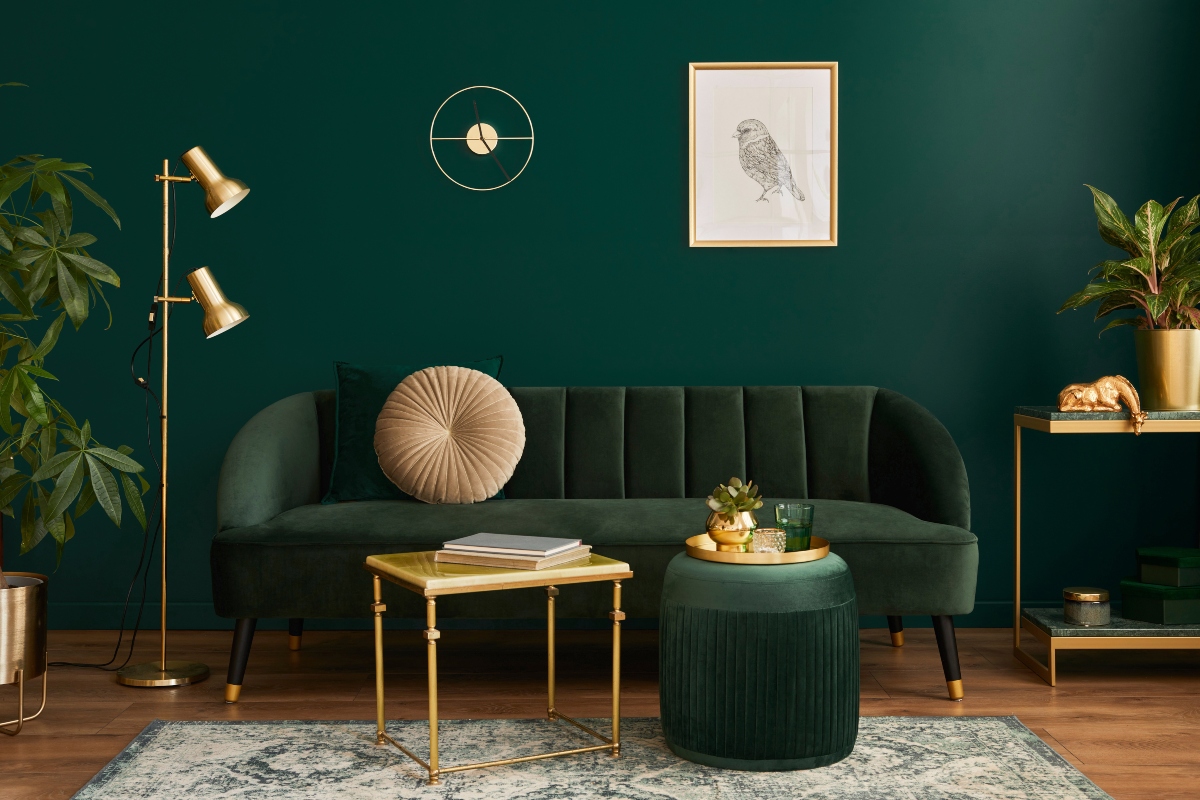 Image Credits: 21oak.com
The all-white approach is steadily losing popularity in interior design" href="https://www.archute.com/interior-design-firms/" data-wpil-keyword-link="linked">interior design. Instead, more dramatic looks feature bold colors such as deep emerald and plum. So don't feel restricted to the all-white aesthetic if you prefer a monochromatic aesthetic but also love bold colors.
There are many paint colors to choose from to achieve such an aesthetic. First, you must pick a color, such as emerald, purple, or black, then paint your walls and trim the same color. Consequently, achieving the dramatic monochromatic look, you are going for.
9. Softens Angles in Open Areas
Image Credits: classiccasualhome.com
The all-white aesthetic works in some cases, for instance, when you have angles in open areas such as your foyer. White walls, trim, and rail in an angled foyer ensure that the angles blend in, so no contrast makes the eye focus on the angled sections. If you have such an issue in your home, this is one cheap way of solving it.
10. Create a Cozy Space
Image Credits: havenly.com
Painting the walls and trim of a room a darker color makes it cozy. This is ideal if you want to make your lounge or dining area cozier. I recommend this for a room that receives a lot of natural light; otherwise, this will worsen the situation if it is already a dark room.
11. Highlight Art and Accessories
Image Credits: classiccasualhome.com
A simple way of highlighting your art and accessories is by painting your walls and trims the same color. Also, pick accessories and art made of contrasting colors so that they are the room's focal point. Finally, ensure that your accessories complement each other to avoid a chaotic room.
12. Make the Wall Trim Pop
Image Credits: thezhush.com
You can achieve a subtle yet impactful interior design look by painting the wall trim the same color as the wall but picking different sheens in the paint finish. For example, pick a high or semi-gloss finish for the trim and a matte or eggshell finish for the wall.
This will result in a monochromatic aesthetic, with your wall trim popping without having to use other bold and dramatic tones. This is such a classic and chic look.
What Are the Best Options for Painting Your Walls and trim the Same Color?
1. Deep Blues
Image Credits: vamacshowroom.com
Deep blues are the perfect colors for making a room more inviting and making people want to spend more time in the space. This could be your dining room, study room, living room, or library.
Deep blues give the illusion of dark, relaxing shades while not appearing too dark. Navy blue is a good example of a deep blue. Here are some colors that go with Navy blue for a lavish feel.
Choosing too dark colors for a study room, such as black, can create a depressing environment unsuitable for studying. Take note of this when choosing colors. Deep blues are also unisex and hence functional for both men and women. They also allow other prominent accessories, such as furniture, to stand out in a room.
2. Deep Colors
Image Credits: blog.sherwin-williams.com
Painting the trim and walls of a room with deep colors such as deep blue or emerald creates a cozy space. This is ideal for a living room or bedroom where a higher quality comfort is desired. Use brighter accessories when decorating a room with deep colors to ensure the colors are light enough in the space.
Additionally, use such deep colors in rooms that receive a lot of natural light, so they don't end up being too dark. Finally, if you want a more modern aesthetic, go for a matte finish or flat paint when painting the wall and trim all the same color.
3. White
Image Credits: thecreativityexchange.com
You can never go wrong with all-white walls with matching trim. White walls and trim give you a clean and visually expansive look. This is perfect for a kitchen or small living room that you would like to look more spacious since white is a neutral color.
White paint is also a wonderful color for making all your colorful accents, such as throw pillows, stand out in a room.
4. Warm Grays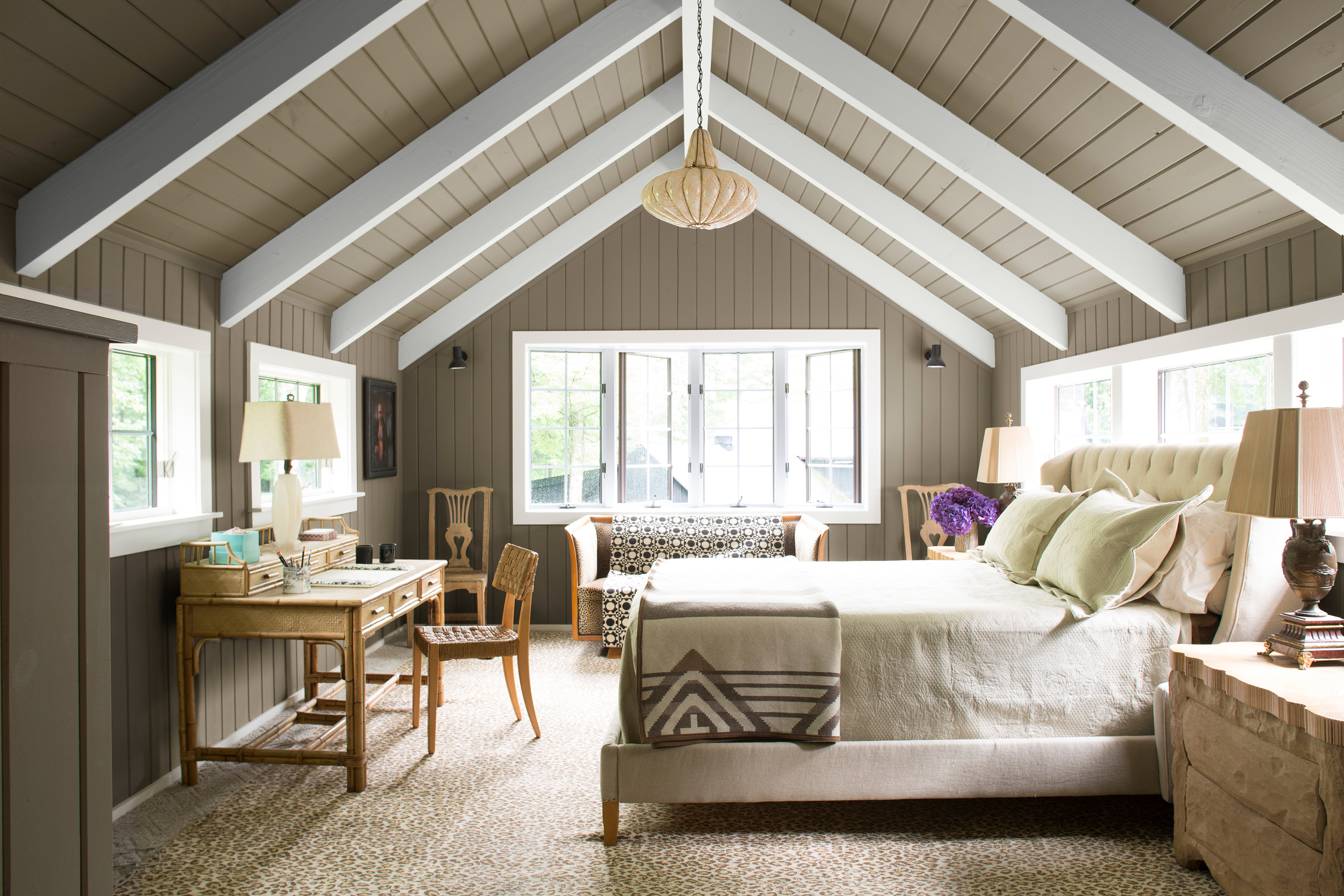 Image Credits: washingtonpost.com
To paint your walls and trim, you can create an inviting and modern look using warm grays such as greige(beige undertones). This is a suitable color for a kitchen as it makes it look bigger and more inviting, making people spend more time in it.
5. Light and Cool Grays
Image Credits: bobvila.com
Light or cool grays, such as the silver-gray shade, are the perfect colors for painting your walls and trim if you want a luxurious look. Cool grays also create a straightforward, peaceful, and relaxing look mostly found in contemporary victorian designs.
Such an aesthetic is suitable for a bedroom because it is calm and relaxing, so keep this in mind the next time you paint your bedroom. If you are thinking of remodeling your bedroom, then you will find these bedroom remodeling tips, ideas, and makeover costs very useful in your project.
Tips When Painting Your Walls and Trim the Same Paint Color
Image Credits: southernliving.com
Use an eggshell or flat finish for the walls and a high, semi-gloss, or satin finish for the wood trim, so it pops.
Always test your paint colors in the specific rooms they are to be painted because light and any reflections affect the outcome.
For a lighter ceiling paint color in a room with dark walls, lighten the wall color by 50% so that it blends with the wall color.
Paint the ceiling, trim, and walls the same color to give off the illusion of high ceilings.
Use lighter colors to make smaller rooms appear larger.
When to Avoid Painting Your Walls and Trim the Same Color
Image Credits: stylebyemilyhenderson.com
You don't like painting on wood.
You like wood with its grainy details.
You don't like color and tire of it easily.
You don't like a monochromatic aesthetic.
You love the historical elements such as trim or molding in your house and don't want to paint them.
You like a traditional aesthetic with different wall and trim paint colors. Here are tips for using trim to highlight color.
Frequently Asked Questions(FAQs)
1. What color should I paint my trim?
Image Credits: themouldingcompany.com
The color to paint your walls or trim depends on your preference. However, the most common color for painting your trim is white. This is because it has now become a standard in many homes.
Suppose you have a contemporary design. Go with colors that blend with the rest of the colors on the walls and ceiling of that room. Pick a lighter color for the trim to brighten up a room and make the wall stand out.
For more depth and character in a room, pick a darker color. Darker colors also hide dents in the trim and can complement and contrast most colors.
Additionally, pick water-based or latex paints because they are easy to clean up. For the finish, pick high gloss or semi-gloss for baseboards because they are resistant to scuffing.
2. How can I paint my baseboards and trims faster?
Image Credits: riversidemillwork.ca
The fastest way to paint your trim and baseboards is to use the color you chose for your walls. By doing so, you will get rid of some steps, such as being careful to maintain clean lines by taping the baseboards while painting, thus making the process much faster.