In all my years as a coffee lover, I can confirm the worst thing you can do on a Monday morning is accidentally spill your favorite cup of coffee. According to a study, one-quarter of the population has spilled a hot drink all over their work desk.
So, if you tend to spill your hot coffee, it might be a good idea to invest in the best coffee mug for people who knock over their drinks. You should choose a mug that is either hard to knock over or can keep liquids contained in the case of a knock. Whether you're sipping your coffee at home, at work, or on the road, you'll want to pick a mug that fits your needs and preferences.
I have considered all of these potential scenarios and prepared a review of the best coffee mugs for people who knock over their drinks.
What Is a Coffee Mug?
A coffee mug is a 12oz to 16oz cup designed for drinking coffee on the go. They are frequently 18/8 steel, insulated, and distinguished by screw-on lids and a connected handle.
Mug choice is a matter of personal taste, much like a preference for a certain coffee or tea. If you want to save time washing dishes and provide variety for yourself or your visitors, consider purchasing many different types.
My search for the best coffee mugs included consideration of longevity, thermal retention, dishwasher safety, and cost. If you have a habit of knocking over your drinks, you need one of these coffee mugs so you don't waste your favorite cup of coffee.
| | | | |
| --- | --- | --- | --- |
| | | | |
| | | | |
| | | | |
| | | | |
| | | | |
1. Contigo Autoseal West Loop Stainless Steel Travel Mug
Sale
Contigo Autoseal West Loop Stainless Steel Travel Mug...
Our Lids Are Sealed: Autoseal technology is leak and spill proof...
For the Long Haul: Drinks stay hot up to 5 hours and cold up to...
Lend a Hand Easy one handed drinking with the push of a button
Squeaky Clean Easy clean lid completely opens for an extra...
Perfect Fit: Fits most car cup holders and under most single...
This is the best coffee mug on the market, especially if you're looking for a sturdy, leak-proof container to keep your coffee standing and steaming for many hours on the go.
Among the many great features of the Contigo mug, I loved its "Autoseal" lid, which prevents spills before they even happen. In comparison to other coffee mugs I have used before, this mug comes with a push button that opens the vacuum seal when I am ready to drink and shuts again when I let go.
Image Source: gocontigo.com
I carry it around in a bag for an entire day and reported no leaks. Just remember that you can't use the lid from any of your other portable mugs with this one. This vacuum-insulated stainless steel mug is perfect for keeping hot beverages hot for up to six hours, or cold beverages cold for up to 18 hours, depending on the size you choose.
Everyone in my family can easily distinguish my cup from their own cup thanks to the seven available colors. However, cleaning the cup is a bit difficult as I needed to follow some strict washing instructions. Be prepared for some difficulty when it comes to cleaning.
2. Stanley The Tough-to-Tip Admiral's Mug
Stanley 10-02873-038 The Tough-To-Tip Admiral's Mug...
NON-SKID BASE: The bigger the base, the more it stays in place....
DOUBLE VACUUM INSULATION: Double vacuum insulation doesn't...
TOUGH AND DURABLE: Manufactured using 18/8 stainless steel...
EASY TO CLEAN: Stanley travel mug has wide mouth opening, you can...
LIFETIME WARRANTY: 'BUILT FOR LIFE'. Since 1913 we've...
At first glance, the Stanley Adventure Tough-to-Tip Admiral's Mug looks more like a kettle than a travel mug, there is some logic as to why it is one of the best coffee mugs, which is hinted at by the name. I loved that it has a larger surface area at the base makes it difficult for the table to topple.
The combination of its sturdy construction and the nonslip footpad makes this item very difficult to topple. This Stanley coffee cup also has an exterior constructed of 18/8 stainless steel, making it hard to break if dropped. In addition, it has a high capacity of 20 ounces, so I can enjoy a lot of my hot coffee.
Image Source: stanley1913.com
The benefits do not stop there. The flip closure opens easily for drinking and always secures the bottle when I am not using the cup. Another feature I love is the double-walled design. This helps me maintain temperatures for up to 4 hours for hot drinks, 6 hours for cold drinks, and 24 hours for iced coffee.
3. Mighty Mug Plastic Travel Mug
Mighty Mug Plastic Travel Mug, No Spill Double Wall...
MAKE YOUR MORNING SPILL-FREE. Mighty Mug can take an accidental...
FOR HOT & COLD DRINKS. Whether you're heading to the beach or...
DURABLE PLASTIC CASING. Mighty Mug plastic mug is made of a...
CUP-HOLDER FRIENDLY. With all of the accident-proof travel...
100% HAPPINESS GUARANTEED. We believe in Mighty customer service....
The Mighty Mug is an innovative drinkware product that uses proprietary technology to prevent toppling over while on the go. It may sound like quackery, and to be honest, that's what I believed before trying out the mug for myself.
The mug is essentially made from double-walled plastic and fits into standard automobile cup holders. I loved that it comes with a top that is easy to grip and twists securely to keep the hot drinks from splashing out.
The Smart grip technology on the mug's bottom is what makes it "magical." It functions similarly to a suction cup and prevents the mug from being accidentally dropped.
Image Source: themightymug.com
The Mighty Mug can suction itself to any flat surface and remain there. The only way to undo the suction is to intentionally pull the mug straight up, making it impossible to accidentally knock it over.
This Smartgrip is intended to last forever, and it hasn't shown any signs of wearing out. I own two sizes of this mug: the Biggie, which can contain 16 ounces, and the Mini, which can carry only 11 ounces. I rely heavily on the Mini. It is ideal for usage around the house and fits neatly under a standard single-cup coffee maker.
4. Thermos Stainless King Vacuum-Insulated Travel Mug
Sale
THERMOS Stainless King Vacuum-Insulated Travel Mug, 16...
STAYS HOT OR COLD: THERMOS vacuum insulation technology for...
EXTREMELY DURABLE: High quality 18/8 stainless steel construction...
SWEAT-PROOF: Exterior stays cools to the touch with hot beverages...
LEAK-PROOF LID: DRINKLOCK sealing lid is leak-proof when closed...
SINCE 1904: THERMOS brand products have been making everyday life...
Most modern travel mugs are vacuum insulated, so a handle isn't necessary to keep your hand dry from moisture or prevent it from getting burned. However, if you prefer drinking from a handled cup, this Thermos model is a great option.
The double-wall stainless steel structure of this 16-ounce mug allows it to keep drinks hot for up to five hours or cold for up to nine hours. The "DrinkLock" seal on the lid releases with a left or right lever press.
Image Source: thermos.com
The lid stood out for me as it has no spills and prolonged coffee warmth. I can also for anyone who enjoys tea because it comes equipped with a tea hook that can hold most tea infusers and makes it simple to remove them.
A five-year limited guarantee is included in case there are any problems. However, this mug can only be cleaned by hand, which may be a downside.
5. Low Rider No Tip Desk Mug
You may be wondering what makes the Lowrider No-Tip Desk Mug so special if it is yet another model that I recommend the best. After hearing the reviews and people talking about this mug, I couldn't help but buy this product. And for sure, it's incredibly effective.
This coffee mug's extra-wide and flat base makes it exceedingly difficult to tip over. But if it does, the spill-resistant slider-top, which you can spin closed in between sips, can help limit mess. I loved that this coffee mug came with a large handle, making it comfortable to hold and sip from.
Image Source: waterbotttles.com
Furthermore, I could choose my favorite option from among a fairly broad selection of colors, and the high-gloss finish will make it last a long time.
Types of Coffee Mugs
1. Standard Mug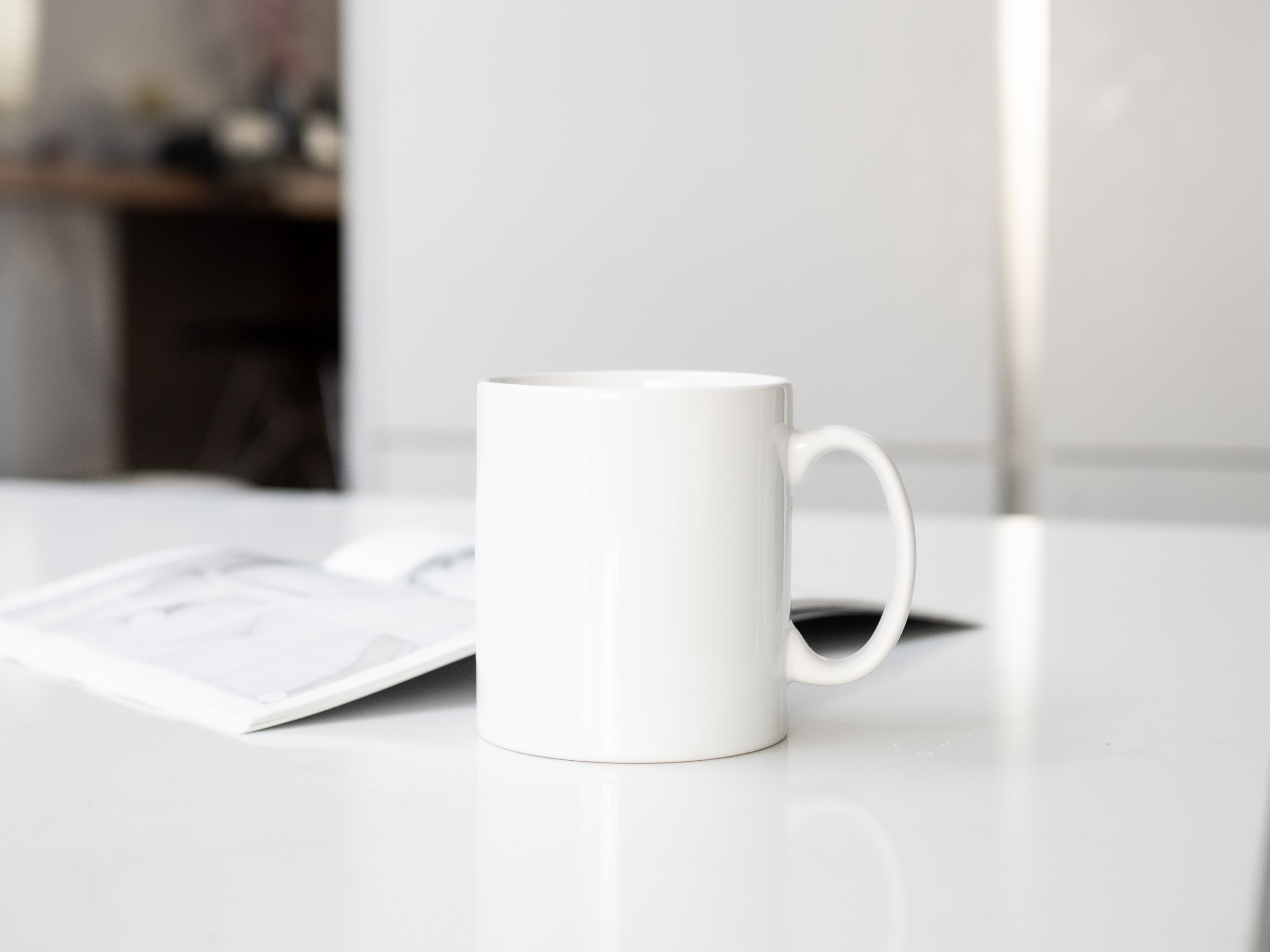 Most people's mental image of a standard coffee cup is something tall and tapered, like a reusable water bottle, but there are several options made to appear much like the mugs we use at home.
The products in this group have the look, feel, and functionality of a traditional coffee cup, but they also have the added benefits of being able to keep your coffee hot for longer and being portable.
These mugs are slightly cheaper than traditional travel coffee mugs because their capacity is lower. Unfortunately, the coffee mug design isn't leak-proof and the handles prevent it from fitting in most cupholders.
2. Tumblers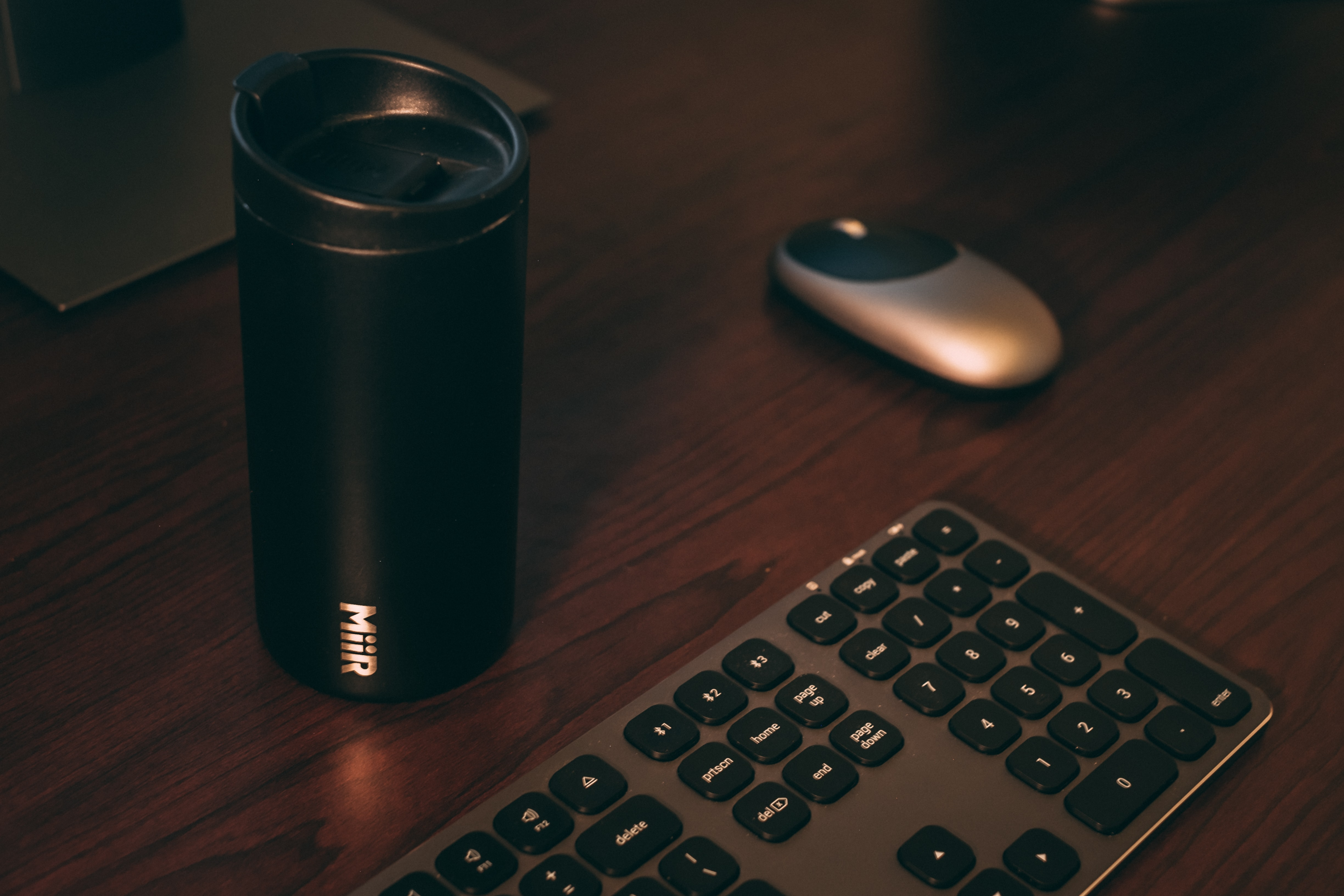 Tumblers, the most common type of coffee cup due to their sleek design, are a popular choice. Both the lack of a handle and the narrowing of the body toward the bottom make them ideal for use in a car's cup holder.
You can use a tumbler for either hot or cold drinks, but iced coffee from the best ice coffee maker is where it really shines. The straw tops on many of them make them convenient to drink from on the go.
Tumblers have a wide variety of uses, including cocktails, iced tea, lemonade, and normal household use, thus they may be familiar to customers from other drinkware categories.
3. Portable Coffee Maker
To capture the essence of "on-the-go" coffee, there is a subcategory of mugs that double as portable coffee maker machines with grinders. You can brew your coffee right in the bottle and then finish off your beverage without worrying about spills.
Despite being a rarer option, this one shouldn't be disregarded, especially by campers and travelers. The coffee grounds are soaked in water and then pushed to the bottom of the mug using the integrated plunger, hence the name "travel presses". On the other hand, the pour-over brewing method is used by other portable coffee makers.
Things to Consider When Picking the Best Coffee Mug for People Who Knock Over Their Drinks
1. Material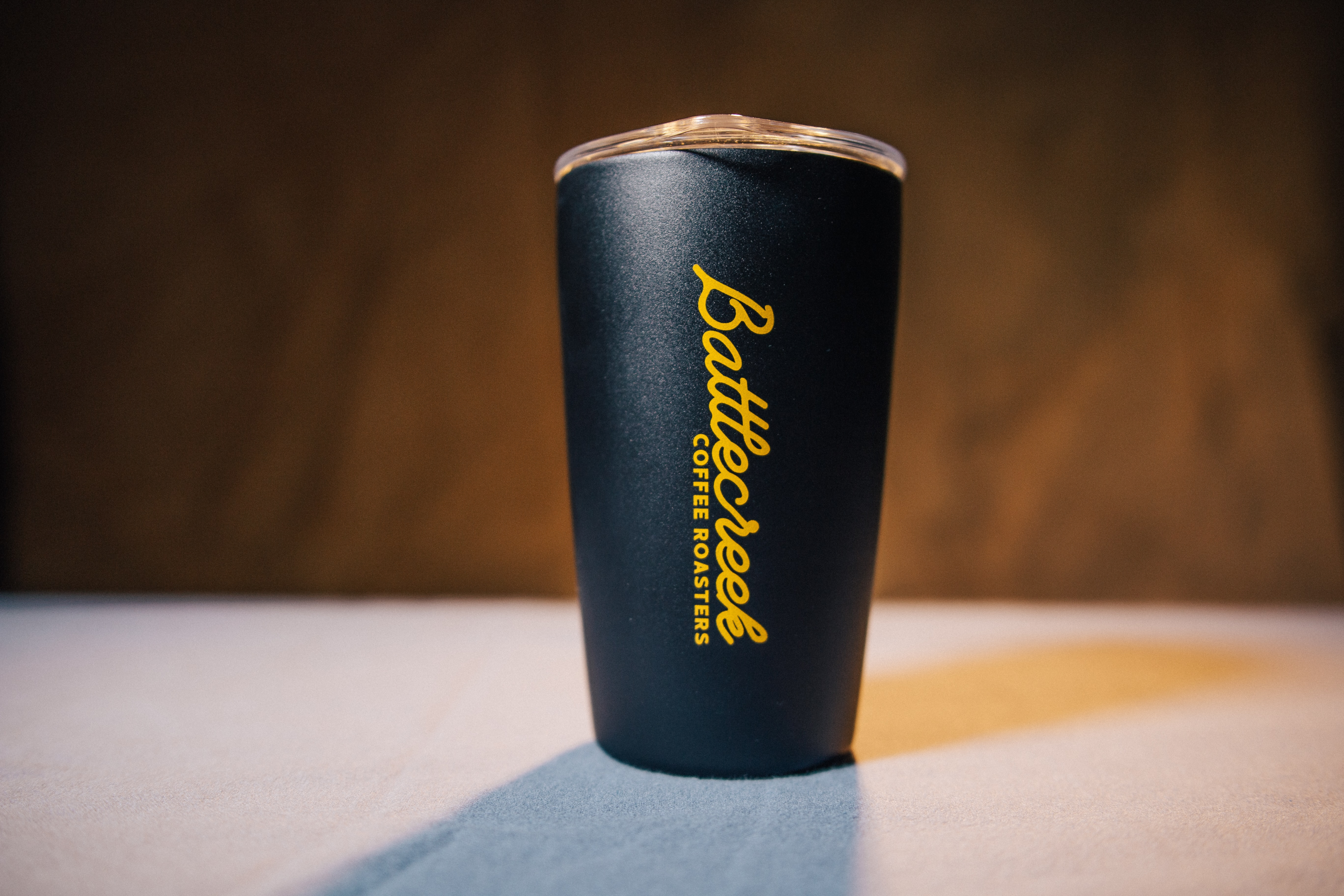 Stainless steel is a popular material for coffee mugs since it is virtually unbreakable; however, it is not microwave-safe and is only rarely dishwasher-safe. This material can also affect the flavor of your coffee.
Ceramic is a common material for coffee mugs because it does not alter the taste of your beverage and is frequently dishwasher and microwave safe. You should exercise caution since this material chips more easily than stainless steel.
While glass is a microwave-safe material, the probability of it breaking when you knock it over is quite high. So avoid this material if you're someone who knocks over their drink a lot.
2. Design
It's less likely that your drink will fall over if you use a product with a wide base or a bottom that's heavier than the top, so choose one of these if you want to be safe.
Some coffee cups even include a suction base that makes it very hard to tip over on smooth surfaces, and this is in addition to the support provided by an anti-skid bottom.
3. Size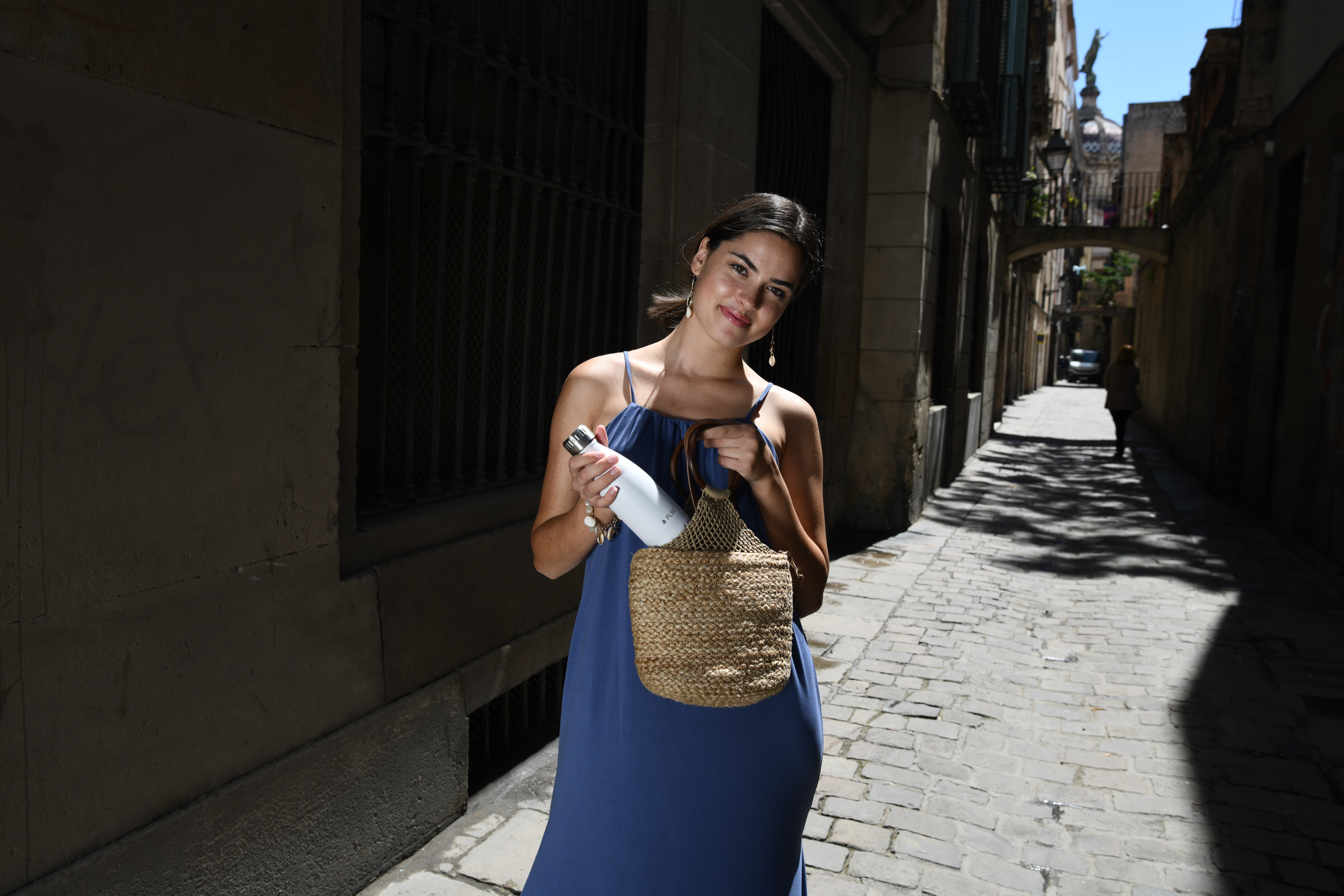 A travel mug is made with a tall, slim shape that fits comfortably in a cup holder and is intended for usage on the go. Coffee mugs used at home or the office are often shorter and wider.
You can find handles on both of these types of designs, although the latter is more common. Consider the mug's capacity while you shop for it. Some smaller cups carry as little as 10 ounces, whereas larger coffee mugs can hold 20 ounces or more.
4. Lid
Buying a cup with a lid is preferable in case your cup tips over accidentally. Some coffee mugs feature lids that close automatically in between sips, while others have lids that may be opened and closed with a slider or flip of the cap.
Choose a leak-proof lid if you want your mug to stay drip-free when it's closed; manufacturers typically label their products with this information, and customer reviews on different e-commerce sites can provide further insight.
5. Price
Most people can afford a coffee mug, and they help customers save money by reducing the number of times a week they have to visit the coffee shop. Only electric coffee mugs are likely to be too expensive. Apart from that, low-cost alternatives are easily accessible via traditional retail stores and online.
The price of a mug might vary widely depending on its size, but in general, the same model in a larger size will cost more than the same size in a smaller size. You can count on plastic cups being the most affordable, with glass, stainless steel, and ceramic all coming in at a slight extra.
Frequently Asked Questions (FAQs) on Coffee Mugs
1. How do I clean my coffee mug?
Check the product description or manual to determine if it specifies hand washing or dishwasher cleaning. Glass and plastic mugs have this feature, however stainless steel mugs do not. However, the process of cleaning remains simple.
Cleaning up daily is as easy as using dish soap and a sponge or soft brush. Stainless steel mugs can be scratched or nicked by steel wool brushes or other abrasive cleaning tools. To get the job done right, let a mixture of vinegar and baking soda soak in the mug for a few minutes, then wash it out with dish soap.
2. Can I put milk in my coffee if it's in a mug?
The majority of manufacturers do not recommend storing milk or creamer in mugs for extended periods of time. When dairy products are kept at room temperature, bacteria might grow, especially if the mug hasn't been cleaned properly.