How often do you go to work throughout the day and return home to find your parking space or other outdoor areas dark? Or are you forced to leave the outdoor lights on for days when out of town? Worry less; you can count on these best dusk-to-dawn outdoor lights for a decent and inexpensive solution for lighting your backyard and parking space.
What Are Dusk-to-Dawn Lights?
Dusk-to-dawn lights are designed to switch on automatically at dusk and switch off at dawn. They have a built-in photocell sensor that measures the amount of light in the surrounding. When the sun goes down, the light turns on, and when the sun comes up, it turns off.
Image Source: brightlighthub.com
These lights come in various styles and types, including LED, fluorescent, and incandescent bulbs, and can be mounted on walls, poles, or other structures. They are usually used for security and safety since they provide continuous illumination throughout the night.
Besides, dusk-to-dawn outdoor lights create a warm and inviting atmosphere around the home or business. You can use them in outdoor spaces like driveways, walkways, and entrances, as well as in commercial settings such as parking lots and industrial facilities.
Now that we know what dusk-to-dawn lights are, let's check out the best models to enhance outdoor security.
1. Torchstar Dusk to Dawn LED Barn Light
Sale
TORCHSTAR LED Barn Light, Dusk to Dawn Area Lights with...
💡Dusk to Dawn: This dusk to dawn led area light with the more...
💡Wet Location: Newly upgraded waterproof design, can be safely...
💡More Durable: Aluminum cooling fins enable stronger heat...
💡110-277V: With AC110-277V input, which makes this led barn...
💡ETL & DLC Listed: This led dusk to dawn security light is ETL...
The Torchstar Dusk to Dawn Lights comprises LED barn lights with a 40-watt bulb and 4200 lumens, making them quite bright. Besides, the color temperature of the light is about 5000K, producing very bright white light.
The light's casing is sturdy aluminum and has cooling fins for efficient heat dissipation. I wanted outdoor lighting that would last longer, and this unit serves the purpose; it usually lasts 50,000 hours.
The light's new, improved design makes it suitable for use in any outdoor setting. Besides, it features a wet location waterproof rating and a photocell sensor. When it gets dark, the photocell turns on automatically. Also, it turns off automatically in the morning, so worry less about it.
This is one of the best dusk-to-dawn outdoor floodlights I have used for a while, and the only issue I had was mounting it; it's quite tricky.
2. AmeriTop 2-in-1 Ultra Bright Motion Sensor Lights
Sale
AmeriTop Motion Sensor Lights Outdoor, 2-in-1 Ultra...
Motion Sensor AUTO Mode - Our lights have daylight and motion...
Photocell Light Sensor Mode - Dusk to Dawn Mode, at dusk, the...
Ultra Bright & Energy Saving - ETL-Certification guarantees...
Security Outdoor Lights - Motion Sensor Mode & Dusk to Dawn...
Larger Lighting Area - With the innovative wide-angle and three...
AmeriTop 2-in-1 has a cool color temperature of 6000K. The 3500 LM sharpens the outdoor image as if that weren't enough. Besides, thanks to this lighting, you can see very detailed images of your backyard from as far away as 15 meters. Its illumination is visible up to 150–200 meters away.
Image Source: goodearthlighting
I love that I can control the lighting whenever I need it, as it comes with three toggles for adjusting the sensitivity, mode, and length of light time. You can select a mode that operates for 3, 6, or 9 hours. And with these settings, the light will act as an accent light in the dark for the number of hours you choose. Besides, if motion is detected within 60 feet and 360 degrees, it will illuminate at full brightness.
Another great feature of this outdoor motion sensor light is the fact that the design of its body reflects its versatility. You can adjust the light heads, which offer three times the brightness of other models.
3. SZGMJIA Dusk-to-Dawn Outdoor LED Barn Light, 50W
SZGMJIA LED Barn Light 50W, Dusk to Dawn Outdoor Yard...
🔥 BRAND LED & ULTRA...
🔥 SAVING MONEY & PERFECT 400W HPS Equiv: Perfect 400W...
🔥 DUSK-TO-DAWN PHOTOCELL INCLUDED & EASIER INSTALLATION :...
🔥 ETL LISTED & ALL WEATHER-RESISTANT: ETL listed assures this...
🔥50,000 HOURS LIFESPAN : Reduce the frequency of re-lamp...
The SZGMJIA Dusk-to-Dawn Light is the best choice if you need an affordable source of light that will last all night and into the morning. This 50-watt light bulb is a great replacement for traditional lighting, especially regarding power consumption. Besides, it's surprising that this dusk-to-dawn lighting gives off 6500 lumens for such a price tag.
Image Source: barnlight.com
The lights have a color temperature index of 5000K, making the color of the lighting daylight white. With a photocell built into the light fixture, the light can turn on and off. In this case, you don't need to manually turn it on or off.
I usually use this light in my backyard since it has an IP65 waterproof rating, so I don't worry about it getting damaged by rain. Besides, the LED light is of high quality and has a lifespan of 50,000 hours. Also, it comes with a 5-year guarantee to ensure you are happy with it.
4. CINOTON LED Dusk to Dawn Outdoor Light
CINOTON LED Barn Light 42W, 5000K Daylight Dusk to Dawn...
EXCELLENT PERFORMANCE - CINOTON 42W LED Outdoor light with...
ENERGY EFFICIENT & HIGH SPECIFICATION MATERIAL -LED lights and...
WIDE APPLICATION -This LED barn light widely installed in the...
EASY INSTALLATION AND UPGRADE - This led dusk to dawn light easy...
Waterproof IP65: CINOTON LED barn light IP65 waterproof, even in...
CINOTON LED Light only uses 42 watts of power and throws 4950 lumens. Besides, it's rated to last for 50,000 working hours. On the other hand, the light's housing is made of metal and has a photocell sensor that makes it function automatically.
Image Source: bonanza.com
Mounting the light bulb was easy; I only needed the 3.64-inch lag screws, which come with the package. The good thing about the unit is that it can work even in bad weather since it has a special IP65 waterproof rating. It is worth mentioning that the LED lights feature a 3-year warranty.
5. Otdair Solar Security Dusk-to-Dawn Lights, 3 Head Motion Sensor Lights
Otdair Solar Security Lights, 3 Head Motion Sensor...
☆ [ 118LED Bright 360° Rotable Spotlights ]: Otdair 3 head...
☆ [ 2200mAh Eco-friendly Solar Power ]: Otdair solar motion...
☆ [ IP65 Weatherproof Easy to Install ]: Solar secuirty lights'...
☆ [ Long Time Working Time ]: Otdair solar security light has...
☆[SPECIFICATIONS]:Solar Panel: 1.8W, 5.5V; Wattage: 8W; LED...
For a solar-powered dusk-to-dawn lighting option, count on the Otdair Solar Security Lights. This two-pack of three-headed solar lights may not have fancy features like dimmers or motion-sensing timers, but they make up for it with a reliable rechargeable battery that can keep them going for up to 30 hours.
Image Source: solarlightings.in
The Otdair Solar Dusk-to-Dawn Light rotates through a full 360 degrees, and the motion sensors can pick up motion from up to 33 feet away and within a 120-degree range. Besides, like other dusk-to-dawn lights, this unit turns off automatically during the day so that the solar panel can charge the battery and turns it on as dusk approaches.
I have used this outdoor solar light for several years, and the main issue is that I can't adjust the motion-sensing time.
Factors to Consider Before Buying the Best Dusk-to-Dawn Outdoor Lights
1. Intended Purpose
Before buying the best dusk-to-dawn outdoor light, determine your intended use. A light with a dusk-to-dawn feature is perfect if all you need is an automatic light that goes on when it gets dark and off when it gets light.
Image Source: realsimple.com
Nevertheless, lights with motion sensors may serve as a more effective alarm, so they should be your priority if you plan to use them for security purposes. On the other hand, some models have both features.
2. The Type of Light
We recommend choosing the bulb type you'd like for your dusk-to-dawn light. As mentioned earlier, you can choose from LED, fluorescent, and incandescent bulbs. Most people prefer LED bulbs because they last longer, which is a significant selling point.
3. Brightness
Pay attention to the brightness when shopping for the best dusk-to-dawn outdoor lights. A light source's brightness is measured in lumens, making it easy to compare different models. Choosing a high lumen count will ensure that your dusk-to-dawn light performs effectively in low and low-light conditions.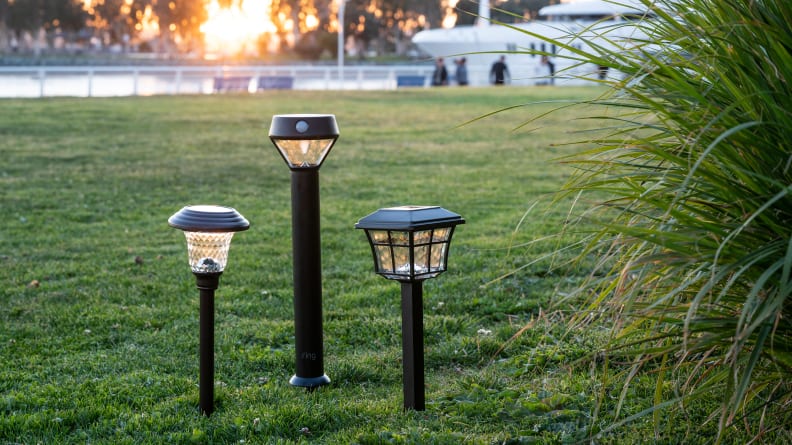 Image Source: reviewed.usatoday.com
Between 10,000 and 2,000 lumens, 10,000 lumens is much brighter than the others. However, note that the high lumen count means more power consumption. So, wattage goes hand in hand with brightness regarding LED lights.
4. Color Temperature
When it comes to color temperature, everyone has a different taste; some prefer white or blue-white light, while others prefer yellow light. Therefore, depending on your preference, you can choose dusk-to-dawn LED light of any color temperature.
Adjusting the light's color temperature allows you to change how it appears in any environment. Yellowish colors usually emerge at lower color temperatures (about 4000K) and blueish colors at higher color temperatures (around 5700K). If you want a bright white glow, choose LED lights with a color temperature between 4000K and 5700K.
5. Wattage
As mentioned earlier, LED lights are more cost-effective than other bulbs since they use less electricity. For instance, a standard 40-watt LED bulb can produce the same light as a far more powerful 400-watt incandescent bulb. This makes them the best type of bulbs to go for.
Furthermore, the wattage of an LED light is still an important factor to consider when evaluating its performance. Higher-wattage bulbs consume more power and, as a result, provide more light, making them the best option.
6. Waterproofing
Since we are looking for outdoor dusk-to-dawn lights, waterproofing is quite crucial. The lights should have a minimum IP 64 waterproof rating to withstand snow and rain. The great thing is that all the lights on our list have a waterproof rating.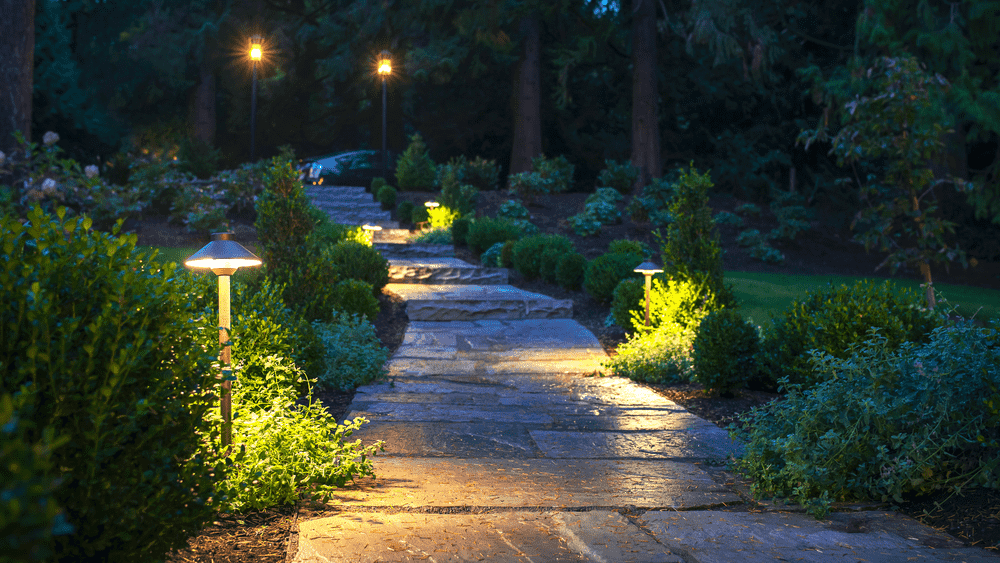 Image Source: destinationlighting.com
The IP waterproof ratings also account for dust and snowfall protection. That said, we recommend going for certified models with a dedicated IP waterproof rating for the lights to survive through rainfall, snowfall, and other weather conditions.
7. Warranty
It's important to note that the top manufacturers often offer a 5-year warranty on their lights, so we recommend buying from them. Avoid going for unfamiliar brands to save money since they barely include a warranty despite their low prices.
Frequently Asked Questions About the Best Outdoor Dusk-to-Dawn Lights
1. How High Should I Mount My Dusk-to-Dawn Outdoor Light?
The dusk-to-dawn outdoor security light's placement height depends on the intended use. The height doesn't matter if you're only going to use it at night. However, we recommend installing the motion-sensing feature between 9 and 15 feet above the ground. A high level of light can impair their sensitivity to motion.
2. Can I Operate the Dusk to Dawn Outdoor Lights Manually?
Most dusk-to-dawn lights are designed to turn on and off automatically to save time and effort. Since most dusk-to-dawn lights, if not all, have a light sensor, they usually turn on at night and turn off by themselves in the morning. You need to block off the photocell sensor to use the lights manually. By blocking it, it won't be able to function automatically.
3. Do Dusk-to-Dawn Outdoor Lights Attract Insects?
Although lights left on for an extended period may generate heat, attracting insects for warmth, this is not the case with dusk-to-dawn lights. These lights remain cool even after prolonged use, unlike incandescent bulbs. On the other hand, it cannot be definitively stated that dusk-to-dawn lighting won't attract insects, but the difference between a dusk-to-dawn light and an incandescent bulb is significant.