Using pergola kits can be great if you intend to install a pergola at home. These easily fitted and installed alternatives to typical pergolas can make your outdoors more hospitable. They can often be installed with little to no professional help, which can help reduce installation costs.
Pergola kits shouldn't only add beauty to your outdoor space but also provide functionality with durability to ensure they enhance your space for years to come. Do you want more privacy or more shade? We have highlighted the best pergola kits to enable you to spend more quality time outdoors.
Our top pick is the PURPLE LEAF 10'x10', which has a stylish, versatile design at a very affordable price. Also, it has a powder-coated aluminum frame enhancing its durability. Our second-best choice, Backyard Discovery 12' by 10', only came second because it has a small interior space. However, this cedar pergola kit is made to add sophistication to any backyard.
The third option we recommend is the Sunjoy Outdoor Pergola, which has an adjustable canopy, allowing you to tweak it to where you need it.
Pergola Vs Arbor Vs Gazebo Vs Trellis
Image Source: ebay.co.uk
Before you buy a pergola kit, ensure you understand the difference between a pergola, an arbor, a gazebo, and a trellis so you choose the best yard structure for your needs.
1. Pergola
Image Source: pinterest.com
A pergola is a structure that uses strong pillars or posts to support a latticework of beams, stringers, and rafters to provide partial shade for a patio or deck. A pergola does not provide full protection from sun or rain because of the open roof, but you can use covers to add extra protection. Also, a pergola can be freestanding or attached to a building, and of course, plants can climb the posts.
A pergola is larger than arbors and trellises and is normally used to create an outdoor room for dining, relaxing, and entertaining.
2. Arbor
Image Source: houzz.com
An arbor is a freestanding structure that has an overhang providing shade for a pathway, garden gate, or bench. You can also use it to separate a garden into different areas or outdoor rooms. An arbor is tall enough to walk under and usually has a curved roof, giving it an arch appearance. It is smaller than a pergola but larger than a trellis.
3. Gazebo
Image Source: hgtv.com
A gazebo is a freestanding hexagonal or round garden structure with low walls and a complete roof. The only difference between a gazebo and a pergola is that gazebo has a permanent canopy, while a pergola has an open or retractable roof canopy.
4. Trellis
Image Source: fassdengruen.de
A trellis is a sloping or vertical lattice that always supports climbing plants. It can be attached next to the side of a fence or building or let it be freestanding.
Best Pergola Kits
1. Best Overall: PURPLE LEAF 10'x10' Outdoor Retractable Pergola
PURPLE LEAF 10'x10' Outdoor Retractable Pergola with...
This pergola features 10' X 10'. Easy to assemble.
The canopy of this pergola is made of polyester which is durable,...
Powder-coated aluminum frame for strength and durability.
Adjustable canopy for optimal shade against the sun. Safe locking...
This pergola is ideal for the pool, hot tub, perfect for outdoor...
The Purple Leaf Retractable Pergola is a budget-friendly and stylish option, featuring a rust-resistant powder-coated aluminum frame and an adjustable canopy allowing you to enjoy direct sunlight or shade. Its UV-resistant, water-repellant, and fade-resistant top fabric ensures protection and comfort for outdoor relaxation.
We admired this pergola kit for its versatile design and value for money. For instance, its straight-side design enables you to install it against the wall to blend beautifully with your home. The adjustable canopy comes in different colors, allowing you to find the right match for your outdoor space.
Image Source: usatoday.com
The 10-by-10-foot coverage area provides ample space for furniture and guests and is ideal for outdoor dining, entertainment, hot tub, or the pool. Additionally, it features a locking system to keep the canopy safely in place.
However, the Purple Leaf pergola may require additional reinforcement for those living in areas of frequent inclement weather. For instance, we live in a place with high winds and had to affix this structure to the ground. Securing it to the ground is recommended for safety and sturdiness.
Overall, be sure to add style and ambiance to your outdoor living using this pergola.
2. Best for Classic Elegance: Backyard Discovery 12' by 10' Cedar Wood Pergola
Backyard Discovery 12' by 10' Cedar Wood Pergola, Wind...
LONG LASTING, WITHSTANDS IN SEVERE WEATHER CONDITIONS: Why Cedar....
PATENT PENDING FOOT COVERS: The four uprights are made of pure...
SPACIOUS ROOM FOR ENTERTAINING: Dimensions: 12' W x 10' D x 7'...
READY TO ASSEMBLE: Pre-cut, Pre-stained, and ready to assemble....
QUALITY, STRUCTURAL STRENGTH: Our pergola has sturdy 5 1/2" cedar...
The number two spot on this list goes to a cedar pergola from the Backyard Discovery brand. This pergola kit made of pre-stained cedar makes an excellent addition to any patio or yard. Backyard Discovery Cedar Pergola offers 120 square feet of overhead shade and interior space of 63 square feet, fitting outdoor furniture of average sizes with plenty of room for outdoor lounging and entertaining.
Image Source: walmart.com
With plenty of interior space, you can easily enhance the pergola's aesthetic and get additional shade by hanging vines and other greenery. Also, its traditional cross-beam style enables you to hang lights and planters easily.
This pergola kit arrives in two large boxes. Assembling and installing it is easy, thanks to the easy-to-follow 3D assembly instructions in the manufacturer's BILT app. However, it's not a one-person job, and it took us almost seven hours to get it done. All the pieces come pre-stained, pre-cut, and pre-drilled.
When assembled, it adds a touch of Mediterranean elegance to the backyard. The 100% cedar wood is long-lasting, can withstand severe weather conditions, has a lovely wood aroma, and is rot and decay-resistant. However, Backyard Discovery is not the biggest pergola out there, but it worked just fine for our backyard, which is not too huge.
We especially loved its decorative foot covers, which hide the concrete anchors entirely. Its criss-cross overhead beam also provides excellent stability. However, this pergola kit doesn't have a canopy, but you can buy one and install it on the beams for shade.
3. Best with Canopy: Sunjoy Outdoor Pergola 10 x 12 ft. Steel Pergolas
Sunjoy Outdoor Pergola 10 x 12 ft. Steel Pergolas with...
Durable Materials & Structure: This black steel frame pergola is...
Adjustable Canopy: This pergola comes with a canopy that can be...
Enjoy Outdoor Life: Weather-resistant, adjustable fabric shade...
Easy to Assemble: Comes with illustrated assembly instructions...
Item Dimensions: 146.5 in. L x 119.8 in. W x 87 in. H
There's this one spot in our backyard that doesn't have any shade, and at some point in the day, the sun would beat down on that spot. Unfortunately, it's the best spot for outdoor entertainment and dining. So we thought of adding a pergola, and it is obvious we needed one to protect us from the sun.
Image Source: pinterest.com
Sunjoy Outdoor Pergola comes with an adjustable canopy that can be independently adjusted to provide sunlight or shade to one's preference. The retractable canopy allows you the ultimate flexibility to adjust either side. So this pergola kit solved our 'sun problem' because whenever it got too sunny under the pergola, we could pull the weather-resistant canopy to where we needed it.
This Sunjoy's pergola has a modern, minimalistic design with a slatted wall that exhibits a faux-wood grain finish while providing structural support and extra privacy. It also requires low maintenance since the frame is made of rust-free powder-coated black steel.
Assembling and installing this pergola is easy, and you can use the four powder-coated steel anchoring plates included in the kit to mount it to your deck or patio. However, the white canopy is prone to showing dirt, and we had to clean it after every three months.
4. Best Aluminum: Paragon-Outdoor Aluminum Pergola with Canopy
Paragon Outdoor 11'x11' Alumnium Pergola in Chilean Ipe...
QUALITY MATERIALS: The Palermo Pergola is built to last. Compared...
CONTROL SUN EXPOSURE: The retractable canopy top can be manually...
FUNCTION AND STYLE: Our Embedded Wood Grain technology mimics the...
FOR EVERY BACKYARD: Add instant charm to your backyard and make...
ASSEMBLY: 3 Year Warranty on structure, 2 year on roof. We look...
This aluminum pergola kit from Paragon Outdoor is made of rust-resistant, powder-coated aluminum with a Canadian Cedar-like finish. It has a perfectly square frame, measuring more than 100 sq. feet and 7.75 feet high, which can comfortably accommodate an outdoor furniture set for up to 6 guests.
Image Source: overstock.com
Taking a break from conventional pergolas with open roofs, this pergola features a sliding top canopy. You can manually slide the canopy and get some shade on hot summer days or reveal the sunshine and the blue skies on a bright day.
Assembling and installing the Paragon Outdoor pergola is straightforward. We used the instructions, which include step-by-step diagrams, and the hardware tools in the kit, such as the stakes and bolts, to fix this pergola to our patio. It's not a one-man job, so it took the two of us almost 4 hours to set it up.
We especially liked its rust-resistant aluminum frame, which would last longer than a wooden frame. Moreover, it requires zero maintenance, so if you're operating on a tight budget, it is a more attractive option than wood pergolas.
5. Best Large Pergola: Regency Grande 12' x 24' Vinyl Pergola
Sale
If you love entertainment, this easy-to-maintain 24 by 12-foot vinyl pergola provides ample space for shade and comfort. Make entertaining family and friends an alfresco affair by setting up a dining room table and two chaise lounge chairs or arranging a few conversation seating areas under this pergola.
Image Source: pinterest.com
Vita's Regency Grande Pergola's vinyl frame is UV, water, and rust resistant, ensuring it can withstand elements throughout every season. Also, its detailed lattice overhead design and white color add a clean, modern look to your backyard.
With such a big piece, the assembly process is lengthy. The delivery arrived in 11 boxes, and it took 10 hours for the four of us to move and assemble it. However, we had to spend extra cash to purchase extra items, such as treated lumber and an anchoring system, for extra stability. Also, this pergola weighs over 400 pounds, so it is best to set it up at the exact place you plan to use it.
This Vita's pergola is about extending the outdoor living space with 288 square feet of extra room. You can attach it to your home, anchor it to your deck or patio, or have it freestanding in the grass. It also comes with a 20-year warranty, so you can feel confident about your purchase
How to Choose the Best Pergola Kits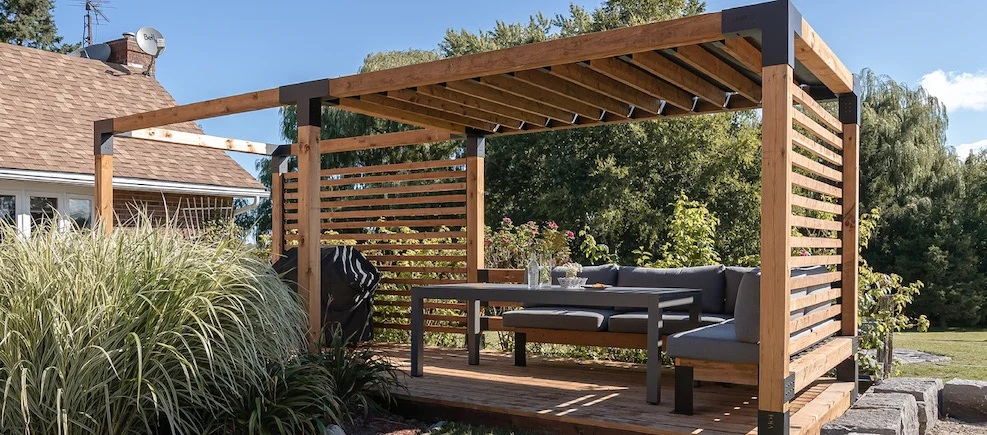 Image Source: tojagridinternational.com
Choosing the right pergola kit for your space involves various considerations, including;
1. Ease of Installation
The easiest-to-install pergola kits usually include all the necessary predrilled and precut materials, including anchors. The only additional requirements are labor, time, and space. In most cases, you'll need a few tools, such as a screwdriver and wrench.
Also, detailed assembly instructions, supplemented with step-by-step illustrations, company support, and online tutorials, can make installation much more straightforward. For complicated setups, it may be worth hiring a professional.
There are two installation methods based on the pergola kit you purchase
i) Freestanding Pergolas
These pergolas are independent of other structures and offer flexibility in their placement. They should be properly anchored to a deck, patio, concrete anchors, or with foot covers that sink into the ground to prevent them from falling. These pergola kits have easy-to-follow instructions, making them perfect for easy installation. They are normally considered DIY pergola kits
ii) Attached Pergolas 
An attached pergola secures to a home or building by a ledger board and might not be considered a DIY pergola kit unless you are confident in your skills. Attachment methods may vary, depending on the dimensions of the home or building and the unique features. Consulting with a contractor is the best option for this installation method
2. Extra Features
Specialized pergola kits may offer additional features such as built-in seating, a built-in table to create a comfortable place, and an all-inclusive retreat for your family and guests to enjoy in the shade. Other features worth considering include decorative privacy screens, architectural details on the support columns, and intricate latticework overhead.
3. Intended Use
Pergola is one of the backyard structures you can use for several purposes, including an outdoor dining experience, a poolside structure to place recliner chairs, or a garden haven to sit and relax. You can narrow your search to the most suitable options based on the purpose.
For example, if you want to use your pergola to place an outdoor hot tub or for dining, it's best to have the roof covered with a canopy for shade. So it's ideal to get a pergola that comes with a canopy.
4. Size and Shape
The size of your yard is an essential factor you need to consider when choosing a pergola kit. The pergola should neither look too big in the garden nor too small, offering negligible functionality. Also, pergolas can be quite tall, so ensure there is enough clearance to avoid touching awnings, tree branches, and other obstacles.
If you are planning to use your pergola for dining space, choose a size that's large enough for your chairs and table to set comfortably underneath. Create extra space to allow people to push chairs, ensuring they don't bump into the pergola frame while pushing the chairs. Also, suppose you want to install your pergola over a patio. In that case, it's recommended that you purchase a pergola larger than your space to allow you to anchor the pergola structure into the ground, which is essential for stability.
Furthermore, pergola shapes vary, and your choice depends on the best fit for the yard and your style. For instance, square pergolas have two to four columns that are easy to install in a backyard or on a patio or deck, while rectangular pergolas are big enough to create ample space for an outdoor dining set and additional room for entertaining.
On the other hand, hexagonal and circular pergolas are generally for larger deck spaces and may require more columns to support the shapes, making their installation more complex. They are suitable for gardens, big yards, or barbeque areas.
5. Material
Pergolas kits come in various framing materials, which may determine the longevity and durability of your structure. The most common pergola kit materials include wood, vinyl, aluminum, and metal. Usually, wood pergolas are made from cedar, which resists mildew and has a stylish look. However, wood pergolas are high maintenance because you must re-stain them occasionally.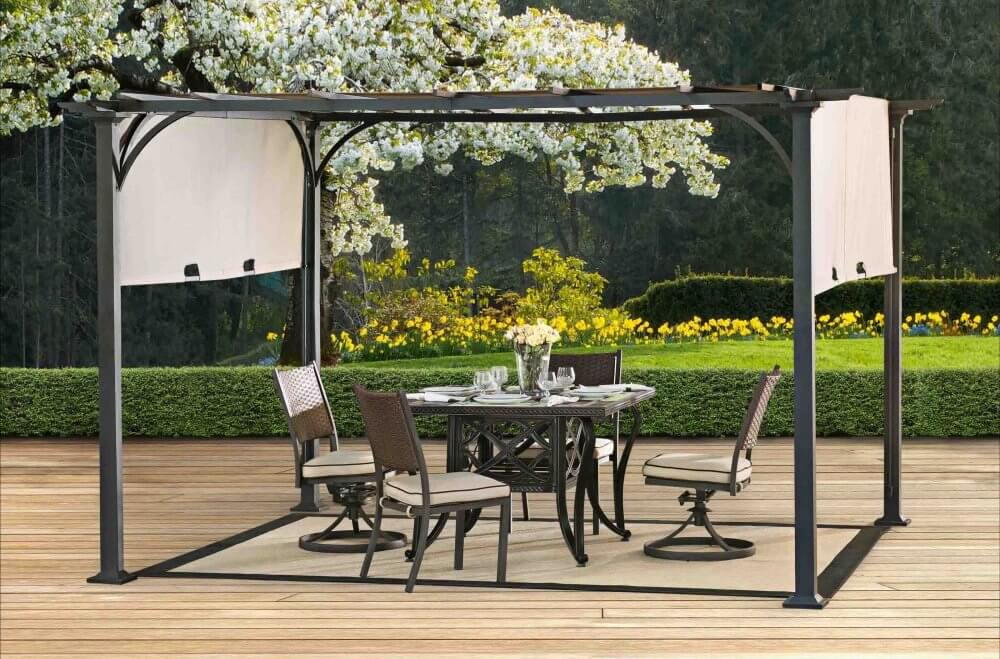 Image Source: insteading.com
Vinyl pergolas are maintenance-free and available in neutral shades that blend well with most outdoor spaces. They're also fade-resistant but can be more expensive than other pergolas. Aluminum pergolas are stylish, lightweight, and rot and rust resistance. However, they're less durable.
The metal pergola kits come in a modern, minimalistic look. They are durable and should be treated regularly to prevent corrosion or rust. If you choose a metal pergola, ensure it is powder-coated to prevent rust and increase its longevity.
How Do Pergola Kits Save Money?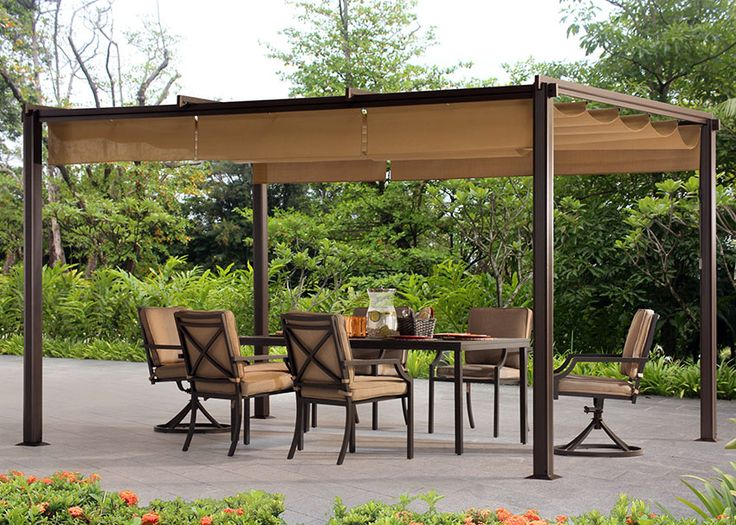 Image Source: pinterest.com
Did you know that a pergola could save you money in the long term? Here are just some ways that a pergola kit that you can buy from specialized vendors can see you spend less, not more, on your household in the years to come.
1. Reduce Cooling Energy Requirements
One of the primary cost-savings of using a pergola is that it can create 'cold spots' around the outside of your home. That is useful as it can mean you need less energy to cool down your home. Creating natural shade can be a good way to keep your home cooler if you want to save energy consumption- especially during the summer.
One of the largest costs you will come up against during summer is cooling your home. With pergolas installed, you get a natural shade. This makes both sitting outside more comfortable and sitting indoors more affordable.
2. Keep Your Furniture For Longer
Another beneficial factor of pergolas is that they can protect your outdoor furniture. The shielding they provide can ensure that your furniture does not become sun-faded. This can even help to keep them in better condition during the colder months. During summer and winter, pergola kits can keep your furniture lasting longer.
Over time, our furniture can become sun damaged and lose much of its original luster. This helps keep the furniture longer and ensures it is in the best condition possible if you choose to sell it. This saves you money on needless replacements and retains the value of your current furniture.
3. Stop Spending So Much Going Out
During the summer, it can feel like a good excuse to go out for dinner and head out for the evening. Having a pergola set up in your garden gives you a more functional outdoor room. Instead of heading out with friends and family, why not remodel your backyard and have them over to enjoy a meal outside in the comfort of your pergola?
4. Adding Value To Your Home
Lastly, a pergola can help to add extra value to your property. While this is not a 'saving,' it is a long-term investment. Should you sell your home, the presence of a properly fitted pergola is going to be a positive feature. This can make it easier to sell your home and ensure you get the maximum value you are due.
There are many ways that a pergola can be of benefit to you as a homeowner. From reducing energy costs to ensuring outdoor furniture last longer to more abstract savings, pergolas make a wonderful addition to any home. If you are wondering if pergolas can provide more than just aesthetics, now you can see how they provide benefits beyond a great outdoor sitting space.
Frequently Asked Questions on Best Pergola Kits
1. Are pergola kits worth it?
Pergola kits are cheaper than a professional install. DIYers can save on labor costs for a pergola project by buying and installing a kit themselves. So if you have competing demands for your household funds, a pergola kit can make financing this outdoor improvement more realistic.
2. Which is the best pergola kit?
The best pergola kit is the PURPLE LEAF 10'x10′ Outdoor Retractable Pergola. Its stylish design makes it a beautiful addition to any backyard. This pergola kit is also durable and budget-friendly.
3. Which pergola material lasts the longest?
Vinyl is the most durable material and the best option on the pergola market for both practicality, style, and lifespan. While wood can rot and metal can rust, vinyl is completely resistant to the elements. Also, vinyl pergolas require minimal maintenance to increase their lifespan. But these features come at a price, and vinyl pergolas are the most expensive options on the market.
4. How long will it take to install a pergola kit?
The Pergola kit's installation time depends on the features and complexity of the assembly. Also, having more people to help with the installation makes it easier and faster.
5. What is the purpose of a pergola?
A pergola extends interior space to the outdoors, essentially creating an open-air room that protects homeowners from harsh elements and overbearing sunlight while providing a place to relax and entertain.
6. Where in your yard should you place a pergola?
When choosing where to install your pergola, keep in mind the size of your yard and how you intend to use this outdoor space. For instance, if you want quick access to a kitchen or grill or have a smaller yard, attach your pergola to your house or set it near your home. And if you desire a private, secluded space and you have a larger yard, place the pergola farther back on your property with a clear path to draw guests to it. The site should be well-draining to keep water from collecting around the pergola's posts, which can lead to the posts rusting or rotting.
7. How long do pergola kits last?
The lifespan of a pergola kit depends on the material it is made from and how well you maintain it. Generally, vinyl and metal pergola kits may last longer than wood-made ones.
8. Is it cheaper to buy or build your own pergola?
Building your own pergola is more cost-effective than buying one since you only have to spend money on materials, not labor.
Conclusion on Best Pergola Kits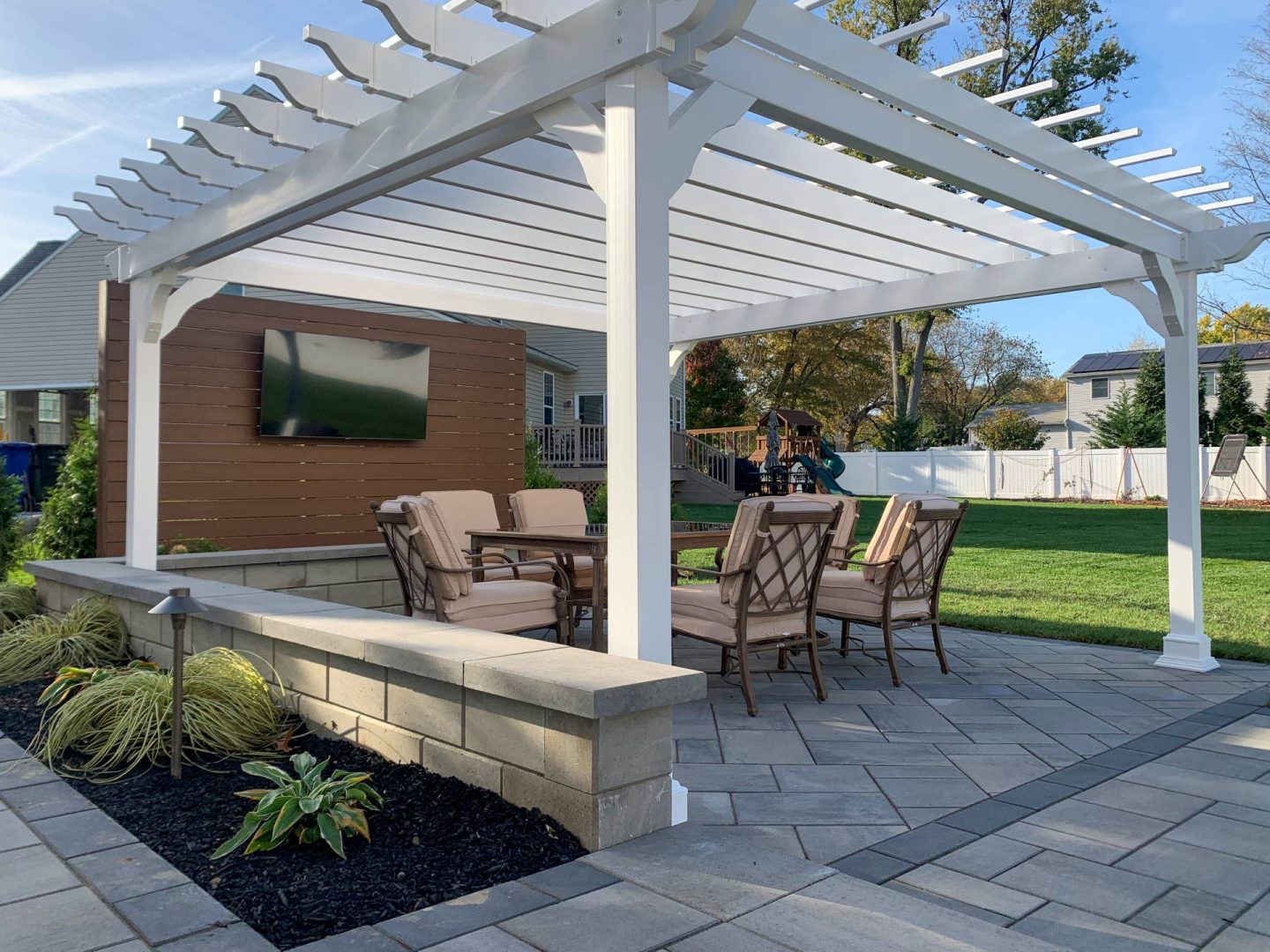 Image Source: thebackyardshowcase.com
The best pergola kits will turn available lawn, deck, or patio space into an outdoor oasis. We have chosen five top-tier options that will put you at ease and save resources while achieving excellent results. So whether you want the best wood pergola kits, vinyl pergola kits, aluminum pergola kits, or metal pergola kits, you are sure to find one that's best for your family and friends. Also, pergola kits provide more than just aesthetics. They save you money!