A well-designed bedroom serves as a sanctuary to relax, unwind, and rejuvenate. One essential element that can significantly enhance the ambiance of your bedroom is mood lighting. By carefully selecting and positioning lights, you can create a soothing and inviting atmosphere conducive to restful sleep or intimate moments.
Our article will explore the best mood lighting options for your bedroom, from soft and warm to vibrant and energizing, allowing you to tailor the lighting to suit your preferences and needs. For an overview, we chose MINGER LED Strip Lights as our top pick because they have a DIY mode, which allows you to create custom ambient light effects and patterns by programming your desired color sequences or effects.
For our second selection, we went with the Twinkle Star Curtain Lights because the LEDs are energy-efficient, emitting a soft and warm purple glow pleasing to the eyes. The curtain lights, however, fell short of first place because they have limited color options. The Homemory Flickering Flameless Candles was our third selection because the candles are bright enough to provide adequate illumination in a small to a medium-sized bedroom.
Let's get started!
| | | | |
| --- | --- | --- | --- |
| | | | |
| | | | |
| | | | |
| | | | |
| | | | |
| | | | |
1. MINGER LED Strip Lights
MINGER LED Strip Lights 16.4ft, RGB Color Changing LED...
Multicolor changing: the RGB LED strip lights kit has not only...
Remote control: 44-key IR remote allows you to choose colors,...
Bright LED Lights: it features 150 bright 5050 LEDs that easily...
Easy to install: with back adhesive and flexible strip design, it...
Notice for using: please do not roll up when using it to avoid...
The MINGER LED Strip Lights provide RGB color-changing capabilities, allowing you to choose from various colors to suit your preferences and create different moods in your bedroom or other living spaces. The strips are 16.4 feet long, making them suitable for various applications such as decorating Christmas trees or accenting furniture.
Image credit: amazon.com
The LED lights for the bedroom used in these fairy lights are of the 5050 type, a common and reliable type of LED known for its brightness and durability. The strip has 16 multicolor options, making it an ideal Christmas decoration. With the included IR Remote Control, I liked how I could easily adjust the strip lighting color, brightness, and other settings from a distance.
One notable feature I observed is the DIY mode, which allowed me to create custom ambient night light effects and patterns by programming my desired color sequences or effects. This can add a special touch to your lighting setup.
2. Twinkle Star 300 LED Window Curtain Lights
Sale
Twinkle Star, 6 Inches Indoor Outdoor, LED String Light...
8 Modes settings: combination, in waves, sequential, slogs,...
High quality: 300 purple individual LED lights. Dimension: 6.6ft...
Extremely low in power consumption, energy saving and long...
Easy to use: directly plug in and unplug it for power on and off....
Perfect decoration: party, Valentine's Day, wedding, home,...
The Twinkle Star 300 is a versatile and enchanting lighting solution designed to add a touch of magic to your bedroom or indoor spaces. When using the lights, l liked how the vibrant purple created a mesmerizing atmosphere, perfect for setting a romantic and cozy mood.
Image credit: amazon.com
Featuring 300 LED lights, these curtain string lights are crafted to resemble a cascading curtain of glowing stars, transforming your room into a captivating wonderland. The lights are evenly distributed across a 9.8-foot wide and 9.8-foot high curtain, providing ample coverage for windows or walls.
The string lights are made of high-quality materials that ensure durability and safety. I recommend these lights because the LEDs are energy-efficient, emitting a soft and warm purple glow pleasing to the eyes. The low heat output of the lights makes them safe to touch and reduces the risk of overheating.
When installing, I found the process hassle-free and straightforward. The curtain string light has a built-in plug and a controller, allowing you to adjust the soft lighting effects easily. The controller offers multiple modes, such as steady on, slow fade, twinkle, and flash, enabling you to customize the ambiance according to your preference or occasion.
3. Homemory Flickering Flameless Candles
Sale
Homemory Flickering Flameless Candles with Timer,...
ENJOY THE CONVENIENCE - Built-in 6H timer. Just turn on once and...
LIFELIKE CHARM - Homemory's LED tea lights mimic real candles...
READY TO USE AND BUILT TO LAST - Homemory's timer tea lights are...
SOLVE ALL THE PROBLEMS BELOW: Wax candles can't last long;...
VERSATILE IN USE: With dimensions of 1.4"W x 1.25", these...
The Homemory Flickering Flameless Candles is a set of 12 long-lasting LED lights designed to enhance the mood lighting in your bedroom. With their white-warm glow and realistic flickering flame effect, these fake electric battery candles offer a safe and convenient alternative to traditional candles.
Even though the product lacks a remote control, I found the built-in timer function to add convenience by allowing me to set the desired duration for the candles to stay lit.
Image credit: amazon.com
One of the notable features of these candles is the built-in timer. While there is no remote control, the timer automatically allows you to set the candles to turn on and off after a specific duration. This feature is especially useful for creating a consistent routine or when you prefer not to worry about manually switching the candles on and off.
The candles are bright enough to provide adequate illumination in a small to medium-sized bedroom; however, I found them unsuitable for larger spaces or when used as the primary lighting source. In terms of durability, these candles are designed to be long-lasting. LED bulbs have a long lifespan, ensuring you can enjoy the warm ambiance for extended periods without worrying about frequent replacements.
4. Yarra-Decor Bedside Lamp
Sale
Yarra-Decor Bedside Lamp with USB Port - Touch Control...
✔️【BRIGHTEN UP YOUR SPACE】- Its minimalist design makes...
✔️【VERSATILE HOME DECOR】- This LED touch control table...
✔️【PRACTICAL USB CHARGING PORTS】- The Yarra-Decor USB...
✔️【3 WAY SMOOTH DIMMABLE TOUCH CONTROL】- The dimmable...
The Yarra-Decor Bedside Lamp is a stylish and functional lighting option designed for bedroom use. It features a wood base and a round flaxen fabric shade, giving it a natural and warm appearance that can complement various decor styles and be a stunning home improvement.
Image credit: amazon.com
One notable feature of the lamp was its built-in USB port, which allowed me to conveniently charge my devices, such as smartphones or tablets, without needing an additional power outlet. This feature is particularly useful when I want to keep my devices nearby while sleeping or relaxing in bed.
The lamp uses touch controls, providing a modern and user-friendly experience. With the touch-sensitive base, I could easily turn the lamp on or off and adjust the brightness level to suit my desired mood or lighting needs. It is also worth noting that the product offers three dimmable lighting levels, allowing you to create the perfect ambiance in your bedroom.
5. LEONC 61" Soft Light Floor Lamp
Sale
LEONC 61" Soft Light Floor Lamp for Game Room and TV,...
❤️PERFECT SIZE FOR ANY DÉCOR: With a classic design, this...
💡BEAUTIFUL WARM LIGHT ATMOSPHERE: The Teyvek Dupont decorative...
🤳FITS EASILY NEXT TO ANY ROOM: Assembly and cleaning are both...
🌈MULTI-COLOR LIGHT & DIMMABLE: Use the included remote...
💡SMART VOICE CONTROL & FOOT SWITCH: This dimmable LED floor...
One of the standout features of the LEONC floor lamp is its RGB color-changing LED lights. With the ability to choose from a wide spectrum of colors, I could easily create the perfect ambiance for my occasion. I liked how the Tyvek fabric shade added a touch of elegance to the lamp's design. It softens the light, creating a gentle and diffused soft glow, and adds a stylish element to my bedroom decor.
Image credit: amazon.com
With the smart app control feature, you can conveniently adjust the lighting settings of the lamp from your smartphone or tablet. The lamp is also compatible with popular voice assistants like Alexa and Google Home, enabling you to control it through voice commands, adding a new level of convenience and hands-free operation.
Another impressive feature of the LEONC floor lamp is its music sync capability. This feature is perfect for parties or to add an extra layer of excitement to your space. The lamp also offers a range of multi-scene modes, allowing me to easily switch between different preset lighting configurations.
6. ALOVECO LED String Lights
Sale
ALOVECO LED String Lights 16ft 50 LED Battery Operated...
[19 Colors Changing String Lights & Dimmable]This indoor string...
[Unique Memory & Built-in Timer] The memory Function of the...
[IP44 Waterproof & Battery Powered]IP44 waterproof string lights...
[DIY & Widely Use]I guess you do well in DIY! The indoor...
[Perfect Gift & 2 Years Warranty] The creative LED ball lights...
The ALOVECO LED String Lights are a 16-foot-long string of 50 LED lights. These lights are battery-operated and come with a remote control for easy operation. They are designed to create a color-changing effect, allowing you to customize the lighting according to your preferences.
Image credit: amazon.com
The waterproof feature makes them suitable for both indoor and outdoor use. With their globe-shaped design, these lights create a starry and fairy-like ambiance, making them a popular way to properly decorate your home and create mood lighting.
To use the lights, I inserted batteries into the battery compartment of the string lights. The remote control allowed me to adjust color, brightness, and lighting modes. I could change the colors to create moods and choose from preset color-changing modes.
Factors to Consider When Selecting the Best Mood Lighting for Bedroom
1. Purpose and Ambiance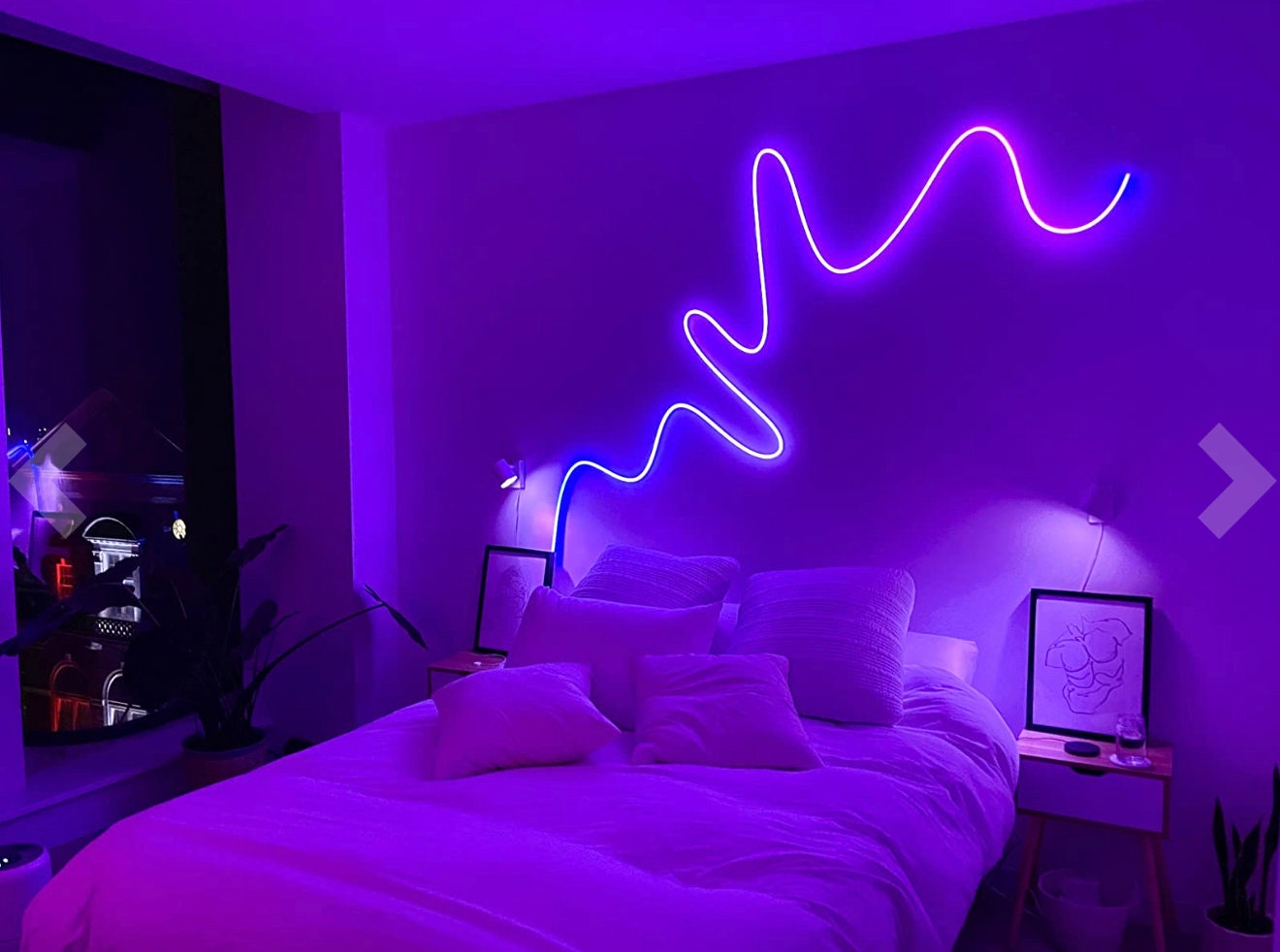 Image credit: etsy.com
Determine the primary purpose of your bedroom lighting. If you primarily use your bedroom for relaxation and winding down, you'll want softer, more subdued lighting that promotes a calm and cozy atmosphere. On the other hand, if you frequently engage in activities like reading or working in your bedroom, you'll need task lighting that provides ample brightness for those tasks.
2. Color Temperature
Color temperature refers to the warmth or coolness of the light emitted by a bulb. Warmer tones, around 2700K to 3000K, mimic the cozy glow of candlelight and are ideal for creating a relaxing ambiance. Cooler tones, around 4000K to 5000K, simulate daylight and can provide a more energizing and vibrant feel to the room. Consider the mood you want to set in your bedroom and choose a color temperature that aligns with that.
3. Dimmability
Adjusting the brightness of your lights is crucial for setting the right mood in your bedroom. Dimmable lighting fixtures or the use of dimmer switches allow you to control the intensity of the light. This flexibility is especially useful for transitioning from bright illumination for reading or getting ready to a softer glow for relaxation or sleep.
4. Lighting Layers
Image credit: vpromall.com
Layering your bedroom lighting involves using different fixtures and light sources to create depth and enhance the overall atmosphere. Ambient lighting provides general illumination for the entire room, while task lighting focuses on specific areas or activities, such as reading lights or vanity lighting. Accent lighting can highlight the room's architectural features, artwork, or decorative elements. By combining these lighting layers, you can create a multidimensional and visually appealing space.
5. Lighting Fixtures
The choice of lighting fixtures can significantly impact the overall aesthetic of your bedroom. Consider the style and theme of your room when selecting fixtures. Pendant lights can add a touch of elegance or drama, while wall sconces can provide a soft and diffused glow. Table and floor lamps are versatile options that can be moved around. Ensure the fixtures match your desired style while providing the appropriate illumination level.
6 Light Control
Convenience and ease of control are important factors in selecting bedroom lighting. Wireless controls, remote controls, or smart lighting systems allow you to adjust the lighting without getting out of bed. Having this level of control can enhance the overall user experience and make it effortless to create the desired mood at any given moment.
7. Energy Efficiency
Opting for energy-efficient lighting options helps reduce electricity consumption and minimizes heat generation, making them safer for use in a bedroom. LED bulbs are highly recommended due to their long lifespan, low energy consumption, and availability in various color temperatures.
8. Personal Preference
Image credit: tripadvisor.com
Ultimately, your preference and taste play a significant role in choosing the best mood lighting for your bedroom. Consider your style, the ambiance you wish to create, and what makes you feel comfortable and relaxed in your space. Experiment with different lighting setups and trust your instincts to find the perfect combination that resonates with you.
Frequently Asked Questions on Mood Lighting for Bedroom
a) What is the best lighting for mood lighting?
When creating mood lighting, different lighting techniques and sources can achieve various effects depending on the intended ambiance. The best lighting for mood lighting depends on personal preferences and the specific ambiance one wants to create. Experimenting with different lighting options, considering the function of the space, and understanding the emotional impact of lighting can help achieve the desired mood and atmosphere.
b) How do I get mood lights in my room?
To get mood lights in your room, there are several options available. One simple and affordable way is to use LED light strips. These adhesive strips can be easily attached to walls, furniture, or ceilings and come in various colors. Another option is smart bulbs that can be controlled using a smartphone app or a voice assistant like Amazon Alexa or Google Assistant.