Woodworking projects can be fun but also harmful to one's health if you do not take the necessary precautions. That is why as much as you enjoy spending time in your workshop, you need to be equipped with the best dust collector for a small shop.
Dust collectors are life savers as they trap the dust and ensure you do not inhale the loose particles that get suspended in the air during your project. In this article, we shall look at a few examples of the best dust collectors for a small shop that you may want to try.
Let's get started!
What is a Dust Collector?
First things first, what exactly is a dust collector? A dust collector is a system that collects contaminants, including dust, from the air. They are used to improve air quality released by industrial and commercial processes.
The dust collection system is a form of air pollution control that is useful in meeting environmental, and occupational safety regulations.
Types of Dust Collectors
Dust collectors come in different types, depending on their power, portability, and dust collection capacity. They include the following;
a) Dust Extractors
In essence, dust extractors are a particular kind of shop vacuum designed solely for use with small hand equipment.
Image credits: axminstertools.com
b) Bag Dust Collectors
Shop vacuums are a step down from bag dust collectors. They are perfect for small, busy workshops because they can connect to several tools and have a larger power output.
c) Canister Dust Collectors
Canister dust collectors can connect to several instruments, as bag dust collectors do, but they have a cartridge mechanism that is more effective at gathering 1- and 2-micron particles.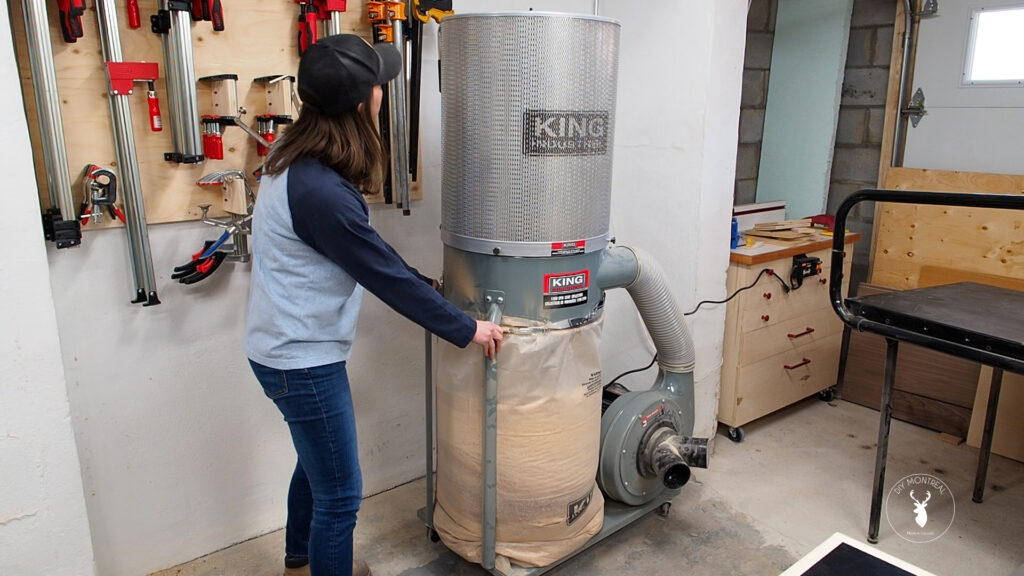 Image credits: DIYmontreal.com
d) Cyclonic Dust Collectors
Cyclonic dust collectors are also known as two-stage dust collectors. This name is derived from their way of collecting dust using cyclonic movements as they filter smaller dust particles from the bigger debris. The smaller pieces are drawn through a thin filter to help collect as much dust as possible, while the larger pieces fall into a central collection chamber.
Image credits: wallybois.com
e) Standard Shop Vacuums
Standard shop vacuums have hoses that may connect to the dust collection ports on various power tools, but adding a dust separator to these products improves the suction of the dust collection and lessens clogging.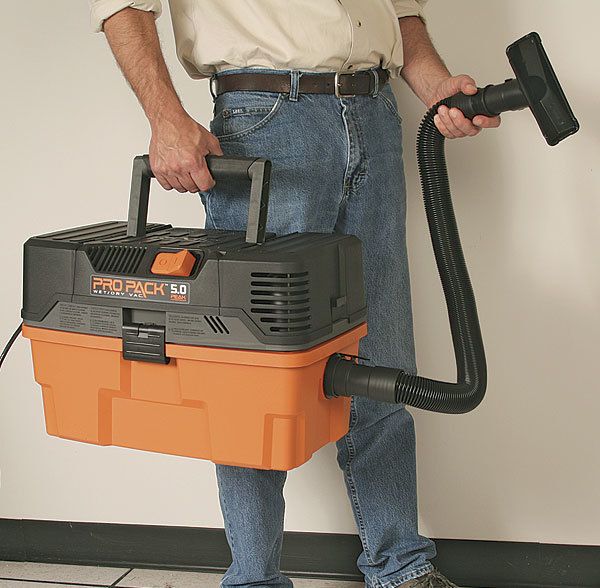 Image credits: finehomebuilding.com
Best Dust Collector For a Small Shop
| | | | |
| --- | --- | --- | --- |
| | | | |
| | | | |
| | | | |
| | | | |
| | | | |
1. WEN DC 3401 Rolling Dust Collector
WEN DC3401 5.7-Amp 660 CFM Rolling Dust Collector with...
5.7-amp brushed motor combined with the 6-inch impeller moves up...
4-inch dust port allows for connection to your favorite...
Compact design includes an onboard carrying handle for easy...
Measures in at 34.25 x 13 x 14.2 inches in size with a weight of...
Features lockable swivel casters, an optional wall mount, a...
Collecting dust in the workshop has always been one of the toughest tasks for me. However, when I realized that I could get myself a dust collector, this Wen DC 3401 rolling dust collector was my first choice, and it never disappointed me. It is way better than a shop vac in many different ways.
So, with this 12-gallon dust collector, the air quality in my shop drastically improved, making me enjoy the time spent there even more. It features a 5.7 amp motor that can absorb up to 660 cubic feet of air in less than a minute.
Image credits: Mathew, amazon.com
WEN 3401 dust collector is one of the lightest dust collectors out there. So, if you are looking for a lightweight tool, this is the one, as it weighs only 18 lbs. My shop is small, so I opted to mount it on the wall instead, and have enough free space in the workspace. This was only made possible with the help of the built-in mounting system.
2. Powertec 70335 Dust Collector Bag
POWERTEC 70335 Dust Collector Bag, 15" x 24", 1 Micron...
INCLUDES: (1) Heavy Duty Dust Collection Bag
APPLICATION: This 1 micron filter bag is used to control and trap...
DESIGN: Made from ultra-thick material, these reusable high grade...
SIZE: Each dust bag measures approximately 23 inches high and 15...
COMPATIBILITY: Designed to work as a top dust filter bag for most...
Woodworking generates a lot of dust that you may need to trap, to avoid its effects on your health. For that reason, you need the best woodworking tools, among them, the best jobsite table saw and a dust collector like this Powertec. It features a 1-micron filter bag that traps fine dust particles that are created in the process of sanding.
This Powertec dust collector bag is made from high quality, ultra thick material as they are reusable. This ensures they last longer. The bag has a diameter of 15 inches and a height of 23 inches. It fits perfectly in my small workspace and also fits in most dust collector systems.
Image credits: Jadams, amazon.com
When using Powertec dust collector, I realized that it works well, though it does not collect any screws or metal washers. This may as well be an advantage as you don't risk losing your hardware in the process of cleaning.
3. DEWALT Dust Extractor
DEWALT Dust Extractor, Automatic Filter Cleaning,...
Automatic Filter Clean of the dust extractor pulses every 30...
15-amp motor of DEWALT dust extractor delivers 150 CFM of airflow
Power Tool Actuation controls the On/Off operations of the vacuum...
Meets the EPA Lead Related Renovations, Repair and Painting (RRP)...
Universal hose connector provides a secure connection with swivel...
Dewalt dust extractor is also among those with powerful suction power. First of all, its automatic filter clean made my work less time-consuming because it cleaned the dust extractor pulses every 30 seconds without stopping to clean the filter.
It is a reliable dust collector with a 15-amp motor, that delivers airflow of 150CM. If you are working in a small shop, Dewalt is a perfect extractor as it connects directly to small power tools to clean up dust particles as soon as they are released.
Image credits: Johnydewalt.com
With a 0.3 micron filter, my Dewalt dust collector did not clog, not even once during the period I was using it. It also features a 2HP motor that provides enough power to the tool.
When buying this dust collector, my goal was to get something portable. That is exactly what I got and I had an easy time during my projects. This is because I could easily move the equipment wherever I wanted it to be, with ease.
Dewalt dust extractor comes with a 15-foot hose which allowed me to easily maneuver it around the shop. The long hose also ensured that I could work with the equipment at any part of the room as the room had limited space.
4. Shop Fox W1685 Dust Collector
If you need a dust collector that you can move around without sacrificing hose power, this Shop Fox W1685 dust collector is it. It is one of the best with high suction power, making it capture dust effectively and efficiently.
It features a 2.5-micron felt upper filtration bag. This means that it can trap wood dust and other fine particles suspended in the air. Shop Fox dust collector is a heavy-duty machine that allowed me to do my projects safely by trapping all dust particles.
Image credits: Anthony, amazon.com
You will also like the fact that it is made of steel, making it strong and durable. It is also painted with powder-coated paint to ensure it does not rust. With its steel impeller, Shop Fox dust collector can easily handle the wood particles passing through the 2.5-micron filter bag,
One major problem I encountered while using this Shop Fox dust collector is that its wheels don't swivel with ease. This problem made it somehow difficult to move the tool as I would have liked.
5. Rikon 1Hp Portable Dust Collector
Another option to consider if you have a small shop is this Rikon dust collector. The compact size enabled me to easily install it anywhere with no issues at all.
Rikon 1Hp dust collector can collect up to 2.1 cubic meters of dust and other debris before getting filled. This feature saved me a lot of time as I did not have to discard the waste before continuing with my project on these work bench ideas.
Image credits: Leevalley.com
Moving Rikon dust collector around is also easy and hassle-free as it features built-in casters and a handle for that purpose. I realized that with its adjustable pipe extension, you can position it higher for use with lathes or workbenches. This is because Rikon 1Hp dust collector also has a chip collecting funnel to make it possible.
What Should You Consider When Buying the Best Dust Collector for a Small Shop?
a) Noise Level
Power tools used for woodworking typically produce a loud noise, which cannot be avoided. However, the majority of craftsmen search for a tool that is as quiet as possible while still performing well.
b) Dust Collection Capacity
For a small shop, getting a dust collector with a small canister is okay. This is because you may not have so much dust after all. However, a small bag also means frequent emptying that you may easily get tired of.
On the other hand, a big workshop will need you to have a dust collector with a larger capacity where a substantial amount of debris is produced at a higher rate.
c) Motor Power
Since dust collectors contain motors that power them, you should check the motor's power rating before buying it. For continuous, heavy use of the dust collector, a powerful motor can yield a higher air suction capacity.
d) Inlet Size
You must make sure the dust collector you choose can fit all of your woodworking machines. You need to verify the unit's inlet sizes and numbers for this.
A dust collector's normal inlet size ranges from 4 to 8 inches. Typically, a larger machine has a broader input and vice versa.
A single or double inlet system that is 4–6 inches wide is required while working on a modest scale using basic machinery. Choose a dust collector with many inlets of varying diameters that allows you to work effectively if you are managing multiple machines of varying sizes.
e) Air Suction Capacity
A dust collector removes air at a rate expressed in cubic feet per minute (CFM). It shows how many cubic feet of air the collector will take in every minute. Higher CFM (rate of suction) dust collectors will efficiently clean the space and swiftly capture the dust.
f) Fixed or Portable
Portable dust collectors can be conveniently moved from one tool to the next or around the workshop. They are therefore the best alternative for small to medium-sized workshops. They come in a variety of sizes and price points, allowing you to select the perfect model for the workspace.
Fixed dust collectors are the best solution for large workshops that frequently produce a lot of dust because they are strong, heavy, and enormous. Also, it requires expert assistance for installation on the wall.
The collector's suction power decreases with hose length. So, it is best to put the collector in the middle of the room to maximize its utilization.
g) Filter Efficiency
The efficiency of a filter indicates its capability to prevent debris from passing through them. So large dust particles trapped in the filter do not prevent the dust collector from performing at a high suction power without clogs.
Frequently Asked Questions On the Best Dust Collector for a Small Shop
1. Which is better, shop vac or a dust collector?
A shop vac is not used to clean the air; instead, it is used to maintain surfaces free of sawdust. It will do just fine if the dust port on your smaller tool is two inches or smaller.
On the other hand, dust collectors are designed specifically for wood shops. They move more air, which allows the filter to capture the smaller dust particles. Due to the higher volume of air, it is moving, dust collectors can handle a greater amount of sawdust more quickly.
2. What is the function of a dust collector?
The function of a dust collector is to remove dirt, debris, dust, and gases suspended in the air. This ensures your workspace has clean air.
3. How many CFM does one need for their small shop dust collection?
For a small shop, you can get a dust collector in the range of 1100-1200 cfm. These are powerful enough for a hobbyist's basement or one-car garage-sized shop.