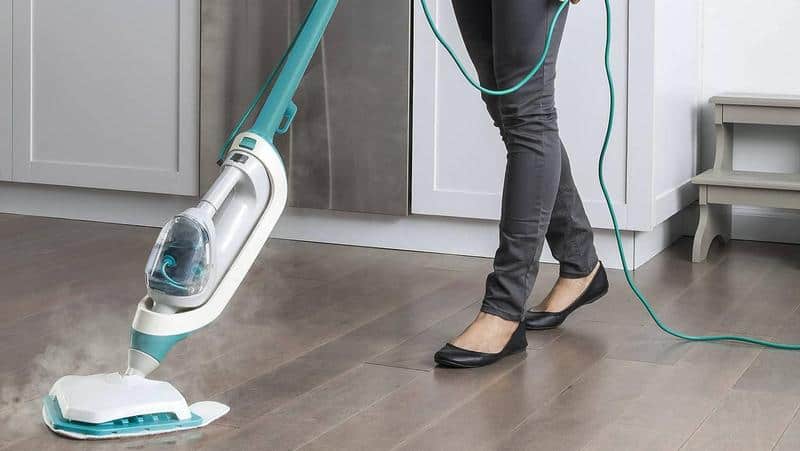 The Best Steam Mop for Laminate Floors
For a good deep cleaning session, a steam mop does a great job. They are also a great way to sanitize your floors without using any chemicals. A steam mop for laminate floors uses the water you have poured in your mop, heats it into a hot temperature and the temperature turns the water into steam. This steam is very effective in loosening up any dirt or sticky messes. In the process, it kills bacteria too.
But then again, a steam mop is not extremely safe on laminate floors depending on how you use it. Laminate floors are a compressed formation of wood. Moisture can result in laminate floors swelling or warping. Notably, the major advantage of using steam mops for laminate floors is that they kill up to 99% of germs and result into a very clean job.
Having said that, we have taken into consideration the delicate nature of laminate floors and found the following steam mops to be marked safe for use on laminate floors by the respective manufacturers. In addition, we have indicated the best cleaning process for using each steam mop on a laminate floor in order to help you use it safely and effectively.
The Best Steam Mop for Laminate Floors Reviewed
Bissell brand is one of the best performing brands of steam mops in the market today. It is a lightweight model that weighs 6.2 lbs (2.81 kgs). This Powerfresh Deluxe comes with digital smart steam controls that make it easy to adjust steam for your cleaning needs. It is important to note that this Bissel Steam Mop model 1806 model does not use any harsh chemicals or even detergents to clean. It also disinfects your floor against any bacteria or germs with tap or distilled water.
This steam mop can be used on different kinds of flooring. They include laminate, sealed hardwood, and vinyl floors. Another benefit is you don't have to keep on plugging and unplugging or the cord falling off from the socket. This is because this model comes with a lengthy cord of 25 Ft (7.62 metres) for a better reach. This steam mop packs a convenient swivel steering to easily move about including under the beds and chairs.
The Bissel 1806 is a 12 Amp heater that gets pumped in half a minute (30 secs). Push the high steam button when washing sturdy floors or big messes. However, use the low steam button once to turn on the steam mop for laminate floors and preferably for day to day cleaning or on sensitive floors like laminate covered areas.
Benefits
One of the best-selling points of this Bissel model is that comes with a unique feature called a SpotBoost. This is a brush that can help you work on a specific spot of dirt if you need to.
Furthermore, this Bissel mop for laminate floors has two washable cleaning pads. One cleaning pad can be used for any light cleaning in less dirty areas whereas the scrubby mop should be used in very dirty and messy areas for outstanding results. However, it is highly recommended you purchase extra cleaning pads to avoid having to wash them in the middle of a cleaning job.
This model comes with a fixed water tank that holds 16 fluid ounces (0.47 litres) of water. The water container is transparent so you can see when it requires a refill. It is possible to fill the water container in the middle of a cleaning session making it suitable to keep working. Favorably, it is accompanied by a plastic can to help fill the water reservoir without creating any mess of pouring all over. Lastly, this steam mop packs a relatively generous 2-year warranty.
How to use this Bissel 1806 Steam Mop on Laminate Floors
Push the low steam button once to turn the low steam mode on for use on laminate floors. For the laminate floors, it is suitable to use on low steam as laminate floors are sensitive to high heat levels combined with lots of moisture.
Pros:
Comes with an exceptional SpotBoost accessory to spot clean or remove stubborn stains

Sanitizes and helps to get rid of germs and bacteria

No use of harsh chemicals or detergents

High cleaning performance

Top-quality of cleaning pads that are soft and scrubby

Perfectly cleans different types of floors (like hardwood or vinyl), so it serves more than laminate floors

Lightweight machine making it easy to use and store

Easy to move below sofas or beds as the head fits in tight places

Long cord enough to be used in medium-sized rooms or spaces

Has a soft bristle brush to remove difficult stains

The tank is refillable when the machine is running

Comes with two scent discs for refreshing scents in your air
Cons:
Wanting customer service

Has only two steaming modes

A non-removable water tank can be hectic
Other Great Steam Mops for Laminate Floors
Shark Steam Pocket Mop brings forth a swivel steering and a relatively large water tank. With its 20-inch(50.8 cm) lengthy power cord, one can release it safely and easily for better storage. It has a swivel head and can work corners or under sofas comfortably. It can be flipped over so one can use the other side of the cleaning pad. This is to continue cleaning without having to stop to change and replace the cleaning pad. This steam mop calls its cleaning pads pockets since they are two-sided and wrap around the bottom of the mop head.
The steam mop heats up in 30 seconds and reaches the tight corners easily giving a natural mopping. It also sanitizes up to 99% of any surface and hence kills almost all the germs and bacteria in your laminate floors. It also does not leave any water behind hence easy drying of the floor. However, because it does not release much steam, it does not work best on every stain.
Besides, it has a soft-grip handle that is not too broad. Also, the two washable microfiber cleaning cloths make it easier to clean. It features a non-removable tank of 15 fluid ounces (0.44 litres) which can be messy when you are bringing water to refill the tank. It runs on water only and does not require any chemicals. In conclusion, this is an ideal steam mop for laminate floors for any everyday use.
How to use this Shark Steam Pocket Mop S3501 on Laminate Floors
To run this steam mop for laminate floors, fill up the tank, switch on the boiler, attach the cloth pad, and at that point steam away. Since only insignificant amounts of moistness are dropped on the floor, any amount left on the ground dries quickly in less than a minute. In addition, this steam mop does not heat up too much. Both of these mechanisms ensure the safety of your laminate floors.
Pros:
It has a lightweight design

Affordable pricing

Effective at lifting and removing dirt from the floor

Comes with a large tank

Long-lasting

Decent cord length

Has a telescoping handle

Does not need chemicals to remove dirt
Cons:
It does not easily glide across the floor

Only comes with one pad

Does not sanitize floors under normal use (without steam)
The Shark Steam Mop S1000 has a water tank of 12.68 fluid ounces (0.375 litres) and fights back against tough dirt. As a result, you can clean large areas without refilling often. It also has an upright lock feature that enables you to leave it standing while you are moving things out of your way. This steam mop for laminate floors is lightweight and portable which helps to save both time and energy. With its on-demand feature, the steam is ready to use in 30 seconds. This is an ideal steam mop for those times you need to quickly clean a spill before it becomes sticky.
This S1000 model has low steam and heat settings that make it among the best steam mops for laminate floors. It has a nice 18 ft (5.49 metres) cord which helps you reach the tight corners and places. Assembling this steam mop is easy and takes a few minutes. After cleaning, it is portable enough to store out of the way and using the lock system securely place it upright against the wall.
How to Use the Shark Steam Mop S1000A on Laminate Floors
To use this steam mop for laminate floors, switch on the Shark Steam mop, clean the laminate floor rooms while the shark is heating up. The heat is less at this point but adequate to clear the grooves and will not destroy your floors. Use the Shark steam mop on laminated areas before the steam mop heats up more. Do not use the steam mop on your laminate floors when it's too hot. Control the temperatures setting to low while minimizing the use of moisture.
Pros:
Has an on-demand steam option of 30 seconds

Easy to use and assemble

Effective against tough stains

Lightweight steam mop weighing around 5 pounds (2.27 kg)

Comes with 2 cleaning pads

The large capacity tank helps you clean for longer periods

Quiet cleaning

Simple and secure storage
Cons:
No way to control or adjust steam

The handle can be a little bit hard to operate

It only has one mopping setting for all floor jobs
LIGHT 'N' EASY 7618ANW is a user-friendly and multipurpose steam mop suitable for laminate floors. This steam mop has a slim and lightweight design that helps it to be easily storable. This is a good choice for anyone who cannot handle heavy units, weighing 4 pounds (1.81 kg). It is considered the best steam mop because of its exceptional ability to clean effortlessly. This is thanks to the soft pad that slides smoothly across the floor. Also, notable that this steam mop can be used in all the different types of floors from tiles to laminates, hardwoord and vinyl.
Light n Easy 7618ANW generates 110°C of hot steam and heats up in only 30 seconds. Consequently, this helps in the reduction of greasing and quick removal of stains and sticky messes. This model also has a swivel steering that makes cleaning under sofas or beds easy to do.
To release the steam, press the trigger, and simply wipe with the pad. To stop the steam promptly, release the trigger, the steam stops instantly. Additionally, it comes with an in-built smart switch that stops any steaming when the steam mop is in an upright position.
Benefits
This product does not leave any water standing and hence no water damage to laminate floors. The floor also dries in 30 seconds when using this mop. Furthermore, it comes with a reusable pad. This pad is washable and can be reused several times. This can help you to save a lot of replacement money altogether.
Even so, the downside of this mop is that its running time is 10 minutes only. This is suitable for small homes or day to day cleaning.
How to Use Light AND EASY 7618ANW on Laminate Floors
Do not let this steam mop clean one spot on the laminate floor for more than a few seconds. You can start by first warming it up on the tile floors. When it's on medium heat, clean your laminate floors.
Pros:
It has a lightweight and slim design

Heats in about 20-30 seconds

Does not leave any stagnant water as the floor becomes dry in 30 seconds

Multipurpose as it can be used on a variety of floors including tile, laminate, vinyl and hardwood floors

Highly effective on filth and stains

The pad is reusable and washable
Cons:
Comes with a small tank that doesn't hold a lot of water

Has a short running time

It's inconvenient to stop and refill and reheat when cleaning
Things to Consider When Buying a Steam Mop for Laminate Floors
Heat Settings
Moisture or high temperatures are very damaging on the laminate floor seal. When the seal breaks, the laminate material is at risk. It is best to use a steam mop for laminate floors to reduce the chances of damage. Otherwise, ensure you purchase a device that has adjustable heat settings.  While using this steam mop for laminate floors, use the lowest heat settings and only use the higher settings when getting rid of stubborn stains. This gives you control over the steam that comes from the steam mop. Besides, ensure that the steam control dial is simple to operate.
Pad Material
The pad material is what is in contact with your floor hence it's important to select a gentle material. Microfiber is a great choice for a pad material used on a steam mop for laminate floors. Not only does it clean gently and effectively but is also very absorptive, easily washable, usable, and reusable.
Tank Capacity
Your tank limit directly affects how long your steam mop will run. The tanks that work for you depend the floor area requiring to be cleaned. Stopping to refill a tank because it ran out of water can be frustrating. Preferably, choose a steam mop that has a bigger capacity to store more water and hence operating for longer periods.
Tools and Attachments
Additional tools and attachments boost how well steam mops work. For example, the ability of a steam mop to convert to a handheld steam mop can help in cleaning more areas in your house. More so, it can reduce the need to buy additional cleaning equipment. Another instance would be the small brushes that aid in cleaning corners and plaster lines.  However, all extra tools or attachments come at a slightly higher price.
Best Mops for Laminate Floors
Alternatively, for anyone who prefers the normal mops to steam mops, below are some of the best mops for laminate floors that we tested.
Bona Stone is one lightweight spray mop for laminate floors. It perfectly cleans  laminate, vinyl, and tile floors. It features a 360-degree swivel head that makes work easier and an extra-large mop head that fastens the cleaning process. Not only does it come with a spray feature but also comes with a secondary grip, which makes moving around furniture way easier. With all those features, it packs a retractable hook at the top end for storage purposes.
This Bona Stone Premium Spray Mop is simple to assemble. To assemble the spray mop, attach the handle to the main unit. Thereafter, put the cleaning pad and insert the cartridge. It comes with one removable microfiber cleaning cloth which is almost 3 times more absorptive than the popular pads. The cleaning pads soak up the tiniest dust particles and are reusable as well as washable. The microfiber material stays in great shape even after repeated washes.
This spray mop for laminate floors has a refillable cartridge. It is where your cleaning solution is filled up during your cleaning session. This cleaning solution lasts according to your usage.
The mop's pads are relatively long packing a length of 17 inches (43.18 cm) and a perfect fit to the head. They absorb a good amount of water but not that thick. When you finish mopping, you should remove the mop pads from the Velcro and either hand wash them or throw them into a washing machine. Also, this is one of the best mops for laminate floors as the mop pad stays intact on the mop head when attached properly.
Pros:
Effective cleaning results

Comes with a cleaning solution

No batteries needed

It is lightweight

The refillable tank is easy to release

Produces low noise

Comes with a retractable hook for storage

The microfiber cleaning cloth is washable and reusable

The wide swivel cleaning head makes it fast to use
Cons:
It is stiff to initially fit the handle

The handle is a little too broad

The trigger can easily get stuck

Leaves streaks on the floor

It is quite heavy in design
Turbo Microfiber is an eco-friendly, lightweight commercial mop, perfect for anyone who cannot use heavy mops. It packs two reusable and washable microfiber pads that can also be refilled. It makes cleaning tight spaces like under sofas, a breeze with the 360° spin head. Also has an adjustable handle that you can use to reach the ceilings or windows. This is a great advantage for either tall or short people. Besides, it packs a scrubbing pad for getting rid of stubborn messes.
This mop for laminate floors has a wet and dry mop. Therefore, it can be used in cleaning floors or just sweeping the dust away. It is made of durable aluminum alloy that prevents it from breaking on you while you are cleaning. This Turbo mop for laminate floors comes with attachments that help one clean kitchen, garages, and even counter-top surfaces.
Pros:
Washable and reusable microfiber pads

Adjustable handle that can be used with users of different heights

Easy to maneuver

Comes with several attachments

Lightweight microfibers for a commercial mop

Ideal design for mopping under the couch
Cons:
Tends to flip over

Holes don't always align on the handle

This mop for laminate floors does not come with hanging hooks to hang the mop on the wall

Not the best for heavy cleaning
Buying Guide for the Best Mop for Laminate Floors
1. Floor Type
It is crucial to consider the type of floor before purchasing the best mop for laminate floors. This is because using the wrong type of mop or liquid cleaner for your laminate floor will damage the laminate seal. Any water sensitive floors like the laminate floors should not use any mops that use water unless you can regulate the amount.
2. Wet vs. dry
Dry mops are ideal for dusting laminate floors and can also be great against pet hair. On the other hand, wet mops are perfect for cleaning up bigger messes and keeping laminate floors looking clean and sparkly. Some mops usually made of microfibers are intended to be used both in dry and wet floors.
3. Attachments
Additional attachments or tools are very important as they help to save you time and money purchasing extra equipment. Some important attachments are scrubbers which are essential for cleaning the mop head. Detachable tanks can be used many times and refilled.
4. Maintenance
It is easier to clean any mop that has a machine-washable head in between uses. Microfiber mops are good examples of mops that can be washed this way. For whichever mop you select, considering the replacement cost of the machine heads is very important.
5. Mop Size
Your floor size should reflect the kind of mop size you pick. Spacious areas require sizable mops to easily clean the areas. Big sized mops use less effort to cover large areas with one sweep. Unlike if you used smaller mop sizes which would take much more effort to clean.