Remodeling your kitchen or installing a new one calls for careful planning. The best farmhouse sink can add style and class to your house while increasing its resale value.
A farmhouse sink is a popular choice for many home designers. It is also known as an apron front sink. It is a deep sink with an exposed front-facing side. Farmhouse sinks are generally very large and can store water on one side while performing several other duties on the other.
They were originally designed as humble, practical tools with a large capacity because there was no running water. However, they are now made of quality materials and in distinct designs. They add a rustic and homely feel to a kitchen.
In this post, we have handpicked the best farmhouse sinks in the market to help you make an informed decision. We have reviewed the best designs from top brands based on style, durability, and budget.
| | | | |
| --- | --- | --- | --- |
| | | | |
| | | | |
| | | | |
| | | | |
| | | | |
1. Double-Bowl White Farmhouse Ceramic Sink
Double Bowl Kitchen Sinks,DeerValley DV-1K028 33" L x...
✅ [Superior Material]: Our farmhouse sink are created with a...
✅ [Timeless Design]: This kitchen sink exemplifies a stunning...
✅ [Double Basin Design]: The white farmhouse sink is about 10...
✅ [Farmhouse Apron Design]: Farmhouse design with a flat apron...
✅ [Easy To Clean]: The Fireclay Kitchen Sinks are easy to...
Double-bowl DeerValley farmhouse sink is our top choice. This sink will make a unique addition to your kitchen that is quite attractive. It combines advanced engineering and a sleek modern style producing a timeless design. One of the features that drew me to this apron sink is the flat apron front and offset drain that gives my kitchen a modern style.
The sink is made of a naturally durable porcelain material that is quite resistant to impact. Its surface is both stain and scratch resistant to help it withstand daily wear and tear hence maintaining its luster yearly. Its double-basin design gives you plenty of space where you can soak, handwash, dry, and stack dishes while preserving the functionality and utility of the other bowl.
This double-bowl DeerValley sink is easy to maintain and clean. All you need is soapy water and a sponge and you will have a shiny sink at all times. Additionally, it comes with premium accessories such as two strainer drains and two stainless steel sink grids.
2. Kraus KHF200-33 Stainless Steel Sink
Sale
Kraus KHF200-33 Standart PRO Stainless Steel Sink 33...
OUTSTANDING QUALITY: A best selling sink with proven quality and...
WEAR-RESISTANT FINISH: Resilient and easy to clean...
QUIETEST SINK: NoiseDefend soundproofing technology features...
FREE ACCESSORIES: Protective stainless steel bottom grid, premium...
Outer Sink Dimensions: 32 7/8" L x 20 ¾" W x 10" D. Min...
If you are looking for a single-bowl farmhouse kitchen sink, then the Kraus Stainless-Steel Sink is your best buy. I found this sink to have outstanding quality and proven dependability.
To ensure lifelong durability, this sink is made with heavy-duty dent-resistant T304 stainless steel in TRU16 gauge, which is 1.5mm thick. This makes it exceptionally resistant to corrosion and rust. I found this sink extremely strong, durable, and long-lasting.
Image Credits: Amazon.com
The Kraus Stainless-Steel Sink is an exceptional everyday sink with superior drainage. It has a gently sloped bottom to prevent water from standing inside the bowl. Even more interesting is that your glass won't fall when placed on the sink due to the optimized angle.
If you love a quiet sink like me, this is the perfect one for you. It is fitted with NoiseDefend soundproofing technology, which features extra thick pads covering over 80% of the sink. It also has non-toxic undercoating that adds insulation.
It comes with free accessories, including a protective stainless-steel bottom grid, cutout template, 3-piece basket strainer set, and Kraus kitchen towel. Plus, it comes with a lifetime limited warranty.
3. Ruvati Copper Tone Farmhouse Sink
Ruvati Copper Tone 33-inch Apron-Front Farmhouse...
COPPER TONE MATTE Bronze finish - This color is very similar to...
Sink is constructed of thick 16 GAUGE T-304 Grade Stainless Steel...
MATTE texture adds to the beauty of the finish, and RESISTS...
MATCHING COLOR (Copper Tone) BASKET STRAINER drain assembly...
Exterior DIMENSIONS: 33" (wide) x 22" (front-to-back), Interior...
This Copper Tone Sink is made of a Copper Tone Matte Bronze finish, a color very similar to the color of copper sinks. If you love copper, you can get this stainless steel copper-colored sink without the high maintenance and care of real copper sinks.
Image Credits: Homedit.com
I found this sink quite unique and attractive because of its matching color basket strainer, which includes the drain assembly. It also comes with stainless steel bottom protective grid that protects your sink surface and acts as a drying rack. If you love a quiet sink, this one has soundproof undercoating and thick rubber padding to make your kitchen trips peaceful.
The Ruvati Copper Sink is built with thick 16 GAUGE T-304 grade stainless steel. This means that it will never rust or tarnish. The copper-colored finish is applied using a nano-PVD technique, making it tough and resistant to wearing and peeling.
The matte texture makes the finish more beautiful and resists fingerprints and stains.
4. BLANCO Vintera Single Farmhouse Sink
BLANCO Vintera Super Single Farmhouse Sink, Concrete...
DURABLE MATERIAL: Patented SILGRANIT material is heat,...
HYGIENIC+PLUS SURFACE TECHNOLOGY:  Available on all SILGRANIT...
EASY-TO-CLEAN:  Baking soda and a sponge are all you need - no...
OPTIONAL ACCESSORIES: Grid (item #233532), cutting board (item...
THIRD-PARTY CERTIFIED: Tested, certified and listed as a...
Another farmhouse sink that made it to the top of our list is the BLANCO Sink. It makes a bold statement in color. Beyond a great cabinet organization and smart accessories, the Silgranit sink comes with a matching faucet and offers the perfect combination of premium products. These products are used for drinking water, preparing food, and cleaning to make your everyday life in the kitchen easier.
BLANCO Vintera sink is made from patented SILGRANIT material. This material is durable and resistant to heat, chips, scratches, stains, and impact.
Image Credits: Walmat.com
It is made with hygienic and Plus Surface Technology that offers a protective shield against liquids and dirt and inhibits bacteria growth. What surprised me is that this sink is very easy
to clean, and all you need is baking soda and a sponge. And because it has been tested and met the composite stone IAPMO standards, Blanco is certified and listed as a composite stone material.
5. HausinLuck Fireclay Farmhouse Sink
HausinLuck 33 inch Fireclay Farmhouse Sink, Double Bowl...
HIGHLY DURABLE: White double bowl farmhouse sink is made of...
SMOOTH SURFACE: High temperature firing makes the 2 basin...
REVERSIBLE APRON FRONT: This 33 inch white farmhouse sink can be...
DOUBLE BOWL FOR DIFFERENT USE: Double bowl farmhouse sink with 9...
FREE ACCESSORIES: Equipped with 2 matched stainless steel bottom...
HausinLuck Fireclay Sink is both stylish and practical. It is an undermount sink that can complement many decorative styles. This sink can be installed with a traditional flat front or a unique trapezoid shape decorative surface. After all, you can decide how you want it installed according to your preference.
Image Credits: In.pinterest.com
It also comes with 2 matched stainless steel bottom grids that protect the bottom and 2 stainless steel strainer drain assemblies.
This 33-inch white farmhouse kitchen sink is spacious with a 9-inch interior depth to provide enough space for washing large cookware such as stockpots and baking sheets. Its corners are designed with a radius of 20mm for easy cleaning.
HausinLuck fireclay sink is made using high-temperature firing to produce a non-porous glaze surface. This smooth surface can withstand heat from pots and pans without cracking or scratching. This temperature also makes the sink quite durable and resistant to stains, abrasion, cracks, scratches, and stains.
Why Choose a Farmhouse Sink Over Other Sinks?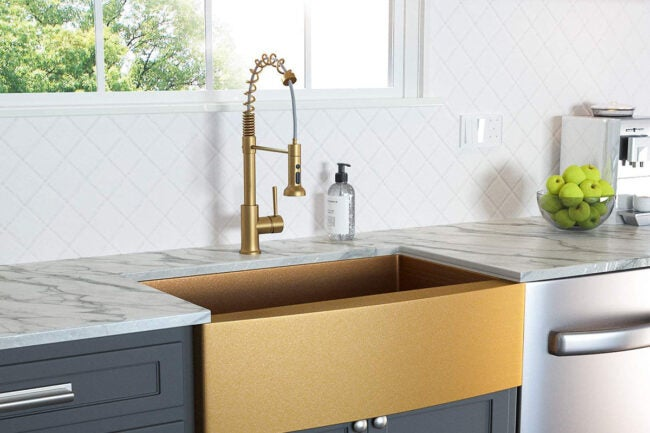 Image Credits: bobvila.com
The best farmhouse sinks are a must-have for many farmhouses' kitchen remodeling. Although they may be a bit costlier than standard sinks, they have several features that make them a favorite for many homeowners.
1. Size
One of the biggest advantages of a farmhouse kitchen sink is that it is deep and large. The absence of a front countertop edge makes them even bigger because it allows them to utilize great depth. In addition, they extend forward, eliminating the need to reach over the counter. This makes rinsing and washing easier.
You can wash large pots, big baking sheets, oven trays, and barbecue grills comfortably. You can also soak your cookware in the extra space of the sink before putting them in the washing machine.
2. Attractive
Farmhouse sinks are available in different colors and materials, making them attractive. The sink is usually a major focal point and the most used item in the kitchen. Having an attractive one makes your stay in the kitchen worthwhile. You can choose a bright, polished, stainless steel farmhouse sink or a stone, fireclay appearance that is more subtle. There are plenty of attractive options, and you can choose your favorite color and design from your dealer. 
3. Ergonomic
 Comfort in the kitchen is vital, especially for those who spend a lot of time preparing meals. The absence of the front countertop edge makes the sink move closer to you. This creates an ergonomic working environment that is friendly and comfortable.
4. Resale Value
Unlike standard sinks, a farmhouse kitchen sink can be a great selling point when reselling your home. Its functionality and sophisticated look may be why a buyer chooses your house.
The Downsides of Farmhouse Sink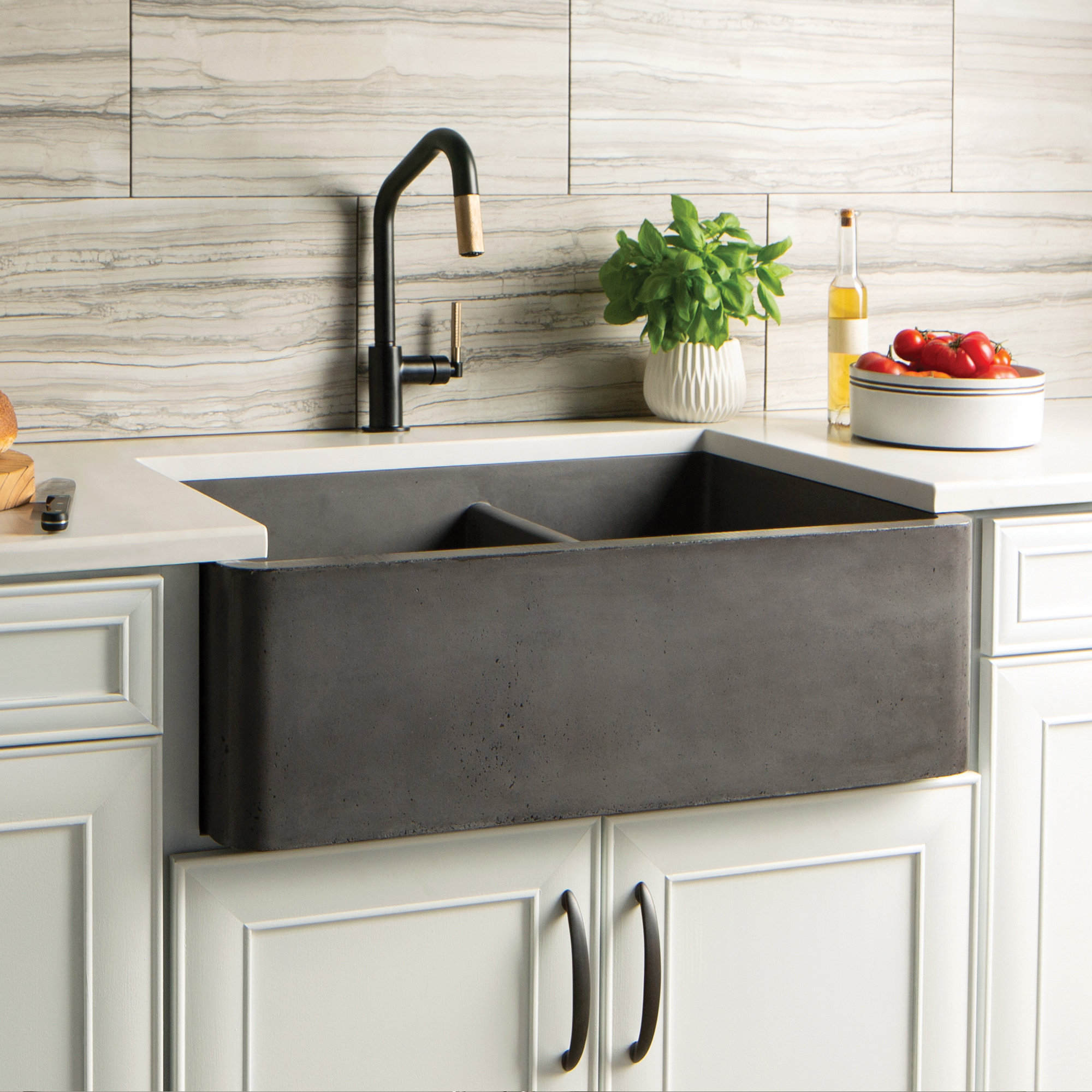 Image Credits: Nativetrailshome.com
Farmhouse sinks have their own set of challenges and disadvantages. Ensure that you consider these downsides before purchasing your kitchen remodeling or upgrade.
1. They Take up a Lot of Space
Farmhouse sinks are heavy and tend to take up a lot of space. However, their wide and deep nature can take up plenty of room in your kitchen or bathroom.
The presence of an apron sink greatly reduces the countertop space. However, the depth also removes some storage room and can reduce your space for garbage disposal in the kitchen.
2. Their Heavy Nature Makes Them Hard to Install
Due to their durable build, apron sinks tend to be heavier than others. As a result, you may need to adjust your existing cabinetry to support the extra weight.
It is easy to consider this weight issue if you are constructing a new kitchen or doing a major renovation. However, if you want to swap your existing sin with an apron in your existing kitchen, this weight may pose unexpected challenges.
Types of Farmhouse Sinks
Farmhouse sinks are known for their large capacity, a feature that has allowed them to have some variations to cater to individual needs. The two most popular variations are the Drainboards sink and the Laundry sink. These two variations can be customized into other variations with the bases of these two.
a) Drainboard Sink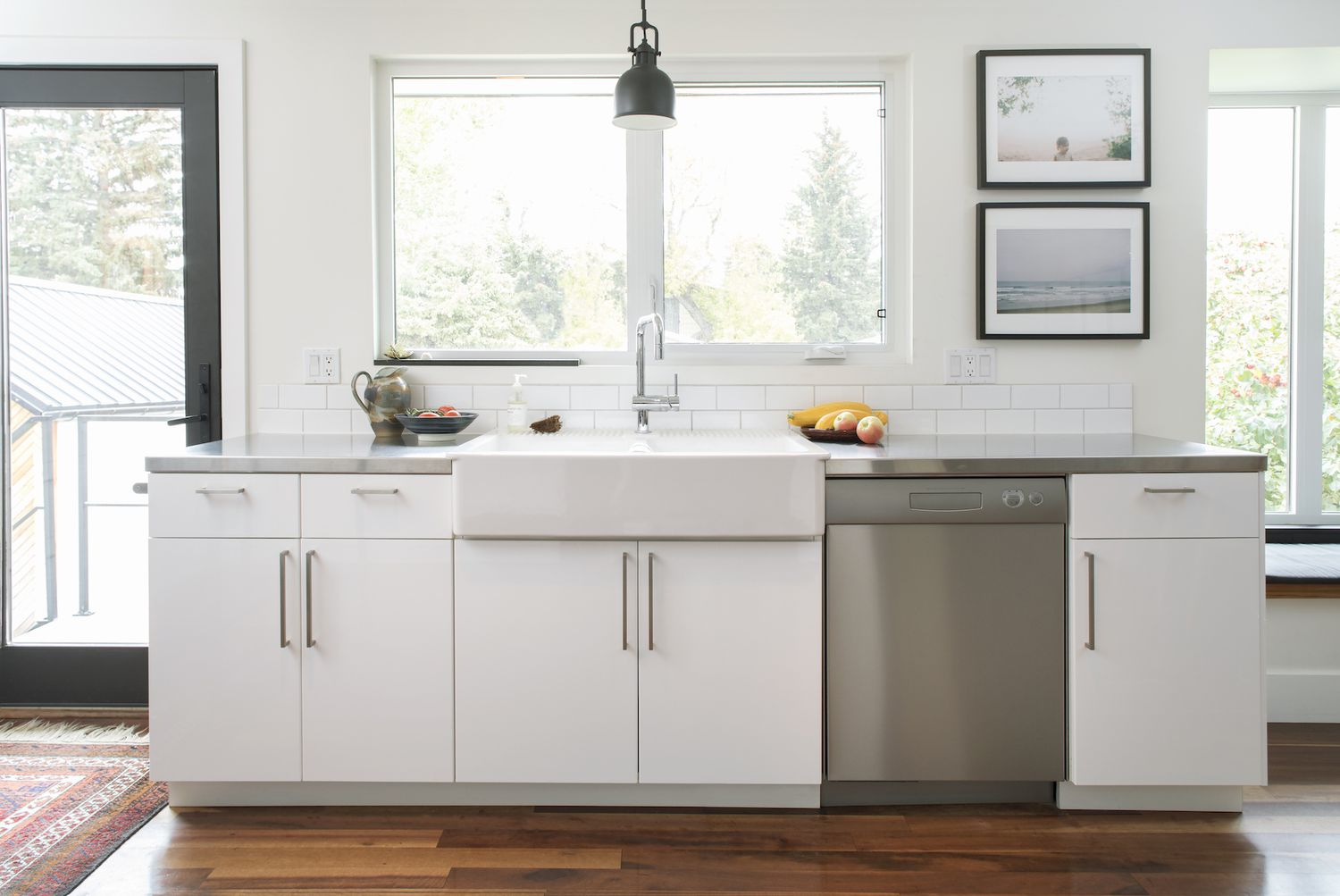 Image Credits: Pexels.com
The key feature of a drainboard sink is an attached apron on the side of the sink, which is grooved to allow it to catch any excess water. The apron filters the water back into the sink, keeping your surface dry.
 The Drainboard sink is mostly useful for washing dishes and keeping water off the countertop. This type of sink differs from the Laundry sink design in that it has only one basin, as the grooved apron or drainboard takes up the other space.
b) Laundry Sink
The Laundry sink functions like the iconic farmhouse sink design. It has one or two deep basins measuring around 9 inches deep. You can hold a significant amount of water on one basin and use the other to do various other chores like washing dishes, laundry, preparing meals, etc.
 Farmhouse Kitchen Sink Materials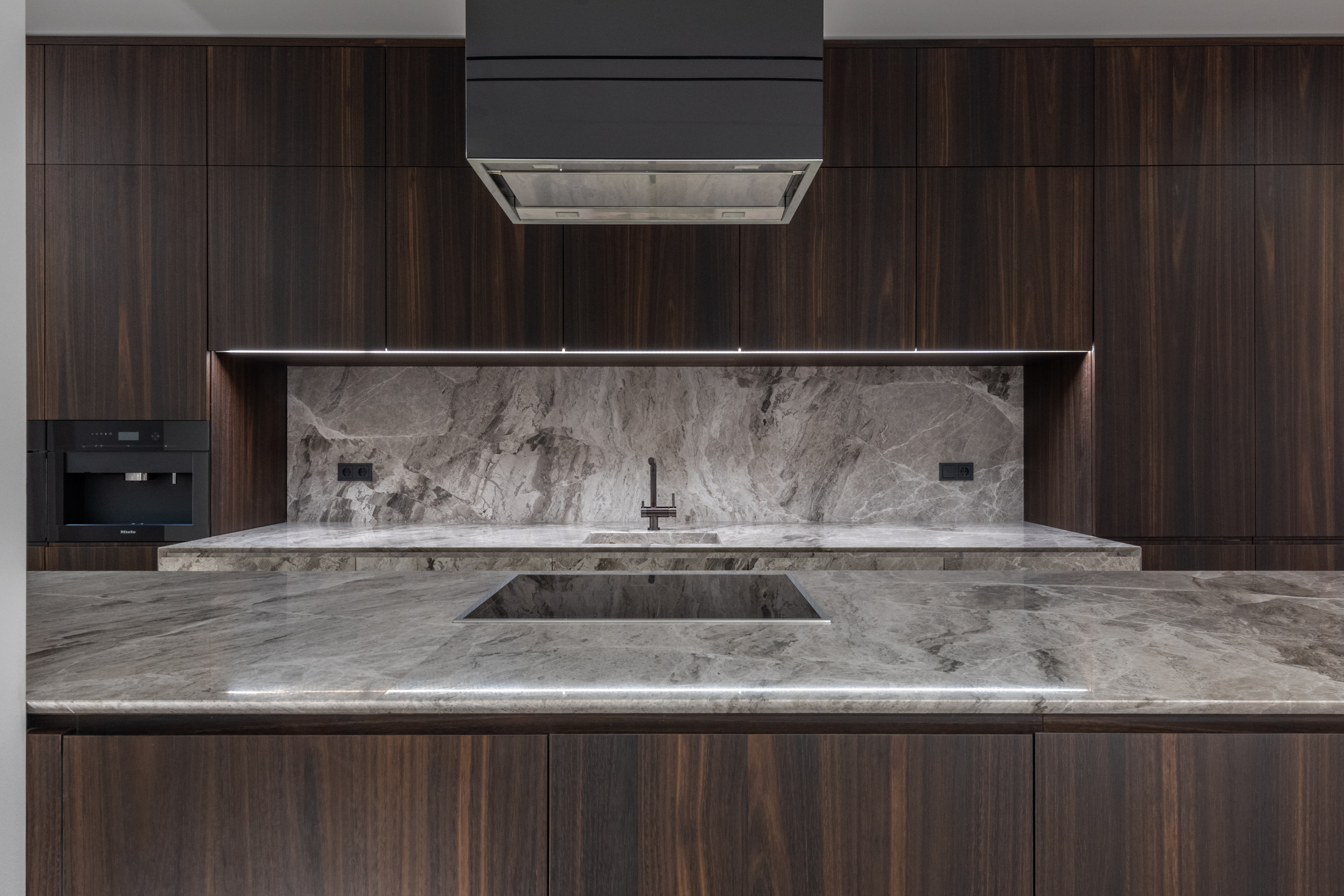 Image Credits: Pexels.com
Most kitchen and bath items are made of a wide array of materials that you can choose from. For example, the most common materials for farmhouse sinks are ceramic/cast iron, granite, stainless steel, bronze, copper, and fireclay. When choosing the material for your sink, always consider its aesthetic appeal, durability, and price, then prioritize the one that is most important to you.
1. Stainless Steel
Image Credits: Unsplash.com
Stainless steel is a classic material that is the most popular in making kitchen sinks. Farmhouse sinks made from stainless steel are lightweight, inexpensive, durable, and need low maintenance. They can perfectly fit in both traditional and modern décor.
Steel is measured in gauge. Higher gauges are thin, and lower gauges are thicker and more costly. However, they are very durable despite the gauge. Farmhouse sinks of stainless steel have shiny mirror finishes and lustrous looks. They are also easy to clean.
The downside of this material is that it is louder than other materials and is available in only one color. In addition, the finish becomes scratched and dull over time, and the mirror finishes can show water spots.
2. Natural Stone
Farmhouse sinks made of natural stones such as granite, quartz, limestone, and marble are extremely popular. The natural stone makes the sink very aesthetically pleasing, with varied appearances due to the different minerals that make up the stone. It is also non-porous, easy to clean, and can last decades if properly resealed.
Because they are often found together in nature, they also make great combinations when making kitchen sinks and countertops. They are highly durable and can withstand extreme heat, heavy impact, and abuse. However, if mistreated, they can chip, crack or scratch.
On the downside, natural stone is more expensive than all other materials in the market. It is also quite heavy and will require additional reinforcement to support it.
3. Ceramic
Image Credits: Pixabay.com
Ceramic farmhouse sinks are cast iron sinks covered in a thick enamel coating, a layer of porcelain, or a protective layer of ceramic. However, their popularity has declined as other materials have become trendier.
Ceramic farmhouse sinks are heavy, durable, easy to clean, and long-lasting. The sink can be tinted in different colors to match your personal décor preferences. Be wary of lighter-colored enamels because they can stain easily. However, you can clean them easily with non-abrasive commercial stain remover.
4. Fireclay
Fireclay is ceramic constructed from glazed clay and passed through high-temperature fire. It is a very hard and durable ceramic material that is non-porous and resistant to acids, alkalis, scratches, and chipping.
Fireclay farmhouse sinks have a more rustic appearance and are easy to clean.
However, dishes dropped against fireclay sinks don't handle the impact well and can break or get distorted. Also, this material will chip and flake over time and can crack with heavy use.
5. Copper
Image Credits: Homedit.com
Copper farmhouse sinks are beautiful and naturally unique. This material is made by melting copper at high temperatures and pouring it into sink molds. This beautiful metal can be hammered or molded with various designs to produce many decorating styles.
Copper has a patina that continues to develop more and more with use. It is also naturally antimicrobial, making it a popular choice among health-conscious users.
However, it is very expensive. Therefore, it tends to be used on smaller accessory sinks like those on island locations. Copper will need extra TLC to keep it looking good. It oxidizes over time, and therefore, it needs special cleansers and waxes to maintain its shine.
6. Solid Surface
Image Credits: Pexels.com
You can make a farmhouse sink using Solid-surface. These materials include acrylic, polyester, and fiberglass. Though made from resins, they emulate the look of natural stone.
These sinks are extremely durable and resistant to scratches and chipping. However, if the surface becomes marred, you can buff it to remove the scratch. In addition, these farmhouse sinks are prone to staining and can be damaged from high heat.
Factors to Consider When Choosing a Farmhouse Sink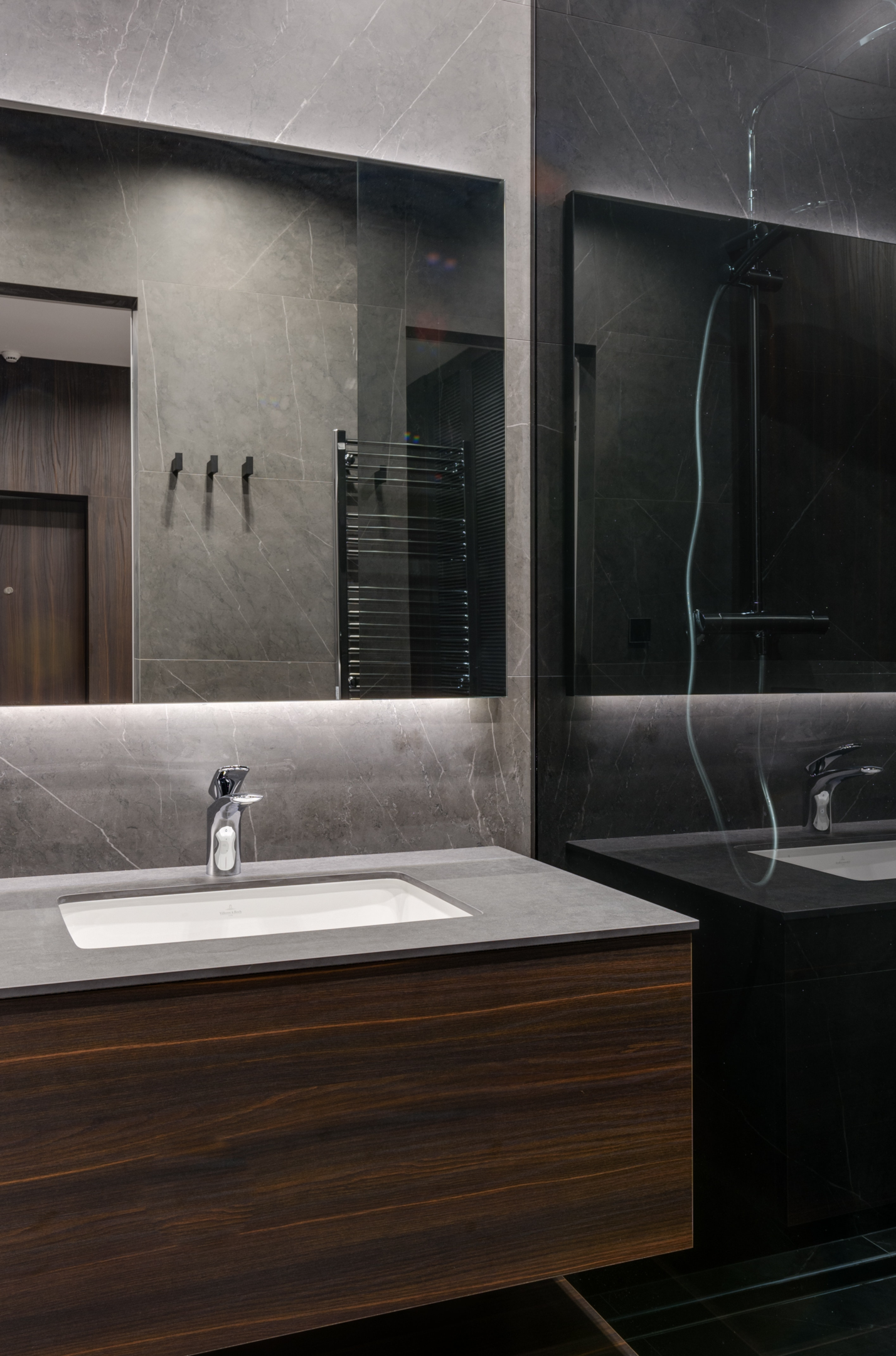 Image Credits: Pexels.com
All farmhouse sinks do not offer similar performance, and several factors affect their functionality. You need to consider this when choosing a farmhouse sink for your kitchen:
1. Style
Farmhouse sinks have different styles and configuration combinations. Each style has its benefits, but you can customize them to fit your style.
The double basin kitchen sink is the users' most popular kitchen-style sink. They use one for hot soapy water and the other for rinsing. They can also use one for soaking pots and pans with crust and the other for regular washup.
 An interesting development in double basin sinks the double-bowl, low-divide sink that offers the benefit of two basins but can also accommodate pots with long handles. Of course, if you decide to go with the double-basin design, you must also decide on the basin split.
Single-basin sinks are the most common. It gives you more space for drawers or accessory pullouts. They can also accommodate large pots, pans, and platters. You can comfortably soak them before scrubbing them.
2. Drainboard
Sinks with built-in drainboards are fast becoming trendy again. They allow you to prepare vegetables and drain them without messing up the counter. Also, if you wash dishes by hand, the drainboard will help you to dry them easily before putting them away.
 However, the drainboard takes up a lot of space, and you may lose plenty of valuable counter space.
3. Size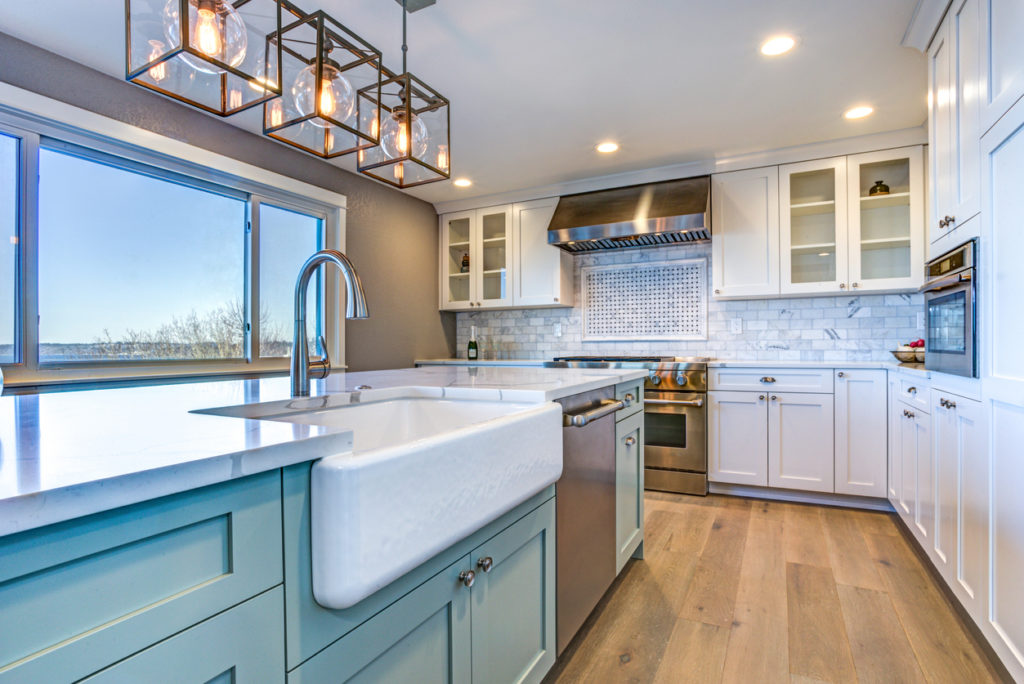 Image Credits: Badeloftusa.com
When shopping for a farmhouse sink, you must consider the sink size you may need. They come in different widths; therefore, consider the cabinet size under your kitchen sink, especially if replacing an existing sink.
The width of the farmhouse sink should be smaller by a few inches than the cabinet it will sit on. However, the widths of farmhouse sinks vary, ranging from 20 inches to 60 inches. In addition, the sink bowls have a depth of bout 10 inches.
4. Drop-in vs. Under-Mount
Farmhouse sinks come in two styles designed to fit different homes and shapes. You can choose your style depending on the ease of installation and aesthetics. This will determine how your sink is used, so choose the style that suits your needs.
Drop-in farmhouse sinks are also called top-mount sinks and are the most common on the market. It is quite easy to install, and all you need to do is to fit it into a precut hole in the countertop. This makes it easy for professionals as well as experienced DIYers to install. The counter is secured by a lip that runs around the perimeter of the sink.
Under-mount farmhouse sinks
The Under-mouth farmhouse sink attaches to the bottom of the countertop. You will need heavy-duty clips, caulking, or a strong alternative adhesive to install them.
It's easy to scrape dirt and leftover food scraps into them. However, they are only compatible with waterproof countertop materials.
5. Color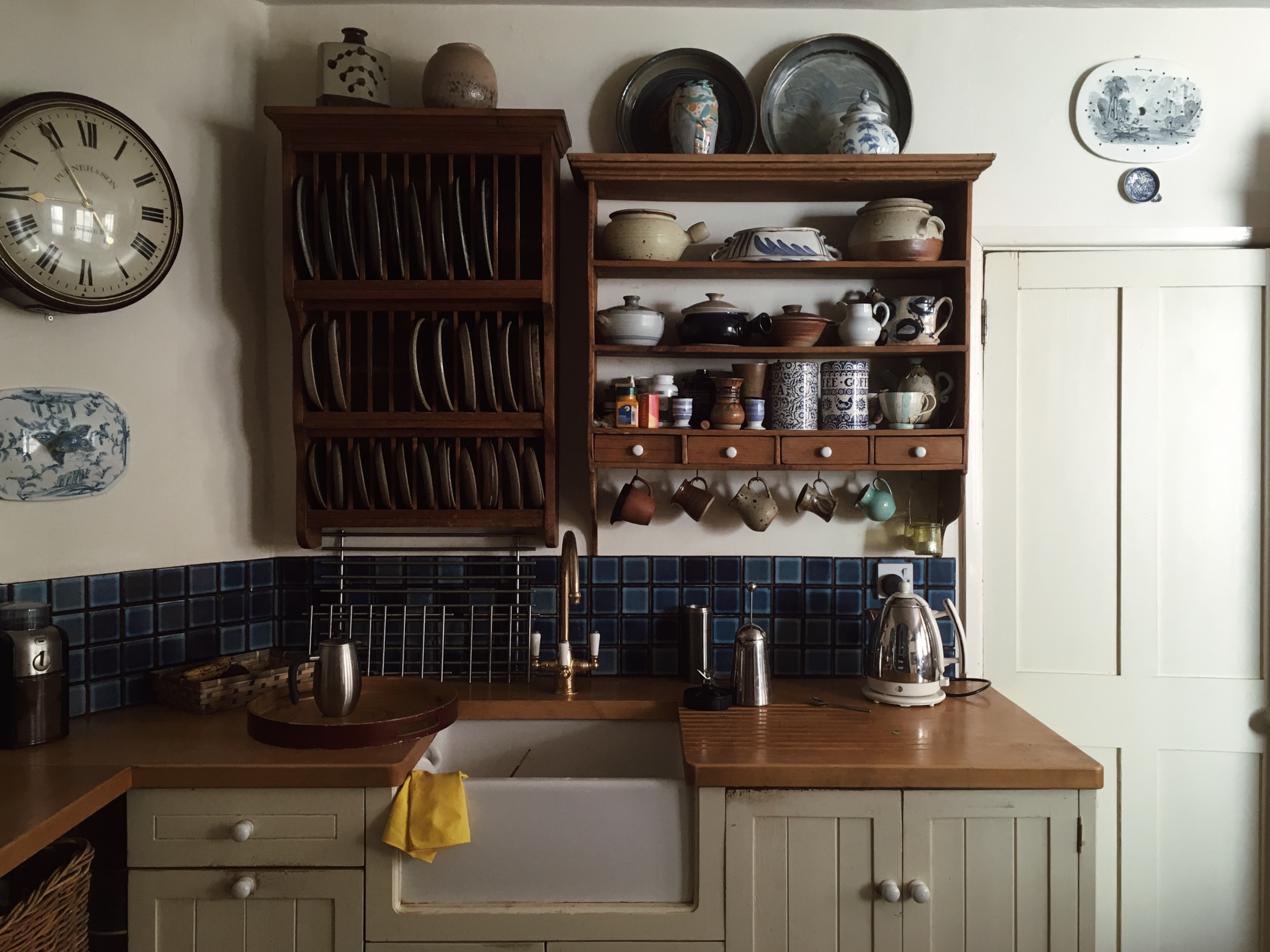 Image Credits: Unsplash.com
The material of your sink will greatly determine the color of a farmhouse sink. Stainless steel sinks are the most popular. However, other materials like granite and quartz that have darker shades are becoming popular.
Fireclay and enamel-coated cast-iron sinks' dominant colors include white, off-white, beige, and sand. A white farmhouse sink is classic and timeless. These colors are versatile neutrals and blend in well with many decorating schemes.
Conclusion
Consider all the mentioned factors when choosing the best farmhouse sinks. Matching the functionality of the sink and your preferences will help you come up with the best choice. 
 Featured Image Credits: Pexels.com