Japan is known to turn everyday items into futuristic concepts to make them easier to use with additional features for convenience. A Japanese toilet has features that are not only out of the norm but technological, intuitive, and even smart. While searching for the best Japanese toilet, I came across impressive options.
My first pick is the VOVO STYLEMENT smart bidet toilet with an automatic dual-flush system, hands-free operation, and multiple bidet features. WOODBRIDGE is my next choice and is built to accommodate tall people and has high-tech features. My third pick is the Toto Neorest which brings the best looks for interior design and is sustainable, using only one gallon per flush of water.
To see why the Japanese toilet is an unstoppable wave, we will explore what it is, the features the capabilities the toilet has, and what to look for when installing one during your bathroom remodel.
What is a Japanese Toilet?
The term Japanese toilet does not necessarily mean that the toilets are from Japan. Rather, the term has been adopted for toilets with smart features that vastly differ from the conventional toilet. To be fair, the concept originated in Japan, and as expected of anything good, it has been adopted in most parts of the world and is fast spreading.
Image Source: dezeen.com
Best Japanese Toilets
| | | | |
| --- | --- | --- | --- |
| | | | |
| | | | |
| | | | |
| | | | |
| | | | |
1. VOVO STYLEMENT Smart Bidet Toilet
VOVO STYLEMENT TCB-090S Smart Bidet Toilet, One Piece...
💧 AUTOMATIC DUAL FLUSH - Smart seat sensor that can choose...
💧 HEATED SEAT / WARM WATER / WARM AIR DRYER - Premium bidet...
💧 WIRELESS REMOTE CONTROL / AUTO DEODORIAZATION –...
💧 TANKLESS FLUSHING SYSTEM - Tornado wash powerfully cleans...
💧 ECO-FRIENDLY DESIGN - Reduced toilet paper and water usage...
VOVO's STYLEMENT toilet boasts an automatic dual flush, choosing between full flush and small flush that uses less water. The two flush options save on water by assigning the flush appropriately depending on the need. I enjoy the hands-free operation when flushing water, as I detest touching toilet handles or seats.
The seat of the STYLEMENT toilet warms up during cold months for added comfort. Furthermore, the toilet has warm water and a warm air dryer, making everything around me have a consistent temperature for maximum comfort.
Image Source: vovo-us.com
VOVO has great products, and STYLEMENT is a testament to its additional features, such as the premium bidet with a self-cleaning nozzle to keep hygiene at its best. The toilet has a deodorizer, keeping the room fresh after every user.
If you want maximum comfort and functionality, VOVO's STYLEMENT is the answer with its additional features. You can control the toilet with a remote control comfortably. The toilet checks the sleek design box with its tankless design, making it the No.1 option for small bathroom remodel projects.
I prefer Japanese toilets for their bidet operation, and STYLEMENT has bidet attachments with all options, including feminine, posterior, and turbo-wash technology. The toilet further has a drier to keep me clean and dry.
2. WOODBRIDGE Luxury Bidet Toilet
Sale
WOODBRIDGEE T-0008 Luxury Bidet Toilet, Elongated One...
Include WOODBRIDGE one-piece toilet and luxury bidet seat. Bidet...
WOODBRIDGE chair height toilet not only meets ADA standards, must...
Map Flush 1000 Grams:Best Maximum Performance Flush score of 1000...
Modern design: sleek, low profile skirted elongated one-piece...
Hygiene: posterior wash, feminine wash, pulsating wash,...
WOODBRIDGE is a high-tech, elongated one-piece toilet designed carefully for maximum comfort. The toilet seat is high enough for tall people like me who have issues with very low toilets. Furthermore, WOODBRIDGE is a toilet for people of all weight categories. The toilet is comfortable and can handle five different temperature modes to match any season or weather.
Image Source: lowes.com
The bidet technology on WOODBRIDGEE is outstanding, with features like gentle massage and oscillating functions and posterior and feminine wash available. Furthermore, the bidet attachments are self-cleaning and are made of stainless steel.
WOODBRIDGE has a quiet but powerful flush and a body built to avoid clogs and leaks. The toilet seat is easily removable for washing, a feature absent in most European toilets.
When I needed help installing the WOODBRIDGEE toilet, I simply called their team, who gladly helped me figure it out. Furthermore, the toilet has an installation manual to aid the process further.
3. Toto Neorest Bathroom Hardware
Sale
When choosing a toilet for my interior design projects, I look for the long-term effects of the toilet in terms of how much water and electricity it will use. Toto's Noerest uses only one gallon per flush, less than the ordinary toilet, which uses between 1.2 and 1.6 gallons. The toilet uses the cyclone siphon jet flushing system, which puts the one gallon to good use.
Image Source: pbangla.net
Noerest has a hands-free automatic flush system, keeping the user's hands-free from pathogens. Additionally, the toilet has an auto-open and shut lid, which keeps my hands off the toilet even more. The toilet further takes your restroom game to the next level with its electrolyzed water for self-cleaning the inside and outside of the bidet wand and other attachments.
The one thing I struggle with when I go to the bathroom in the middle of the night is bright lights blasting my sleepy, sensitive eyes. Noerest solves this problem with its gentle night light for more comfortable night visits.
4. HOROW Luxury Smart Toilet
HOROW Luxury Smart Toilet, Upgraded Bidet Toilet,...
BIDET TOILET COMBO: Bidet with AIR-IN WONDER WAVE technology uses...
COMFORTABLE SMART TOILET FOR BATHROOM: The elongated heated...
POWERFUL FLUSH TOILET: Tankless toilet with powerful flush core,...
AUTOMATIC TOILET: Electric toilet with sensor on bidet seat, when...
ELEGANT MODERN TOILET: The modern skirt design toilet combined...
Horow is a modern Japanese toilet with a tankless option, a great buying point for small bathrooms. The auto-open and closed lid puts the toilet in one league with market leaders and enhances the bathroom experience and hygiene.
Image Source: horowbath.com
Horow is a game changer with its proximity sensor that flushes the toilet once the user stands from the toilet seat. There are more flushing options, including the kick-flush at the bottom of the toilet seat and a remote control option which I do not prefer unless I am the only one allowed to touch the remote.
Horow is great with its one-gallon consumption and tornado flush technology when looking into eco-friendly toilets.
5. ZAHEES Smart Bidet Toilet
ZAHEES Smart Bidet Toilet for Bathroom with Remote...
Automatic flush toilet - Intelligent modern toilet will activate...
Auto Open&close Lid - The grey square smart toilet is a high-tech...
Multifunctional premium bidet for toilet - Heated seat / warm...
18 inch high bidet toilet - Modern smart heated toilet adjustable...
Perfect Service - We promise a 90 Day Money Back Guarantee and...
ZAHEES has the sleekest design of all my options, which is the first thing that drew it to me. The design has more than just the looks with the tankless feature that further enhances the elegance. ZAHEES gives me all the features that top-tier Japanese toilets have; auto-shut and open, auto-dual flush, warm water, heated bidet seat, and a multi-function premium bidet.
Image Source: wayfair.com
ZAHEES has maximized its cleaning modes with posterior and front washing with an option for constant temperature. Additionally, the toilet has options for flushing, including foot-controlled, automatic, and remote-controlled flushing.
Japanese toilets come with tricks to outdo each other, and ZAHEES has a radar-controlled seat that opens when the user approaches the toilet, a feature other toilets are missing. I would place ZAHEES as my first option because it is truly elegant and impressive. However, it is still poorly reviewed, so I am giving it a chance.
Factors To Consider When Buying a Japanese Toilet
i. Cost
Japanese toilets are costlier than other toilets and can go into the thousands of dollars bracket. If getting a Japanese toilet is too costly, you can consider getting the attachments I have listed above.
ii. Installation
Japanese toilets are installed differently from the Western toilet. Installing the toilet might incur other costs, such as wiring and plumbing.
iii. Design
When designing or remodeling the bathroom, aesthetics become one of the main reasons you will take or leave a product. Therefore, you should check whether the toilet fits your bathroom design.
iv. Hygiene
Since Japanese toilets have bidets, which are very intimate, it is advisable to check whether the toilet meets your hygiene standards.
v. Remote and Voice Control
One of the biggest advantages of the Japanese toilet is the hands-free approach. Since you are spending a lot on the toilet, it should at least have these features
Japanese Toilets Attachments and Features
1) The Bidet
The bidet feature comes in two forms; the posterior and the feminine bidet. The posterior bidet is meant for washing the back and often has high pressure compared to when cleaning. The feminine bidet is meant for washing the form and has a softer spray than the posterior bidet.
Image Source: homedepot.com
While there are great bidet toilet combos for the feminine and posterior wash that you can install alongside your normal toilet, the Japanese toilet has bidets that are unobtrusively attached to the toilet. This is an added benefit because it does not take up as much space as traditional bidet seats.
Smart Japanese toilets have bidets with varying water pressure, temperatures, nozzle positions, and the latest bidet technology. You can operate all the features on the bidet seat from a control panel on the toilet seat.
Here are some bidet attachments you can consider;
a. Clear Rear Self Cleaning Bidet
Sale
Clear Rear Bidet Attachment for Toilet - Elevate Your...
DUAL NOZZLE DESIGN FOR FRONT AND BACK CLEANSING: No more...
ADJUSTABLE WATER PRESSURE CONTROLS: Gentle on all skin, set the...
EASY INSTALLATION, NO PLUMBER OR ELECTRICITY REQUIRED: Other...
CAN REDUCE TOILET PAPER USE: Americans use millions of rolls of...
SELF CLEANSING NOZZLES: The Buttler bidet for toilet does it all,...
I have always admired the self-cleaning bidet feature on Japanese toilets, and Clear Rear is the perfect choice for regular toilets. The bidet is a sensitive feature on any toilet because it washes the most sensitive parts of our bodies. Furthermore, the bidet can be used to wash even parts of the rectum, making it a vital part of the toilet. It is a self-cleaning choice that ensures high levels of hygiene.
The biggest challenge with Japanese toilets is that they use electricity, which may bring challenges when installing the toilet and raise electricity bills. Clear rear solves this problem as it uses no electricity to run. The bidet is easy to install, and I do not need a plumber to set it up. Furthermore, the clear rear fits most toilets.
b. SAMODRA Ultra Slim Bidet Attachment
SAMODRA Ultra-Slim Bidet Attachment for Toilet - Dual...
Enjoy a personalized cleaning experience with DUAL NOZZLE...
Upgrade your bathroom with ULTRA-Slim Bidet IMPROVED VERSION. Our...
Customize your cleaning experience with ADJUSTABLE WATER...
Protect your bidet nozzle with NOZZLE PROTECTION DESIGN. Our...
Invest in HIGH QUALITY COMPONENTS with SAMODRA bidet....
SAMODRA is an ultra-slim bidet attachment that I got as a step to stop using toilet paper, which is costly and unsustainable for the environment. SAMODRA is more than 50% slimmer than the normal bidet attachments. The attachment has an adjustable water pressure to give the user sufficient cleaning.
SAMODRA has a nozzle protection design that keeps the bidet from getting damaged by any movement on toilet attachments.
c.VOVO STYLEMENT Smart Bidet Seat
VOVO STYLEMENT VB-3000SE Electronic Smart Bidet Toilet...
💧 HEATED SEAT / WARM WATER / WARM AIR DRYER - Premium bidet...
💧 EASY SIDE CONTROL PANEL – Smart side control panel to...
💧 TOILET SEAT DIMENSIONS - 21" x 15" x 5"(except side...
💧 QUALITY & SERVICE TESTED - Quality tested in South Korea...
💧 EASY INSTALLATION - Complete DIY kit and video guide for...
The smart bidet seat is the next best option whenever you can not get the whole Japanese toilet. VOVO is the strongest contender in this category with its heated seat, which offers a similar experience to its more complete cousin Japanese toilet.
Besides being the best bidet seat, STYLEMENT has a heated seat initially unavailable in your toilet. Additionally, the seat has LED nightlights for easy accessibility during the night. The seat has a control panel on the side to access bidet functions like posterior, feminine, and turbo wash.
I had no trouble installing the bidet seat as it is easy to assemble. The package comes with a DIY setup guide to help with installing it.
2) Heated Seats
Most Japanese households do not have central heating, and rooms, including the restroom, can get cold during winter. To counter this, Japanese toilets have seats that warm up whenever it is cold. There are seats with controls to turn the heat up. Alternatively, some seats are programmed to detect the heating patterns and heat up automatically, depending on the heating history. Some Japanese toilet seats have sensors that detect the temperature and automatically turn up the heat.
3) The "Otohime" Sound Princess
Also known as the noise maker, the Sound Princess is a feature that emits white noise to counter any noise from the washroom. This gives the user privacy and ensures that anyone in the house is comfortable.
Other than white noise, the Sound Princess can mimic flushing water or play music from different genres, including classical music. You can control the Sound Princess by simply waving your hand over the sensor to trigger it.
4) Over-The-Toilet Sink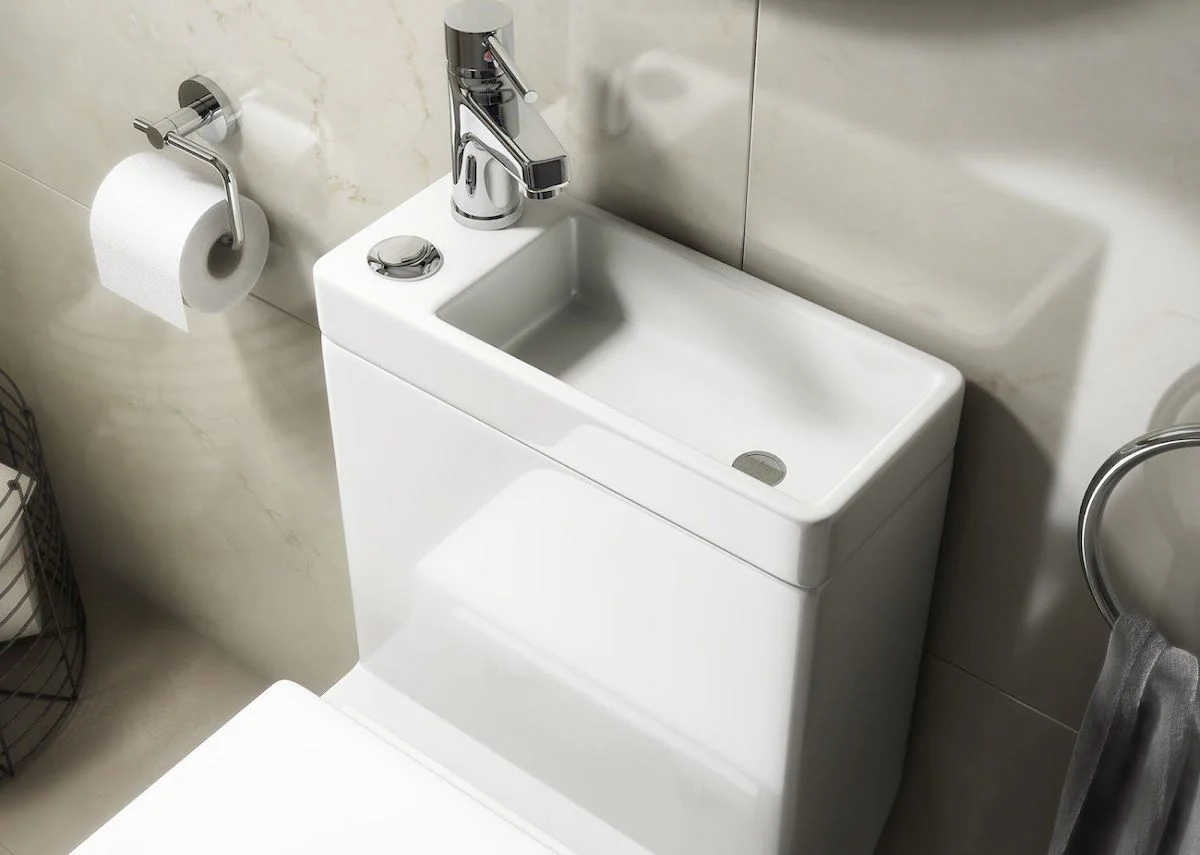 Image Source: attainablehome.com
Japanese toilets are all about sustainability; one way to achieve that is through over-the-toilet sinks. The purpose of the sink is to channel the water into the tank for use during flushing. This saves a ton of water as opposed to other toilets that do not have the feature.
5) Blow Drier
Since most Japanese toilets have bidets, blow driers are necessary for such bathrooms. With a simple touch of a button, the blow drier gets you dry without leaving the seat. The drier dries you up and eliminates the need for toilet paper, increasing sustainability.
To put this into perspective, Americans are responsible for nearly 20% of global tissue use. This makes the Japanese toilet a revolutionary option if most of the population owned one.
6) Massage Cleaning
A Japanese toilet's water pressure can do much more than get you clean. A Japanese toilet can have a spray that directs water to a specific body region to give a soothing effect. The water can shoot at pulsating rhythms, vibrations, and other modes to have an effect similar to a massage.
7) Automatic Lid
One of the contentious points in every new relationship is whether the toilet lid was left open or down. Couples can outsource this service from the Japanese toilet, which closes and opens the lid automatically or on command.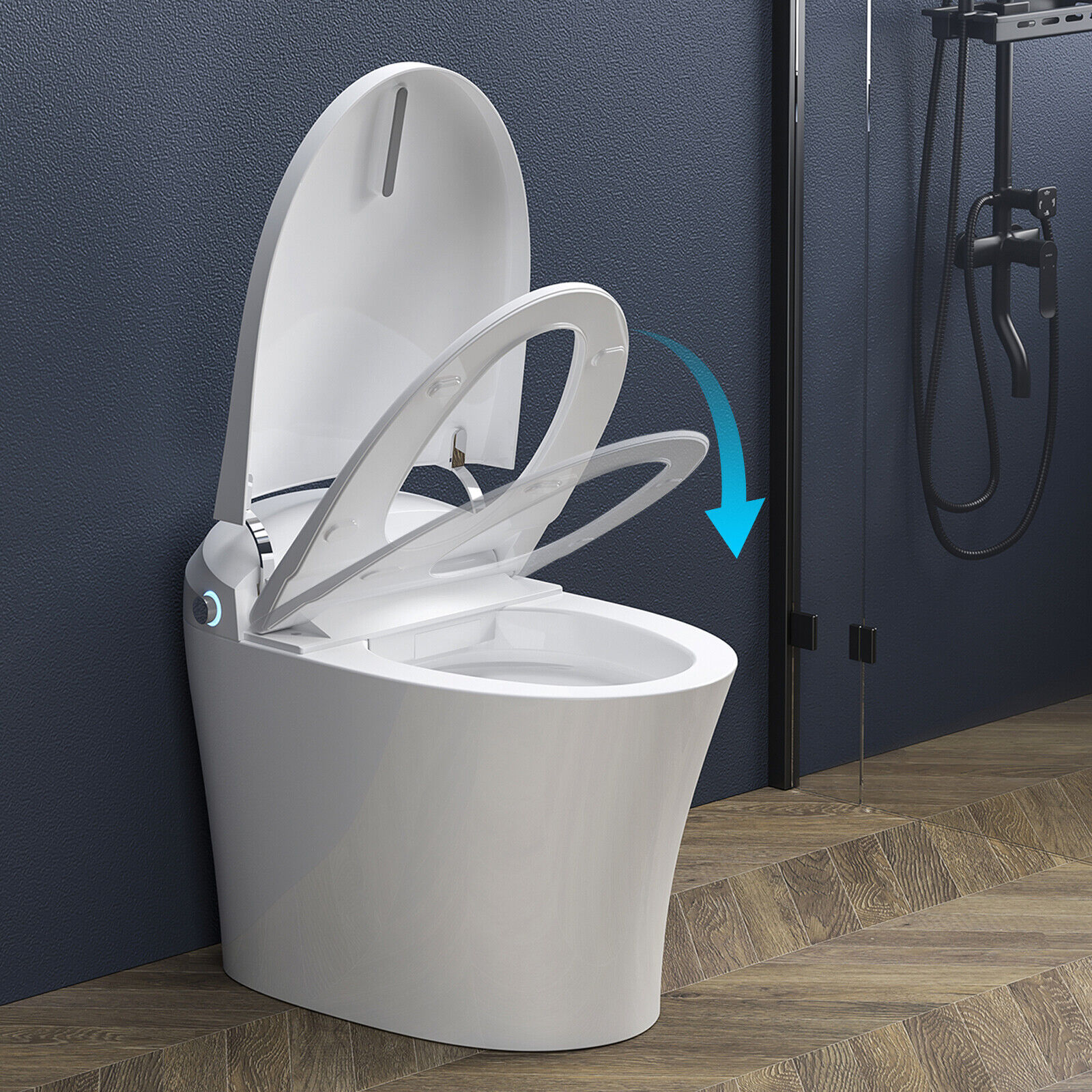 Image Source: universal.edu.az
Some Japanese toilets have a feature that automatically shuts the toilet seat when you get up to leave. You can open and close the lid with a button for most Japanese toilets.
Remember, the issue of the seat staying open or closed is no trivial issue, as it can be the difference between getting urinary tract infections or not.
8) Adjustable Water Temperature
Japan and other countries have winter days when cold water is uncomfortable for most people. During such times, the Japanese toilet comes in handy by providing varied water temperatures, a feat traditional Western toilets can not achieve without additional features.
9) Turbo Wash
Turbo wash is a high-powered spray stronger than the normal bidet spray. Turbo wash is intended to push water into the rectum for cleaning and easing constipation.
10) Nozzle Sterilization
Bathroom hygiene is a big deal, especially for ladies who can contract urinary tract infections easily. Since a Japanese toilet seat is like a bidet emerging from beneath, one would imagine it is the worst place to have the bidet. However, the bidet sprayer nozzle retracts into a protected compartment safe from contamination. Unlike Western-style toilets, the bidet nozzle on Japanese toilets is self-sterilizing. Furthermore, the nozzle does not retract until the cleansing phase.
11) Remote Control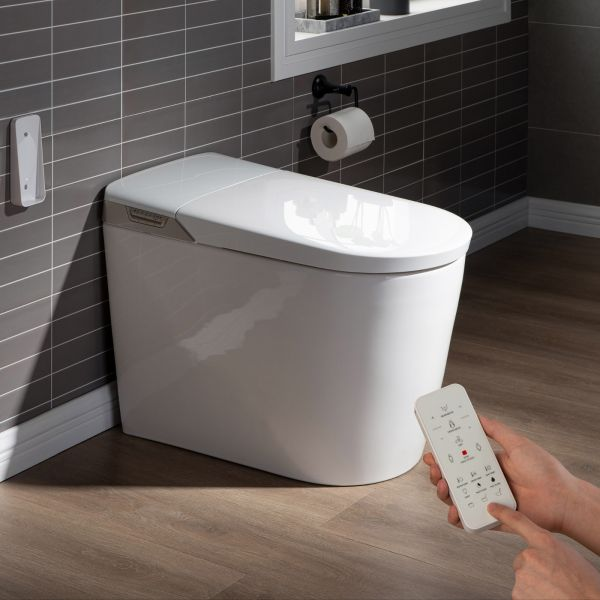 Image Source: woodbridgebath.com
The Japanese toilet comes with two forms of controls; the wall control panel and the remote control. The remote control acts as a great complement to the wall panel when one does not feel like getting up from the seat. Furthermore, with the remote, you do not have to walk into the toilet to make any adjustments, as you can do that remotely.
12) Vitals
Japanese toilets are not simply fancy toilets as they have features that work towards bettering general health. One such feature is the sensor that can take vitals such as blood pressure, pulse, and other physiological signs. Furthermore, the toilets can analyze urine and stool samples with technology embedded in the toilet bowl.
13) Talking Toilets
We are in an age where everything is almost possible with AI; one such thing is the talking toilet. There are toilets with responsive voice command features that are interactive and intuitive to the user. Other than serious toilet business, some toilets can tell jokes to keep users engaged during their time in the toilet. Other than jokes, there are other things like telling the weather forecast that the toilet can do.
14) Night Light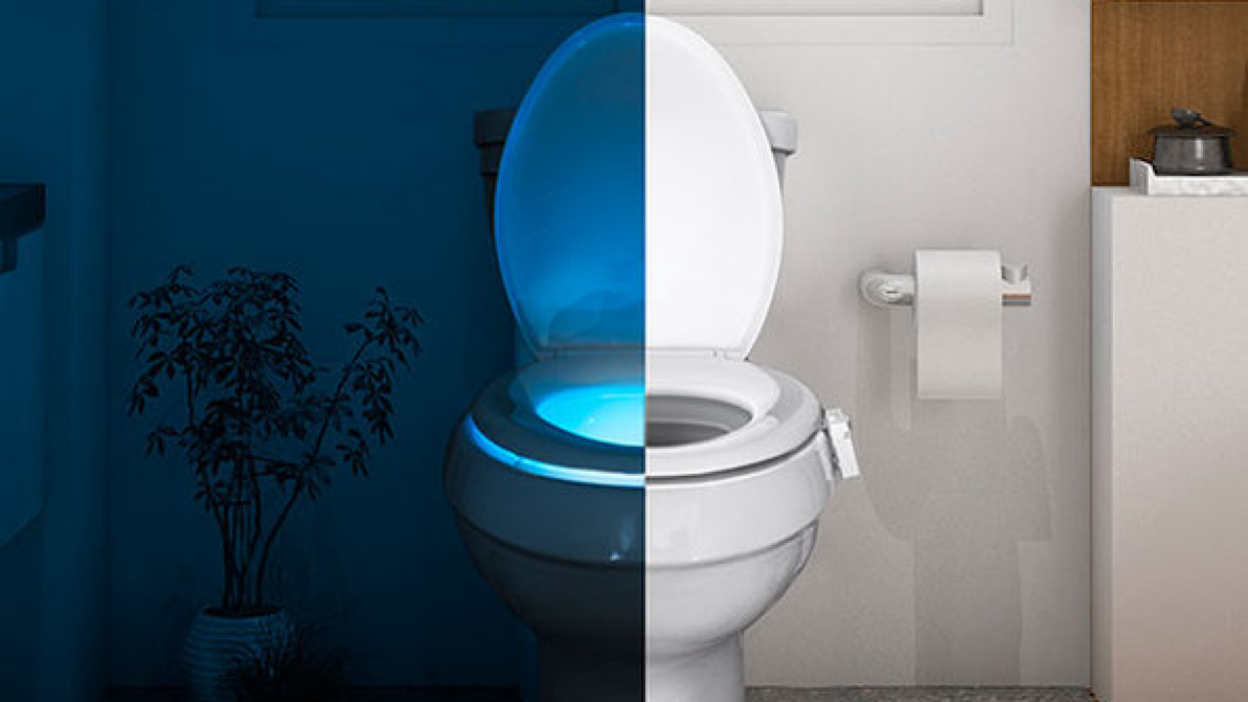 Image Source: mashable.com
The night light is handy on the Japanese toilet to make the control panel visible and the bathroom experience better. Lights are a huge part of interior design, and Japanese toilets use lights functionally and aesthetically.
15) Timer
The Japanese toilet seat has many vital features, like heated seats. Luckily most of these functions can be set to work at a given time with a timer that sets off the features. For instance, when you wake up in the morning and have to visit the toilet, you can find the seat already heated to save you the time you would take waiting for the toilet to heat up.
16) Air Deodorizer
The Japanese toilet has a deodorizer that expels all the smells after one uses the toilet. The Japanese toilet can suck out the odor using a bamboo charcoal filter or modern methods like fans to suck out the potentially smelly air.
17) Soapy Spray
The spray is a widely used feature in the Japanese toilet. For extra hygiene, some Japanese bidets have a soapy spray for better cleaning after calls.
18) Self-Washing
Japanese toilets have self-washing toilets always to keep the toilet clean. Having a clean toilet is one of the health precautions always to take. Furthermore, a clean toilet gives a good impression; nothing could be better than one that washes itself.
Benefits of a Japanese Toilet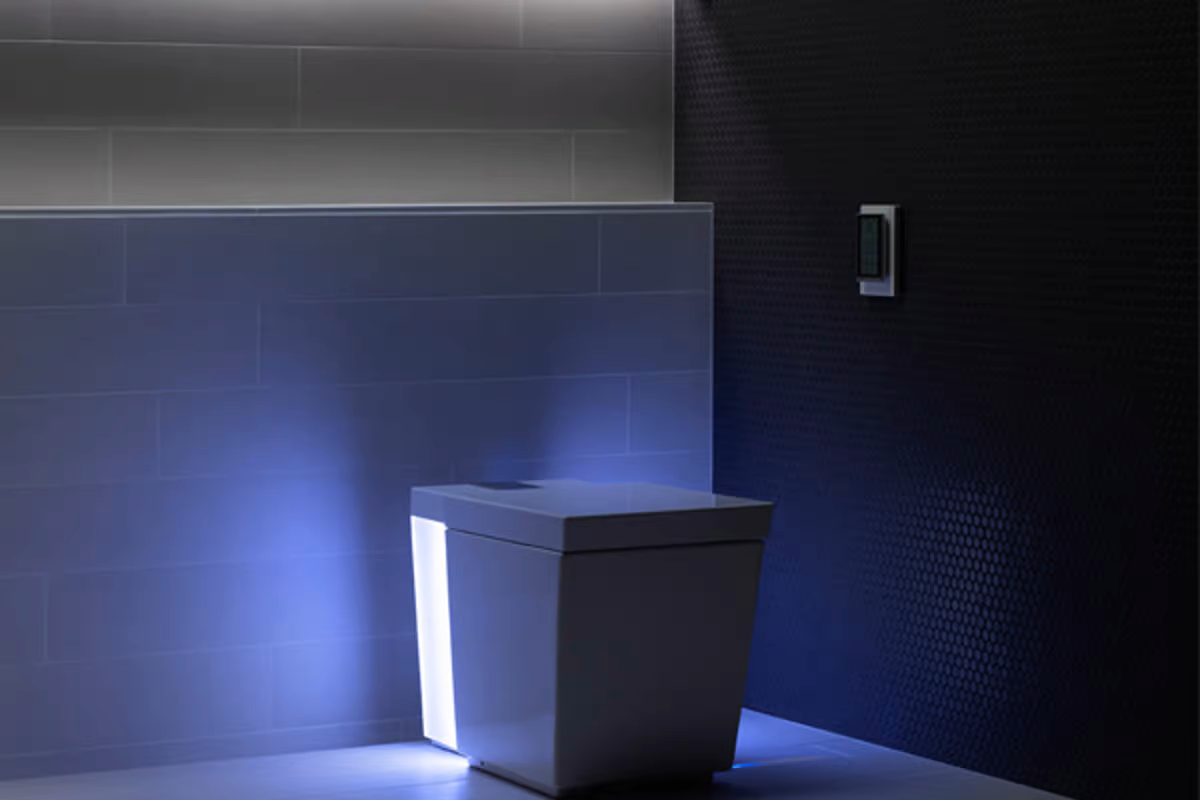 Image Source: newatlas.com
Medical benefits– Japanese toilets can measure the body vitals, including pulse, blood sugar, and temperature, and take samples for testing.
Comfort– Heated seats and other features like heating water, smell extractors, noise suppressors, and music enhance comfort.
Less toilet paper– The Japanese toilet gets rid of toilet paper. Furthermore, the bidet does a better job than any toilet paper, doing a cleaner job than toilet paper could ever achieve.
Sleek design– The Japanese toilet is known for its minimalist design, a common trend in Japanese interior design. It is designed to make an interior space look welcoming and comfortable.
Convenience– Japanese toilets can set timers, which is great for anyone busy. Japanese toilets are great for cold winter days by heating the seats for comfortable use. Self-cleaning and automated features add to the convenience.
Environmentally friendly– The Japanese toilet has environmentally friendly features geared towards sustainability, such as the over-the-toilet sink that reuses water for flushing. Furthermore, the Japanese toilet eliminates toilet paper, which hurts forests as billions of rolls are produced to meet the demand.
Automated– Japanese toilets can automatically be timed to heat up at specific times. Furthermore, the toilet can open and close automatically and even flush itself after use.
Enhanced privacy– Japanese toilets use noise suppression, smell extraction, and smart bidet features. The toilet further uses music to drown out any noises.
Increased property value– If you are letting or selling your property, the Japanese toilet might just help you close the deal.
Problems with the Japanese Toilet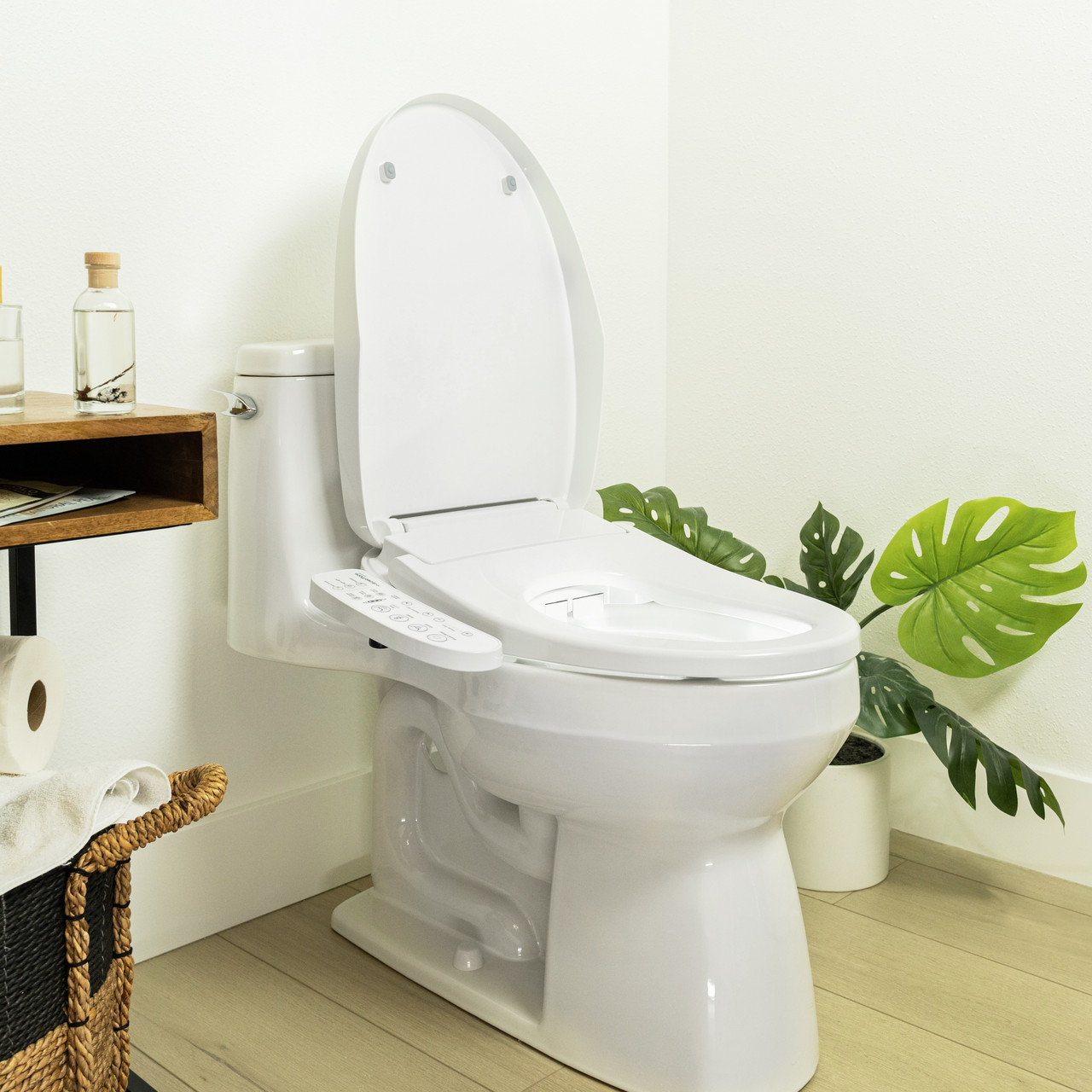 Image Source: bidetsource.com
Washlet syndrome– The bidet may eliminate the important germs needed for the body's normal functioning and change the pH and moisture levels in the nether parts, leading to the Washlet syndrome.
Cost– The Japanese toilet is costlier than the normal Western toilet because of its additional features.
Electricity reliance– Japanese toilets heavily rely on electricity to function. This may be one of the only advantages of a traditional toilet over a Japanese toilet.
Installation– Installing the Japanese toilet is not as easy as many other toilets due to the complex features like bidet attachments, electricity components, etc.
Language barrier- Some Japanese toilets are labeled in Japanese, which may be challenging for non-Japanese users. However, to solve this problem, Japanese toilets have illustrations showing what each button does.
Hygiene– While Japanese toilets are the most hygienic toilets you can come across, any tiny inconvenience or damage might lead to disastrous situations that can lead to infections, especially in public toilets.
Cleaning and Maintaining a Japanese Toilet
Japanese toilets are hygienic, and some are self-cleaning. However, this does not mean that no human intervention is required once every while.
Short-Term Japanese Toilet Maintenance (Daily)
Wash the bidet nozzle and attachments. There are bidets with nozzle wash to make the work easier.
Wipe seats with a soft and damp cloth to avoid getting water to the electronic parts of the toilets.
If the dirt is stubborn, you can use a soft cloth dipped in a cleaning detergent as long as it is not dripping wet.
Mid-Term Toilet Maintenance
remove the bidet attachments and toilet seat to wipe down with a damp cloth
Clean the deodorizer with a soft toothbrush
Check all the bidet functions and automation to see if they work.
Long-Term Japanese Toilet Maintenance
Change the remote batteries
Check for any leakages and damages
Change bidet attachments where possible.
Frequently Asked Questions About Japanese Toilets
1) What is special about Japanese toilets?
A Japanese toilet is synonymous with a smart toilet and is a toilet that has intuitive features that enhances the user's experience. The features available on the Japanese toilet but missing from traditional toilets include bidet attachments, noise suppressors, automatic flush, auto-shut, open lid, tankless design, heated seats, smart voice control, remote control, and motion sensors.
2) What is a Japanese toilet called?
A Japanese toilet has been called many names before, and one that stands out is the "washlet," coined by Toto and stuck. The term washlet is used mainly because of the bidet attachments that often come with Japanese toilets.
3) What is the difference between Japanese and Western toilets?
Also called the "Kinkakushi," the Japanese toilet has become more futuristic, while Western-style toilets have remained unchanged. The Japanese toilet has adopted rapid functional innovations, while the Western toilet has changed its efficiency and not necessarily added any functions.
4) Are Japanese toilets hygienic?
The Japanese toilet has many features that enhance hygiene, such as self-cleaning parts and retractable bidet parts that only come out during the cleansing stage. It can electrolyze water when sterilized to improve hygiene. Japanese toilets have filters that keep any tiny debris out when cleansing using the bidets. Also, they are hands-free in most of their functions.
Final Thoughts
Japanese toilets are the most revolutionary additions we can have in our bathrooms. The toilets not only bring good looks to the interior design but convenience, hygiene, privacy, and comfort. All the features that the Japanese toilet has are geared towards keeping up with other technological advances, including voice control, motion sensors, hands-free operation, and sample collection for diagnosis. A Japanese toilet is a must-have for your next bathroom remodel.