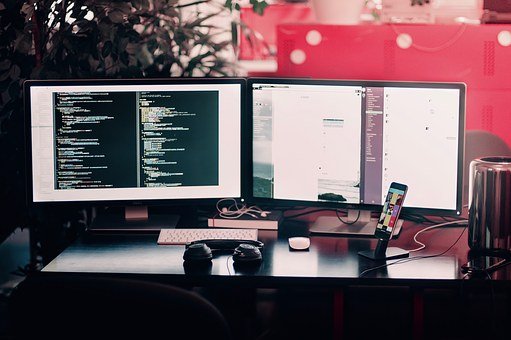 Best HDMI Splitter for Dual Monitors with 4K Display
Having an option is the best place to be in any situation, and an HDMI splitter gives you the power to decide how many monitors you want on. The best thing you can get alongside your new monitor or screen is an HDMI splitter for dual monitors. With this, you can set up dual monitors in different rooms and enjoy your home theater system. Multiple monitors come in handy for privacy and flexibility, and it is time you got one.
What is an HDMI Splitter for Dual Monitors?
An HDMI splitter takes a video signal and splits it for display on two monitors. So you do not have to buy the whole system alongside the monitor when you get the second monitor. All you need to get is a splitter, and you are good to go. A splitter allows you to send a signal to one other monitor, but multiple displays numbering up to ten. An HDMI splitter can therefore have more than two outputs splitting the signal from one device.
A splitter can come in the form of an HDMI adapter if you do not have HDMI ports on your device. An HDMI cable will only be compatible with an HDMI port, not a USB or a DVI port. You can still use a USB to HDMI adapter to set up dual monitors to easily achieve your goal. Here are our top picks for the best HDMI splitter for dual monitors.
HDMI in full means High Definition Multimedia Interface.
What is the best HDMI
splitter for dual monitors?
| | | | |
| --- | --- | --- | --- |
| | | | |
| | | | |
| | | | |
| | | | |
| | | | |
Best HDMI Splitter for Dual Monitors
1) Avedio Links HDMI Splitter
Sale
avedio links HDMI Splitter 1 in 2 Out, 4K HDMI Splitter...
1x2 HDMI SPLITTRE DUPLICATE/MIRROR ONLY - Powered HDMI Splitter...
PORTABLE - 4K HDMI Splitter 1 in 2 out, size: 2.5x2.1x0.5 inches/...
4K ULTRA HD RESOLUTION - HDMI Splitter for dual monitor support...
SUPPORT - 4K HDMI Splitter one input to two outputs support HDMI...
PACKAGE INCLUDED - 1 * [ 1 in 2 out HDMI Splitter], 1 * [USB...
Avedio gives you the best option to setup dual monitors with ease. You will not distinguish between the two monitors because the signal will be clean, with zero lag experienced. In addition, Avedio can transmit 4k Ultra HD signal for better gaming and streaming experience. The device is easy to navigate and works great for anyone looking for precise image mirroring.
Avedio offers compatibility for both audio and video signals, making the connection as easy as just plugging in. The splitter is powered, offering the best signal with zero lag and working well over longer distances. A USB for powering the splitter is included in the package. The splitter is HDCP 1.2 compliant and supports deep color 30 bit/36 bit and 3D images. In addition, Avedio has a wide resolution range from 480i@60Hz to 4k@30Hz.
2) OREI HDMI Splitter
OREI HDMI Splitter 1 in 2 Out 4K - 1x2 HDMI Display...
HDMI Splitter 1 in 2 Out: THIS UNIT DOES NOT EXTEND MONITORS -...
Fully Compatible with any HDMI 1.4/ 1.3/ 1.2 version, support...
Maximum HDMI Cable Use - 30 Feet. For Best Picture quality do not...
Full Video format 3D, 4K x 2K@30hz, 1080P @30hz, 1080P @60hz....
Package includes - 1 - 4K 1x2 Splitter, 1 - USB Power Cable, 1 -...
OREI is a revolutionary splitter that has graced the market with excellent features and superb capabilities. The splitter offers a 4k display that will ensure you experience the best resolution for gaming and streaming. OREI is powered, making it possible to serve two monitors that are far apart from each other. The two-input splitter works seamlessly to give the best display using the standard, universal HDMI port.
OREI can support laptops, Route Roku, PlayStation and Xbox, Blu-Ray DVD player, Chromecast, Fire Stick, satellite receiver, projectors, and many more inputs. The output works great with Apple TV, Full HsD TV, Samsung TV, and HD-Ready, HD monitors, and more. OREI customers are the most satisfied lot with the multiple options available for them.
3) ZACCAS Aluminum 4k HDMI Splitter
HDMI Splitter 1 in 2 Out -ZACCAS Aluminum 4k HDMI...
HDMI Splitter 1 in 2 out-Zaccas 4K HDMI splitter is to connect...
4K@30hz HD Picture-Zaccas 4K HDMI splitter supports different...
Wide Compatibility-Using the latest HDMI splitter chip, this 4k...
Simple Plug and Play-This 4k HDMI splitter is easy to install &...
What You Get:1*4K HDMI Splitter 1 in 2 out, 1* USB Power cable...
ZACCAS is the short version of efficiency and magnificence. The splitter will give a lag-free, high-quality display that other splitters do not match up to. In addition, the future-proof splitter offers a 4k@30Hz display that can serve the modern-day screens that are emerging in the market. You can now easily duplicate your Fire tv to other rooms with ease and seamless mirroring.
ZACCAS supports different resolutions from 1080p@30Hz to 4k@30 Hz, making the splitter useful on multiple screens simultaneously. You can play your favorite games with the splitter on Xbox or PlayStation. The powered splitter supports signals over long distances, making it possible to input the satellite receiver, PC, Blu-Ray DVD player, laptops, and many more. Among all your recently viewed options, ZACCAS makes it one of the best purchases you can make for a splitter.
4) UGREEN HDMI Bi-Directional Switcher and Splitter
UGREEN HDMI Switch 4K@60Hz HDMI Splitter Bi-Directional...
Bi-directional HDMI Switch: UGREEN HDMI Switch offers an easy...
Plug & Play: The switch is easy to setup and operate, no extra...
4K Resolution: Supports video output up to 4K@60Hz (3840 * 2160)...
Stable Transmission: UGREEN HDMI Switch supports high bandwidth...
Wide Compatibility: UGREEN HDMI Switch/Splitter supports most...
If you are a person who is very interested in the marvels of technology, this is the splitter for you. UGREEN works both as a switcher and splitter. As a result, you can use two gaming consoles with a single port HDTV and switch between the devices. The flexibility that the splitter offers is unmatched and unavailable elsewhere. While the splitter has the flexibility, it offers an outstanding performance as well.
UGREEN can support video output from 480i to 4k@60Hz. The resolution range makes it possible to use the splitter in any situation imaginable. The splitter is widely compatible with most devices that might need a splitter. You can hook the splitter on literally any device of your choosing.
5) TOPYIYI HDMI Splitter
HDMI Splitter 1 in 2 Out, TOPYIYI 4K HDMI Splitter for...
【HDMI SPLITTER 1 IN 2 OUT】 TOPYIYI HDMI splitter easily...
【SUPPORTS 4K and 1080P】: The Topyiyi 4K HDMI Splitter...
【Wide Compatibility】Adopted upgraded chip, this HDMI splitter...
【FAST & STABLE TRANSMITTION】Gold plated HDMI connectors for...
【PLUG AND PLAY】This HDMI splitter is easy to setup and...
TOPYIYI has some of the best features that an HDMI splitter can have. The splitter can bypass an HDCP 1.4, a function that most splitters do not have. This feature puts the splitter ahead of the game and makes the signal flow smoother and seamless. TOPYIYI is your top choice for your 4k display. The future-proof splitter is compatible with multiple devices, making gaming and streaming a wholesome experience.
TOPYIYI has a fast and stable transmission perfect for gamers who depend on precision for successful careers. You will not experience the slightest lags, and you will be able to take clean shots, giving your opponents no chance to survive your assault. In addition, the splitter is applicable in many other situations that require seamless broadcast.
Frequently Asked Questions About HDMI Splitters
a) Do HDMI Splitters Reduce Quality?
Having one input and one output is a sure way of getting a relatively clean signal. Having two outputs still gives you a clear signal. The quality on the second monitor is similar to that on the first monitor because a splitter copies a digital signal. It does not matter how many devices you have, and the signal will be copied as long as the splitter can support all the outputs.
The only time an HDMI splitter will reduce display quality is when the quality of the hardware and the HDMI cable is low. If you get cheap hardware, there is a chance the signal might pay the price. The length of the cable will account for the quality of the signal going to the screens. A long cable might affect the quality of the picture displayed on the screen. Note that there are powered and non-powered splitters. Non-powered splitters can sometimes lead to relatively lower-quality images.
b) Do HDMI Splitters Cause Lag?
Latency can be a problem when dealing with resolutions and additional links. Lag can result from the type of splitter you are using, the distance, and whether the splitter is powered or non-powered. The distance can lead to slight lagging because when the signal travels over a long distance, it might start experiencing interference. Adding distance to the fact that the splitter needs to be high quality, low-quality splitters might subject the signal to a significant amount of lag.
A non-powered splitter will not boost the signal, leading to the possibility of a lag being experienced. Once you split the signal, boosting it to serve the different screens is a better choice than just letting the signal travel as it is. If you are into gaming, you need the signal to be accurate to the millisecond because that can be the difference between winning and losing. It is important to note that the HDMI is doing the job of transmitting both video and audio signals at the same time.
c) Is a Powered HDMI Splitter Better?
Whether to use a powered HDMI or not is dependent on some cases. For example, if the video device is not strong enough to support a powered HDMI, then a non-powered option is better. However, a non-powered HDMI splitter supports a signal only short distances compared to their powered counterparts. Powered HDMI splitters work great when the signal is to travel for longer distances when transmitting the same signal from one cable box at the same time.
Remember, a non-powered HDMI splitter can not transmit the signal from your computer or device over very long distances. So if you are broadcasting on televisions or monitors that will be far from the source, consider using a powered splitter. The prices might be different, but a good signal is definitely worth paying more for when you want to setup dual monitors.
d) What is the Difference Between a Splitter and a Switcher?
A splitter allows you to extend the signal to more than one screen from one device, while a switcher allows you to connect different sources to one screen. A switcher is just a reverse of a splitter, but in the case of a switcher, you have one screen receiving signals from multiple sources. Note the difference before making a purchase for you to spend your money on the right device.
e) How Many Ports Can an HDMI Splitter Have?
Most splitters account for only one extra monitor for your laptop or tv. However, you can find splitters with up to ten ports to extend the display to multiple monitors. In most cases, you will only require the signal for three or fewer screens, which is work that a splitter can easily achieve.
f) Do I Need an HDMI Adapter?
An HDMI adapter or converter comes in handy when your device does not have an HDMI port. Modern-day devices come with an HDMI port. However, in some cases, the device can sacrifice the port for slimness, as is the case with modern laptops that are lightweight and portable. Such devices may have USB-C ports that may not directly take an HDMI cable. In such a case, all you need is an adapter that will convert the connection to one compatible with the device. You can now easily hook an HDMI to your device and extend the signal.
g) Can I Connect a Splitter to Another Splitter?
A signal is just that, a signal. A long as you can split the signal once, you can split it some more. Yes, you can connect one splitter to another. The only risk you run is that of reduced signal quality. You can avoid daisy-chaining if possible because that might reduce the signal further. If you ever walk into a store and see multiple screens showing the same picture or video, try and find out how the connections were done.
Final Take
Technology allows for possibilities we only imagined in the recent past. You can take advantage of the available options in the market to improve your user experience and make use of your TV's full potential. Get powered splitters for the best resolutions to seamlessly play your video games or stream your favorite channels. If you have more than three screens, some options allow for up to ten screens. Consider buying a splitter with more ports over connecting splitters to other splitters.
If your device has no HDMI port, worry not. You can get an adapter to convert the connection type and support your device. You no longer have to consider throwing your old desktop away.