When redecorating our living rooms, one of the most common advice we get is "Avoid cluttering or overcrowding.'' This, however, is not as easy as we think, especially for a small space. The problem is that we need to fit all the sitting room items in a tiny living room space. Configuring the living room layout is another issue that arises when organizing a small living room. We ask questions like; How much furniture should I buy? Is space too cluttered? What about paint colors?
The questions are endless. However, we are fortunate enough to have the internet where there are plenty of ideas and layouts, no matter how small or big your space is. If you are looking for small living room ideas, then, take inspiration from this article, to unlock the potential of a comfortable small living room.
Small living room ideas for your home
1. Club Chairs instead of sofas
A big sofa can take up a lot of living room space. It is important to find a chair that is small but not too small. The chair should also accommodate an adult and a child. This is one of the best small living room ideas to create space. Floral chairs also light up the room, making the room look bigger.
If your room is too small, such that it cannot accommodate either the sofa or club chairs, then you can forego this option and use two comfortable armchairs.
2. White walls
Consider keeping your walls and ceilings all white. White can create a dulling effect but tends to make a small space feel larger and brighter. If you are using white walls, avoid using black and white artwork, because it might reduce the brightness of the room. Colorful paintings and furniture are the way to go for most small living rooms.
However, this is not always the case. Some work best with all neutral colors and a few pops of color and texture like houseplants, especially if there are large windows. Others have an accent wall, where one wall is painted a different color from the rest, which is also a good idea. The point is that you should find what you like and what works for your room.
3. Lightning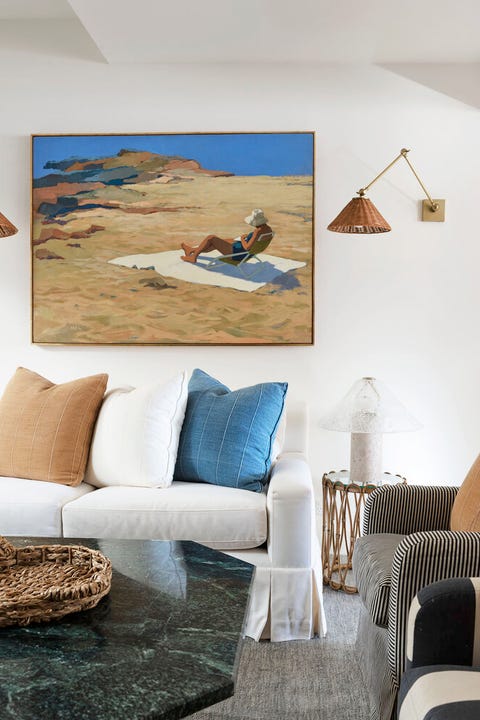 In a living room, the floor is the most important space of the room. The lightning should be attachable to the walls or the ceiling to save floor space. Another ideal situation for a small living room is the swing arm scones which bring dimension to the walls while also freeing up the floor space.
In cases where the living room has large or a lot of windows that give a ton of natural light, ensure that you don't use dark curtains. It is important to allow the light to freely pour in, which makes space become airy. If you have small windows, then use semi-sheer shades of curtains, to allow maximum light to get in.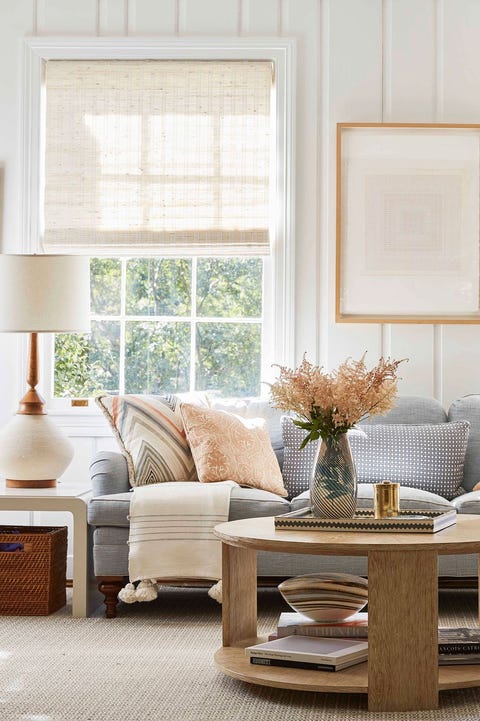 4. Large Rug/ Carpet
A large carpet visually breaks up the floor, making the room feel bigger. It also makes the room feel much bigger if you use a carpet with a bold pattern and colors. Smaller carpets don't do this. Large carpets also help anchor space giving you a good design for the rest of the room.
5. Shelving
Small spaces lack adequate storage. Whether your house has a big living room space or a small one, it is important to have shelves to act as a storage zone and a decorating piece. Get creative about the kind of shelves your space need and where to strategically place them.
Floating shelves are perfect small living room ideas for extra storage. This is because they can hold a lot of things, making use of each of the spare space available. I would personally not recommend the floor to ceiling shelves, because there is a need to have room for an extra seating option. Make sure the shelves are the same color as the walls.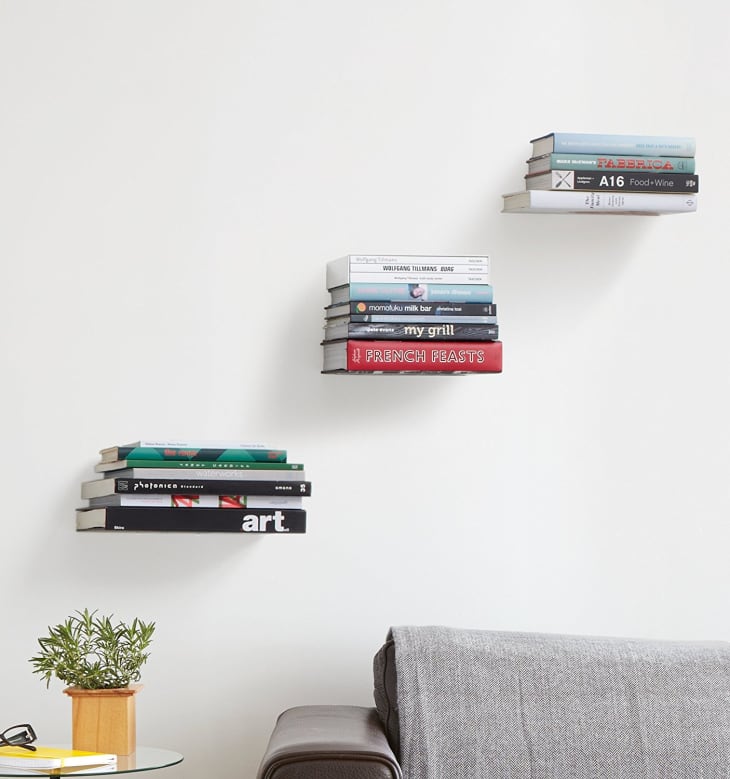 6. Hanging chair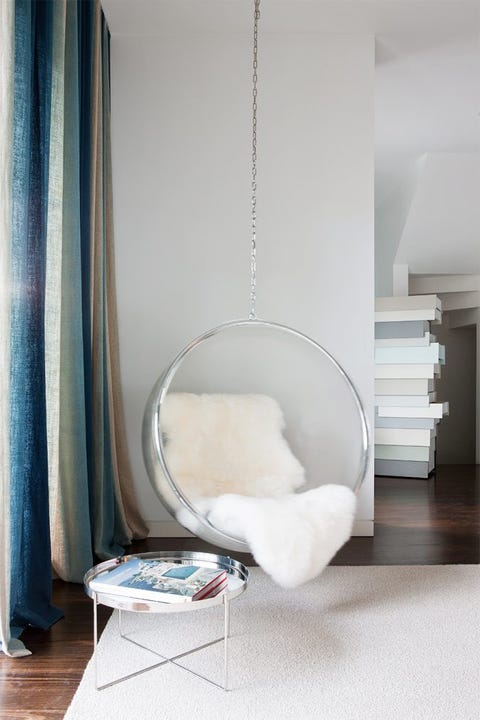 Hanging or swinging chairs are one of the trending designs in the world right now. They are a great trick to save space when it comes to a small living space. If you are looking to add seating without taking up more floor space, then would be the best style to consider. It is also a comfortable and relaxing seat.
7. Two small coffee tables instead of one big one
If you are looking to get a glam living room, it is recommended to get two small items instead of one large item. Use two small side tables to take the place of one big side table. The small side table allows easy traffic flow and also it is easy to move around.
8. Mirror decor
This is an old and common trick, but it for sure works magic. It is one of the best small living room ideas that no one should ignore. A mirror creates an illusion of space by reflecting backlight and interior design, making a small space look much bigger.
For a small space, it is better to use an over-sized mirror that covers one entire wall. You can also place it on the mantel and can also use tiled mirrors over one wall.
9. Strange angles
Depending on your living room design, some furniture or a photo on the wall may need to be at weird angles. Don't be afraid to tilt things a little bit so that they fit your space. It might be the best decision you make for your living room. However, if it doesn't fit or look attractive, then you might need to find another space for it or remove it completely.
10. Multipurpose rooms
When your house is small and space is lacking, another great option is to get creative and make multi-purpose rooms. This is what a multi-purpose room means; You can combine different concepts into one room. For example, if you don't have a lot of rooms, such that you lack either a family room, a dining room, or an office, then you can combine the concepts. The family room and the dining room can be in one space and the living room and office in another space.
So, if you don't have enough living room space you can combine it with either the family room or the dining room if you have them, to create more space. With the right layout and pieces, the combined rooms look great, no matter the shape or size of the room.
11. Dual purpose furniture
Multi-functional pieces of furniture should be your friend when you have a small living room space. For example, you can use stools as seats if you still need more seating spaces. Such type o stools should be the cube stools, which can also be placed under the coffee table when they are not in use.
These cube stools or even the sofa should also be lidded to create extra storage space. The furniture and the decor should maximize the amount of natural light getting in the room. You can also create more storage space below the coffee table.
12. Hanging baskets
This may sound cliche and traditional, but if you find cute baskets, these should be an awesome idea. Make the most of any wall space you have. The picture below shows some attractive willow baskets that have been used as storage items. They are hanged well using decorative hooks that can take a lot of weight, although the baskets should not be overloaded. You can put anything in them such as books, toys, etc.
13. Arrange things vertically
It is important to take the decor items high up when the floor is limited. Arranging anything vertically allows you to make most of the room. Try implementing the various geometric and linear prints. This provides a small space with a sense of structure while also giving additional space.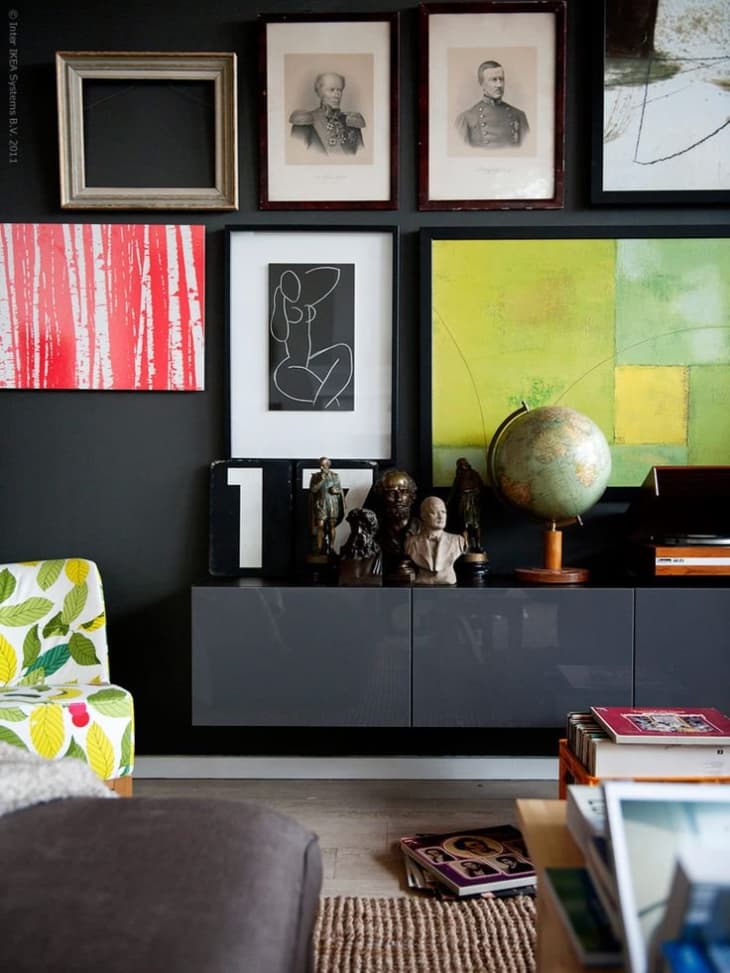 The geometric pattern at the window helps to echo the blue tones and ties in a statement pattern. Try implementing varying geometric and linear prints. This gives a small space a sense of structure while also providing the illusion of additional length and width.
14. Layer coffee tables
So far, large and bulky coffee tables are out of the question. If you can find a set of tables, that are small enough for your room and that can be layered when not in use to create space.
15. Colorful furniture
If you are planning to use white on your walls, then it's best to avoid white furniture since white tends to create a dulling effect on your home. Consider using a colorful couch, a coffee table, stools, or other living room furniture, to brighten up the home.
16. Adding plants decor
Plants, whether artificial or real plants, can be a good source of decoration for your room. It will also brighten up space while also maintaining fresh air in the room. Plants also bring beauty and character.
17. Gold decor
If you're looking for decor items for your small room, then consider buying gold items. Gold tends to add a pop of color to the room, making the room look classy even with cheap decor items.
18. L shaped sofas into a tight space
An L-shaped sofa is another great resource for a small living room space. With this kind of sofa, zero square footage goes to waste. Its design scheme provides extra storage space and can also function as a coffee table. It is also very stylish and comfortable to sit in.
19. Display artwork strategically
Bring your artwork up to the feature wall, to add energy and interest to the room. Art also tends to trick the eye so that it looks like the room is bigger than it is. A gallery wall might be too much for a small space, but if it extends to the ceiling, it can actually make it feel bigger. The glossy effect of paintings or art is also one of the greatest ideas when it comes to artwork for a tiny space.
20. Embrace less
Sometimes less is the way to go for a small living room. This is especially recommended if you have a nice fireplace, beautiful hardwood floors, and large windows, such that tons of light gets in. If you overcrowd your living room, then that would be the last place you want to spend time in, since it won't be cozy.
FAQs
1. How can I arrange my small living room?
When arranging a small living room, you need to be able to trick the eye into thinking the room is bigger. With that in mind, you need to know what you need and what you don't. It's not hard, it's just creative styling and layout. We have provided you with a few decorating tips to help you transform your living room into a comfortable and stylish space.
2. How can I make a small living room look nice?
It is simple as using decorations and adding a pop of color. These decorations can be things like mirrors, art pieces, etc. and to add a pop of color you can use plants, wallpapers, etc. You can also use a few nicely made pieces of furniture, that are stylish as well as comfortable. Avoiding unnecessary things in the room.
3. Which sofa is best for a small living room?
Depending on how your room looks, choose a sofa that suits your needs. For a narrow and small space, you can choose a narrow but long sofa. For a wider space, consider an L-shaped sofa or the club sofas.
4. What colors make a small room look bigger?
Colors with soft tones will definitely make a room look bigger. While is the obvious option, it is not the only option. Other colors include the soft shades of blue, purple, beige, coffee, gray, mint green, pink, etc. This is because such colors are bright colors and the brightness of a room is what makes it look bigger and inviting.