The proper lighting creates a soothing atmosphere, whether you are simply relaxing, dozing, or reading in bed. However, finding lamps that function well and look outstanding can be challenging. This post focuses on the best lamps for bedroom in various designs and styles that offer ambient lighting.
The top-rated lamp for the bedroom is the BSOD Glass Mushroom Table Lamp. This portable lamp comes has a unique and captivating design that provides a great outlook to any bedroom setting. This small yet well-made lamp also delivers ambient lighting sufficient for any room.
The second-best option on our list is the Seealle Mini Bedside Lamps for Bedrooms Set of 2. This unit is the ideal lighting choice for your bedroom area if you're looking for something fashionable and practical. But, it's only suitable for small spaces.
The third-best lamp for the bedroom on our list is the ONEWISH Touch Bedside Table Lamp. These lamps are ideal for providing a sense of class while also illuminating your space. But, it's relatively small and is only useable as a table lamp.
Are Lamps Good for Sleep?
Yes, lamps can be good for sleep when used properly. Lamps with warm and dimmable lighting can create a soothing atmosphere in the bedroom, promoting relaxation and signaling the body to wind down before sleep.
By adjusting the brightness level and choosing warm-colored bulbs, you can create a sleep-friendly atmosphere in your bedroom. However, it's important to minimize exposure to bright lights, including screens, before bedtime, as they can interfere with your sleep patterns. Ultimately, finding the right balance and personalizing your lighting preferences will help optimize your sleep quality.
In addition, having a light on your bedside table increases your security feelings. Placing the night or bedside lamp on your shelf increases your comfort after anxiety and stress that can trigger a nightmare.
1. BSOD Glass Mushroom Table Lamps
Sale
BSOD Mushroom Lamp,Glass Table Bedside Lamps...
[Design] Vintage Style White Striped Mushroom Lamp with Warm...
[Material] Hand-Blown White Striped Glass, Murano, Bubble...
[Function] The E12 LED Bulb Has a Warm Light Effect, The Product...
[Application]Easy To Install, This Product Is Only Used Indoors,...
[Service&Patent] Provide One-Year Warranty Service,Please Contact...
BSOD Glass Mushroom Table Lamp is defiantly one of the best lamps for a bedroom setup. We purchased this lamp and found it suitable for modern, traditional, and glam decor schemes. Our table lamp was excellent for our bedroom as a bedside lamp and its E12 LED Bulb had a warm light effect. In addition, the E12 classic socket also made it easier for us to replace attractive, dimmable ambient light bulbs.
Image Source: BSOD.com
The fact that our bedside lamp was small in size and lightweight made it easy for us to move the lamp from room to room meaning we could easily use it in our bedroom, study area, dining room, and living room. Furthermore, its warm glow gave any area in our house a homely atmosphere.
Besides, these bedside lamps came with a 1-year warranty service, and the support team answered our questions appropriately. The BSOD Mushroom Lamp was a perfect addition to our bedroom table because it was both useful and fashionable.
2. Seealle Mini Bedside Lamps for Bedrooms Set of 2
Lamps for Bedrooms Set of 2 with 3 Color Modes -...
【3 Color Modes & Pull Chain Switch】This lamps for bedrooms...
【Upgraded USB C+A & AC Outlet】This table lamp is designed...
【Two E26 LED Bulbs Included】No need to buy bedroom lamp bulbs...
【Widely Application & Ideal Gifts】Our bedroom lamps for...
【Easy Installation & Worry-Free Shopping】The installation of...
This bedside lamp with built USB/USB-C/AC outlet charging ports was fantastic. When we bought it, we charged up to six devices simultaneously. Amazingly, the charging station worked even when the bed lamp was off or on, making it more convenient. The lamps added light to our bedside space, and it was easy to turn on and off by just touching the lamp pole or base.
Image Source:wayfair.com
Plus, it had the touch to change three models, with the first level assisting us to improve our sleep. The second brightness made it comfortable for us during our leisure time. More so, the total brightness assisted in protecting our eyes while working and reading.
Moreover, the touch lamp base occupied limited space, making it ideal for small areas, such as a side table, nightstands, bedsides, end tables, and tabletop. This beautiful set of small bedside table lamps combined the modern and classic simple design making it a perfect choice for our home decor.
We were fascinated by it because it came with two free bulbs included in the package saving us money and time on purchasing extra bulbs for our bedroom nightstand lamps. The bulbs did not have mercury, no buzzing, and no flicker.
3. ONEWISH Touch Bedside Table Lamp
Touch Bedside Table Lamp - Modern Small Lamp for...
【Modern Touch Lamps】 Small table lamp features a modern...
【3-Way Dimmable Table Lamp】 Bedside table lamp with 3...
【Table Lamp with Soft Light】 The E26 LED bulb (included)...
【Priority Quality Glass lamp】 Lamps for bedrooms are designed...
【Customer Satisfaction & Warranty】 Table lamps come with...
This modern elegant globe table lamp had a metal base and a frosted opal glass lampshade making us purchase it. It made a smart night light for our bedrooms, dining rooms, study rooms, and living room. It had three brightness options, high, medium, and low, which we adjusted to meet our needs. Its touch control sensor on the metal base let us turn the short lamp on and off.
Image Source: ONEWISH.com
More so, the E26 LED bulb gave a 3000K soft, warm mood light with the opal lamp shade distributing the light evenly to develop a comfortable and elegant atmosphere. In addition, the 6.5W LED bulb has a lifespan of approximately 10,000 hours without buzzing, flickering, and limited heat output.
The table lamp came with a 1-year warranty, and we were free to contact customer care for any concerns and issues within 24 hours. The lampshade was made of glass material, making it durable and easy to maintain. This makes a perfect choice if you need a small lamp for your small bedroom space!
4. Arturesthome Nightstand Desk Lamp
Arturesthome Nightstand Desk Lamp, Creative Nordic...
Nordic Design For Home: White frosted glass bulb lamp shade,...
2 Bulbs Are Included: NO Flicker, No Dazzle, No Buzzing. It comes...
Widely Application: A ideal table lamp for living room, bedroom,...
WARRANTY: Table and Desk Lamp comes with 90-Day Money Back...
When we bought this Nordic design Arturesthome nightstand desk lamp, we found it elegant and simple to decorate and light our bedroom. Moreover, the lampshade was exquisite, fashionable, stable, and strong. It had bulbs, including No Buzzing, No Dazzle, and NO Flicker, with 2 5W warm white G9 LED bulbs. We used the builds in various rooms, including study rooms, bedrooms, kids' rooms, and living rooms.
Image Source: Arturesthome.com
Plus, it had a warranty of 90-day money-back guarantee and three months warranty. If you are looking for a fashionable and elegant lamp, this is a great choice.
5. HAJINLU Cordless LED Table Lamps
Sale
HAJINLU Cordless LED Table Lamps Touch Sensor Dimmable...
Dimmable, the cordless table lamp is built-in a touch sensor...
Rechargeable, the battery powered desk lamp build in 2000mAh Li...
Portable, multipurpose battery operated table lamp. It can be...
Durable, the table lamp with 3W LED, brass color shell made with...
Free replacement within 1 year, if the light not working in a...
This cordless and dimmable table lamp had a built-in touch sensor dimmer with three light colors, including warm white, yellow and white, short touch to change our light color. We bought this attractive lamp because it had a 10% to 100% brightness, which we adjusted by long-tapping the touch switch, making it easy to use.
Image Source: HAJINLU.com
The lampshade has a rechargeable built-in 2000mAh Li battery with a working time of approximately 4 hours at optimal brightness and 24 hours at minimum brightness when fully charged. It also had a type-c USB charge cable, and we could turn it on while charging. As a result, we used this LED light for bedroom without or with a power cord making it more convenient to use.
Its portability was excellent, and we could move around with it quickly. Due to its portability, we used it as our bedroom nightstand lighting, outdoor dining, and dining table mood lighting. Plus, we could use this small size for decorating our spaces and establishing a comfortable, light environment and atmosphere.
We did not worry when purchasing this lampshade. It had a free replacement within one year, and we just had to contact the seller to request a new replacement. The customer service was outstanding, and the team could respond within twenty-four hours after calling them
Factors to Consider When Choosing the Right Lamp for Your Bedroom
Image Source: lampsusa.com
The right lamp for your bedroom will fit well in your room, assist in developing a relaxing atmosphere that makes you sleep, and provide adequate brightness for your needs. Let's look at the various factors when purchasing a bedroom lamp.
1. Size of Your Bedroom
A smaller room will require a lamp without shades or with smaller shade. Lights with a shade require additional space and appear more attractive on bedside tables with sufficient surface area to prevent them from inching toward the edge. Note that a large bedside table lamp on a small surface in a tiny room appears out of place. Wall-mounting swing arm lights are the best for a small space.
2. Amount of Light Needed
Do you regularly read when in bed? Then consider a lamp that permits you to adjust its brightness to illuminate the screen or the page without much glare. Remember that excess brightness will tire your eyes quickly, while too little brightness will strain your eyes.
If you share your bed with another person who is disturbed by light easily, you must agree on a dimming function and adjustable shade. This will ensure that you finish reading and your partner gets to sleep early.
3. Mood
Remember that the bulb you select, your wall color, the location you choose for your shade, and the shade you utilize can impact the general atmosphere of your room. Positioning a lamp near the corner makes the room appear brighter by bouncing light off the ceiling and walls to minimize eye strain.
In addition, if you desire a relaxing hue, a soft white bulb within 2,700 to 3,000 K can work for you. More so, lighter-colored and white walls accentuate the brightness by reflecting the light. In contrast, dark-colored walls demand brighter bulbs because the walls absorb light for equal effect.
4. Durability and Quality
When choosing a bedroom lamp, consider the quality and durability of the lamp. Lamps made of glass last longer than plastic ones because they do not fade away. However, if you want a long-lasting lamp, you have to pay more.
Note that most good bedside lights can double desk lamps, table lamps, desk, and night lights. Furthermore, bedside lighting entails wall-mounted sconces and floor lamps.
Benefits of Using Table Lamps in Your Bedroom 
Image Source: letsrevamp.com
Using bedside lamps in your bedroom offers several benefits that contribute to a comfortable and functional sleep environment. Here are some advantages of incorporating bedside lamps into your bedroom decor:
1. Task Lighting
Bedside lamps are highly functional for performing various tasks in bed, such as reading, writing, or working on a laptop. They offer focused illumination in specific areas, such as your book or workspace, allowing you to engage in these activities comfortably without straining your eyes. Task lighting provided by bedside lamps is adjustable, allowing you to direct the light precisely where you need it.
2. Convenience and Accessibility
Having bedside lamps within arm's reach of your bed provides convenience and accessibility. You can easily turn them on or off without getting out of bed, which is especially beneficial during nighttime when you may need to navigate the room in low-light conditions. With bedside lamps, you can create a comfortable and hassle-free environment for nighttime routines, such as reading a few pages of a book before sleep.
3. Sleep-Friendly Environment
Bedside lamps contribute to establishing a sleep-friendly environment. Unlike natural light or bright overhead lights, which can disrupt your sleep-wake cycle, bedside lamps emit a softer and less stimulating light. This gentle illumination helps signal your body that it's time to wind down and prepares you for a restful night's sleep.
4. Decorative Element
Bedside lamps are not only functional but also add a decorative touch to your home. They come in various styles, designs, and materials, allowing you to choose lamps that complement your bedroom decor. Bedside lamps can serve as aesthetic focal points, enhancing the overall ambiance and creating a cohesive and inviting bedroom space.
5. Ambient Lighting
Bedside lamps provide soft and diffused lighting that creates a calming ambiance in your bedroom. Unlike harsh overhead lights, bedside lamps offer a warm and gentle glow, which promotes relaxation and aids in winding down before sleep. This type of lighting is particularly beneficial for creating a cozy atmosphere for reading or engaging in other calming activities.
Frequently Asked Questions on Best Bedside Lamps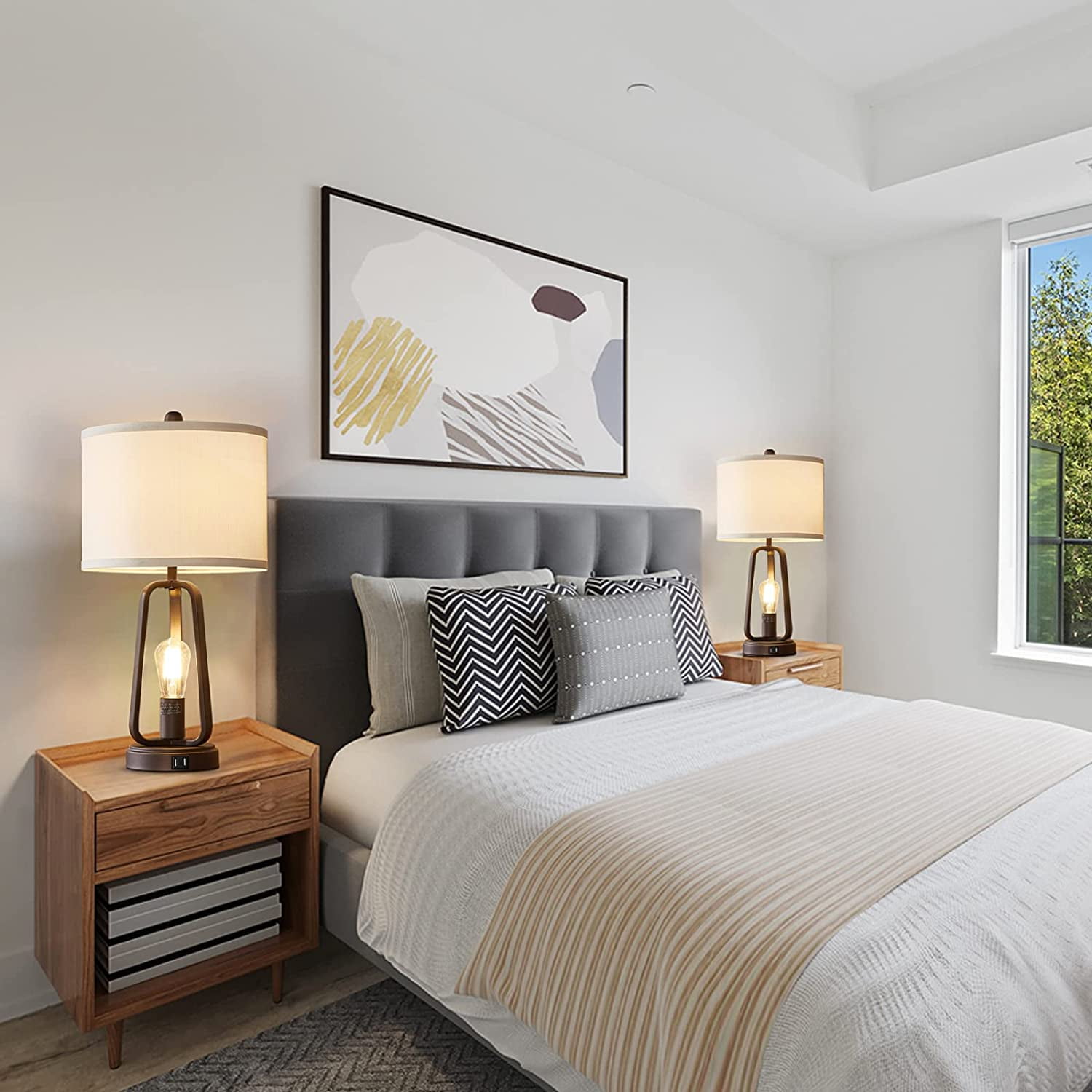 Image Source: walmartimages.com
1. How can you select a bedside lamp?
Select the bedside lamp that complements the decor of your bedroom. Find a functional and cohesive lamp with the room's aesthetic and consider the balance. Note that if the lamp is shorter and broader, you can go for a slightly bigger shade, and if it's tall and narrow, consider a lampshade that match.
More so, concentrate on the room you have for your lamp and ensure it sits in the middle of the nightstand with equal spaces on every side. Ensure that the bedside lamps match on every side to create harmony. 
2. Should I purchase a bedside lamp that is short or tall?
You can consider a lamp that is 28 and 32 inches high for your table lamp. Bear in mind that if the table lamp remains too broad and smaller than your bed and bedside, it will appear out of scale.
3. Which is the best light for a bedside lamp?
This will depend on individual preferences. However, most people consider the best bedside light as the table lamp that fits on the nightstand. The lamp should have an on-and-off easily reachable switch and a light-filtering shade.
4. What type of lamp is most appropriate for a bedroom?
The most appropriate lamps for your bedroom allow you to adjust and layer the lighting to develop the best ambiance. As a result, you can have various fixtures, including an overhead light with a dimmer switch, a pendant hanging in the corner, a floor lamp, and some bedside lamps on the nightstands. In addition, warmer light temperatures are more calming and easier on your eyes than bright white illumination, which is more stimulating.