Whether you're moving across the country or a few blocks down the street, finding high-quality, reasonably priced moving boxes is one of the most crucial elements in moving preparation. When searching for the best moving boxes, look for ones that are strong enough to withstand the jarring in a truck, will safely store the type of items you're moving, and are easy to label and track.
We looked at a number of solutions for different sorts of moves in order to find the best moving boxes. We reviewed some sturdy, easy-to-assemble, and reasonably priced boxes. Our top pick, Bankers Box SmoothMove Classic Moving Boxes, is perfect for all your moving needs, seeing that the boxes come in different sizes.
Our second-best choice is Cheap Cheap Medium Boxes are relatively affordable and only came in second because they are not suitable for heavy duty. The third option we selected is the Amazon Basics cardboard boxes, which are ideal for short-term and long-term use.
Is buying moving boxes worth it?
Image Source: homedepot-static.com
Yes, of course, moving boxes are worth purchasing.
Moving boxes stack neatly on a dolly and on the truck and are simpler to transport. They make it simple to store and move stuff; they facilitate the organization and separation of your belongings; and they offer protection from the bumps and bruises of moving things from point A to point B.
The more things you pack in boxes, the less "chowder"—the miscellaneous loose and oddly shaped items that must be transferred one at a time through slow truck packing—you'll have at the end.
Even though you might believe that any old cardboard box can suffice, it is highly recommended that you invest in the best moving boxes available. Here are some of the top options to consider while shopping:
1. Bankers Box SlmoothMove Classic Moving Boxes
Sale
Bankers Box SmoothMove Classic Moving Boxes, Tape-Free...
Fast Assembly: no tape is required, so you can quickly and easily...
Durable and Made in the USA: Double layered on sides and bottom...
Built In Handles: reinforced, easy carry handles make it simple...
Convenient lift-off lid: lid locks in place for secure storage...
Recyclable, Stackable, and Reusable: moving boxes are easy to...
The Bankers Box SmoothMove Classic Moving Boxes are a fantastic, all-purpose moving box that we highly recommend. They are big enough to fill a room and come in a set of 12.
The set we ordered came with 8 small 15-inch by 12-inch by 10-inch boxes that were perfect for compact, heavy items like kitchen platters or decor. It also had four medium boxes that were 18 inches by 15 inches by 14 inches, which were ideal for larger items such as pots, pans, and small home appliances.
Image Source: ubuy.co.in
Even better, the Bankers Box SmoothMove Classic Moving Boxes we bought included a lift-off top that fits snugly onto the box without the use of packing tape. We were particularly intrigued by the fact that, without the risk of adhesive damage, these moving and packing boxes became substantially more reusable than ordinary moving boxes.
Furthermore, the sides and bottom of the boxes were made of a double layer of corrugated cardboard, which indicated that they were heavy-duty boxes. They also included big cut-out handles on both sides of the box, which made lifting, carrying, and loading simpler.
2. Cheap Cheap Medium Boxes With Handles
Sale
Medium Moving Boxes with Handles Pack of 10 –...
SIZE: 18"L x 14"W x 12"H Medium Boxes for Moving
QUANTITY: Pack of 10 Medium Moving Boxes with Handles
ATTRIBUTES: Moving Boxes with Handles - Professional Grade &...
USE: This Pack of 10 Medium Moving Boxes with handles is our most...
BRAND: Cheap Cheap Moving Boxes - Trust Your Valuable Items in...
These are CHEAP! CHEAP! Moving boxes are our second favorite due to their affordability and sturdiness. The boxes we received arrived in a batch of 10, which was sufficient for a full room.
Image Source: 1800packratboxes.com
We had no trouble assembling the medium moving boxes, and we were able to tightly seal them with a strip of packing tape on the bottom and top. With the use of good tape, the Cheap Cheap Medium Boxes may support up to 65 pounds each, but in our view, box weights should be kept at or below 50 pounds.
We also discovered that these boxes work well in conjunction with other specialty boxes, such as a wardrobe box, to provide the ideal amount of storage for two bedrooms. Moreover, the boxes included large punch-out handles meant for lifting, transporting, and loading to make movement a bit simpler. The only downside was that these medium-sized boxes were not labeled, so we had to do our own labeling.
3. Amazon Basics Cardboard Boxes for Moving
If you are looking for the best moving boxes to cover all your moving needs, then Amazon Basics cardboard boxes are the best option. These boxes come in a pack of 30, which is ideal for packing up all your things depending on your needs. The moving boxes we purchased came in all sizes: large, small, and medium boxes, which made it convenient to pack light and heavy items.
We found that these cardboard boxes were appropriate for both long- and short-term storage. Also, they were ideal for packing and moving dry things such as electronics, files, and clothing. Furthermore, these heavy-duty boxes had a single-wall corrugated cardboard construction, which guaranteed their sturdiness and durability.
The Amazon Basics cardboard boxes also featured convenient pre-creased flaps that folded in for quick and easy assembly. However, we had to seal the boxes with high-quality packing tape to secure them for transport and moving.
4. uBoxes Large Moving Boxes
Sale
uBoxes Large Moving Boxes 20" x 20" x 15" (Pack of 8)
uBoxes Large moving boxes bundle Pack of 8
Made in USA Kraft Corrugated Large moving Box, high quality...
All comes in 1 bundled package with 8 boxes total
Bets solution for every day moves and shipping
Large boxes are great for packing items such as computers,...
If you are looking to move large but light items, uBoxes large boxes are more suitable for this purpose. We found that these large cardboard boxes were suitable for packing pots, pans, shoes, toys, and other household supplies, but they were better for clothes, comforters, blankets, and pillows.
Image Source: glasgowdrivingschools.com
The large boxes we ordered were made from professional-grade corrugated cardboard and can hold up to 65 pounds each. Again, the large boxes were easy to label with a marker, which made identification easy when we packed and unpacked our moving truck.
Besides, the cardboard boxes were easy to assemble since we only needed to secure them with tape at the bottom and top. Even better, the design and quality of each cardboard box were great, allowing us to store items for a longer period of time.
5. Bankers Box SmoothMove TV/Picture/Mirror Moving Boxes
Bankers Box SmoothMove TV/Picture/Mirror Moving Box,...
Ideal for up to 40" TVs, artwork, pictures, mirrors and other...
Wrap items with packing paper, bubble roll or foam roll for added...
Reusable and recyclable
Boxes constructed from strong 32 ECT C-Flute Kraft corrugated...
This item's packaging will indicate what is inside and cannot...
If you have items that need specialty boxes, such as TVs, portraits, artwork, or mirrors, then the Baker Box Smoothmove is the box to purchase. We found the Bankers Moving Box to be the best option for specialty items because of its durable construction, affordable prices, and labeling availability.
Image Source: .alimart.ae
The amazing bit is that the outside of the box was clearly labeled "Fragile," with arrows pointing up to designate the top, making it even more appropriate to carry fragile things. Additionally, the box was constructed from strong corrugated cardboard, making it more sturdy for our moves and storage requirements.
Besides, the box was extremely easy to put together; just flip it over and tape up the bottom as you would with any other packing box. Flip it back, and it's all ready for packing. That said, the box did not include packing paper or cushioning, which we highly recommend to protect your fragile items during your move.
6. U-Haul Glass Packing Kit for Glasses and Stemware
Glassware is among the most delicate items you must transport. You may use this package from UBoxes to pack your favorite glasses, mugs, and other delicate glassware safely. The package we bought included a frame that can hold seven regular wine glasses in addition to protective bags for each glass.
Image Source: lovemon.life
The fact that this box could be used with water glasses, highball glasses, and most other types of glasses intrigued us. However, we had to purchase two-pack boxes for our large glasses. Additionally, the U-Haul glass packing kit featured handles for easy lifting and accommodated 18 glasses, figurines, ornaments, or other small, fragile items.
Factors to Consider Before Purchasing the Best Moving Boxes
1. Size
Moving may be made simpler by having a variety of sizes of moving boxes. A variety of sizes makes it possible to properly pack various items into the right-sized box. If the box isn't the correct size, anything can be crammed into a too-small one or dumped into a bigger one, where the things might rattle and break.
Small moving boxes are perfect for organizing small, heavy items, such as a book collection. Dividing these products into little boxes keeps them from breaking or becoming too heavy to transport comfortably.

Medium or standard moving boxes are typically used the most during a full home move. These boxes, which tend to be 3 cubic feet in size, may hold a variety of non-small and dense objects as well as bulky and huge items, including plates, kitchenware, toys, and sporting equipment.

Large moving boxes and wardrobe moving boxes are designed for larger, lightweight items such as curtains, duvets, apparel, jackets, and pillows. Heavy objects like kitchen platters or decor shouldn't just be thrown into these large box sizes because doing so might cause them to shatter or make them very difficult to carry.
2. Amount
Your home's size and the volume of your planned relocation will determine how many boxes you need. The average household uses 10 to 12 boxes in each room. However, you might need more or less depending on the things you have in each room.
It's likely that as you get ready to move, you'll sift through your belongings and sell or donate a lot of what you don't want to take with you. This way, you could need fewer boxes than you anticipated. Plan for 10 to 12 people per room at first, then make adjustments.
3. Handles
Image Source: freepik.com
If the moving boxes have handles on them or are built into them, it may make them much simpler to pick up, carry, and load. Moving box handles are often merely tiny, rounded holes bored into the sides of the box, however, they can be attached to the box using glue or other materials. This easy, inexpensive design is one of the most reliable ways to make handles for cardboard boxes.
This is especially crucial to take into account if the box is medium or large and may be too huge and cumbersome to grasp securely and comfortably from the bottom. However, a hole in the box can also let smaller items fall out or expose the contents to moisture, dust, dirt, insects, and other pests. Therefore, packing valuable items, small items, or anything made of delicate fabric may not be best done with boxes with these handles. The best use of box handles is for moving larger objects, such as books, electronics, or exercise gear.
4. The Distance You're Moving
If you're moving to a new residence within driving distance, you may not need as many boxes; instead, you'll need smaller boxes to pack breakable items like glasses and kitchenware. If you're planning a long-distance relocation, you'll need a variety of boxes as well as packing materials like bubble wrap and foam peanuts.
You may also need to purchase or rent a moving dolly or hand truck to transfer your belongings from your automobile to your new house. Cardboard boxes are ideal for short-distance transfers since they are lightweight and affordable. Plastic boxes, on the other hand, are the finest solution for long-distance movers because they are light and typically watertight.
5. Labeling
Image Source: blog.unpakt.com
One of the crucial procedures in packing a house is labeling the contents of the boxes so that everything can be discovered and put away as fast as possible. Moving boxes may already have labels on them or may need to be labeled using an ink pen or stick-on label. The selected labeling method should be simple to utilize for everyone involved in packing and unloading.
The color of the boxes can also be determined by the room in the house. Each box may be identified and transferred immediately to the designated room by being marked with a marker or a piece of colored tape.
6. Build Matters
Finding the best cardboard boxes for moving houses depends in part on how the box is constructed. Finding moving boxes that flatten down into conveniently stackable structures can save space in addition to ensuring that they can be stored and used again in the future.
To make them simpler to organize, pack, and transport, you may also seek moving boxes with handles or checkboxes, package labels, and other design characteristics.
7. Stackability
Stackability is a crucial factor to take into account when choosing the best moving boxes. The boxes must be strong enough to withstand the weight of both their contents and the weight of the boxes placed on top of them without causing damage to the lid, sides, bottom, or any other portion of the box.
All boxes should ideally weigh no more than 50 pounds. They are thus quite simple to transport, load, and unload. The strategy for how the boxes will be stacked is also made easier by knowing the maximum weight for each. Even if they are little, heavier boxes should be put on the bottom to serve as a basis so that they won't harm the lighter objects. You shouldn't stack moving boxes that are mainly empty, overcrowded, crooked, or distorted.
8. Additional Moving Supplies are required.
If you're buying moving boxes, you'll probably need to add other essential moving supplies, such as packing tape, to your basket because most boxes need it to keep them shut. To strengthen the box at its seams, if you purchase a subpar box, you might need to use more packing tape than anticipated. A dolly or hand truck, as well as supplies to cushion the contents of the box with, such as bubble wrap, packing paper, or styrofoam, are possible additional resources you'll want. Considering all of these expenses, buying a packing kit can be the most affordable and convenient choice.
How to Pack Boxes for Moving
Image Source: pods.com
1. Gather the necessary packing supplies.
First and foremost, get the best moving boxes. There may be a temptation to omit this action. After all, why spend additional money when you can gather some cardboard scraps from your workplace or the neighborhood grocery store? However, the truth is that fragile items should only be moved and stored in moving boxes.
They will be more dependable while carrying your possessions in a moving truck or storing them in a storage facility because they are significantly more durable than other moving materials available on the market. Used, worn-out crates are more likely to collapse and may even be infested with unpleasant bugs.
2. Sort items by category.
Group goods that are similar in size and weight before packing. For instance, you may group all of your favorite tiny trinkets when packing your bedroom, your video gaming peripherals when organizing your entertainment space, and your drinkware when packing the kitchen. Because most of the items you pack in a single moving box will be similar in size, shape, and weight, this method makes packing straightforward. Additionally, it makes unpacking much easier when everything that belongs in one room or area of the house is already assembled.
3. Fill the moving box.
Image Source: realsimple.com
When packing non-fragile items inside a moving box, you can truly maximize every square inch. If stacked boxes are not properly filled, they risk collapsing. Fill any vacant spaces with smaller, non-breaking items to keep the box from becoming too heavy. Use extra packing material if required to ensure that each box is tightly packed before sealing it. Make sure there are at least two inches of packing material on all sides of fragile items.
It's crucial to remember that the weight of your moving boxes shouldn't exceed 30 pounds. Use small or medium-sized cartons for heavy objects like books to satisfy this weight restriction without overfilling or underfilling. Use substantial cardboard cartons for heavier things.
4. Seal and label each box.
Seal each moving box with sturdy packing tape once you've finished packing it. Wrap the tape around the flaps of the box's top. Next, apply another piece of tape against the flaps across the top of the box. By keeping the moving box from collapsing as it is stacked, this sealing technique helps safeguard the contents.
Last but not least, clearly indicate the room and contents of each box. In addition to assisting you, labeling can help your movers be more productive, which might help you save money!
Frequently Asked Questions About the Best Moving Boxes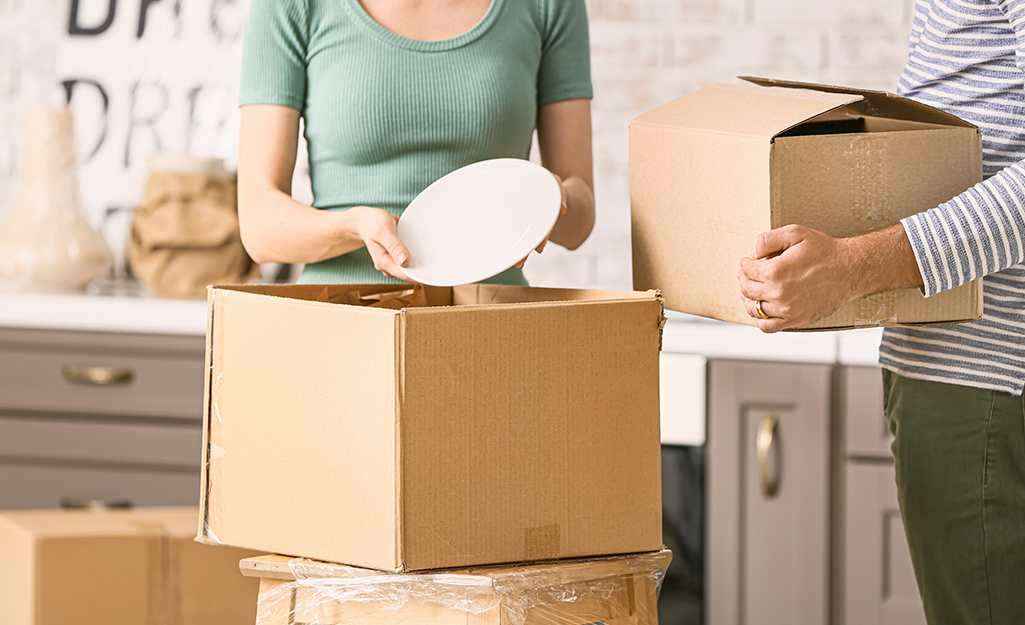 Image Source: homedepot-static.com
1. How many times can you use moving boxes?
The number of times a box may be utilized is unlimited. On the contrary, how you handle and care for a moving box before, after, and during the moving process will determine how many times it can be used in total. If a box is jostled, improperly packed, twisted, deformed, or broken and maintained in a moist, high-humidity environment, one move may be all that it can withstand.
But if you carefully pack your items into moving boxes that have the right size and strength for the contents, load them correctly to prevent movement during the journey, and then store them safely in a dry place, you might be able to reuse the boxes in the future.
2. What is the average number of boxes needed for a move?
Per room, you'll typically need 10 small, 8 medium, and 5 large packing boxes. Naturally, this is just an estimate given that rooms may vary greatly in terms of size and contents. Below is a list of how many boxes are typically required for each room:
Kitchen: Typically, you'll need 2-4 small boxes, 5–6 medium boxes, 4 big boxes, 2 extra-large boxes, and 4-6 dish barrel boxes to pack up a kitchen this size.

Living room: Packing up your living room should be easy unless it doubles as a little library or museum. 4–6 tiny boxes, 3–4 medium boxes, 2–4 large boxes, and 2 really huge boxes

Bedrooms: Generally, you should have 1-3 small boxes, 5-8 big boxes, 5-8 medium boxes, and 4-6 wardrobe boxes on hand. The number of boxes you need to move your bedroom depends on the size of your closet as well, so adjust the quantity to accommodate your clothing.

Dining Area: You need to have 1-2 tiny packing boxes, 1-2 medium boxes, and 2-4 dish barrel boxes to fill the entire area.

Bathroom: You could just need a few tiny packing boxes and a medium-sized box, depending on your bathroom.
Also, get cardboard boxes in case you need to remove stuff from the garage, laundry room, attic, or basement. You don't want to run out and buy specialized crates to transport your china and art.
3. What are the best places to buy moving boxes?
Online stores like Amazon are typically the best and cheapest places to buy moving boxes. The boxes will be sent to you if you make an online purchase. However, you can easily purchase moving boxes at your local retail store. The most expensive option can be purchasing boxes from a moving firm, but it is also the most practical.