Gone must be the days when any type of pillow would do for you. As we grow older, we tend to become more selective on the kind of pillow we need for a good night's rest. After all, there's nothing worse than struggling to fall asleep, discomfort when sleeping or to wake up feeling lethargic; with aches and neck pain in the worst-case scenario.
Most people take time to pick out the best mattress for them. A pillow equally deserves the same level of attention, since it has a significant effect on the quality of your sleep. There are several options on the market, even for pillows meant for back sleepers. It then becomes prudent to do a bit of research before you get to buying one.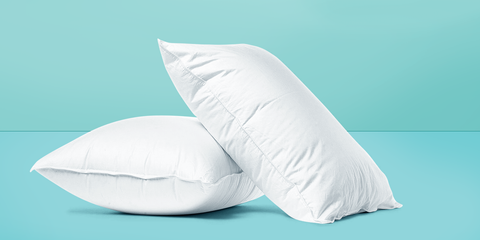 Like mattresses, some pillows are more effective for back sleepers than others. Typically, back sleepers need pillows with a mid-range loft, higher than stomach sleepers' pillows but lower than side sleepers'.
The best pillow for back sleepers should always focus on supporting spinal alignment as opposed to sinking your head in too low or craning your neck up too high.
If you are looking to drastically improve the quality of your sleep, check out our list of ideal choices for the best pillows for back sleepers.
1. GhostBed Shredded Memory Foam Pillow
This pillow is designed for a broad range of sleeping positions but works remarkably well for back sleepers. It's a gel memory foam with a healthy thickness that holds your head quite neatly.
The Ghostbed pillow consists of 4 layers:
A removable and washable first layer: Helps with cooling.
Second layer: The support core that offers impeccable support without impeding the flow of air.
Third layer: A phase change material that adjusts to your body temperature, keeping you warmed up during winter, as well as to keep you cool in the summer.
Fourth layer: Aerated mesh cover that improves the flow of air.
2. Coop Home Goods Premium Bamboo Adjustable Pillow
Coop Home Goods - Eden Adjustable Pillow -...
LOOK NO FURTHER, HOT SLEEPERS - Your search for the perfect...
FULLY ADJUSTABLE, YOU ARE IN CONTROL – Experiencing pain,...
IS YOUR PILLOW GREEN GUARD GOLD CERTIFIED? – Our Coop Home...
WE CARE – ONLY THE HIGHEST QUALITY MATERIALS USED! - The case...
YOUR BEST SLEEP EVER, GUARANTEED - You can now purchase with...
This adjustable pillow is ideal for medium-firm support since it is stuffed with both memory foam and microfibers. It has an excellent balance between support and softness, which provides optimal comfort for back sleepers. With this pillow, tossing and turning in your sleep is incredibly minimal.
The Coop Home Goods pillow sides can be opened to add or remove filling so that you can find the ideal level of support and height that suits your preference. Furthermore, the soft cover-made from breathable polyester and viscose rayon from bamboo- is hypoallergenic and prevents dust mites as well.
3. Snuggle-Pedic Supreme Plush Gel-Infused Pillow
Sale
Snuggle-Pedic Adjustable Gel-Infused Shredded Memory...
Adjustable: Find your perfect match with our bed pillow that...
GreenGuard Gold Certified: Rest easy knowing our long pillows for...
Memory Foam: This gel-infused shredded memory foam pillow is what...
Kool-Flow Tech: Just when you thought this pillow couldn't get...
USA Made: Our pillow collection is super durable, built for...
This is one of the best pressure relief pillows on the market for back sleepers. Created by an actual medical doctor, this pillow is made of gel memory foam. This means that the pillow conforms to any position automatically.
The outer cover-made of soft bamboo- is removable, hence you can change the amount of filling as you wish. Its Kool-Flow technology ensures that it doesn't hinder breathing at all. The cover is also machine washable.
Since the foam is CertiPur and Biogreen certified, this makes it one of the most eco-friendly options on this list.
4. SORMAG Adjustable Shredded Memory Foam Pillow
SORMAG Memory Foam Pillows, Shredded Adjustable Loft...
ALLEVIATE COMMON SLEEPING AILMENTS: SORMAG shredded memory foam...
THE BEST PILLOW FOR YOU: Unlike a solid memory foam fill, the...
PREMIUM MEMORY FOAM FILLING: Filled with high quality shredded...
BREATHABLE OUTER COVER: These 2 pack queen size bed pillows are...
THERE'S MORE: The simple but classic pattern design gives this...
This is an ergonomically designed pillow for back sleepers. It offers plenty of support for your head, neck and back which leads to extended and quality sleep. The soft foam, which is CertiPur-US certified is great at molding to the shape of your neck and you never have to fret about the pillow flattening.
The bamboo fiber used in making the cover makes this pillow remarkably comfortable and optimal at cooling as well.
5. Bedstory Down Alternative Pillow
BedStory Pillows for Sleeping 2 Pack, Hotel Quality Bed...
☁️CLOUD-LIKE EXPERIENCE: BedStory hotel luxury pillows come...
????️SUPPORTIVE COMFORT: With this bed pillow, you can feel...
????SKIN FRIENDLY: Filled with down alternative fibers, this...
✅MACHINE WASHABLE PILLOW: The stain-resistant pillows are easy...
✅WHAT YOU GET: BedStory 2 Pack queen size pillows 20 x 30...
If there is a pillow that has been adeptly designed for back sleepers, then this is it. This pillow comes with a precise ratio of materials that ensure your head is always well-balanced and your spine is well-supported.
This pillow contains fluffy down alternative foam that hardly ever flattens. You also don't have to worry about chemicals, which also makes this pillow allergen-free.
The cover is breathable and machine washable, making this an easy to maintain pillow for back sleepers.
What Should You Consider When Buying the Best Pillow for Back Sleepers
1. Support
The best pillows for back sleepers should maintain your head and neck intact, as opposed to letting them sink in towards the mattress. Support is usually a combination of the material used to make the pillow, its loft and level of firmness.
2. Material
The material used in a pillow heavily influences the support and comfort you can get from it. Ideally, you should look out for a pillow that is reasonably thick and firm to support your head and neck comfortably throughout the night. In which case, feather pillows might not be particularly suitable for a back sleeper, since they tend to sink in and remain so.
3. Loft
Loft refers to the pillow's ability to maintain its thickness without any weight on top. For back sleepers, medium-loft pillows, 3 t0 5 inches thick, are the most appropriate. This amount of loft is sufficient to maintain the alignment of your spine when you are lying down or sleeping.
That said, you can always look for a pillow that has an adjustable loft for optimal comfort when you sleep on your back.
4. Moldability
This entails how the pillow shapes once you place your head and neck on top, while still maintaining its form. Therefore, back sleepers best pillows should mold into your body shape easily, forming snugly around your head and neck. This provides a user-specific level of comfort and support.
It is also worth noting that moldability is key for memory foam pillows. It allows the pillow to conform back to its original shape once the weight on top is lifted.
5. Level of Firmness
This is determined by the density of the material used. A pillow's firmness has great impact on your spinal alignment. It is typically recommended to get a pillow that aligns your neck with the rest of your body neatly. In such a way that that your neck does not prop too far up or sink too far down.
6. Pressure Relief
Pressure relief in a pillow hinges on its firmness and loft. This is achieved by the pillow distributing the weight on top evenly. If this not attained, it might lead to pressure points that can gradually cause discomfort and pain.
7. Price
The cost of pillows varies quite vastly. The price is mainly determined by the materials used, as well as its construction. On the current market, latex pillows tend to be more costly than memory foam ones. As you would expect, the best pillows for back sleeping might cost a pretty penny, but most of them are not ridiculously expensive. Furthermore, it is always value for money considering you're investing on your health.
Benefits of the Back Sleeping
In comparison to side and stomach sleepers, sleeping on your back offers a healthier experience for your spinal alignment. The best pillows for back sleepers are ideal for maintaining the natural curvature of your spine, while also holding up your head, neck, chest, back and shoulders properly. This helps to prevent discomfort, strain or muscle aches during and after sleep.
With a well-aligned spine, hence a comfortable sleep, you are unlikely to suffer from any back or neck pain. In the event that you do experience some of these adverse effects, a back pillow can help you to alleviate much of the pain and discomfort. It has also been reported that a fitting back sleeper pillow can help to reduce some symptoms of sleep apnea.
Tips for Back Sleepers
Choosing the right type of pillow does not necessarily imply better sleep quality. Other factors come into play as far as getting good rest at night goes. With the following tips, plus a suitable pillow for back sleepers, you should greatly increase your chances of getting a good night's sleep.
Get the right mattress - The most ideal option for a people who sleep on their back is usually a medium-firm mattress as it offers sufficient lumbar support, thus reducing the likelihood of lower back pain. However, your weight ultimately determines the ideal level of firmness that supports and feels good on your body.
Use a support pillow under your knees - This should be a small pillow that helps to maintain your back's natural curvature and minimizes pressure points.
Eat light before bed - This is especially for people who have acid reflux, where sleeping on your back is a risk factor. If you won't have a light dinner, then consider eating at least 4 hours before you go to bed.


Frequently Asked Questions about Pillows for Back Sleepers
1. How common is back sleeping?
Experts in this field guesstimate that only around 10% of people are back sleepers. This might actually be a tad shocking when you consider sleeping on your back is arguably one of the healthiest and most recommended sleeping positions. This position maintains your body in a neutral position that doesn't cause unwanted pressure points, hence no aches and pains over time.
2. What is the most vital aspect to consider for a back sleeper pillow?
In our substantially informed opinion, loft should be the most significant element to consider when looking out for the ideal pillow for a back sleeper. Medium loft is always a good place to start since the pillow is not too flat so as to tilt your head back or apply pressure on your neck and spine. On the other hand, a thick pillow would also end up arching your head too far up.
3. What is the worst pillow I could use as a back sleeper?
One that has an unsuitable loft. As mentioned earlier, the level of loft in your pillow is what determines whether it puts pressure on your head and neck. While there is hardly one type of pillow that fits all back sleepers, it is also important to look at the material. This affects how it feels on your skin, which is ultimately up to your preferences.
4. Is sleeping on the back healthy for pregnant women?
It depends. A pregnant woman will be just fine sleeping on their back in the first trimester. However, medical professionals advise against this sleep position in the second and third trimesters. It is highly recommended that they should sleep on their left side.
Pregnant women who sleep on their backs should get a body or pregnancy pillow that helps them to learn the side sleep position. These are immensely helpful in minimizing tension on the hips and lower back.
Bottom Line
Sleeping on your back is generally considered to be one of the healthiest sleeping positions. Nevertheless, you must still keep in mind that your pillow can hugely affect your everyday-or night-sleep, particularly support and comfort.
Since you spend a third of your day sleeping, you might as well go the extra mile to find a pillow that doesn't compromise your health. In which case, the best pillows for back sleepers should always conform to how your neck and back curve naturally and still provide maximum comfort for a restful sleep.