In interior design, colors are the silent narrators of our stories; they impact our mental health and are the tangible expressions of our spirit, emotions, and individuality, especially within the confines of our bedrooms. The colors you choose create a symphony of emotions, reflecting your unique persona and setting the mood for relaxation, rejuvenation, or even romance. Are you looking for the best bedroom colors for your next remodel?
We've rounded up 50 of the most meticulous ideas you can consider. So, what colors are good for a bedroom? Let's discover them below!
1. Charcoal Gray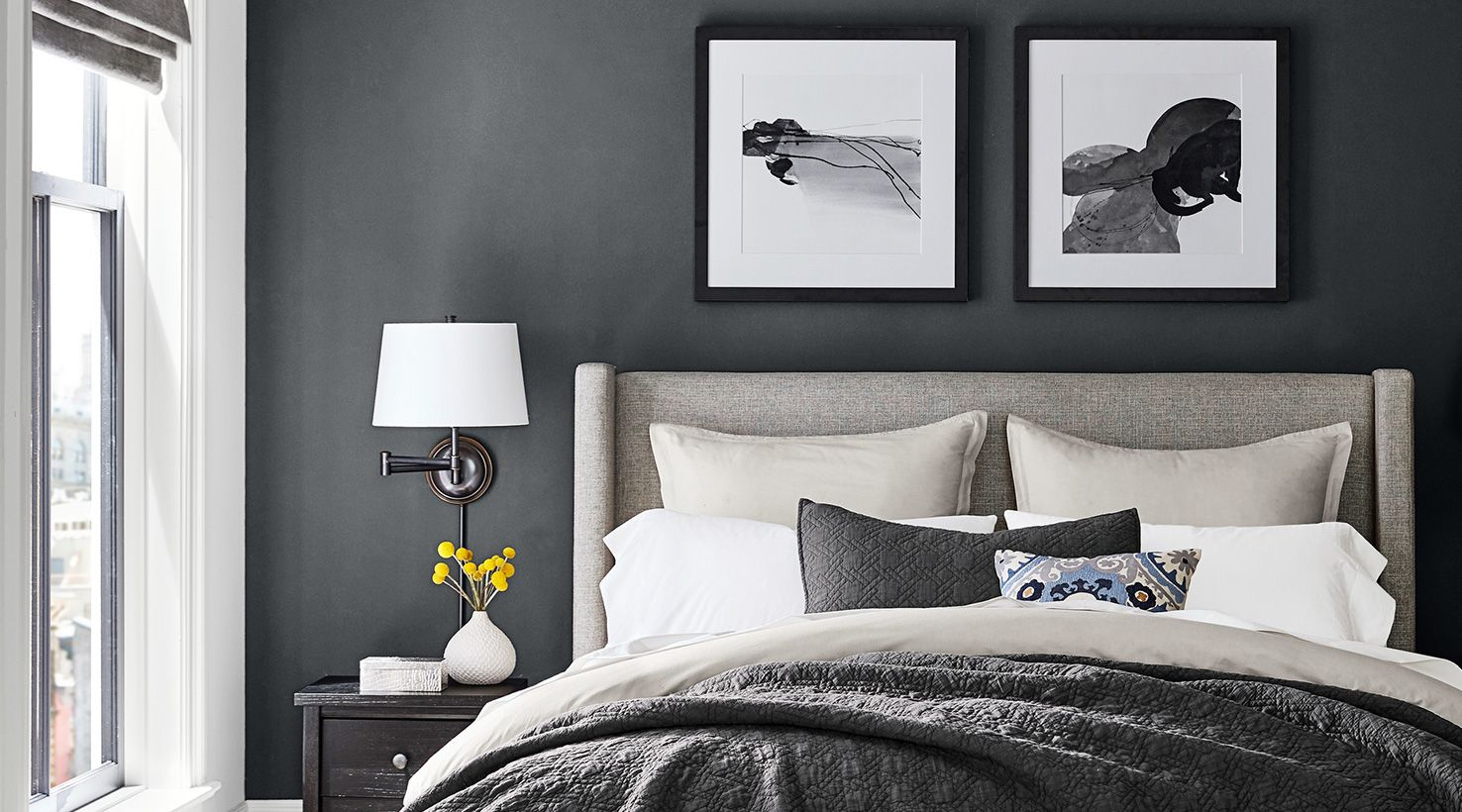 Image Credits: pinterest.com
Can you reimagine your bedroom with a sophisticated and modern look, as depicted in this image? Paint an accent wall in charcoal gray, lending depth and character to your space. Then, soften the bold backdrop with cream bedding and a gray throw blanket for warmth and texture.
For balance and modernity, incorporate sleek elements such as a black bedside table and a white lampshade. Lastly, personalize the room with black-framed art on the wall, adding a creative touch to this stylish retreat.
2. Light Pink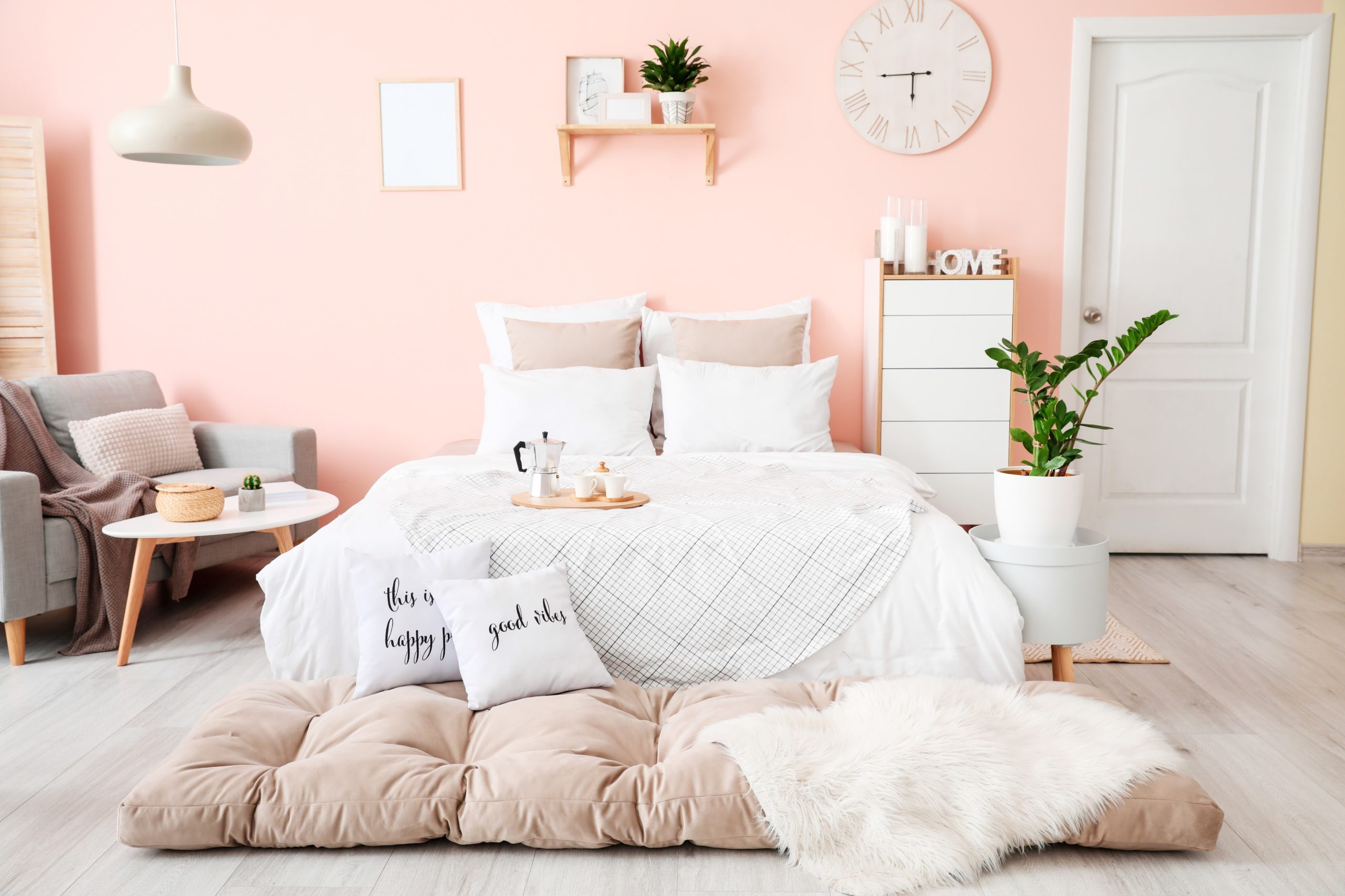 Image Credits: fadedspring.co.uk
A soft whisper in a quiet room, light pink nudges feelings of comfort and calm. It is the perfect color for a bedroom, whether a little girl's fairy-tale retreat or a woman's chic boudoir. Paint your wall in this lovely color and see how it reflects the natural light, especially when paired with white bedding.
3. Yellow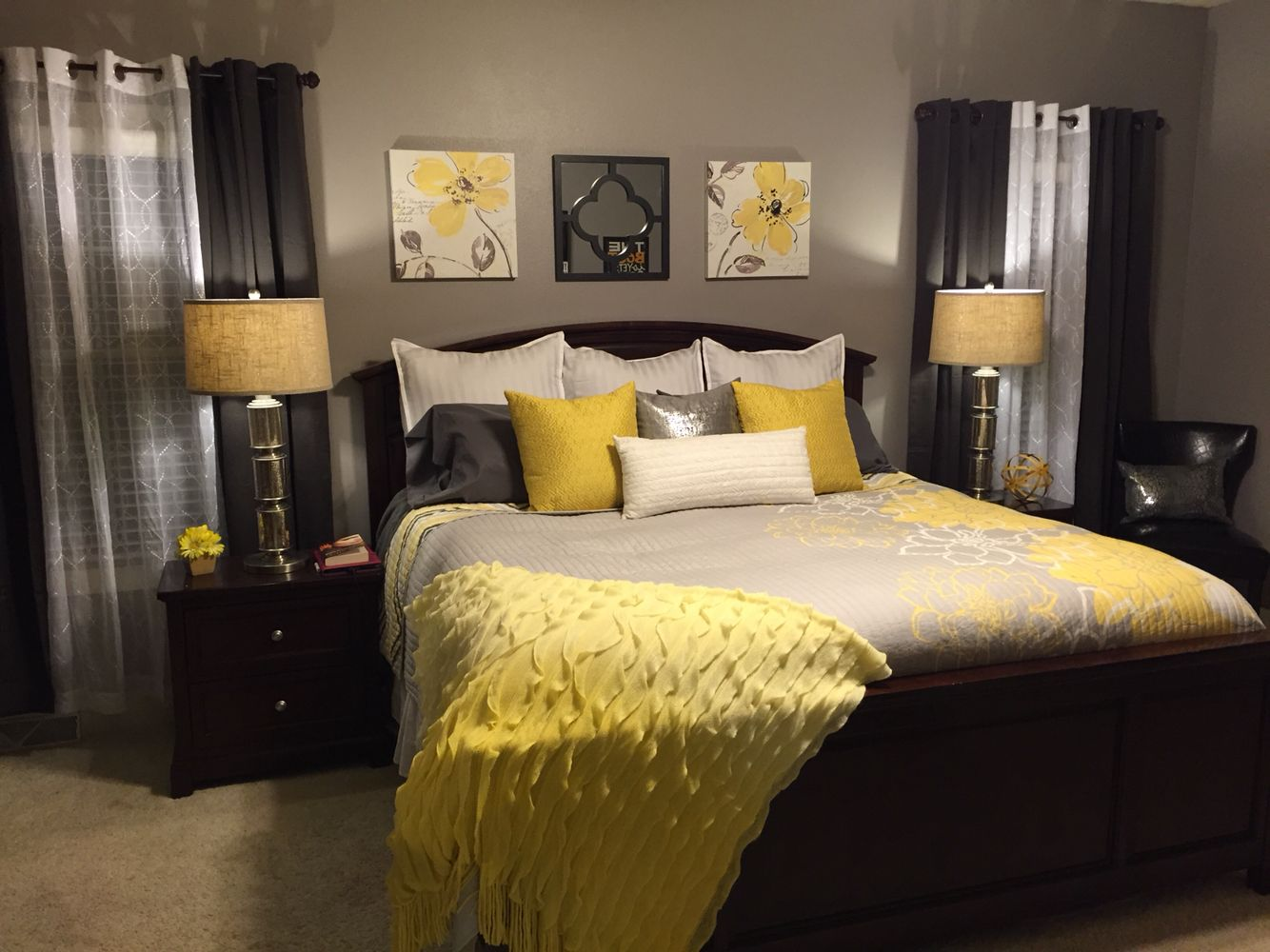 Image Credits: pinterest.com
The bedroom above is exquisite, right? You can also create one like that and create a room that exudes energy and positivity with the cheerful hue of yellow. Begin with bedding that features hints of yellow, from the duvet cover to the pillowcases, each element subtly introducing the color into the space. The black accents throughout the room provide a dramatic contrast, making the yellow pop.
Don't forget the art. A piece of yellow-themed art can serve as a stylish statement, tying the color scheme together while adding a personal touch.
4. Navy Blue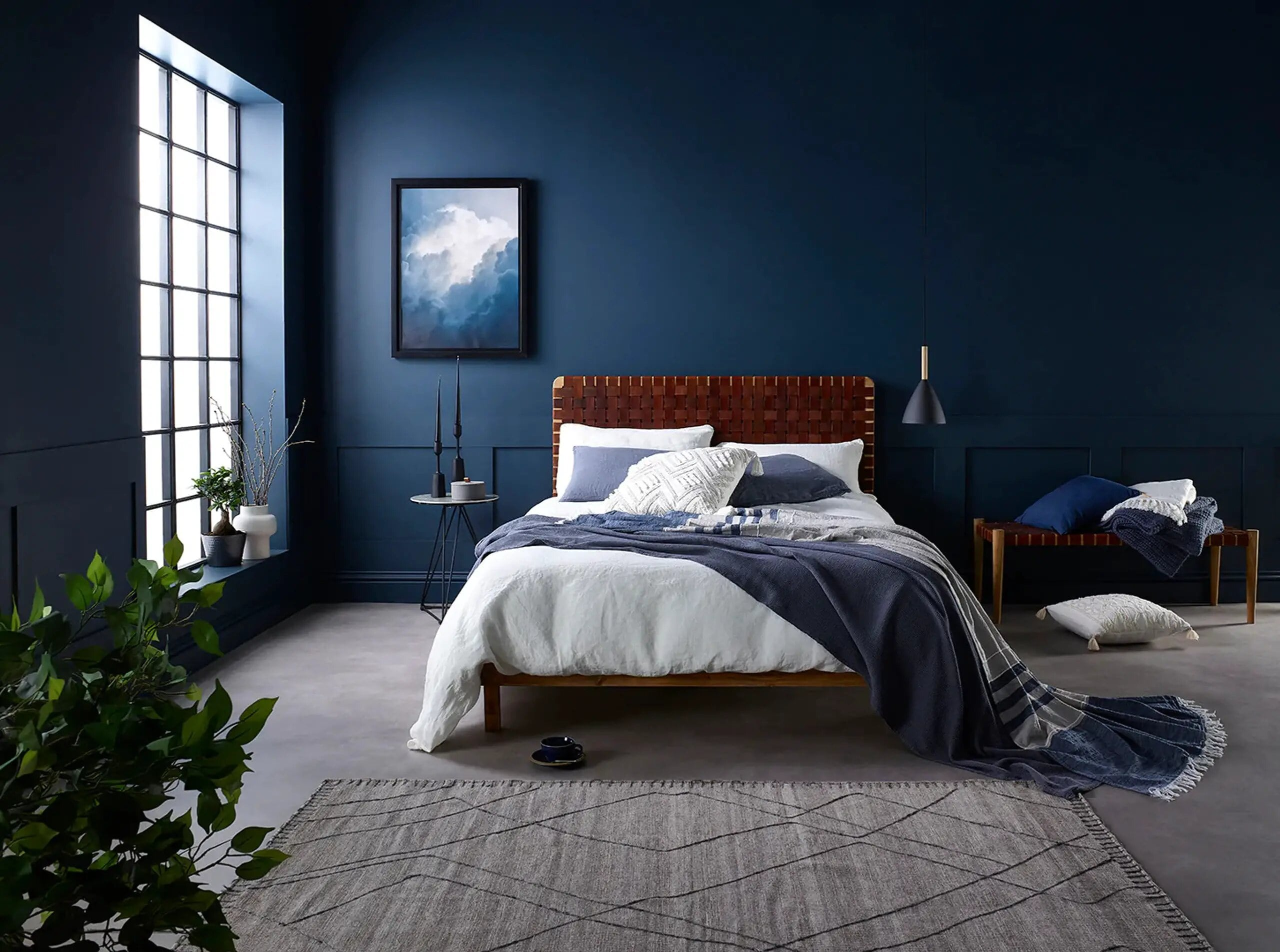 Image Credits: aspectwallart.com
Navy Blue is an impeccable pick when it comes to bedroom paint colors. This rich color, brimming with serenity and sophistication, is ideal for anyone desiring a luxurious space. 
Incorporating navy blue into your bedroom can start with bedroom walls: you can even paint a single accent wall in this color for a focal point that draws the eye and guides the room. For a touch of extravagance, pair navy blue bedding with white pieces for a nautical-inspired look.
5. Silver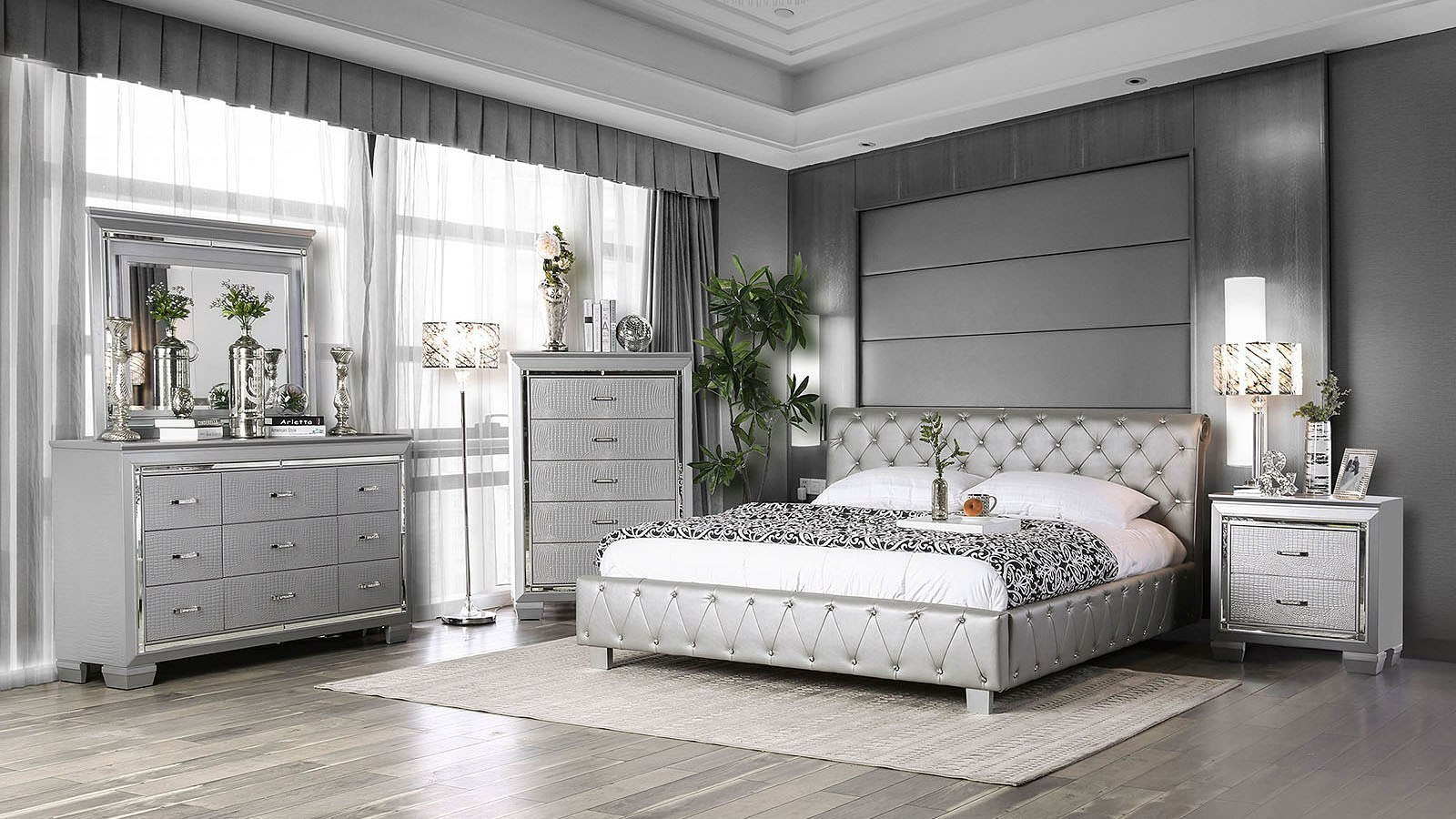 Image Credits: furniturepick.com
Silver shimmers between relaxed elegance and warm comfort, making it a stunning choice for your bedroom. Silver for your bedroom is a canvas that allows your creativity to shine, making it an awesome preference for anyone, from the minimalist lover to the daring design enthusiast.
Like in the image above, silver accents and decor will stand out as the light changes throughout the day, where the light will subtly shift, reflecting the hues around them and adding a dynamic element to your space.
6. Light Blue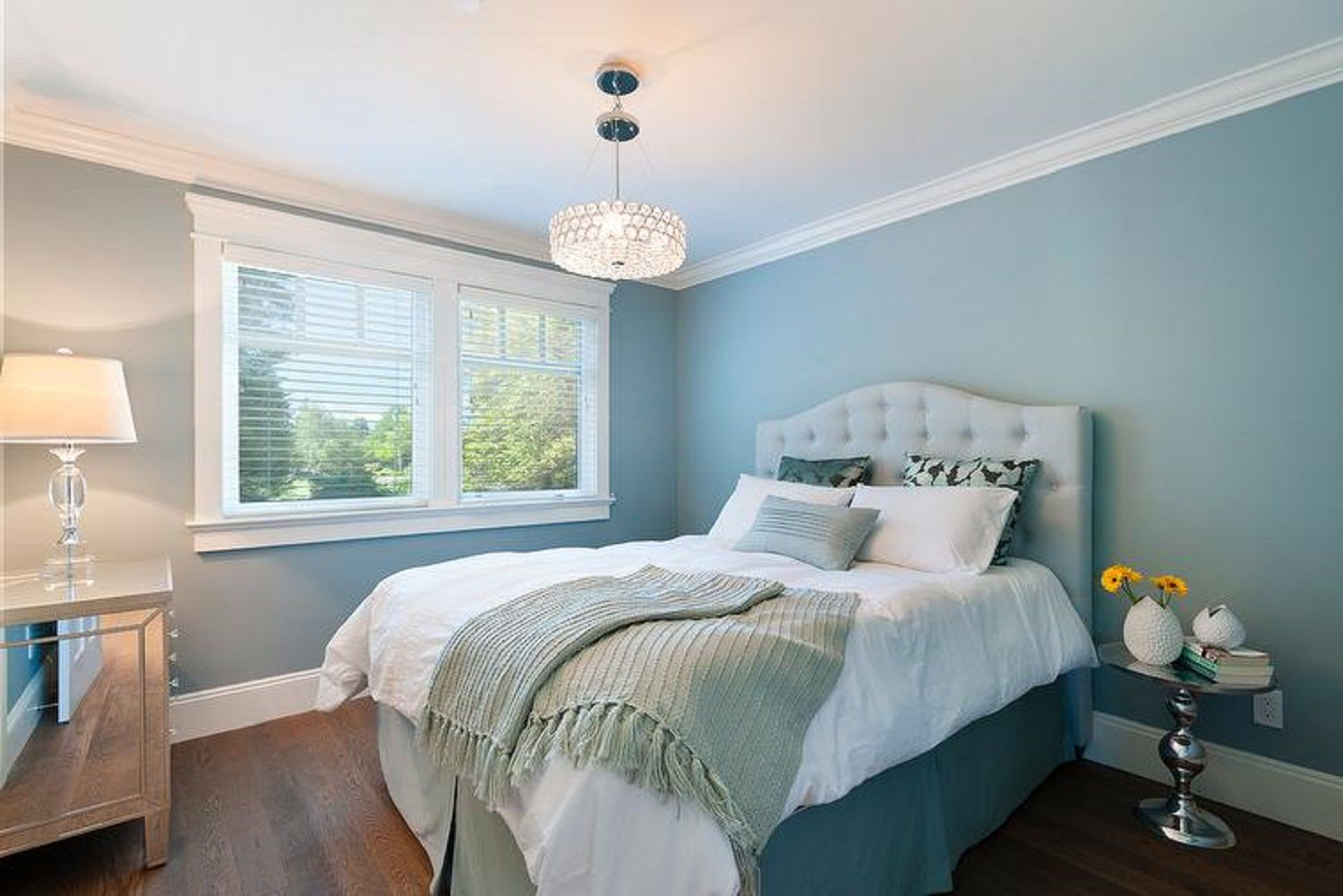 Image Credits: thespruce.com
For a serene and inviting bedroom aesthetic, adopt a light blue theme. Begin with painting your walls a gentle light blue that effortlessly evokes calm and tranquility. This soft shade is a delightful backdrop, balancing perfectly with cream or white bedding to blend cool and warm tones. This subtle yet impactful combination can redefine your space, offering a haven of cozy comfort and modern refinement.
7. Rose Gold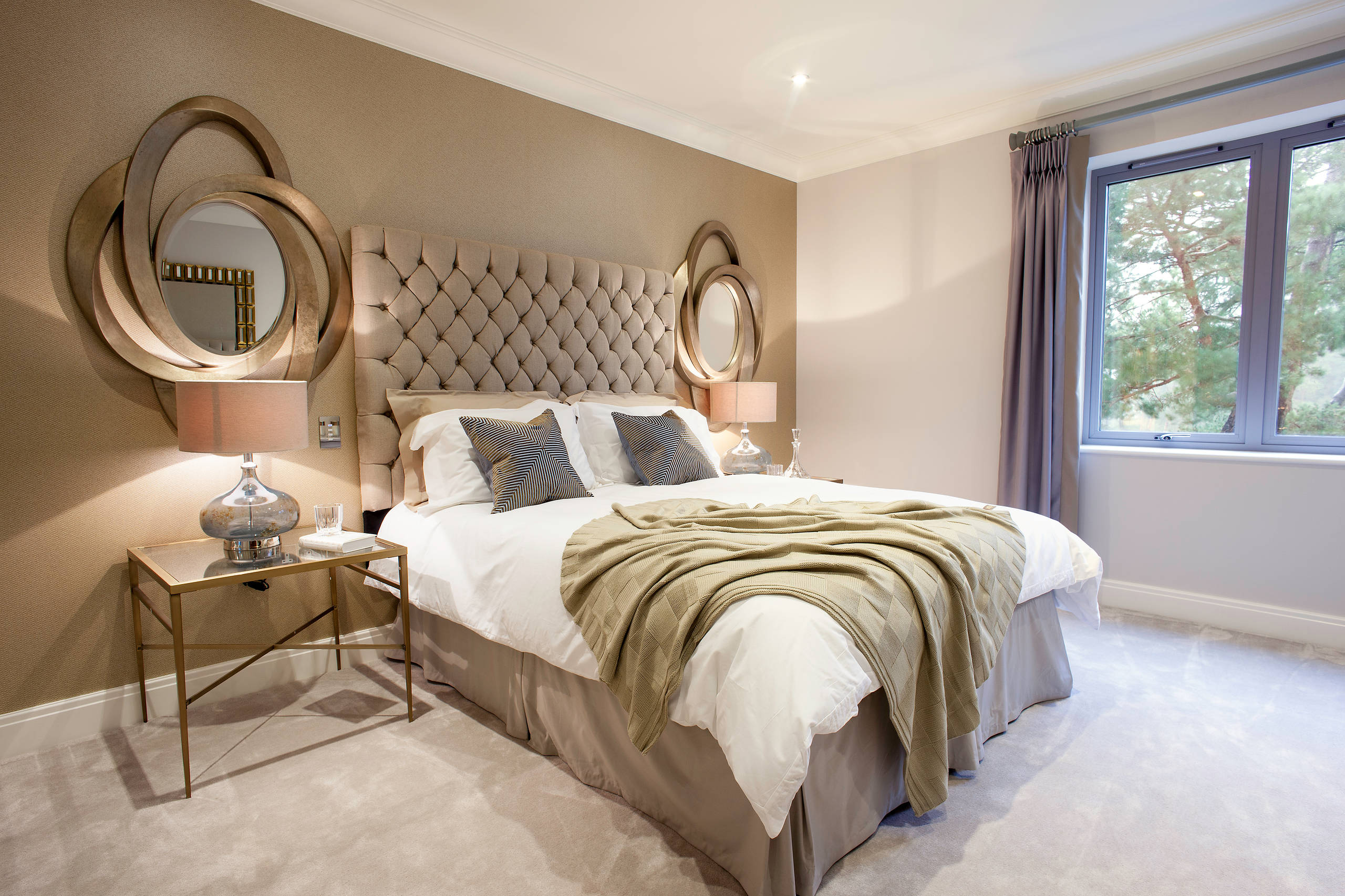 Image Credits: houzz.com
Rose gold is a beautiful blend of warm pink and lustrous gold, a color that'll fit well in any bedroom. It exudes a sense of luxury and warmth, making it an ideal choice for a master bedroom.
You can use rose gold in your bedroom with stylish rose gold lamps. But, for it to shine, complement it with clean and neutral colors – the image above shows how well gold accents complement rose gold.
8. Burnt Orange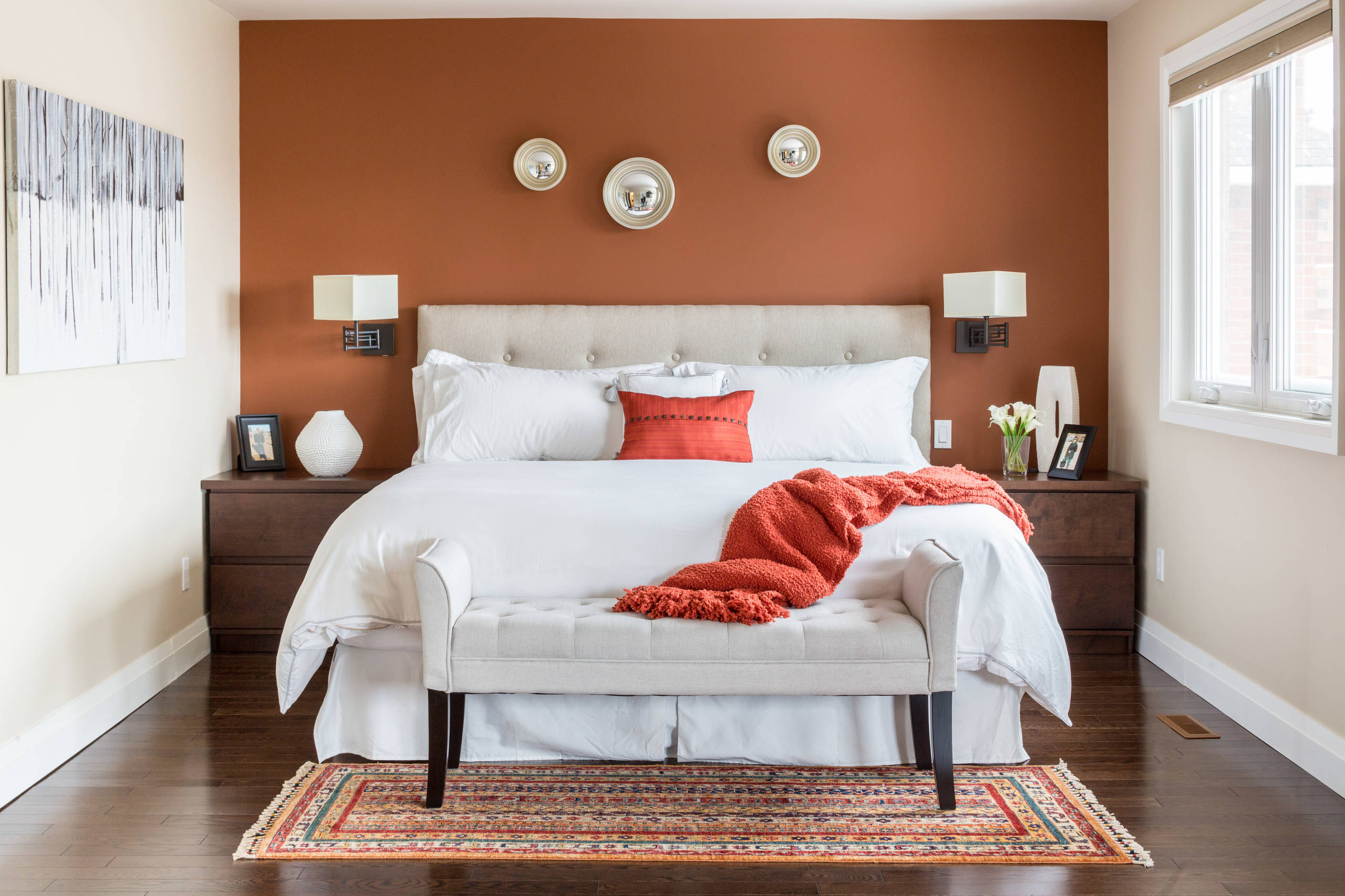 Image Credits: houzz.com
Burnt orange is a vibrant color that captures the essence of the rising sun to create a warm, calm, and cozy bedroom. A bedroom wall painted in this rich, earthy tone can create a soothing setting, perfect for relaxation and deep, restful sleep.
While it is one of the best bedroom paint colors, burnt orange looks better with softer hues, primarily through accents and decor pieces. Consider pairing it with a warm cream or a deep brown for harmonious balance. You can also opt for accents in the same color to create a monochromatic look that's modern and bold.
9. White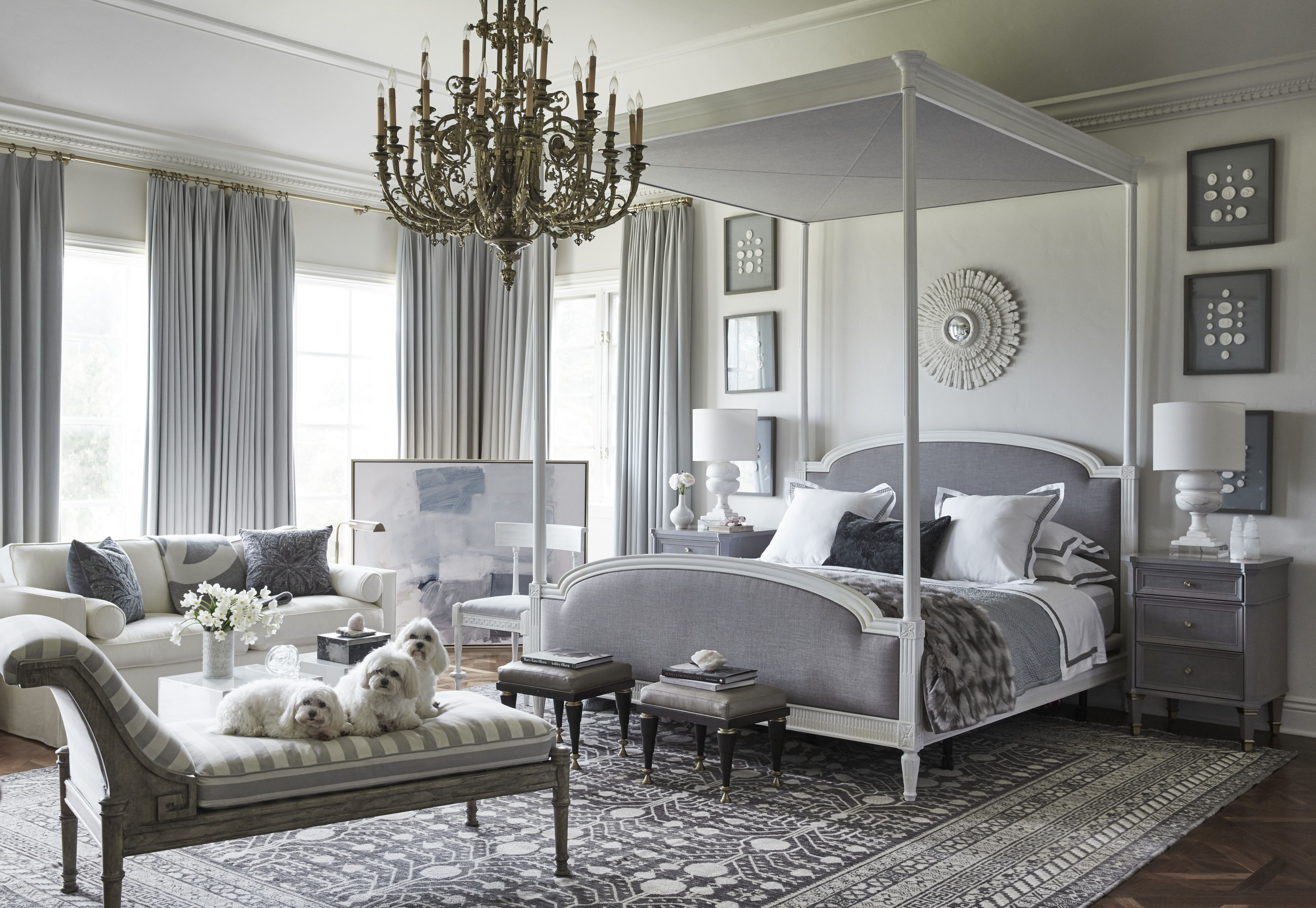 Image Credits: veranda.com
White is associated with purity and tranquillity – a timeless choice when selecting a paint color for your bedroom. It exudes a sense of calm, creating an environment that feels clean, spacious, and serene and makes for the perfect choice when you need a black canvas to showcase your style.
You can use this color in many ways, from white walls that perfectly reflect natural light to white furniture and bedding for harmony and balance. Complement white with a darker shade for dramatic contrast, as in the bedroom above.
10. Black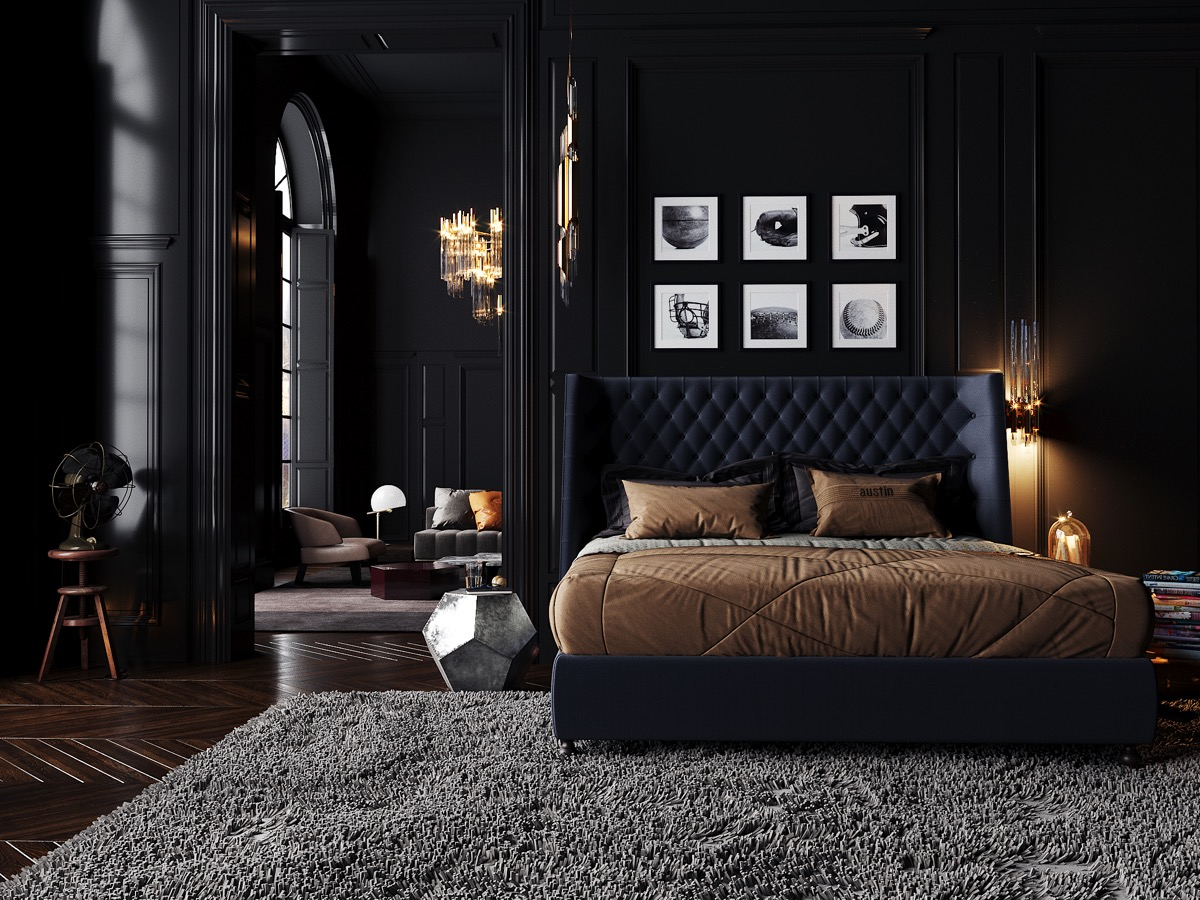 Image Credits: pinterest.com
If you want to design the ultimate man cave, think bold, and daring – consider a black theme. Picture this: black walls, a potent color choice that commands attention and exudes sophistication!
Now, add a plush gray carpet underfoot, which provides a soft and luxurious feel and brings balance to the room with its neutral, calming tones. The pièce de résistance? Gold bedding. This vibrant touch contrasts the theme, adding a layer of luxury.
11. Forest Green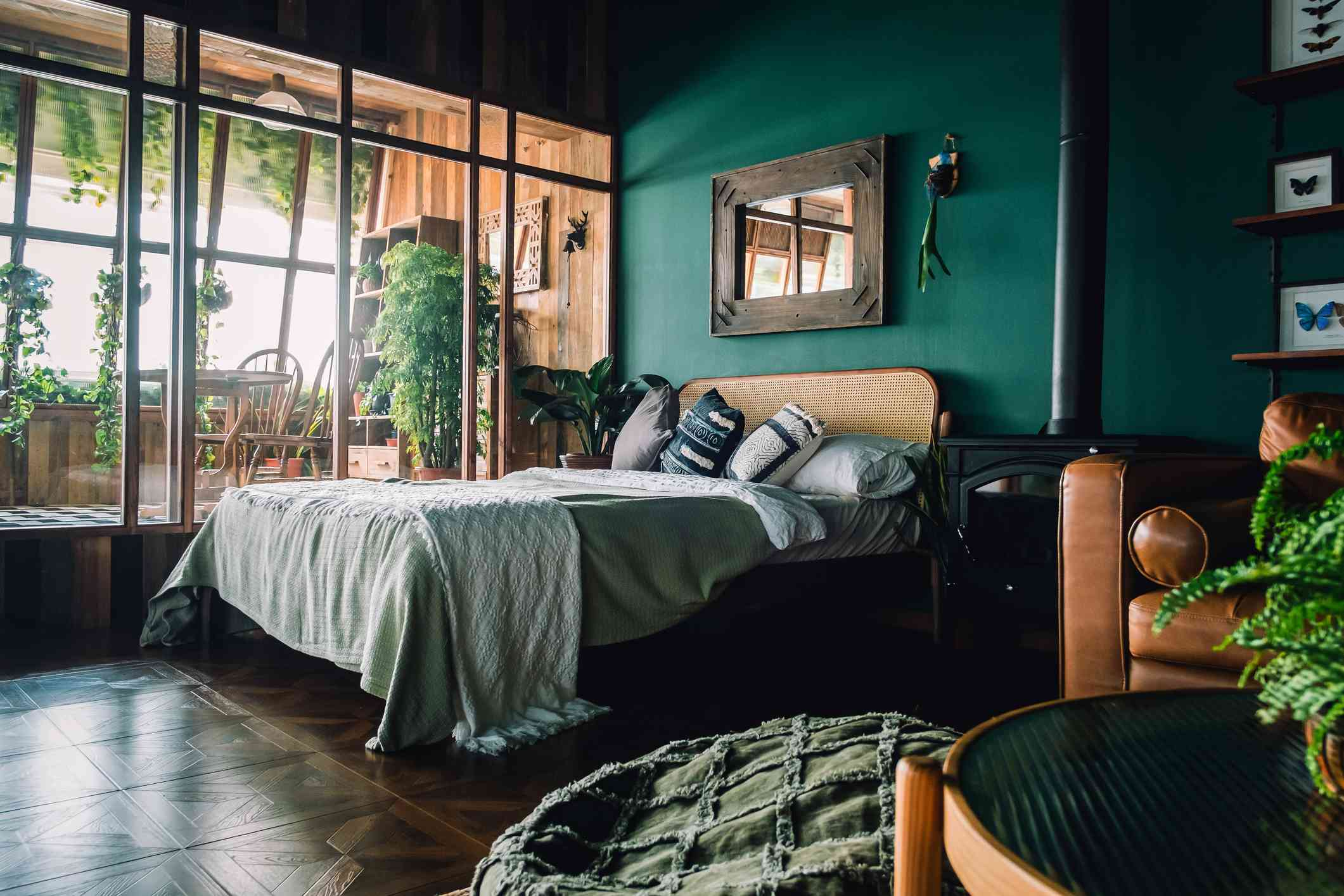 Image Credits: thespruce.com
Forest green is as deep and refreshing as the outdoors and a perfect shade when brainstorming bedroom color ideas. With its richness and abundance of nature, forest green is the best option for creating a tranquil bedroom.
You can drape your walls in this lush shade, creating a sense of depth and stability, or make it a compelling accent wall color. Pair it with warm wooden tones for a rustic, earthy aesthetic, and don't forget to throw in some green plants.
12. Gray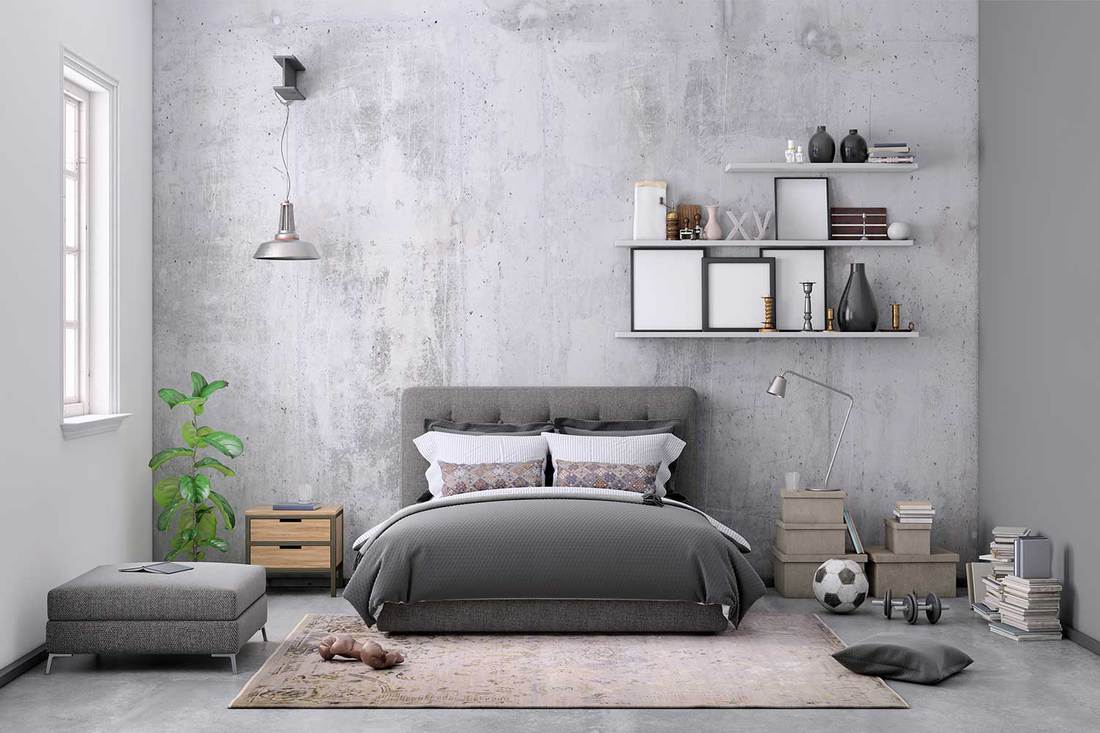 Image Credits: homedecorbliss.com
Gray is your bridge between black and white, bringing genteel neutrality to a bedroom. As such, it exudes a quiet elegance, making it a popular choice if you're seeking a calm and balanced atmosphere.
Gray walls create a serene space that promotes relaxation and tranquility, but the pink rug really brings the look together in the bedroom above. The green plant gently introduces life in what could appear as a dull room for some.
13. Dark Blue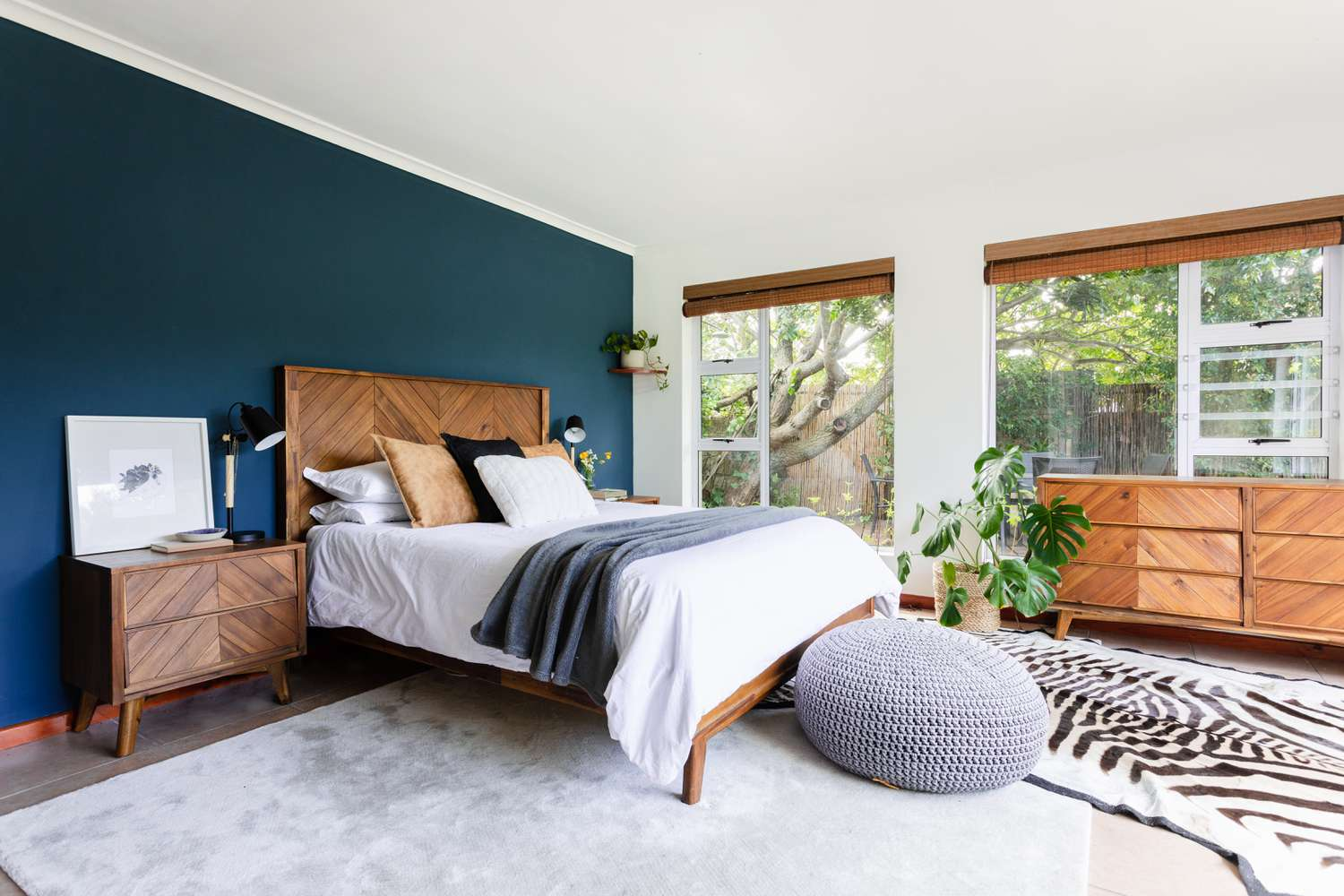 Image Credits: thespruce.com
Are you dreaming of a blue bedroom? Dark blue is reminiscent of the deep evening sky; you can carry this energy into the bedroom if you choose the shade. The rich, calming, and sophisticated hue is easy to add to your bedroom.
Pair dark blue walls with light, cool tones for a refreshing contrast for a truly inviting space. See how the brown, gray, black, and plants transform the bedroom above!
14. Emerald Green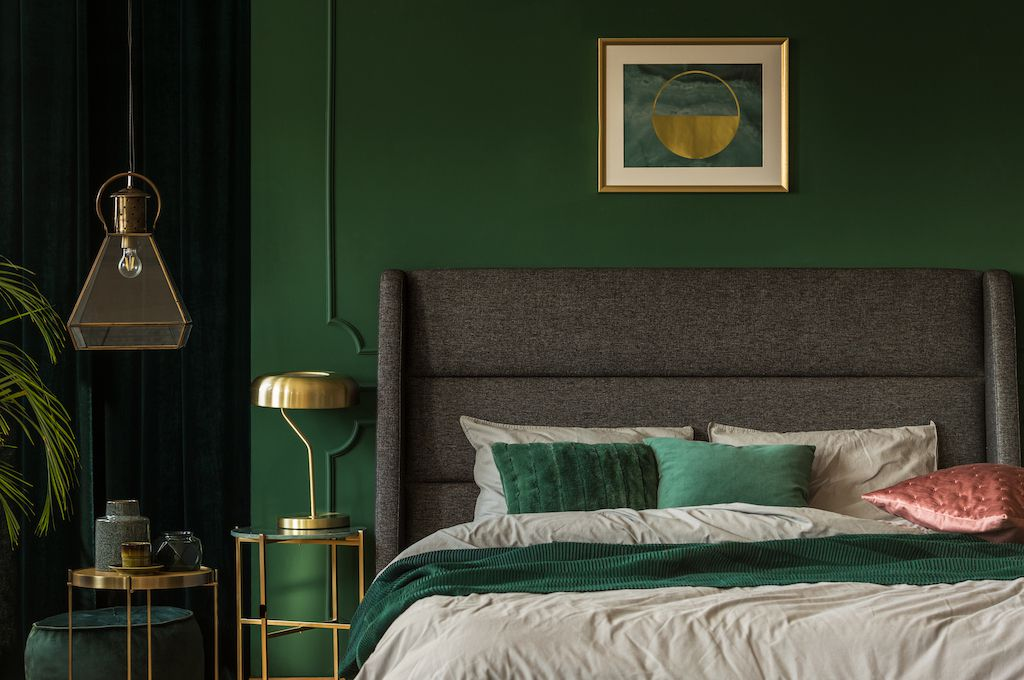 Image Credits: thespruce.com
Emerald green creates a sense of lush vitality in nature, bringing sweet serenity and energy to a room. It is a vibrant hue that teems with life and elegance and will make your bedroom restful and lively. Emerald green is an excellent choice for a guest room and will allow you to impress your guests with your unique style.
Use emerald green as your theme. Paint it on your walls or use it for an accent wall, then have hints of green on textiles. Finally, introduce rich gold accents for a regal and urbane look.
15. Beige
Image Credits: clare.com
Beige is the color of sand and will create a soothing environment in any bedroom, from the primary to the guest's or a child's. You can always count on beige walls to make a clean room and make decorating different areas a breeze. Beige furniture or textiles, like a plush beige rug or a cozy armchair, will create a restful, classy, and unique aesthetic.
16. Kendall Charcoal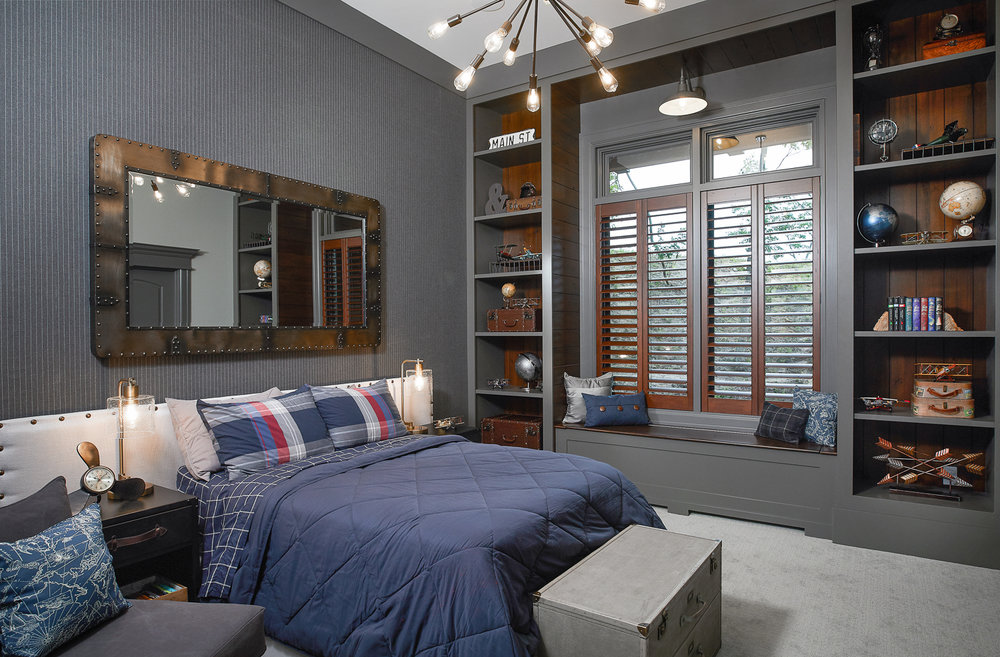 Image Credits: fuchsiadesigns.com
Are you a fan of Benjamin Moore? If so, you want to try their Kendall charcoal hue, a color that echoes the mysterious depth of twilight and will add sophisticated allure to your bedroom. Its rich and striking quality makes it a great bedroom paint color for a man cave. Kendall charcoal is ideal for a minimalistic feel, mainly when you paint your walls. See how the mirror and the brown accents above transform the room feel!
17. Dark Green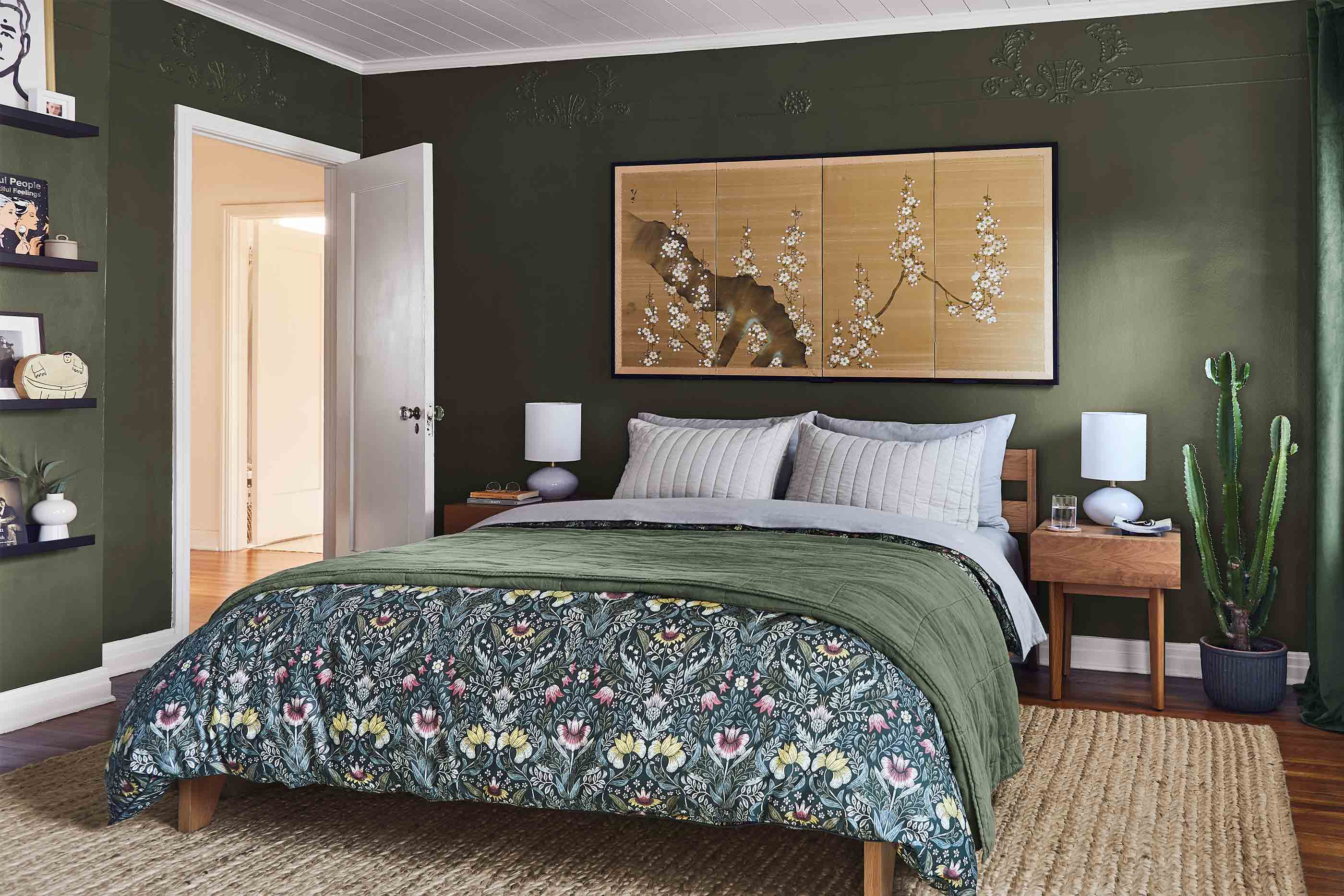 Image Credits: clare.com
Dark green is a soothing color, as mystifying as a dense forest! In a bedroom, it brings serenity, balance, and rejuvenation. The allure of this color lies in the many ways you can use it.
The look above is rich, especially with the dark green walls, pitted against the art, decor, and the beautiful cactus plant. You don't have to leave it there; notice how the green bedding, especially the floral duvet, complements the green theme!
18. Turquoise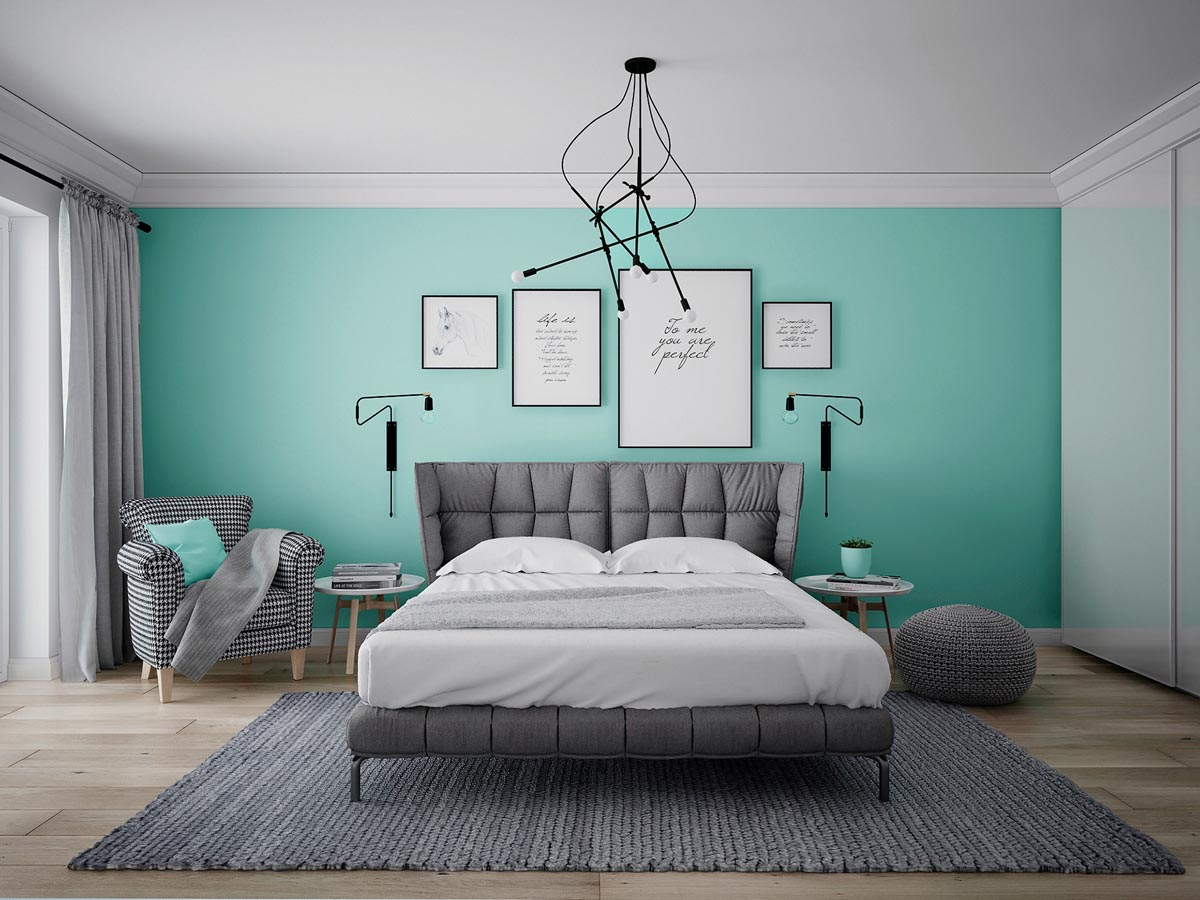 Image Credits: home-designing.com
Turquoise is the perfect color when you want to bring more energy into your room. It is a calming and refreshing, lively hue for an uplifting bedroom.
Turquoise is best paired with other colors or used on an accent wall: painting all your walls in turquoise could be unsettling, especially for a bedroom where you intend to unwind and relax. So, why not have it on one wall from which you design everything else? The gray furniture and rug above show how easy it is to pair and pull off a unique look with this hue.
19. Mint Green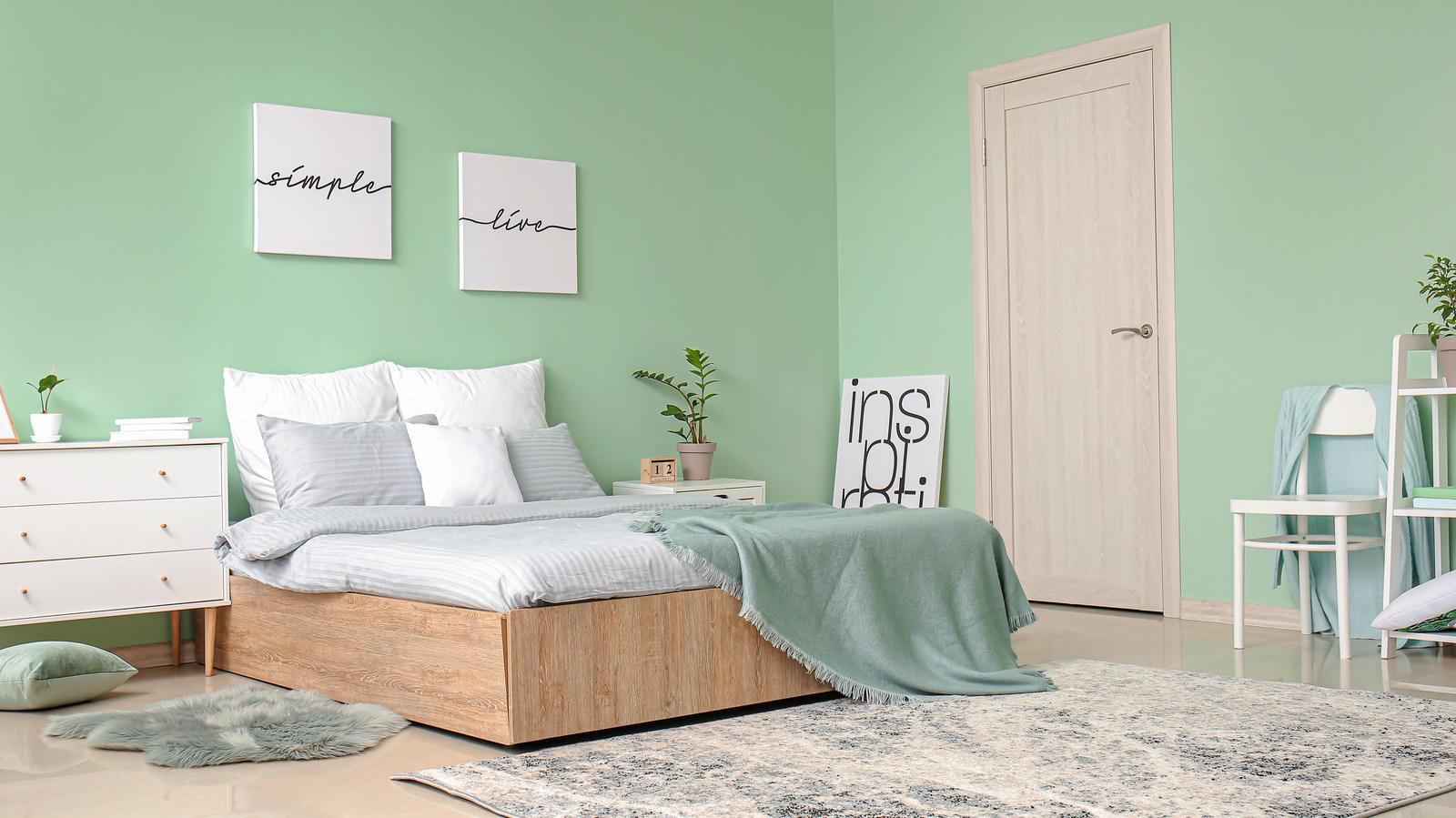 Image Credits: housedigest.com
Mint green is a refreshing hue, reminiscent of tender spring leaves, that breathes new life into any bedroom. Ideal for those seeking a peaceful yet vibrant space, it is a charming choice, whether painted on bedroom walls or incorporated through decor or textiles.
20. Olive Green
Image Credits: pinterest.com
Fancy a Scandinavian bedroom with olive green walls like above? With its earthy richness, the color brings a warm, grounding presence to any bedroom. Painting it on your bedroom walls will create a profoundly calming environment. Olive green goes well with other colors, like crisp whites, rich browns, or rustic metals, for a rugged, earthy ambiance.
21. Tan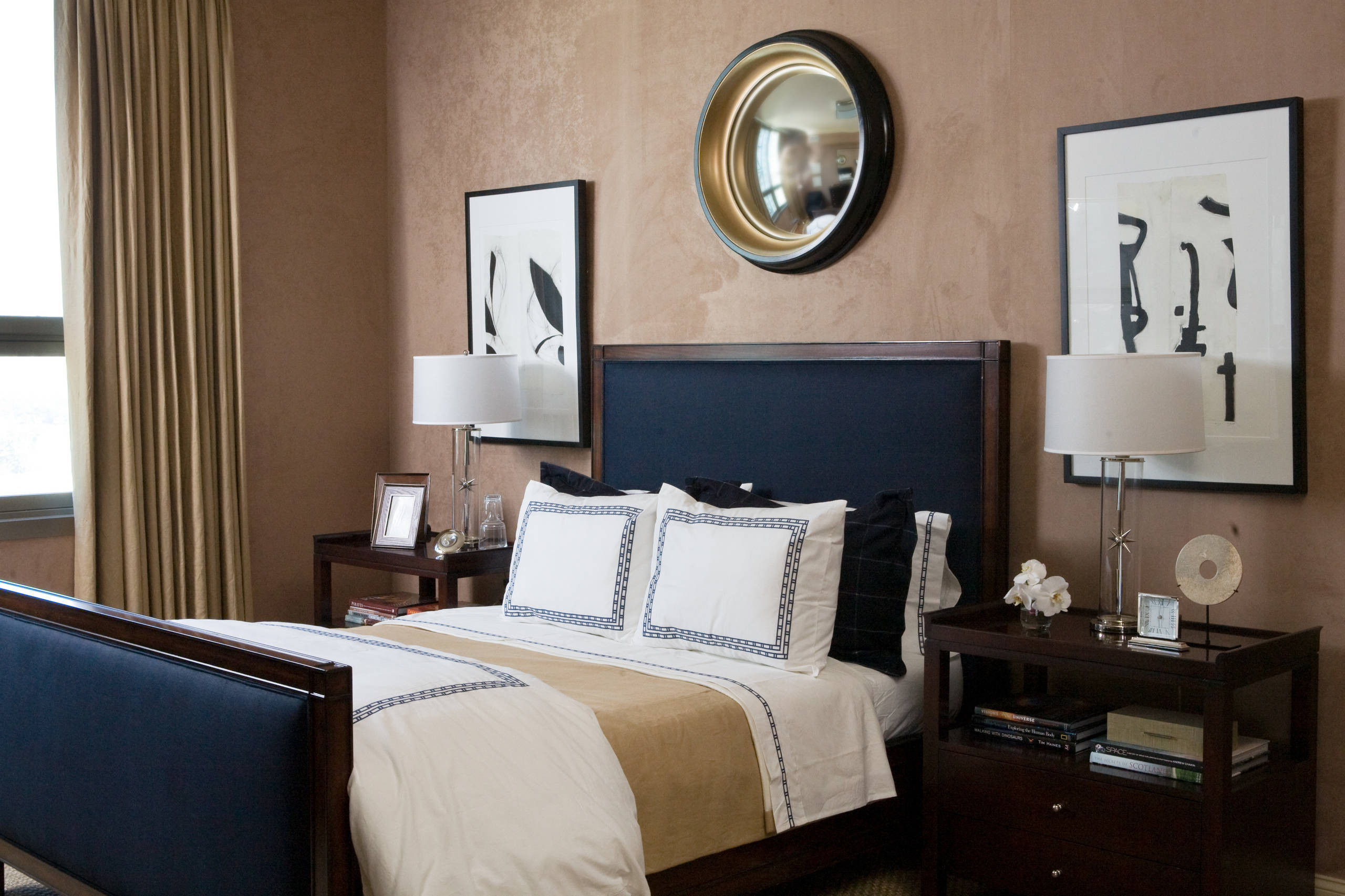 Image Credits: houzz.com
Reminiscent of warm sand, tan is the best color for a comforting bedroom. You can paint it on bedroom walls to create a unique and inviting space. Pairing options on the color wheel are diverse, with possibilities including serene blues like the bed above. Whether used as a primary color, tan is a versatile choice that promotes relaxation and tranquility in your bedroom.
22. Maroon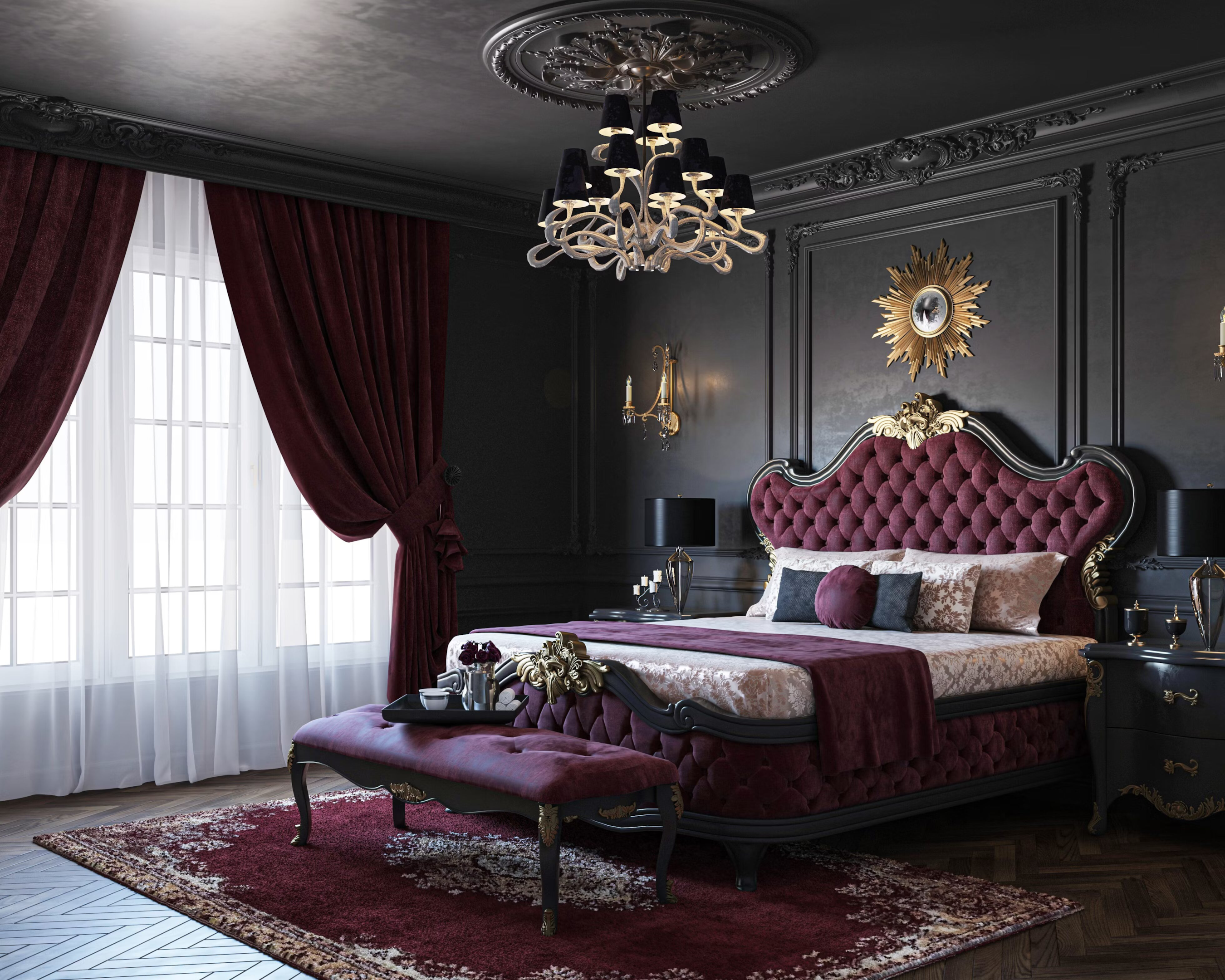 Image Credits: livespace.com
Maroon is a color of depth and intensity, and using it in a bedroom can help to create a feeling of calm and quiet, which is essential for a good night's sleep. Use it through textiles against black walls, and you have a bedroom fit for royalty. The way maroon is paired above, especially with the black and gold accents, creates a unique and dramatic effect.
23. Lavender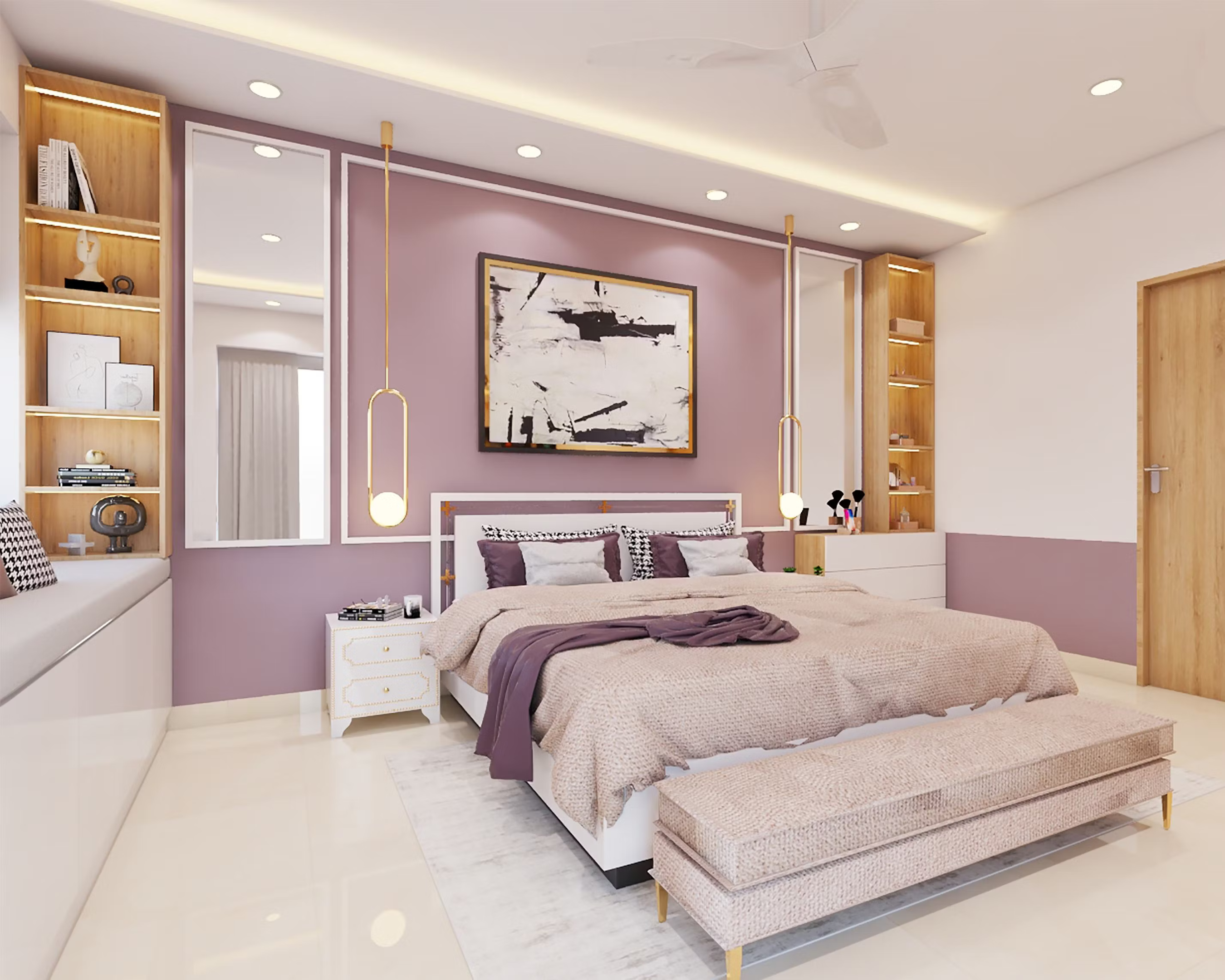 Image Credits: livespace.com
Lavender is a gaming hue that will guarantee good rest and rejuvenation. Using it as a paint color, you'll transform your bedroom into a serene oasis. Also, consider lavender-colored textiles such as bed linens to make your bedroom more colorful. Lavender is perfectly contrasted with the whites, and light browns above, a look that introduces texture for more sophistication.
24. Orange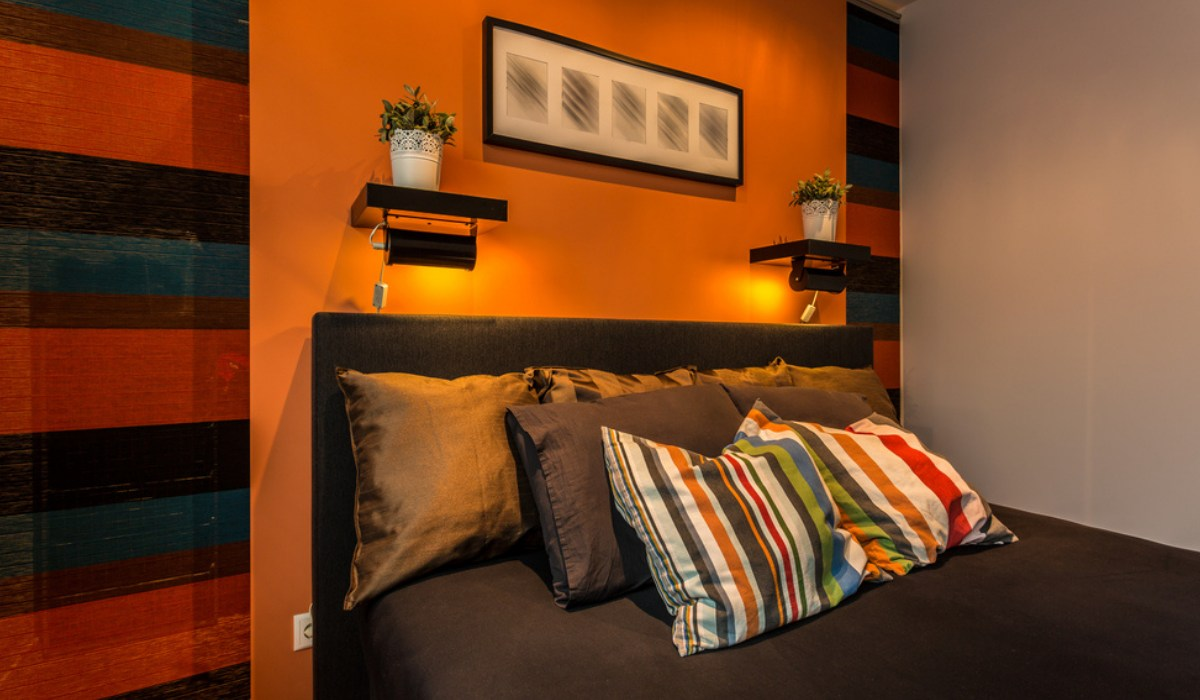 Image Credits: housing.com
Orange is known for warmth, energy, and creativity, and as an interior design color, it brings a burst of life into your space. It is vibrant, so consider using orange as an accent color in your bedroom. The image above shows how you can juxtapose an orange accent wall with brown bedding. It is striking how the plants add more life to the room.
25. Teal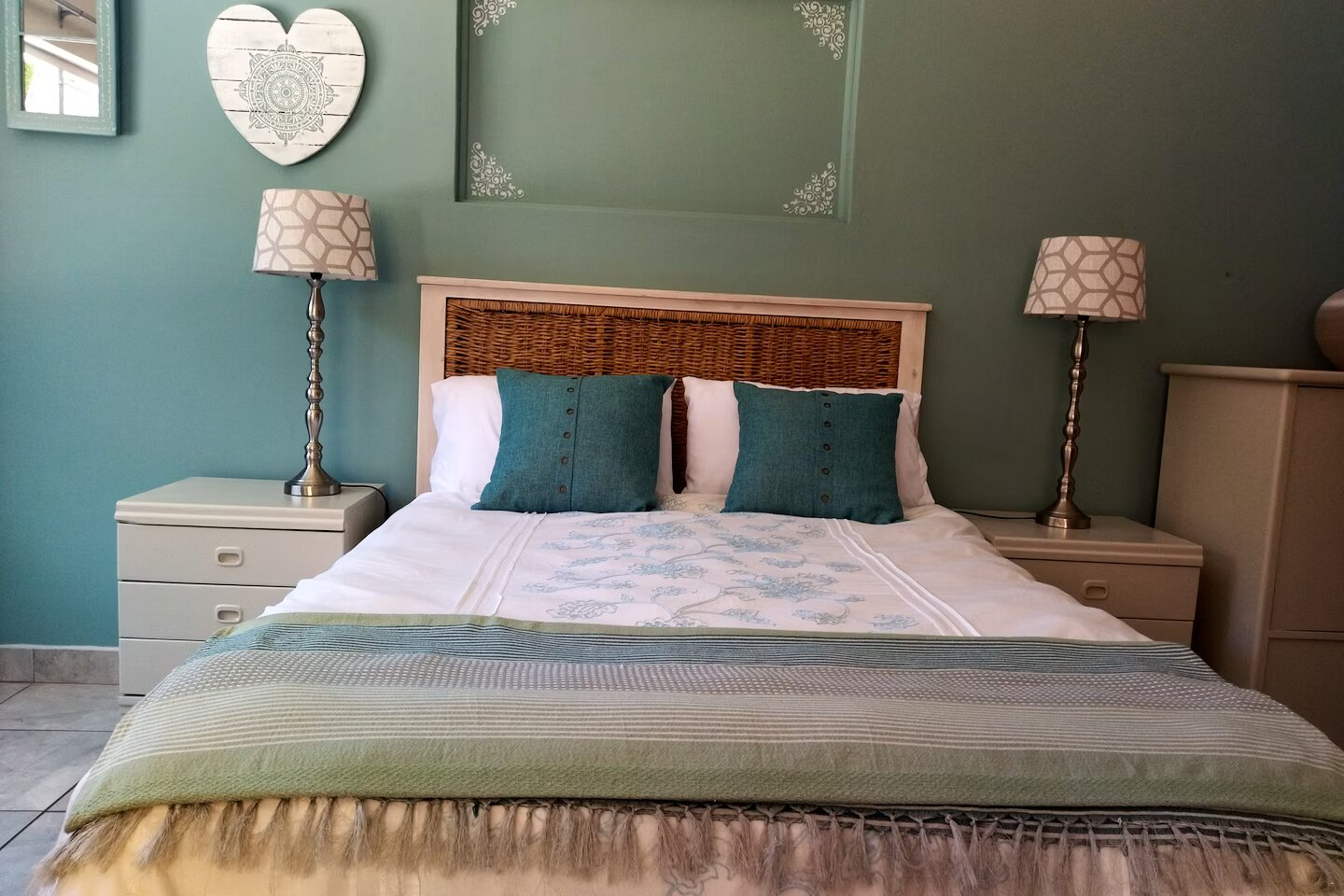 Image Credits: lekkeslaapcoza.com
Teal is a fantastic bedroom color; it combines the calming properties of blue with the restorative qualities of green to bring stability and refinement to your bedroom. It is a super textile, decor, and paint color that you can incorporate in different bedroom areas, like in the image above.
26. Burgundy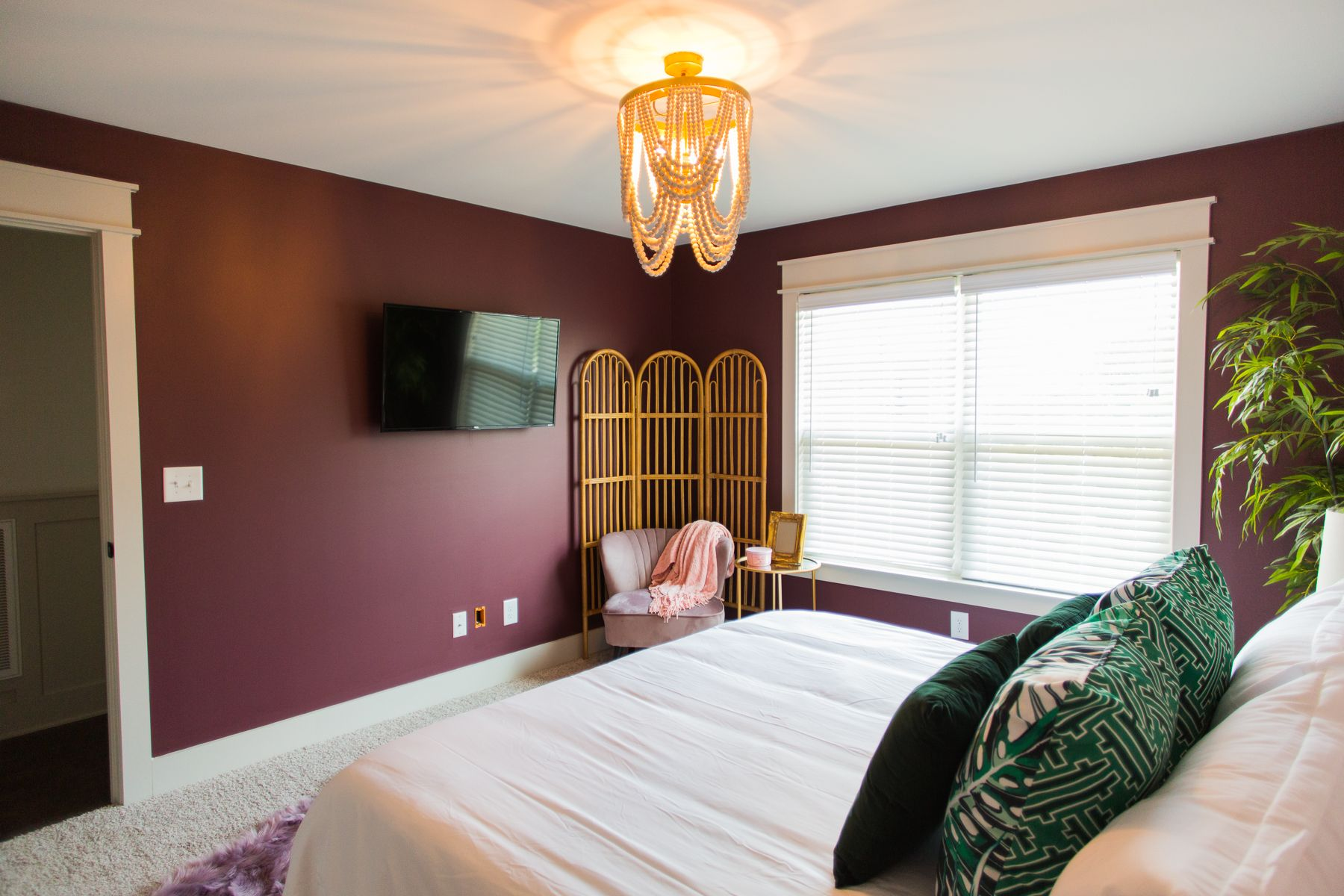 Image Credits: pinterest.com
Burgundy is a rich tone that will add a sense of sophistication and warmth to your bedroom. You can incorporate this color into your interior design in many ways, but wall paint may be the best idea. Juxtapose burgundy with bright or cream bedding and give yourself a dramatic backdrop, adding a touch of indulgence while enhancing the lighter shades' freshness.
27. Gold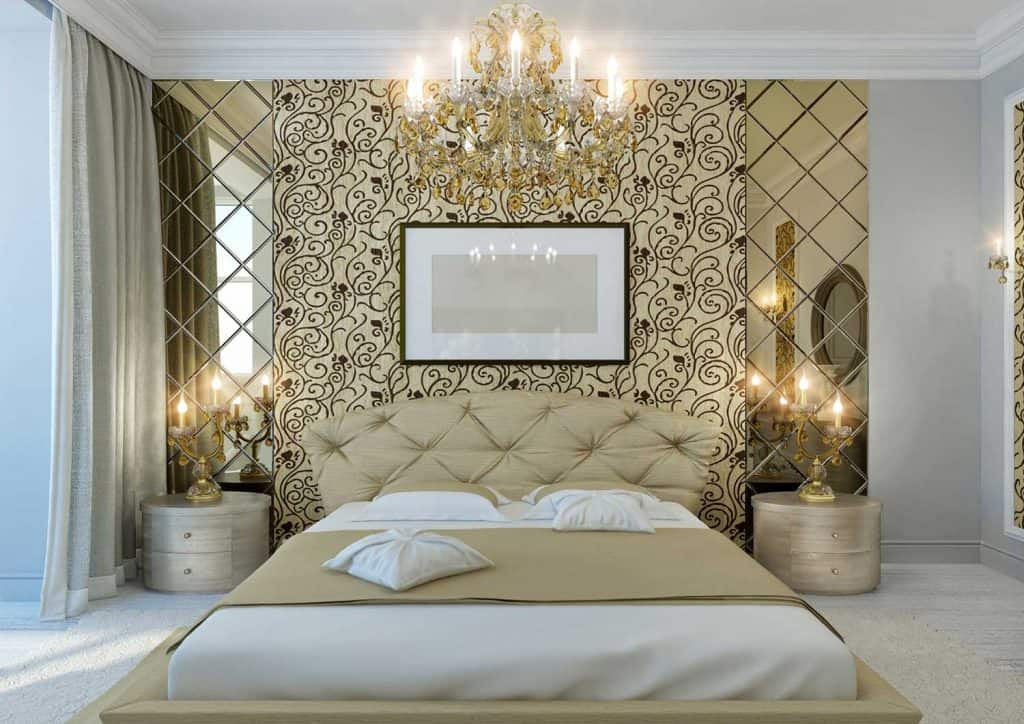 Image Credits: homedecorbliss.com
Imagine draping your room in gold fabrics – a twinkling golden throw, a sun-kissed duvet, or gilded curtains that catch the morning light. Against white backdrops, these golden touches bloom in a radiant glow that forces cheerfulness and polish. As you can see in the bedroom above, it's a theme that turns the ordinary into the extraordinary.
28. Sage Green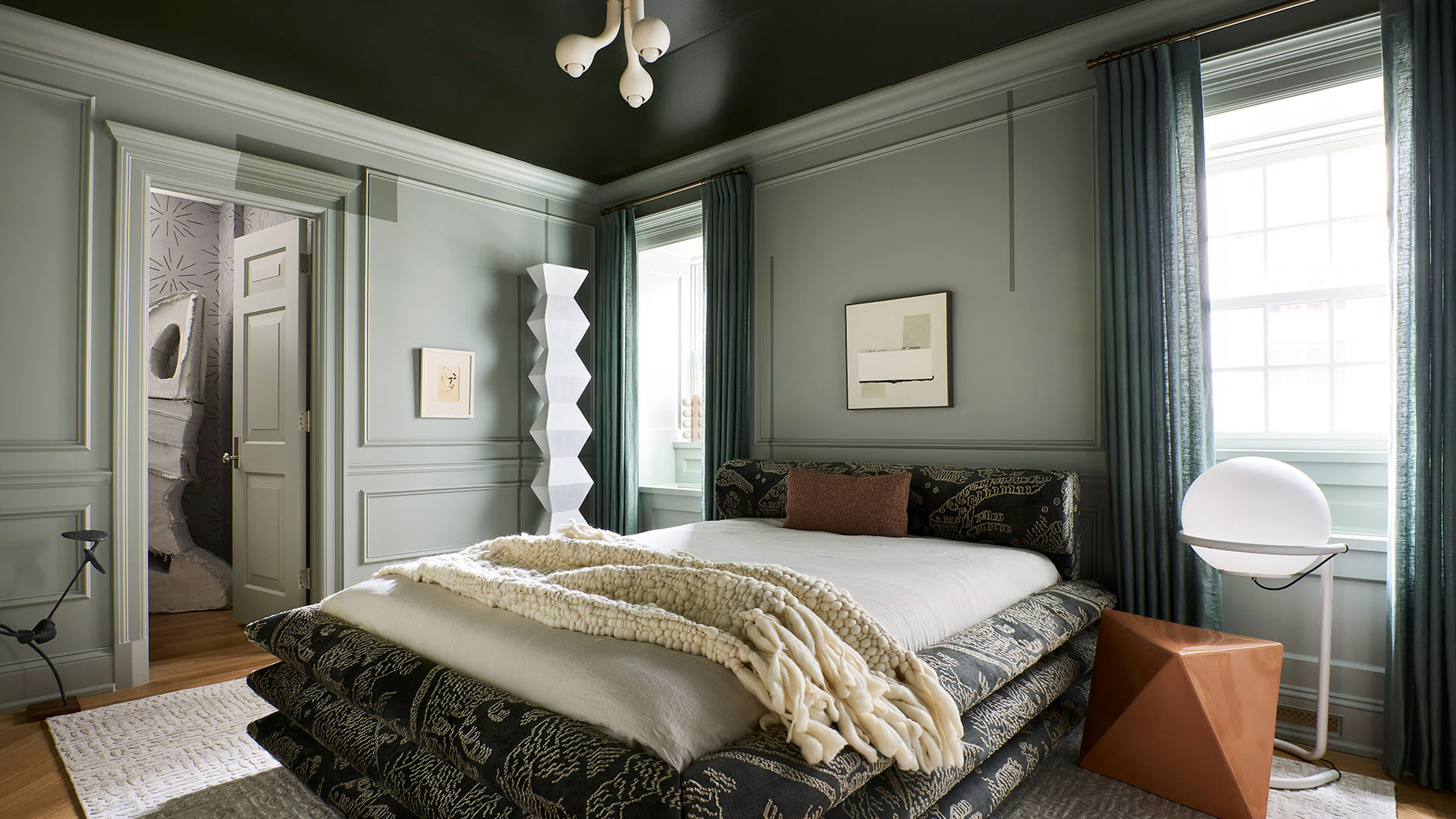 Image Credits: livingtec.com
Sage green walls offer a refreshing change from traditional neutrals – their muted elegance imbuing the room with a tranquil, earthy feel. This calming setting allows the black bedding to stand out, introducing a modern, bold contrast that adds depth and intrigue to your bedroom.
Why not sprinkle in neutral accents in shades of cream and brown to tie the room together? They complement the sage green and black theme and add a layer of warmth and coziness.
29. Royal Blue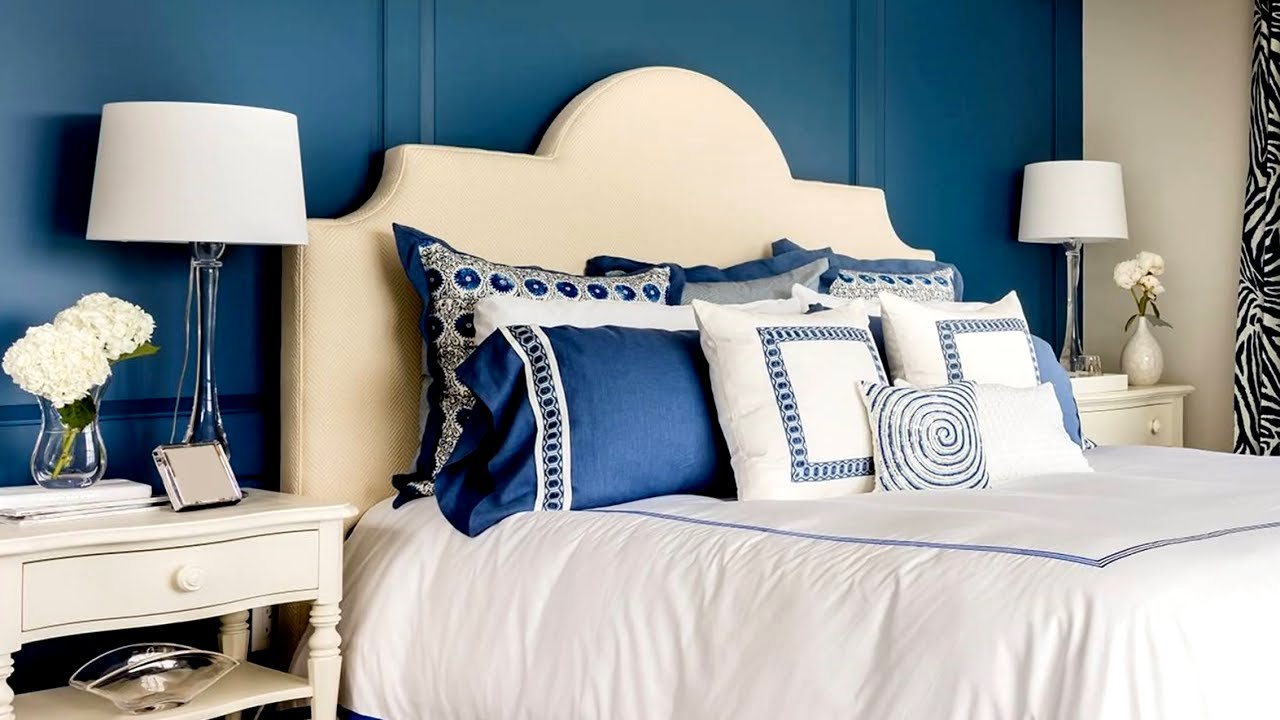 Image Credits: youtube.com
Royal blue is a color that invites introspection and peaceful slumber. When considering bedroom paint color ideas, it stands as a regal choice, a color for deep conversations, silent thoughts, and a good night's sleep. You can incorporate it as an accent wall color, creating a dramatic focal point in your room.
30. Oak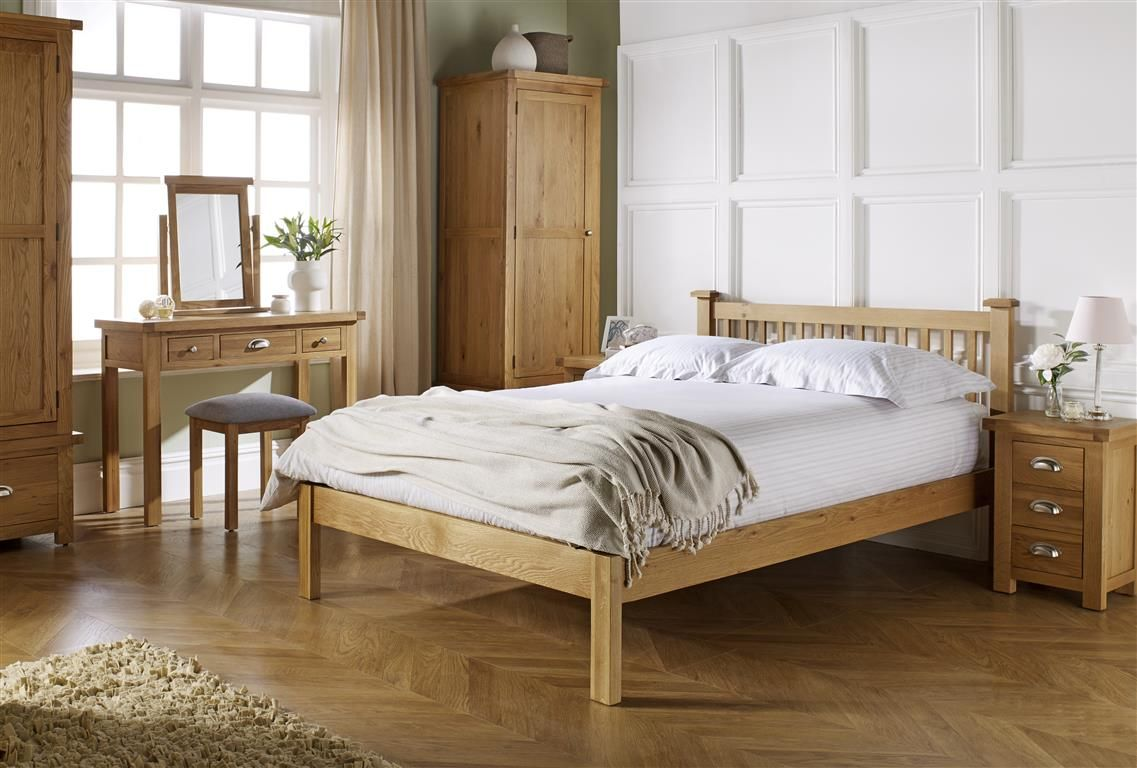 Image Credits: countrysidefurnishers.co.uk
Do you envision a bedroom that radiates warmth, comfort, and timeless elegance with the natural beauty of oak? Like in the bedroom above?
Oak cabinets, flooring, and a matching bed frame become the stars of the space; their rich tones and wood grain lend an earthy, welcoming feel. This solid oak foundation is accentuated by beige curtains, providing a soft and harmonious contrast that beautifully complements the wood's warm hues.
Adding to the serene palette is white bedding and cream decor. These lighter elements offer a fresh, clean look that balances the robust oak while enhancing the room's airy, tranquil ambiance.
31. Petal Pink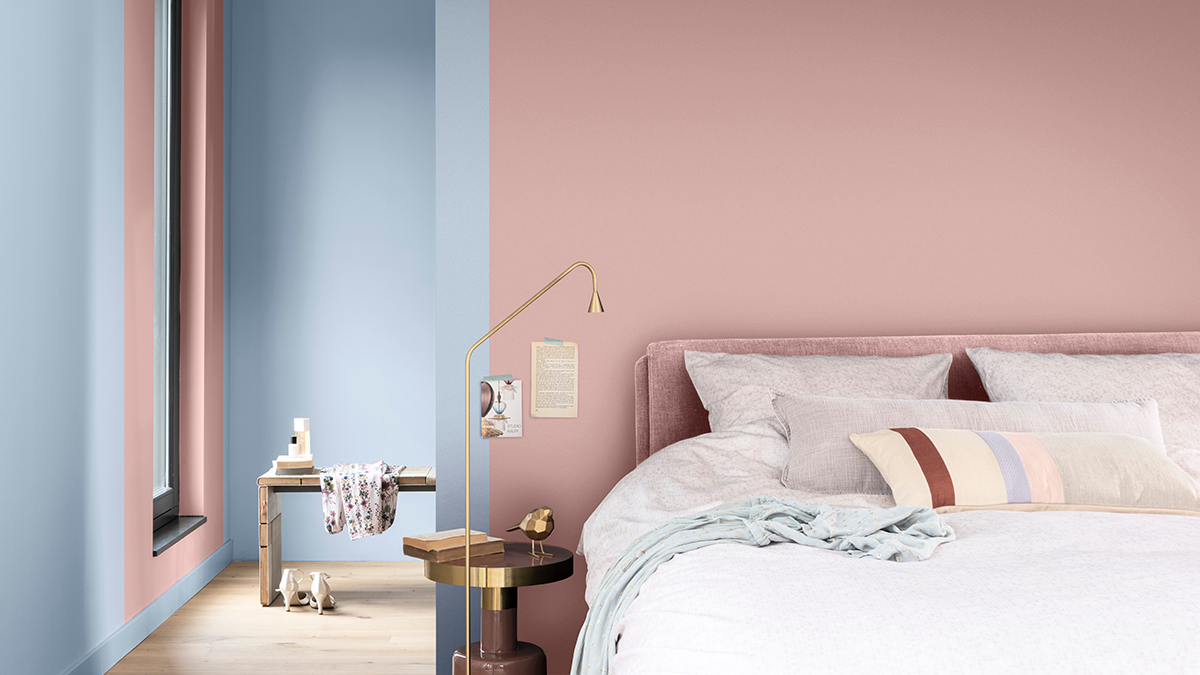 Image Credits:dulux.co.uk
Bring a breath of fresh air inside your bedroom with a light blue and petal pink color scheme. Start by painting the walls light blue, then add a romantic touch with a petal pink accent wall. Enhance this soft, inviting palette with off-white bedding, a neutral element that lets the colors stand out. Finally, add a layer of sophistication with gold accents, like the gold lamp and bedside table.
32. Cobalt Blue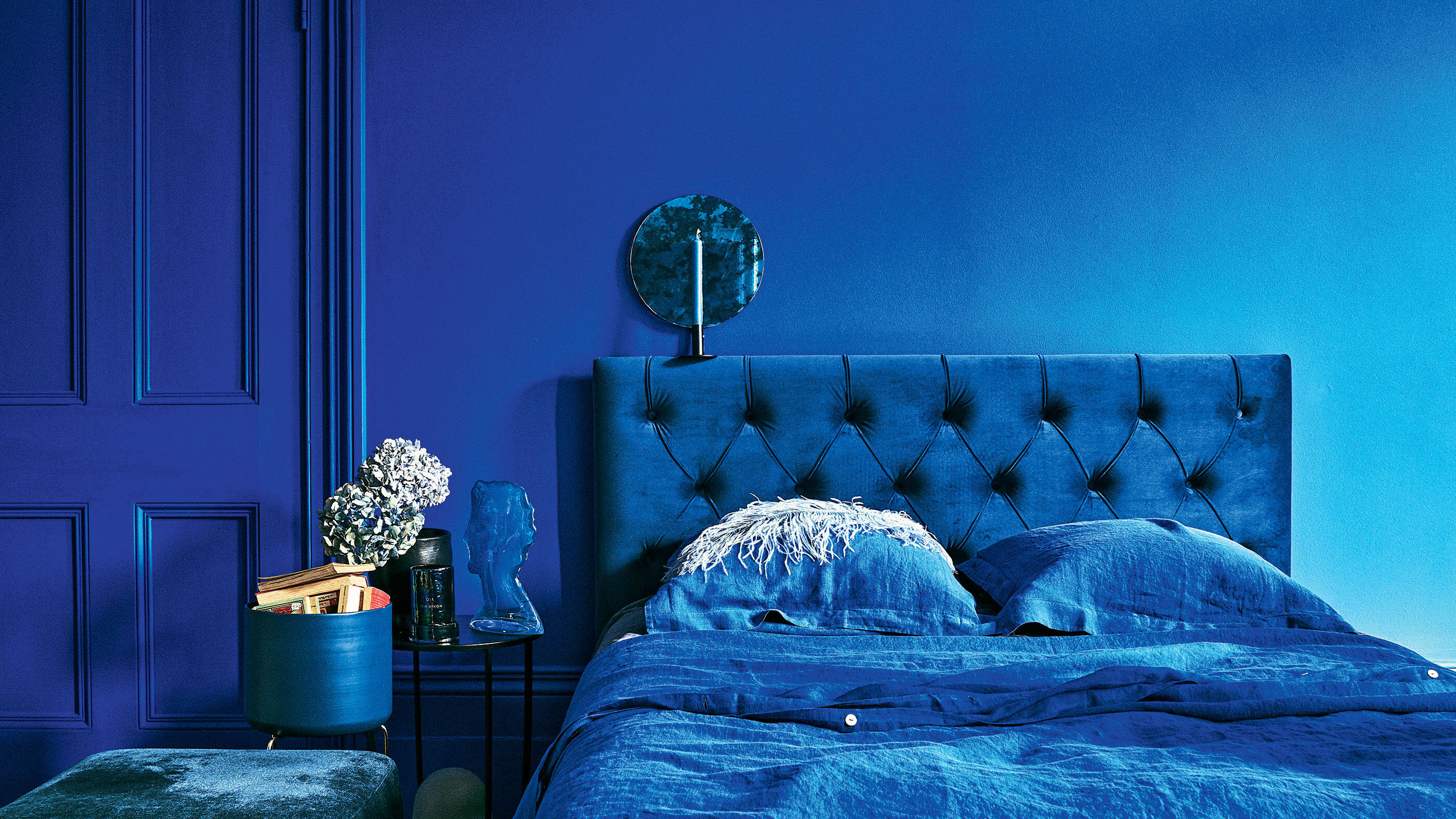 Image Credits: livingtec.com
Cobalt blue walls, a hue so rich and deep it exudes a calming aura for a serene environment, are perfect for unwinding at the end of the day. Introduce bedding and furniture in varying shades of blue for a monochromatic approach that adds depth and interest to the space.
33. Brown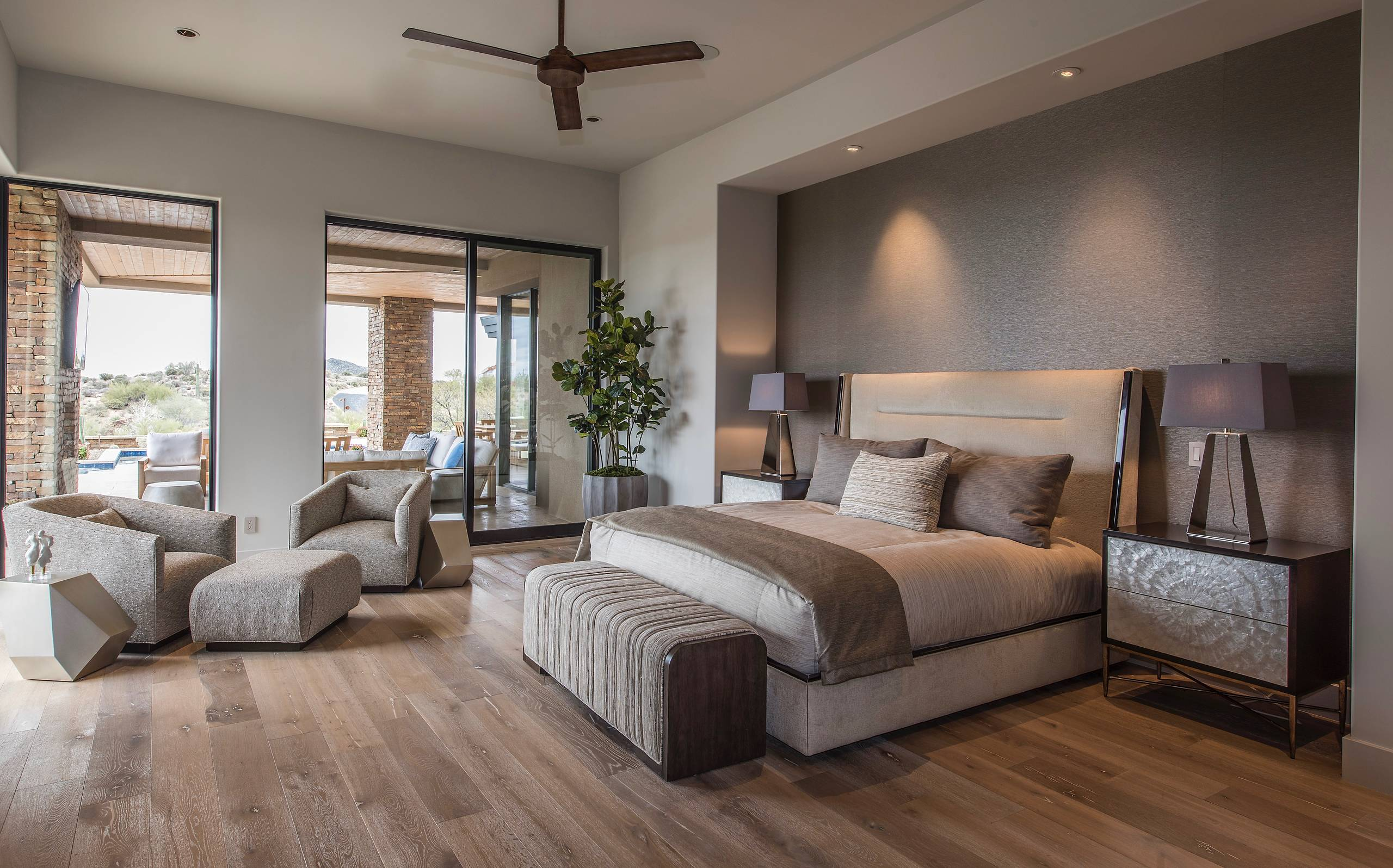 Image Credits: houzz.com
Embrace the comforting tones of brown to create a warm, inviting bedroom. In the image above, brown is used sparingly but creatively, appearing in the furniture and lampshades. However, the main attraction here will be the brown wooden floor that creates the stage for gray, cream, and brown bedding. While the color combination is perfect, you also want to introduce some texture through fabrics, and a big green plant will bring the look together.
34. Blue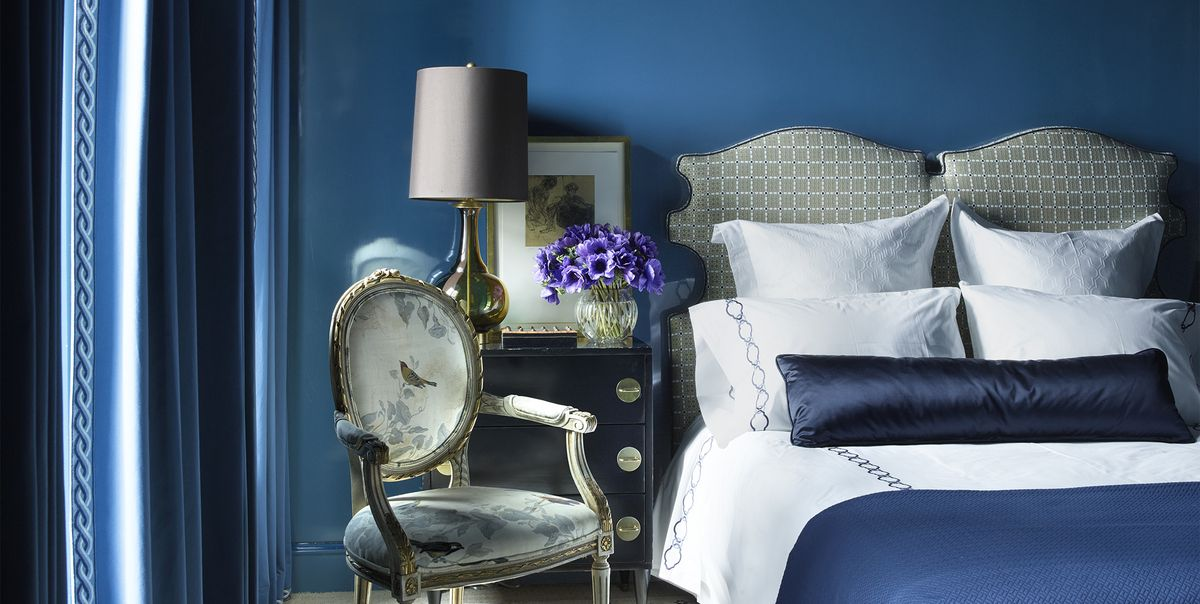 Image Credits: ellendecor.com
A blue-themed room is a serene retreat! Aim for a soothing shade of blue for the walls, then let different shades of this calming color cascade across your bedding and drapes, introducing an appealing sense of depth and dimension. Add hints of white and beige across the fabrics and furniture to balance the palette. Note; this theme works best in a well-lit room.
35. Purple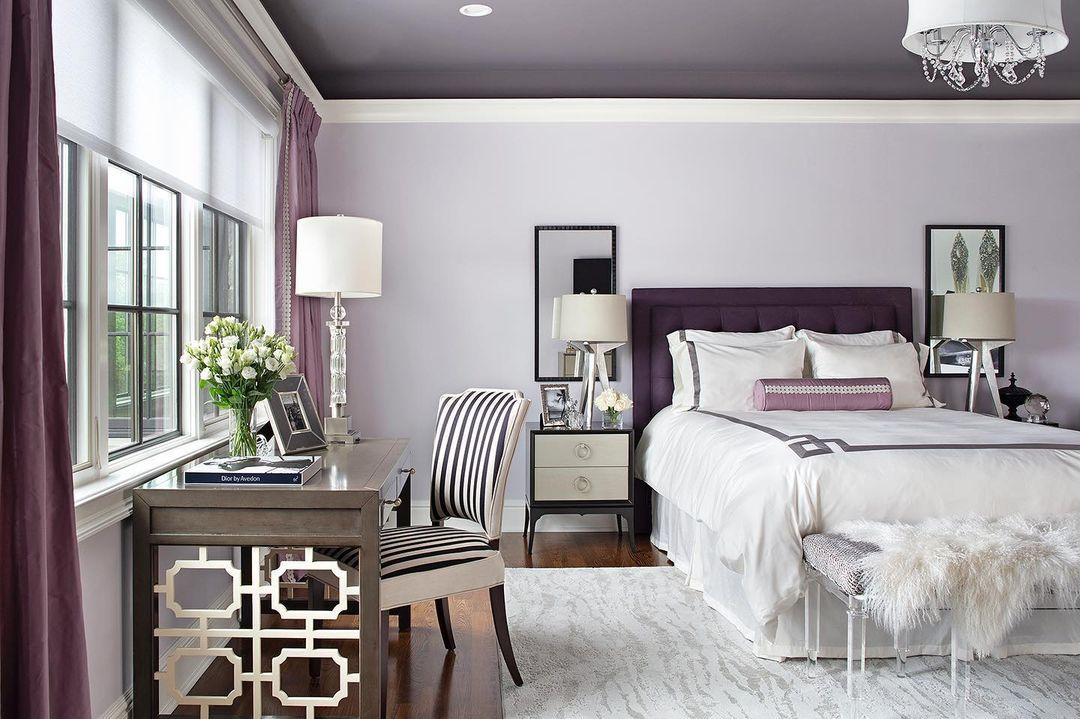 Image Credits: thespruce.com
Create a marvelous haven with a purple-themed bedroom. Some purple drapes, a headboard, and a comforter infuse the space with kingly charm. Balance the vibrant purple with off-white bedding, providing a refreshing contrast. The carpet adds a touch of warmth and comfort underfoot, while hints of brown on furniture pieces tie in a natural, grounding element.
36. Red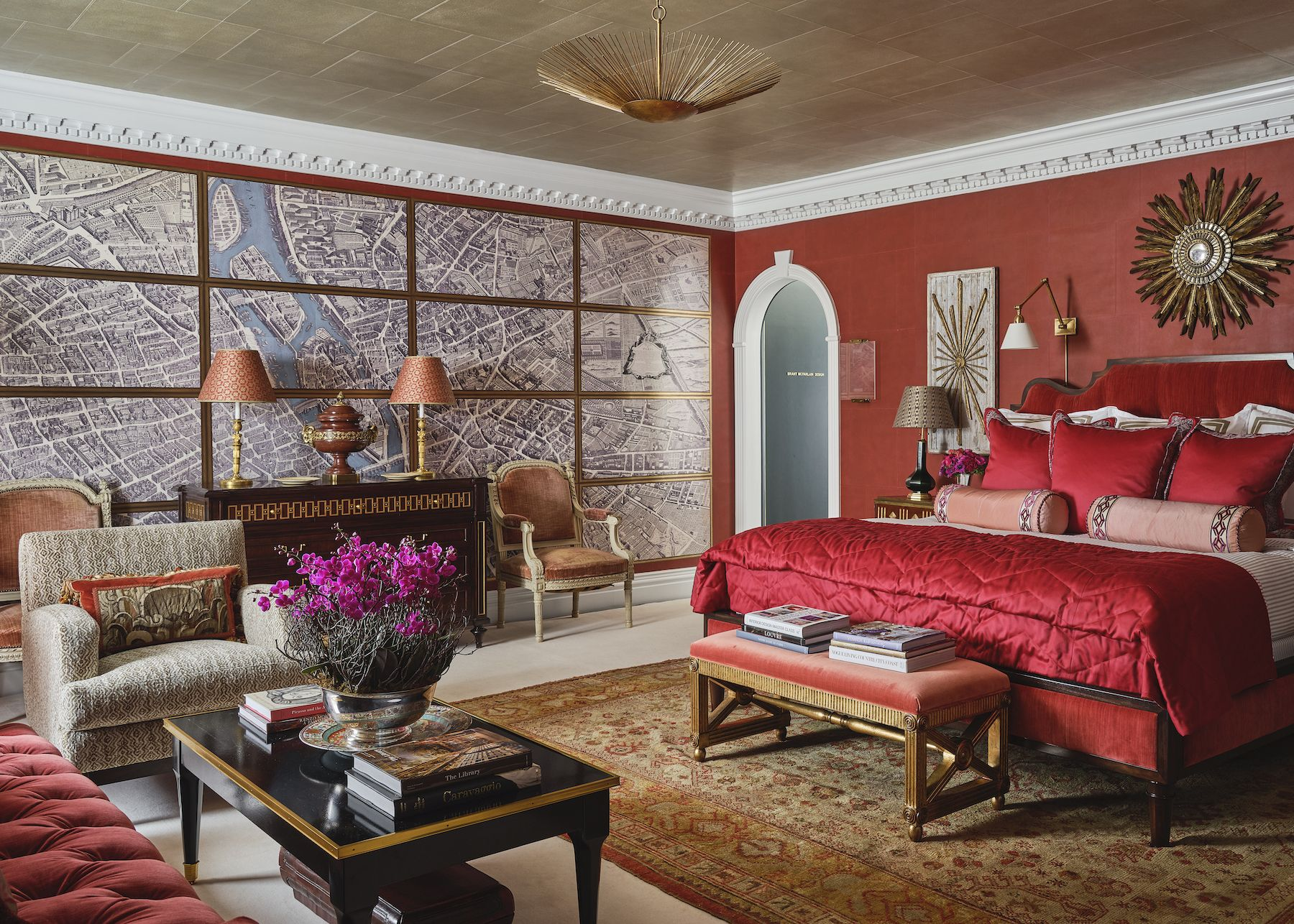 Image Credits: veranda.com
Venture into the world of the dramatic and distinctive with an almost-gothic red bedroom! The easiest way to achieve the look is with a red accent wall. A red duvet on the bed amplifies this bold statement, creating an irresistible focal point. Break up the intense red with a grey accent chair and lay down a traditional rug to finish the look. This dark, luxurious, and red bedroom is a bold choice that pays off, creating a space that's as captivating as it is comfortable.
37. Chantilly Lace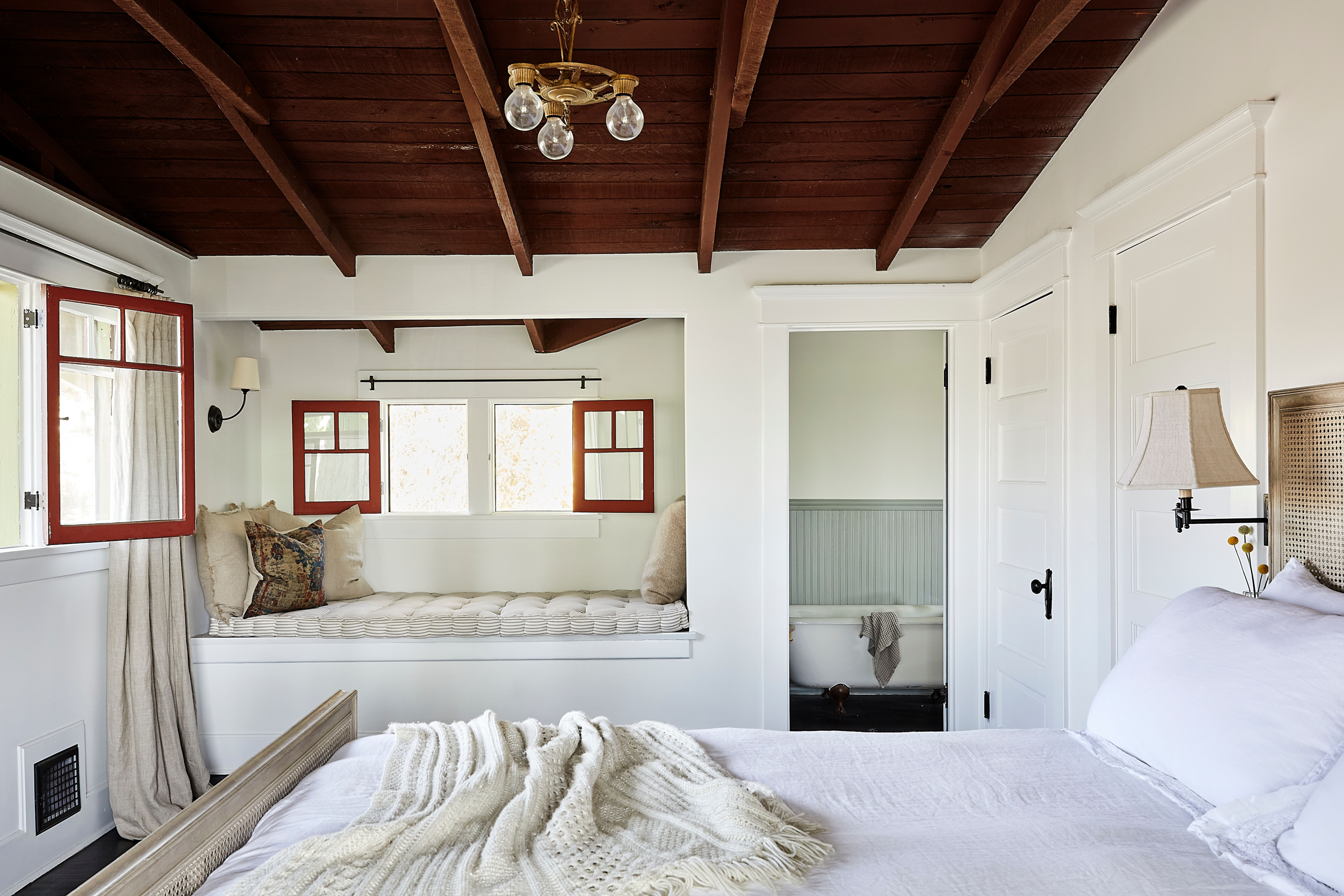 Image Credits: housebeautiful.com
Chantilly Lace is an impeccable choice for your bedroom walls: it provides a crisp, clean backdrop that immediately brightens the room and enhances its spaciousness. Above, the brown wooden ceiling introduces a sense of warmth and grounding, an earthy tone that counterbalances the coolness of the white walls. The neutral shades for bedding contribute to the room's calming, serene ambiance.
38. Cream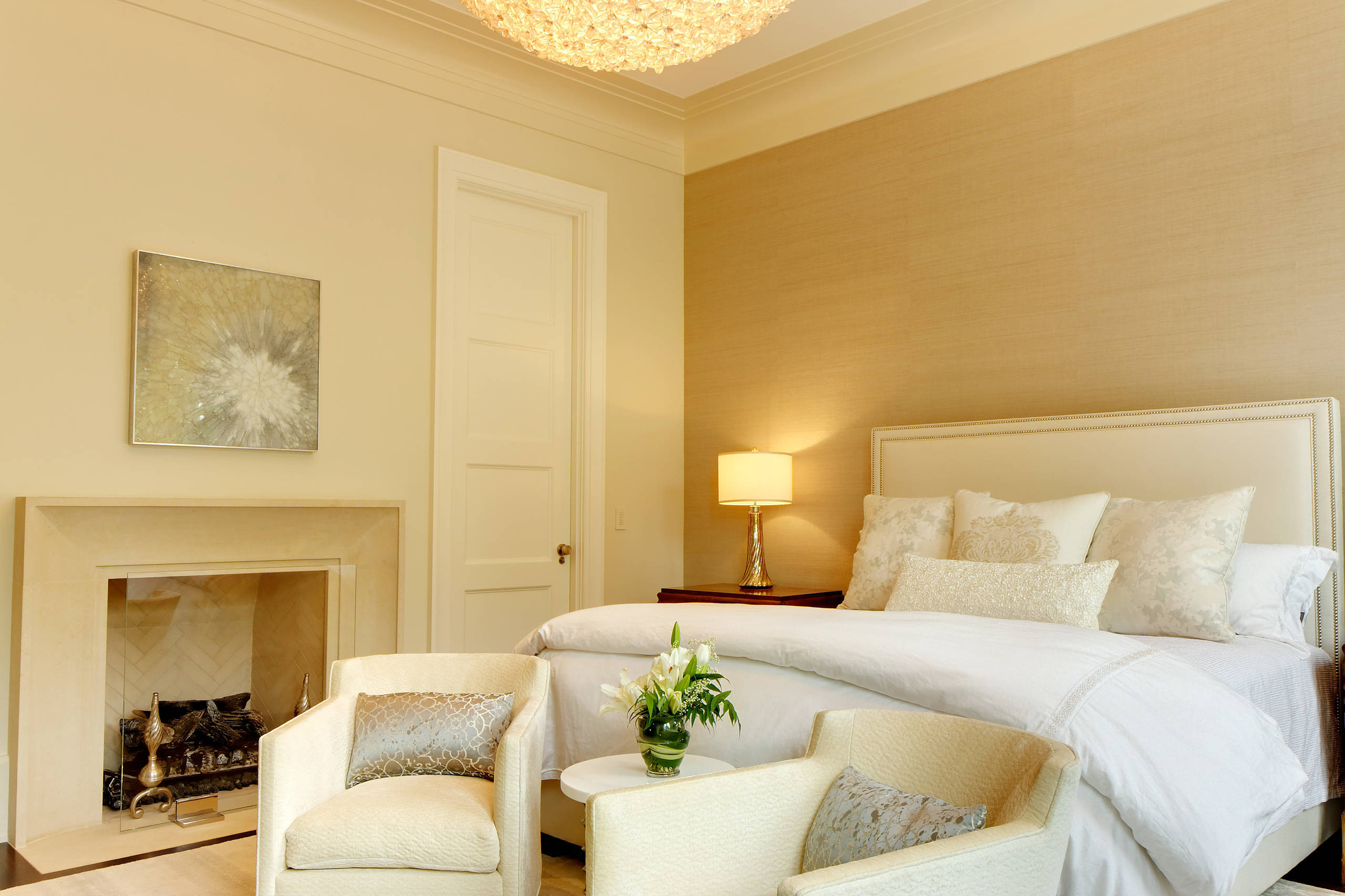 Image Credits: houzz.com
A cream bedroom is another timeless classic! You can create such a serene bedroom as above by painting your walls cream- (Benjamin Moore and Sherwin Williams, anyone?) The cream from any of these paint stores is a soothing hue that instantly fills the room with warmth and tranquility.
Then, complement the walls with cream decor, from a cozy throw rug to elegantly framed art pieces, to enhance the monochromatic theme. Finally, dress your bed in crisp white linens, a refreshing contrast that adds a touch of brightness and culture to the look.
39. Ocean Blue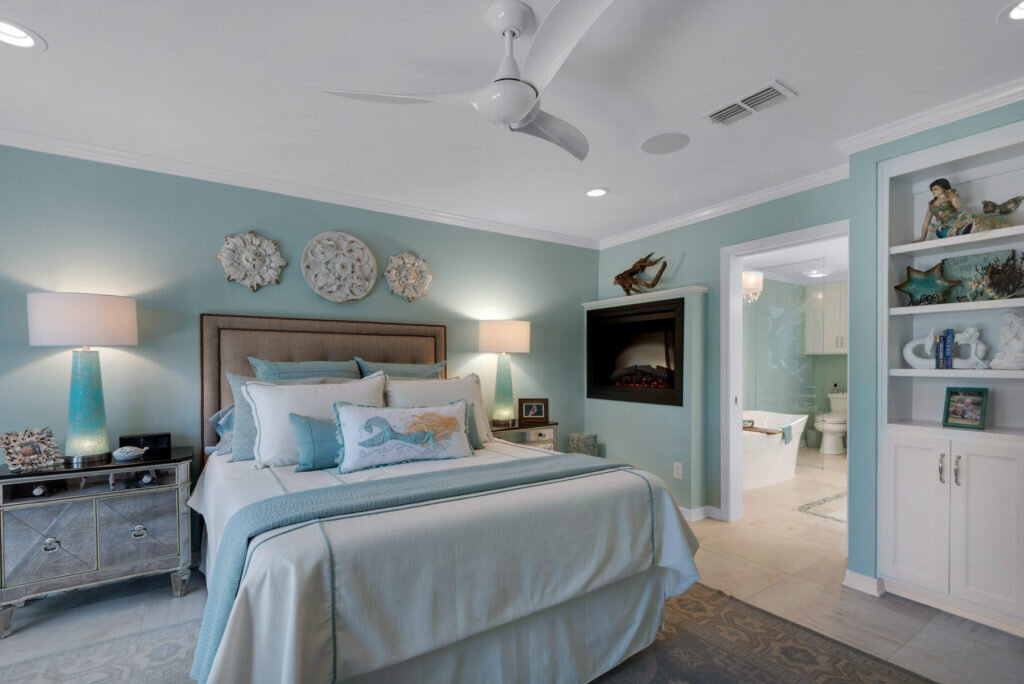 Image Credits: bontragerbuildersgroup.com
Ocean blue will create a tranquil bedroom, as you can see above. The combination of ocean blue on walls, bedding, and gray and white themes, leaves the room looking clean and inviting.
40. Off White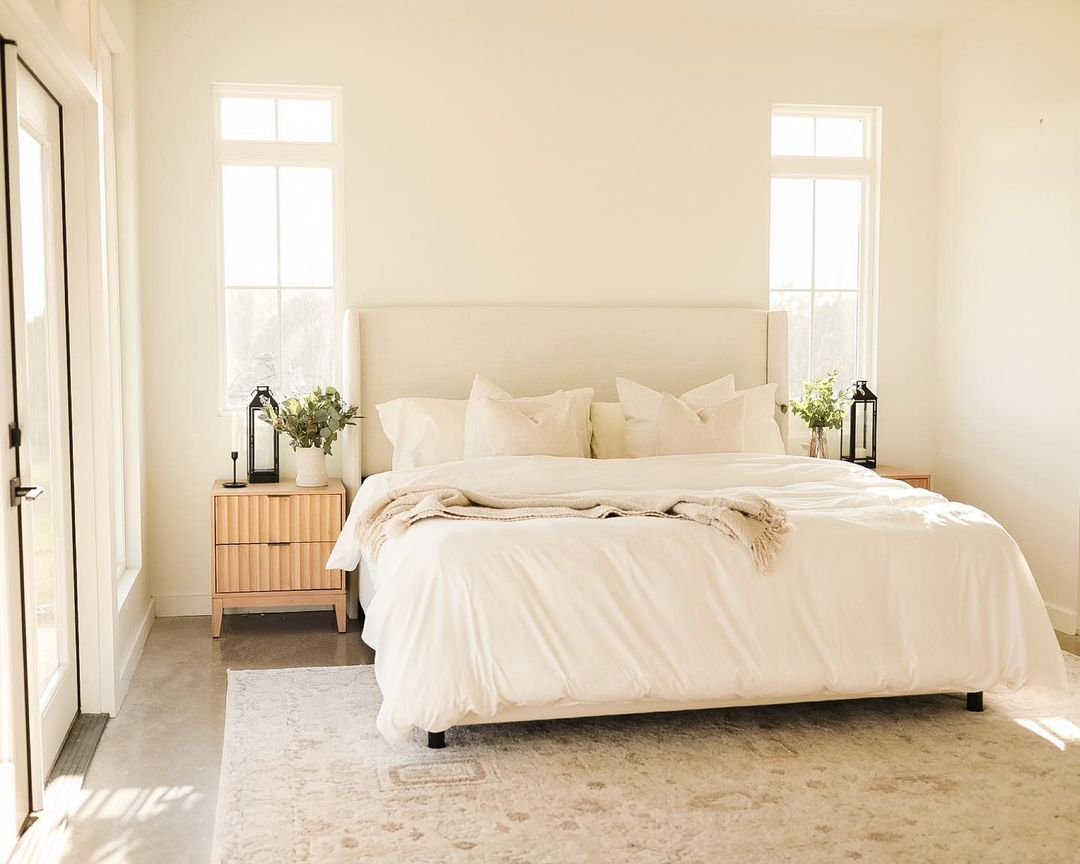 Image credits: thespruce.com
Transform your bedroom into a peaceful sanctuary with off-white walls and linens, creating a clean, calming canvas. Then, lay down a traditional cream rug, enhancing the room's warmth and comfort while adding texture. Finally, make a statement with a standout light brown bedside table set. Each table adorned with a small plant becomes a charming tableau, merging function and beauty.
41. Bubble Gum Pink
Image Credits: housebeautiful.com
Bubble gum pink adds youth and bravery to a room, which is why you need to try it in a bedroom. And no, this doesn't need to be a child's bedroom. It works well in a woman's cave or guest room; the key is to balance the pink with traditional features, as in the design above.
42. Salmon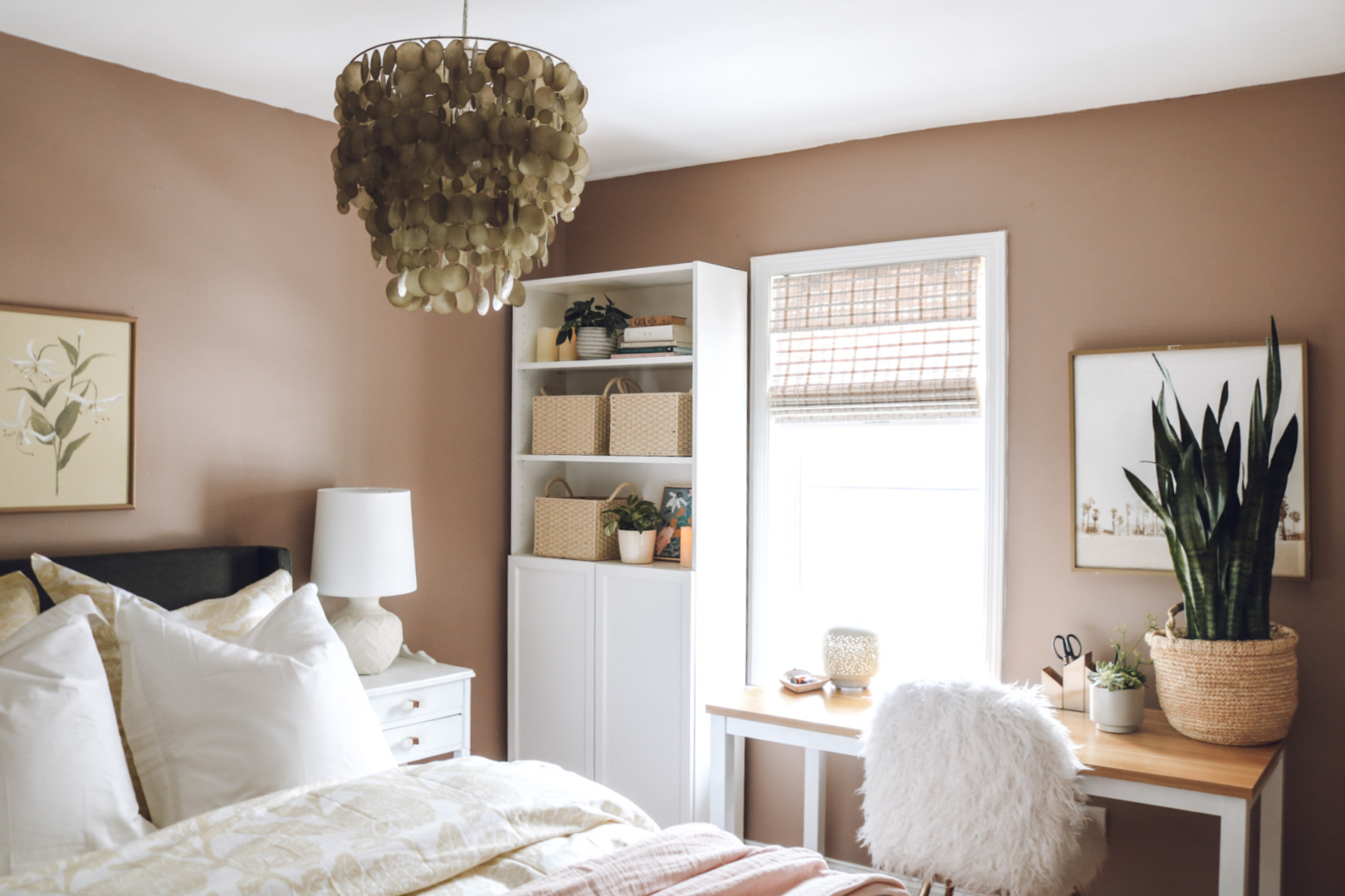 Image Credits: nestingwithgrace.com
Isn't this bedroom lovely? The salmon walls are inviting and cheerful, and a vibrant backdrop for the white and light pink linens, whose hues are super soothing. The furniture in pristine white adds a modern, clean touch, complementing the color scheme while enhancing the room's expanse.
Green plants, strategically placed in the room, infuse a touch of natural vibrancy, adding to the room's refreshing ambiance. Finally, what's not to like about the chandelier? Its gold tones add a touch of glamour while finishing off the look.
43. Violet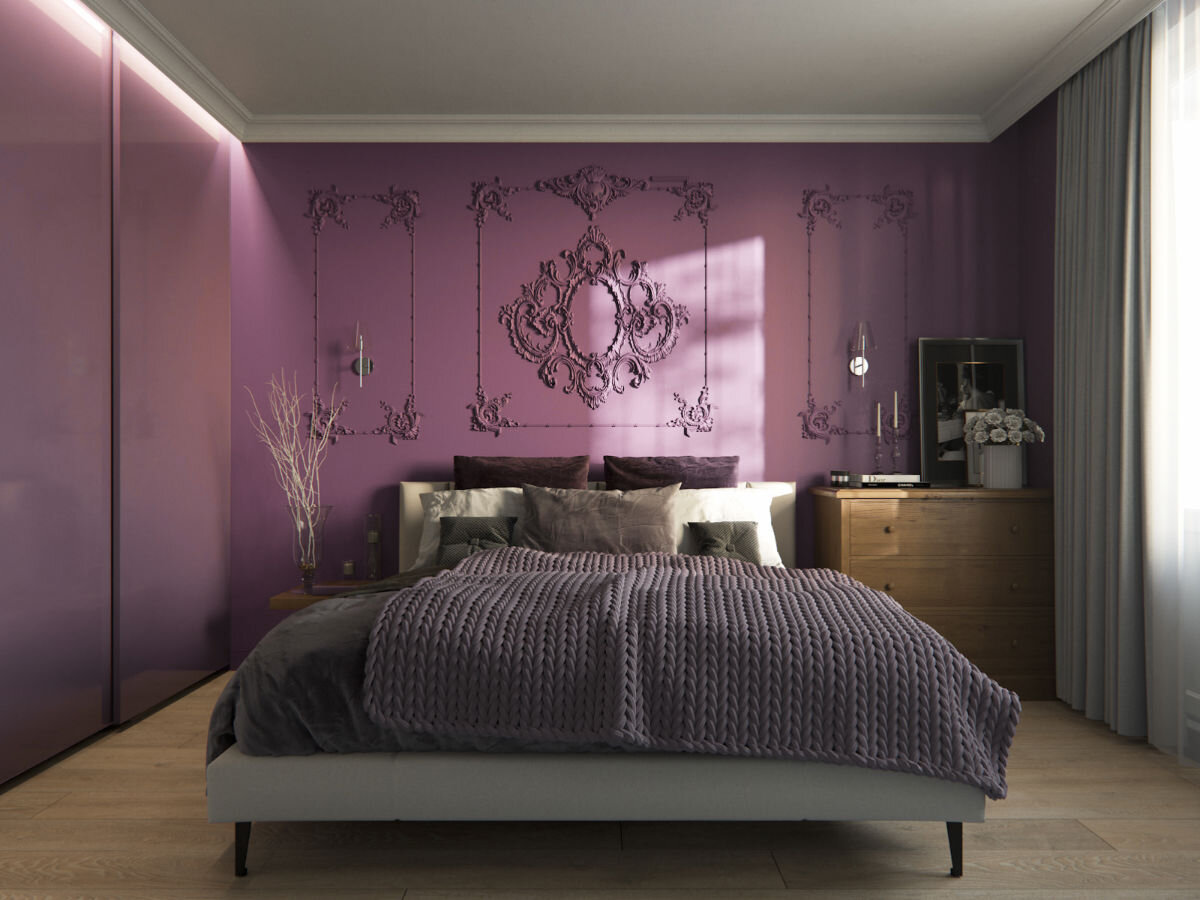 Image Credits: home-designing.com
If you love purple, you can venture into the darker tones that instantly elevate a room. Violet is one such color, especially on the walls where the rich hue infuses the space with a regal and sophisticated ambiance. Pair the richness with neutral textiles for a balanced look. Don't you love how the knitted throw adds a tactile element to improve the room's coziness?
44. Caramel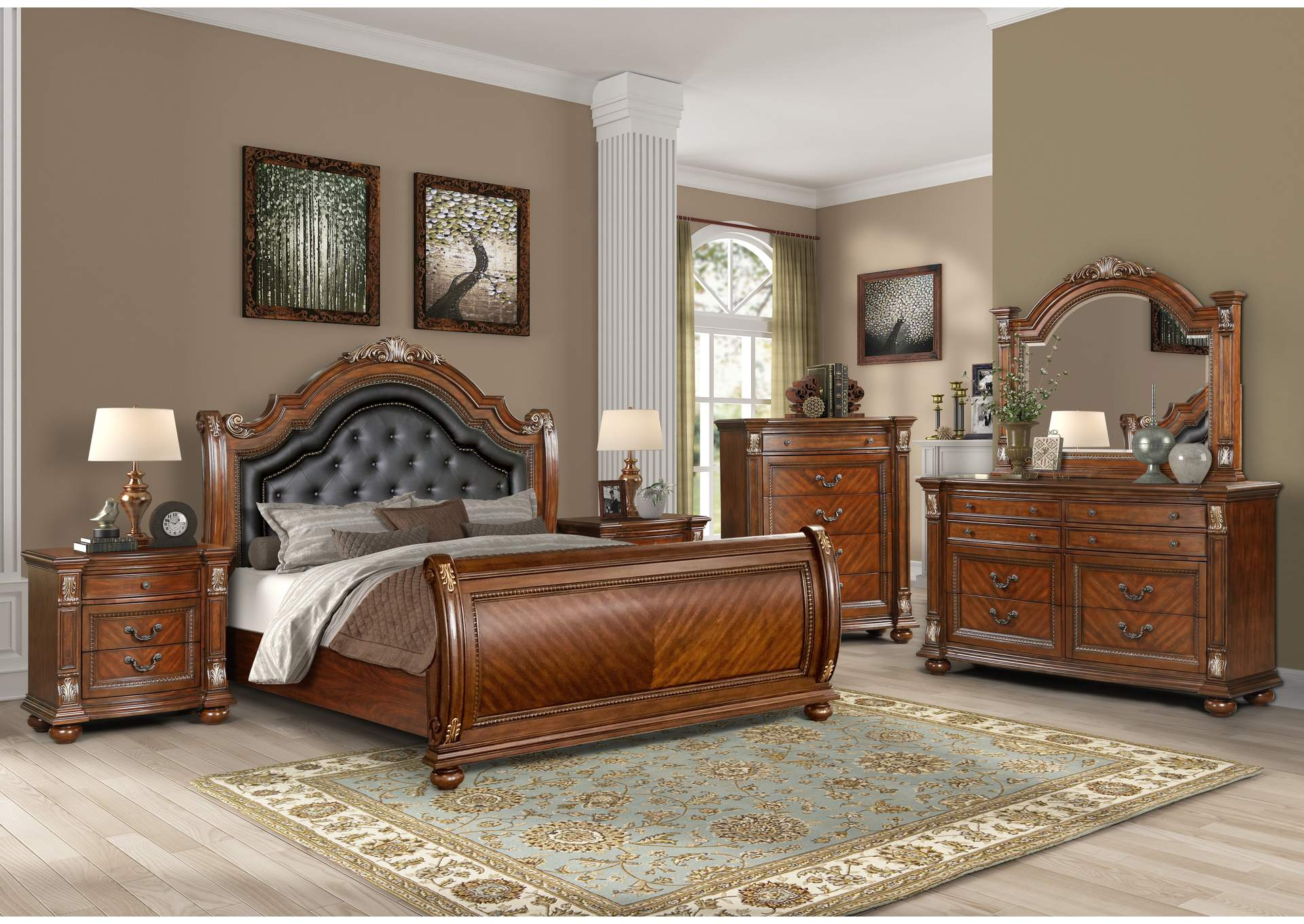 Image Credits: bestbuy-furniture.com
Caramel fills a room with zeal and comfort. Up for it?
Paint your walls caramel, then complete the look with dark wooden furniture. The deep tones of the wood provide a striking contrast to the caramel walls, enhancing the room's depth and dimension. Finally, lay down a classy carpet adorned with prints to add texture and visual interest underfoot and infuse the room with an additional layer of elegance and style.
45. Knotty Pine Brown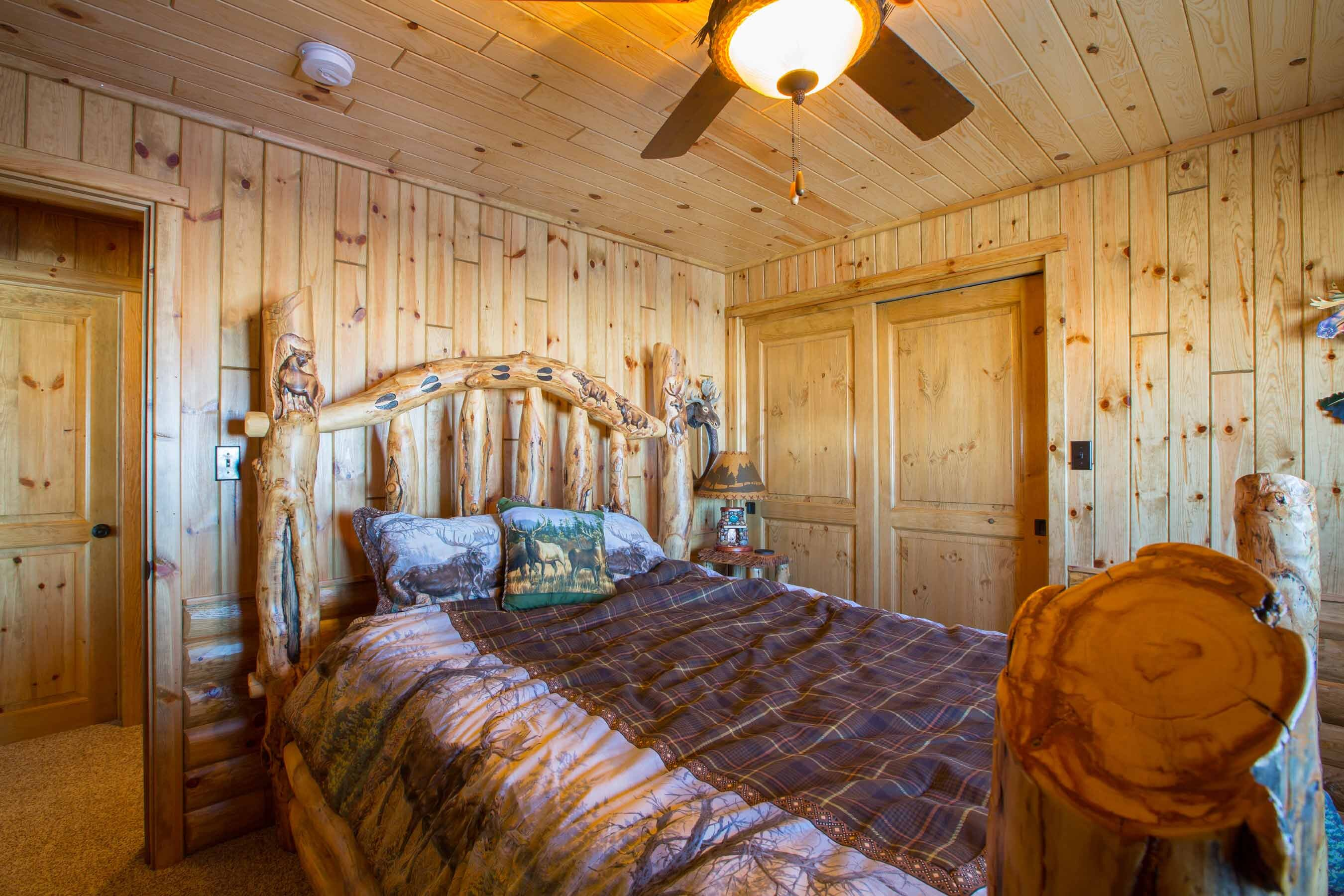 Image Credits: woodworkersshoppe.com
Embrace the rustic charm of a bedroom featuring knotty pine walls. The natural, warm tones of the knotty pine immediately create a cozy and inviting atmosphere, while the unique knots and grain patterns add character and interest. This beautiful woodsy backdrop sets the stage for a room filled with natural beauty and tranquility.
To complement the knotty pine walls, opt for a wooden bed. Choose a piece that echoes the warmth and texture of the walls, creating a harmonious look.
46. Pale Yellow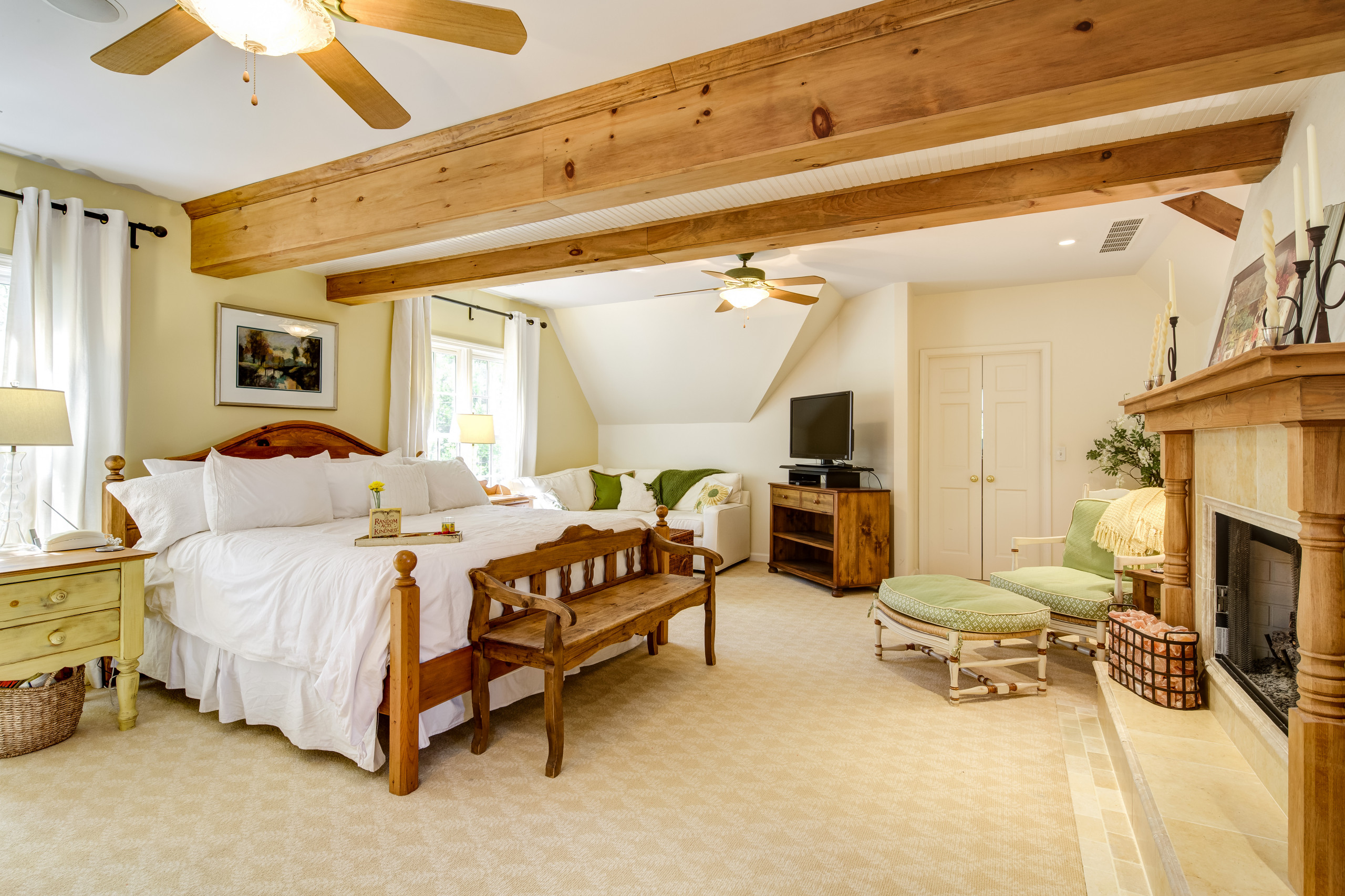 Image Credits: houzz.com
Create a warm, inviting haven with a butter-yellow-themed bedroom. Start with butter-yellow walls for a lovely, sunny scene that invites light into the room, enhancing its spaciousness and airiness.
The pristine freshness of white linens adds a refreshing contrast to the walls, enhancing the room's soothing ambiance. See how the brown accents on the furniture and wooden ceiling, with their earthy tones, provide a grounding counterpoint to the room's lighter hues? The hints of sage and mint green also add a sense of vitality and freshness to the room.
47. Marine Blue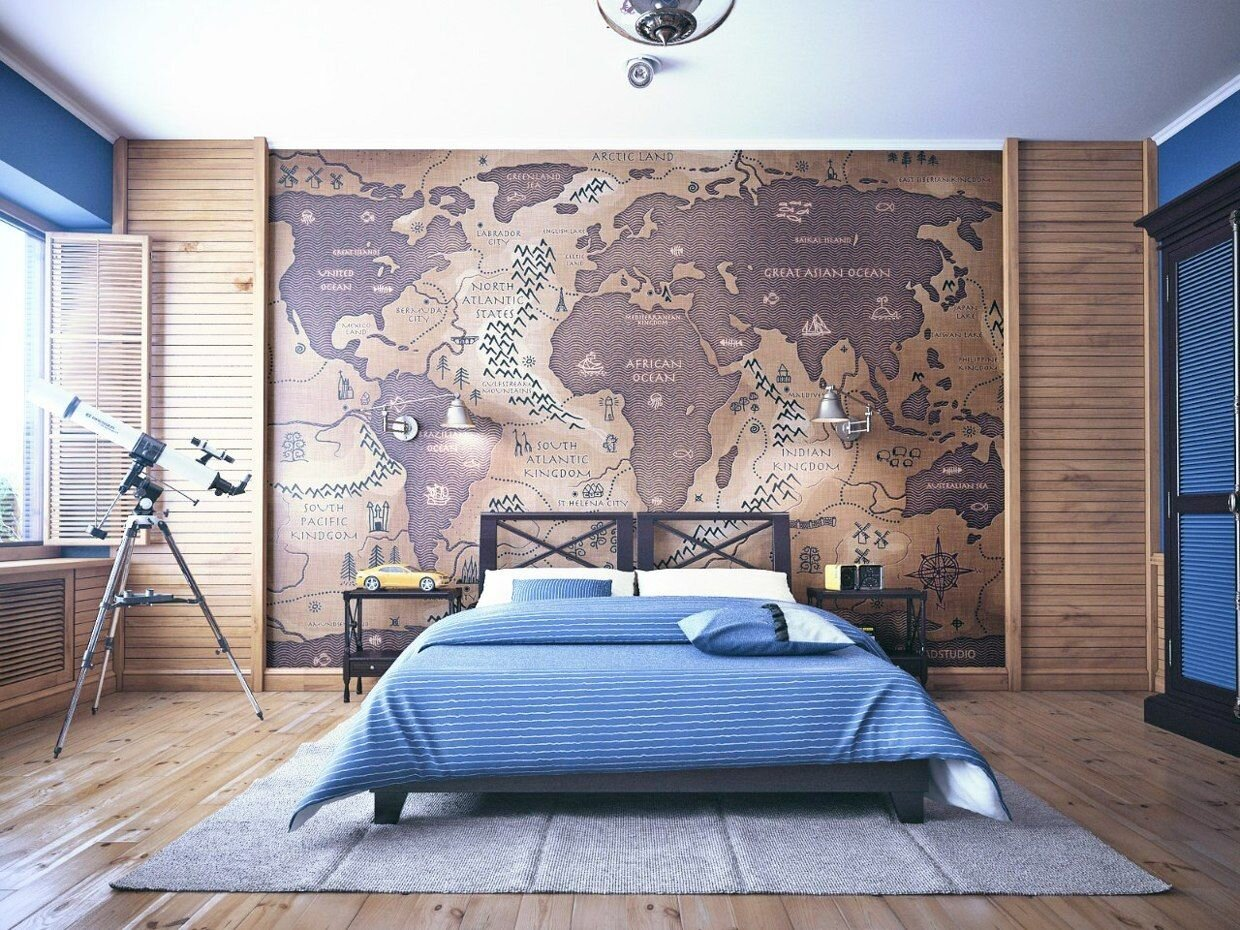 Image Credits: smalldesignideas.com
If you want a nautical theme for your bedroom, it couldn't get better than the idea above. The marine blue really brings out the style in the bedroom, especially reflecting light from the walls and bedding. The maple wood color of the floor complements the gray rug, while the focal point in the room is the wall art with a map of all places you could sail!
48. Matte Black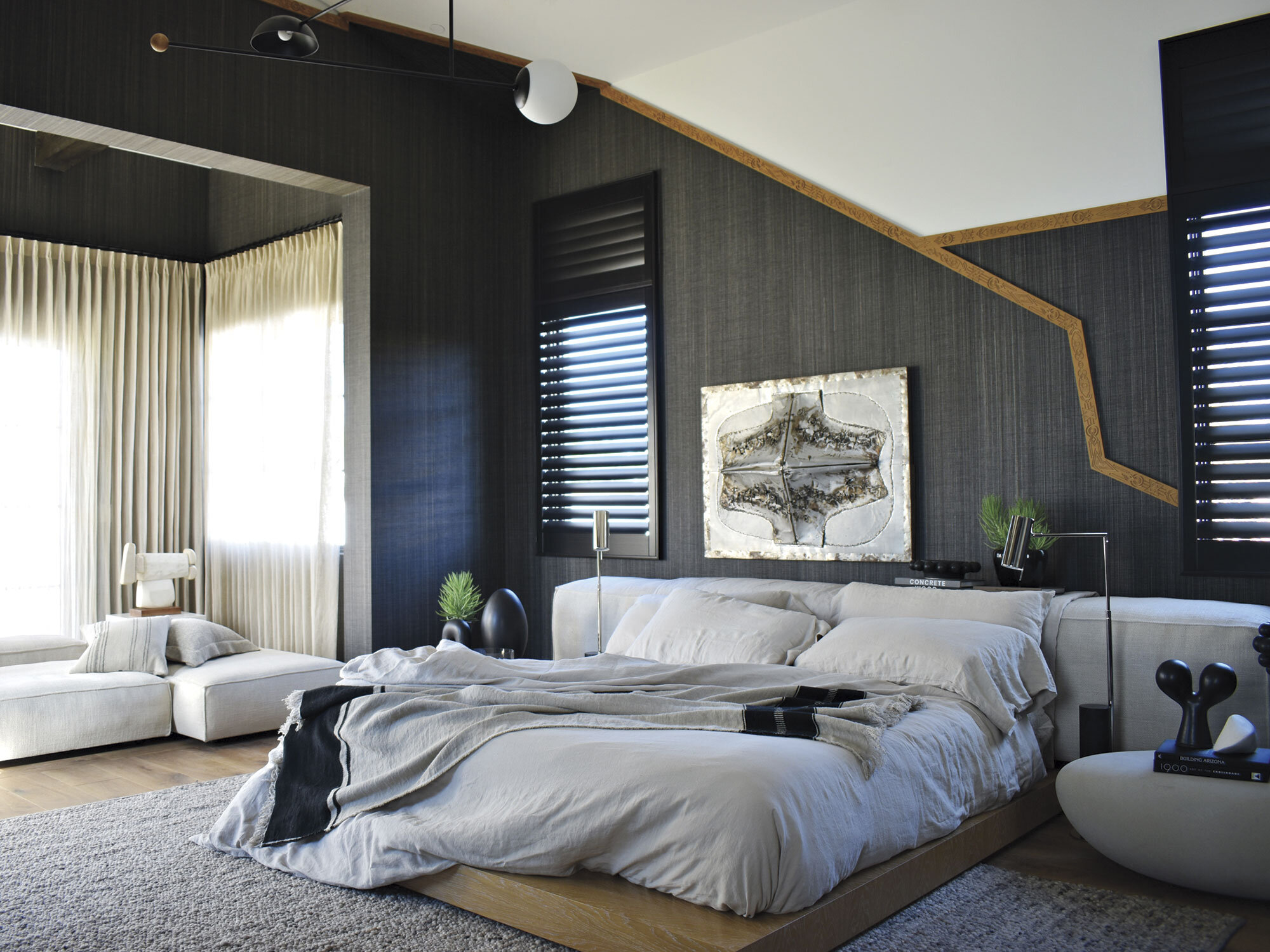 Image Credits: phgmag.com
Creating a bold statement with matte black walls can be a striking choice for a bedroom. This intense dark color provides a dramatic backdrop that immediately draws attention, creates a sense of depth, and absorbs light rather than reflects it. Pair the matte sheen with wooden brown edges to add a warm, earthy contrast to the walls, keeping the room from feeling too stark or cold.
Opt for off-white bedding for a visually pleasing contrast while adding a touch of freshness and airiness to the room. The gray rug adds a layer of comfort underfoot while tying the look together, bridging the gap between the dark walls and the lighter bedding.
49. Light Lilac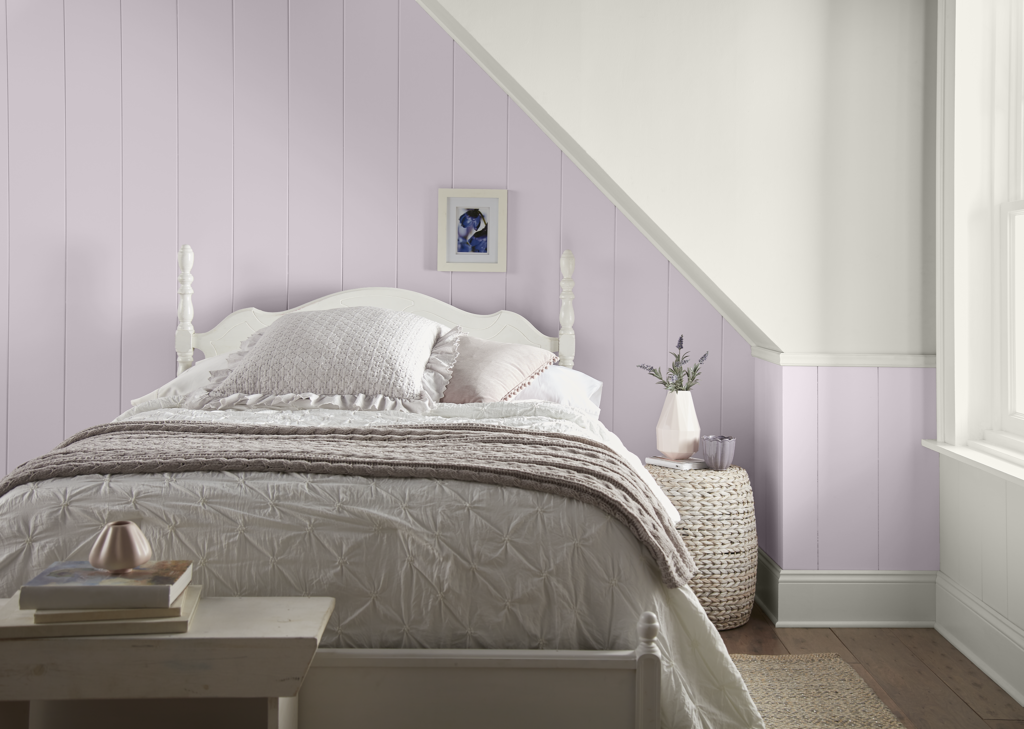 Image Credits: behr.com
Light lilac is ever-calming, and the bedroom above shows how you can easily incorporate the theme. The color goes on the wall, sharing the space with white, thus creating a gentle yet stunning focal point of the room. Once you achieve that, opt for neutral colors for your bed linens, and match these relaxed hues across other areas of the bedroom, including furniture and floor.
50. Red Brick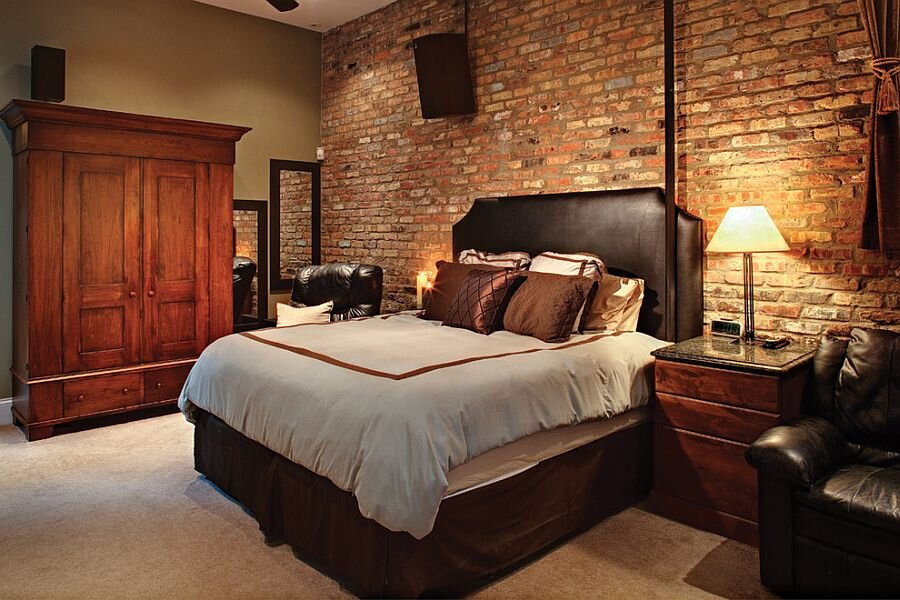 Image Credits; decoist.com
A red brick wall adds a distinctive charm to any bedroom, effortlessly blending rustic character with urban chic. As in the bedroom above, the wall's rich, earthy tones and textured surface introduce warmth and depth, creating a visually appealing backdrop that's both timeless and trendy. Go for this look to develop a sense of history and authenticity!
The Final Brushstroke: Best Bedroom Colors
When choosing the best bedroom colors, you have countless possibilities, each promising to transform your room into a stylish sanctuary. From calming neutrals to bright colors, the choice ultimately boils down to your style and the ambiance you hope to create. The 50 ideas above will help you make an informed choice – and a place that looks fantastic and feels like home!