Hypothetically, you just got that sleek, brand-new Samsung TV with the latest QLED 4K/8K UHD, super-slim design, and crystal clear images; isn't she a beauty! But there's only one little thing missing for the whole experience, and you're probably asking yourself, what is the best soundbar for Samsung Tv?
If you want the best soundbar for your Samsung TV, you might want to check out the Samsung HW-Q950A 11.1.4 Channel Dolby Atmos Soundbar. It is a premium soundbar that delivers crystal clear audio with rich bass and has built-in Dolby Atmos technology.
Another great option is the Samsung HW-Q950T 9.1.4ch Soundbar. It is also a high-end soundbar that offers immersive sound with impressive features such as Alexa built-in, multiple HDMI inputs, and eARC support.
If you're looking for something more budget-friendly, the Sony HT-G700: 3.1ch Dolby Atmos/DTS:X Soundbar is an excellent choice. Its mid-range soundbar offers an immersive sound experience with its three-channel speaker system and Dolby Atmos/DTS:X support.
Adding one to your Samsung TV setup will undoubtedly enhance your viewing experience regardless of which soundbar you choose. So for the perfect pairing, keep reading for a more comprehensive list of the best soundbars for Samsung TVs currently in the market.
What Does A Soundbar Have To Offer?
A soundbar is an all-in-one speaker and sound system that delivers high-quality TV sound without needing the space, complexity, and expenses of a home theater receiver or surround sound speaker setup.
Soundbars are relatively more affordable and stylish, provide great sound, are easy to use and set up, and are intuitively compatible with the latest technology.
Soundbars are rippling through the entertainment industry in waves, with top-tech brands putting their best foot forward to create high-quality soundbars.
In terms of compatibility, all soundbars use a completely standard connection technology; however, some of the best soundbars for Samsung TVs come with specific additional features that are especially suited for Samsung TVs.
This guide looks at the best soundbars for Samsung TVs across different budgets and sizes that will be the perfect audio match for your visual spectacle. Some can be paired with Samsung TVs as small as 32 inches, while others are built explicitly for large screens, 55 inches and above. Here's a breakdown of each model.
What Is The Best Soundbar For Samsung TVs?
1. Samsung HW-Q950A 11.1.4 Channel Dolby Atmos Soundbar With Subwoofer
I recently purchased the Samsung HW-Q950A 11.1.4 soundbar, and I must say, it's the ultimate home cinema system. It provides an indulgent listening experience for my Samsung TV. The soundbar is compact and easy to set up, which is a huge plus.
The system includes a main soundbar in front of the TV, a wireless subwoofer, and two small speakers behind me, one to the left and the other to the right.
With 11.1.4 channels of balanced sound, I experience 11 surround sound modes that surround me, one for the wireless subwoofer and four height channels to add sound above me.
The angled speaker drivers in the front soundbar and rear unit echo and fill the room with sound, creating that immersive dome sound Dolby Atmos is known for.
Image Source: samsung.com
I am impressed with the setup's power, detail, and dynamic sound effects. The sound is well-positioned vertically and horizontally, and the impact sounds hit hard without sounding unnatural.
The soundbar also includes valuable features, such as two HDMI inputs and one output to connect to my TV. It also supports Dolby Atmos and DTS:X, which bypasses the fact that my Samsung TV doesn't usually support Atmos.
I love that I can stream music over Wi-Fi or Bluetooth; all the boxes connect wirelessly. I can also use Samsung's Q Symphony feature, which combines the soundbar's 22 speakers with the drivers around the edge of my TV for even more immersion and presence.
Overall, the Samsung HW-Q950A 11.1.4 soundbar has exceeded my expectations and is the perfect addition to my home cinema setup.
2. SAMSUNG HW-Q950T 9.1.4ch Soundbar With Dolby Atmos/ DTS:X And Alexa Built-In
SAMSUNG HW-Q950T 9.1.4ch Soundbar with Dolby Atmos/...
3D TRUE SURROUND SOUND (DOLBY ATMOS AND DTS: X): Explore the...
TRUE 9.1.4CH SOUND: Through the 20 speaker system, the soundbar's...
UP-FIRING REAR SPEAKERS INCLUDED: With wireless up-firing, rear...
Q-SYMPHONY: Breakthrough technology that synchronizes Samsung...
ALEXA BUILT-IN VOICE ASSISTANT: Your soundbar comes with Alexa...
I have also used the HW-Q950T home theater soundbar system and was impressed with its features. With a 9.1.4 channel system, the soundbar delivers nine channels of crystal-clear audio, while the subwoofer adds an extra punch with its additional channel. The four other channels help to fill the room with immersive sound, making it feel like I'm at the cinema.
One of the standout features of this soundbar is its support for Dolby Atmos and DTS:X, which provides true 3D surround sound. The audio quality is excellent and has completely transformed my movie-watching experience.
Another impressive technology is Q-Symphony, which syncs the soundbar seamlessly with my Samsung QLED TV. It's cool to see and hear the soundbar and TV working together to provide a more immersive experience.
Image Source: thehometheaterdiy.com
Lastly, I love that this soundbar is compatible with Alexa and Adaptive Sound, making it easy to control the sound with voice commands or automatically adjust the sound based on the content being played.
I'm happy with my purchase of the Samsung HW-Q950T soundbar, and I would highly recommend it to anyone looking for a premium home theater audio system.
3. Sony HT-G700: 3.1ch Dolby Atmos/DTS:X Soundbar
Sale
Sony HT-G700: 3.1CH Dolby Atmos/DTS:X Soundbar with...
3.1ch Dolby Atmos DTS: X and Vertical Surround Engine
Immersive AE (Audio Enhancer) upscale audio closes to 7.1.2 each...
Wireless subwoofer delivers powerful bass sound
Sound modes to customize listening to movies and music
Multiple easy connections so you can enjoy all your media
This excellent soundbar was specifically designed to complement Samsung TVs of a more compact size. One of my TVs is 43 inches, and this soundbar fits perfectly with it. It may seem small, but don't let its size fool you. It delivers an outstanding cinematic experience that even two wireless surround speakers can't match.
This soundbar technically offers 3.1 channels, but its impressive sound width creates a powerful sound that fills the room with plenty of extra dimensions.
Image Source: sony.com
I love that the wireless subwoofer connects to my TV using an optical or an HDMI cable. I use the HDMI input with a 4K HDR pass-through, which helps the soundbar get around the Dolby Atmos limitation in Samsung TVs.
One downside is that the HDMI pass-through doesn't support HDR10+, so I always have to settle for regular HDR10. However, this doesn't take away from the fact that this soundbar is affordable and works like a dream. I would recommend it to anyone looking for a top-quality soundbar at a great price.
4. SAMSUNG HW-Q70T 3.1.2ch Soundbar
Sale
SAMSUNG HW-Q70T 3.1.2ch Soundbar with Dolby Atmos /...
DOLBY ATMOS AND DTS: X: Capture every sound above and around you...
Q-SYMPHONY: Syncs your Q-Series Soundbar speakers with your...
TRUE 3.1.2 SOUND: With 3 channels, 1 subwoofer channel, and 2...
MUSIC COMES ALIVE WITH YOUR VOICE - Enjoy your Soundbar...
SAMSUNG ACOUSTIC BEAM - Acoustic Beam technology delivers sound...
I also loved the Samsung HW-Q70T soundbar subwoofer combo and am thoroughly impressed! The sound quality is amazing, especially with the Dolby Atmos and DTS:X features. I have a QLED Samsung TV, and connecting the soundbar to it was effortless, creating a truly immersive experience.
The 3.1.2 channel setup works incredibly well with dedicated left and right channels and a center channel for speech. The subwoofer and two up-firing channels add depth and dimension to the sound, making it feel like I'm in the middle of the action.
Image Source: offerup.com
The Samsung Acoustic Beam and Adaptive sound technologies are also great additions, ensuring the audio delivery is optimized and of the highest quality. I'm extremely satisfied with this soundbar and highly recommend it to anyone looking for an affordable yet powerful sound system.
5. Sonos Beam - Smart TV Soundbar With Alexa Built-In
Sonos Beam - Smart TV Sound Bar with Amazon Alexa...
Beam - The smart, compact soundbar for TV, music, and more.
High definition sound - Experience rich, detailed sound for your...
TV, music and more - Play music, TV, movies, podcasts, radio,...
Easy control - Control Beam with your voice, remote, the Sonos...
Class 10 for Full HD video recording and playback (Full HD...
The Sonos Beam smart TV soundbar might not be the first product you'd think of for a Samsung TV, but it also comes with features that make it the most popular soundbar you can get for a Samsung TV.
The sound quality is fantastic, and the compact design allows me to adjust its placement for optimal performance easily.
What I love most about the Sonos Beam is its versatility. I can not only enjoy an immersive audio experience while watching movies but also listen to music and podcasts and even play video games with the soundbar. Setting it up was a breeze, thanks to its HDMI ARC compatibility.
Image Source: sonos.com
In addition to voice control through Alexa, I can use the remote control or the Sonos app on my phone to conveniently adjust the sound to my liking. I highly recommend the Sonos Beam smart soundbar for anyone needing an excellent audio solution for their Samsung TV.
6. Sony HTX8500 2.1ch Dolby Atmos/DTS:X Soundbar With Built-In Subwoofer
Sony HTX8500 2.1ch Dolby Atmos/DTS:X Soundbar with...
7.1.2ch Dolby Atmos/DTS X with Vertical Sound Engine
Dual built-in subwoofers for deep bass
All sound upscaled close to 7.1.2ch audio
Seven different sound modes to enhance your entertainment...
Voice enhancement for greater clarity
Although Sony HTX8500 2.1ch Soundbar doesn't have up-firing speakers, it still delivers an immersive sound experience with Dolby Atmos and DTS:X, whether I'm watching movies, streaming music, or playing games. The seven entertainment modes, including news, standard, game, and sports mode, provide various options to suit my needs.
The soundbar's compact size doesn't compromise sound quality; it has two built-in subwoofers that produce excellent bass. Its construction is upscaled close to 7.1.2 ch for converting stereo audio to cinematic surround.
One of the best features of this soundbar is its ability to isolate background noises, making speech easier to follow. It is also compatible with HDR10 and Hybrid Log-Gamma, which enhances my 4K movie experience.
Image Source: sony.com
The slim and unobtrusive design of the 890 x 64 x 96 mm sound system blends well with my house theme, featuring a punched metal speaker grille plus sub-woofer ducts on two sides. Connectivity is not an issue since it comes with an HDMI input and HDMI-ARC output, analog audio output and input, Wi-Fi support, Bluetooth, Ethernet, and optical audio input.
Setting up the soundbar was a breeze with the included detailed guide. The package also came with a remote control with batteries, an HDMI cable, an AC Adaptor, and an AC cord, making it an affordable and convenient purchase. Overall, I am delighted with my Sony HTX8500 soundbar, and it's the perfect addition to my Samsung TV.
7. YAMAHA SR-C20A Compact Sound Bar
Sale
YAMAHA SR-C20A Compact Sound Bar with Built-in...
Built-in subwoofer and passive radiators for surprising bass
Clear Voice for enhanced dialogue clarity
Bluetooth streaming for your music and podcasts
Simple setup with HDMI, optical or aux connections
Wall-mountable with built-in keyholes
While I wasn't able to buy this soundbar, my close friend recently purchased the Yamaha SR-C20A soundbar, and I have to say, I'm quite impressed with its performance.
Although it doesn't offer all the bells and whistles that high-end models do, it certainly delivers where it counts. It pairs seamlessly with most Samsung TVs from 32 inches and up, and the sound quality is immersive for a soundbar of its size.
One of the standout features of this soundbar is its built-in subwoofer. Combined with passive radiators, it produces great bass that adds to your entertainment experience. Additionally, the Clear Voice feature does an excellent job of isolating speech from background noise, resulting in excellent clarity.
Image Source: yamaha.com
With a total power output of 100W, this 2.1ch soundbar can pack a punch when needed. Setting it up and connecting it to your TV is also a breeze, making it a convenient choice for anyone who wants to upgrade their TV's sound quality.
However, it's worth noting that the remote control that comes with the soundbar is of poor quality, and the limited HDMI inputs could be a drawback for some users. All in all, though, I think this is a great option for anyone looking for an affordable, Samsung TV-compatible soundbar that delivers impressive sound quality.
8. Bang & Olufsen Beosound Stage – Dolby Atmos Soundbar
Bang & Olufsen Beosound Stage – Dolby Atmos Soundbar...
DOLBY ATMOS SURROUND SOUND: Transforms your TV listening...
POWERFUL SOUND: With 11 different drivers and woofers, Bang &...
HIGHLY COMPATIBLE: Designed to work with any 3rd party TV...
TASTEFUL DESIGN: A simple yet attractive Scandinavian inspired...
MULTIPURPOSE SOUND: Integrated audio streaming means Bang &...
I've had the chance to use the Bang & Olufsen Beosound Stage soundbar, and I highly recommend it. The soundbar perfectly matches Samsung TVs and boasts a unique and stylish design inspired by Scandinavian interior design. It's available in three color options and has a size of 1100x170x77mm, making it an excellent fit for any elegant home.
One of the standout features of the Beosound Stage is its Dolby Atmos support. It creates an immersive listening experience by moving sound around the room in three-dimensional space, and the 11 different drivers and woofers provide exceptional sound quality.
Image Source: bang-olufsen.com
The soundbar also supports HDMI ARC, making connecting to your TV easily. The integrated audio streaming and Beosonic Tuning allow you to fine-tune the surround sound system to your liking. The Bang & Olufsen Beosound Stage is the way to go if you want a high-quality soundbar with excellent features.
9. Samsung HW-Q800A 3.1.2ch Black Soundbar With Dolby Atmos
SAMSUNG 3.1.2ch Q800A Q Series Soundbar - Dolby...
DOLBY ATMOS / DTS:X - Theater-quality sound that fires from the...
TRUE 3.1.2CH SOUND - The complete audio entertainment experience...
Q-SYMPHONY - Perfectly synchronized, fully immersive QLED TV and...
BUILT-IN VOICE ASSISTANT - Control your soundbar and stay...
SPACEFIT SOUND - Automatically calibrated sound and enhanced...
I've used this Samsung soundbar before, and I can confidently say it's an excellent choice if you're looking for an immersive surround sound experience. The soundbar features a 3.1.2-channel configuration that widens the soundstage, and with Dolby Audio support and a wireless subwoofer, it delivers exceptional sound quality.
The soundbar's Dolby Atmos and DTS:X capabilities, combined with upward-firing tweeters, create a truly immersive surround sound experience that will blow you away.
The Samsung Q Symphony feature provides the best possible cinema sound for compatible TVs. I appreciate that it has an HDMI input and an additional HDMI connection for other Atmos devices like Apple TV.
Image Source: samsung.com
The optical line connection is perfect for older Samsung TV models, while Wi-Fi and Bluetooth support makes it easy to stream music wirelessly. Moreover, the soundbar is compatible with Alexa, allowing you to operate it hands-free. Its compact size also makes it a great fit for TVs that are 49 inches or larger.
I highly recommend this Samsung soundbar to anyone looking for a high-quality sound system for their home entertainment setup.
Factors To Consider For The Best Soundbar For Samsung Tv
1. Channels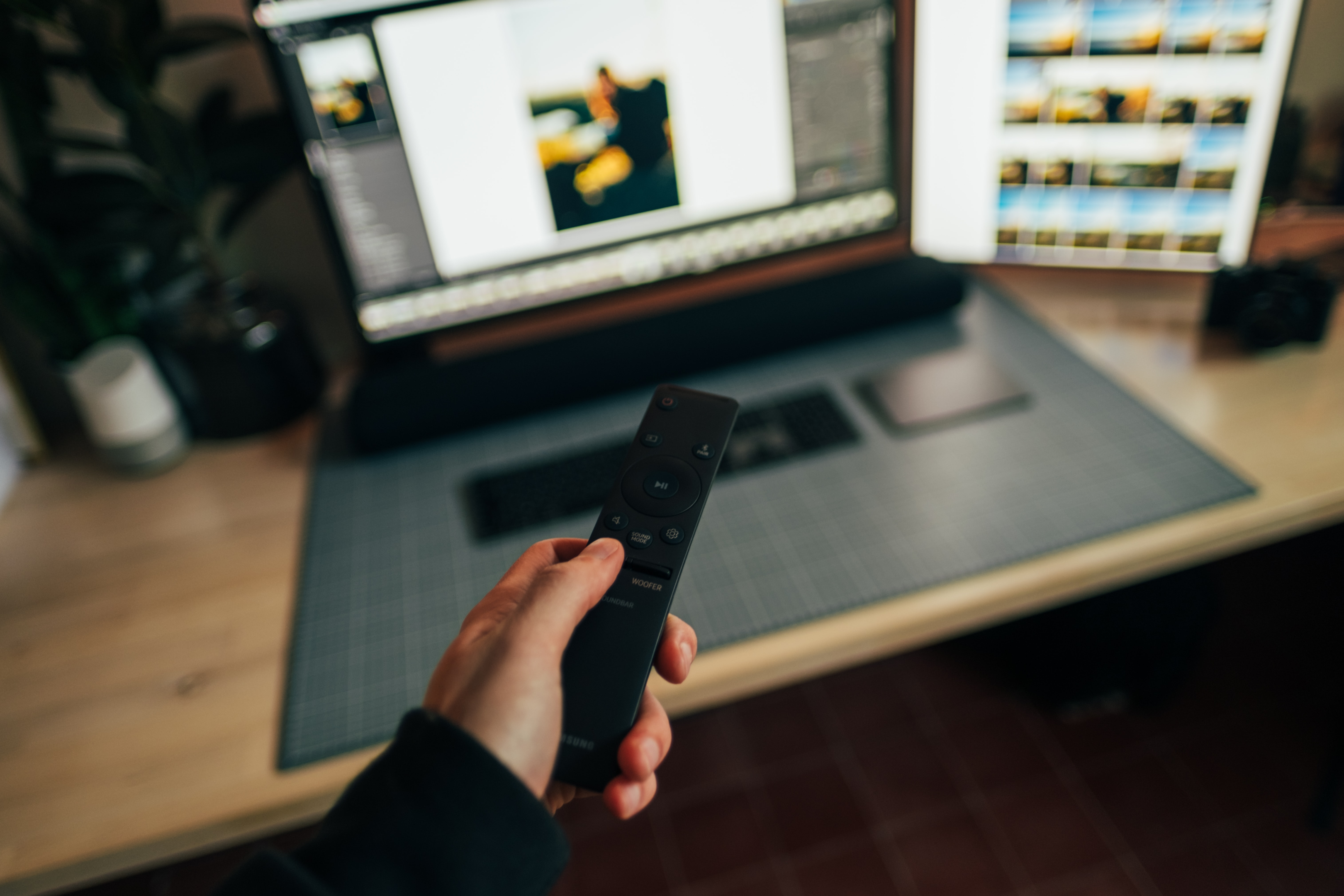 Channel refers to the number of sound emission points that your soundbar offers. Here's how these channel numbers work; for instance, if your soundbar sound system is a 2.1-channel soundbar, it gives two channels and a subwoofer. The former number gives you the number of channels, while the latter gives you subwoofers.
Both 2.1 and 3.1 channel soundbars are a standard even in budget pick; however, if you want excellent surround sound for an immersive sound experience, you'll need at least five channels, including the wireless rear speakers. Other than the channel, some of the best soundbars also support Dolby Atmos and DTS:X technology for a more impressive sound quality experience.
The number of channels will vary depending on your desired sound quality, primarily if the soundbar supports Dolby Atmos and DTS technology. However, these soundbars also may come at a higher price.
But in a nutshell, the higher the channel soundbar numbers, the more expansive the sound experience and the higher the cost might be.
2. HDMI Ports
Always check for the number of HDMI ports since they allow you to switch between the video source components. In addition, many of the HDMI output/input connections support HDMI ARC, which allows connection to the TV.
It is much easier compared to the old-school conventional system; if your Samsung TV system has an HDMI port, it's much easier to connect to other devices with similar ports.
3. Size
As a general rule of thumb, the ideal soundbar for your Samsung TV or other TV brands should be narrower than your Samsung TV in size but also large enough to fill the room with bass and treble.
The size of your soundbar should be proportionate to the size of your TV. A larger soundbar may overpower a smaller TV, while a smaller soundbar may not provide enough audio power for a larger TV. So, consider the size of your TV and choose a soundbar that complements it.
4. Sound Quality
Sound quality is the most important factor to consider when choosing a soundbar for your Samsung TV. Look for a soundbar that delivers clear and crisp audio with a balanced mix of bass, midrange, and treble. A soundbar with at least two channels (left and right) can provide a wider soundstage and a more immersive audio experience.
5. Connectivity
Check the connectivity options available on the soundbar. Most soundbars come with HDMI, optical, and 3.5mm audio inputs, so make sure the soundbar you choose has the right inputs to connect to your Samsung TV. Some soundbars also offer Bluetooth connectivity, which can conveniently stream music from your phone or tablet.
6. Brand Compatibility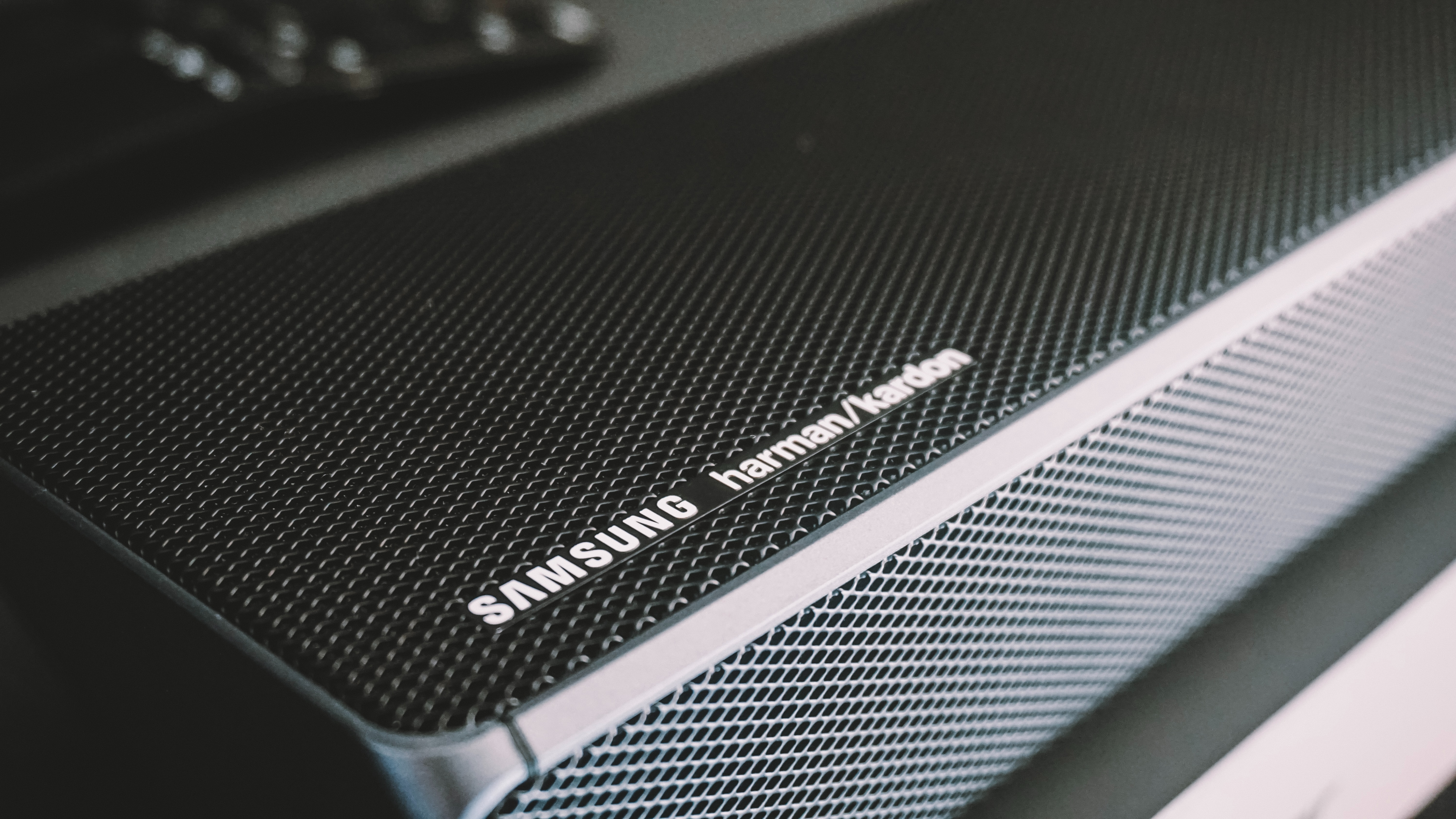 While most soundbars are compatible with most TVs, it's always a good idea to check the compatibility between the soundbar and your Samsung TV before purchasing. Some soundbars may offer specific features that only work with certain TV brands. Ensure your soundbar can pair up with a compatible Samsung tv for great sound quality.
7. Price
Soundbars can range from under $100 to over $1,000, so setting a budget before shopping is important. A higher-priced soundbar doesn't always mean better sound quality, so compare the features and sound quality of different soundbars in your budget to find the best value.
8. Additional Features
Some soundbars have additional features like built-in subwoofers, voice control, or surround sound technology. These features can enhance your audio experience, but they may also increase the price of the soundbar.
Why You Need The Best Soundbar For Samsung TV
While Samsung is one of the biggest TV brands in the world, we recommend using a soundbar for better sound quality. Like most TVs, a Samsung TV mostly comes with about two 20W speakers in total, which, compared to the TV video quality, does not provide the best sound for comprehensive entertainment.
The power output is generally okay for watching the news. Still, when it comes to streaming music, watching movies, or a gaming session, you need the best smart TV soundbar, such as those shared in this review, for better audio performance. Here are a few more reasons why a Samsung smart TV soundbar is almost mandatory for entertainment.
1. A Soundbar Is More Powerful Than Built-in TV Speakers
If you have tried balancing the sound on your TV, you will understand how you tend to lose audio clarity as the volume increases. But, using the soundbar, you can now increase volume while trusting the Samsung soundbar to alienate background noises. Thus, you will end up with the best dialogue clarity.
2. Most Soundbars Come With a Wireless Subwoofer
Part of the reason your TV doesn't sound so good on its own is the lack of bass. The built-in speakers cannot produce high-quality stereo sound, including bass, so getting a soundbar for your Samsung TV is a great idea.
In addition, a subwoofer is crucial for maintaining high-quality dialogue volume since it captures all the booms and explosions, leaving speeches for the smaller soundbar speakers to ensure minimal distortion.
3. Works for TVs with Limited Ports
Soundbars come with extra HDMI inputs and outputs, so you can also add other devices, such as gaming boxes or Apple TVs, for the best entertainment.
4. The Soundbars Are Also Easy to Set Up, Making Purchasing One Appealing
You do not need a professional to set it up or need to drill holes into your walls or ceilings. You can place the soundbar in front of your TV, which will not be obtrusive. On the other hand, connecting the sound bar to your TV is as easy as connecting their audio return channels through HDMI and turning the ARC option on your TV menu.
How To Set Up Your Best Samsung TV Soundbar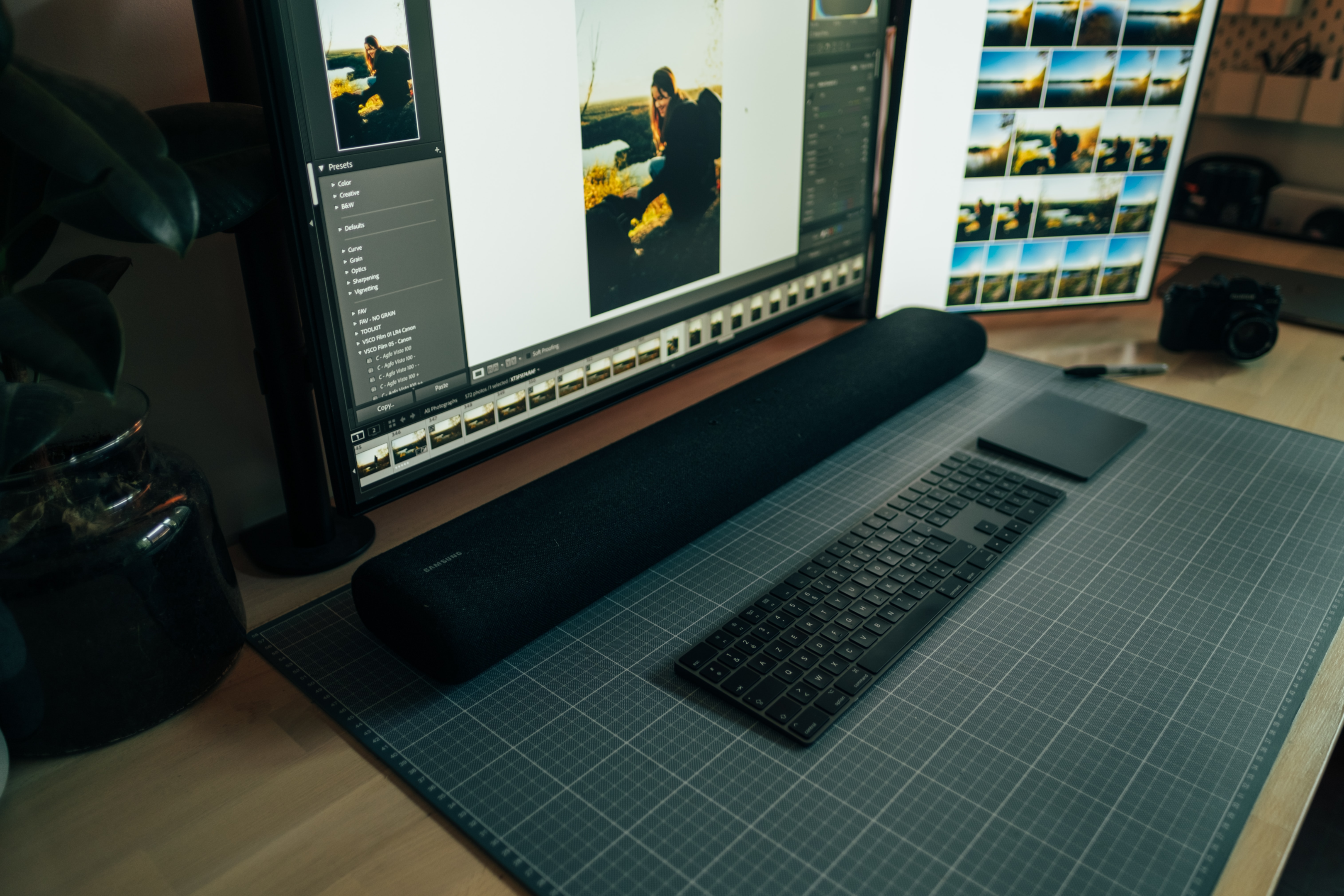 Reading this review, you will notice the different connectivities you need to look for in a soundbar. This section will detail the steps to follow in four ways to connect your Samsung TV to your best soundbar.
A) Via HDMI Cable
If you just got the best soundbar to use with your Samsung TV, you can trust that using the HDMI cable and ports guarantees the best possible sound quality. This is because the cables can maintain the best sound quality by transmitting the digital audio both ways to maintain signal latency. Have your soundbar, TV, and HDMI cable at the ready? Follow these simple steps to connect.
Turn off the TV and soundbar.
Plug the cable into the ARC port on your TV.
Connect the other end to the HDMI OUT (TV-ARC) on your soundbar.
Turn on both devices.
Set the Source to D.IN. on your soundbar.
Play any video or audio on your TV, and the sound will be transmitted through the soundbar.
B) Via An Optical Cable
Another method to connect your soundbar to the TV is through an optical cable. Optical cables are excellent at transmitting digital sound to mitigate the risk of distortion, especially when you turn the volume up. Luckily, any Samsung Tv can connect through an optical cable, and most soundbars will come with a high-quality cable you can use. Are you done unpacking your new soundbar? Here is how you can connect through the cable.
Turn both devices on.
Set the soundbar to Source D.I.N.
Connect one end of the opticaTV'sble to your TV's Digital Optical Output port.
Connect the other end of your soundbar's Digital Audio In port.
With your Samsung TV remote, navigate to settings and select Sound. Once there, navigate to Sound output and Select Audio Out/Optical.
Start playing music, videos, games, or any other form of entertainment on your TV and enjoy your soundbar's different sound modes.
C) Via Bluetooth
Looking to ditch cables? Most Samsung TVs and soundbars have Bluetooth support to allow you to connect them wirelessly. This option is also ideal if you have little space, allowing you to mount both devices on the wall. While the sound quality won't be as strong as when using an HDMI or optical cable, and you risk poor connectivity using other electrical devices, Bluetooth is the best method for clean, wireless connectivity. Here, you can pair the soundbar to your TV for better sound quality.
Turn both devices on.
Using the soundbar remote, set the source to BT so it can start preparing to pair. When the setting is ready, it will indicate BT Ready.
When the soundbar reads BT Ready, long-press the Source button on your remote to start pairing with nearby devices.
On your TV, navigate to settings, then in Sound, select Sound Output.
Select your soundbars from the Bluetooth speaker list, pair them, and connect.
Enjoy playing your favorite media through the soundbar. However, avoid using other electrical devices near the TV and soundbar to prevent signal interference.
D) Via Wi-Fi
Suppose you have too many electrical devices, making it impossible to enjoy the best pairing via Bluetooth. If your smart TV and soundbar are connected to the same Wi-Fi, you have the best alternative for wireless connectivity. Here are the steps to pair wirelessly over your home's Wi-Fi.
Turn the soundbar and TV on. Have your smartphone at and as you need it for the third step.
Head over to the back of the soundbar and press the Source button. Alternatively, you can press the same on your soundbar's remote. Either way, select Wi-Fi mode.
On a smartphone connected to the same Wi-Fi, download a Samsung audio remote app called Samsung SmartThings.
When installed on your phone, open the app and press the Add icon.
Tap Device, then AV, and then choose the type of soundbar you have. If using a Samsung soundbar, you will choose between Samsung and Samsung Harman Kardon. When you do, tap Soundbar, then Start.
The mobile phone will then start searching for the selected soundbar. In some cases, you might need to select the location or room where the soundbar is.
In this step, you will need to head over to your TV. Use the remote control to Settings, then select Sound.
Select Sound Output, then Wi-Fi to connect to the soundbar.
Enjoy playing your favorite media through a reliable and reliable audio quality.
Soundbar's Your Soundbar's Dolby Atmos On A Samsung TV
When buying the best soundbars for Samsung TVs, you will be looking if they have Dolby Digital surround sound technology. The Dolby Labs engineered Dolby Atmos, immersing you into all the action on your TV. Put simply; the technology brings you right into the action, where you can tell where every sound of a video or audio file you are listening to comes from.
Unfortunately, few TVs use this technology, yet it delivers the most immersive sounds. When you get your Samsung soundbars, you will need to connect the soundbar via HDMI. In addition, it will work best in soundbars manufactured after 2019 and TV models made after 2020. Follow the following steps to set up your Samsung TV with a Dolby Atmos sound bar.
Get your cable, TV, and soundbar ready.
Connect one end of the cable to your soundbar's HDMI OUT (TV-ARC) port and the other to your TV's HDMI IN (ARC) port.
Using your Samsung remote, head over to Settings, select Sound Menu, then choose Expert Settings.
Find the HDMI e-ARC Mode and set it to Auto. Then, set the Digital Output Audio Format to Auto or Pass-Through. After that, activate the Dolby Atmos Compatibility feature.
If the soundbar does not connect, you will need to ensure the Anynet+ function is active on your TV. To activate;
Select Setting from your TV remote.
Tap General Menu, then head to External Device Manager.
Navigate to Anynet+ (HDMI-CEC) and turn it on.
Is A Soundbar Better Than Surround Speakers?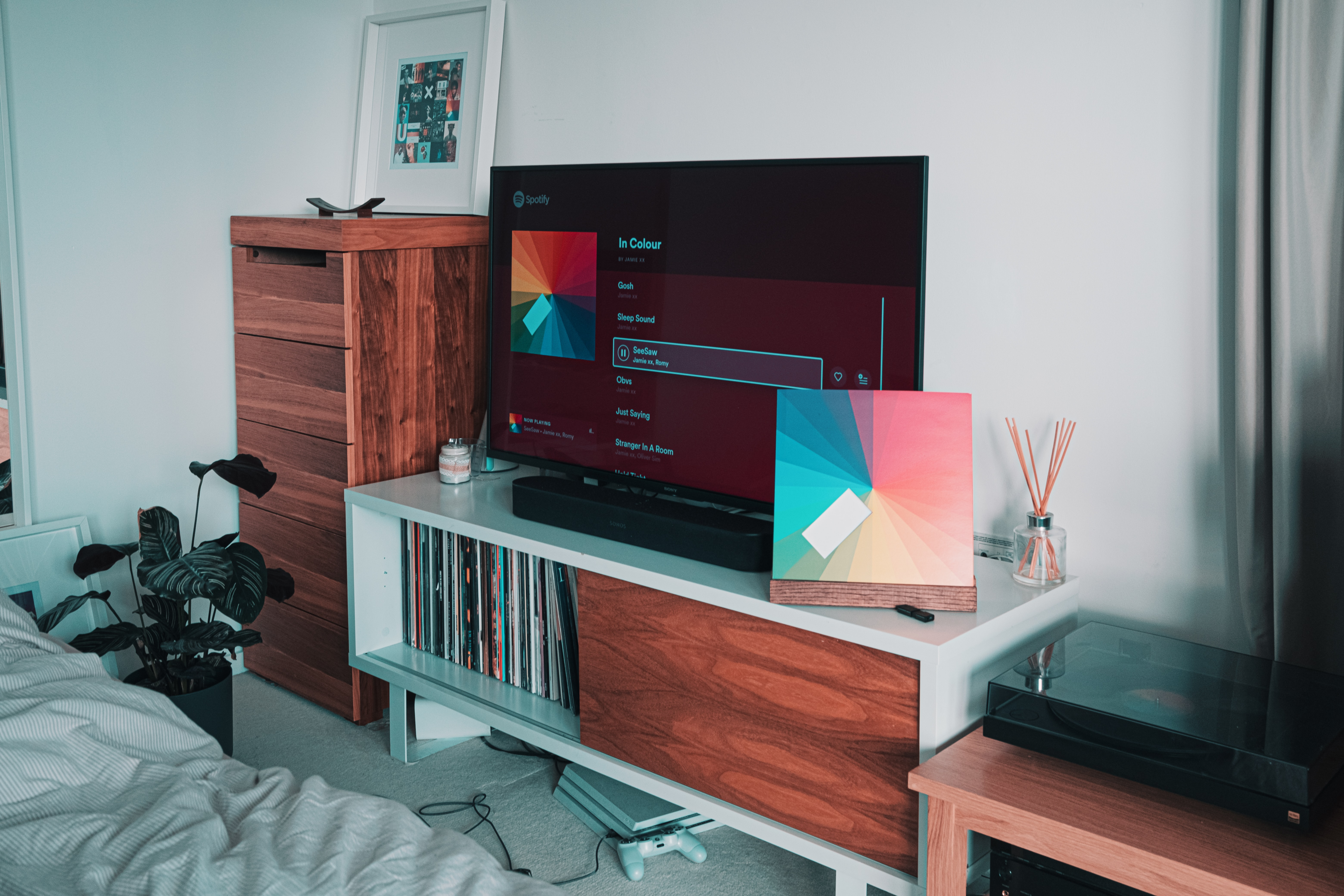 You've probably grown fruTV'sted by your TV's inability to produce the best audio performance when watching movies, playing games, or streaming music. But, have you also wondered which is better between a soundbar and a complete speaker system? Let us explore how a soundbar is the better option for your entertainment.
A) A Soundbar Is Easier To Install
You will find a soundbar easier to install than a speaker surround system. With the speaker surround home theatre system, you will have to wire each speaker manually. It is not only tiresome and time-consuming, but you will also have so many pieces to connect to an A/V receiver and then to the TV, which is also not ideal when you have limited space.
A sound bar is an all-in-one speaker system that only requires simple connectivity to start working. When you want to connect it to the TV, you can choose to use an HDMI cable, an optical cable, or wirelessly through Bluetooth or Wi-Fi. It's a minimalistic setup and often includes a soundbar and a wireless subwoofer. Your entertainment area will look less congested with a soundbar to save space.
B) A Soundbar Has A Better Design
Even as you look for the best audio performance, you still want a room that stands the test of style, and a soundbar is the piece of equipment to match any theme. You can use the soundbar when you want a minimalistic style, but you can also choose any placement when you want it to be more exposed.
C) A Soundbar Is Quite Affordable
A speaker surround system will cost you more than double what you pay for a soundbar. The reason for this is that a speaker surround system comes with many connecting parts, and apart from those, you might also need to buy a dedicated A/V receiver for the best sound quality.
D) You Can Update The Soundbar's Firmware
When you get a soundbar, you have fewer chances of upgrading some pieces for better performance, unlike a speaker surround system. However, updating the soundbar's firmware in a few steps at home is easier and less expensive. Doing so will help you enjoy the best audio quality. Here are the steps to follow when updating the firmware via a USB drive.
Have a ready-to-use USB drive.
Head over to the Samsung Support site and search for the soundbar model name. Note; this only applies to a Samsung soundbar. However, you will find the steps quite similar even when upgrading a soundbar from another brand.
When on the site, download the upgrade file to your USB drive. You can also unzip the file for easier saving.
Turn on your best soundbar for Samsung TV.
Connect the USB drive to a port on your soundbar and wait for the upgrade to commence automatically. Note; you cannot turn off the soundbar during this process, you will need to use a compatible drive, and there will be no update if your soundbar is running on the latest firmware.
If you can control your soundbar via the Samsung SmartThings app, you can also update the firmware by following these steps.
Make sure your soundbar and smartphone are on the same Wi-Fi. You will have your SmarThings app on a smartphone.
Open the app and tap the three dots to select the More feature.
Select Information and head over to Firmware Update.
When you tap Update Now, the firmware should start updating if there is a new update. In addition, you can also check the Auto-Update feature so the soundbar can update automatically in the future. For this, you will need to ensure the soundbar is always connected to a working Wi-Fi.
Frequently Asked Questions On The Best Soundbar For Samsung Tv
1. Do you have to use a Samsung soundbar for a Samsung TV?
No. You can use any soundbar with the right inputs, especially the HDMI. However, in some cases, certain features are Samsung-specific on the Samsung soundbars, giving a better experience with Samsung TVs. Ultimately, you can use 99% of the features regardless of whatever soundbar or TV you settle for.
2. Is it better to connect the soundbar using an HDMI cable or an optical?
The significant difference between the two is that HDMI cables pass higher resolution audio formats, including those found on Blu-ray like the Dolby TrueHD and DTS HD Master audio. On the other hand, fiber optic cables can't transmit these high-resolution sound formats. Additionally, HDMI cables can pass video signals.
3. Why won't my Samsung TV connect to the soundbar?
Here are things that you need to check to make sure that the two connect, which include:
Check whether the control for HDMI or the BRAVIA Sync on your TV and audio device is ON
Ensure that there is sound output from the TV when turned on, and then check the soundbar device
Make sure that the soundbar is set to the TV input
Change your TV sound output setting to PCM and then check whether the sound is on output
4. Can you use any sound bar with a Samsung TV?
Yes, you can use any soundbar with a Samsung TV as long as they both have compatible input/output connections. Most soundbars come with HDMI or optical cables that can be connected to the TV. However, it's important to check the compatibility of the soundbar with your Samsung TV before making a purchase.
5. How do I pick a soundbar for my Samsung TV?
When selecting a soundbar for your Samsung TV, there are several factors to consider, including:
Compatibility: Ensure that the soundbar you choose is compatible with your Samsung TV in terms of connectivity options.
Audio quality: Look for a soundbar that can deliver high-quality sound with good bass, clear dialogue, and a wide soundstage.
Size and design: Consider the size and design of the soundbar to ensure it complements your TV and fits in your home entertainment setup.
Price: Determine your budget and choose a soundbar that offers the best value for money.
6. What are the top 3 soundbars?
The top 3 soundbars for Samsung TV, as of 2021, are:
Samsung HW-Q950T: This is an 11.1.4-channel soundbar that delivers a more immersive sound with its Dolby Atmos technology. It also comes with a wireless subwoofer and rear speakers.
Samsung HW-Q950T 9.1.4ch Soundbar: It is also a high-end soundbar that offers immersive sound with impressive features such as Alexa built-in, multiple HDMI inputs, and eARC support.
Sony HT-G700: 3.1ch Dolby Atmos/DTS:X Soundbar: Its mid-range soundbar offers an immersive sound experience with its three-channel speaker system and Dolby Atmos/DTS:X support.