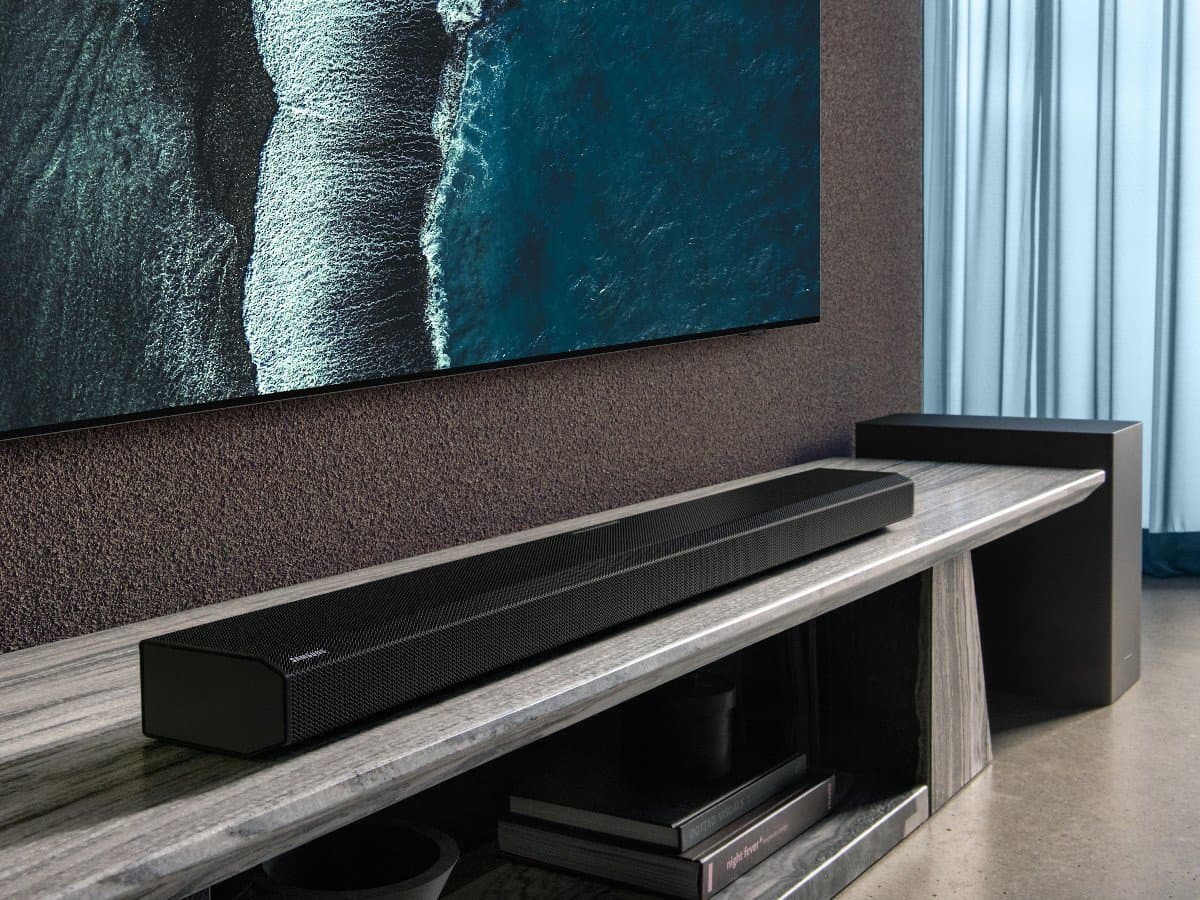 Best Soundbar for Samsung Tv and the Cinematic Experience
Hypothetically, you just got yourself that sleek brand-new Samsung TV, with the latest QLED 4K/8K UHD, super-slim design, and crystal clear images; ain't she a beauty! But, there's only one little thing missing for full the experience, and you're probably asking yourself, what is the best soundbar for Samsung Tv?
The quality of a clear and articulate picture might not seem to match the sound. Overall, this makes the experience less immersive and less enjoyable, especially when trying to play a game on game mode.
Samsung TVs are a market leader in the industry; however, the built-in speakers of any of the models are no match in the listening experience a soundbar can give. So for the perfect pairing, here's a comprehensive list of the best soundbars for Samsung TVs currently in the market.
What Does A Soundbar Have to Offer?
Basically, a soundbar is an all-in-one speaker and sound system that delivers a high-quality TV sound without needing the space or has the complexity and expenses that come with a home theater receiver or a surround sound speaker setup. Soundbars are relatively more affordable, stylish, provide great sound, are easy to use and set up, and are intuitively compatible with the latest technology.
Soundbars are rippling through the entertainment industry in waves, with all of the top tech brands putting their best foot forward to create high-quality soundbars. In terms of compatibility, all soundbars use a completely standard connection technology; however, some of the best soundbars for Samsung TVs come with specific additional features that are especially suited for Samsung TVs.
This guide looks at the best soundbars for Samsung TVs across different budgets and sizes that will be the perfect audio match for your visual spectacle. Some can be paired with Samsung TVs as small as 32 inches, while others are specifically built for large screens, 55 inches and above. Here's a breakdown of each model.
1. Samsung HW-Q950A 11.1.4 Channel Dolby Atmos Soundbar with Subwoofer
If you want the ultimate home cinema system and indulgent listening experience for your Samsung, the Samsung HW-Q950A 11.1.4 soundbar is for you. Not only is it considered the best Samsung soundbar because of its features, but it's also compact and easy to set up. This Samsung soundbar comes as a 4-box system that includes; the main soundbar that sits right in front of the TV, a wireless subwoofer, and two small speakers that go behind you, one to the left and the other to the right.
They deliver 11.1.4 channels of balanced sound. That means 11 surround sound modes that surround you to give directional sound, 1 for the wireless subwoofer, and 4 height channels to add sound above you. In addition, the angled speaker drivers in the front soundbar and rear unit echo and fill the room with sound, creating that 'dome' sound that the great Dolby Atmos is popularly known for.
The setup is phenomenally powerful, detailed, and dynamic. Its sound effects are well-positioned vertically and horizontally while the impact sounds hit hard, without sounding unnatural. It doesn't only sound good; it also comes with useful features that include 2 HDMI inputs and 1 output to connect to the TV. It also comes with Dolby Atmos and the DTS:X, meaning that whatever you plug into it will deliver next-gen audio formats directly, therefore, bypassing the fact that Samsung TVs don't usually support Atmos.
Besides watching TV shows, you can stream music over Wi-Fi or Bluetooth connectivity where all the boxes connect wirelessly. It also supports Samsung's Q Symphony feature, so if you plug it into a compatible set from 2020 or later, the soundbar combines its 22 speakers to the drivers around the edge of your TV to add even more immersion and presence.
Key features:
Connections include; 1 HDMI out, 2 HDMI in, optical cable, Wi-Fi, and Bluetooth
eARC support
Both Dolby Atmos/DTS:X support
Speaker configuration on 11.1.4-channel and 22 drivers
Quoted power output (total) is 616W
2. SAMSUNG HW-Q950T 9.1.4ch Soundbar with Dolby Atmos/ DTS:X and Alexa Built-in (2020)
SAMSUNG HW-Q950T 9.1.4ch Soundbar with Dolby Atmos/...
3D TRUE SURROUND SOUND (DOLBY ATMOS AND DTS: X): Explore the...
TRUE 9.1.4CH SOUND: Through the 20 speaker system, the soundbar's...
UP-FIRING REAR SPEAKERS INCLUDED: With wireless up-firing, rear...
Q-SYMPHONY: Breakthrough technology that synchronizes Samsung...
ALEXA BUILT-IN VOICE ASSISTANT: Your soundbar comes with Alexa...
The HW-Q950T is a home theater soundbar system with a 9.1.4 channel system that includes 9 channels on the soundbar, 1 on the subwoofer, and 4 other channels to fill the room with high-quality quality sound. Also present are the Dolby Atmos and DTS:X to bring you true 3D surround sound.
The soundbar HW Samsung Q950T also carries the famed Q-Symphony, a technology that seamlessly synchronizes the soundbar to your Samsung QLED TV. Lastly, the Samsung HW-Q950T is also compatible with Alexa and Adaptive Sound.
Key specifications:
Connectivity options include; 2 HDMI inputs, 2 HDMI output, 1 optical line-in, Bluetooth, Wi-Fi,
eARC support
Both Dolby Atmos/DTS:X support
Speaker configuration on 20 speakers with a 9.1.4-channel
Quoted power output (total) is 564W
3. Sony HT-G700: 3.1ch Dolby Atmos/DTS:X Soundbar
Sale
Sony HT-G700: 3.1CH Dolby Atmos/DTS:X Soundbar with...
3.1ch Dolby Atmos DTS: X and Vertical Surround Engine
Immersive AE (Audio Enhancer) upscale audio closes to 7.1.2 each...
Wireless subwoofer delivers powerful bass sound
Sound modes to customize listening to movies and music
Multiple easy connections so you can enjoy all your media
This is a soundbar that gives you an excellent cinematic experience made for more compact Samsung TVs. Generally, its size makes it most ideal for TVs that range from 43 inches and above. However, even with its decent size and the fact that it technically offers 3.1 channels, it shouldn't fool you because it creates an impressively strong sound width that does a remarkable job that not even regular surround speakers can.
And although it doesn't have true height channels to make the audio seem like it's coming from above, it still has a lot of verticality and plenty of extra dimensions. Its wireless subwoofer also connects to your TV using opticals or an HDMI cable. Using the HDMI input with a 4K HDR passthrough, the Sony HT-G700 can get around the Dolby Atmos limitation in Samsung TVs.
On the downside, the HDMI passthrough doesn't support HDR10+, so anything connected will always fall back to the regular HDR10. But, overall, this soundbar works like a dream, all at an affordable price.
Key features:
Connectivity options that include 1 HDMI output, 1 HDMI input, 1 optical line-in, Bluetooth, and Wi-Fi
eARC support
Both Dolby Atmos/DTS:X support
Speaker configuration with 3.1 channel
Quoted power output (total) is 300W
4. SAMSUNG HW-Q70T 3.1.2ch Soundbar
Sale
SAMSUNG HW-Q70T 3.1.2ch  Soundbar with Dolby Atmos /...
DOLBY ATMOS AND DTS: X: Capture every sound above and around you...
Q-SYMPHONY: Syncs your Q-Series Soundbar speakers with your...
TRUE 3.1.2 SOUND: With 3 channels, 1 subwoofer channel, and 2...
MUSIC COMES ALIVE WITH YOUR VOICE - Enjoy your Soundbar...
SAMSUNG ACOUSTIC BEAM - Acoustic Beam technology delivers sound...
The Samsung HW-Q70T is another affordable model that's equipped with Dolby Atmos and DTS:X. In addition, its soundbar subwoofer combo seamlessly connects to your QLED Samsung TV for a meaningful experience.
It has 3.1.2 channels with both left and right channels and a dedicated center focusing on speech. This works great with its subwoofer and 2 up-firing channels. Additionally, it features the Samsung Acoustic Beam and Adaptive sound technologies that optimize the audio delivery.
Keys features:
Connectivity options that include 1 HDMI output, 1 HDMI input, 1 optical line-in, Bluetooth, and Wi-Fi
eARC connection support
Both Dolby Atmos and DTS:X support
True 3.1.2 sound
Alexa enabled
Acoustic Beam technology
5. Sonos Beam - Smart TV Soundbar with Alexa Built-in
Sonos Beam - Smart TV Sound Bar with Amazon Alexa...
Beam - The smart, compact soundbar for TV, music, and more.
High definition sound - Experience rich, detailed sound for your...
TV, music and more - Play music, TV, movies, podcasts, radio,...
Easy control - Control Beam with your voice, remote, the Sonos...
Class 10 for Full HD video recording and playback (Full HD...
The Sonos Beam smart TV soundbar might not be the first product you'd think of for a Samsung TV, but it also comes with features that make it the most popular soundbar you can get for a Samsung TV. It comes with great sound quality and a compact design that you can easily play around with when it comes to placement.
Aside from movies, you can conveniently use the Sonos Beam to play music, podcasts, or play video games. It also comes with a simple soundbar setup, thanks to the HDMI ARC. Other than voice control, using Alexa, the Sonos Beam smart soundbar includes a remote control and a Sono app to let you control the sound right from your phone.
Key features:
HDMI ARC
Remote control
Sono app
Alexa in-built
Multiple HDMI
Factors to Consider for the Best Soundbar for Samsung Tv
A) Channels
Channel refers to the number of sound emission points that your soundbar offers. Here's how these channel numbers work; for instance, if your soundbar sound system is a 2.1 channel soundbar, it gives 2 channels and 1 subwoofer. The former number gives you the number of channels, while the latter gives you subwoofers.
Both 2.1 channel and 3.1 channel soundbars are a standard even in budget pick; however, if you want great surround sound for an immersive sound experience, you'll need at least 5 channels, including the rear speakers. Other than the channel, some of the best soundbars also support Dolby Atmos and DTS:X technology for a much more impressive sound quality experience.
The number of channels will vary depending on the sound quality you want, especially if the soundbar supports Dolby Atmos and the DTS technology. However, these soundbars also may come at a higher price.
But in a nutshell, the higher the channel soundbar numbers, the more expansive the sound experience, and the higher the cost might be.
B) HDMI Ports
Always check for the number of HDMI ports since they allow you to switch between the video source components. In addition, many of the HDMI output/input connections support HDMI ARC, which allows connection to the TV, which is much easier compared to the old-school conventional system; if your Samsun TV system has an HDMI port, it's much easier to connect to the other devices with similar ports.
C) Size
As a general thumb of rule, the ideal soundbar for your Samsung TV or other TV brands should be narrower than your Samsung TV in size but also large enough to fill the room with bass and treble.
Frequently Asked Questions on the Best Soundbar for Samsung Tv
1. Do you have to use a Samsung soundbar for a Samsung TV?
No. You can use any soundbar that has the right kind of inputs, especially the HDMI. However, in some cases, certain features are Samsung-specific on the Samsung soundbars that give a better experience with Samsung TVs. Ultimately, you'll be able to use 99% of the features regardless of whatever soundbar or TV you settle for.
2. Is it better to connect the soundbar using an HDMI cable or Optical?
The major difference between the two is that HDMI cables pass higher resolution audio formats, including those found on Blu-ray like the Dolby TrueHD and DTS HD Master audio. On the other hand, fiber optic cables can't transmit these high-resolution sound formats. Additionally, HDMI cables can pass video signals.
3. Why won't my Samsung TV connect to the soundbar?
Here are things that you need to check to make sure that the two connect, which include:
Check whether the control for HDMI or the BRAVIA Sync on your TV and audio device is ON
Ensure that there is sound output from the TV when turned on, and then check the soundbar device
Make sure that the soundbar is set to the TV input
Change your TV sound output setting to PCM and then check whether the sound is on output