There are moments when the visible light camera will not be of any help to you. In such moments, you need a camera that will help you see what the eye can not. For that reason, I have five thermal cameras that come in handy in different situations. You can pick any of them and it will be the best thermal imaging camera for you.
But first, what is a thermal camera?
Image Source: snexplores.org
A thermal camera works by creating images using infrared radiation that is not visible or the visible light camera. The images you see on these cameras are heat signatures from bodies that emit heat.
Best Thermal Imaging Camera
| | | | |
| --- | --- | --- | --- |
| | | | |
| | | | |
| | | | |
| | | | |
| | | | |
1) FLIR One Pro LT
Sale
FLIR One Pro LT iOS Pro-Grade Thermal Camera for...
FLIR ONE PRO LT: Powerful Infrared camera mobile accessary with...
THERMAL RESOLUTION & MEASUREMENT: Record 4,800 pixel IR images at...
VIVIDIR IMAGE PROCESSING: Unique image processing technology that...
ONE FIT CONNECTOR: Adjustable connector extends by up to 4 mm, so...
HARD-WORKING APP: Work-based features such as multiple spot...
Once I got the FLIR One, I turned my smartphone into a thermal camera and I could suddenly do an array of things around the house. The camera is pocket size and can plug into my smartphone for power.
The thermal range of this camera is above average, ranging from -20 to 120 degrees Celsius. With 4800-pixel infrared images, the camera is one to beat.
The camera has a vivid image processor that gives off high-quality and useful results.
2) Klein Tools Thermal Camera
Klein Tools TI250 Rechargeable Thermal Imager, Camera...
Thermal Imager has over 10,000 pixels to troubleshoot hot and...
Adjustable emissivity from 0.10 to 0.99
Store and share images with optional microSD Card (sold...
User selectable high and low temperature alarms from -4 to...
Select color palettes to best capture the event
With over 10, 000 pixels, Klein tools are bringing their A-game to the table. I got this camera because of its 3-color pallets that give me more information on the infrared radiation I am looking at each time I use the camera.
Image Source: kleintools.com
With a -20 to 400 degree Celsius range, the camera is useful even in some industrial cases. Furthermore, the camera has a rechargeable battery and does not depend on my phone for power.
3) HT 19 Thermal Camera
HT 19 is a handheld camera and that is the primary reason I got it. The camera is less bulky than the ones I have owned before and I can point it in any direction easily.
Image Source: indiamart.com
The camera checks other boxes and has 300, 000 pixels, one of the highest in my collection. HT further has a color display screen and is a first choice in civilian and military applications.
4) FLIR Scout tk
FLIR Scout TK Handheld Thermal Imaging Monocular Green,...
FLIR Scout TK makes outdoor thermal imaging more accessible than...
Pocket-sized and designed for single-handed use, FLIR Scout TK...
The Scout TK is also a great everyday tool for personal and home...
Package Includes: Handheld Thermal Camera,Neck Lanyard, USB...
Image Capture: Short press for Image capture, long press for...
FLIR makes it to the list again because of its unique design. The one thing that sold me on this camera is the eye lens cap that lets me focus on the image without any distractions. The camera is handheld and pocket-sized. I can capture video and photos on the camera, making it one of the best thermal cameras to own.
5) UNI-T Infrared Thermal Imager
UNI-T UTi120S Infrared Thermal Imager 120x90 IR...
New model. UNI-T thermal imaging camera UTi120S. Infrared...
Safe & Durable. IP54. 2m drop test. Image alarm/LED alarm/buzzer...
Simple & Easy one-hand operation. High-accuracy detection. Wide...
What You Get. UTi120S infrared thermal imager, type-C USB cable,...
Versatile & Reliable for inspection of power line, solar panel,...
The feature that attracted me most to the UNI-T camera is its ergonomics. The camera has a rubber cover, which makes it more efficient to use. Furthermore, the body build is strong and will not break at the slightest inconvenience.
Image Source: banggood.com
The camera has a decent range and can take a large storage of 16 GB. UNI-T is handheld, which is the first feature I look at when getting a thermal camera.
Things to Consider When Choosing a Thermal Camera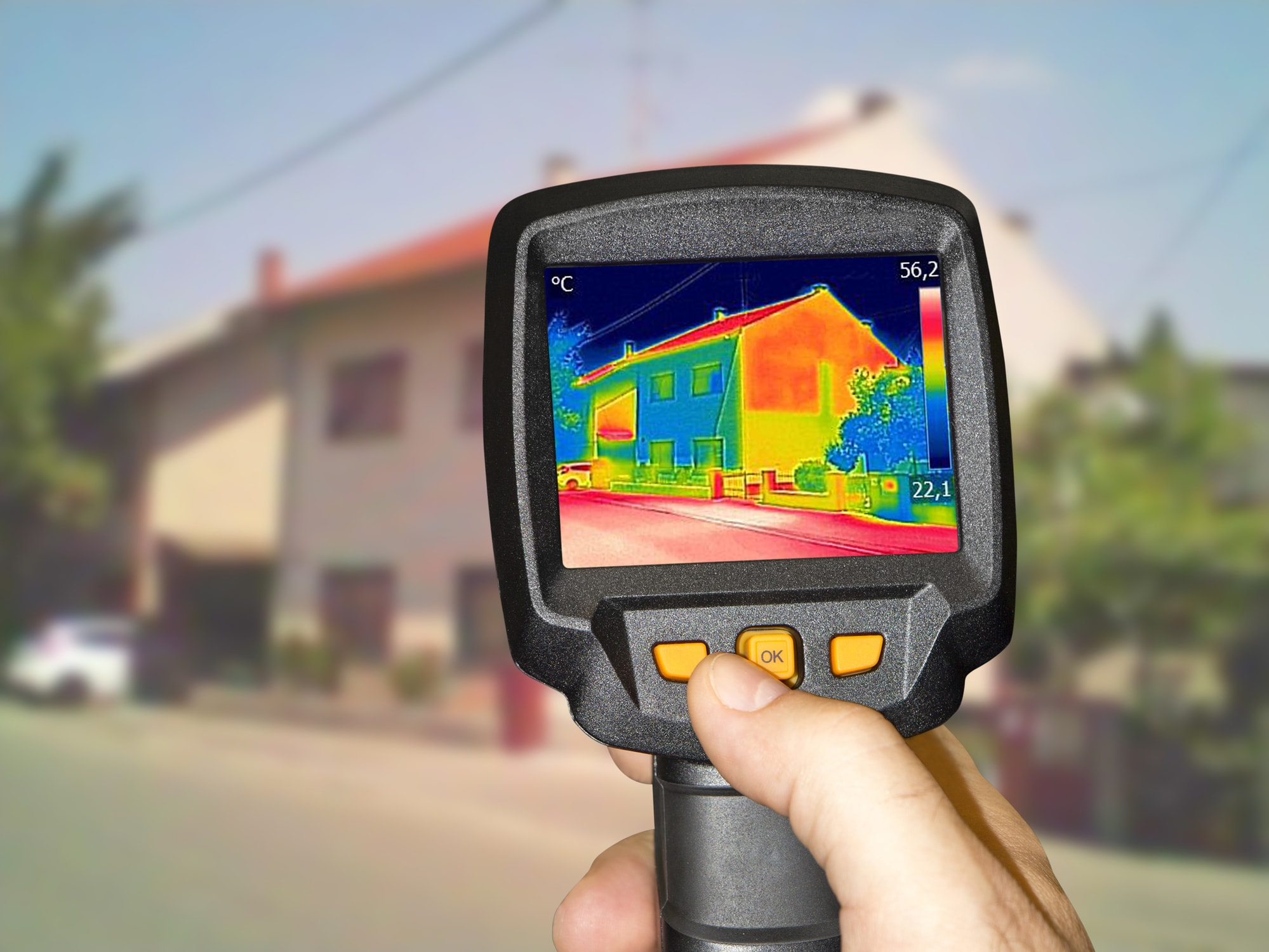 Image Source: yellowbluetech.com
a) Resolution
The thermal picture you are getting on the screen can be detailed or blurry. Better-detailed thermal images have more pixels than their blurry counterparts. A higher resolution means you will be seeing better image quality.
A good resolution to get for most thermal camera needs is 160 by 120 pixels.
Unless you are getting a thermal camera for recreational or if you are the first respondent, then there is no need to get overly-priced thermal cameras. The options I have provided above will get most of your needs taken care of.
b) Temperature Range
The temperature range of a thermal camera is the maximum and minimum temperatures the camera can measure. A standard thermal imaging camera should measure temperatures between -15 and 550 degrees Fahrenheit.
There are thermal cameras with maximum range limits reaching up to 1500 degrees Fahrenheit.
c) Display
The only way you are going to monitor what your camera is measuring is by looking at the display. If you have a good thermal imaging camera with a poor display, it might not be very efficient to use especially on the go.
Most thermal cameras have their displays. On the other hand, some are attached to the smartphone and use the phone screen as a display.
You can get cameras with LCD screens and others with HD screens. The higher the screen pixels, the better the resolution.
d) Battery Life
Some thermal imaging cameras are needed in emergencies. In such cases, the battery better not die. Therefore, when getting a thermal imaging camera, I would not go for one with a battery life lower than 6 hours.
Most thermal imaging cameras have rechargeable battery options that you can choose from.
e) Wi-Fi Connectivity
If you want to use your thermal camera remotely, you can get one that can connect to your phone via wi-fi.
Apart from a remote control, you can share files via Wi-fi to save on storage space. There are infrared cameras that allow you to live-stream and Wi-fi comes in handy during such cases.
f) Refresh Rate
Refresh rate is the number of images displayed per second. The higher the refresh rate the better the image quality.
A good refresh rate should be around 9-Hz, meaning 9 frames per second. On the higher end, you can get refresh rates of up to 50-Hz for a high resolution.
g) Thermal Modes
A thermal image can be interpreted in different ways for different applications. Thermal modes allow me to monitor the thermal images however suits me. Here are some thermal modes you can expect to find on a thermal camera.
i) Picture-in-Picture
Picture-in-picture is a mode that shows you both the thermal image and visual images on the screen for real-time analysis.
ii) Regular Visual Mode
The regular visual mode allows me to take normal pictures alongside thermal images on the camera.
iii) Pure Thermal
The pure thermal mode allows for RAW thermal images only.
iv) MSX Technology
The MSX technology is a feature found in a FLIR camera. The feature enhances the thermal image for more quality photos by overlaying the border details of the visual image onto the thermal image.
v) Thermal Blending
As the name suggests, this is when the camera combines the thermal and visual images to come up with an individual image.
vi) Isotherms (Color Alarms)
The isotherm mode allows you to set the camera to detect only a specific temperature range. Temperatures outside the range are kept on greyscale in this mode.
v) White Hot
The white-hot mode is when the camera uses greyscale to outline the hot and cold spots instead of colors. Bright white will represent the hot spots.
h) Size and Weight
The size and weight of any handheld device are a huge deal because it affects my efficiency as I am taking images. A good thermal imaging camera should fit in my backpack together with other cameras and accessories.
i) Grip
The circumstances under which thermal imaging cameras are mostly used require accuracy and precision. A good grip allows for precise measurements to be taken without ending up with shaky images.
j) Storage
Some thermal imaging cameras have internal storage while others might need to have SD cards or Wi-fi connectivity to share images in real-time.
Thermal Camera Types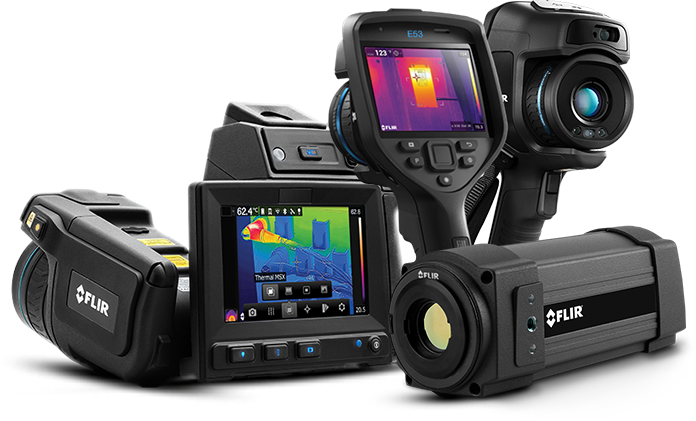 Image Source: passthermal.co.uk
1) Phone Attachment
This type of thermal camera is attached to the phone and shares the battery with the phone. The phone attachment thermal camera is the least expensive and most common thermal camera.
2) Trigger Style Thermal Camera
The trigger-style thermal camera is held in one hand with the index finger on the trigger. A picture is taken each time the trigger is pulled.
The trigger-style camera is easier to use, more efficient, and more comfortable to use over longer periods compared to the other thermal camera brands.
3) Handheld Cameras
The handheld thermal cameras are more of a complete package compared to the other cameras. The cameras have batteries of their own and do not need to be connected to a phone.
The downside of the handheld version of the thermal camera is how exhausting it can be after a while.
4) Drones
Drones have a wide application and during the night, they are more useful if they have a thermal camera mounted on them.
Drones can perform automated surveillance rounds, making them more sophisticated than other cameras.
5) Monocular Thermal Cameras
Monocular thermal cameras are made for use over longer distances. The cameras can detect heat 2000 yards away and have refresh rates as high as 30 Hz or more. The monocular cameras are the best thermal cameras to get for more industrial uses and big projects.
Where to Use a Thermal Camera
Image Source: reviewpart.com
There are myriads of things the thermal camera can do and they include the following.
Inspecting floor heating
Checking faulty electrical connectors
Leak detection
Checking air leakage in an insulated room
Monitoring waste heat from appliances
Checking mold and moisture levels on walls and floors
Evidence for insurance claims on any damages caused by temperature changes, e.g. in a faulty cold room.
Monitoring forest fires
Search and rescue missions at night
Termite detection on walls
Detecting pests living in hidden parts of a house
Inspecting pipes, ducts, and hydraulic Systems
Checking for water levels in a tank
Identifying overheating equipment
Greenhouse heat level monitoring
Curbing illegal activities during investigations
Checking body temperature and blood flow
Frequently Asked Questions About Thermal Cameras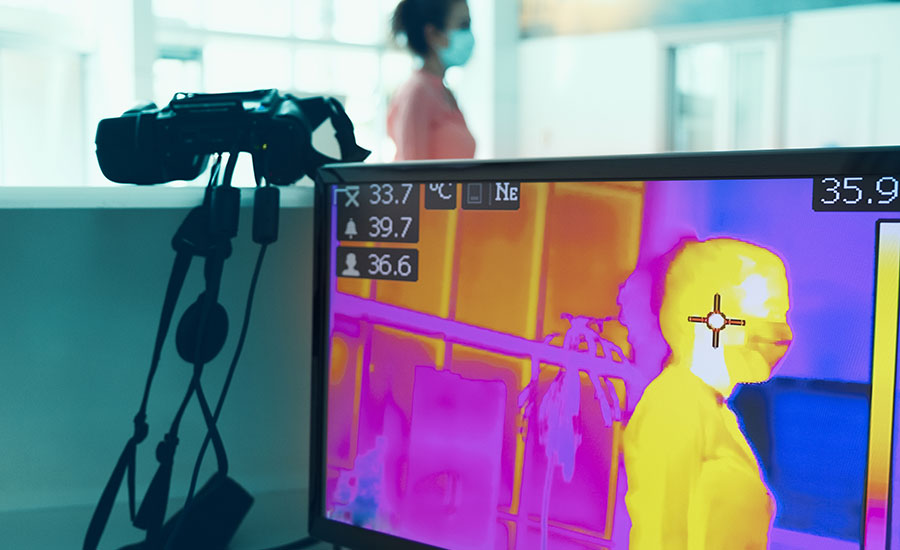 Image Source: securitymagazine.com
a) What do the colors on the thermal camera mean?
We can call the spectrum showing the colors a "thermogram." In a thermogram, the warm colors (red, yellow, orange) represent the warm/hot zones. The cool colors (purple, blue, black) represent the cooler temperatures.
b) Can a thermal imaging camera see through clothes?
Since we are measuring heat zones, a thermal camera will not "see through" clothes in a visual sense. Rather, the camera will pick up on any heat signatures underneath the clothes if there are any.
c) How far away can thermal cameras work?
Thermal zoom cameras can detect heat signatures from miles away. For instance, a boat 30km away in the sea can be detected by a thermal zoom camera. A human can be detected as far as 15 km away by a thermal camera. Higher-end thermal cameras detect objects further away.
d) Can thermal imaging cameras see in the dark?
Since thermal images do not depend on visible light, thermal cameras can "see" in the dark. Visible light and infrared have different wavelengths on the electromagnetic spectrum.
e) What can thermal cameras not see through?
Thermal cameras can not see through metallic objects, especially non-conductors. However, if the metal has something on the other side emitting heat, there might be some heat signatures picked up in the process.
f) Can I see a person through walls with a thermal camera?
No, you can not see a person behind the wall with an infrared camera. At least not like in the movies. Most walls are heavily insulated, not to keep people safe from infrared cameras, but to keep the house warm. If there is anything visible on the infrared camera, it will be the heat from the wall.
g) Can I hide from a thermal camera?
The best way to hide from a thermal camera is to keep your heat signature out of sight. This means that you need to find an insulator to protect your heat from being detected. A heavy blanket should get the job done. There are military-grade options available that can keep you undetected.
h) Can I see a snake or a rat on a thermal imaging camera?
Snakes are cold-blooded, meaning it will be almost impossible to detect them using a thermal camera. Yikes!
i) Can a thermal camera see a gun?
There are AI-enabled thermal cameras that will be able to tell the shape of a gin or a concealed knife based on a person's thermal image. The heat forming around the gun can reveal its shape which is quite obvious.
j) How deep into the ground can a thermal camera see?
The ground naturally insulates heat and it would be a bit hard to track anything underneath the ground. However, there are thermal cameras that will detect up to 30 feet below ground level.
k) What happens when I point a thermal camera at the sun?
Some thermal cameras can be damaged by pointing them straight at the sun. However, today we have more sophisticated cameras that can withstand exposure to the sun. When the camera is exposed to the sun for longer periods, a ghost image might be left on the camera for a while due to radiation.
l) Do thermal imaging cameras work better in hot or cold weather?
Cold weather provides a more dramatic environment where a hot body will immediately be detected. If you are looking for a specific body it happens to produce heat, you have a better chance during cold weather.
m) What is the difference between an infrared camera and a thermal imaging camera?
Thermal cameras only detect the difference in heat while active infrared cameras use short-wavelength infrared waves to illuminate an area of interest. When the emitted light is reflected by the infrared camera, an image of interest can be formed to reveal the required information.
n) Can I use my phone camera as a thermal imaging camera?
There are thermal cameras for smartphones with built-in APPs which you can tap on to give you a thermal image.
Final Thoughts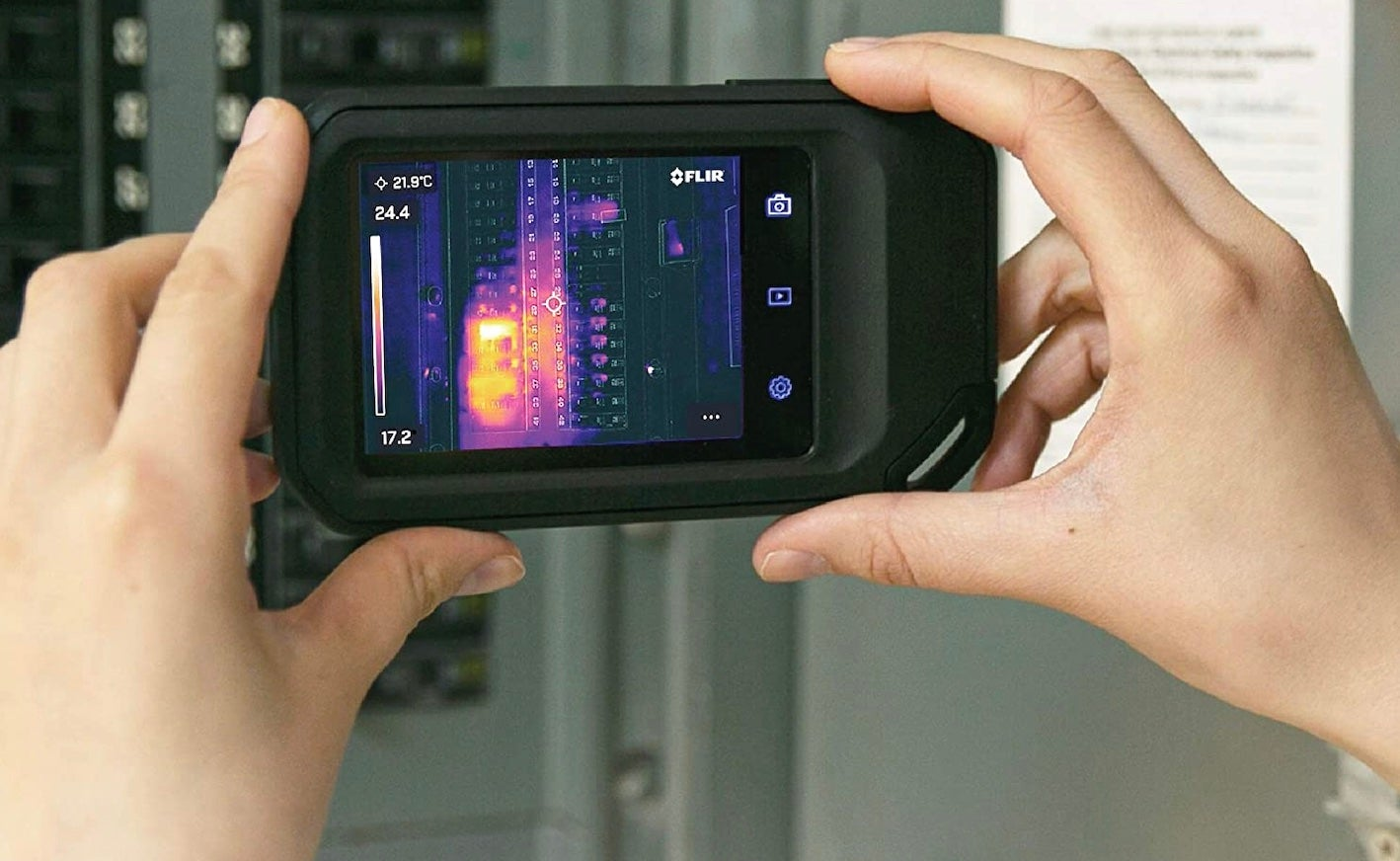 Image Source: bobvila.com
An infrared camera comes in handy in vital moments and you always need one on standby. Any of the ones listed above will get the job done.