If you've been to any beach resort, you've probably showered outside a couple of times. It's the best way to ensure not to track sand indoors to your room, but it's also a great way to cool off while still wearing your swimsuit.
An outdoor shower can be a great addition to one's home, especially if you enjoy spending a lot of time outside. However, it's not just for the outside lovers, as some outdoor shower ideas feature designs that incorporate indoor privacy.
So whether you're looking for a space to rinse before hopping into the pool or are looking to DIY your own shower resulting in a spa-worthy haven, we've got some of the best out shower ideas to get your mind ticking.
These 17 stunning outdoor showers are sure to motivate and inspire you to create your very own dream-worthy oasis.
1. Inventive Surfboard Shower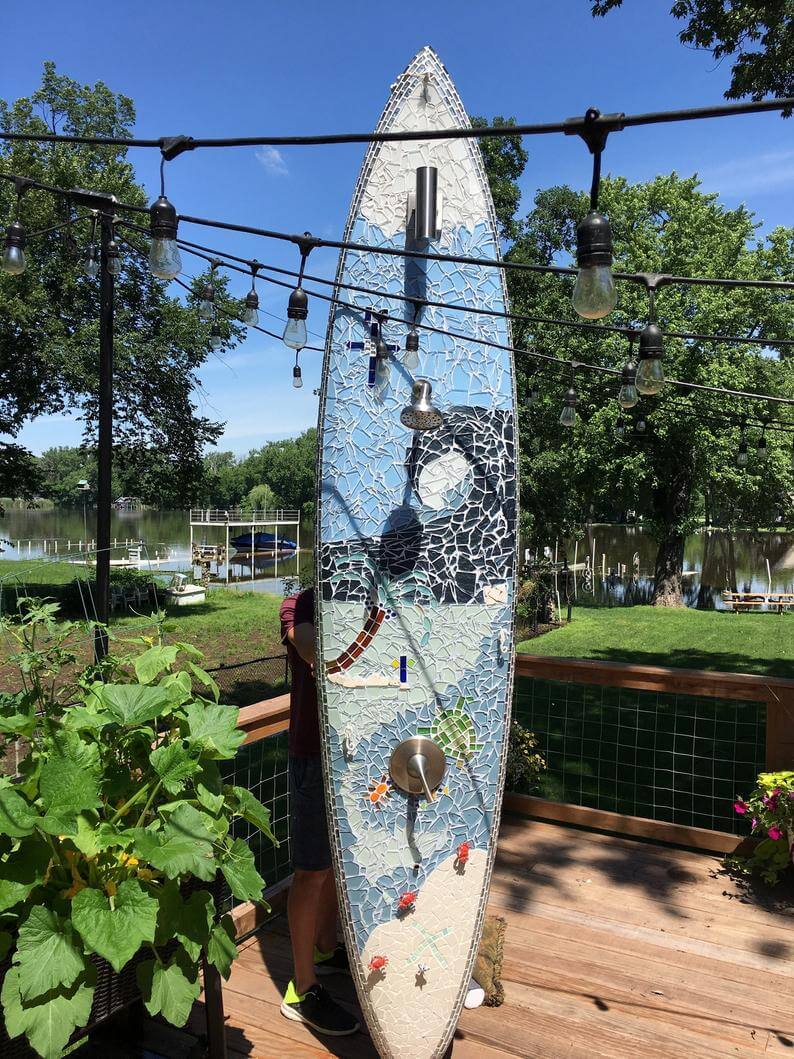 Image Source: homebnc.com
Inventive surfboards allow you to channel your inner beach bum whilst making showering outdoors a moment to remember.
What's great about this design is that it can be installed anywhere and is an especially great addition to any backyard patio by lake or beach. It's perfect for taking a shower after a quick dip in the pool or sunbathing on the beach.
If considering this outdoor shower design, it's best to consult a professional to ensure that structure is well balanced to guarantee it will remain in place.
What's pretty great about this design idea is that you can fully make it your own. If feeling super creative, you can consider using something else in place of the surfboard. For instance, any flat structure like a sculpture, wood, or any similarly designed object are all ideal creative outdoor shower options.
The outdoor shower above is of a repurposed decorative mosaic surfboard. It features a light, faucet, and other shower handles that elevate the showering experience.
2. A Quick Open Air Shower
Image Source: @hughjonesmackintosh on Instagram
An open-air shower can be considered one of the most common outdoor shower ideas. It's probably what most people have in mind when they think of an outdoor shower.
It's perfect for anyone that wants a quick place to wash off before coming indoors but doesn't need the bathing privacy of a shower stall. For instance, if coming from gardening or rinsing your pet after a fun day at the park.
The simple outdoor shower above is an easy DIY with a kit from your local hardware store.
3. Best of Both Showering Worlds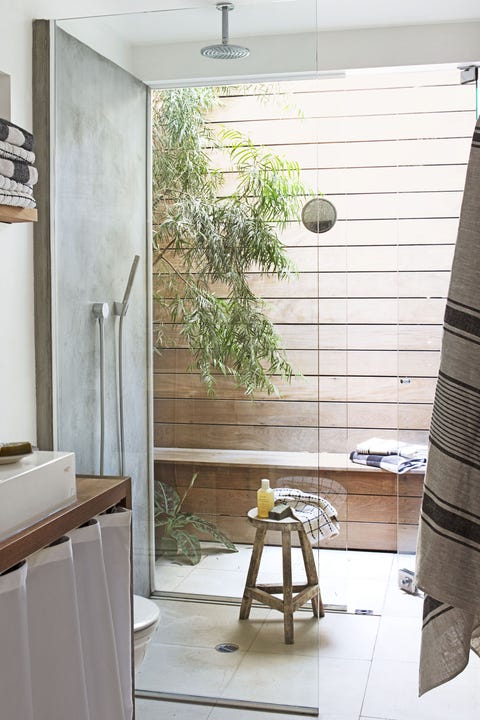 Image Source: Lisa Romerein
Can't decide if you want to shower indoors or out? Well, you can always opt for an indoor-outdoor shower; that way, you have the best of both worlds.
Additionally, an indoor/outdoor shower plan is perfect for houses in cool regions in the winter and hot during the summers. If your outdoor shower has a patio with a bench, that's a great opportunity to dry off naturally or maybe even sunbathe.
The private outdoor shower connects to the indoor shower in the design above, allowing you to tailor your shower experience.
4. Outdoor Shower Enclosure Paradise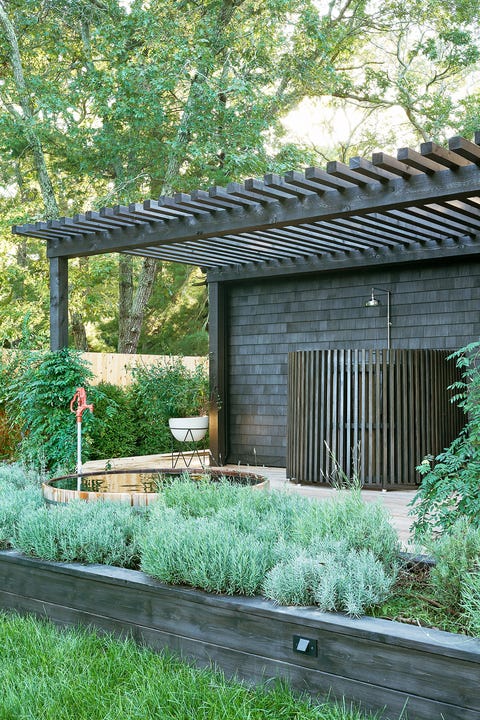 Image Source: Bjorn Wallander
Outdoor showers can be anything you want them to be. The design below features a matching pergola over a shower which makes for a very dreamy backyard setting.
The patio strikes the perfect balance between minimalist and bold while creating a modern and timeless ambiance. The rounded outdoor shower enclosure adds a great contrast to the angular wood beams while still feeling subtle.
5. Bring In The Lush Greenery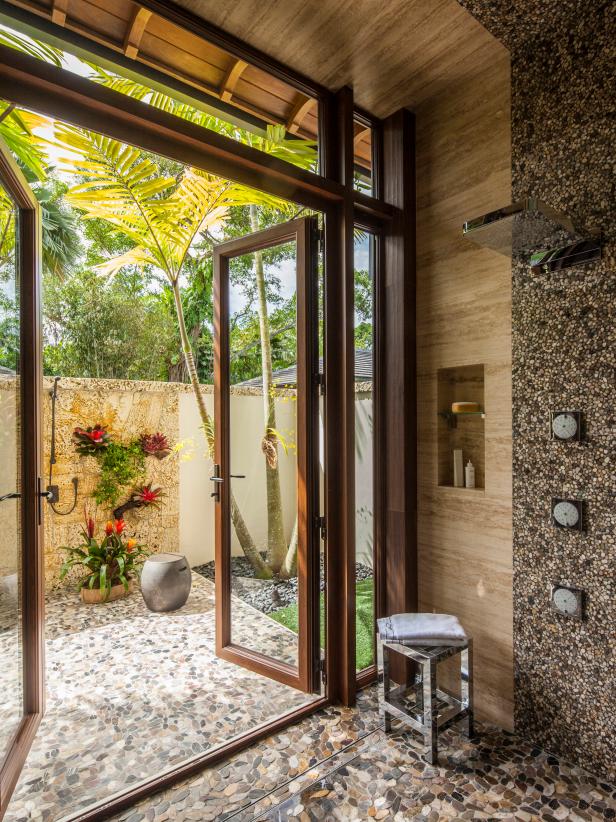 Image Source: Nick Johnson
Whether you're a certified plant lover or you occasionally keep plants, one thing's for sure; plants are a great addition to any outdoor styling. When well incorporated, they can elevate outdoor showers and create a zen-like ambiance. Plus, who doesn't want to feel like they're walking into their own little secret garden? or even better, some of the best outdoor shower ideas that include lush greenery can transform your outdoor shower such that you feel like you're on a tropical vacation, every time you take a shower.
When it comes to nature, it's all about embracing your surroundings. Some outdoor shower ideas feature cutouts for moss or other low-maintenance outdoor plants. You can also lay potted plants around the exterior of the shower. What's great is that you'll probably never forget to water your plants again.
6. A Little Privacy Doesn't Hurt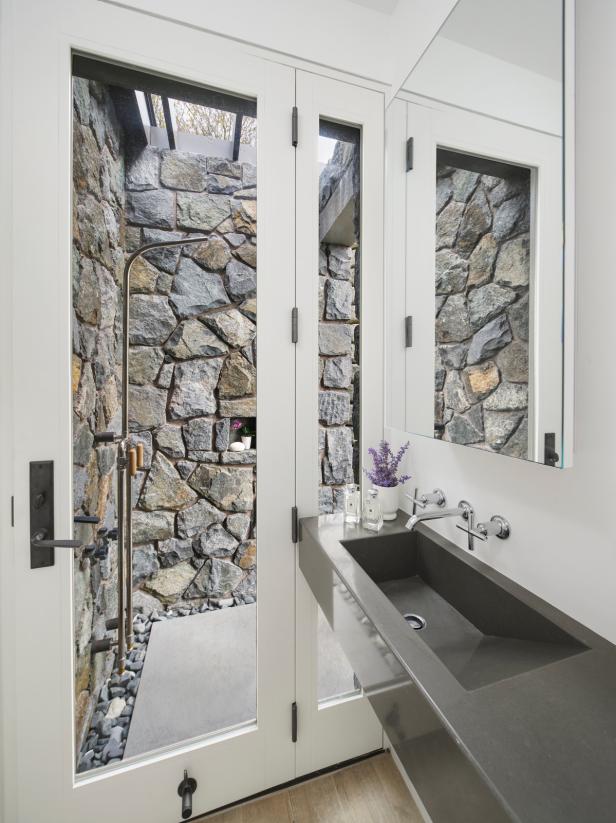 Image Source: Bob O' Conner
Just because it's outdoors doesn't mean you can't have some bathing privacy. This is where the classic outdoor shower enclosure comes in. Outdoor showers with enclosures allow for extra privacy, which can make some feel comfortable. Depending on the level of privacy needed, your outdoor shower enclosure can either give the illusion of a separated space or fully make the outdoor shower completely private and secluded.
The outdoor shower above is a completely secluded private outdoor shower. It utilizes natural materials that are combined with a neutral color palette and fixtures with clean lines.
Other outdoor shower ideas for privacy include erecting partitions such as rustic shutters, which act as dividers. Not only are they vintage, but they are very eco-friendly. This design is suitable for outdoor showers used for a quick rinse but wants to give the illusion of separated space. Additional shower ideas are being creative and building a natural privacy screen with florals. For instance, flowering shrubs like hydrangeas or other plants that don't mind moisture can act as a living shower wall (and tend to be cheaper).
7. Dreamy Outdoor Shower
Image Source: @nayaratentedcamp on Instagram
Picture this, you've finished your evening run, and your outdoor shower is right there, allowing you to rinse off as you gaze up a sky full of stars. Better yet, you've decked out your outdoor shower with strands of string lights, making it perfect for those romantic summer weekends.
Other dreamy outdoor shower ideas include sleek enclosures with slatted wood screens that give off zen vibes.
When it comes to outdoor showers, it's all about creating your ultimate dreamy escape. So whether you're a romantic who loves the summer, fairy vibe, or looking for something more classy and zen-like, incorporating the right shower fixtures can elevate the experience.
8. Double The Fun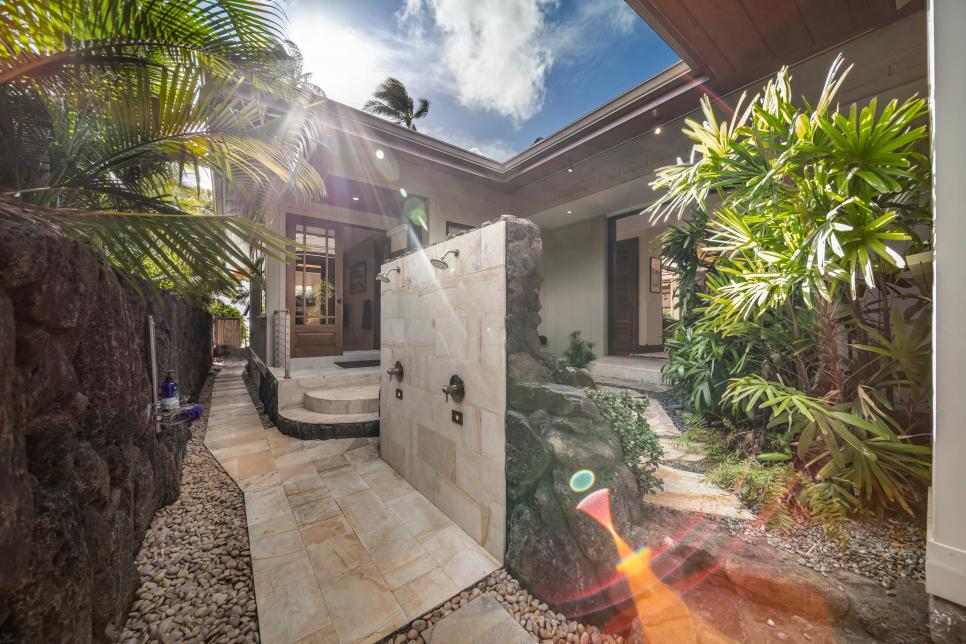 Image Source: Hawaii Real Estate Brokers
Sometimes good things come in doubles. In this case, it doesn't hurt to have two showerheads. It's not unusual to come across outdoor showers with two shower heads in resorts. It's a great choice for a large family or high traffic area as people don't have to depend on just one shower.
9. Have Fun Accessorizing
Image Source: @designbybrookside on Instagram
You're allowed to have fun when considering interior decor designs for your outdoor shower. One way to exercise this power is in your tile choice. Your tiles can reflect your personality or the general ambiance you'd like to create.
What's great about tiles is that they come in various designs and colors. So you're likely to come across outdoor shower ideas with tiles across the board, everything from super colorful to natural and minimalistic.
Some outdoor showers have colorful tiles that make you feel like every day is a beach vacation. The Moroccan-inspired teal tiles in the design above complement the white wall and go hand in hand with the glam gold hooks, perfect for towels or beach gear.
10. DIY Outdoor Shower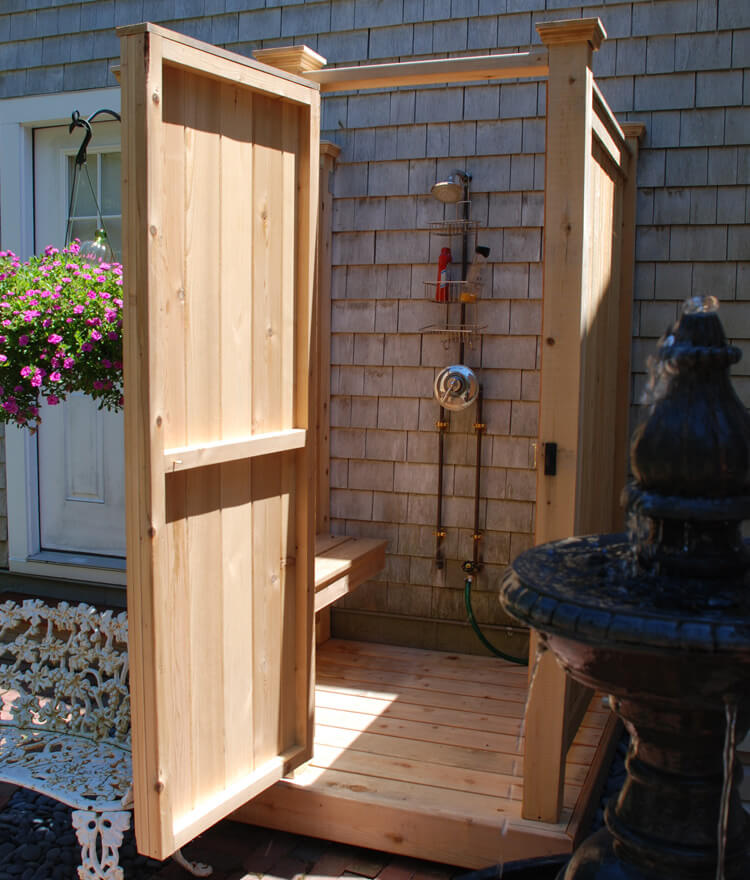 Source: capecodshowerkits.com
There are plenty of great DIY outdoor shower ideas, and all you need is time, some expertise, and the right shower fixtures. The expertise will come in handy when it comes to the plumbing and generally putting everything together. But if you've got the interest and the gusto, you should be able to get your outside shower up and running in no time.
The design above is a wooden DIY outdoor shower project that combines the experience of showering in luxury with a love of the great outdoors. It's built almost entirely from wood, making it a great choice for any homeowner to add value to their backyard.
Source: countryliving.com
The DIY outdoor shower is perfect for washing off from a dip in the pool or simply showering while enjoying the gorgeous natural air. It comes complete with a wooden bench and is a completely enclosed space.
Tip: If you've got reclaimed wood, you can use it to build your ideal outdoor shower
11. Deck Out The Pathway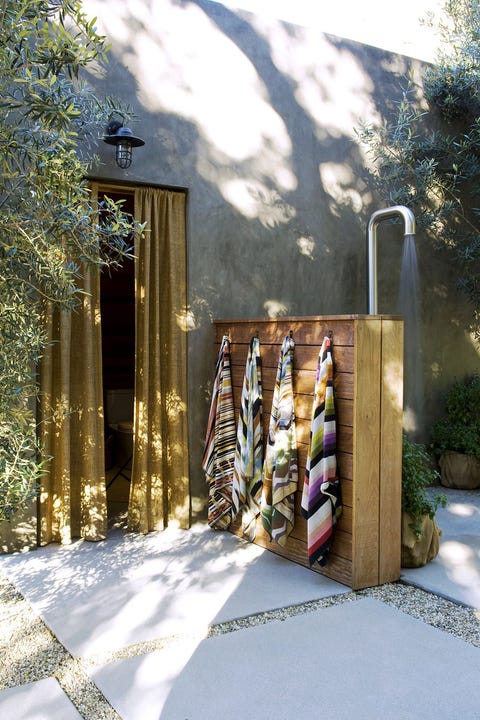 Image Source: Vanessa Alexander Design
When considering outdoor shower ideas, the pathway is probably not one of the places that come to mind. However, there's no law against creating a stunning pathway that leads you to the outdoor shower of your dreams. One of the common designs is the layering of tiles, but you can also have pebble stone walls and hardwood floors.
The outdoor shower above evokes an elegant feeling, with the tiles that lead the way. In addition, it features wall hooks on the exterior wall, which allow you to display your pretty towels.
12. A Rooftop Affair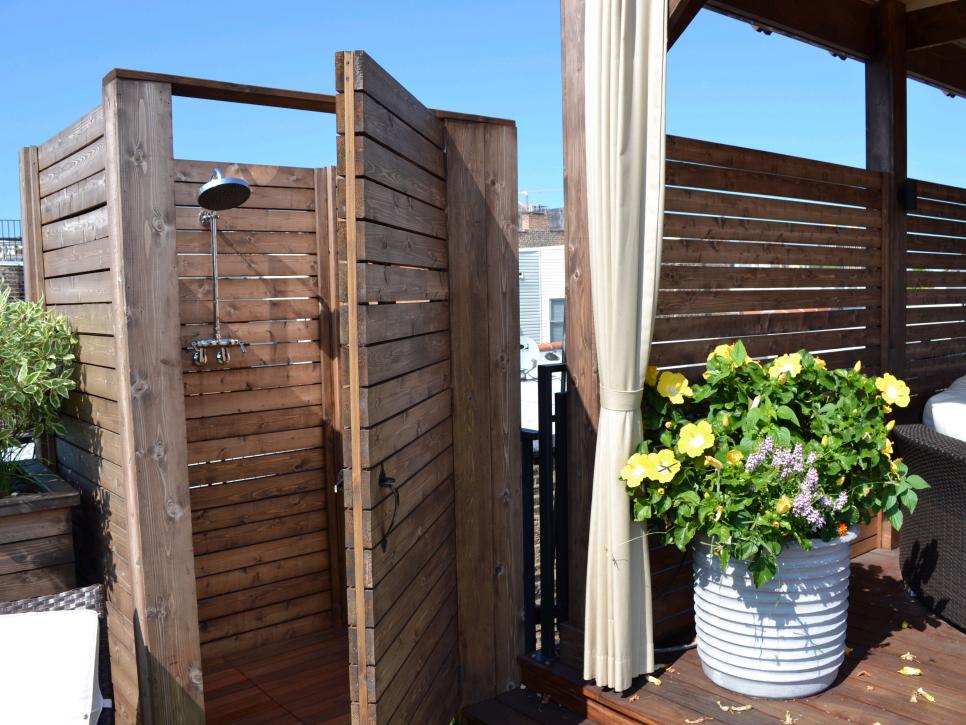 Source: hgtv.com
No Backyard? That's okay. Various outdoor shower ideas incorporate rooftops.
What's great about a rooftop outdoor shower is that you can deck it out to include a shower enclosure for maximum privacy from any prying neighbors. Some extra outdoor shower ideas include adding a jacuzzi and ensuring that your shower is connected to a water heater for warm showers year-round.
13. Portable Outdoor Shower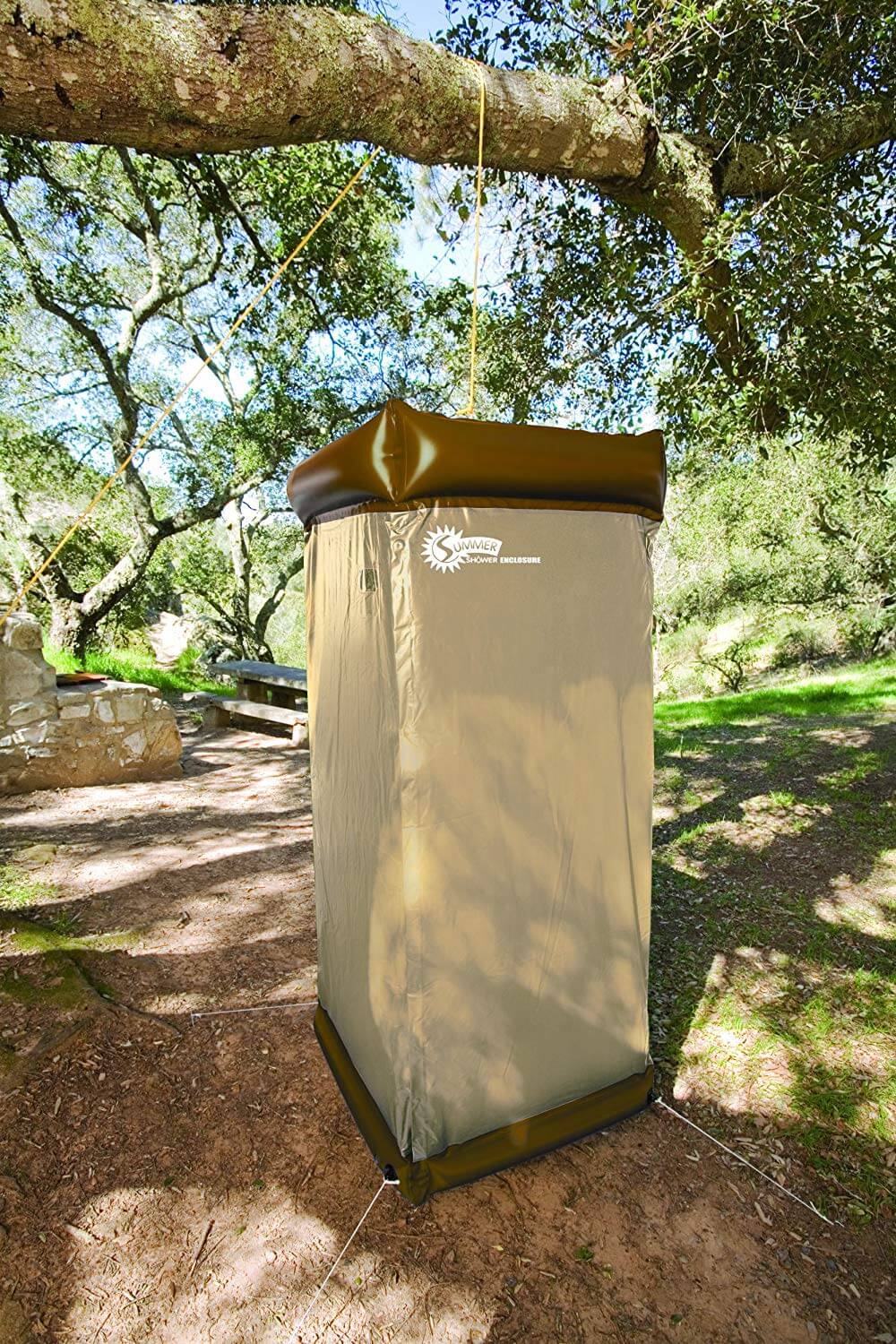 Source: homebnc.com
If you're an adventure lover or enjoy going on camping trips, then you're sure to love this outdoor shower.
Most people who enjoy camping trips can attest to how great it feels to come back home to a good ol warm shower. But, this outdoor shower above solves the showering challenge while you're out in nature.
Though it requires a bit of effort, it's sure to come in handy, especially after a long day of hiking, rock climbing, swimming, and the like. All you need is to suspend the outdoor shower from the nearest tree and be sure to peg the bottom to the ground. Once it is stable, it will be ready to use.
14. Shower Curtain Enclosures
Image Source: Seth Smoot
Shower curtains are commonly used in indoor showers; however, that's not to say that they can't be used for outdoor showers.
Some outdoor shower ideas feature colorful and artsy shower curtains as enclosures. What's great about this is that they're not permanent. You can take them out anytime, plus and this works for someone who loves switching things up.
15. Let The Natural Elements Stand Out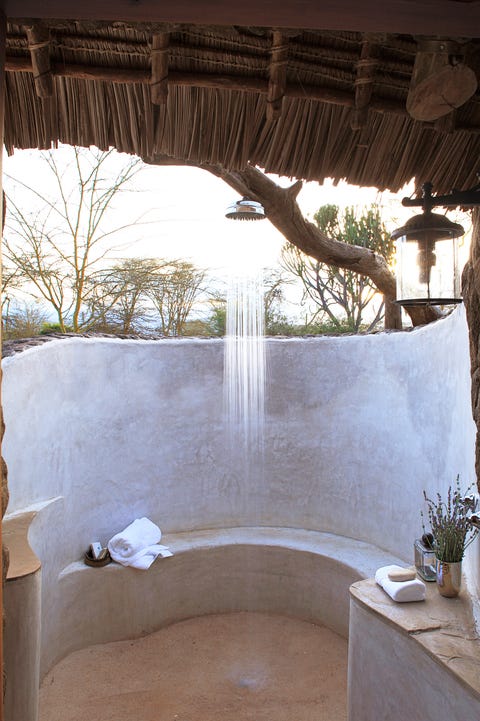 If your home is in an existing landscape with natural elements that can lend themselves, you can always find a way to absorb them into your design.
Some of the best architectural designs are those that blended with nature.
The outdoor shower above guarantees a view of the twinkling stars. But what counts is that the designer found a way to combine the African style thatched roof with the high shower head, thus giving it a modern yet homely vibe.
16. Shower Fixtures To Fit Your Theme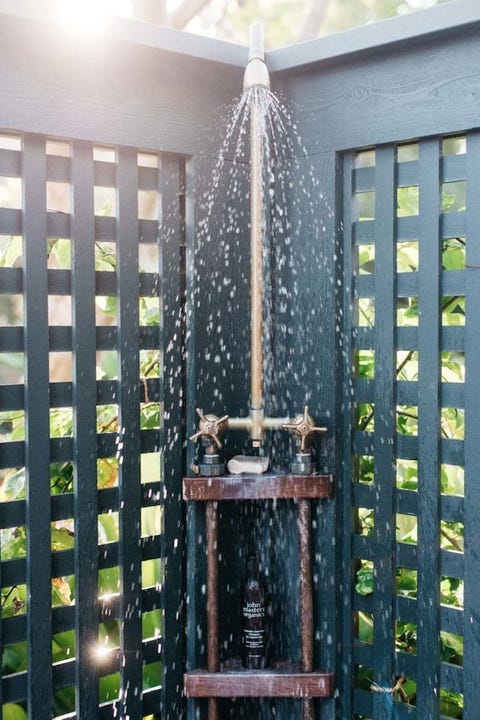 Image Source: Lark & Linen
The shower fixtures you select are dependent on your outdoor shower design theme. Some outdoor shower ideas feature high-end fixtures. These are ideal if your theme is more along the stylish and luxury line.
Other outdoor shower ideas feature copper and brass shower fixtures and piping. These aid in creating a vintage-inspired ambiance that is perfect for those hot summer weekends.
The outdoor shower above is decked out with black paint and brass hardware. The lattice fence lets you peek through to the garden, letting you feel you're one with nature.
17. Straight From The Beach
Image Source: dyerphoto
Outdoor showers are a must-have if you're lucky to wake up to a beach/seaside view. This outside shower consists of a stunning casual shower that can rinse the sand from your swimsuits or cool you down during those hot summers.