Blue was one of the hardest color pigments to achieve by humans and the rarest when it was first discovered, as it could only be extracted from rare, precious stones. However, today, you can enjoy blue on daily items like couches; working with the color shouldn't be as hard. Today, I will let you in on some inspos to help you find out what colors go with blue furniture perfectly to make your next living room remodel an exciting affair.
Colors to Match with a Blue Sofa
1) White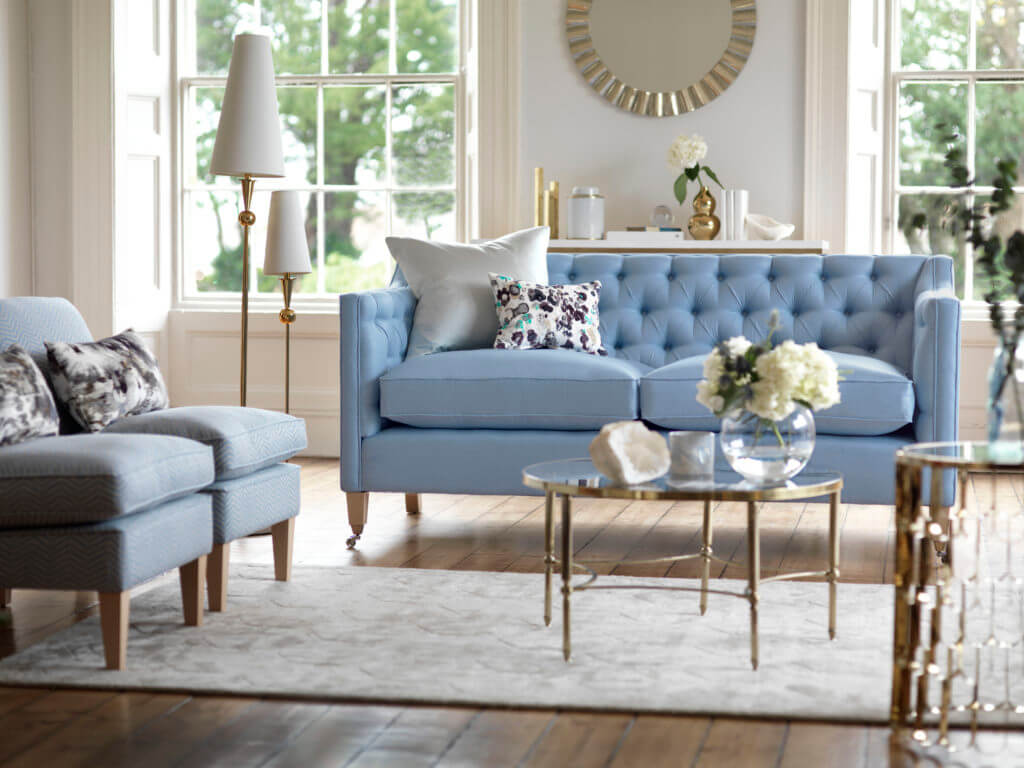 Image Source: delcor.co.uk
White will work with blue any day, any time. Think of how satisfying it is to look at snow-capped peaks against blue skies and imagine how neat a blue couch will work with a brilliant white wall or throw pillows. Breath-taking!
2) Red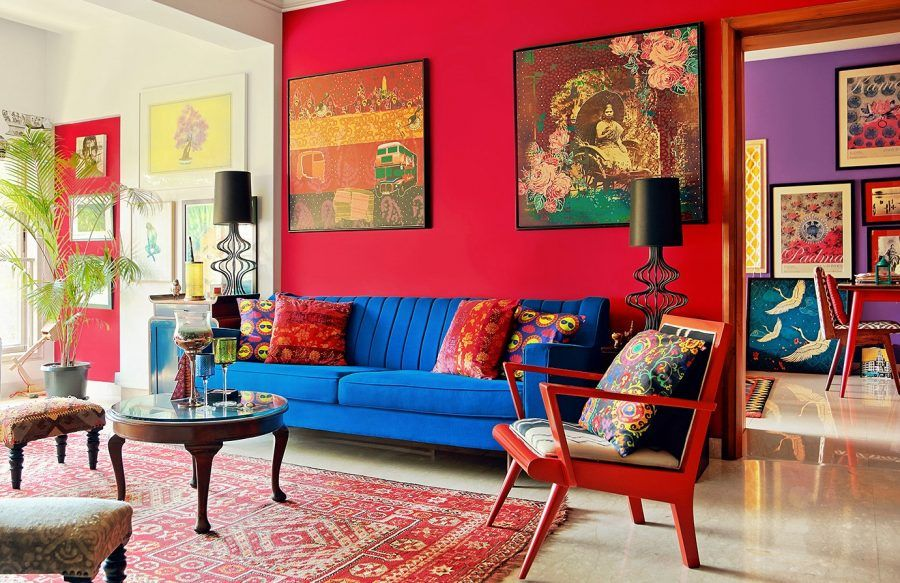 Image Source: shelterness.com
Red and blue is not the most common color combination you will see around. However, when you combine this color palette, you will create something close to royalty. Quite irresistible!
3) Beige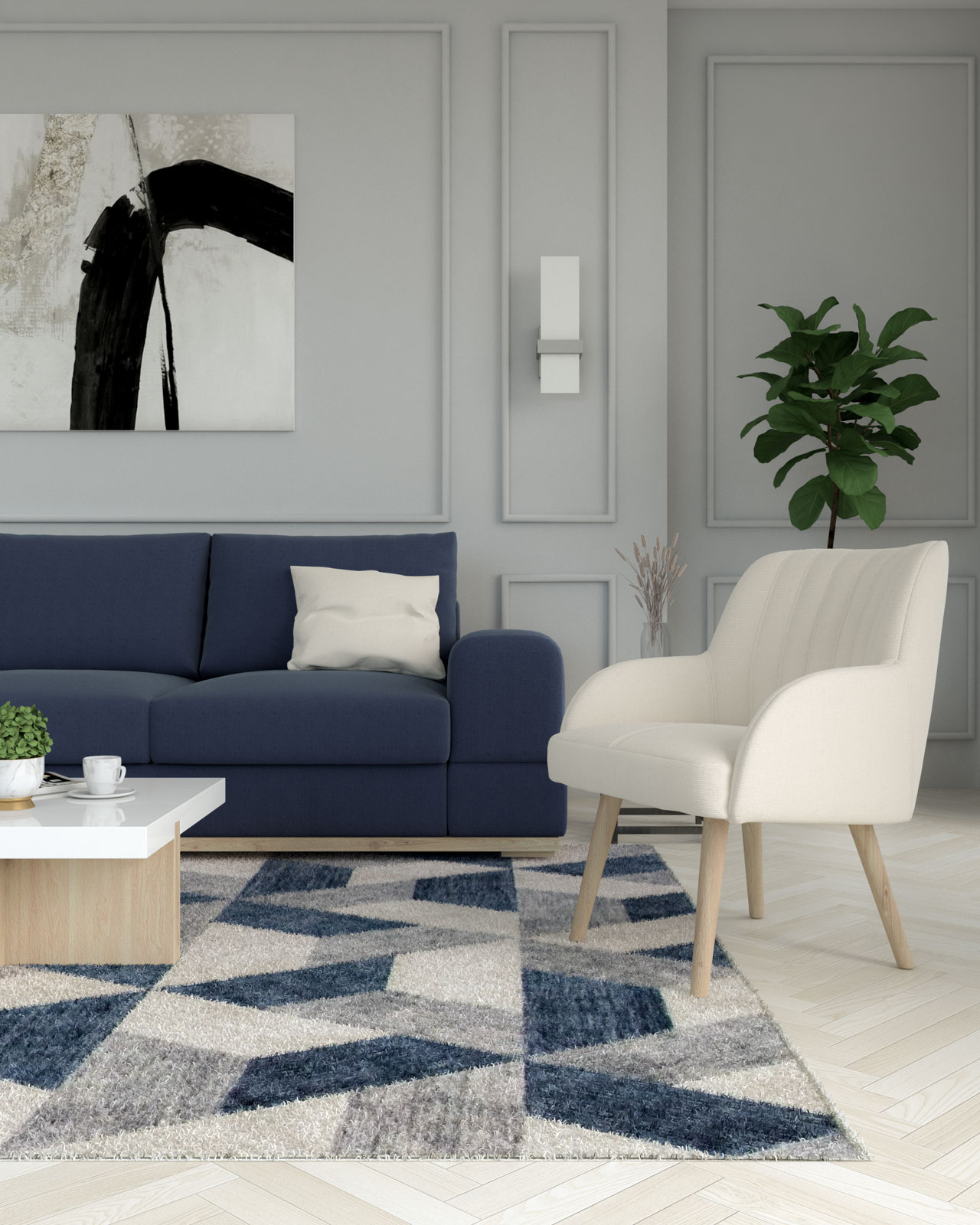 Image Source: roomdsign.com
Nothing can be as gratifying as looking at a blue couch in a beige setup. This combination is not only simplicity at its best but a strong contender for one of the best interior design color combinations in my book.
4) Yellow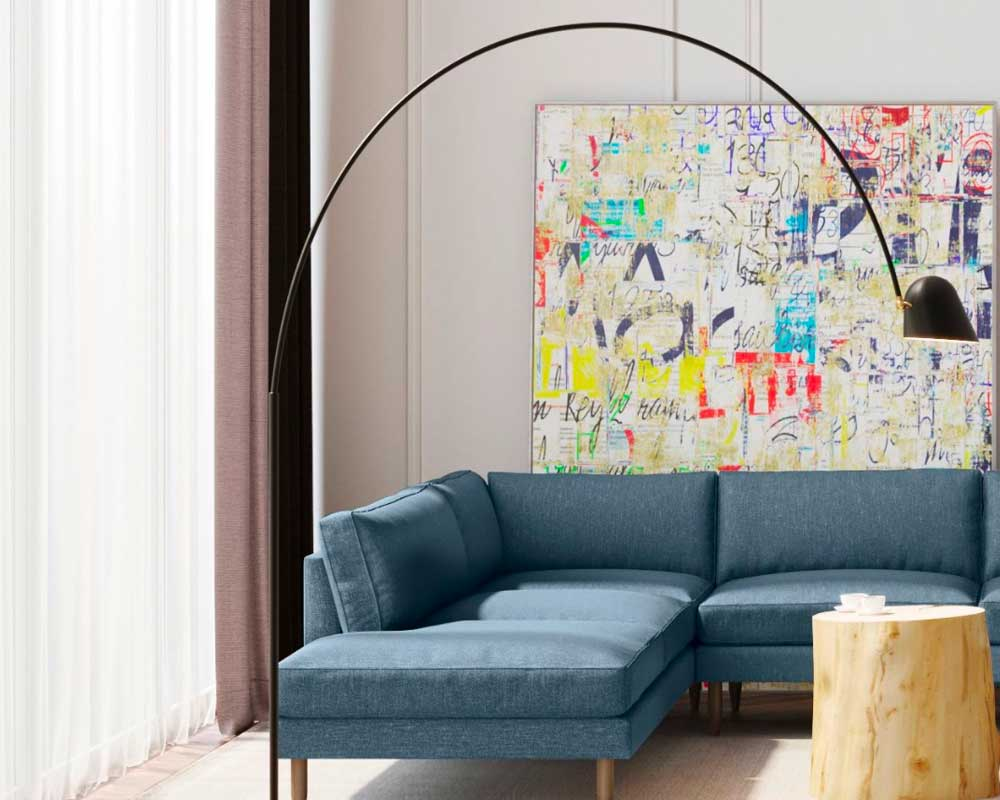 Image Source: livingcozy.com
I never knew yellow could be stunning until I used yellow throws on my blue couch. I was sold, and there was no going back until I tried all shades of yellow, starting with mustard yellow.
5) Orange
Orange and blue? Scandalous. But if you are going for a rustic vibe, this is the perfect combination.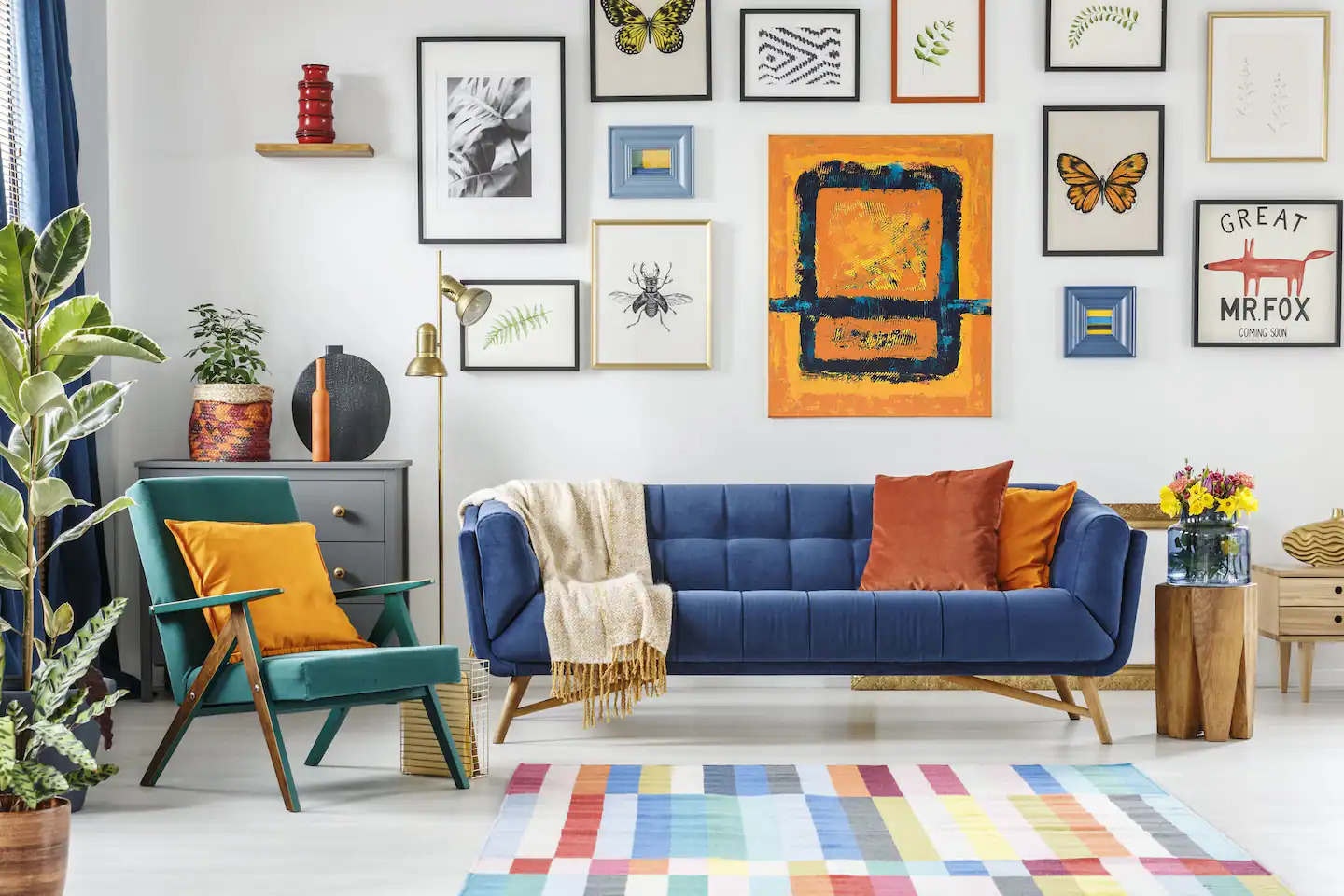 ) Image Source: angi.com
If you are not into a country-aesthetic rustic feel, you can frame orange modern artwork and see how beautifully it blends into your penthouse-inspired design.
6) Grey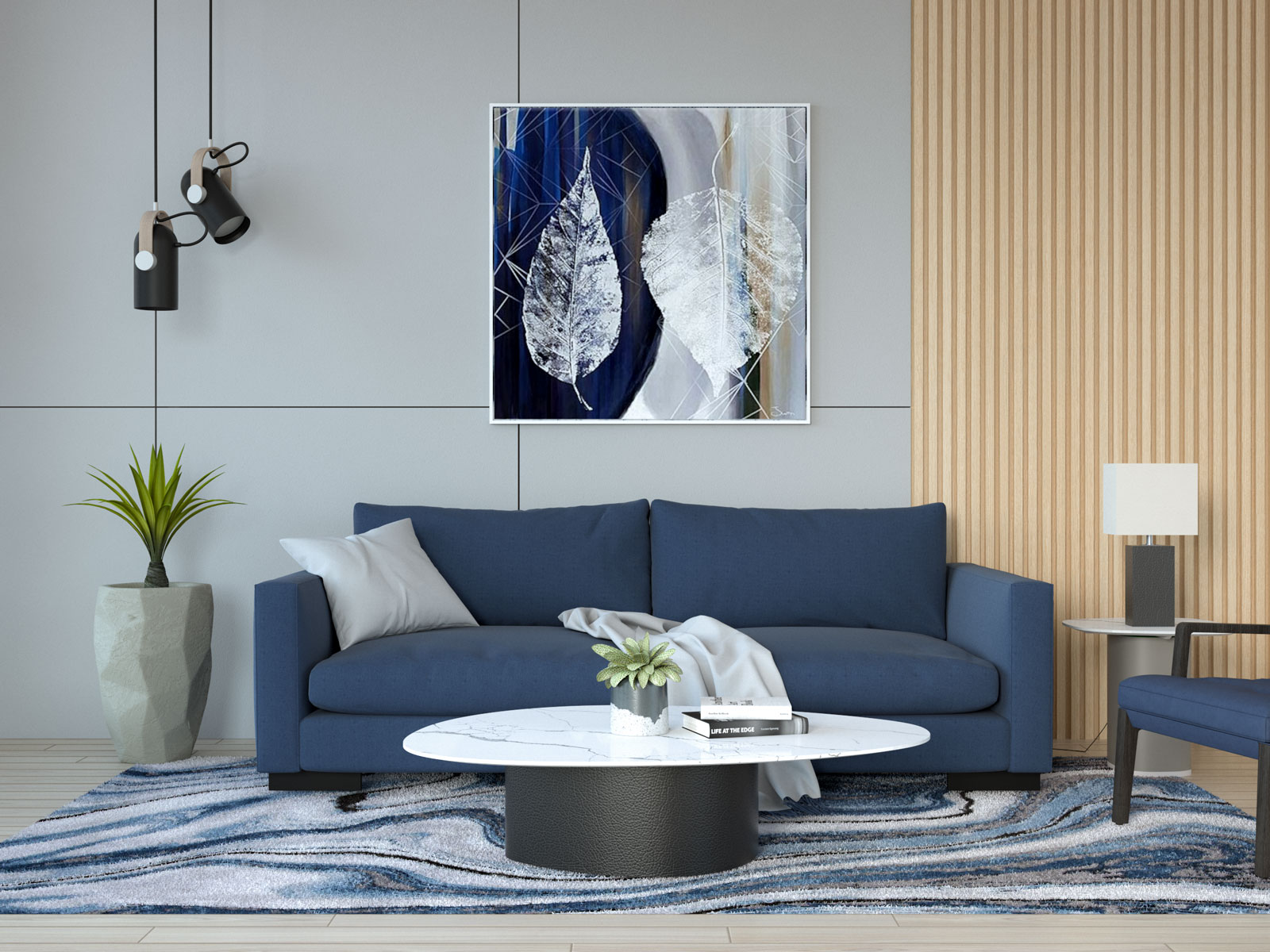 Image Source: roomdsign.com
If there is a color I consider flawless, it's grey. If there is a combination I deem heavenly, it's grey and blue. The best thing about grey is how it gives blue, mostly a color on the darker side, a chance to stand out.
7) Champagne Pink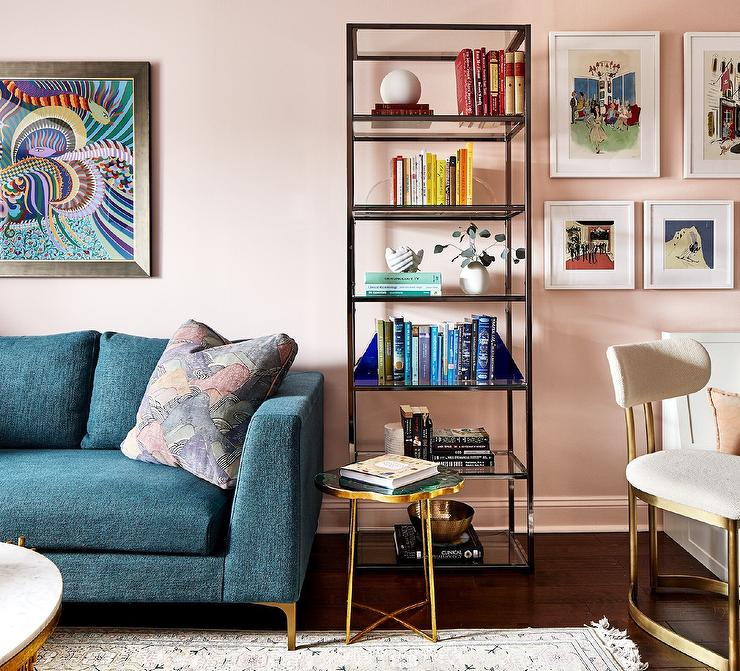 Image Source: decorpad.com
Nothing gives a more "yin-yang" effect than a blue couch against a pink wall or accessories, especially a dark and navy blue. The two colors balance out their energies to give a near-perfect outcome.
8) Green
Image Source: rethority.com
Blue and green are a whole vibe when used wisely. Of course, not any shade of green will work in this case. I prefer shades like emerald green to do with my blues because the combination gives a rich outcome.
9) Earth Tones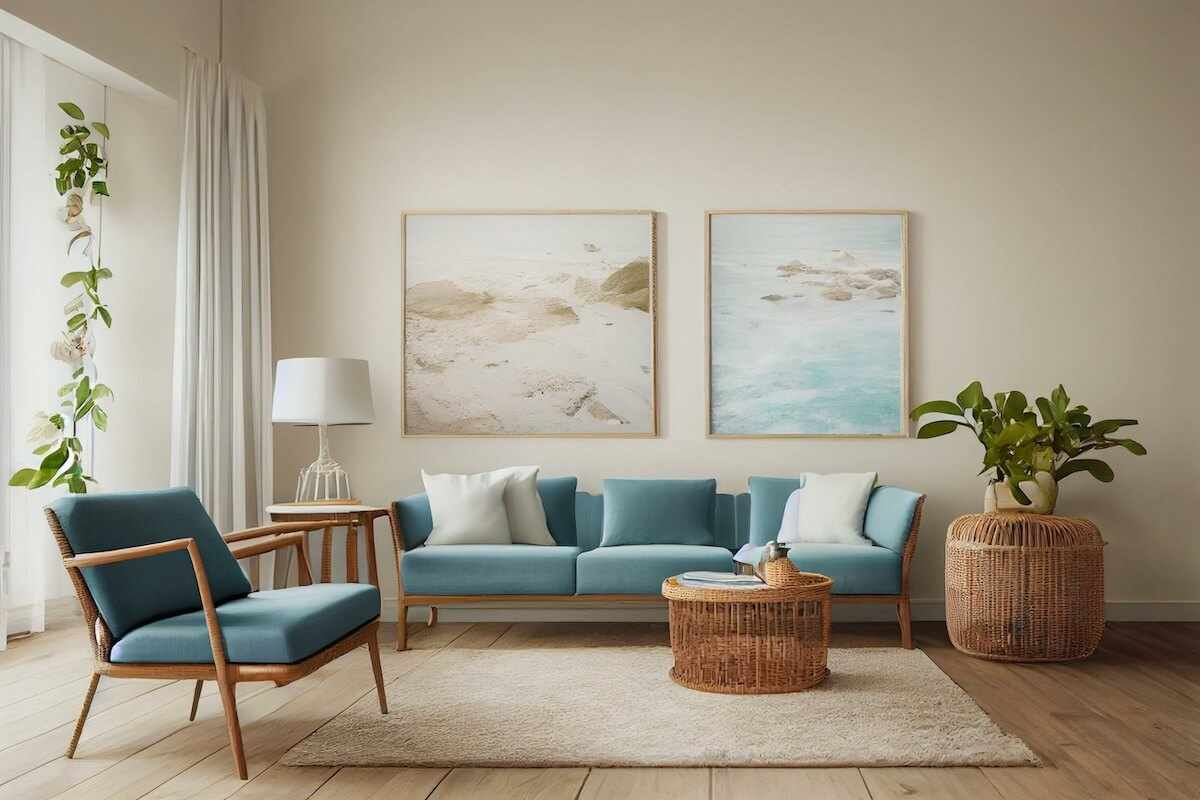 Image Source: coasterfurniture.com
While earth tones are known to be dull and down to earth, I find them sensational, especially when combined with blue. Earth tones give you a wide variety of colors, all with a similar effect. Earth tones are the best way to show off your good furniture taste.
10) Analogous Colors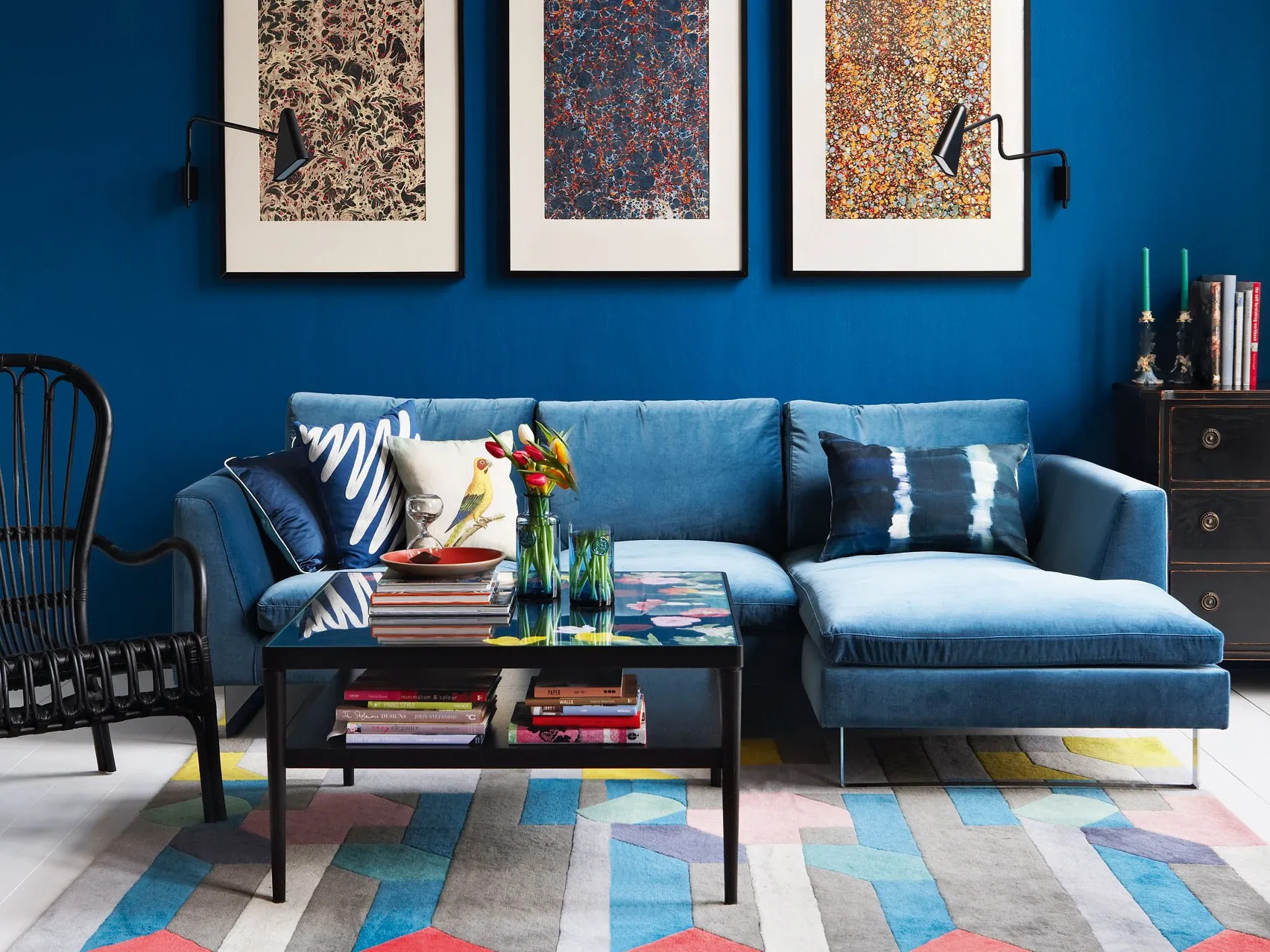 Image Source: houseandgarden.co.uk
While I am not the biggest advocate of having colors against their shades, a blue couch does look grounded when placed around other shades of blue. If you are a huge fan of the color blue, this is your best approach to including blue in your spaces. You can pair navy blue with cerulean blue and see what you come up with. Try this with other shades, and you may be in for a pleasant surprise.
Where to Place Other Colors if You Have a Blue Couch
Finding the right color is a huge and fun step. However, if you do not know what to do with the color, then that is where the fun might end. Here are ideas you could use on where to place a color to match with a blue couch.
a) The Wall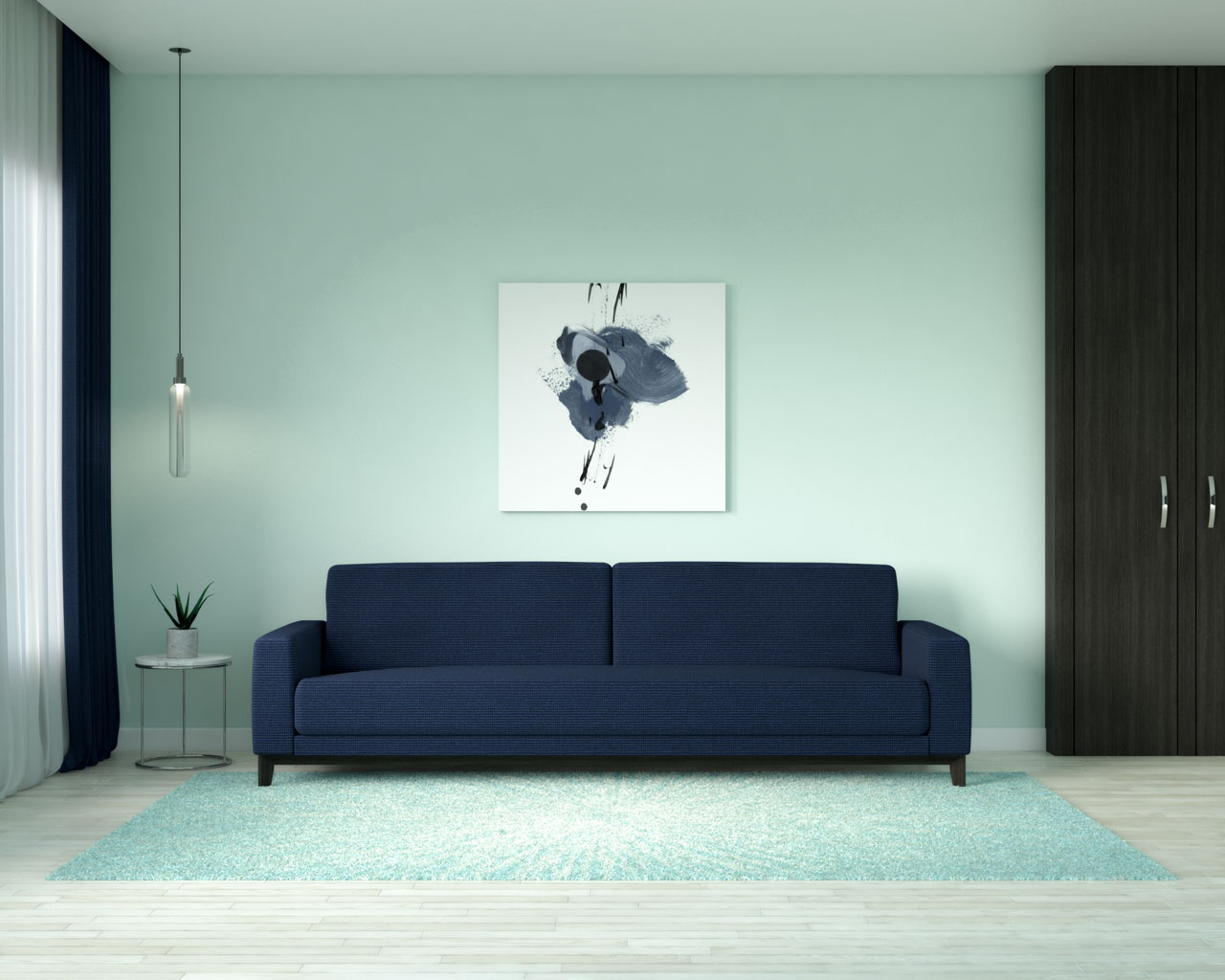 Image Source: roomdsign.com
The couch will most likely be against the wall, as is the case in most living rooms. While the couch might not be directly against the wall, the eye will still catch the wall, somehow. Therefore, it is better to invest in a wall color that will make the couch stand out without taking away all the attention.
A good color on the wall is white, as it is not only one of the easiest colors to match with a dark blue couch but is the color we are all used to seeing on the wall. Other colors, such as grey or blush pink, can work just as well.
b) Table
I prefer my couches in the living room having no table near them (maybe on the side), as I love a good couch to be fully visible. However, if you have to work with a table, you can pick one that is not too dramatic as you risk taking all the attention from the couch.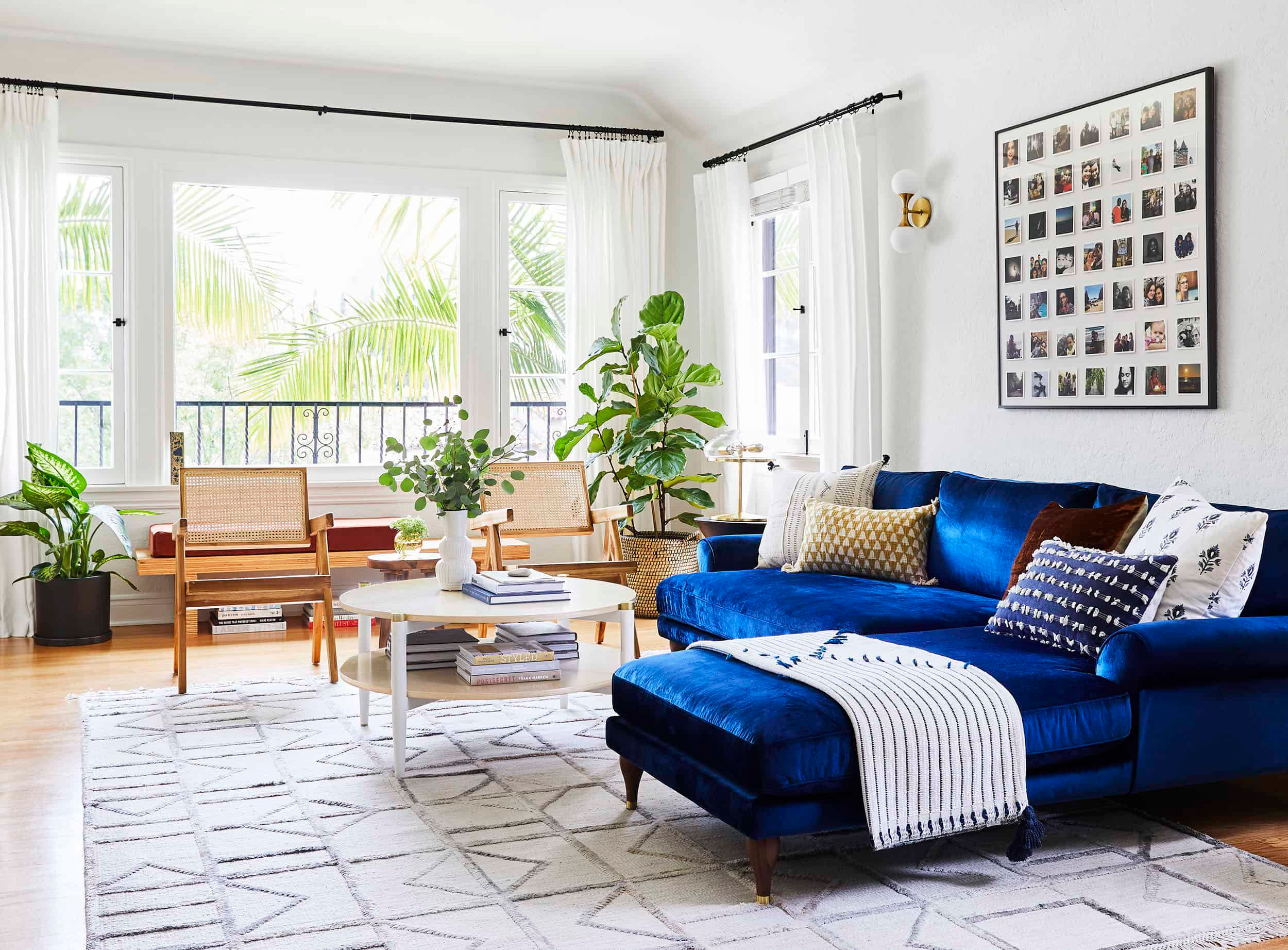 Image Source: ahouseinthehills.com
When choosing a table, one with blue hues might not be the best one to go for as it will be a bit over the top.
c) Throw Pillows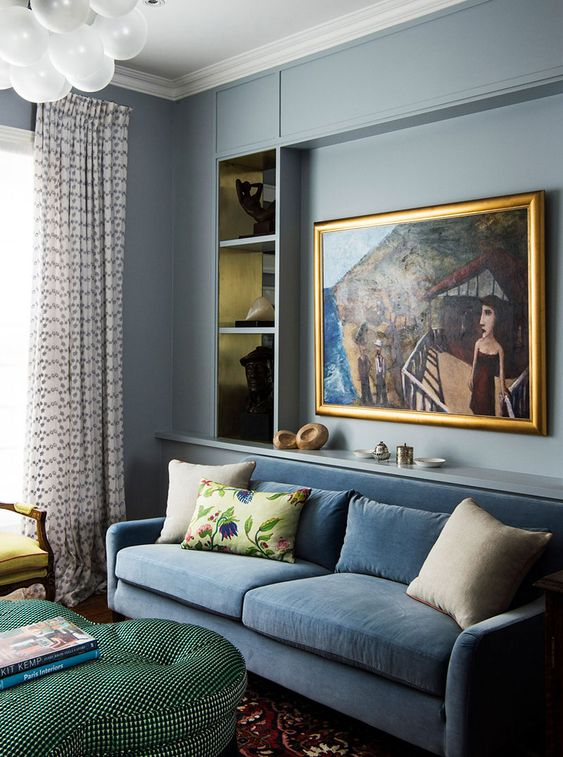 Image Source: Shelterness.com
Throw pillows are fun to use as you can throw them around however you want in any arrangement that feels right in the moment. Throw pillows are convenient for couches as you can change the cover to introduce a new color to match your blue sofas.
d) Rug
A rug creates a beautiful frame for a blue sofa like a picture frame would a beautiful painting. When looking for a rug, find one that makes the couch stand out without competing with the couch. A rug with darker hues will work better if you have a light blue sofa.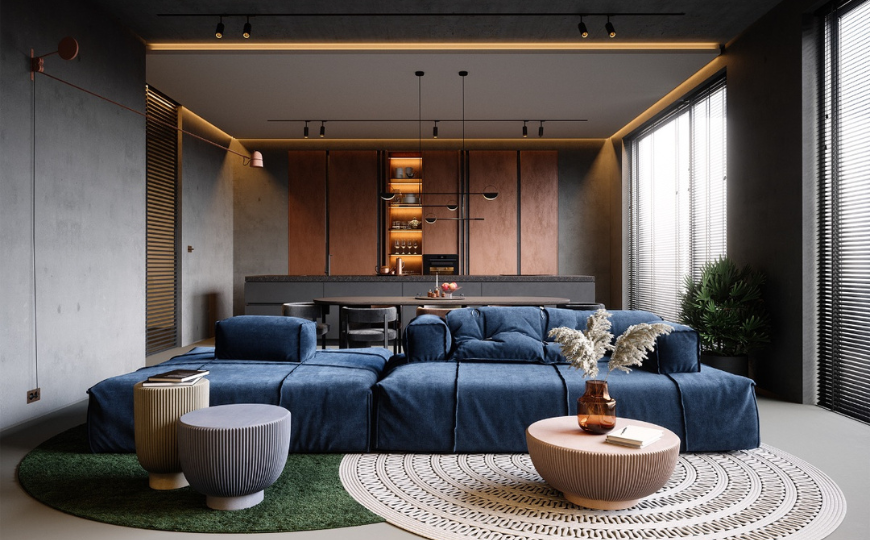 Image Source: livingroomideas.com
When choosing a rug, find one with a different texture from the couch, as texture is an important element that affects how we perceive colors.
e) Centerpieces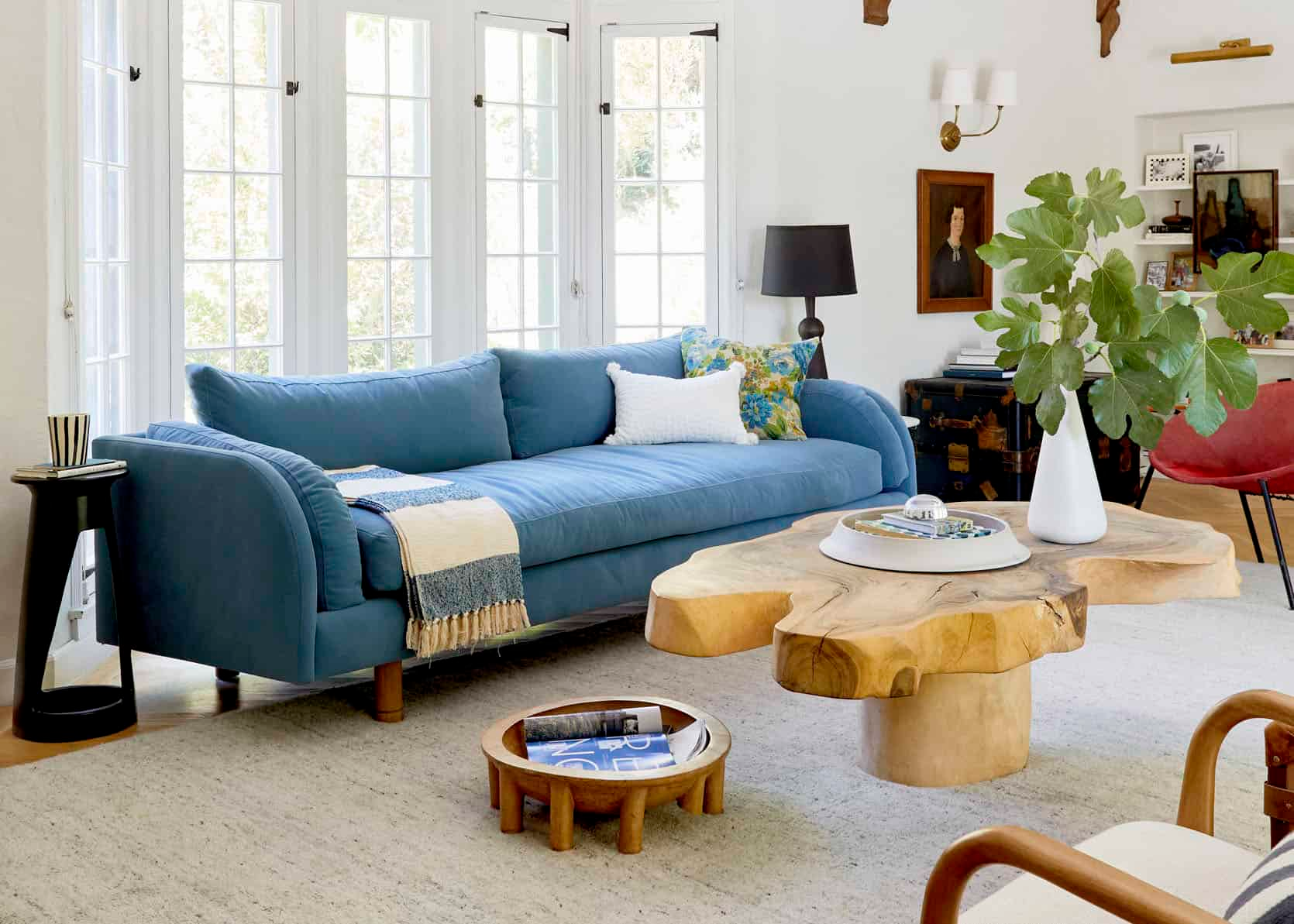 Image Source: Stylebyemilyhenderson.com
Centerpieces are called so for a reason: they are the center of attention. While we love elegant and dramatic centerpieces, we can use them in ways that do not take the attention away from the beautiful blue couch. For instance, having golden centerpieces will make all blue couches look good.
f) Lampshade
Living room sofas are meant to be cozy, and nothing creates a stronger mood than the right lighting. Having a lampshade right next to the couch brings attention to the sofa, leading the eye to the main subject in the living room. This technique is used in interior design to highlight the most important sections of a room.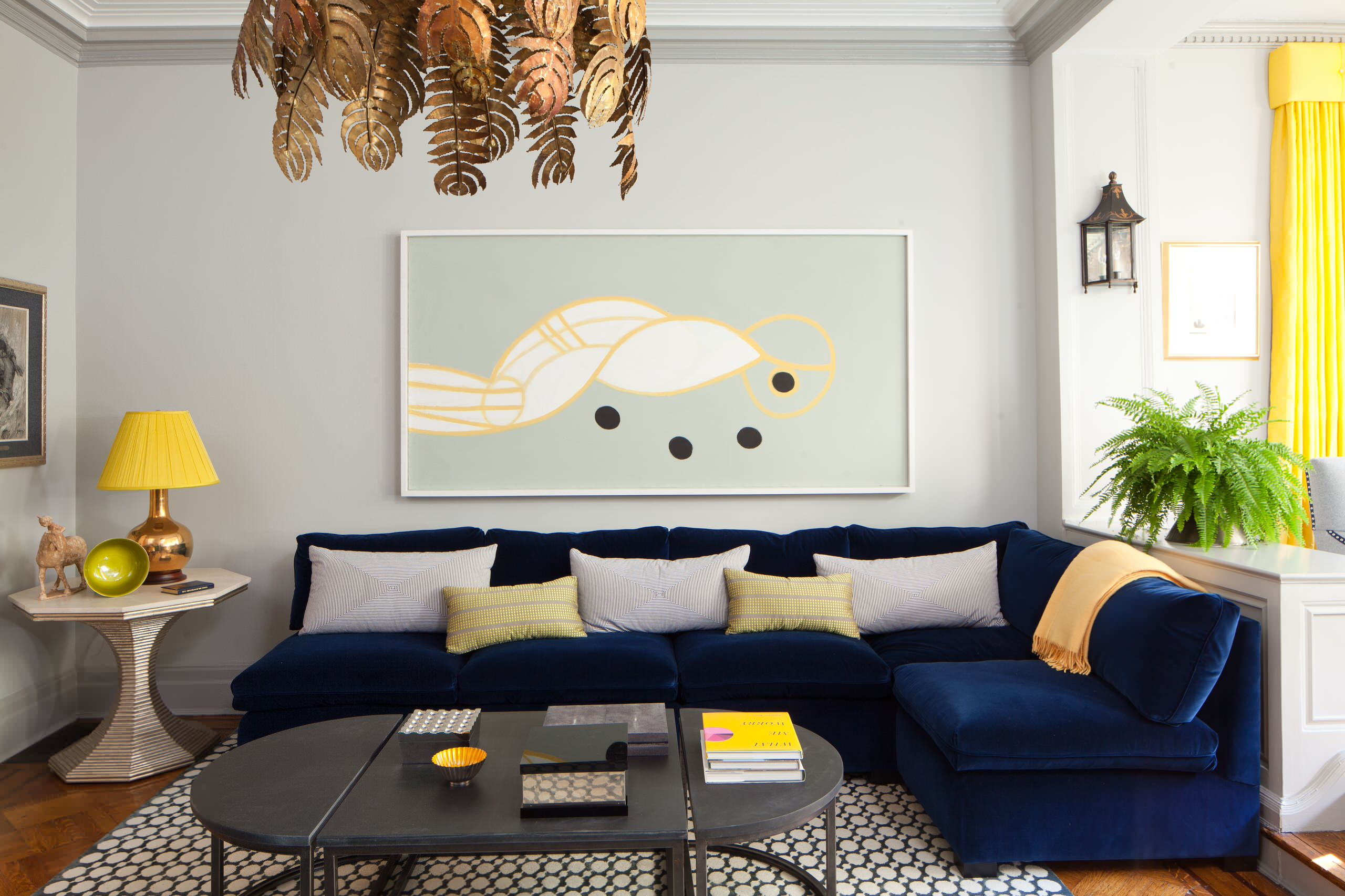 Image Source: houzz.com
Having a lampshade right next to the couch makes the blue hues stand out, especially at night when it might be hard to catch the darker shades of blue.
g) Frames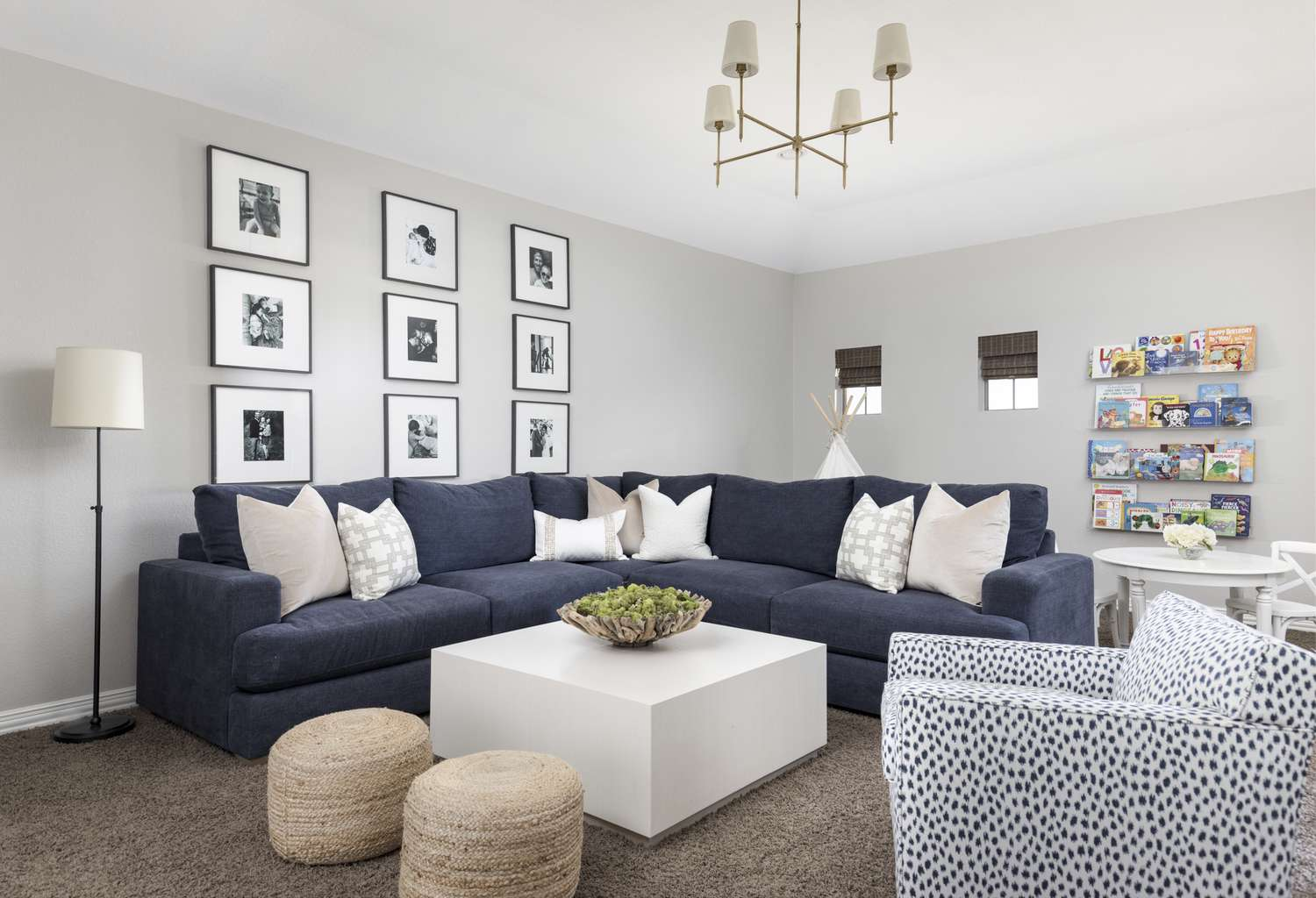 Image Source: thespruce.com
If you enter any space, you will likely forget a lot about the space, but you will always remember where the frames were. Frames immediately grab the eyes' attention as we always expect to see something interesting within the frames. These can be beautifully colored artwork, minimalist ideas, album covers, family photos, and more visually interesting subjects. Once the eye is captured, it won't help but fall on the couch beneath the frames.
h) Warm Lights
Using a blue light in a room with a blue couch might not be the best idea if you want the couch to stand out. Using a warm light like yellow will make the blue vibrant. Better yet, the lamp is right beside the couch to bring attention to the elegance of the couch.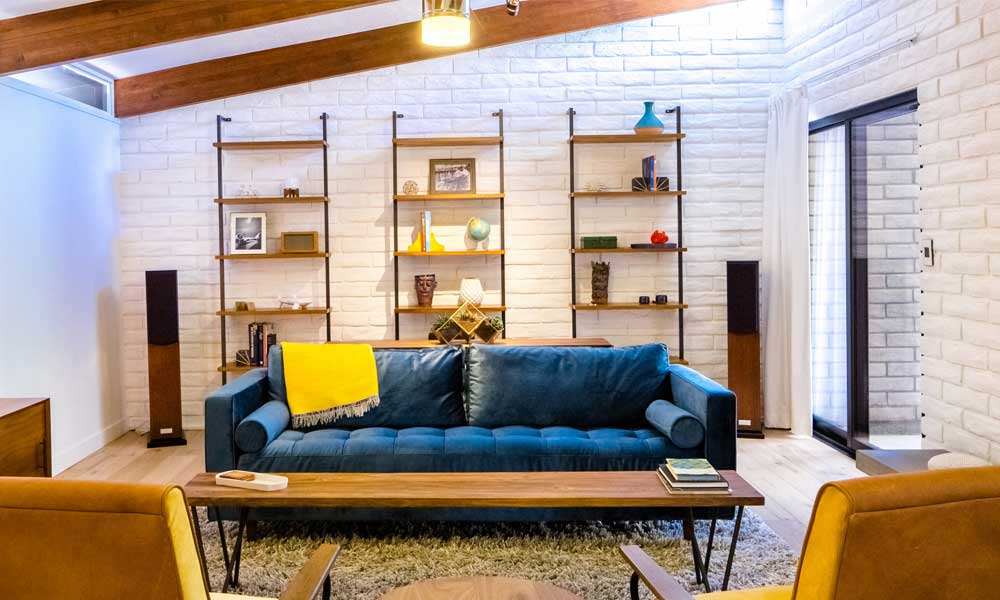 Image Source: livingozy.com
You could opt for wall lighting that lights the couch area rather than the whole room. This approach to lighting will make the sofa look like an art installation in your living room.
i) Wallpaper
Wallpapers are great for making your dream home come true, and there are a variety to choose from to make your couch look good. Furthermore, wallpapers offer not just colors but shapes and designs that would take longer to paint.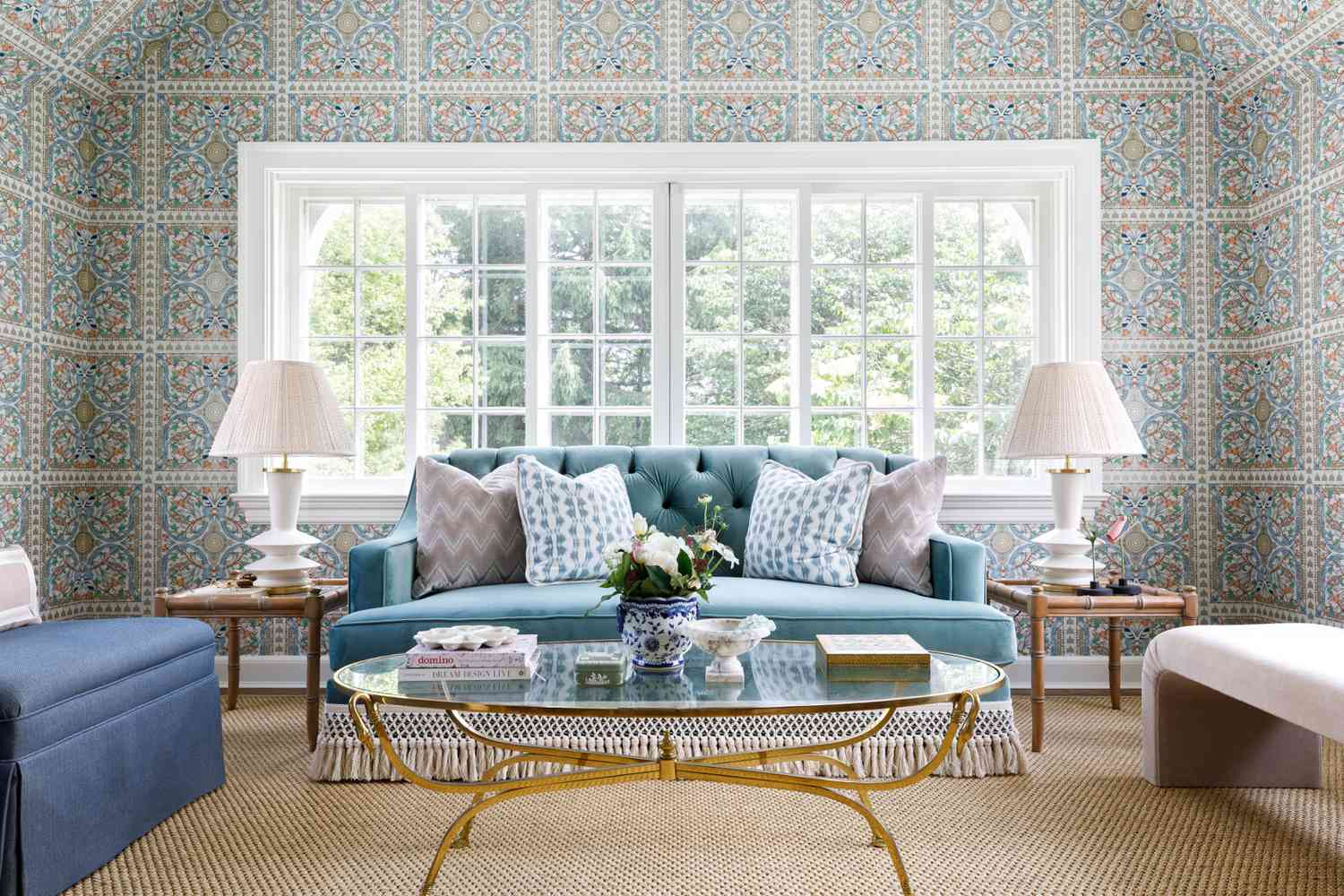 Image Source: thespruce.com
When we think of colors when dealing with interior design, our first thought is paints. However, the next best alternative to using paints is wallpaper, especially forest wallpaper murals.
j) Curtains
Curtains, just like walls, create a beautiful frame for the couch. Choosing the right curtains will make your couch the subject and center of attention in any room, which is your main intention.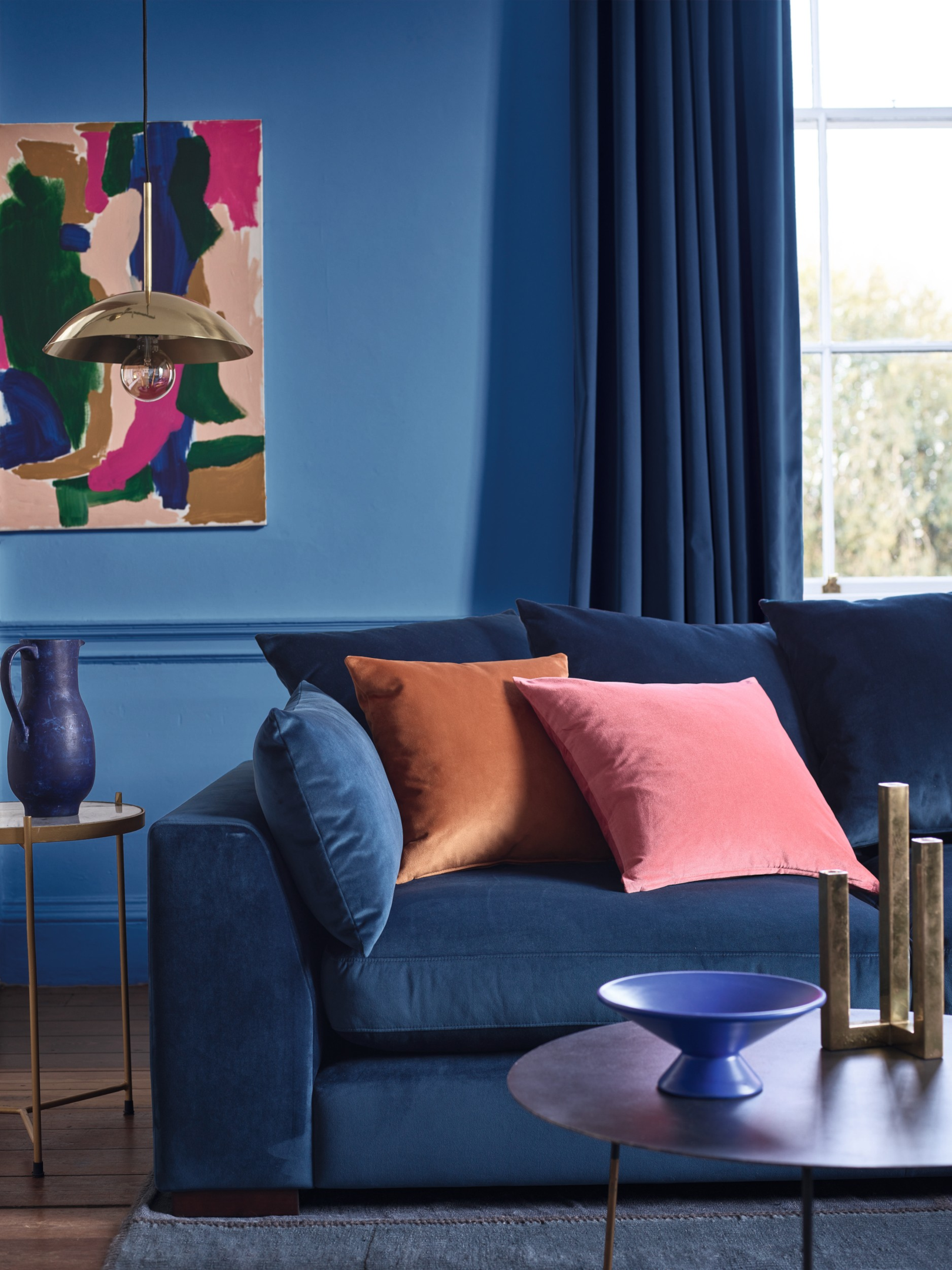 Image Source: yourhomestyle.uk
When choosing curtains, it is best to go for curtains that touch the ground as they will lead the eye right to the couch. This approach works for rooms with large windows. The curtains need to be bright enough to capture attention and long enough to direct sight to the couch.
k) Accent Walls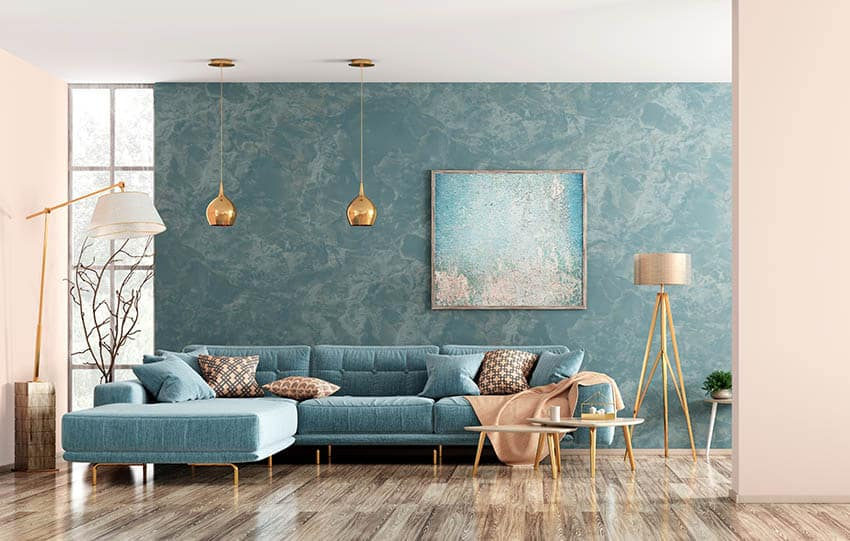 Image Source: designingidea.com
I love accent walls because they allow me to create a literal frame around the couch. I can create an accent couch with colors and designs that match my personality while working with subtle or vivid colors. Regardless of the color, an accent wall is perhaps the surest way to bring attention to your couch.
Tips to Use When Picking Colors to Match with a Blue Couch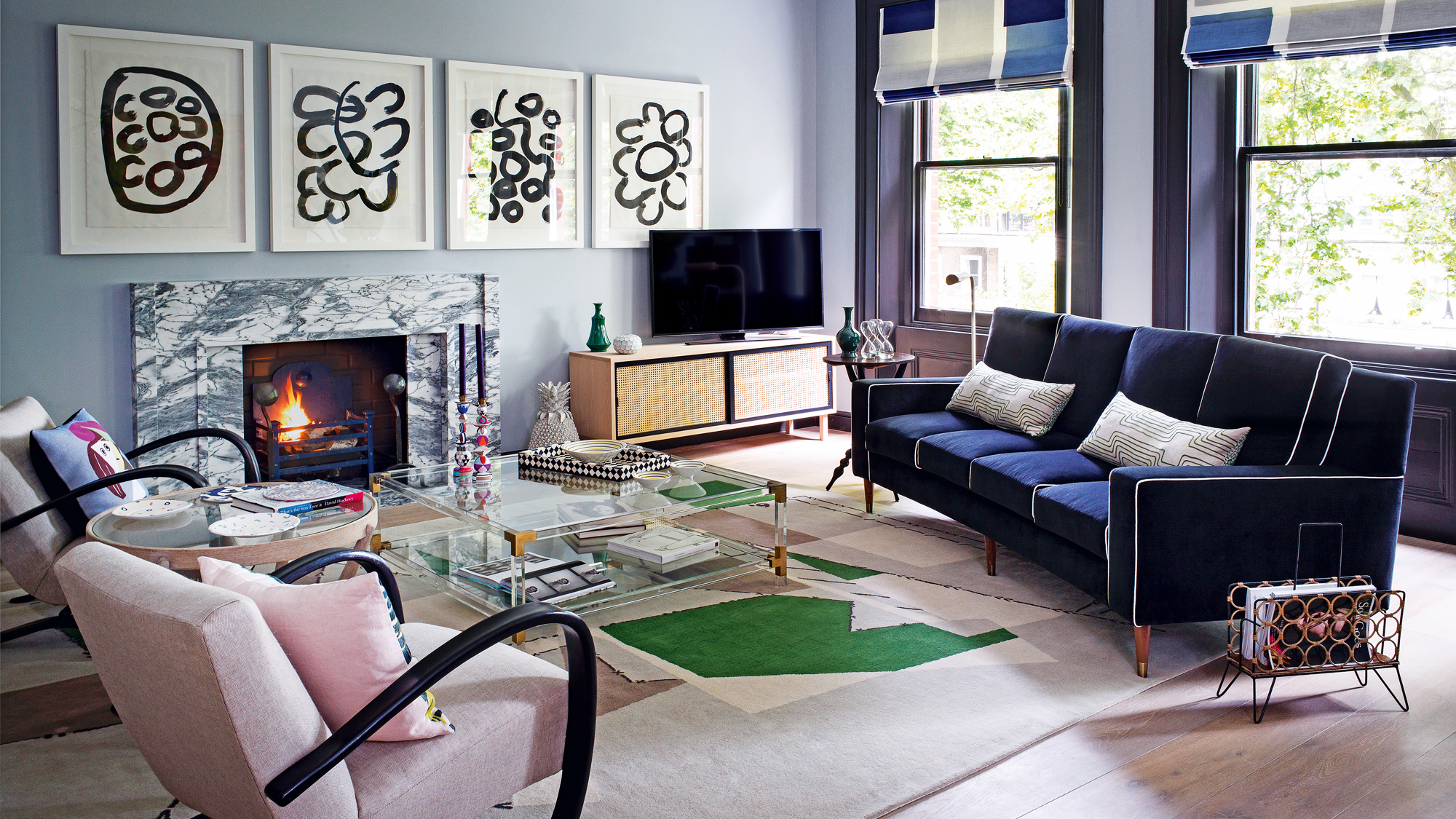 Image Source: homesandgardens.com
i) Couch Placement
If you have a beautiful couch, place it somewhere visible to everyone. Placing the couch is not only about whether people see it or not but whether it is getting enough light and fewer distractions to help the color pop out more.
ii) Use the Color Wheel
The color wheel is the cheat code for most, if not all, interior designers. The color wheel can guide you on what colors relate best to your blue couch. The color wheel is a tried and tested tool that every designer has to pay attention to.
iii) Textures!
If you have an earth tone with a shiny surface, it will not feel as earthy as you might intend because we relate colors almost directly to texture. Since color and texture are visible, we can not leave one out when dealing with the other.
A couch with a velvet fabric looks different from that with cotton, even if they have similar colors.
iv) Be Simple
Simplicity works well for most things, including matching colors. If you have a room full of all the most popular colors, it will not only take away the attention from the couch but run the risk of looking like a disaster. In the modern age of interior design, most people opt for a minimalist approach to design, which is a good place to start if you are exploring what ideas to work with.
v) Use Less Blue
A blue-couch living room should just be that, a blue-couch living room. Otherwise, if everything else is blue, the attention starts drifting away from the couch.
vi) Pick a Good Material for the Couch Fabric
Other than the couch style and color, the materials you use on the couch will determine how good the couch looks and how long it will stay looking good. Materials that fade or catch dust fast will not help your efforts to make your blue couch look good.
vii) Be Bold
If you have a blue couch, then you can be bold with everything else, including not-so-popular options and designs like blue walls.
viii) Be Intentional With Your Lighting Methods
What good is a beautiful color if no one can see it? If you light your couch properly, its beauty will be visible. You can light the couch by placing a direct light source to illuminate the couch or by looking at how light behaves in the room to help you choose the perfect spot.
ix) Explore Different Shades of Blue
To think that the couch below is blue.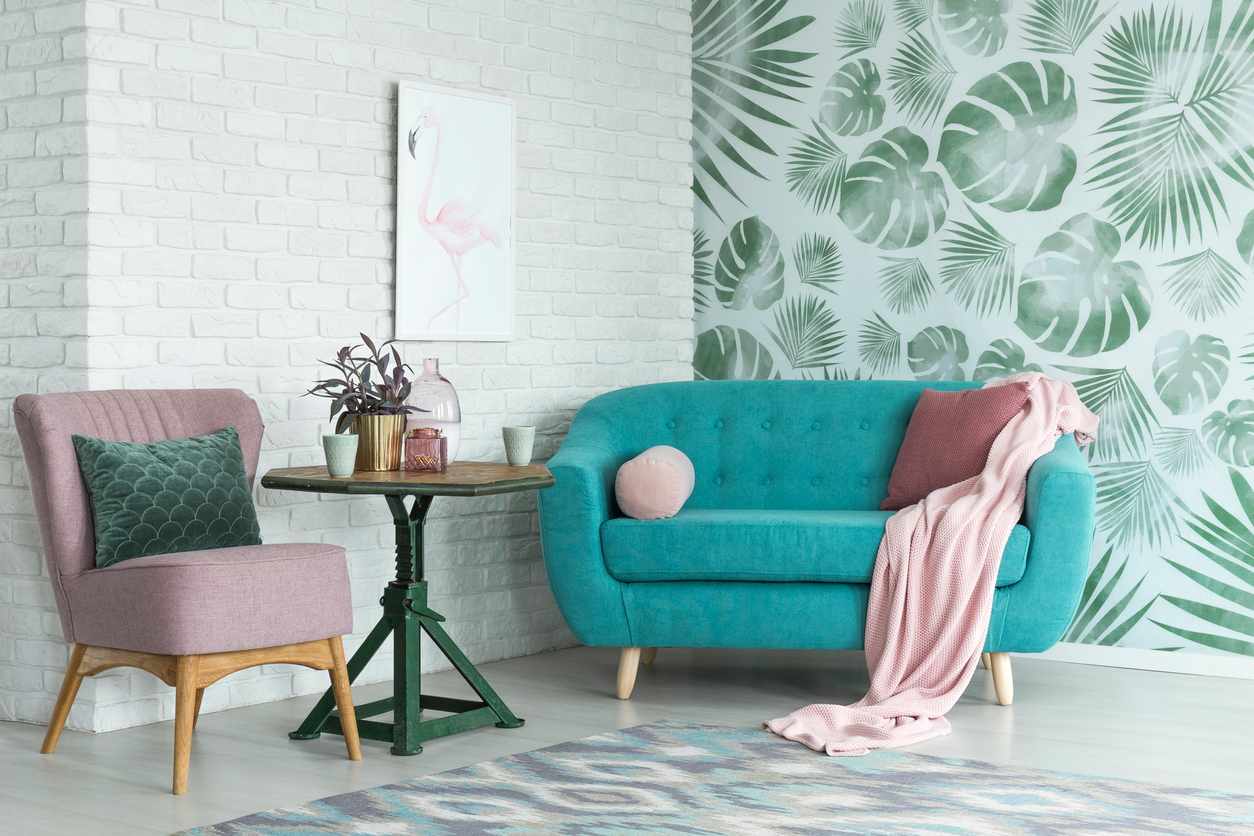 Image Source: mattersbrothersfamily.com
..and this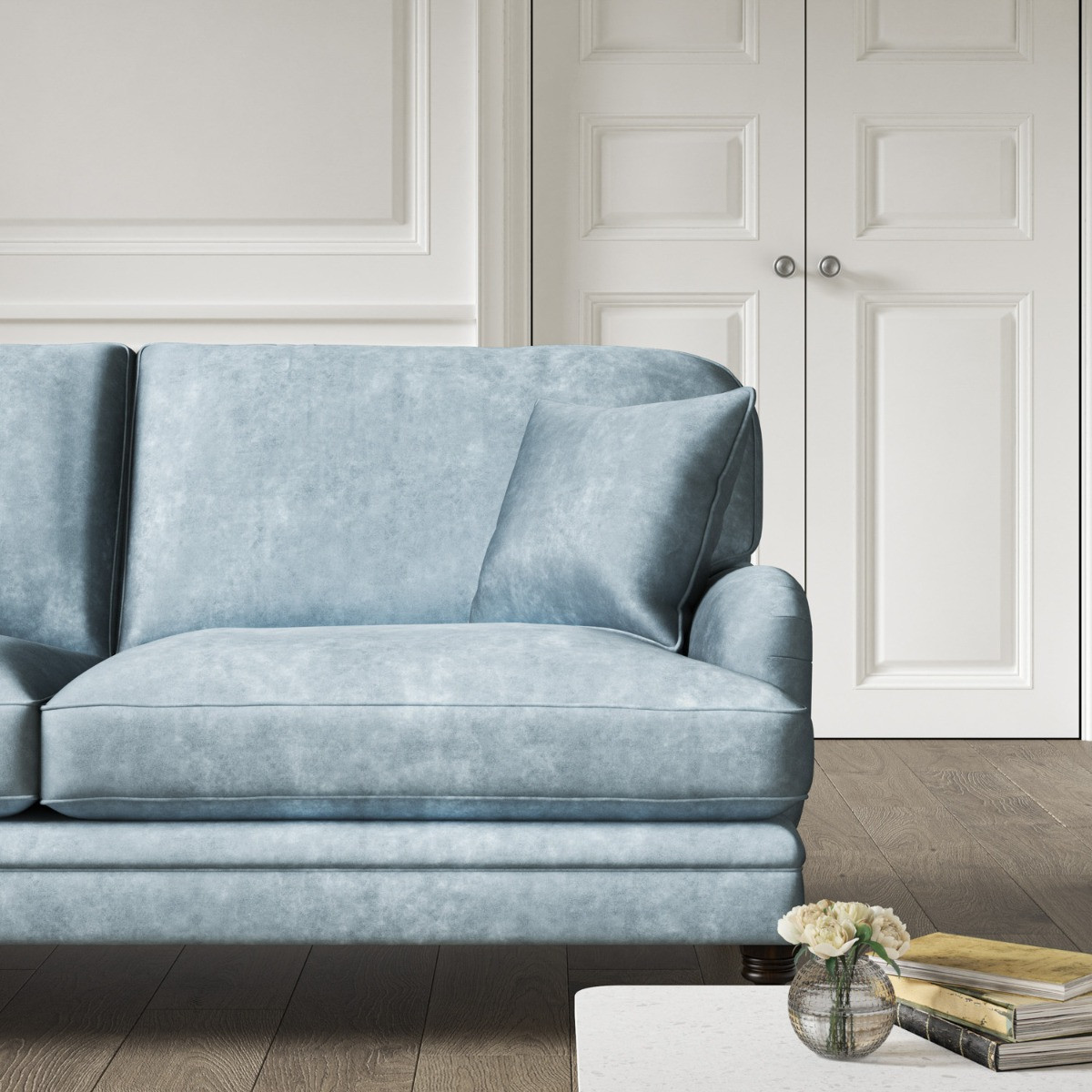 Image Source: warner-house.com
..and this, too, is a bit mind-boggling.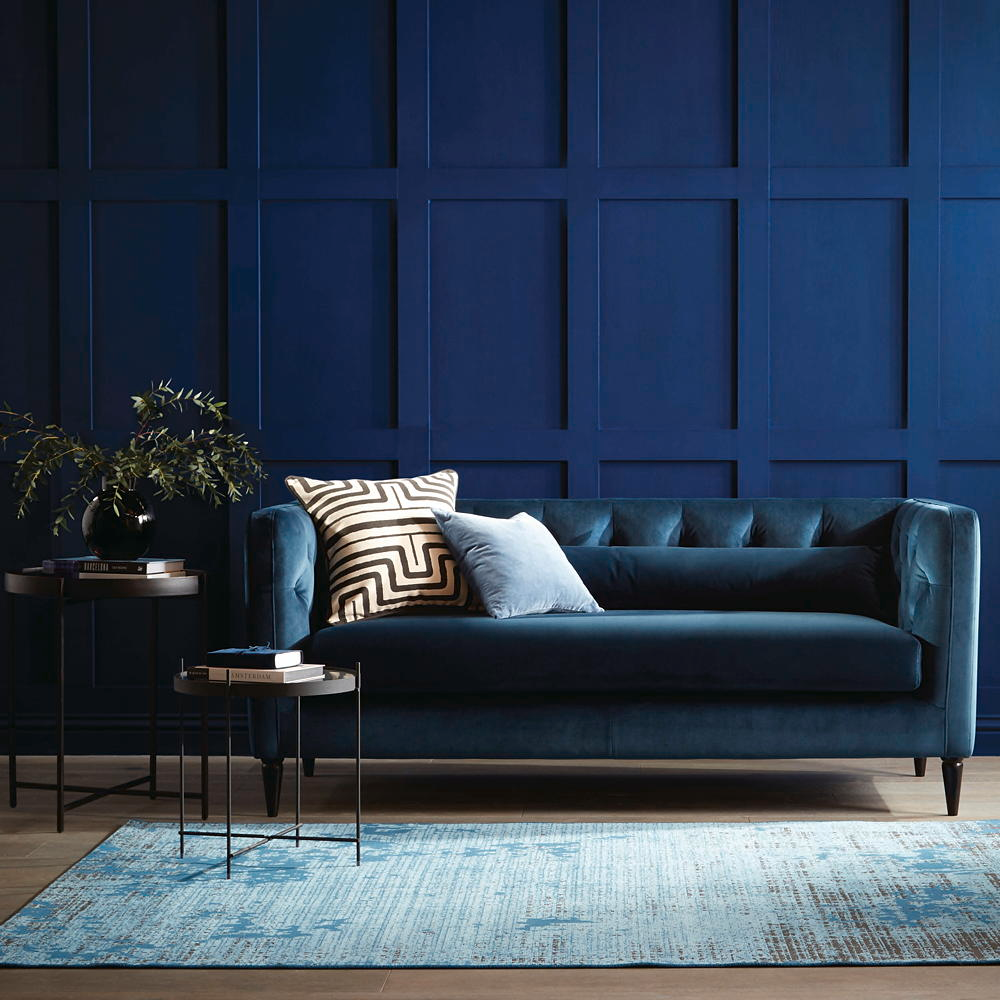 Image Source: idealhome.co.uk
However, that shows how much room you have to experiment with different shades of blue.
Frequently Asked Questions About Colors that Go with Blue Furniture
1) What color best complements blue?
Any color on the opposite side of blue in the color wheel will do a magnificent job complementing blue. Red and yellow and their shades are your best pick when working with blue. While white is not on the color wheel, it is one of the most commonly used complementary colors to blue.
2) What are the two complementary colors of blue?
Red and yellow are the colors that are generally opposite to blue on the color wheel. When red and yellow are mixed, you end up with orange, one of the complementary shades to blue.
Final Thoughts
A blue couch is a great pick. A good color to match it with is an even greater pick and has to be done right. Blue couches offer a large pool of options when looking for colors to match blue with. It is difficult to go wrong with this one. However, if you get it right, you will have an interior design marvel.