It's no stretch to say that Kendall Charcoal isn't a famous option for paints. However, this vintage paint color adds a sense of sophistication and class to any modern space.
You probably want to learn everything about Kendall Charcoal before you choose it for your home improvement project. Here, we'll discuss what it is, where to use it, and the colors that go with Kendall Charcoal.
Once you're done with this post, you'll clearly see whether Kendall Charcoal is a good fit for your home.
Let's begin!
What is Benjamin Moore Kendall Charcoal HC 166?
Image Credits: pcimag.com
We can't introduce Kendall Charcoal without first talking about Benjamin Moore. Benjamin Moore is a renowned brand that creates high-quality paints and coatings.
It dates back to 1883 when Benjamin Moore founded it to provide paints for residential, commercial, and industrial settings. Benjamin Moore's Kendall Charcoal HC 166 is found in the "Historical Colors" collection.
The collection features many other colors that hold historical significance in American culture. Nevertheless, Benjamin Moore's Kendall Charcoal is unique because it is a dark gray paint color with a green undertone.
The Kendall Charcoal HC 166 has a moody grey color that can pair well with different colors thanks to its subtle green undertones. This makes it an excellent option for a residence, office, or factory.
Now that we've defined Benjamin Moore's Kendall Charcoal, let's see the colors that go well with it.
Which Paint Colors Coordinate Well with Kendall Charcoal?
The grey paint color of Kendall Charcoal HC 166 pairs well with other paint colors because it has a neutral feel.
The best paint color to use with Kendall Charcoal will depend on your personal preference, the design of your space, and other factors that we'll discuss later in this post.
For now, let's check out the colors that you can use alongside Kendall Charcoal in your interior. These colors are similar to those that go with Charcoal Grey.
1. White
White is a classic color that goes well with almost every other paint. It's an excellent choice when combining different paint colors with Kendall Charcoal. If you are going after a clean, modern interior, white can create a beautiful contrast with the darker shades of Kendall Charcoal.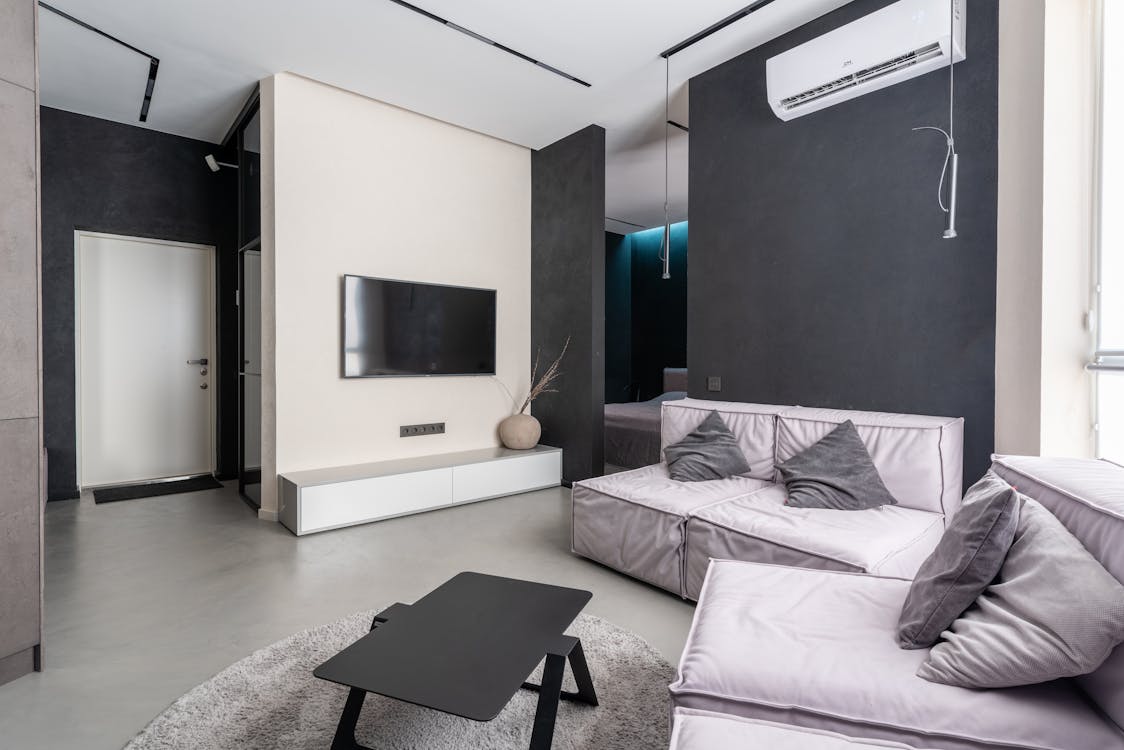 A white trim or door can complement walls with Benjamin Moore Kendall Charcoal paint in a stylish manner. You should choose white for rooms that require more light reflectance value. This will ensure the room looks well-lit, even with dark gray accents.
2. Light Grey
If white seems bright for your space, you can go with light gray. Since both colors are gray, you can ensure your home maintains a rich gray scheme that adds interest and texture.
You can use the warm gray color for trims and doors and the dark color for the walls or vice versa. Light gray paint doesn't reflect as much light as white, but it still pairs perfectly with the cool undertones of Kendall Charcoal.
3. Beige
Another excellent paint color that blends well with Kendall Charcoal paint is beige. Both these colors are neutral shades which means you can add another color without overdoing it.
When using coordinating colors like beige and Kendall Charcoal, you can create contrast using your furniture or home decor. This can help you create interest in the room without much effort.
4. Blue
Image Credits: roomdsign.com
Light blue is among the colors that can add coolness, strength, and contrast to a room with Kendall Charcoal. One of the ways you can incorporate blue into your home is by using it as an accent color.
It also makes the room appear larger and airier, so it's a good option for a small space.
5. Light Green
It's no surprise that you can pair Benjamin Moore Kendall Charcoal with light green. Remember, the color features green undertones, which make it uniquely compatible with light green. It's probably why sage green also goes with gray.
Additionally, light green has a calming effect on the mind because of its association with nature. You can therefore use it to create a serene environment inside your home.
Now that you know the colors that go with Kendall Charcoal, let's see where you can apply these colors at home.
Where Can I Use Kendall Charcoal in My Interior Space?
You can use Benjamin Moore Kendall Charcoal to make your interior space more exciting and stylish. Here are some ways of achieving this.
1. Accent Wall
An accent wall is one that's inside the home and features a different color from that of the other walls. It provides a great way to draw attention to one part of the room, which could be in a central position.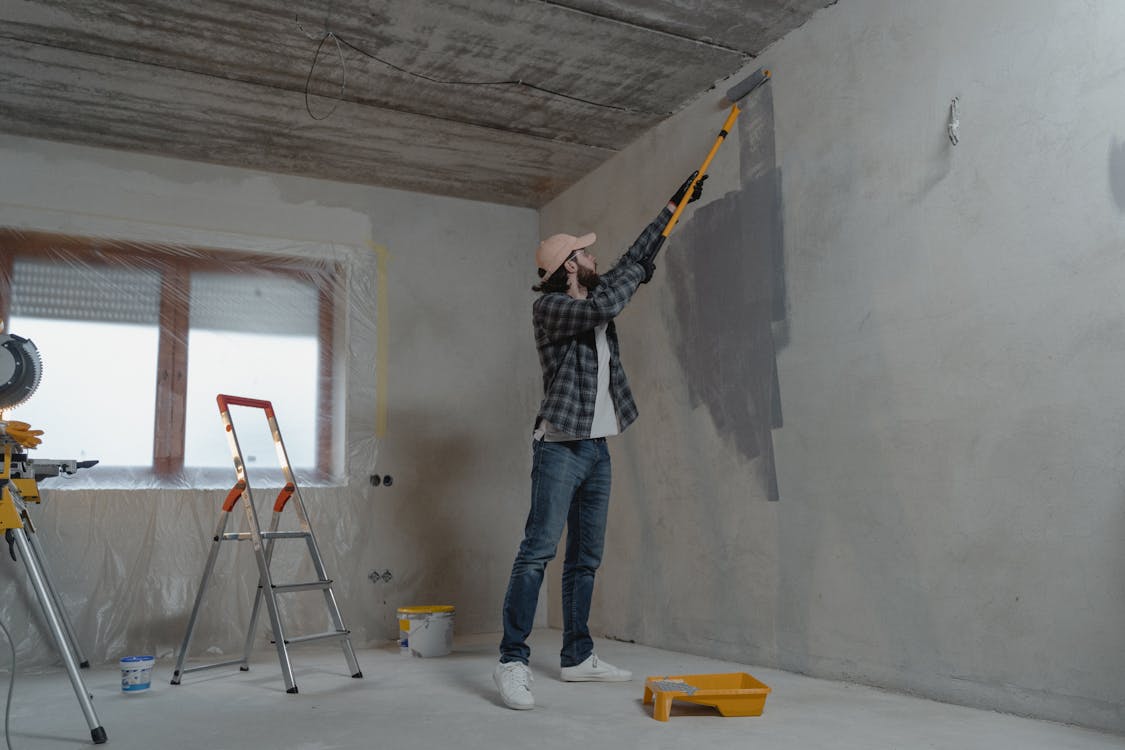 If most walls are painted in Kendall Charcoal color, you can have the accent wall in a different color like white, light blue, or light green. You could do this in the dining room or living room.
2. Kendall Charcoal Kitchen Cabinets
If you were leaning more toward a kitchen renovation, painting your kitchen cabinets in Kendall Charcoal is the way to go. You can hire a professional to do it for you, or you can do DIY.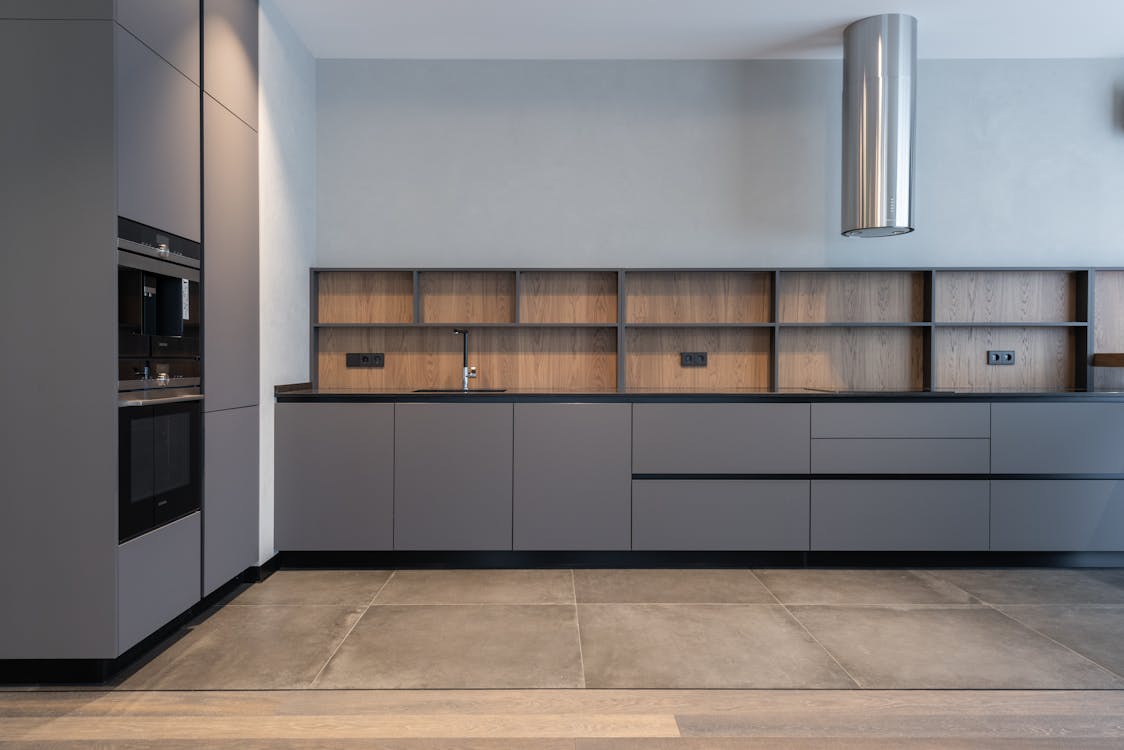 Doing it yourself involves removing the handles and cabinet hardware, painting them, and then reinstalling the hardware.
3. Kitchen Island
A kitchen that features an island can make it the center of attention. You could paint the island with Benjamin Moore Kendall Charcoal and leave the rest of the kitchen in another color. This will create some contrast and make the kitchen more interesting.
4. Doors and Trims
The color of your doors and trims can differ from the rest of the house. You can paint the doors and trims in Kendall Charcoal and leave the rest of the walls painted differently.
Alternatively, you could have the walls painted the same color as the doors and trims. Cool grays are among the colors that bring a cohesive feel when placed on the walls and trims.
5. Bedroom Walls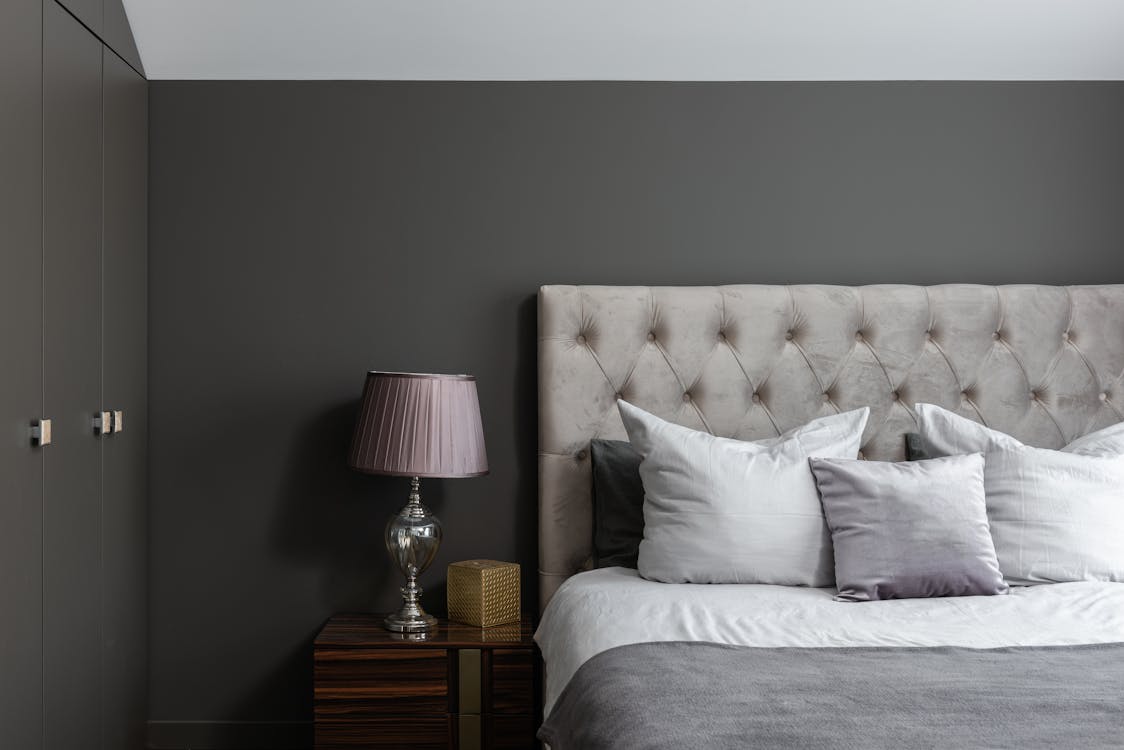 The bedroom is one of the locations where you can relax and unwind. As such, it's an ideal space to paint grey since it's a cool color that can help you feel at home.
6. Den or Basement
Kendall Charcoal is an excellent color for a basement or den. These entertainment spaces don't require plenty of light so you can paint the walls in Kendall Charcoal.
7. Fireplace
Image Credits: classiquefloors.com
Your fireplace is probably located in a visible area in your home. By painting the fireplace Kendall Charcoal, you can make the space unique and visually appealing.
8. Exterior Walls
Another place that could use Benjamin Moore Kendall Charcoal is your home's outside walls. The exterior paint color could use some contrast around the outer trims. You don't have to paint the entire walls since you might find the dark color overwhelming.
9. Outdoor Furniture
The last place you can apply some Kendall Charcoal is your outdoor furniture. If you have outdoor furniture painting them in Kendall Charcoal could be a step in the right direction.
Factors to Consider Before Using Kendall Charcoal for Home Improvement
Kendall Charcoal is a versatile, neutral, and dark paint color that can add interest to your home without hassle. However, it's not an ideal color for every space, and before you buy it, you should consider the following.
1. Interior Aesthetics
The general orientation and design aesthetic of your home is a crucial factor to consider when getting Kendall Charcoal HC 166. The paint features a deep slate gray color, and you don't want it to clash with other design elements in the house.
You should think about how well dark gray will work with the rest of your home decor. This can determine if it's a good match for your space.
2. Purpose of the Room
What is the purpose of the room you want to paint? The room's use will determine the ideal mood for it, which you can control using color.
Rooms like basements and cinema rooms will work well with the darker shades of Kendall Charcoal. On the other hand, living rooms and kitchens could be better with a balance of Kendall Charcoal and lighter colors.
3. The Amount of Light You Need
Kendall Charcoal has a dark gray color that absorbs light instead of reflecting it. As such, it's not ideal for spaces that require lots of light since it'll make them dull.
If you want a lot of light in a room, you could use Benjamin Moore Kendall Charcoal as an accent color. This will ensure you can include lighter colors that reflect enough light to see well.
4. Overall Color Scheme
Something else to consider is if you can pair Kendall Charcoal with the paint color scheme that already exists in your home. If the color scheme isn't compatible with Kendall Charcoal, you'll want to choose another paint color or change the scheme.
Fortunately, Kendall Charcoal is a neutral paint color that can work well with various colors, whether warm or cool. Of course, some colors will match the Benjamin Moore Kendall Charcoal more than others.
5. Space
Color has a visual effect on space. Bright colors make a room look bigger, while dull colors make rooms appear smaller. With that in mind, it's easy to understand why you should paint all the walls in a small room in Kendall Charcoal.
If you have lots of space and wouldn't mind the apparent shrinkage of the room, Kendall Charcoal is a great paint color.
Why Use Kendall Charcoal for Home Improvement?
There are a variety of reasons why you should use Benjamin Moore Kendall Charcoal for home improvement. Here are the main ones.
1. Upgrade Your Interior Style
For how long has your home looked the same? If you find that your home looks boring or average, you can switch things up by repainting it with Benjamin Moore Kendall Charcoal. If you want more interior paint options, check out the best ones here.
options You can add tons of interest to any room by adding gray paint color and crisp white room accents. Things don't have to remain as they are. If you don't like how the walls, trims, doors, or cabinets look, painting them is an excellent solution.
2. Add a Layer of Protection
Paint adds beauty to your home, but it does more than that. The layer of Benjamin Moore Kendall Charcoal you add to your space will serve as a protective barrier. It'll ensure the interior and exterior of your home are in the best shape.
This is useful in places exposed to the elements, like the exterior walls and bathrooms. The additional layer of paint will protect these areas and preserve their integrity.
3. Increase the Value of Your Home
Since repainting your home with Benjamin Moore Kendall Charcoal will make it more visually appealing and enhance its integrity, this will translate toward your home's value.
If you want to sell your home in the future, you can get more than you paid if you use Kendal Charcoal to repaint its features. Improving the home will make it more attractive to potential buyers and, therefore, more valuable.
4. Conceal Flaws
Another common reason to paint your home with Kendall Charcoal gray paint color is to hide imperfections. Over time, the paint color in your home could fade, get cracks, or sustain physical damage. This will make your home look unappealing.
Benjamin Moore Kendall Charcoal is a high-quality paint that can cover up the damage on your walls, trims, doors, and cabinets. In other words, it can turn back the clock on your possessions and make them look good as new.
5. Add Your Personal Touch to a Space
The next reason for using Kendall Charcoal gray paint is to add your personality and style to a space. If you love Kendall Charcoal and think it's a perfect match for your preferences, you should use it around the home to make a statement.
Final Thoughts
Benjamin Moore Kendall Charcoal is a dark grey paint color featuring a green undertone. It's a great paint color for homes, offices, and industrial settings because of its cool appearance.
There are many colors that go with Kendall Charcoal, but the ideal combination for each person will differ according to preference and style.