Contemporary architecture is one of the most expressive forms of architecture. It incorporates innovative and creative designs meant to be noticed and appreciated. From single-family homes to iconic buildings, state-of-the-art structures have sprung up.
In this article, we immerse ourselves in the beauty and elegance of contemporary architecture—delve into the history, features, and examples of this architectural design.
What Is Contemporary Architecture?
Contemporary architecture is a form where modern styles blend, sharing features that rely on fewer classicized building ideas. It is based on the desire to design and build structures different from those in the past and what is done presently. Contemporary architecture is innovative and focuses on breaking away from the procedures and ways of thinking that have become standard in architecture.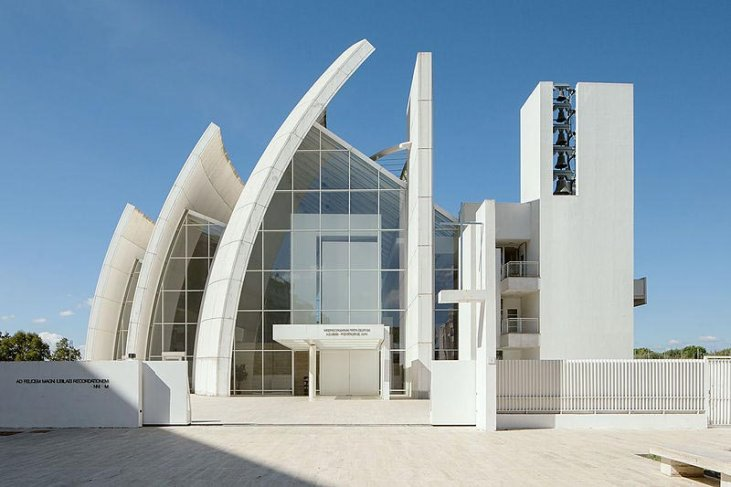 Image Source: buzz4tours.com
Contemporary architecture is different from the modern architecture of the early 20th century. This is because it includes ecological features and varied creativity. Additionally, it uses modern technology and materials. This enables architects to design with speed and high-level precision.
Let's have a look at the brief history of contemporary architecture.
History of Contemporary Architecture
Looking at the history of contemporary architecture, it is generally considered to have originated after modern architecture in the second half of the 20th century. International cooperation and the global economy grew rapidly after World War II, notably affecting all art forms worldwide. Contemporary architecture design is marked by transcontinental ideals, an attempt to create structures that are integral to their environments, and a sense of placelessness.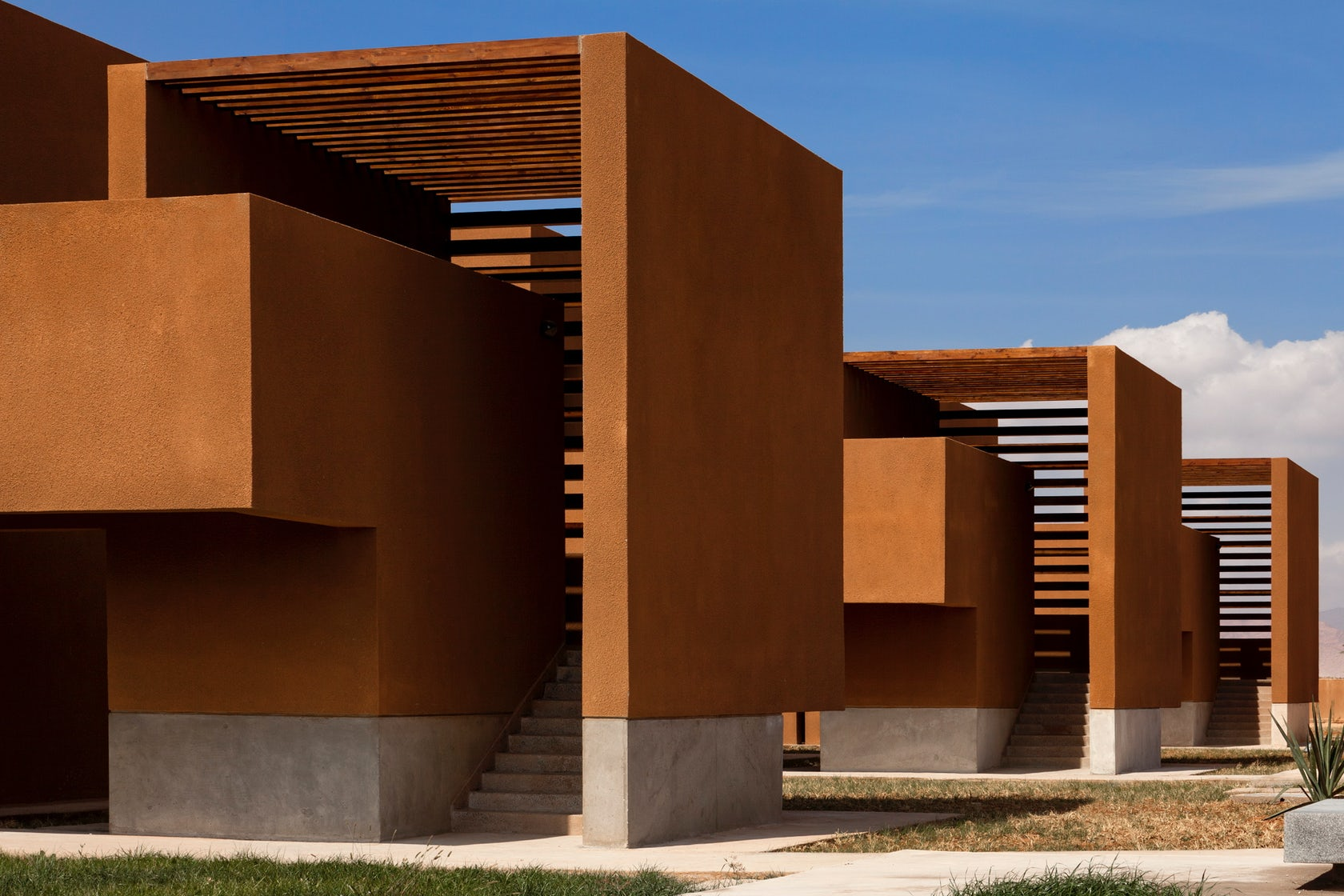 Image Source: architizer.com
Since contemporary architects can access innovative materials and methods, they are not limited to creating linear forms. For instance, they can use laser cutting technology and 3D printing to build more precise, unprecedented, and challenging shapes. Also, 3D renderings portray designs in photorealistic detail before the actual construction.
This results in safer and more environmentally friendly buildings that seem to defy logic, gravity, and boundaries of what is traditionally considered good taste. 
Difference Between Modern and Contemporary Architecture
Modern architecture is an architectural type that provides a radical break from traditional styles. Minimal décor, simple straight lines, monochromatic color schemes, and the incorporation of modern technologies and materials typically distinguish it. Modern architecture is greatly influenced by modern art.
Image Source: thespruce.com
On the other hand, contemporary architecture incorporates whatever style is popular today. It focuses on innovation and usually defies logic to create unique and sophisticated buildings. Also, contemporary architecture is characterized by a free-form composition which is not the case with modernist architecture.
Characteristics of Contemporary Architecture
Here are some of the primary characteristics of contemporary architecture:
1. Form
When you look around, you'll realize that the dominant line in most architecture is the straight line. Contemporary design is flexible and has often distanced itself from these straight lines by opting for curved lines. Sometimes, a structure is entirely designed using curved lines; sometimes, both straight and curved lines are used in the same structure.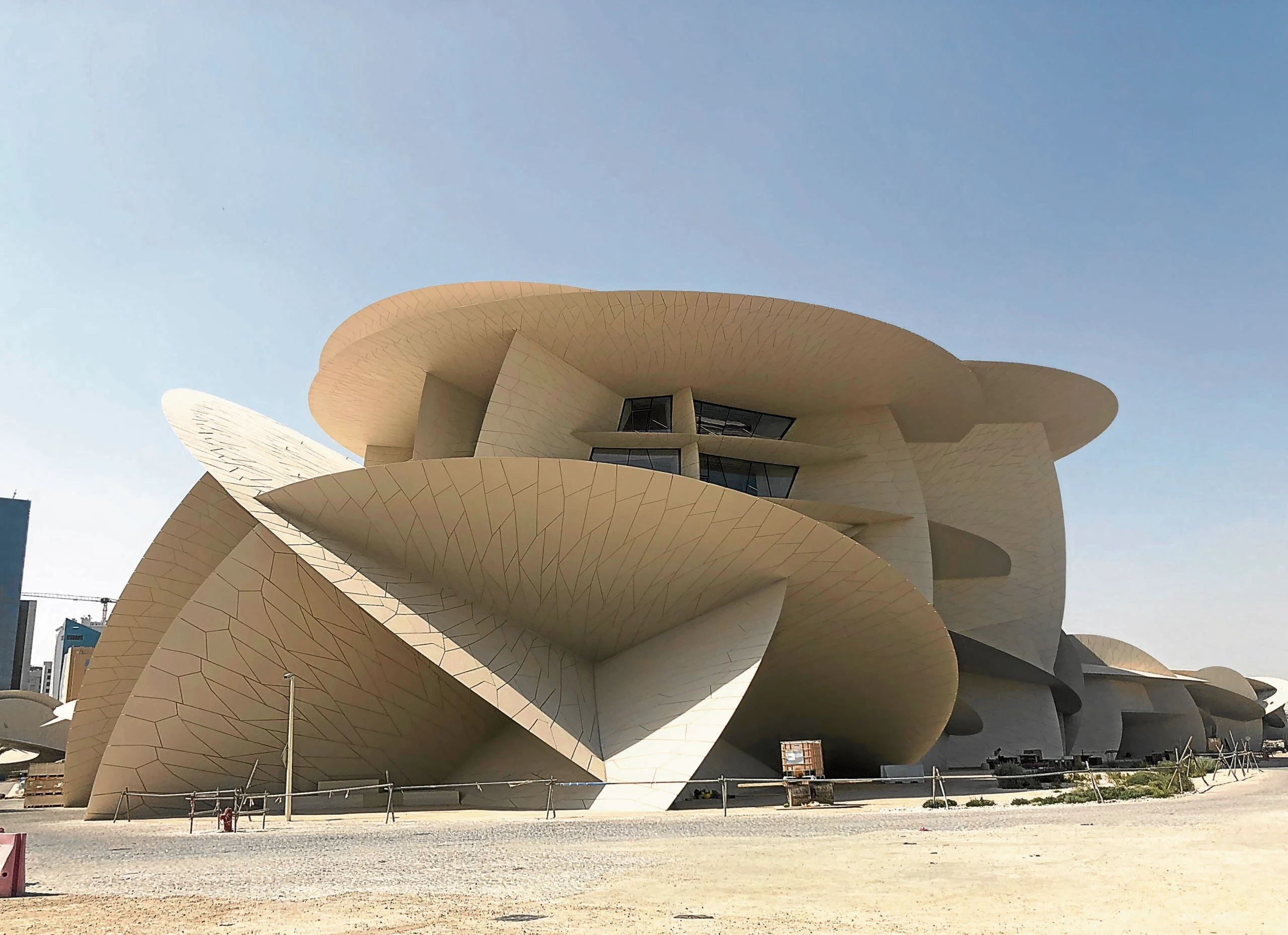 Image Source: business.inquirer.net
Round edges, curved lines, and deviation from the dominance of straight lines characterize contemporary architecture. This design needs contemporary materials such as glass, wood, concrete, and aluminum screens to achieve these sophisticated and innovative ideas.
2. Open Floor Plans
Open floor plans are another defining characteristic of contemporary architecture. They create a sense of transparency and space in a structure. Unlike traditional architecture, using walls to separate rooms, contemporary architecture eliminates the boundaries and allows the rooms to flow from one to another.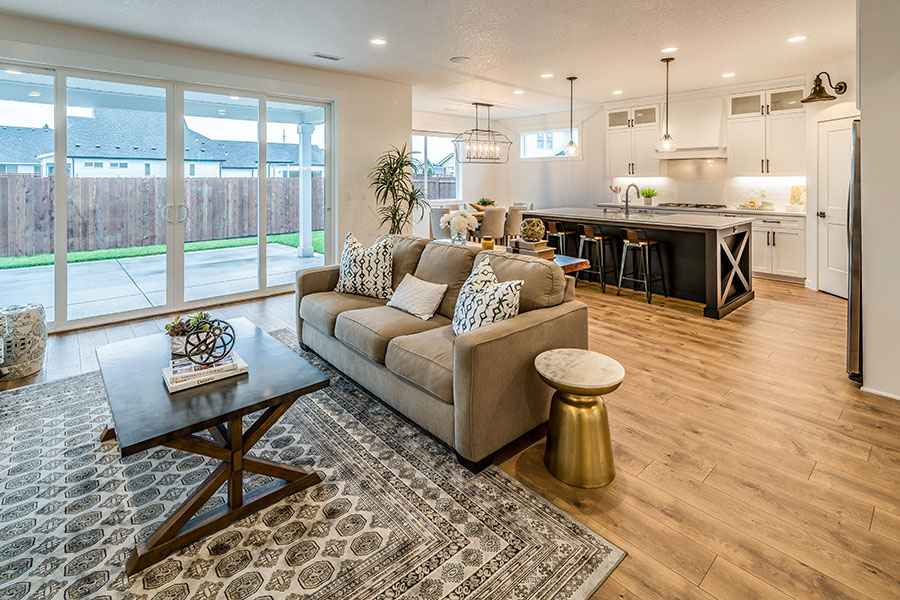 Image Source: generationhomesnw.com
This design allows for more natural light and gives the space a larger appearance. Open floor plans for homeowners who love entertaining create a more open and communal feel that allows for greater interaction between family members and guests. Also, they add a sense of uniformity to a structure and allow for greater flexibility, meaning you can transform your space into anything you want.
3. Unconventional Materials
Contemporary architecture is inherently inventive and unexpected. Therefore, it often features unique building materials for both the interior and exterior. It often uses modern materials and can also work with various natural or organic materials like concrete, brick, metal, wood, and stone.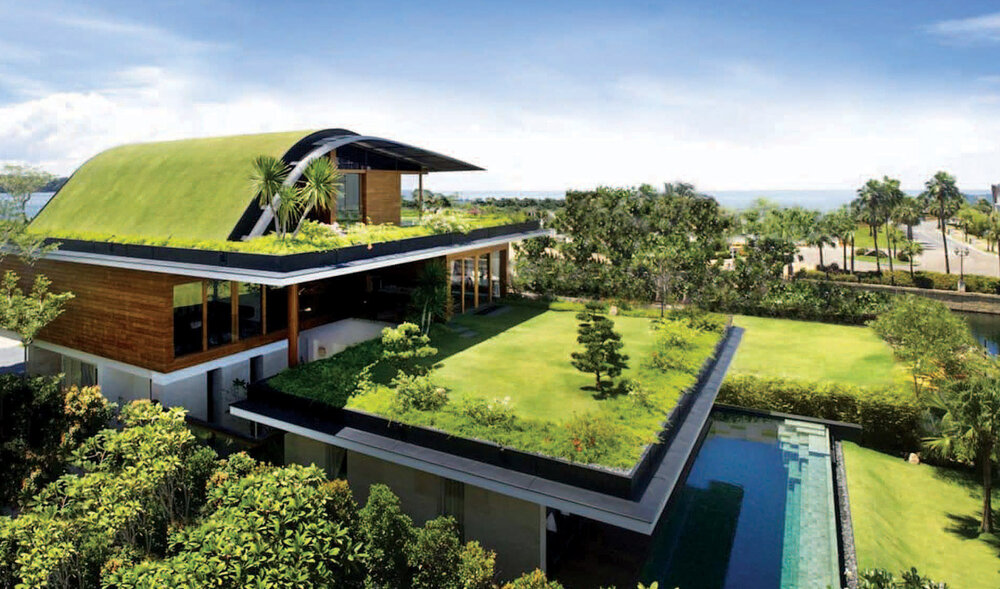 Image Source: cgbg.org
Plants, too, have their place in contemporary architecture, mostly on roofs and increasingly on walls. So if you have green fingers, you can make use of this trend toward revegetation. For example, you can grow climbing plants all over a wall for a vertical garden. Also, because of the inclination to relinquish the norm, it is common for architects to specify unique materials such as recycled waste products and paper.
4. Composition of Volumes
Open spaces, clean lines, and uncomplicated architecture are the trademarks of contemporary designs. Therefore, you'll see round, curved, free-form shapes with clean lines replacing sharp edges in contemporary architecture. Curved lines make it possible to design spaces that are not just cubic, as with straight lines. They usually create a sense of elegant winding routes that open up many possibilities in terms of modern house design.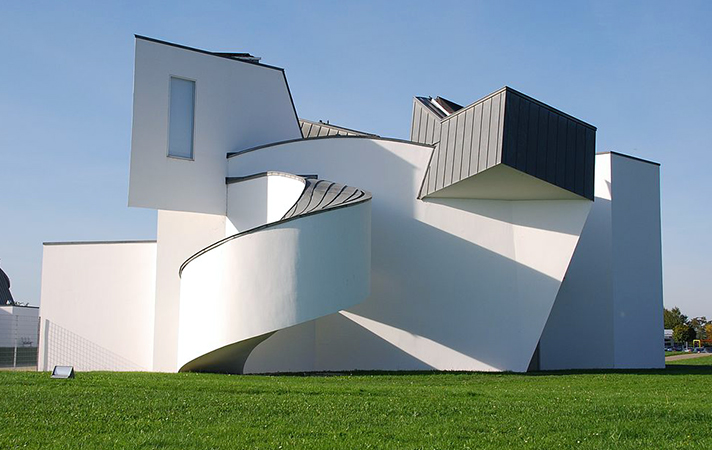 Image Source: khanacademy.org
Also, when contemporary architecture uses straight lines, meaning the unit of volume is a cube, it strives to assemble these cubes in unique ways to create a distinctive composition of volumes. And like rounded shapes, this composition creates the possibility of creating interesting interior spaces. So if you are not discreet about flaunting dissimilarity and like the idea of experiencing a custom-made living space, this is the architecture for you. Some architects also incorporate slanted ceilings and walls.
5. Flat Roofs
Flat, overhanging roofs are another key element of contemporary architecture. Traditionally, roofing was limited to pitched triangular designs to prevent snow, water, and ice from depositing on the roofs. This sloping design prevents moisture and structural damage caused by the accumulated precipitation in colder climates.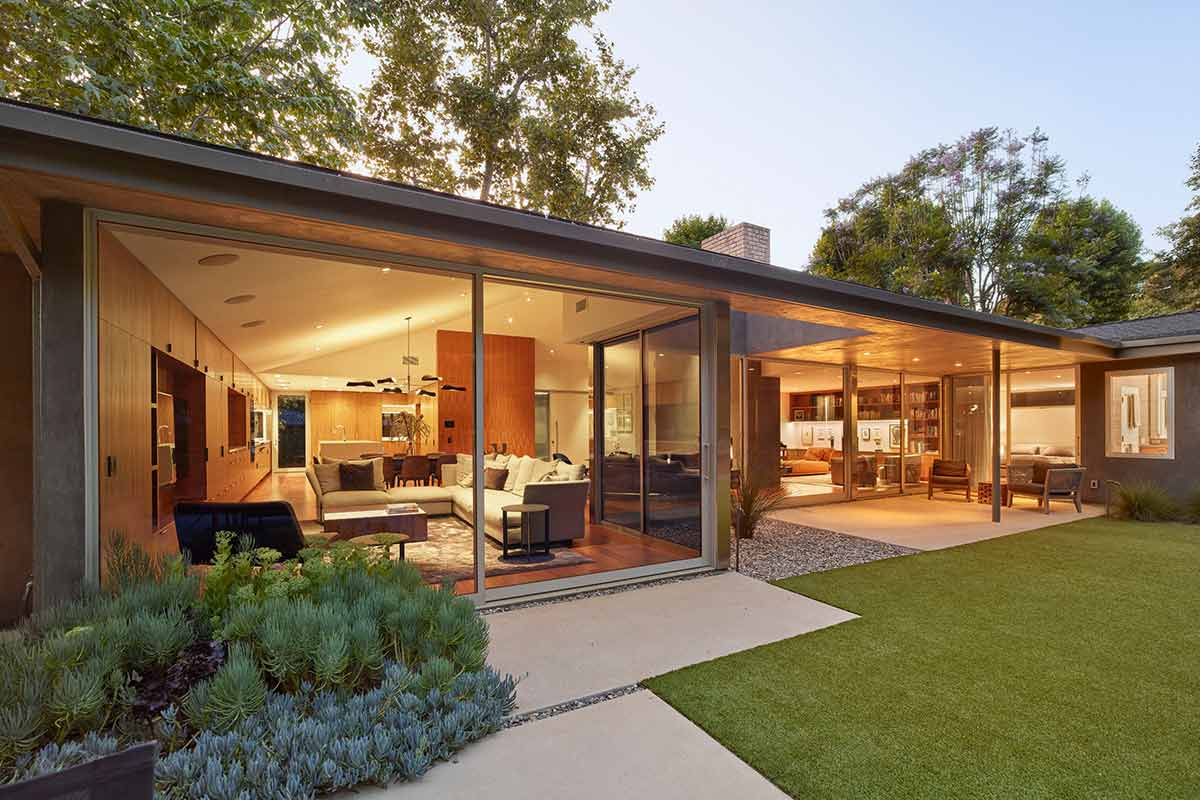 Image Source: modal-design.com
In contemporary architecture, architects are choosing flat, overhanging roofs. This roof design is practical and decorative. It provides more shade, keeping the structure cool in summer while protecting your building from unwanted elements. Additionally, overhanging roofs project the architecture into the outdoors, creating a more cohesive design.
Flat roofs can be made of innovative roofing materials that are not likely damaged by moisture. Such materials include PVC or EPDM rubber.
6. Nature Compliant
Contemporary architecture is also in harmony with the outdoor environment. Unlike classic designs that positioned the windows in the middle of walls and used them for outside viewing, contemporary architecture uses large panels of glass to allow natural light into the room.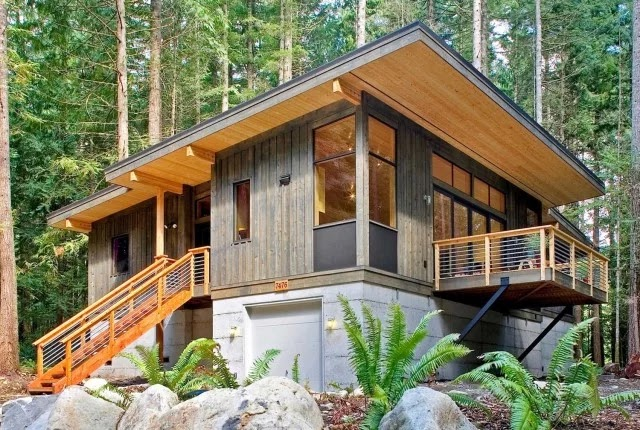 Image Source: jbsolis.com
Such window designs also offer passive solar heating that generates comfort and openness even during winter. Lest we forget to mention the effects of clerestory windows and skylights. They offer light from the outside world.
7. Environmental Considerations
Sustainable design architecture is becoming increasingly popular. Consequently, eco-housing forms one of the critical elements of this environment-focused architecture. Architects who incorporate natural materials and building styles look to nature for inspiration.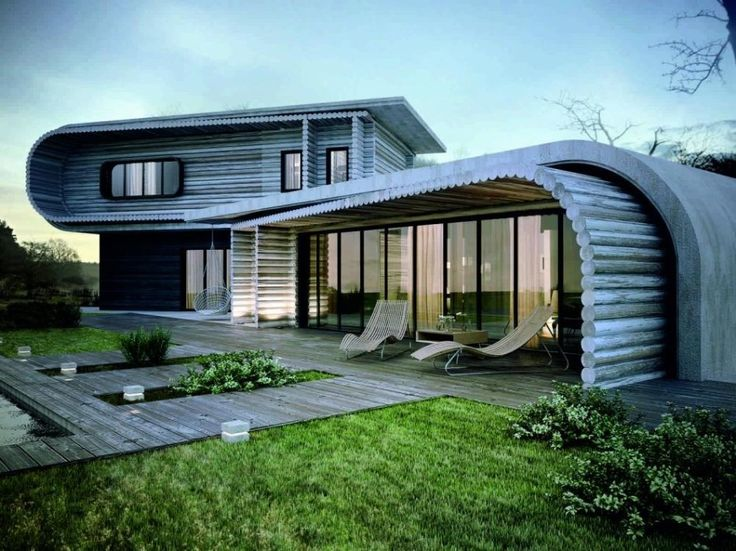 Image Source: pinterest.com
The use of these sustainable designs and eco-friendly materials also ensures the structure will not have any negative impact on living creatures. This may include the use of solar panels for roofing. The sustainable designs also complement and harmonize nature, creating seamless accountability. This is the reason why most contemporary buildings are constructed in a way that consciously makes them part of the environment.
8. Minimalism in Design
With contemporary architecture, functionality is always paramount. Therefore, a contemporary house often highlights the space more than what is inside. As a result, contemporary architecture often showcases clean, non-fussy aesthetics. Although unique materials are used, molding and decorative trim are usually sparse.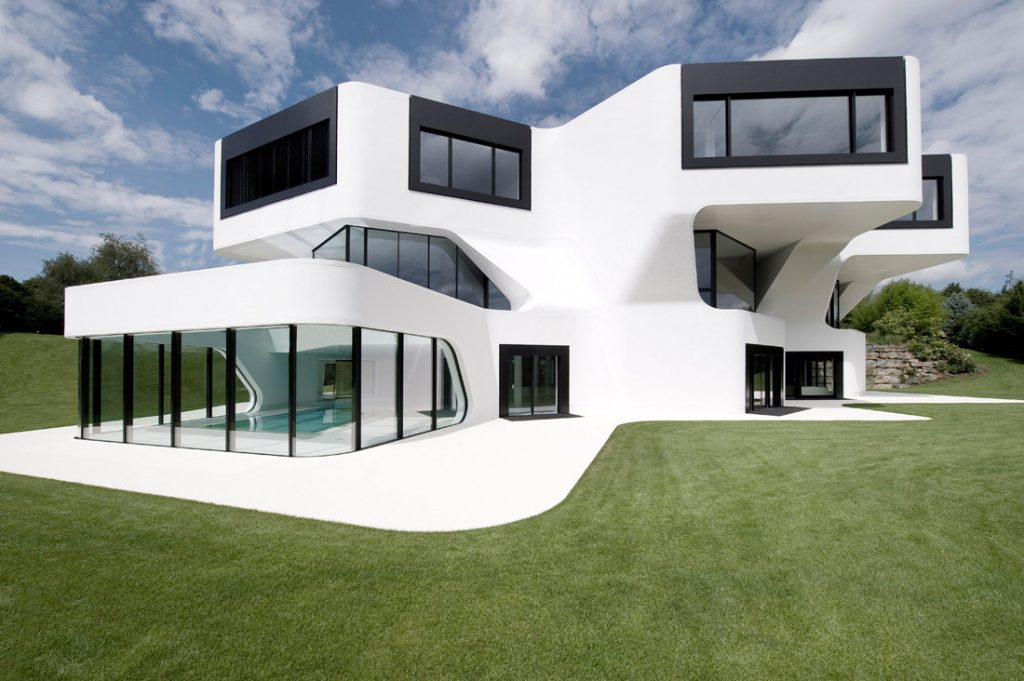 Image Source: selo.global
This simplicity in design helps in creating a luxurious and tranquil atmosphere. Also, the curved facades help in breaking the geometric monotony.
9. Large Windows
Large windows are also an element of contemporary architecture. Presently, nothing reflects luxury and tranquility more than floor-to-ceiling windows. Contemporary designs also feature multiple openings with unique positioning, panoramic windows, window walls, and skylights.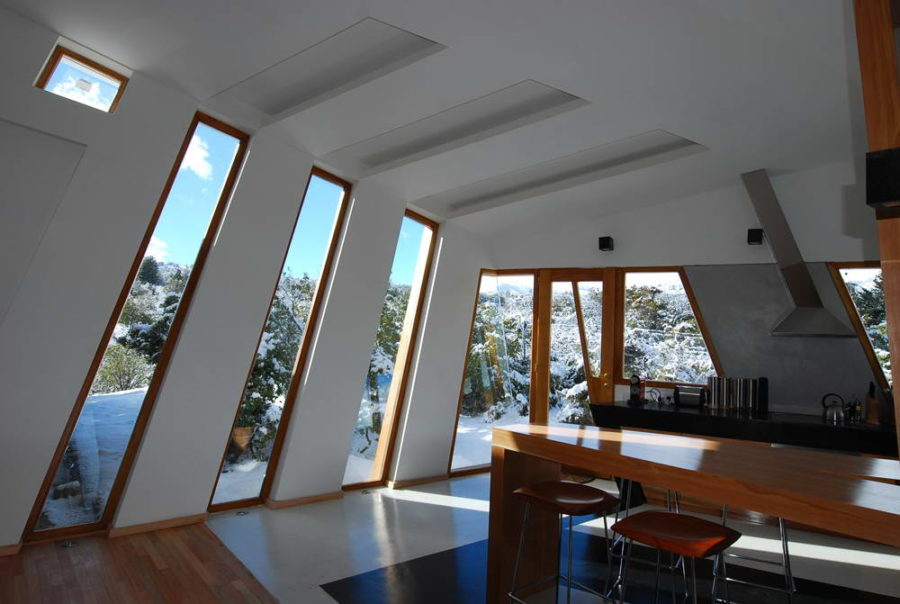 Image Source: trendir.com
Apart from creating spectacular views, another outcome of this kind of aperture is making use of sunlight, first as natural lighting, and second, the advantage of passive solar heating. These large windows also create a seamless connection between the inside and outside environment. So if you enjoy spectacular views or love natural light, contemporary architecture is for you.
10. Integrated Smart Home Technology
Smart home technology is an interesting characteristic of contemporary architecture that allows you to create a personalized environment in your contemporary home design to meet your lifestyle desires. This element has numerous benefits, including;
i) Convenience
Smart home equipment lets you control all aspects of your home environment using simple voice commands. For example, you can close the blinds, adjust the thermostat, and dim the lights while wrapped in a blanket on the sofa.
ii) Security
Using the remote-access abilities of smart home devices, you can set notifications and alarms for security cameras and doorbells, door and window sensors, and motion detection. With a click on your mobile smartphone, you can be certain that your home is safe.
iii) Potential Savings
Smart home technology has the potential to create more energy-efficient homes and hence cost-saving. These smart devices can be automated so that they only work when necessary.
11. Bright Open Interiors
Because of the large glass windows and skylights, contemporary buildings often boast plenty of natural light. Also, they use an open floor plan, with minimum or total elimination of interior walls. Combining these two elements gives you a bright, comfortable, relaxing home.
12. Classicized Borrowed Ideas
Contemporary building designs borrow ideas from classicized styles. Most of its characteristics rely on ideas from the early to mid-20th century. With clean lines, this architecture exhibits a flexible form of creativity.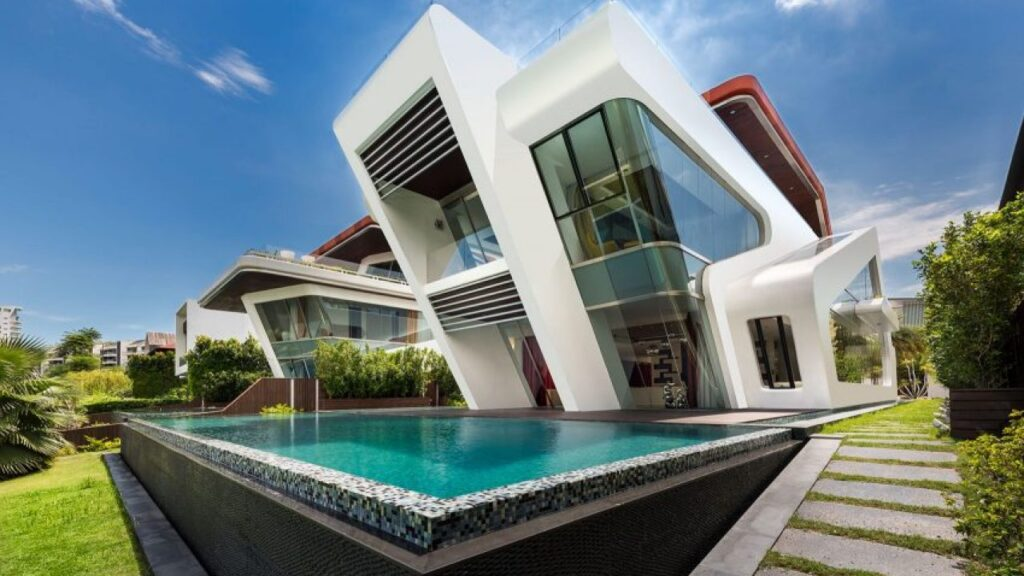 Image Source: thedesigngesture.com
Contemporary architects also use computer-aided software. This makes it easier to design most structures' sophisticated shapes and curves.
Examples of Contemporary Architecture
Below are some of the most recognizable structures inspired by contemporary architecture:
1. The Blue Planet, Copenhagen
The Blue Planet is the biggest aquarium in Europe, and it contains 53 aquariums, 7 million liters of water, and displays over 450 species of fish and sea creatures. However, what distinguishes The Blue Planet is the design rather than the size.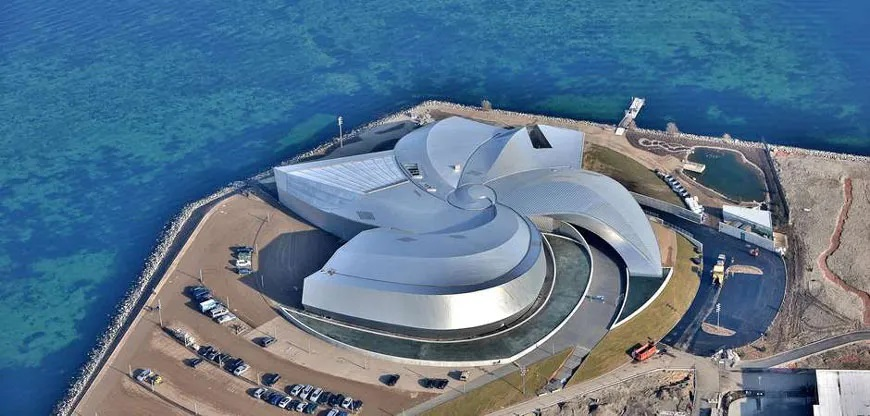 Image Source: inexhibit.com
It is designed to simulate the swirling fluidity of the ocean through a sequence of curved wings. From an aerial view, The Blue Planet is designed to look like a waterspout, while the exterior is covered in a shimmering fish-scale-like aluminum.
2. Central Library, Seattle
Architect: Rem Koolhaas and Joshua Prince-Ramus of OMA/LMN
The Seattle Central Library is one of the most innovative and exceptional libraries ever built. Several sections of the building are arranged across five platforms and four bounded planes, each serving different functions, a very intuitive design that gives the building its unique faceted shape.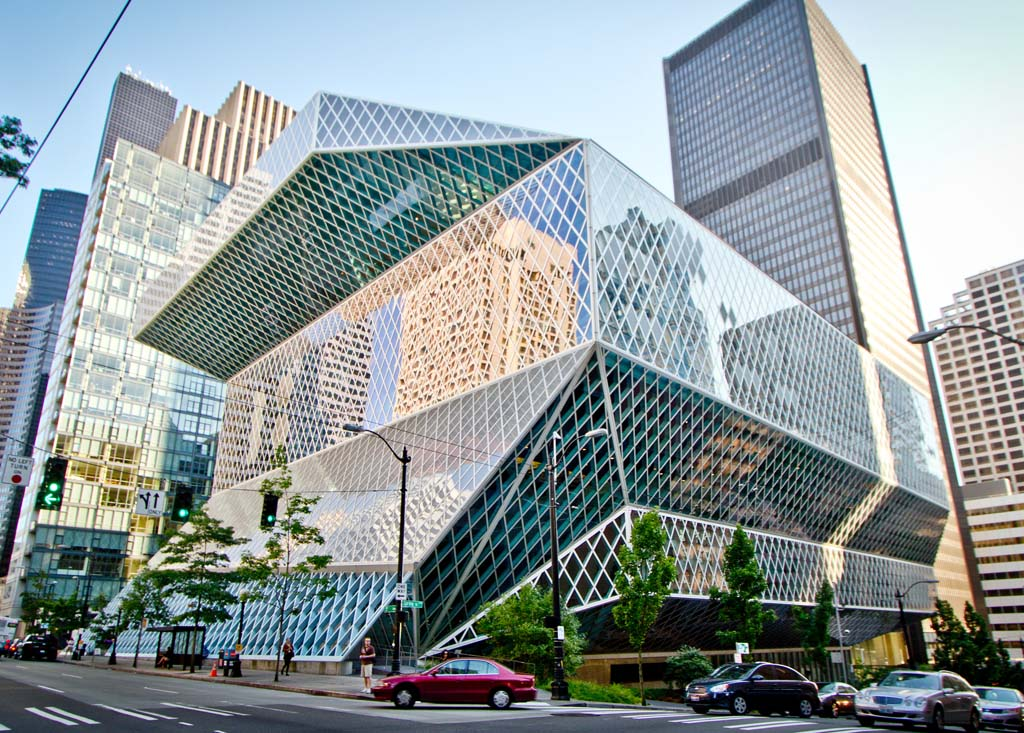 Image Source: historylink.org
This building was highly welcomed, with people coming to the library doubling up in the first year of its launch. The Seattle Central Library was also distinguished with several awards, including the 2005 AIA National Architecture Award 2005.
3. Disney Concert Hall, Los Angeles
This is one of the most iconic and polarizing buildings ever built. Disney Concert Hall is a mini-Guggenheim that precedes its famous Bilbao counterpart in concept. However, political interference, delays, and funding issues delayed its completion.
Image Source: la.eater.com
Despite the numerous delays, the end result is breathtaking architecture, symbolic of Gehry's post-structuralist aesthetic with its unique blend of geometric shapes and comprehensive metallic surfaces.
4. Heydar Aliyev Cultural Center, Baku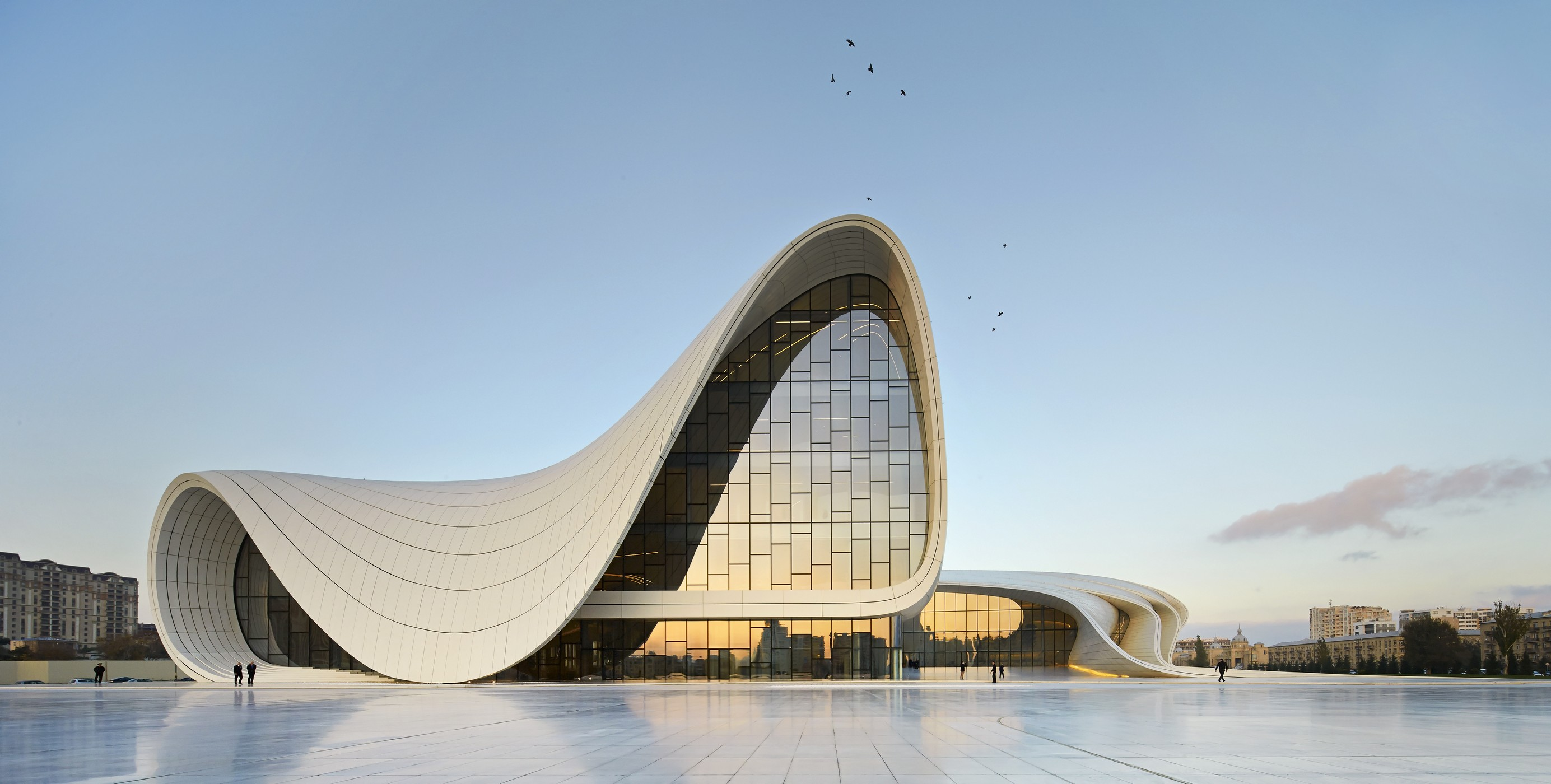 Image Source: archello.com
This could be Zaha Hadid's most iconic building. The Heydar Aliyev Cultural Center may not be a catchy name, but the design is unforgettable. This 619,000-square-foot contemporary design is a seamless, dramatic curve building blending organically with the surrounding environment. The Heydar Aliyev Cultural Centre's design bagged the London Design Museum award in 2014, securing its designer's reputation as the 'Queen of Curves.'
Architects: Rem Koolhaas and Ole Scheeren of OMA
Rem Koolhaas's CCTV Headquarters building is one of the strangest and most ambitious designs of recent years. It succeeded in transforming the idea of the skyscraper when it was launched in 2008. CCTV Headquarters was OMA's first main building in China and is now a unique feature of the Beijing skyline.
Image Source: chinahighlights.com
The building is a trouser-shaped, spiral design, with the two 44-story towers joined by a 75-meter cantilever. It was built to contain the offices, TV studios, broadcasting, and production facilities of China Central Television (CCTV).
6. Royal Ontario Museum, Canada
Architects: Daniel Libeskind, John A. Pearson, and Frank Darling
This is one of the largest museums in North America and a great example of contemporary architecture. Royal Ontario Museum features an innovative design joined to a historical design of Neo-Romanesque architecture with effects from other aesthetics. The contemporary design came in through the Michael Lee-Chain Crystal.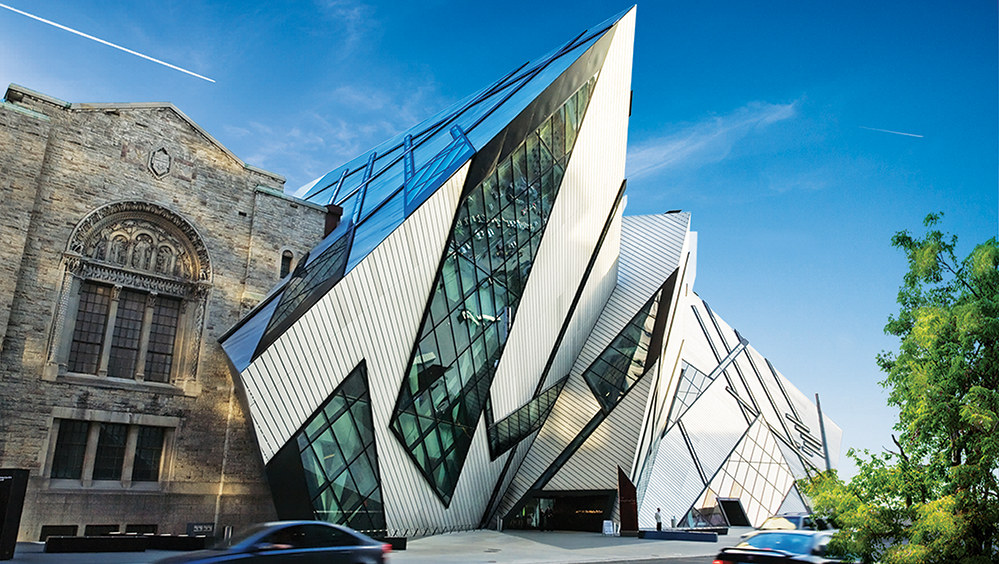 Image Source: rom.on.ca
The Crystal is mostly made up of angular aluminum volumes and areas of glass. This form of design, where a modern building joins with a historic building, also known as adaptive reuse, is sometimes perceived as an aggressive move. Some people believe that these dynamic new structures don't respect the qualities of the original structures. However, others believe that the Crystal, and other structures like it, make room for a remarkable new landmark that doesn't try to mimic the original work.
7. The Shard, London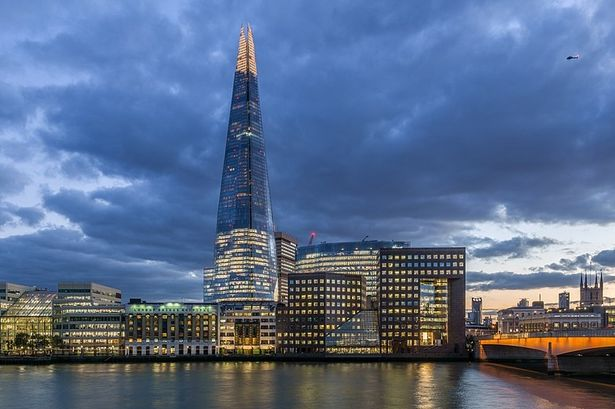 Image Source: mylondon.news
Normally, contemporary architecture replaces decorative details with monumentality, making structures act as monuments or recognizable landmarks. The Shard is a great example of this kind of design. This iconic London landmark is the seventh tallest building in Europe and was named for its simple shape resembling a shard of glass. Although it is mostly a tall glass skyscraper, its playful shape makes it an interesting building and a great architectural piece.
8. The Sydney Opera House, Sydney
This is a performing arts center in Sydney, Australia. The Sydney Opera House is among the most photographed buildings worldwide and a famous symbol for Australia. The structure is enclosed by white concrete sails, creating the familiar composition of overlapping waves.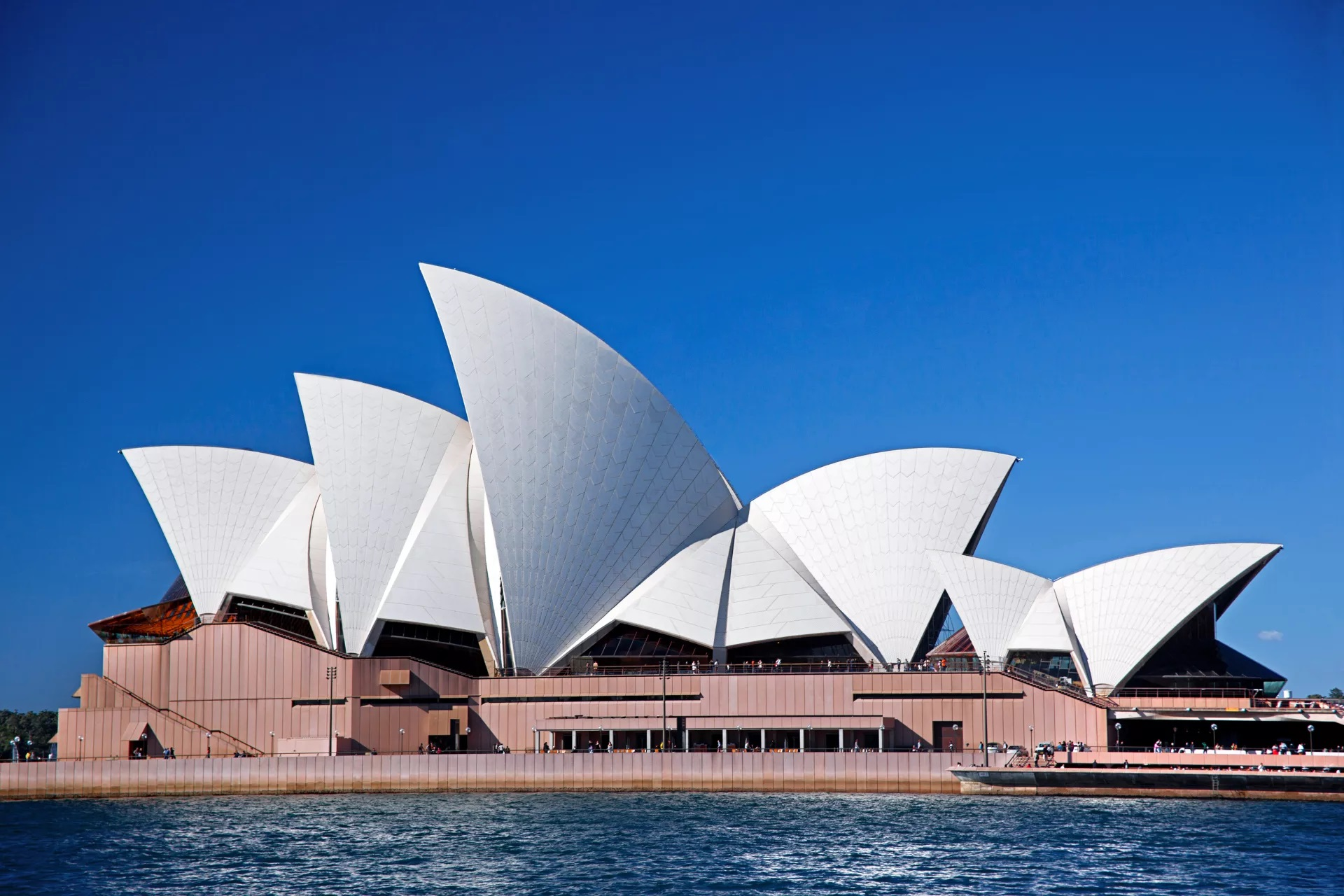 Image Source: dkfindout.com
The Sydney Opera House is a prominent example that showcases contemporary art. It also features unique forms abstracted from nature, a style known as expressionism. Like the Royal Ontario Museum, The Sydney Opera House is a great example of contemporary architecture overlapping different architectural styles. Nonetheless, its unique form, abstraction, and monumentality make it a contemporary example of great architecture.
9. The Brick House, Kerala, India
Architect: Srijit Srinivas Architects
The BRICKHAUS is located on a narrow and asymmetrical site in Trivandrum in Kerala, India. The structure's layout addresses different requirements, including a combination of uniqueness and functionality, private expression, and public display, intending to provide customers with luxury and tranquility.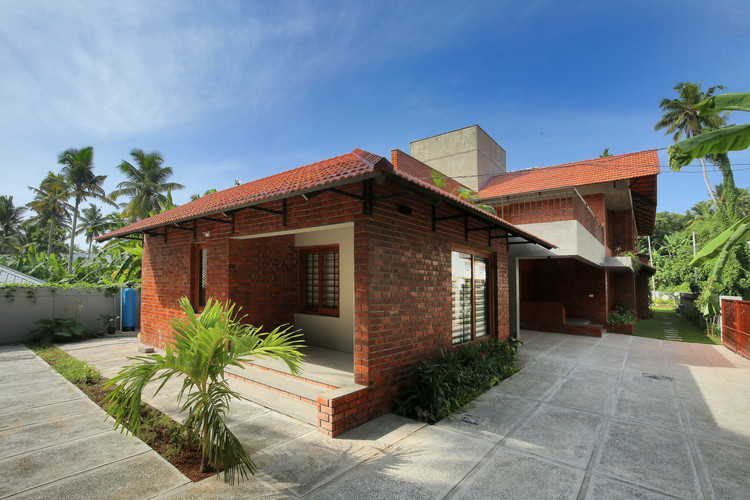 Image Source: archdaily.com
BRICKHAUS naturally evokes a feeling of nostalgia. It has a kind of ethnic charm, emphasized in the changes of shade and light coming through the window openings and the details and position of the material palette. The brick house design also strives to bring nature indoors, using context-detailed ventilation channels and skylights. The ventilation channels also promote natural indoor cooling, complemented by the arrangement of internal gardens and pools, and jointly create a magical light.
10. The Crescent, India
The Crescent was designed to accommodate the local real estate developer's offices. Its location at the intersection of two highways is convenient for developers and customers. This location is also intended as a publicity landmark.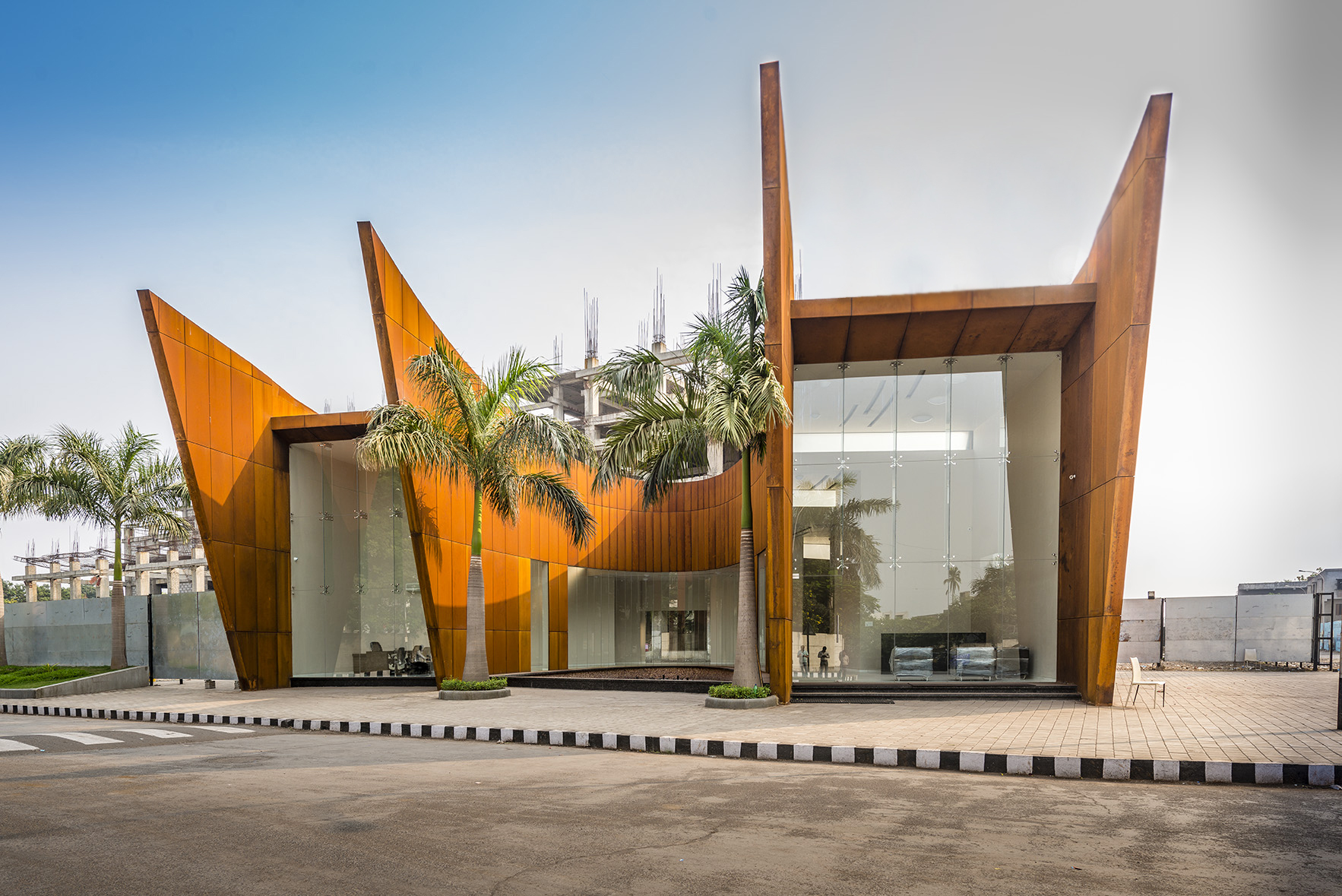 Image Source: archdaily.com
According to the designer, the covering material was chosen for its beautiful, naturally aging appearance, adding to the architectural monument form of the small building. Also, the angular shape is a protective mechanism against strong sunlight, resulting in extreme temperatures for most of the year. The curve-shaped wall forms a defensive barrier against the southern sun and creates room for several layered windows facing north
Materials Used in Contemporary Architecture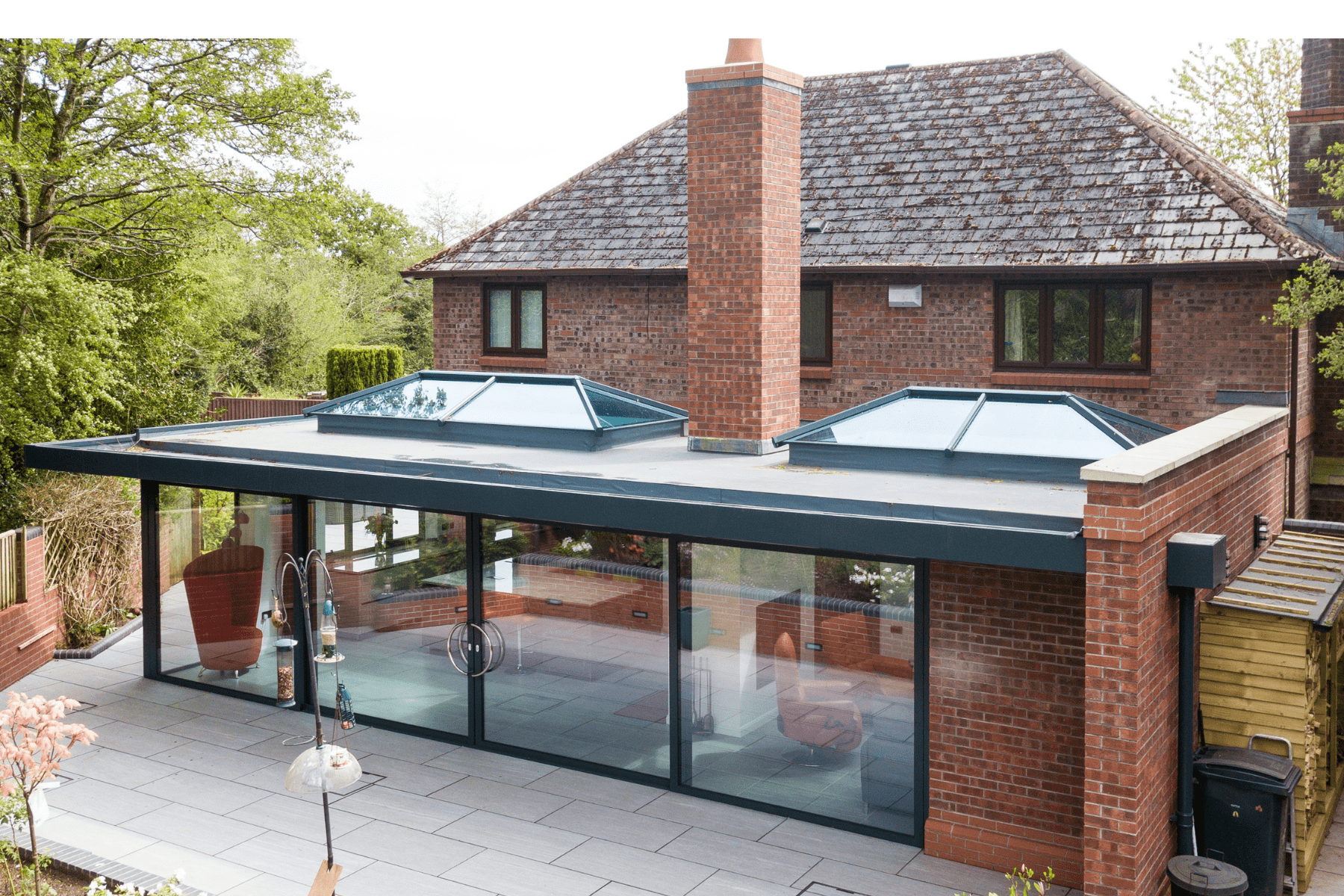 Image Source: ultraframes-conservatories.co.uk
1. Bricks
Bricks, like Lego blocks, can be combined to form a creative masterpiece through innovative thinking and exquisite craftsmanship.
2. Concrete
This compound can be molded into the desired shapes using appropriate frameworks to form slabs, beams, columns, and foundations.
3. Wood
When added to the building, this renewable contemporary design material provides a feeling of warmth and comfort compared to the function and aesthetics shared in the design.
4. Steel
Steel is flexible, making it an effective structural material for building parts such as cross-section beams, space frames, trusses, door and window frames, railings, handrails, and door handles.
5. Tiles
Tiles is a flexible building component made of several materials, including ceramic, stone, and glass, and they are also available in various colors and textures.
6. Glass
Glass is the most common façade element used in contemporary architecture to achieve transparency, light, visibility, and protection from weather changes.
7. Stone
Despite its volume and weight, natural stone is valued in the construction of contemporary homes and other structures for its wide range of colors, textures, and sizes.
Featured Image Source: developmentone.net