Over the past few years, people have replaced builder-grade window trim and woodwork with custom, Craftsman-style trim. Popularized before the 20th century, a Craftsman-style home looks inviting and warm. The good thing is even if you don't live in a Craftsman-style home, you can add Craftsman-style window trim and door trim to your home!
This article will cover some Craftsman-style exterior window trim design ideas to inspire your next home improvement project. We will further look at the craftsman window trim installation. Keep reading for more insight!
What Is a Craftsman-Style House?
A craftsman-style house is a residential layout incorporating elements of exterior and interior design inspired by the arts and crafts activity of the early 1900s. Although craftsman homes are identical in style to bungalows, they differ in architectural inspiration.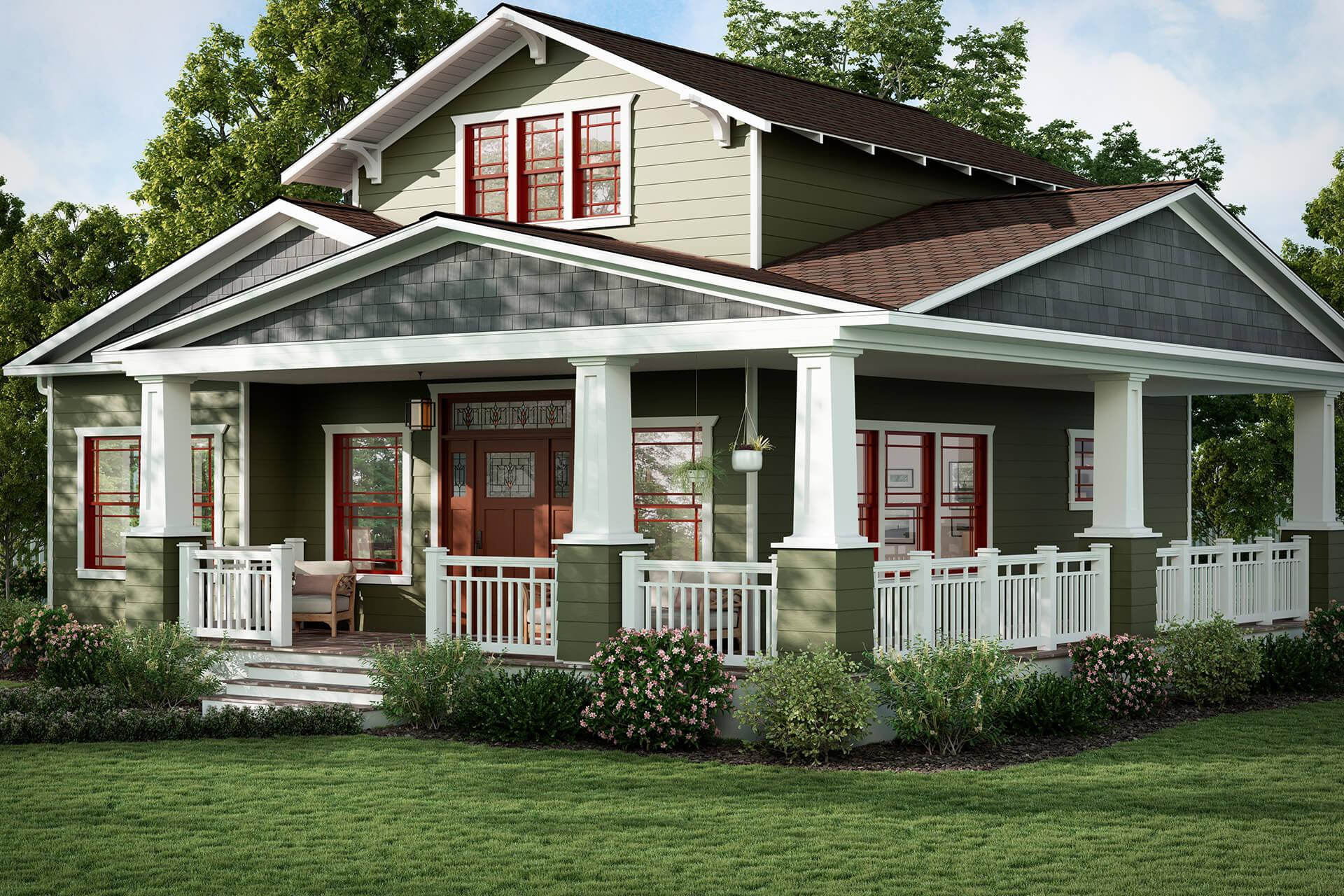 Image Source: windowworld.com
The interiors of Craftsman homes are just as distinct and essential to the builder as the exterior. Wooden features are plentiful; you can find them in doors and windows, built-in bookshelves, boxed beams along the ceiling, etc.
With that in mind, let's dive in and look at some Craftsman-style exterior window and door Trim Ideas and designs you can draw inspiration from to convert your home into a Craftsman-style home.
Craftsman Style Exterior Window Trim Ideas
1. Create High-Contrast with Black and White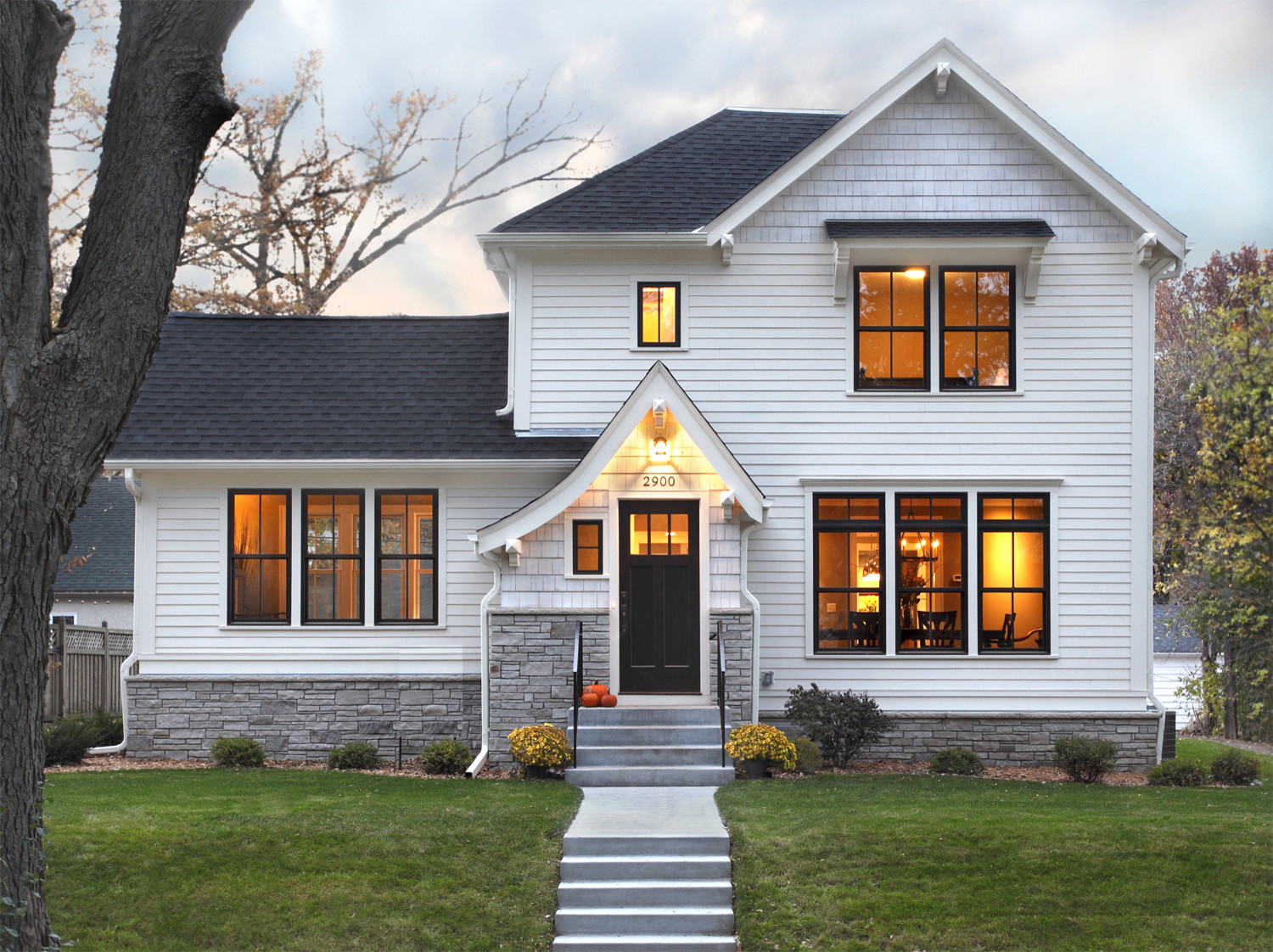 Image Source: kellyhogan.com
You can go for this amazing craftsman-style window trim idea. This house used a narrow white window casing and dental trim accents to set off black-framed windows, creating a deep contrast on the windows. This style also highlights the windows' modern look, and the trim accents help create the vibrant look that makes these homes unique.
2. Keep it Classic with White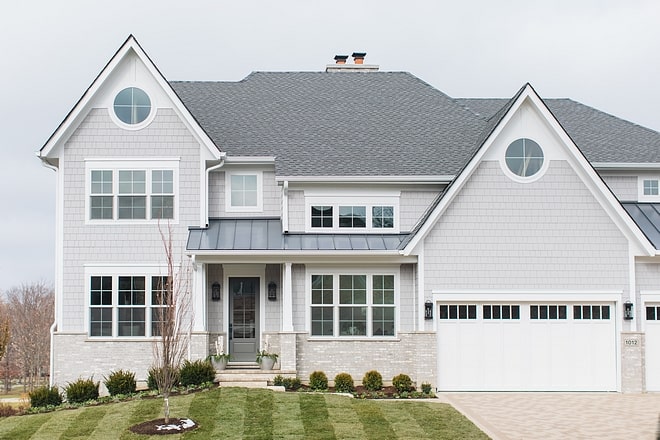 Image Source: pvcmillwork.com
If you want simple yet classy window trim, you can go for a white window frame and white trim. You can be assured that white on white will look classic and clean. This idea will work on any house color. Even if your house is white, you can still use white frames, and it will still look amazing.
3. Simple Trim and Dark-Hued Brackets
Image Source: Pintrest.com
Another great idea is to have a clean, simple look with dark-hued brackets. Then, you can go for a white trim with a dark window frame. This creates a serene contrast and makes the exterior of your home look luxurious. The best bit is that you can use the same window trim style for your front door and garage.
4. Make The Frames Look Thicker with Tone on Tone
Image Source: res.cloudinary.com
You can also make your window frame appear thicker by choosing similar colors for the window casings and frame. Unlike going for white on white, you can choose to go with another color. For instance, you can opt to go with black on black, like in the image above.
Not only is this style simple, but it gives the house a clean look and makes the windows feel more substantial.
5. Multi-Dimensional Window Trim
Image Source: fypon.com
If you want to make your Craftsman-style home design look elegant, you can opt for a Multi-Dimensional Window Trim and door trim. The window trim offers a neatly crafted look, with minimal sides and the top and bottom flair out. It also adds a subtle class level to your front patio, making relaxing on a warm spring day more inviting.
6. Modern Minimalist
Image Source: patrickahearn.com
You can still achieve a balance of traditional style and modern sensibilities in your home by incorporating craftsman-style door and window trim. So besides having beautiful stonework and tapered columns, you can add contemporary windows and doors to your home.
Using simple black against a white window and trim combinations alongside a blend of warmer hues, you can create an inviting home exterior with great curb appeal.
7. Stark Angles and White Brackets
Image Source: ptglazing.co.uk
This is another unique idea that will work on any home design, and it's precisely what you get with this window trim design. The design is not complicated, but the lines above the windows create angles that add a touch of sophistication to the whole look.
Amazing Craftsman-Style Door Trim Designs
1. Double Craftsman Doors with Glass
Image Source: homedit.com
If you want a modern touch in your home, you can go for the double artisan-style door trim. These Craftsman interior french doors emphasize the straight lines of the Craftsman style.
Depending on your house, you can choose a color that makes your home look stunning. For my DIY craftsman project, I opted to go with white.
2. Single Batten Panel Craftsman Door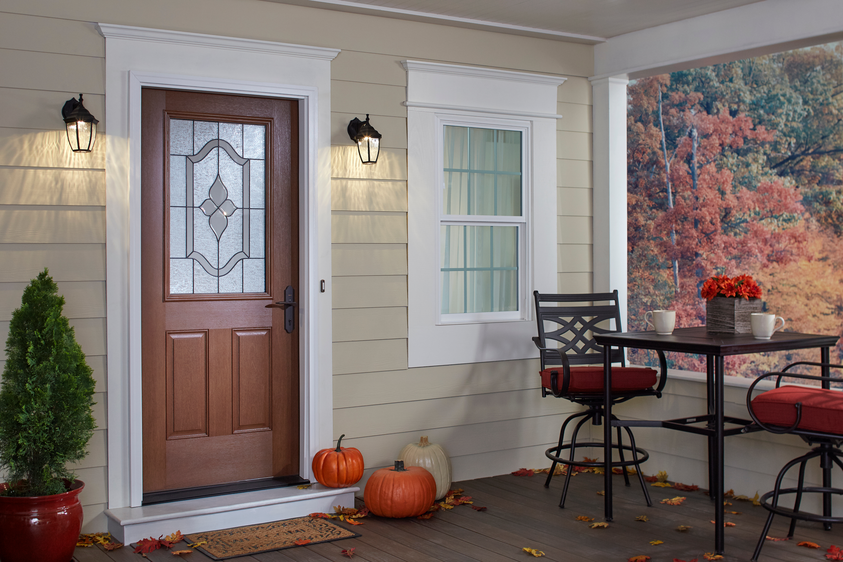 Image Source: brandfolder.io
These door craftsman door trim styles have a single recessed panel. In this design, the Craftsman door has one recessed panel. The batten door has small vertical boards which fit side by side to create the panel.
3. Horizontal Craftsman Door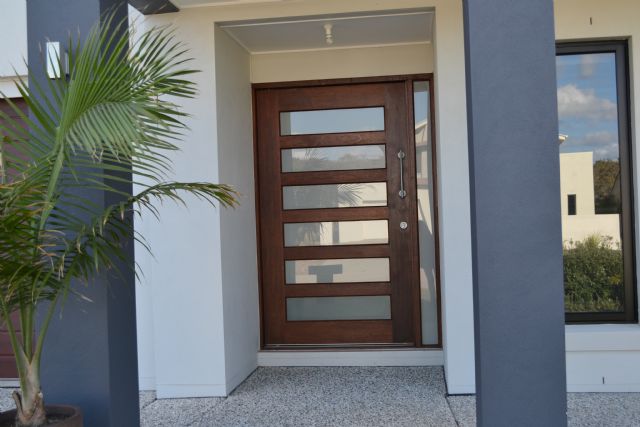 Image Source: doorcity.com
You could also opt to go for a horizontal craftsman-style door. This design can be used in a contemporary home because of its clean and simple design. The amazing bit is that it works well with historic and modern aesthetics.
4. 3 Panel Craftsman Door
Image Source: doornmore.com
This traditional Craftsman-style door design features three recessed panels. Ideally, this design goes well with most interior doors but could also work for outdoor ones.
One larger horizontal panel is used on the door's top part, intersecting two vertical recessed panels to create a "T" pattern. You can opt for a door that features a natural wood finish or paint the door with a cool one that blends with your house's interior.
5. 4 Panel Craftsman Door
Image Source: Pintrest.com
Like the 3-panel craftsman style door, the 4-panel craftsman doors are ideal for interior use but can also be used for exterior use. The common varieties are these recessed panels with a central rail and stile to separate the 4 panels.
How to Install Craftsman Window Trim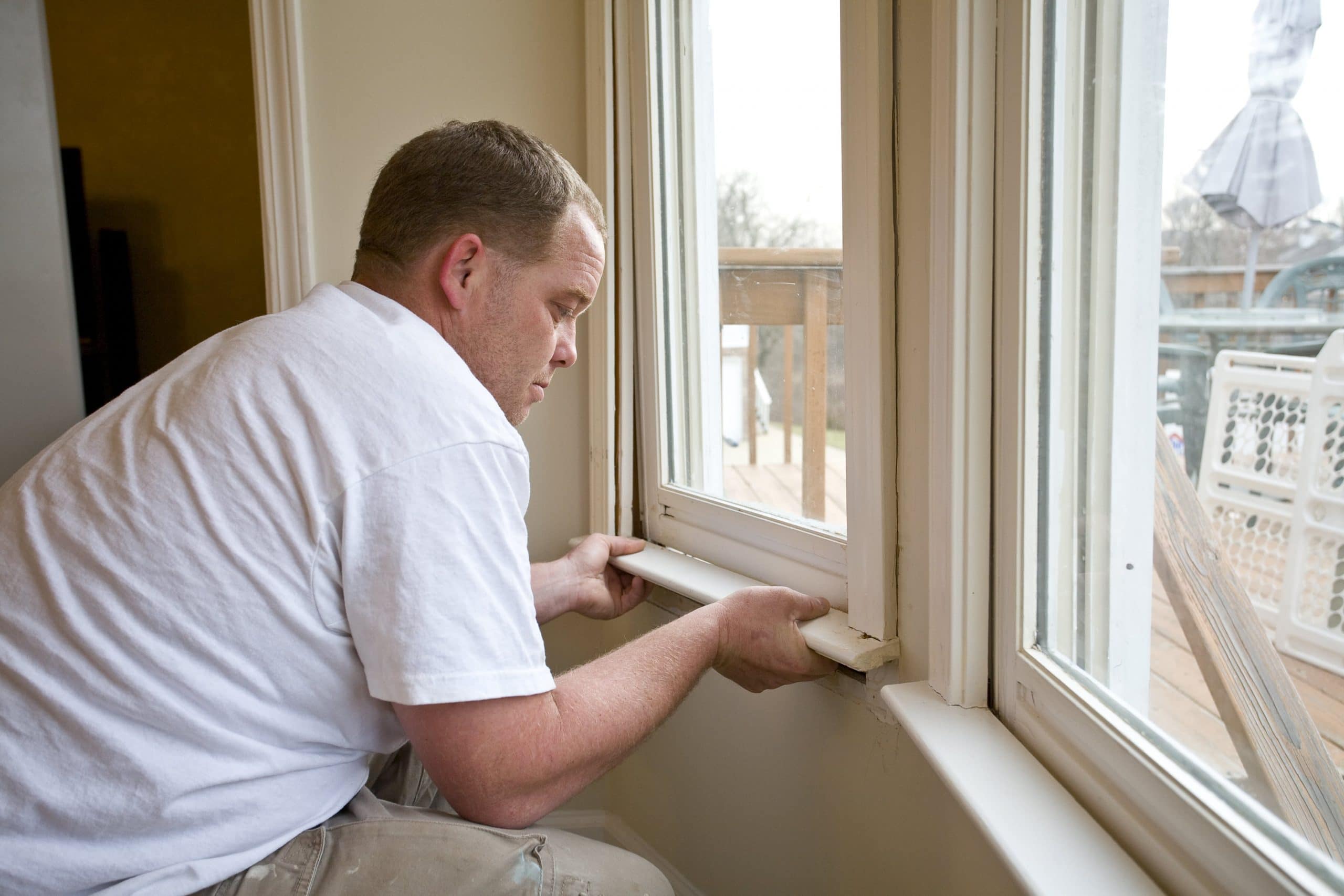 Image Source: mtcopeland.com
As we have said before, there are different styles of upgraded window trim that you can apply to your windows. I will show you how I installed a simplified Craftsman Style trim that brings a modern look to my home.
Materials and Tools Needed:
Nail Gun, Trim Gun, or Brad Nailer
Ruler or Sliding T-Square
Step 1
You will start by removing the existing window trim using a pry bar. While doing this, ensure you are careful not to puncture or break the sheetrock surrounding the windows. Use a trim puller or pry bar to get rid of the window trim. There might be some leftover caulk on the wall; you can scrape it off using a razor scraper.
Image Source: prnewswire.com
When I removed my existing trim, I noticed that the extension jam of my window or the wooden framework surrounding our window wasn't wide enough because it was not wide enough to meet my sheetrock.
Step 2
After that, you will measure your window since everything you do will be based on the measurement of your window. The extension jam around the window needs to be flush with the wall before the trim can be applied.
Since my extension jam was a bit small, I built a new jam with a 1 by 4-inch pine, which I measured and cut to fit.
Step 3
Image Source: anikasdiylife.com
To stop the material from splitting, you must pre-drill holes using a 1/8-inch drill bit. Then after you have pre-drilled holes, screw the extension jam into the window frame using a 3-inch trim head screw and your impact drill.
Step 4
Before you install the trim, you need to measure 1 by 4 inches from the edge of your window jam to be exposed for the layered look we are going for. While installing my trim pieces, I used a sliding t-square to measure this in multiple points on my extension jam, which I then used as a guide when installing the trim.
Image Source: asabuilderssupply.com
At this stage, I also cut a scrap of my 1 by 4 inches side pieces; I held it in place and marked the edge to help me pick the measure for the headpiece. Starting with the 5/4 by 6 inches headpiece of pine, I measured and cut the board to be 3/4 inches longer than the window casing on each side. Secure in place using 2-1/2 inches of trim nails and the finish nailer.
Then, for the layered look, I added a 2 by 2 inches pine on top, cut to be 3/4 inches longer than the headpiece. Afterward, I secured it in place using the best wood glue and trim nails.
Step 5
After applying wood and the trim nails, you will move on to the bottom of the windows or the sill and apron. The 1 by 4 inches apron should be the same width and length as the headpiece, which is 3/4 inches longer than the window casing.
Step 6
Then install the apron before the sill to make it easier to nail and secure everything in place. I used a leftover piece of wood at the same thickness as my sill to decide the right height of the apron before securing it.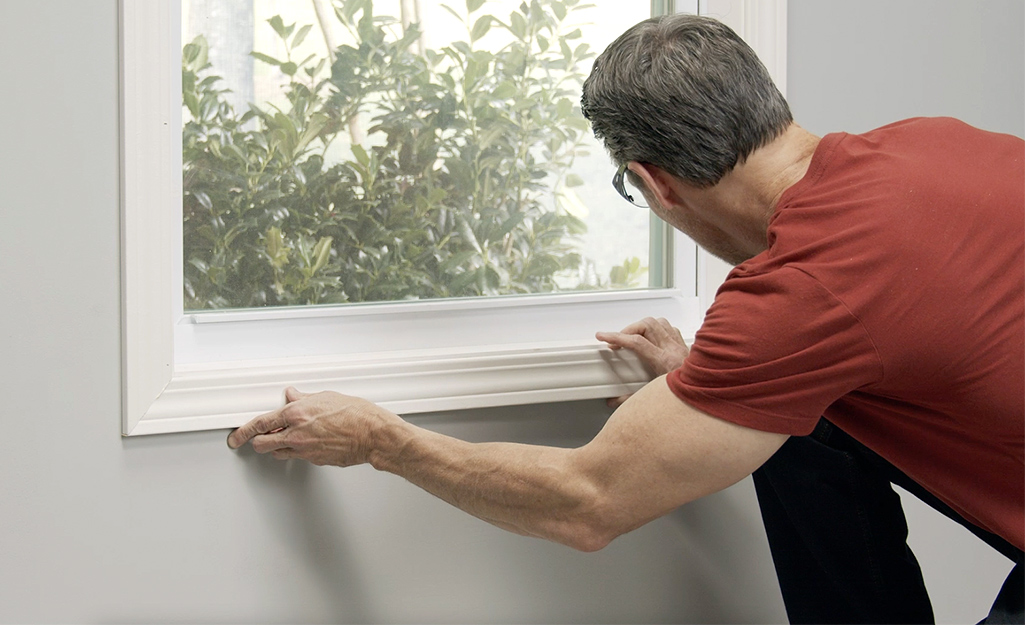 Image Source: homedepot.com
Afterward, I used a miter saw to cut a 45-degree angle on each end of the 5/4 by 2 inches sill and attach it to the apron. Finally, I attached the two with wood glue and nailed them.
Lastly, I measured the distance between my headpiece and my sill piece and cut the 1 by 4 inches of the casing to that length for the side pieces. After that, I glued the ends where they met the sill and header and attached the casing to the extension jam.
Step 7
Now the tricky bit of the DIY craftsman window trim is done. The remaining part is the finishing touches. First, I filled all the nail holes using wood filler and allowed them to dry. Then, I lightly sand the surface smoothly. This step did not only soften the edges but also helped the paint stick to the edges.
When that is done, you can paint or stain your window trim based on your design. I chose to paint my window trim white to match the color palette of my entire house.
How to Install a Craftsman Style Door Trims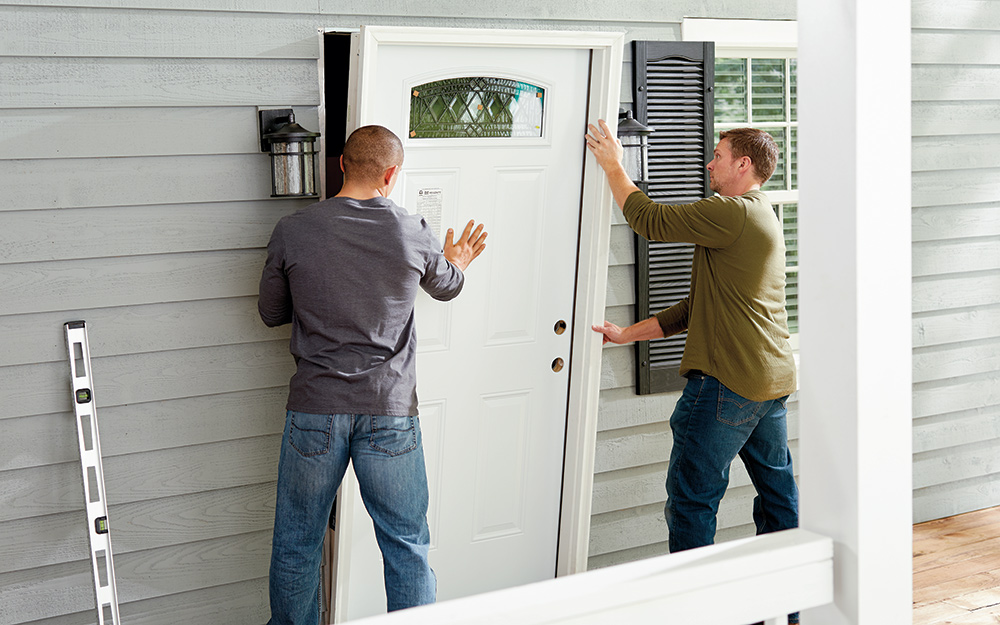 Image Source: homedepot-static.com
If your current door trim has deteriorated due to old age, it might be a suitable idea to invest in some modern door casing for your home. Your interior and exterior doors will look fresher and cleaner, and your home will get the refresh it needs.
To install these door trims, you will need the tools and materials we used for installing the craftsman-style window trim. Let's get to it!
Step 1
The first step is to remove your old door trim. You will first remove the door hinges; then, you can remove the door frame. Gently rip the old trim from that door frame.
Step 2
Once you have removed the old door, you must measure the door frame and get rid of any hard edges from residual wood and wood glue.
Measure the doorway from the inside corners down to where the doorway meets the floor. Then measure the top of the doorway. When you are done measuring, cut the boards in line with the measurements of the door. You must ensure that the edges of your new trim align flawlessly once you have installed them.
3. Step 3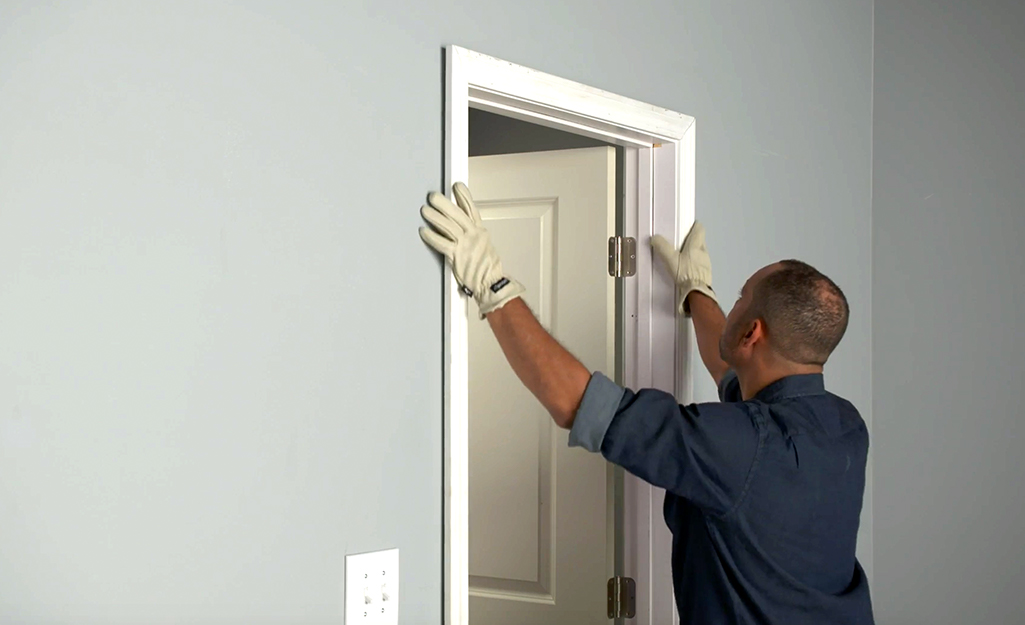 Image Source: homedepot.com
When you have cut your boards, it's time to install them. You can install your doorway cases using a nail gun. However, you should avoid using too many nails, as you will have to fill the holes later. Also, try and position the nails as close to the edge of the siding as possible.
Once you have fastened your door trim, it's time to fill the nail holes using wood filler, and then you can either stain or paint your door casing.
Frequently Asked Questions on Craftsman Style Trim Door and Windows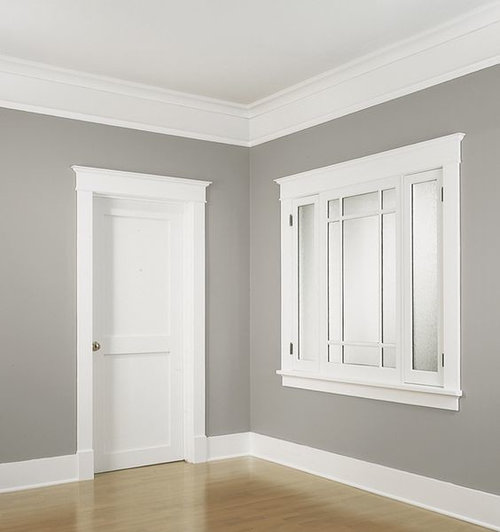 Image Source: st.hzcdn.com
1. What Material Can You Use for Exterior Window Trim?
You can use different materials for exterior window trims, including solid wood, vinyl, fiber cement, and engineered wood. The best wood species are weather-resistant redwood and cedarwood.
2. What Is a Craftsman Door Trim Style?
A craftsman-style door cannot only be a wooden door. Rather, it comprises decorative glass panels along the top of the door. They can have a beveled edge design, use stained glass, or be opaque.
3. What is the Most Durable Exterior Window Trim?
Fiber cement and wood window trim can last for more than 50 years. However, they require maintenance and repainting at least once every 5 years. It's necessary to note that vinyl window trim does not last as long, but they are maintenance-free.
Image Source: pvcmillwork.com