The kitchen is considered the heart of the home, and the last thing you want in your home is a messy kitchen. Whether you're hosting guests or just having family come over, most of the time, the kitchen always ends up being the home's central station, where everybody is gathering.
This is why it is crucial to make it as modern and inviting as possible. Below you'll find some of the best modern kitchen cabinet ideas to act as inspiration and spark your own creativity.
Beautiful Modern Kitchen Cabinets
1. Veneer Wood Cabinets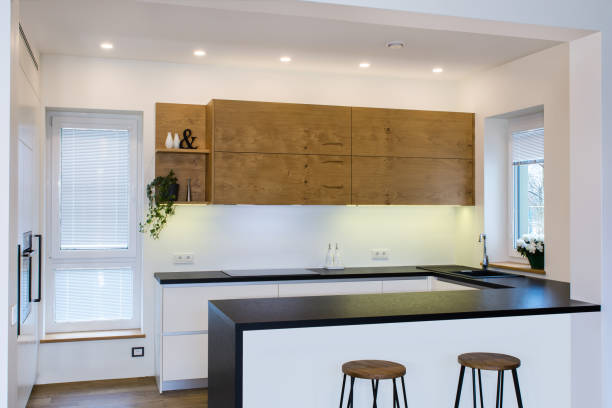 Source: Getty Images
Wood veneer kitchen cabinet doors are one of the best trends that add warmth to a modern kitchen. These designs showcase wood grains, and the grain patterns are great for nature lovers.
However, it is essential to note that there are ranging qualities of slab veneer wood cabinets. This is why it is crucial to find a reputable dealer that will install these cabinets for you. If done poorly, these can result in peeling of the banding and the laminate. If done in the correct way, homeowners can enjoy years of warmth offered by this kitchen decor.
2. White Kitchen Cabinets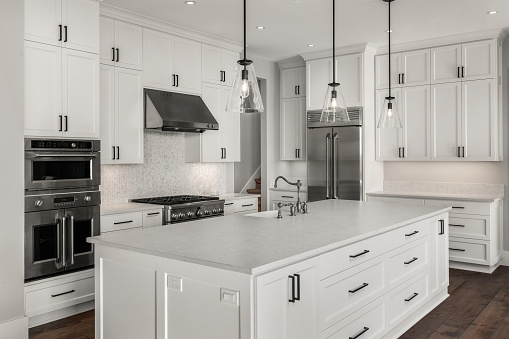 Source: Getty Images
If you're irritated by bright colors and are looking for something simple but clean, then white cabinets would be the best choice. White kitchens are popular because regardless of your home design, they will keep the kitchen clean, even when dishes are piled up.
The white cabinets can be achieved using a variety of finishes, including melamine, veneer, glossy lacquer, or paint. This means that no matter your budget, you can still do a modern white look. Although these cabinets could easily catch dirt or dust, it is easy to clean depending on the type of finish.
3. Floating Shelves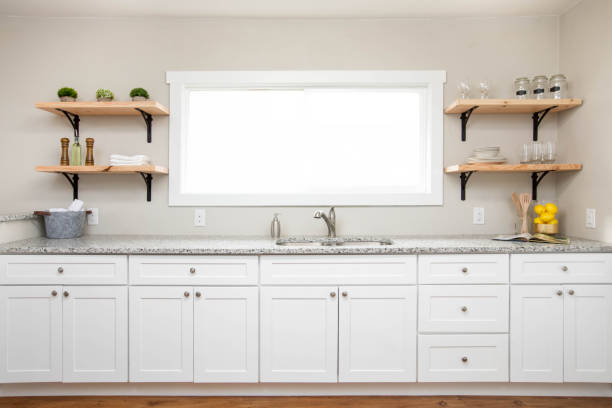 Source: Getty Images
What a better way to achieve a clean and open floor plan than to do away with the kitchen cabinets and have floating shelves? Floating shelves are loved by many because they give life to the kitchen design. They offer storage space for appliances and kitchen utensils.
For example, you can choose to install a few wooden flooring shelves and combine them with a shiny subway tile backsplash or a glass backsplash. However, if you're looking for hidden storage spaces, then the floating shelves might not be the best option for you.
4. Stainless Steel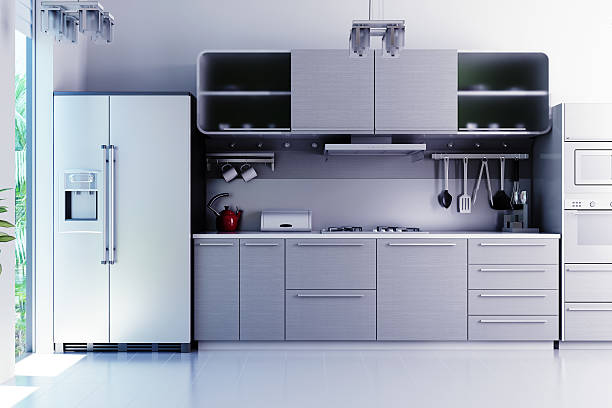 Source: Getty Images
The Stainless Steel modern kitchen cabinets are a minimalist style that gives an illusion of stylish art. To customize your modern kitchen steel cabinets, you may need to consult a metal fabricator for your specifications. If hidden modern kitchen design ideas appeal to you, then the Stainless Steel options would be best for your kitchen.
5. Dramatic color blocking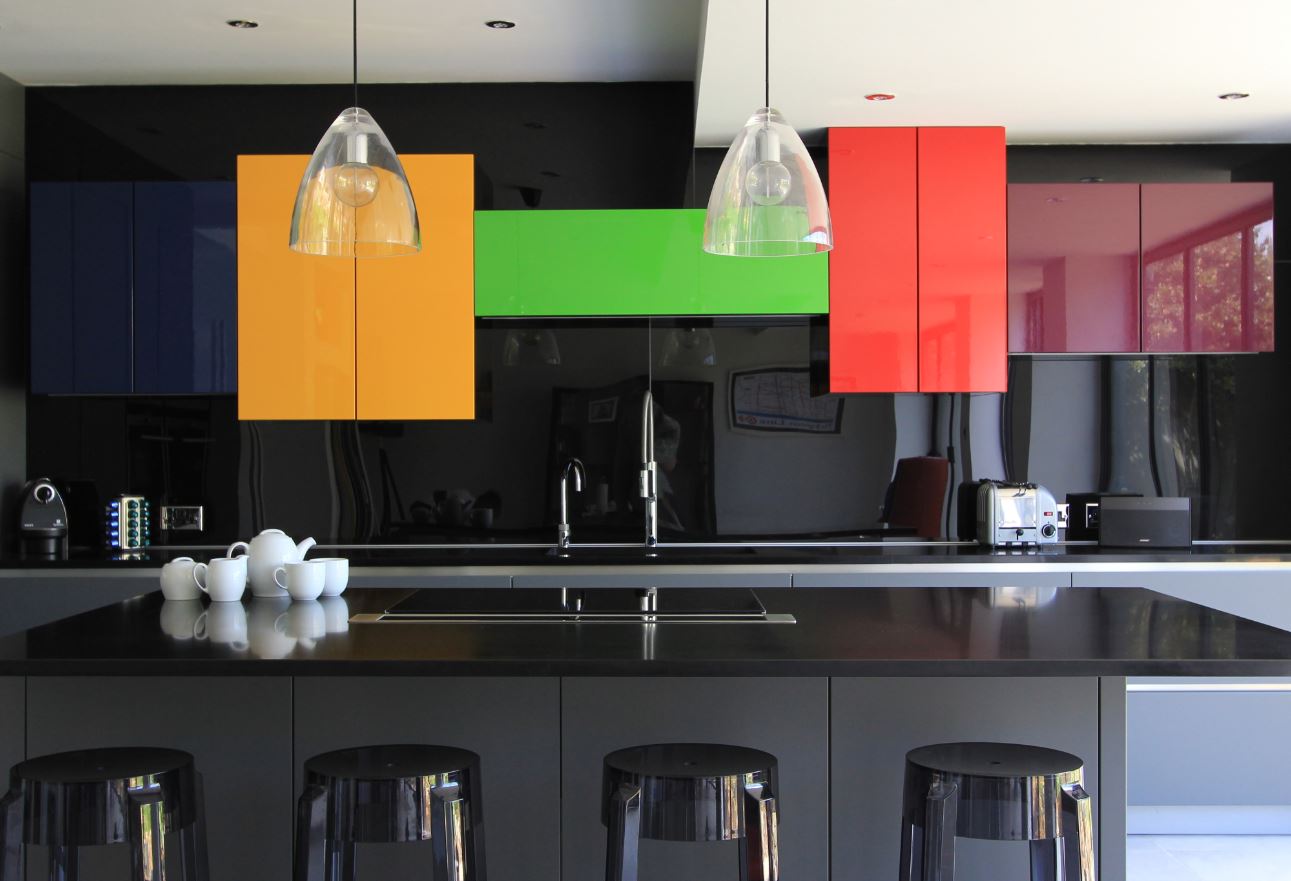 Source: bookvim.com
Do you love the colors and are willing to try having different colors for your kitchen cabinetry? If so, you should join in on the color blocking trend. It features varying colors, but they do not have to be bold.
If you're worried about how it will turn out, you can start with small but bright and brilliant and see how that goes. You can go bigger next time if you're impressed with the results. However, if you want to start big, then you can use a different vibrant color for each cabinet door. Then add black on the countertops and the background to make the colors pop.
6. Black Cabinetry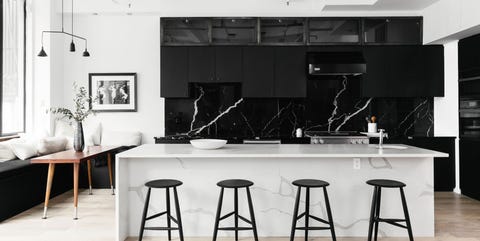 Source: Pinterest
Apart from having white colors, another great way to achieve simple cabinets is going black. However, black may make a room look dark, especially if you don't have enough. So you may need to pair it with any color. In the picture above Homepolish Designer, Jae Joo paired the black cabinets with a black and white marble splash, a white countertop, and black stools to wrap up the design.
7. Incredible Minibars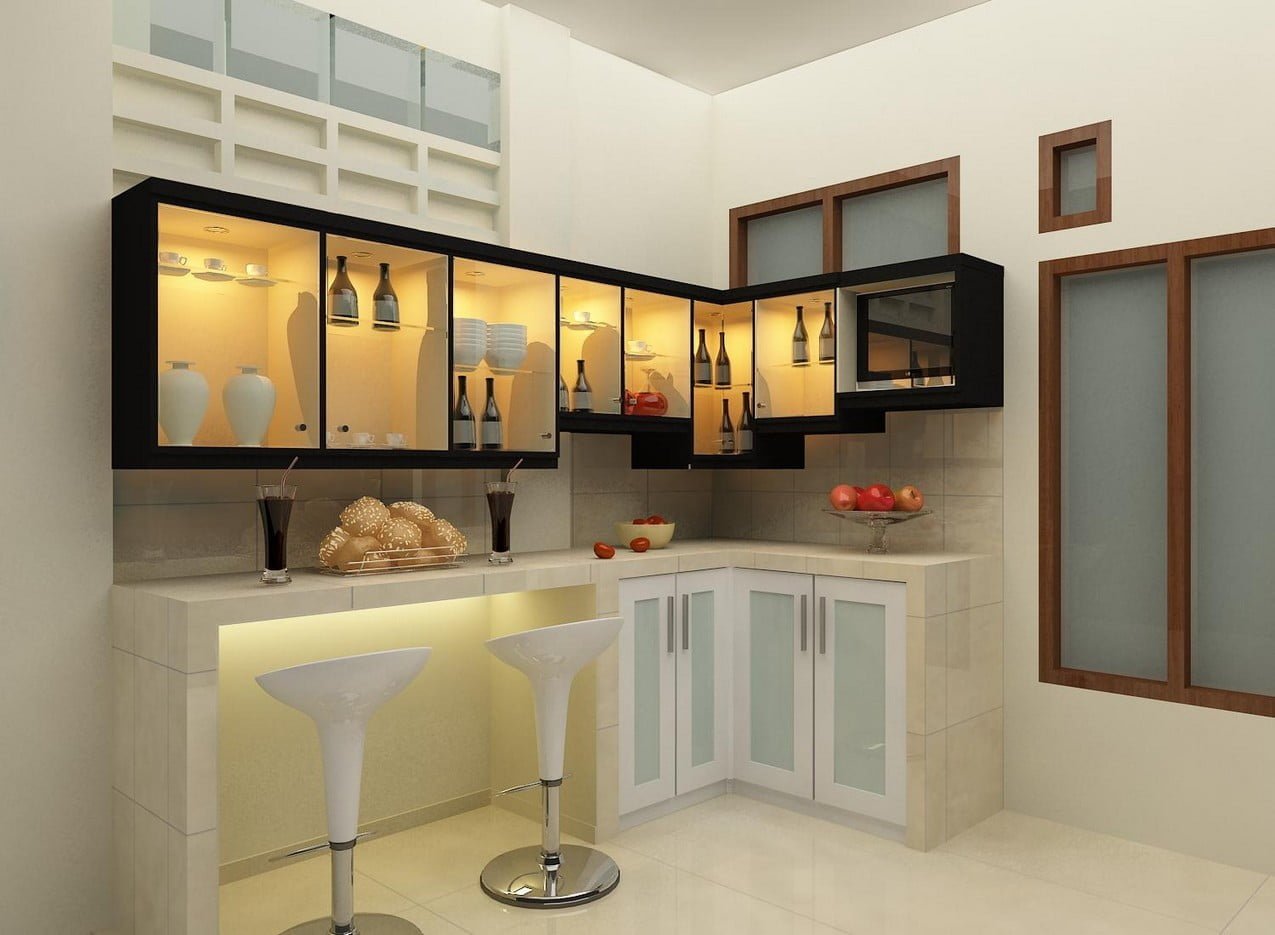 Source: customfurniture-semarang.com
Do you have a storage space in your kitchen that you don't know what to do with it? How about setting up a minibar? If you have cabinets with no doors, then you can easily set this up. Just add in recessed lighting on the inside of the cabinets and some glasses and bottles of your favorite drinks. Also, add some seats around the countertops.
8. Backlit Cabinets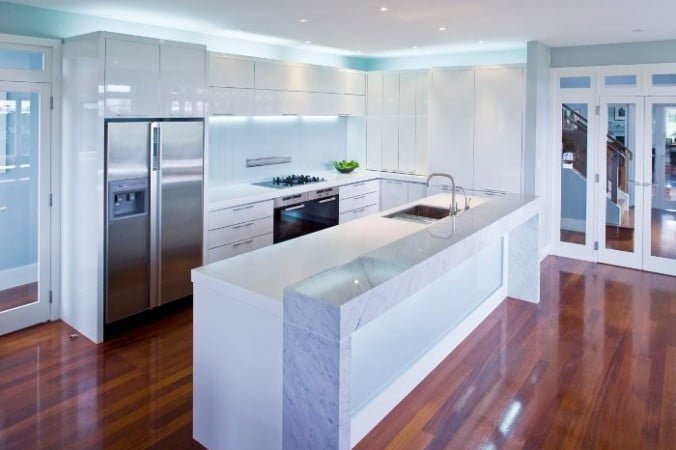 Source: megabuilders.com
A great way to make your cabinet colors pop is by adding backlights. When you are running out of ideas to make your kitchen space look beautiful, this is one easy way to make it look beautiful.
9. Magical Modulars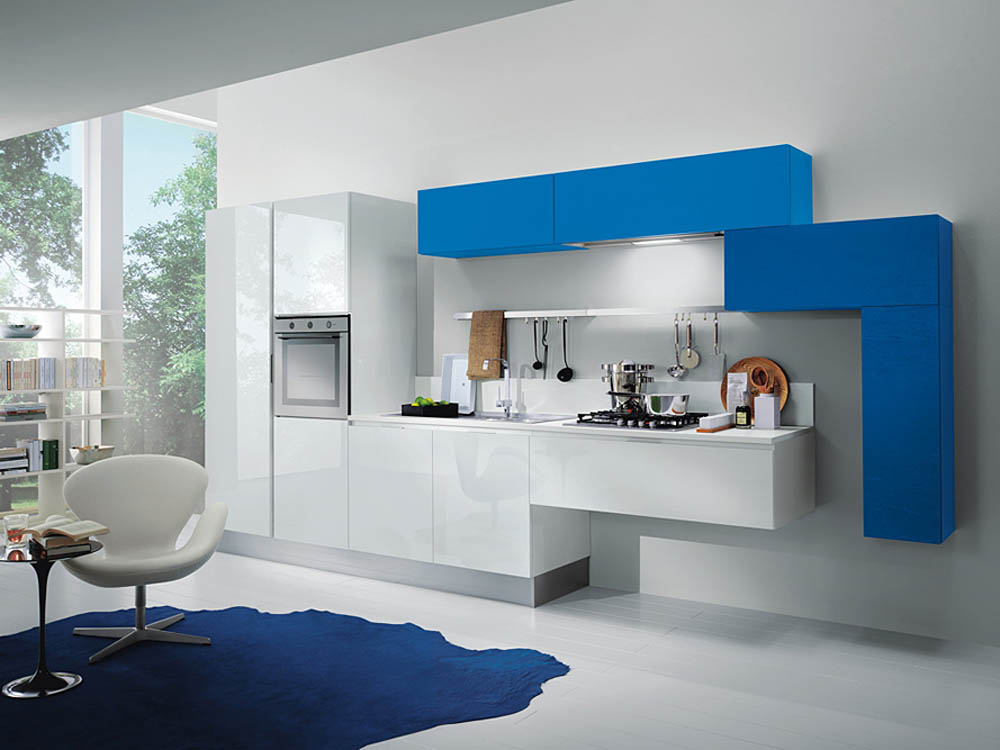 Source: karziel.com
Modular kitchen cabinets can be either straight, parallel, L- or U-shaped, and other designs. They are a perfect way to improve your kitchen on a budget. There are a number of styles and color options available that will make the kitchen look more lively and modern.
12. Vertical Modern Kitchen Cabinet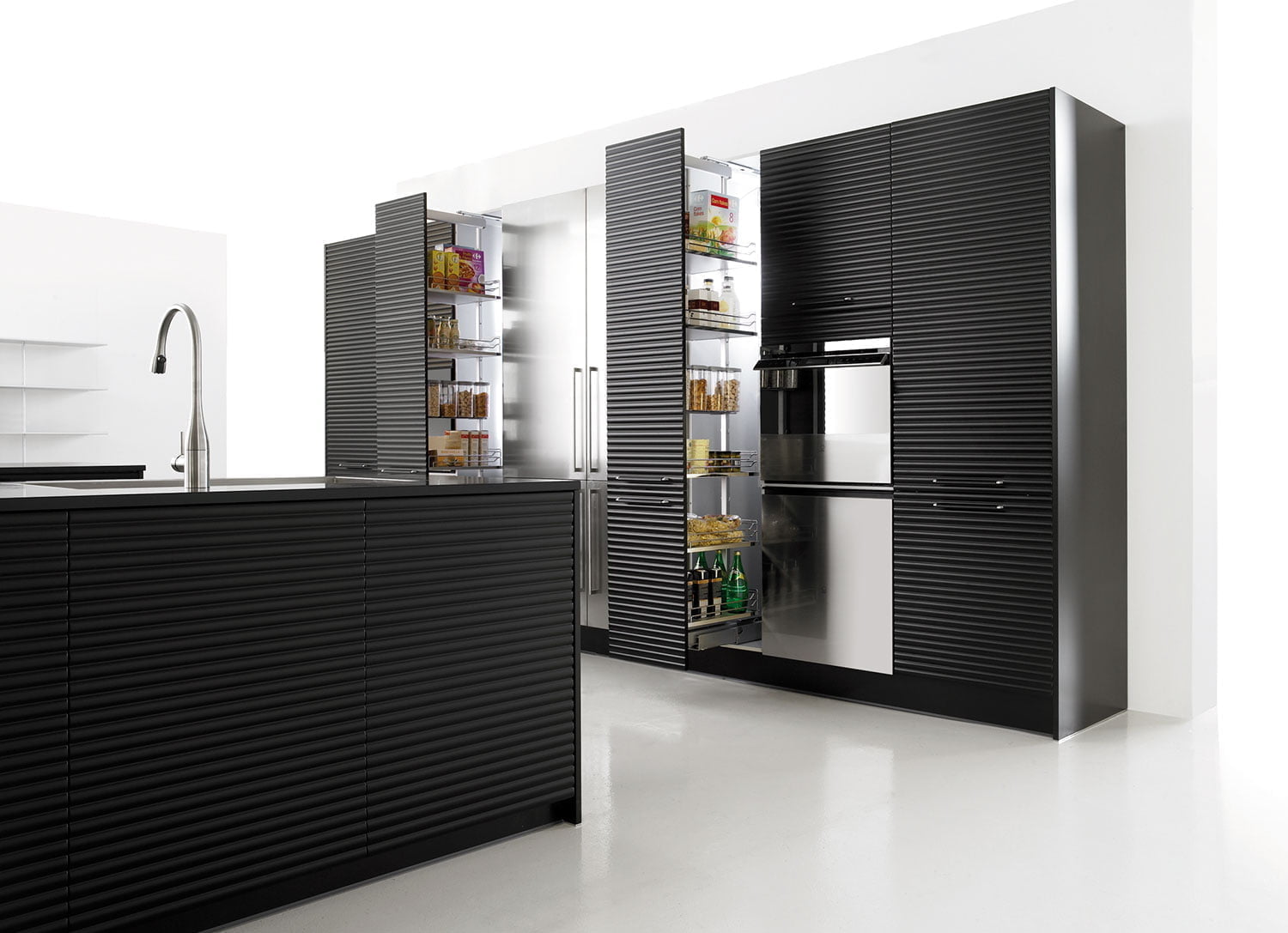 Source: vaointeriorismo.com
Do you have a small space and are looking for modern kitchen ideas? Then, look no further. With the vertical arrangement of cabinets, you will be able to have more storage spaces in just a tiny area. Mobalco designers are known for having different cabinet styles that will fit your space, color, and texture. This design is also not an exception.
13. Gold cabinets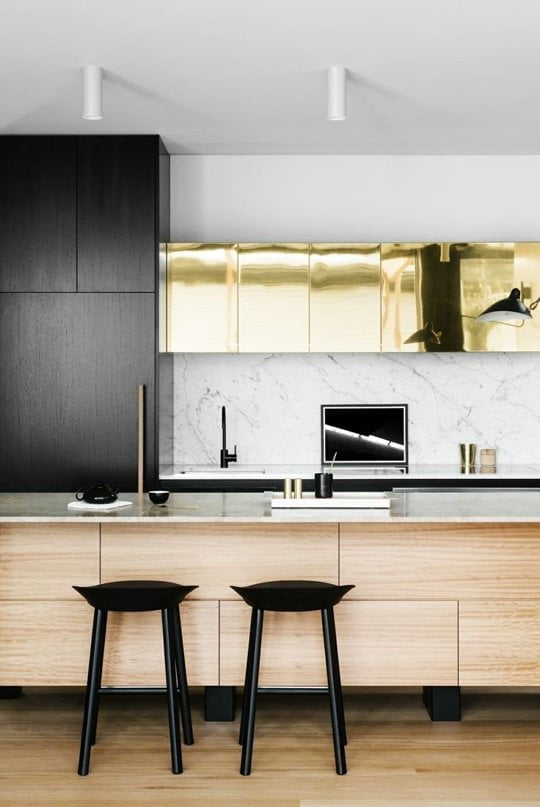 Source: theoverqualifiedapplicant.com
If you love gold, then why not have gold cabinets? It is essential to bring your sense of style into your kitchen but ensure not to go overboard. From the pictures, the designers limited gold to upper cabinets. They then set it with a light gray marble backsplash. Also, you could see gold glass and salt and pepper shakers. Moreover, there are a black pantry and wood countertops to complement the look.
14. Adding a Pop of Color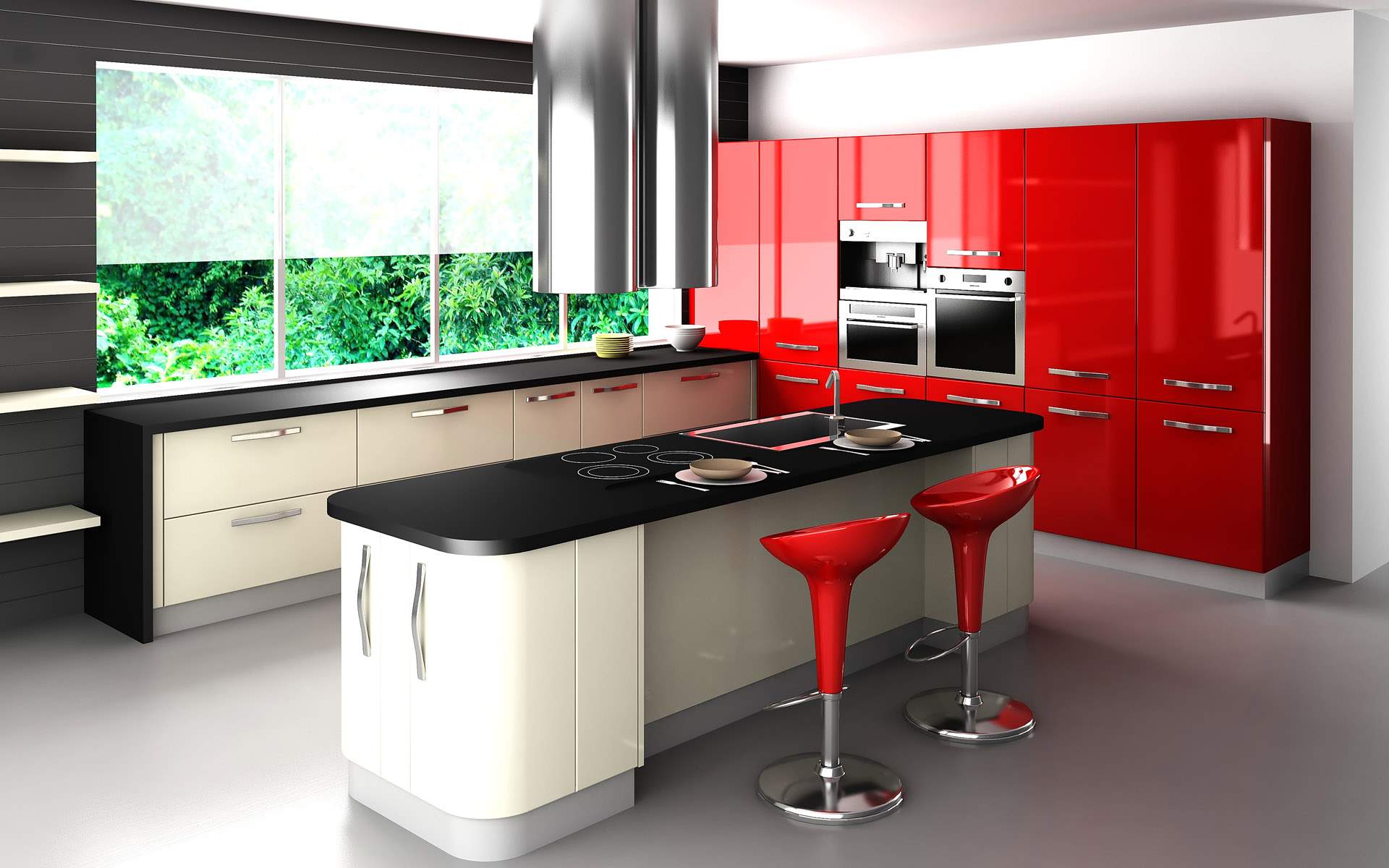 Source: dailydecorz.com
What do you think of red, purple, or bold colors modern design ideas? Bold colors are great for those people who love cooking and enjoy the kitchen space.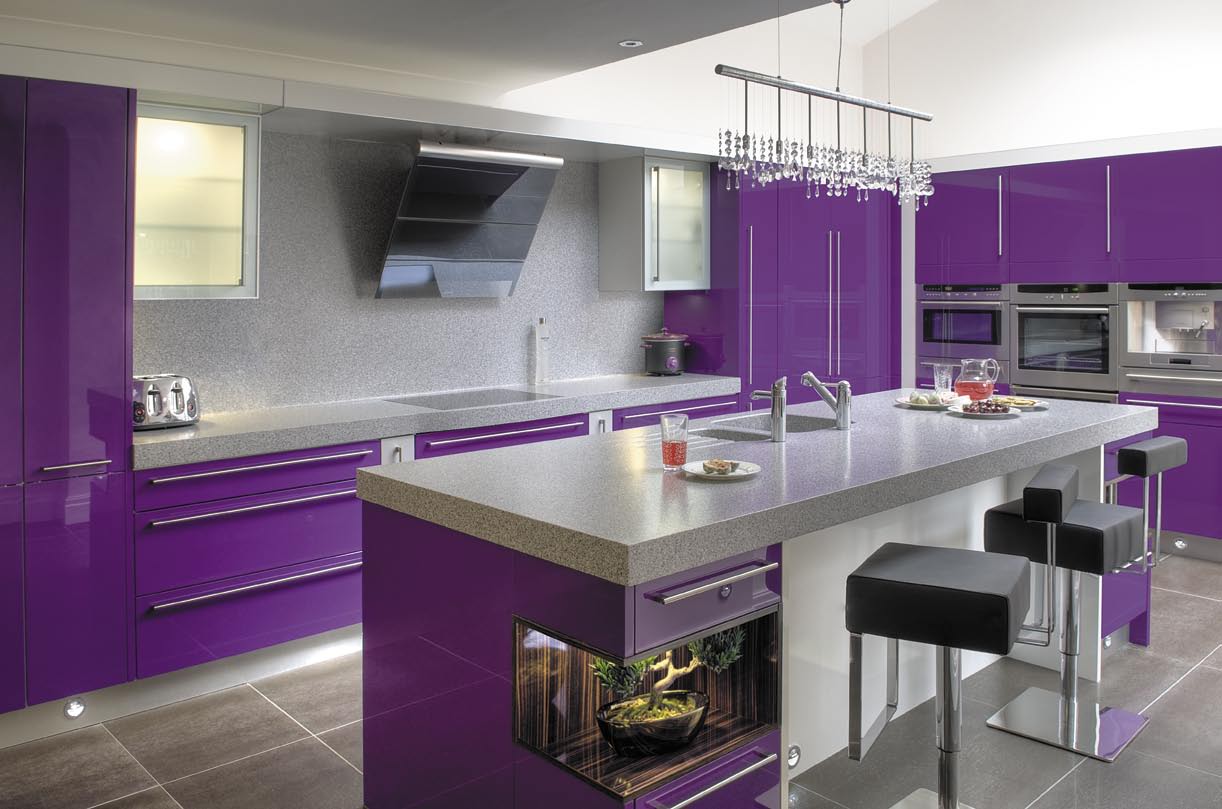 Source: decoraciondelacasa.com
These colors also allow the house owners to be fearless by letting out their personalities through their homes