The modern farmhouse design combines the cozy farmhouse aesthetic and the sleek contemporary design to create a unique and fresh country living design. This style offers elegance, simplicity, and warmth, thanks to its natural texture with materials such as galvanized steel and materials like wood.
This farmhouse living room decoration involves a nod to the past and a touch of the present. It's a trendy design that seeks to achieve a timeless design.
The farmhouse living room decor ideas come from creativity and inspiration and are designed to provide a serene and tranquil atmosphere.
So, what are some of the farmhouse living room ideas can you adopt for your dream home?
Here are incredible ideas.
1. Use of Natural Elements
A farmhouse living room design would be incomplete without the use of natural elements.
Amazing ideas of this rustic design involves the use of stone accents and exposed wood beams. These two evoke a relaxed modern house interior that portrays relaxation and coziness. If you want to add charm and personality, you can introduce irregular, slightly imperfect, and organic accessories.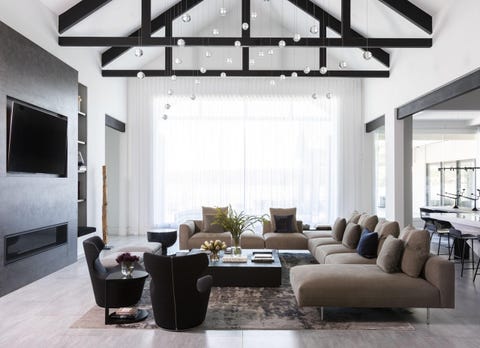 There's no limit to the extent you can use natural elements. From the ceiling to the walls, with creative design, you can achieve farmhouse decor that reflects your personality.
2. Fireplace Design
A fireplace is one of the elements that describe a farmhouse living room design.
So, how can you use creativity and style to come with simple sophistication in your fireplace?
Be a minimalist. You won't go wrong with a minimal fireplace. If you have rustic ceiling features with a small fireplace, the organic elements just stand out. You can also achieve a unique blend with white walls and a modern mantle.
Another fireplace decor idea for a modern farmhouse is to take the traditional approach. With this, you have low ceilings and a barn board fireplace. The traditional fireplace design offers comfort, simplicity, open and airy feel without the use of expensive materials.
And better still, the low ceilings makes the house warmer during winter, keeping you relaxed and cozy. To further accentuate the traditional feel, you can use reclaimed timber in the fireplace, for elegance like no other.
And how about a brick fireplace? The simplicity and affordability, yet with a country living feel is amazing. It's worth trying.
3. Use Fabrics Creatively
If you want a beautiful farmhouse, you can modernize it with fabrics.
When you combine the architectural elements of your farmhouse living room with straight-lined and clean furnishings, it leaves a serene finishing.
You can also add colored furnishings to the natural elements of your living room to create a juxtaposed color blocking. Imagine a rustic fireplace accentuated with a cozy, velvet midcentury chair.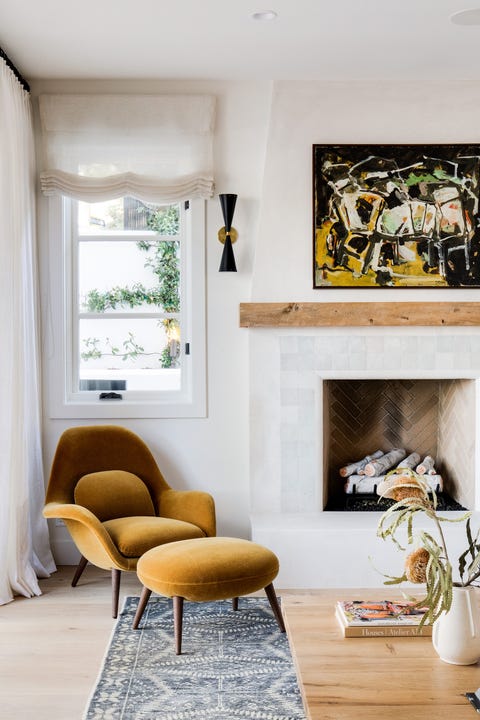 Also, if you have a solid couch made of neutral tone in your living room, you can enhance the beauty with a few decoration pieces. You can create some uncommon patterns or get affordable vintage colors for your throw pillows.
This, not only adds charm and flair to your living room in an inexpensive way but also transforms the living room into a haven of tranquillity. You can even make things better by adding animal print decor to your house.
If the color pattern of your living room is a pallet, make sure you use brighter fabrics that blend well to create color blocking and add life.
4. Open Concept Farm House Living Room
If you want farmhouse living room ideas that are not too traditional then an open concept would resonate with you.
There is the use of organic materials, neutral colors as well as modern updates. Open concept is a liberal style that allows homeowners to have natural lighting in an open space.
You can have a glass-paned wall, comfortable furniture, vertical shiplap, and industrial light fixtures. You can also have the living room and the dining room in an open space.
Ultimately, you'll have a living room decor that is neither too modern nor too traditional - with some unique and amazing balance.
5. Lacquered Ceilings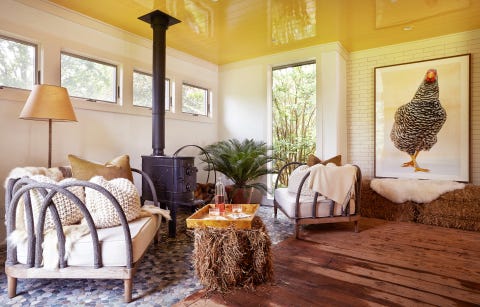 You want to have a ceiling that not only protects you from extreme heat or cold but as a living room decor that adds beauty and style.
In lacquering the ceiling, you want to use the space to transmit light. That is why a glossy finish is a fantastic ceiling decor. You are sure it will achieve reflect light and ensure a warm house.
You can never go wrong with high-gloss cornflower paint.
6. Eclectic Farmhouse Living Room
One of the best things about farmhouse living room decor is that you can combine it with many home decor ideas.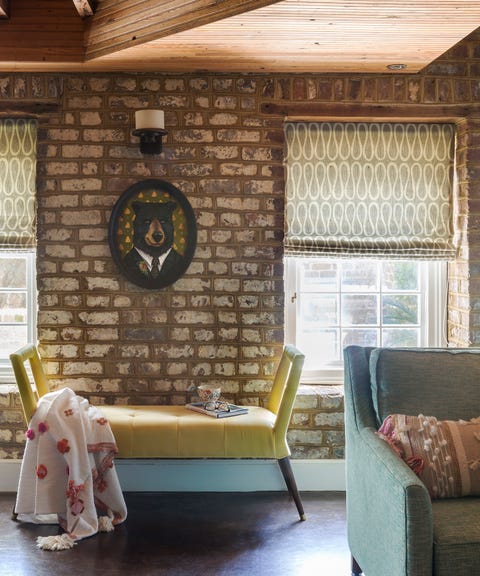 For an eclectic farmhouse living room ideas, you need an antique, a plaid, some hard lines, and a flowy print. You can add a modern lighting fixture with a large abstract canvas and salvaged beam ceiling for an eclectic vibe.
Another eclectic farmhouse living idea could be your interiors transitional and traditional. You can use a cellular shade and art decor mirror combined with a Persian rug and a horizontal shiplap.
To bring a modern feel into your living room decor, you can add a coffee table and modern couch.
7. Monochromatic Farmhouse Living Room Ideas
This farmhouse living room decor involves transforming a modern living room design into a chic farmhouse. You can accomplish this by incorporating tonal accessories and furniture. You can also introduce reclaimed timber beams and shiplap around the fireplace.
With a monochromatic living room design, you avoid many colors to achieve sophistication and comfort. To most people, some shade of white or gray is an awesome living room idea. But that doesn't mean you cannot choose other colors.
The bottom line is, to choose a major farmhouse living room color and stick by it.
8. Introduce Exterior Materials Inside
You can achieve rustic farmhouse living room design by being a little creative.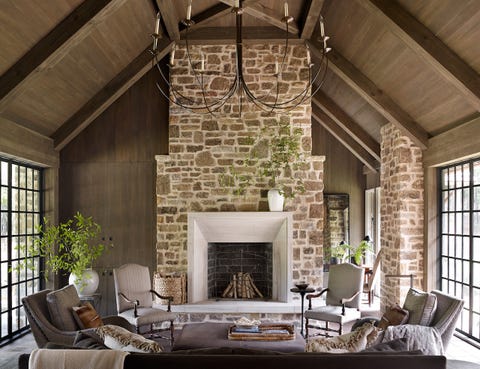 Since the fireplace is easy to manipulate without getting overboard, you can bring stones used outside around the fireplace. This will achieve the masonry style. But since you want some clean finish, you can wash it with lime or even paint it well to blend with the rest of the room.
You can also achieve the farmhouse style in your living room by introducing beautiful living plants. Some green color in its strategic corner will further enhance your living room decor.
Another home decor idea is to incorporate a jute rug in your farmhouse living room.
9. Choose Farmhouse Colors
You want to be a little bit creative and unique in your farmhouse style?
You can achieve that by avoiding the common white or gray color in your living room decor.
A fresh and light color palette is always amazing for a farmhouse living room. You can introduce pale blue into spaces through bookcase and mantle accents.
You can incorporate buffalo lumber with light wood finishes and white furniture that will result in a beautiful and serene farmhouse interior.
That's not all, if you want a farmhouse feel with a simple and uncomplicated look, you can go for warm oatmeal and light grey color.
A throw pillow with farmhouse colors would be ideal to break the monotony of the possible white or grey colors on the furniture.
10. Industrial Farmhouse Living Room Ideas
Did you know that a rustic farmhouse living room can take an industrial turn?
This is achieved by allowing the architectural details in the living room to stand out and complementing them with accessories such as modern bar stools, modern furniture, and exposed stove pipe.
To make it more of a rustic farmhouse living room, you can add farmhouse elements such as a cowhide rug, a natural wood coffee table, and throw pillows with animal print.
Ultimately, you'll have an industrial farmhouse decor which is a blend of contemporary and traditional designs.
11. Rustic Farmhouse Living Room Flooring Ideas
A farmhouse style living room decor would be incomplete without considering some floor designs.
Instead of the modern flooring options such as laminate or vinyl, you can go for the real hardwood planks. You can design your living room with wide floorboards of about 10 to 12 inches. It gives a less formal feeling since this flooring option has been around for decades.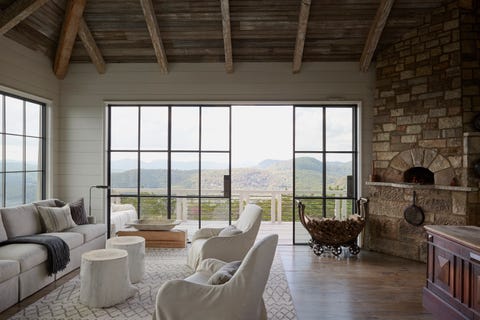 For more rustic living room decor ideas for the flooring, you can choose a distressed hardwood floor. This is a modern trend for homeowners that involves machining new wood planks to make them look weathered and aged. This achieves that old-fashioned look and country style in your living room
What if you don't like anything wooden but prefer stony decorating ideas for the floor?
You cannot go wrong with slate tile. Slate tile is a home decor option for the floor that comes in colors like rust red, charcoal gray, and dark green. To achieve a more rustic and natural look, it has a textured or matte finish.
Slate tile is an incredible farmhouse decor for areas in your living room that are exposed to water or high human traffic. This is because of its water-proof nature and extreme durability.
If you don't like the first three flooring options for your living room, you can try reclaimed hardwood floors. Unlike the distressed hardwoods, these flooring materials are made from recycled wood, reclaimed from old barn doors, flooring planks, or building materials.
Besides giving you a farmhouse style at a low cost, it's fulfilling to know you've enhanced environmental sustainability by using recycled materials.
12. Farmhouse Living Room Walls Decor Ideas
You can achieve a farmhouse feel by designing your living room walls with old barn doors. You can make sure they have the traditional look through painting. Besides that, old barn doors are awesome space-savers in a small family room and can help in partitioning on an open floor plan.
It's okay to use two barn doors, maybe around the fireplace to complement it and reinforce the farmhouse style living room.
Frequently Asked Questions (FAQs)
1. How do you decorate a farmhouse living room?
There are numerous options when it comes to farmhouse living room decor ideas. The best thing is to have a plan and know where to start. You can start with rustic accessories and wall hangings, live plants in the living room, monochromatic furnishings, hardwood flooring, and also bring exteriors inside.
You can also go for a neutral farmhouse living room home decor.
Just be creative, use farmhouse colors, animal prints, and even furnishings to accentuate the farmhouse style.
2. Is farmhouse decor going out of style?
No. Modern farmhouses are gaining popularity by the day. However, there has been a reduction in homeowners going for purely rustic farmhouse style. In most situations, there is a blend of modern accessories and elements with traditional designs.
Sometimes the challenge is, achieving a pure rustic design can be costly, and finding an interior designer to achieve it can strain you.
But that doesn't mean you cannot go for farmhouse decor if you choose to.
3. How can I decorate my living room cheaply?
You can decorate your living room cheaply at home and you can even achieve a modern farmhouse style without hiring an interior designer.
What you need is a high level of creativity and a clear plan of the style you want to have. With these two, start small. You can start with the ceiling, or the floor, or even the furniture and accessories.
You can recycle some materials in your home like an old barn door, or fabrics to decorate old chairs and have a uniquely designed living room.
Conclusion
There are many living room decor ideas that you can adopt to accomplish a modern farmhouse design. It doesn't matter whether you want to decorate the walls, flooring, furniture, and accessories or the walls.
The good thing is, rustic farmhouse style for your living doesn't have to be expensive. You can be creative and use readily available materials and recycle others.
You'll love the outcome!