Natural materials always give a feeling of calm and relaxation, and rustic design is not an exception to making your bathroom a sanctuary. Rustic design has grown in popularity due to its timeless and welcoming aesthetic, which highlights the beauty of the environment. Designing a bathroom with rustic elements can create a warm and inviting atmosphere.
You can bring your rustic bathroom ideas to life by adding reclaimed wood, rough stones, or wrought iron accents to create a unique sense of craftsmanship for any bathroom design. But if you are unsure what exactly goes into the rustic design, we've got you covered with beautiful ideas to keep you cozy and provide a hint of nature to the bathroom area.
What is Rustic Design?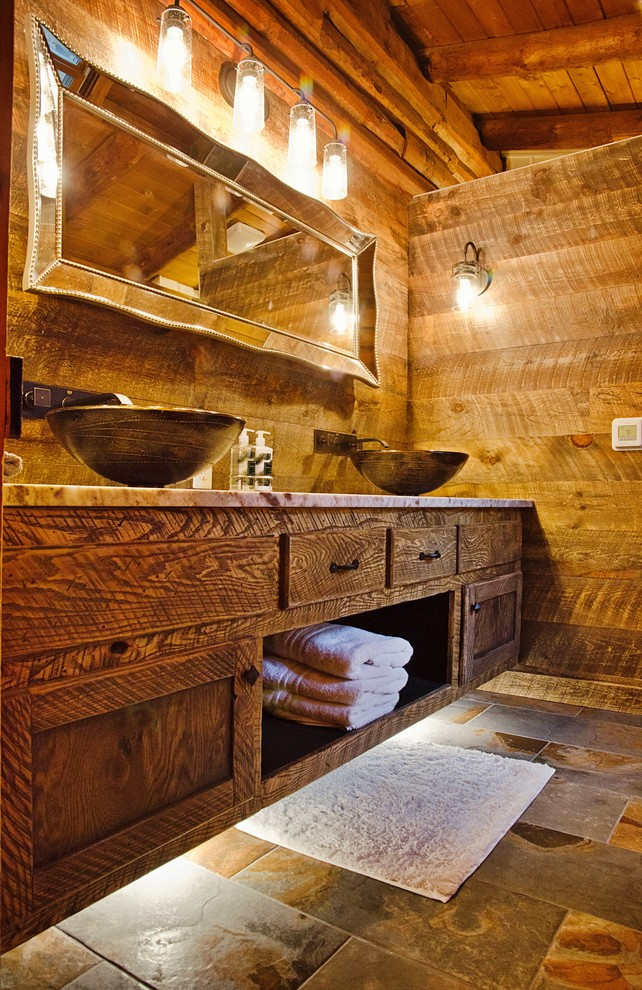 Image Source: digsdigs.com
Rustic design is a style that embraces the charm and simplicity of nature-inspired elements. It is often associated with a rural or countryside aesthetic, emphasizing natural materials, textures, and a warm ambiance.
The rustic design draws inspiration from traditional and vintage elements, showcasing the beauty of imperfections and raw finishes. Here are some key characteristics of rustic design:
Natural Materials: Rustic design incorporates natural materials such as wood, stone, and metals. These materials are often left in their natural state or with minimal processing to showcase their raw and organic beauty.
Warm Color Palette: The color palette in rustic design is warm and earthy, inspired by nature. It includes hues like browns, beiges, grays, greens, and warm neutrals. These colors create a cozy and inviting atmosphere.
Textured Surfaces: Rustic design embraces textures that add depth and visual interest. Rough-hewn wood, distressed finishes, exposed brick, stone walls, and textured fabrics like burlap or linen are commonly used to create a tactile experience.
Simple and Functional Furniture: Furniture in rustic design tends to be sturdy, simple, and functional. It often features solid wood construction with visible grain and knots. Pieces may have a distressed or weathered look to enhance the rustic charm.
Vintage and Antique Accents: Rustic design often incorporates vintage or antique accents to add character and a sense of history. Vintage signs, weathered picture frames, antique light fixtures, and repurposed items can create a nostalgic and lived-in atmosphere.
Emphasis on Fireplaces and Wood: Burning Stoves: Rustic design frequently features fireplaces or wood-burning stoves as focal points. These elements provide warmth and evoke a sense of coziness and a connection to traditional country living.
Rustic Lighting: Lighting fixtures in rustic design are typically warm and soft. They often feature wrought iron, wood, or natural materials. Chandeliers, pendant lights with Edison bulbs, and candle-style wall sconces are popular choices that contribute to the rustic ambiance.
Embracing Imperfections: Rustic design celebrates the beauty of imperfections and natural wear and tear. Distressed finishes, weathered wood, and visible knots or cracks in furniture and accents add character and a sense of authenticity to the space.
Beautiful Rustic Bathroom Ideas
Rustic bathroom layouts are characterized by their natural and charming appeal, incorporating elements like wood, stone, and vintage-inspired fixtures. Here are some beautiful rustic bathroom décor ideas to inspire you:
1. Wood Accents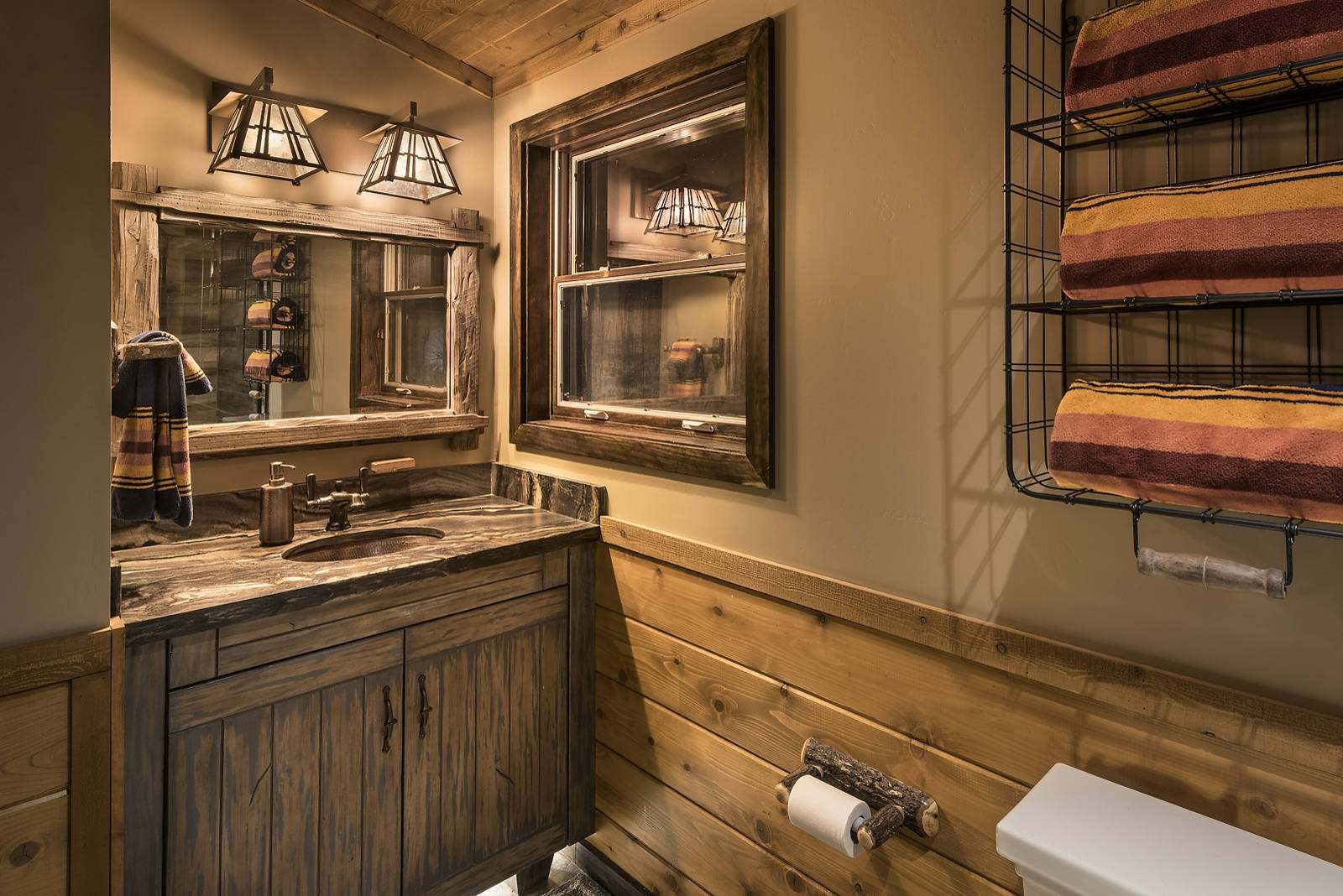 Image Source: foter.com
For the flooring, consider wide-plank hardwood in a distressed finish. The rich tones of oak, pine, or reclaimed barn wood will add warmth and character to the space. You can incorporate a herringbone or chevron pattern to enhance the rustic charm.
Choose a solid wood piece with a natural finish for the wooden vanity. Look for a design that showcases the wood's grain and knots. Consider a farmhouse-style sink with a wooden countertop to complement the vanity.
Install wooden shiplap or beadboard wood paneling to create a focal point on the walls. Alternatively, use reclaimed wood planks to create an accent wall behind the vanity or bathtub. The wood's weathered texture will add rustic flair.
2. Enhancing Both Functionality and Style with a Double Vanity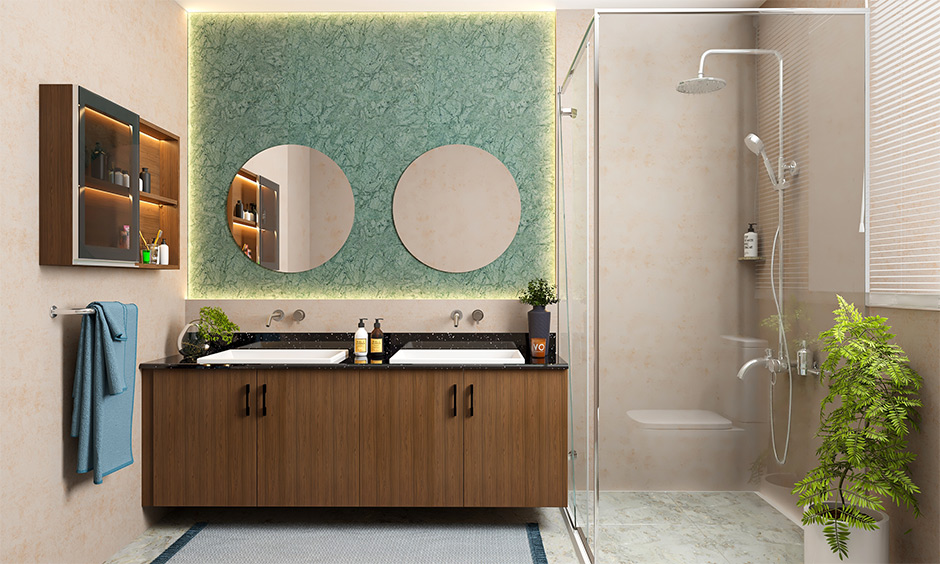 Image Source: designcafe.com
In addition to being useful in shared bathrooms, a double vanity offers a chance to improve rustic bathroom decor. Opting for a faded finish or having a double vanity made of reclaimed wood gives the room an authentic feel. The rustic style is completed by matching it with stone or copper sinks and retro-style faucets, which give the bathroom a feeling of beauty and usefulness.
3. Embracing Nature's Soul with Stone Accent Wall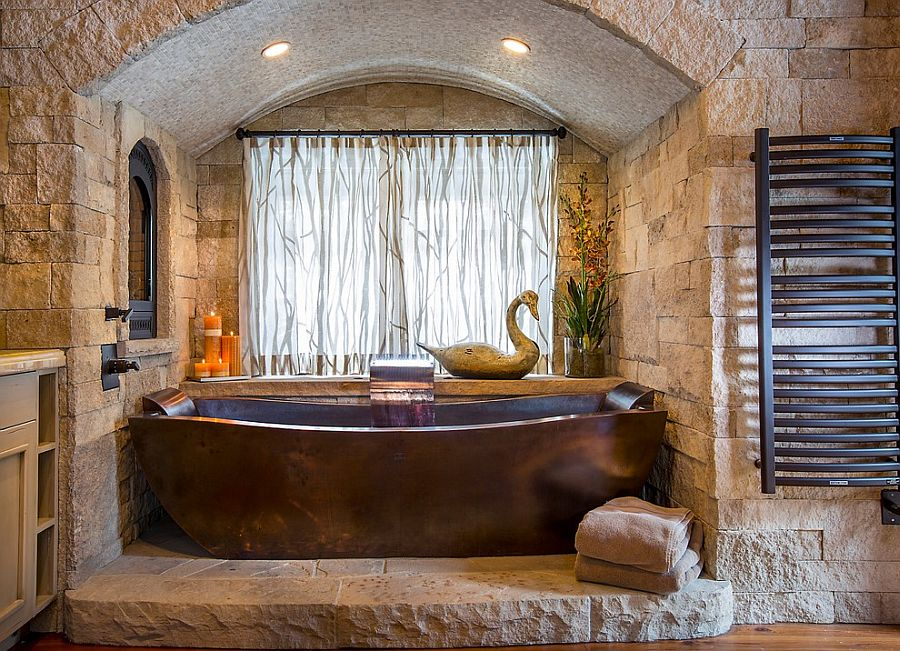 Image Source: architectureartdesigns.com
Consider using natural stone tiles, such as slate or travertine, to cover one or more walls in the bathroom. For a more dramatic effect, create a feature wall behind the bathtub or shower area using stacked stone or exposed brick. These textured surfaces will bring a rustic and earthy feel to the space.
4. Embracing Organic Beauty with Rustic Mirrors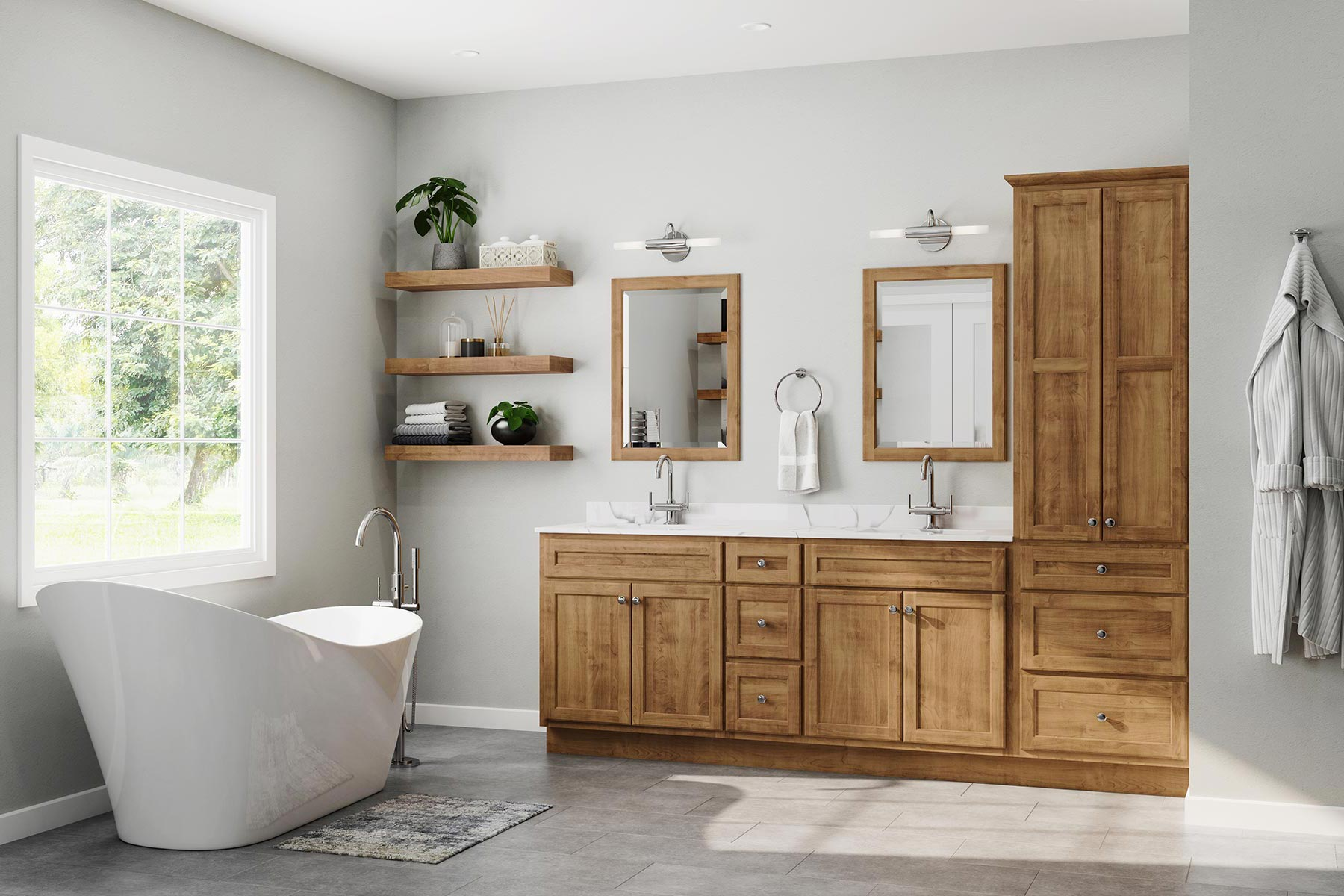 Image Source: bertch.com
Select mirrors with distressed or reclaimed wood frames. Look for unique shapes or intricate detailing to add visual interest. Consider installing a large, ornate mirror as the centerpiece above the vanity, or opt for multiple smaller mirrors with mismatched frames for a bohemian touch.
5. Vintage and Rustic Charm: Farmhouse Bathroom Sink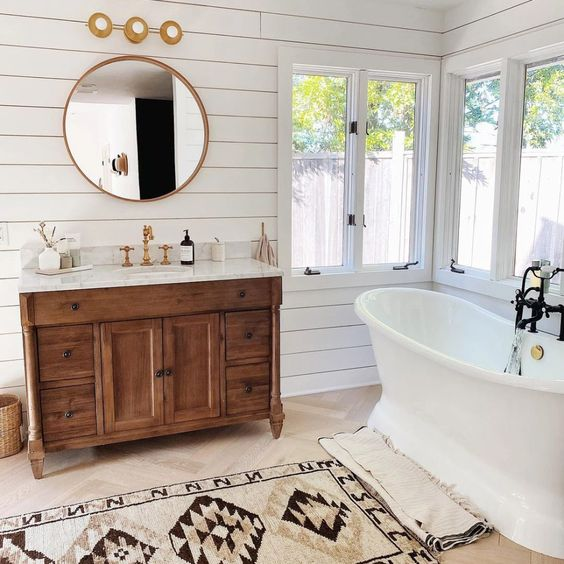 Image Source: soholighting.com
Install a farmhouse bathroom sink made of porcelain or fireclay. The large, deep basin and exposed front panel will enhance the rustic aesthetic. Pair it with a distressed wooden countertop or a natural stone surface to complete the farmhouse appeal.
6. Natural Elements: Indoor-Outdoor Living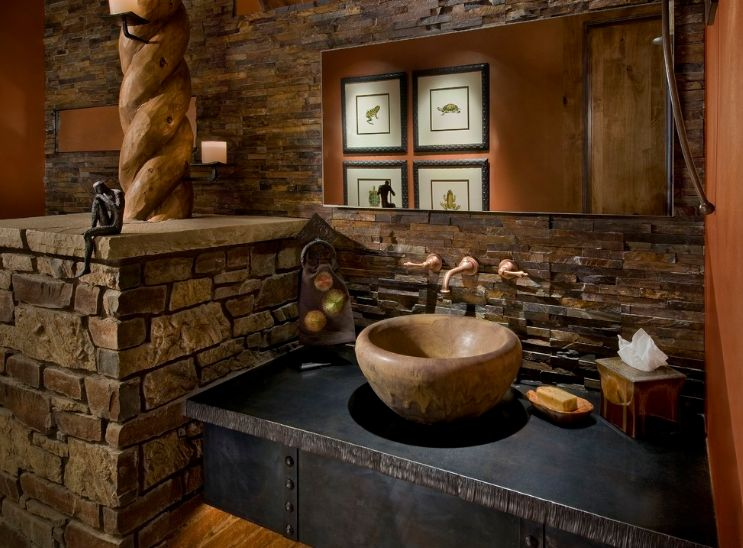 Image source: homedit.com
The finishing touches for a rustic bathroom include incorporating natural features like plants, woven baskets, and colorful branches. Greenery gives the room a sense of freshness and vitality, in addition to adding a splash of color. The juxtaposition of organic textures with wood, stone, and vintage elements produces a unified and well-balanced design.
8. Wood Walls Set Side by Side with Marble Ceiling and Floors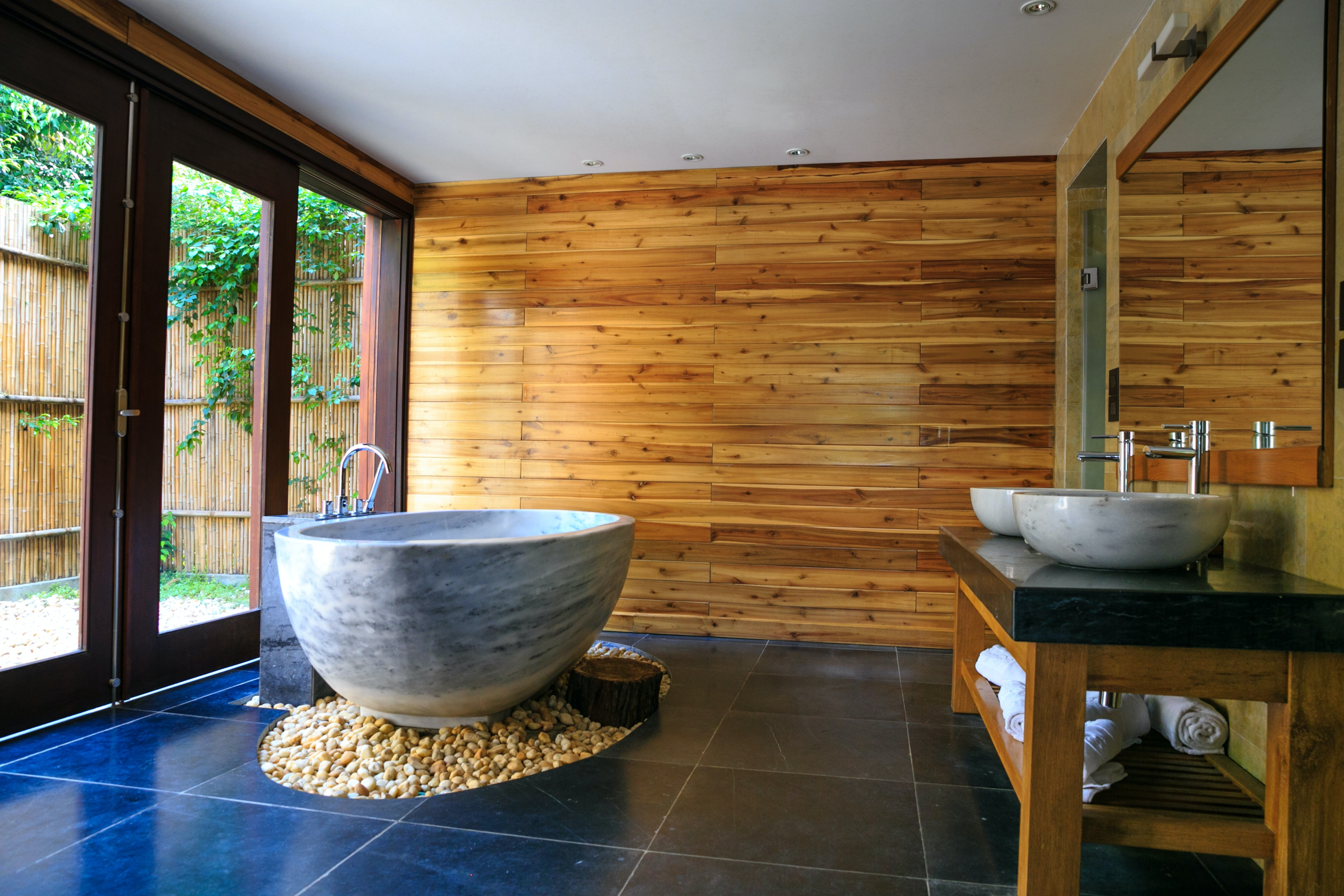 Image Source: kallista.com
Adding wood walls set side by side with marble ceilings and floors is another way to make a statement in your bathroom. Mix and match these natural materials to bring eccentric personal style to your rustic bathroom design. Again, you can add a patterned marble countertop and cover the walls with dark rustic wood to bring luxury to your bathroom.
9. Rustic Bathroom with Stone Fireplace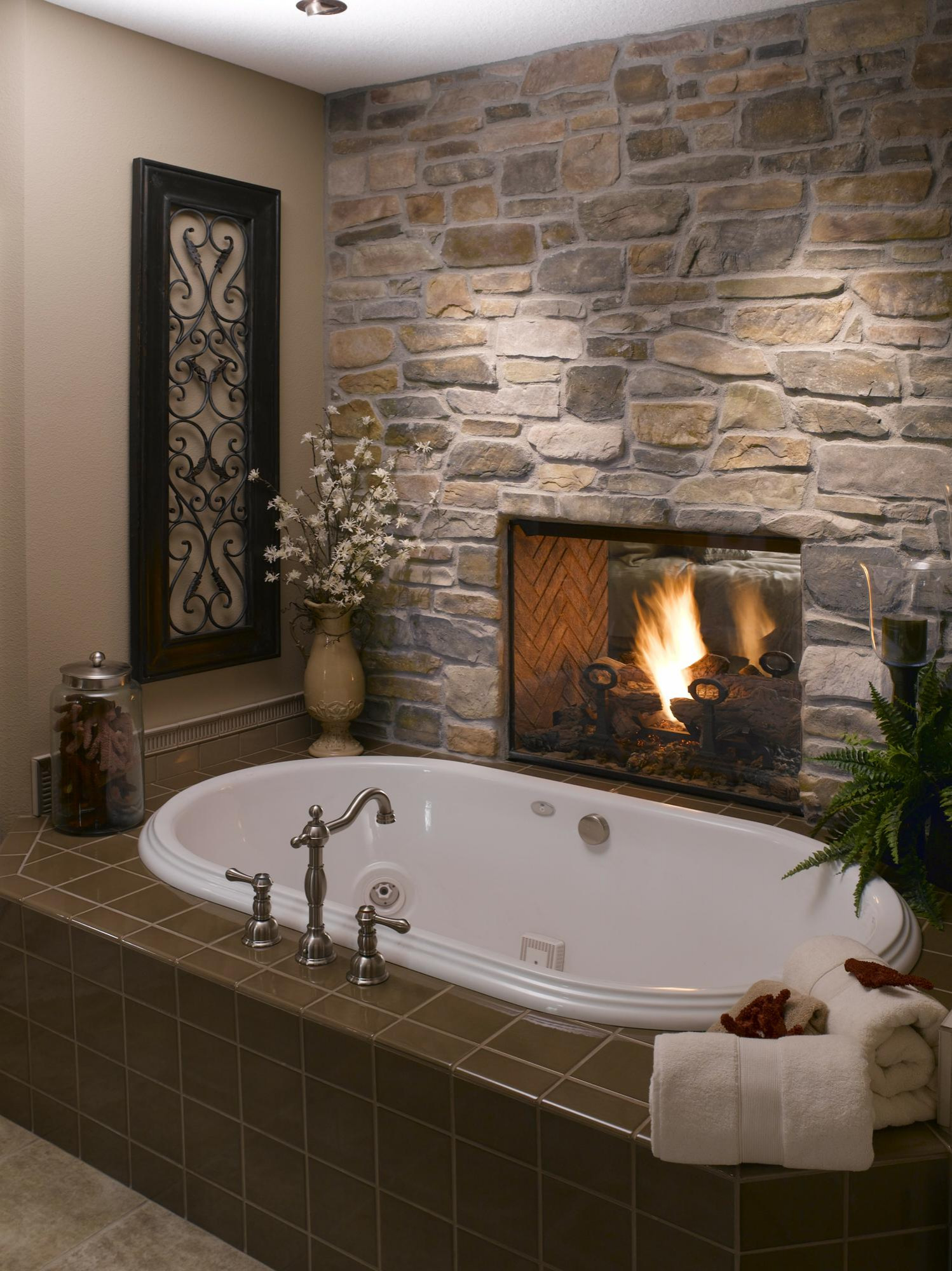 Image Source: houzz.com
Nothing beats comfort like a cozy stone fireplace that gives you a soft glow as you lounge in a bubble bath with a glass of wine. Add a fireplace to provide warmth and ambiance to your bathroom design.
10. Rustic Bathrooms with Freestanding Bathtubs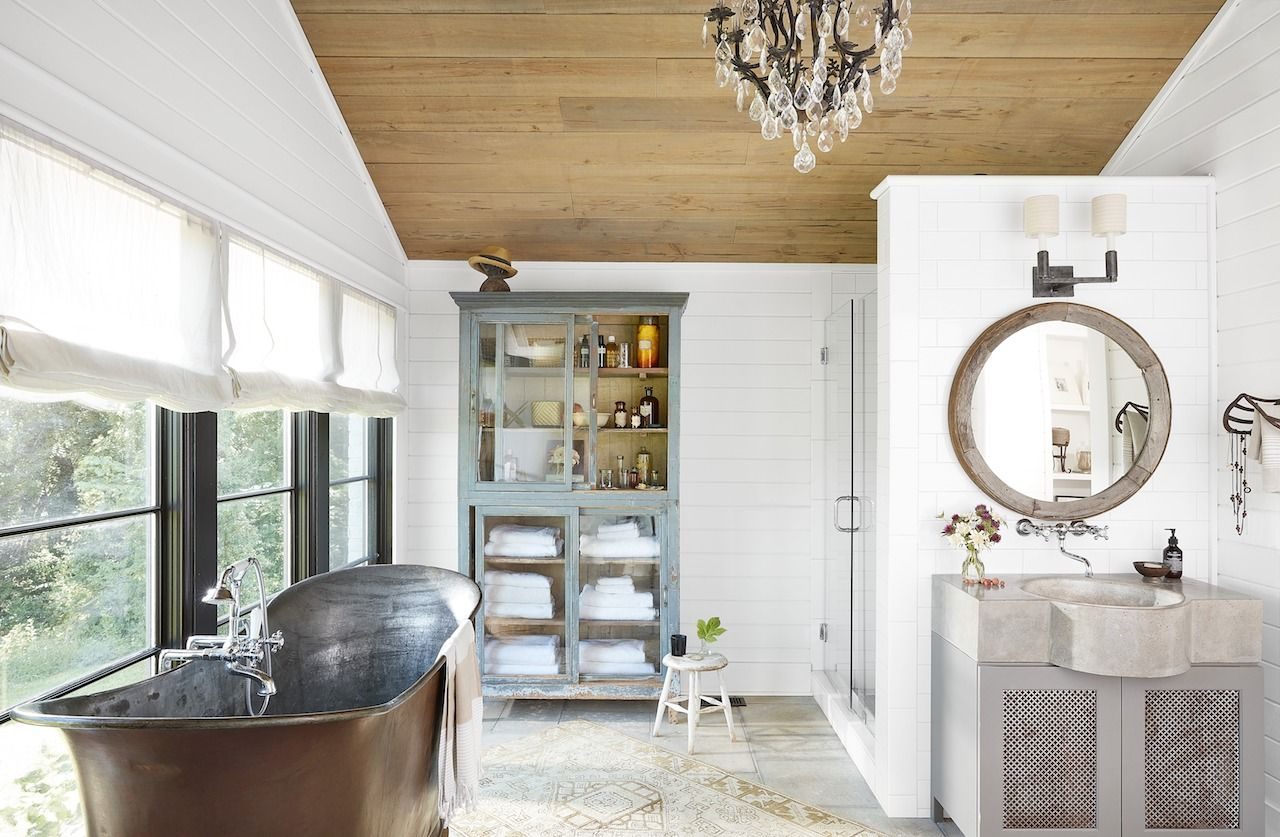 Image Source: countryliving.com
Choose a freestanding bathtub with a clawfoot design or a copper tub for an authentic rustic look. Opt for a tub with a patina finish to add character and charm. Place it in a prominent position in the bathroom, perhaps beneath a window, to create a focal point.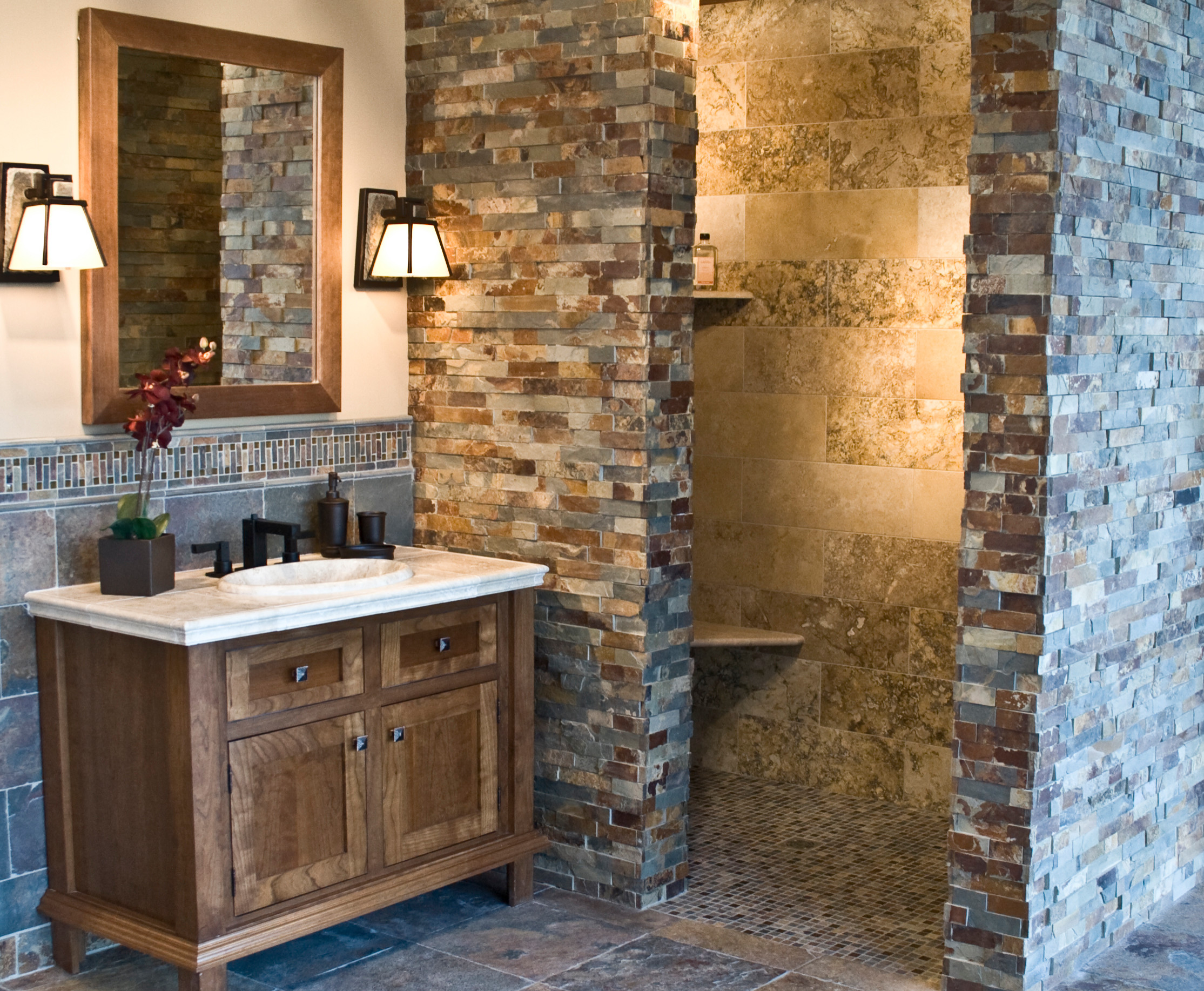 Image Source: houzz.com
People have different tastes and preferences when it comes to colors. A colorful rustic bathroom echoes the hues of natural materials such as warm woods and earth-tone paint colors. You can choose a similar color scheme paired with white walls to contrast the warm earth tones or spicy hues. Also, having white walls in a bathroom will keep the look vibrant and fresh.
If you want a 3D wall design, use faux logs to bring the rustic mountain cabin feel to your bathroom remodel.
12. Rustic Bathroom Walls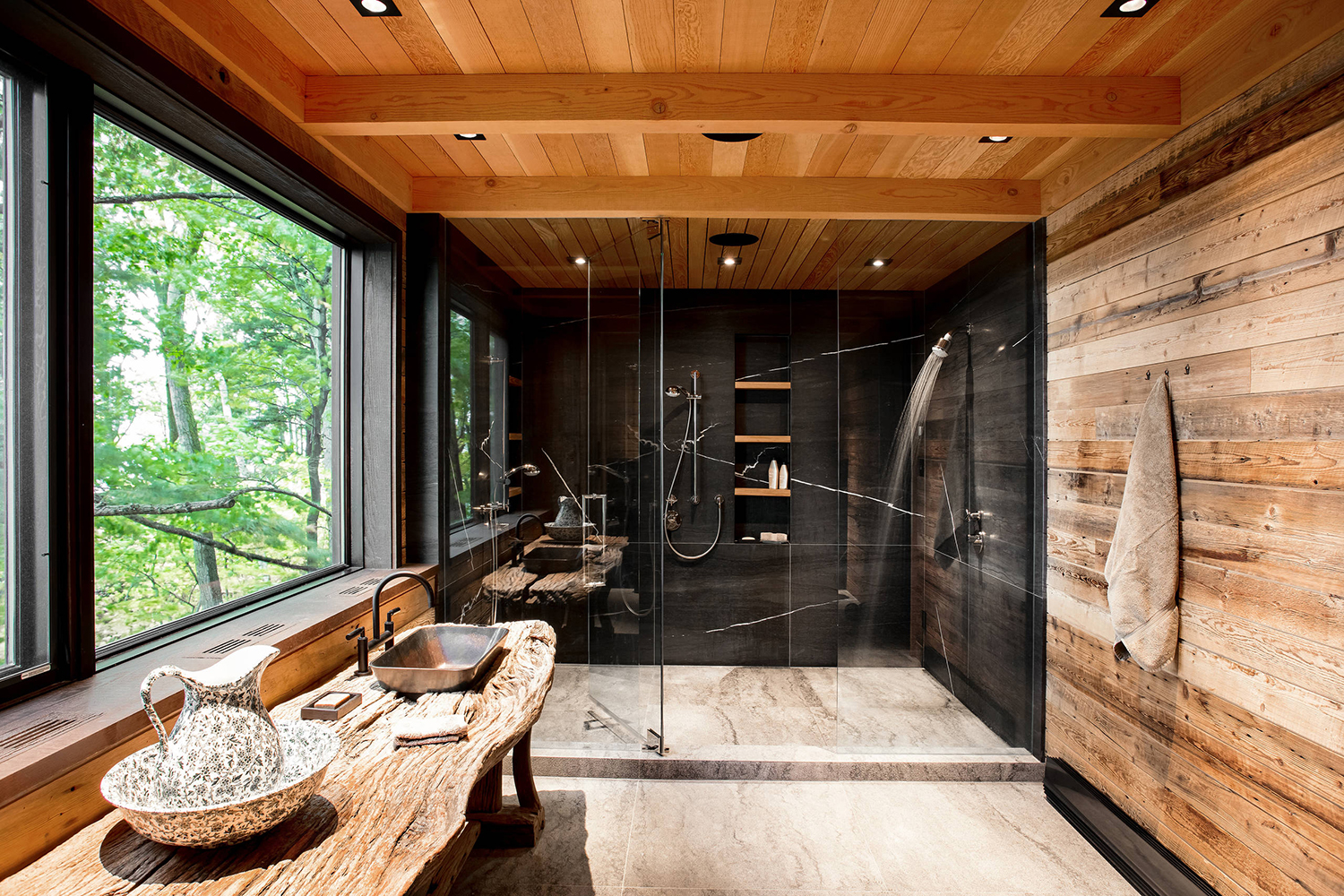 Image Source: canadianloghomes.com
Transform your bathroom wall décor with rustic bathroom wall ideas that add elegance and a cozy feel. A painted wall delivers high-impact visual appeal. Several ideas are available on how to add walls to your bathroom design.
Wood walls: opt for wood accent walls to warm up tones found in stone and reference the outdoors. You can use wood for beams, vanities, accessories, and flooring.
Natural stone is a good option as it will bring texture and color to your bathroom. You can go for soapstone, pebble tiles, or slate; they are the best choices because they are earthy and rich.
Warm hues found in nature: opt for this if you want to paint your walls. They are soothing and subdue hues that will make the bathroom feel inviting. Again, they come in different shades, from shades of chocolate to warm grays, to bring warmth, comfort, and rustic elegance to your bathroom.
13. Layering in the Lighting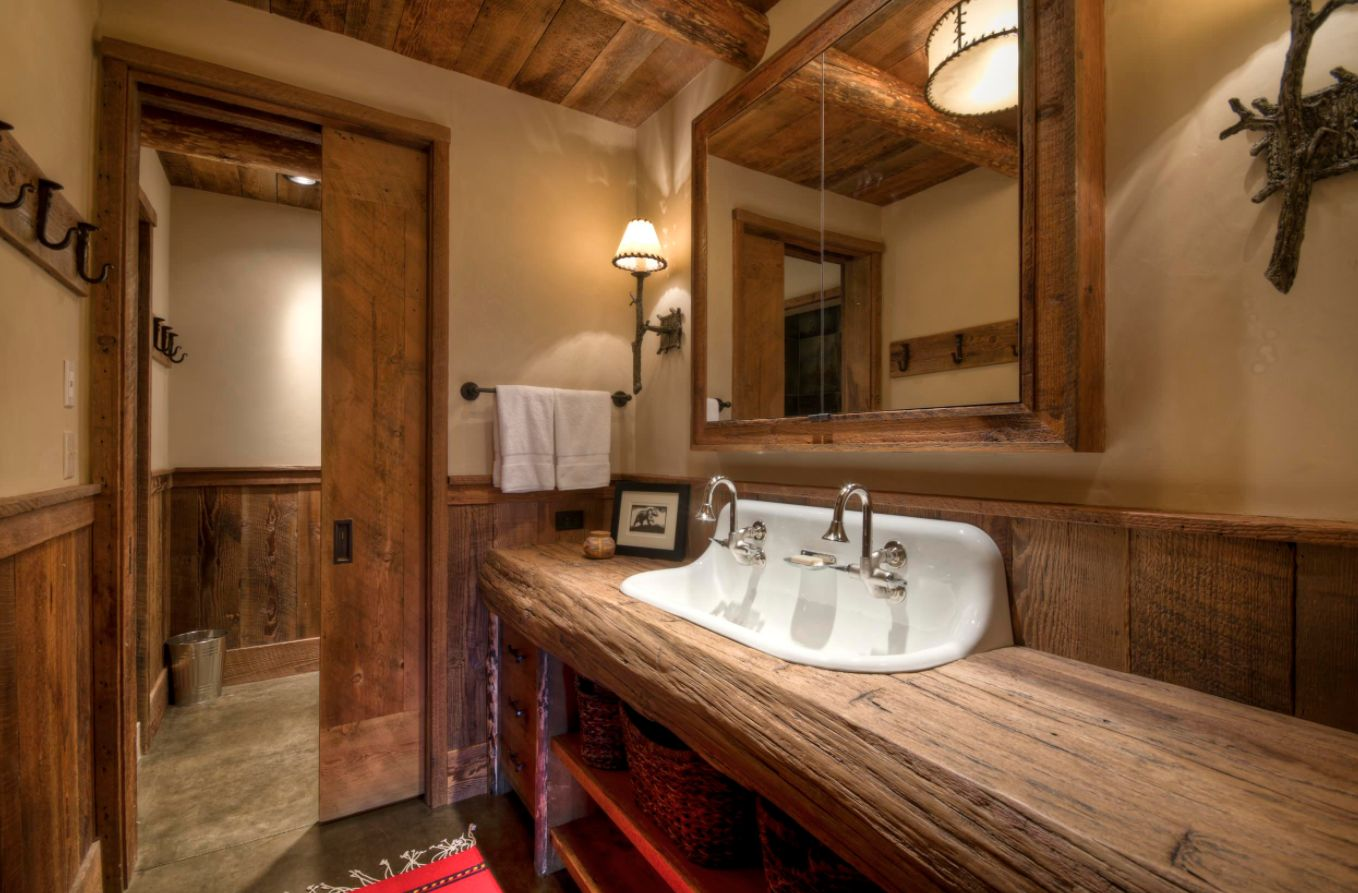 Image Source: homedit.com
Lighting is essential in a bathroom; choose lighting fixtures with a rustic or industrial design. Wrought iron sconces with candle-like bulbs can be mounted on either side of the vanity mirror, while pendant lights with exposed Edison bulbs can be hung above the bathtub or in the center of the bathroom to give it a rustic feel.
Adding task lighting is important for grooming, and accent lighting provides illumination on focal points in your bathroom that you want to capture attention. At the same time, ambient lighting casts general and broad illumination to the largest area possible.
14. Rustic Bathroom Table Décor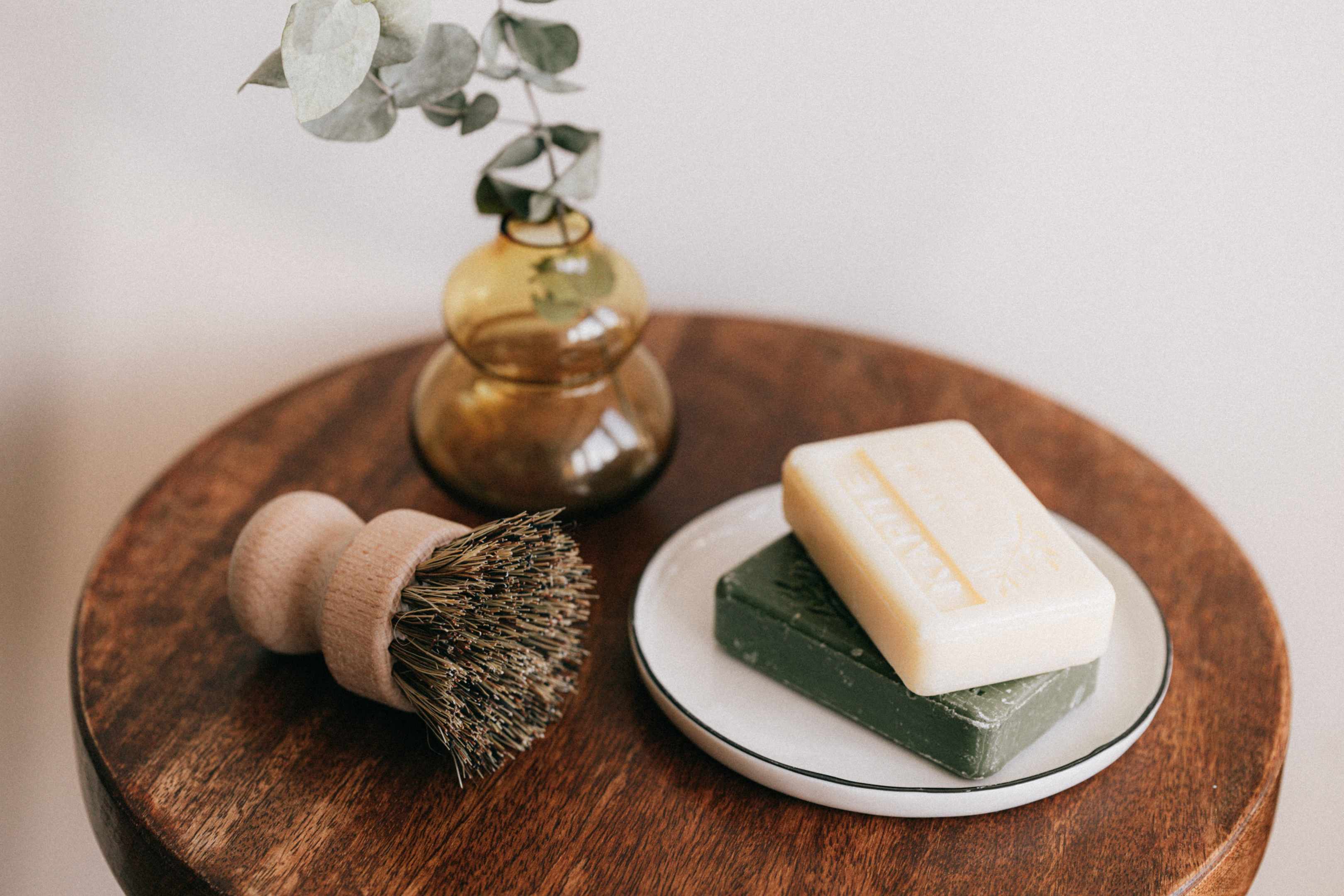 Image Source: kallista.com
This is another effective way to make a statement with art in your rustic bathroom. Add a rustic flair to your bathroom with a wooden side table next to your bathtub. Use this table to keep your amenities such as soaps, essential oils, and body brushes.
15. Reclaimed Wood Wash Basin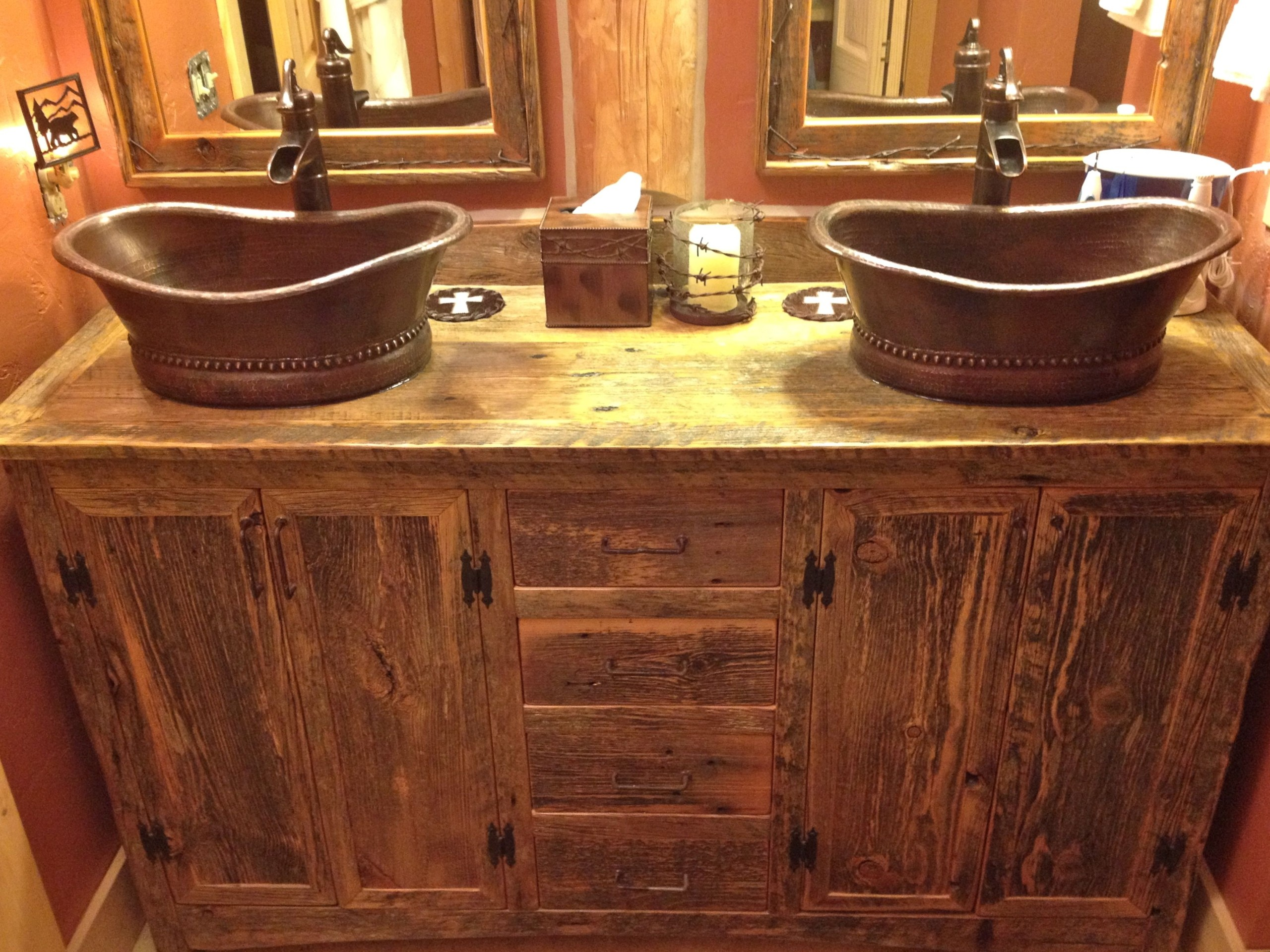 Image Source: foter.com
Create a statement piece in the luxurious oasis with a large basin made from upcycled wood. You can pair the wooden basin with gold and brass hardware to warm the dark space and make it inviting.
16. Rustic Bathroom Shelving Idea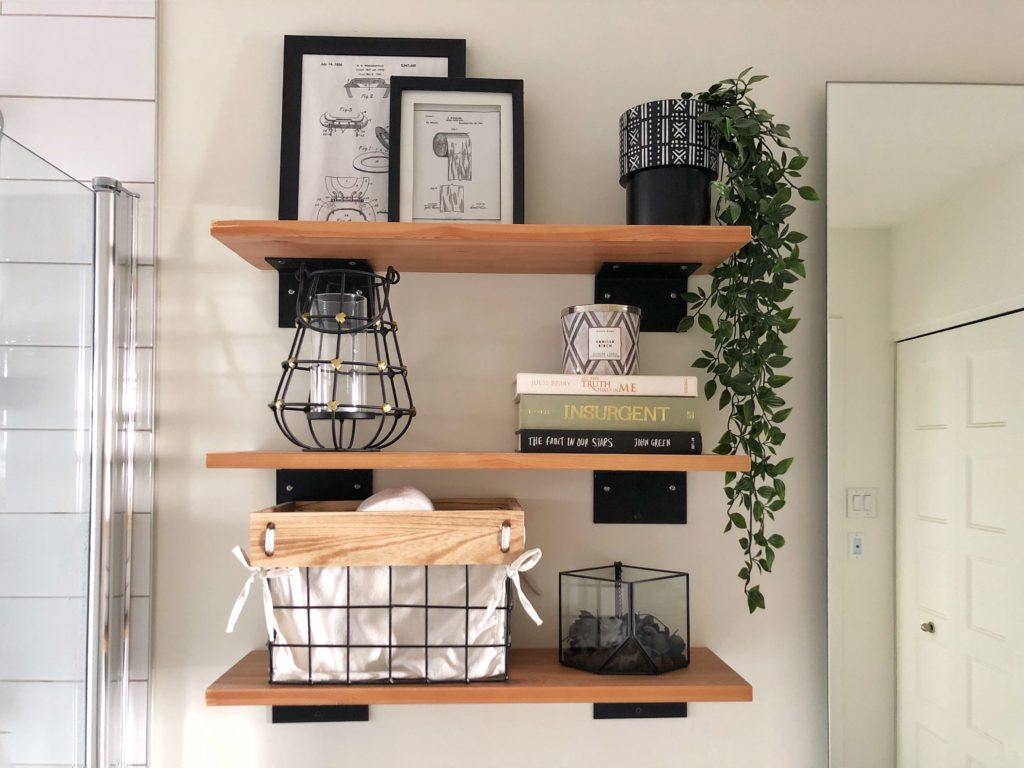 Image Source: smallspacedesigner.com
Aim for 'purpose' by making your entrance wall decor functional. Vertical wood shelves or cabinet with iron hardware can simultaneously be wall decor and serves as a stylish and functional rustic accent.
You can also replace traditional closed cabinets with open shelves made from reclaimed wood or wrought iron brackets. Install them above the toilet, next to the vanity, or on an empty wall. Display rustic decor items like woven baskets, mason jars, or vintage bottles filled with toiletries or bathroom plants.
Elements of Rustic Style Bathroom Ideas
Creating a rustic-style bathroom will make your bathroom stand out and feel cozy. Consider these elements to create a cozy feeling in your bathroom.
1. Wooden Elements
Wood is an important element in a rustic-style bathroom. It adds warmth and natural texture to your oasis. When choosing wood, it is best to consider one that suits your design. For instance, pine, oak, and cedar are the most popular in rustic-style bathrooms because they have a natural grain and texture that can complement your aesthetic.
Also, reclaimed or distressed woods can achieve a more rustic look by adding character and a sense of history to your space. Adding wood elements to your bathroom design can be simple as adding a vanity, wooden shelves, and mirror frames. Again, to create a dramatic effect, consider using wood paneling on the walls or a wooden ceiling beam to add height and interest to your bathroom.
2. Natural Stone
Natural stone is a perfect choice for a rustic bathroom because it can add a touch of elegance while maintaining the design's natural look. Also, the best benefit of using natural stone is that it is durable and resistant to water damage making it ideal for wet areas like bathtubs and showers. Natural stone elements come in different varieties, such as granite, marble, and slate, each with its unique pattern and texture.
Adding natural stone elements into your bathroom can be done in several ways, like using stone tiles for floors, showers, and walls or installing a vanity top. Also, you can add luxury and rustic charm to your bathroom with stone vessel sinks and tub surrounds. Natural stone elements will make a lasting impression in any rustic bathroom design.
3. Metal Accents
Metal accents add a touch of industrial and vintage charm to the bathroom. Metals like wrought iron and copper can give a bathroom a bold and unique look. They come in different forms, such as texture,décor, or hardware.
Also, you can create a beautiful focal point and tie the room together with metal wall décors such as antique signs and ornamental pieces. When choosing metal accents, it is crucial to make sure it matches the overall look of your sp[ace. Its main benefit is giving your bathroom a more aged and rustic look.
4. Textured or Patterned Walls
Use textured or patterned walls to add depth, interest, and character to your space. They also create a focal point and add visual interest to a simple space. Stone, brick, veneer, and wallpaper are some common textures.
These textures and patterns can be incorporated in many ways, depending on your style and preference. Consider using a feature or accent wall with textured or patterned materials or incorporating it throughout the space for a more cohesive look.
5. Antique Pieces
Antique pieces can add character, personality, and history to your space. Using pieces with a story or a connection to the past can give your bathroom a unique and one-of-a-kind feel that newer items can't replicate. 
Antique pieces come in various forms, such as old farm tools, vintage mirrors, and reclaimed wood vanities. When incorporating antique or repurposed pieces into your bathroom design, it's important to ensure they complement the outlook and feel of the space. To create a cohesive design, consider pairing these pieces with other rustic elements, such as natural stone or wooden elements.
Conclusion on Rustic Bathroom Ideas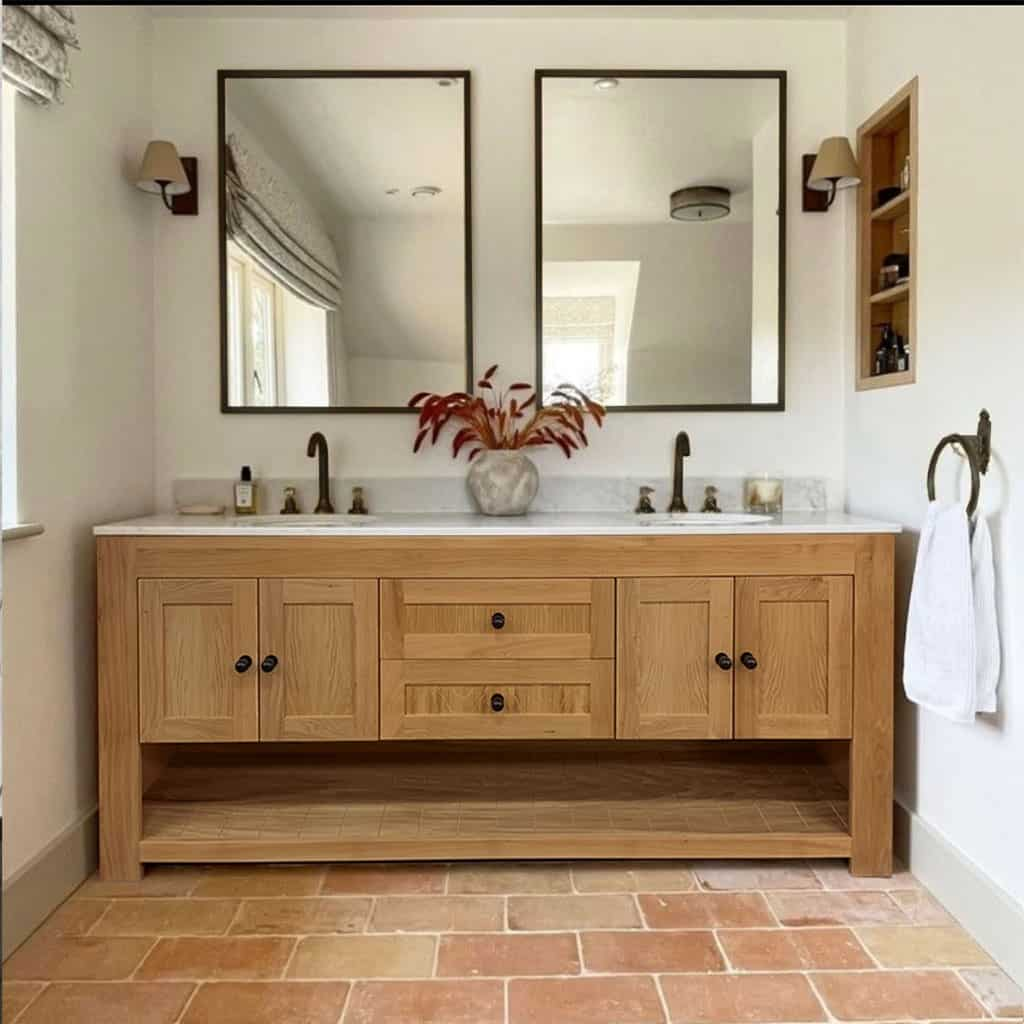 Image Source: harvey-george.com
In summary, rustic design embodies the beauty and simplicity of nature, creating warm and inviting spaces with a touch of nostalgia. This style embraces natural materials, textured surfaces, warm color palettes, and vintage accents to create a cozy and charming ambiance. From the use of raw wood and stone to the incorporation of vintage fixtures and cozy textiles, rustic design celebrates imperfections and highlights the authenticity of natural elements.
Whether it's a rural farmhouse or an urban dwelling, rustic décor brings a sense of comfort, tranquility, and a connection to the outdoors. By embracing the rustic bathroom idea aesthetic, you can create spaces that evoke a timeless and welcoming atmosphere, inviting you to relax and enjoy the beauty of nature within the comfort of your own home.