Curtains are vital in setting the right ambience. The perfect curtains not only enhance the aesthetic appeal of your bedroom but also provide privacy, regulate natural light, and contribute to a restful atmosphere. With many options available, selecting the best curtains for your bedroom can be overwhelming. In this article, we will explore the key factors to consider and present a curated list of the best curtains for your bedroom that will transform your sleeping space into a tranquil haven.
The best curtain for the bedroom on our list is the Nicetown Solid Thermal Insulated Blackout Curtains. They are made from durable polyester and a lining that blocks light, reduces noise, and counters cold temperatures. Our second-best choice is SimpleHome Ombre Room-Darkening Curtains, which only came second because they are visually captivating and add a subtle appearance to a room's overall design. The third best bedroom curtains we reviewed were the ECLIPSE Meridian Blackout Curtains, made from 100% polyester and effectively darkened our rooms.
Our Top Picks- Best Curtains for Bedroom
| | | | |
| --- | --- | --- | --- |
| | | | |
| | | | |
| | | | |
| | | | |
| | | | |
| | | | |
| | | | |
| | | | |
| | | | |
1. Nicetown Solid Thermal Insulated Blackout Curtains
NICETOWN Living Room Curtains, Blackout Draperies, Home...
ELEGANT DESIGN: 2 panels per package. Each Blackout Curtain Panel...
LENGTH ADJUSTABLE: Don't worry if this blackout curtains are a...
AMAZING MATERIAL: This unique, soft and heavy-duty blackout...
GOOD CHOICE: Perfect drapery option for anyone seeking to block...
NICE SERVICE: Decorate your home, high quality. Nice pre-sale and...
Thermal curtains can provide a valuable solution if your bedroom is not insulated. This cost-effective collection was constructed from durable polyester and featured complete lining to block out light, reduce noise, and counter cold temperatures.
Image Credits; amazon.com
I loved its thermal properties that assisted in conserving energy. They were also available in 13 sizes and 35 colors, so we found the perfect fit for our room. Moreover, we could easily clean these curtains or machine wash them.
2. SimpleHome Ombre Room-Darkening Curtains
Sale
SimpleHome Ombre Room Darkening Curtains for Bedroom,...
2 PANELS SET: Sold pair(set),each window panel measuring 52" wide...
FASHION DESIGN: Two tone Gradient Color curtain panel add a...
HIGH QUALITY AND NO FORMALDEHYDE: These modern black out window...
PRIVACY SOUNDPROOF LIGHT BLOCKING CURTAINS: Protect your...
EASY CARE: SimpleHome ombre curtains are made to last.Machine...
These gradient bedroom curtains are visually captivating while maintaining a subtle appearance. They had various options for color transition, horizontal or vertical, and the grommet top added a modern flair to their overall design.
Image Credits: amazon.com
We were impressed that we could select from an impressive range of 37 colors and patterns, with the curtains in eight sizes.
3. ECLIPSE Meridian Blackout Curtain
Sale
ECLIPSE Meridian Modern Blackout Thermal Grommet Window...
PATTERN - No more sacrificing design for capability! The perfect...
LIGHT BLOCKING - Eclipse blackout curtains block out between 98%...
ENERGY EFFICIENT - Patented Thermaback technology designed to...
EASY SET UP - A convenient Grommet top header effortlessly slides...
CARE INSTRUCTIONS - Machine washable for fuss-free upkeep in...
For a visually captivating bedroom curtain, consider this stylish option by Eclipse. The curtains were crafted from 100 percent polyester, and the blackout panels not only enhanced the darkness of our bedrooms but also boasted a convenient grommet header for effortless installation. They were available in four size variations and featured five distinct colors.
Image Credits; amazon.com
4. Exclusive Home Curtains Catarina Layered Curtain Panel Pair
Sale
Exclusive Home Catarina Layered Solid Room Darkening...
ELEGANT: The Catarina curtain panels offer both the function of a...
ROOM DARKENING OPACITY: room darkening opacity is designed for...
GROMMET TOP FOR HANGING: These two curtain panels feature eight...
SET OF TWO CURTAIN PANELS: Includes two (2) curtain panels, each...
MULTIPLE STYLING OPTIONS: The Catarina curtain panels has a...
These curtains featured a dual-panel design with blackout fabric and a sheer overlay, adding elegance. This combination not only provided optimal light-blocking capabilities but also added a sophisticated aesthetic.
Image Credits: amazon.com
The curtains could be styled in multiple ways, allowing us to pull both layers to the side or pin back only the tulle layer. We loved that we could choose from five different sizes and a wide range of curtain colors, which ensured we got the perfect fit for our space.
5. Primose Gold Curtains
Sale
PRIMROSE Gold Curtains 84 inch for Living Room Velvet...
PACKAGE:Includes 2 blackout curtains panels 52x84 inch .Each...
FABRIC:The curtains use 280gsm high quality velvet fabric.Not...
LIGHT DIMMING: Half blackout but heavy enough to shading light,...
ENERGY SAVING: This semi black out curtain can block out the sun...
CARE INSTRUCTIONS - Machine washable .Low temperature drying, Do...
If the rest of the room features neutral and muted colors, incorporating an accent color can effectively unify the space. These vibrant and striking gold curtains were crafted from velvet and served their purpose perfectly.
Image Credits: amazon.com
They offered the flexibility of two distinct rod pocket sizes, allowing us to personalize the top hem according to our preference. With 18 opulent shades and seven sizes available, we choose the perfect fit for our needs.
6. Lush Decor Lydia Ruffle Window Curtains
Sale
Lush Decor Lydia Curtains Ruffle Window Set for Living,...
Lush Décor Lydia window panel set is the ideal curtain for your...
Delicate, elegant window curtain panels made of a soft, 100%...
These gray curtains measure 84"H x 40"W and add a dreamy...
Curtains are not lined, but allow for some privacy and have tie...
Due to the delicate nature of the design, this item is dry clean...
Introduce a chic and contemporary atmosphere to your bedroom with these ruffle-top curtains. While they don't have a lining, they struck a balance between privacy and allowing natural light to filter through our window gently.
Image Credits: amazon.com
The delightful tie ribbons adorning the top added a charming touch, completing the overall aesthetic. Available in five vibrant colors and three different sizes, they also had options to suit our preferences.
7. Melodieux Luxury Curtains with Pom Poms
Melodieux Luxury Pom Poms Velvet Curtains for Bedroom...
Unique Design: Soft velvet fabric with luxury pompoms
Package Contents: 2 of 52"W x 84"L Curtain Drapes (1 Right and 1...
Function: Reduce 80% of sunlight, block out 99% of UV rays,...
Rod Pocket Top: Constructed with 1.7" inner diameter rod pocket,...
Care Instruction: Machine wash with laundry bag or dry clean....
These opulent bedroom curtains are a dream come true for those with a maximalist style, showcasing crushed velvet in rich, vibrant colors adorned with decorative pom-pom trim and wide tieback panels. Although they lack lining, the fabric's weight was substantial enough to effectively eliminate almost all incoming light.
Image Credits: amazon.com
To enhance their luxurious appearance, we added a layer of a sheer curtain behind them, as depicted in the photo. These bedroom curtains possessed a thick material that ensured the obstruction of a significant portion, if not all, of the natural light.
8. Owenie Sheer White Curtains
OWENIE Sheer White Curtains, Sheer Curtains 84 inch...
HIGH TWIST YARNS: OWENIE sheer curtains are made by premium...
EASY to INSTALL & DECORATE: OWENIE Sheer Curtains with top dual...
WIDELY TO USE: Voile sheer curtain is versatile to go with any...
SOLD AS 2 PANELS: Each package includesp 2 pieces sheer curtains...
EASY TO CARE: Good quality finishing will withstand years of use...
The primary purpose of sheer bedroom curtains is to enhance aesthetics rather than serve practical functions like privacy and light-blocking. However, their elegant appearance remained consistent, especially when we layered them with room-darkening curtains using a double hanging rod.
Image Credits: amazon.com
They were crafted from lightweight yet durable polyester fabric and featured dual rod pockets that allowed for a ruffled or neater look, depending on whether we hang them with or without a ruffle on top. We loved that they came in various options, including 14 colors and eight sizes to suit our preferences.
9. Ambesonne Abstract Window Curtains
Ambesonne Abstract Window Curtains, Multicolored...
Your purchase will help victims of recent major earthquakes in...
2 Panel set - Each Panel measures 28" Wide x 84" Long. Set...
MADE FROM - %100 brushed soft microfiber fabric. Lightweight room...
FEATURES - 2.5 inch rod pocket. For living room, bedroom, dining...
MACHINE WASHABLE - On cold delicate cycle, tumble dry on low....
If you're searching for vibrant graphic prints for your bedroom curtains, Ambesonne offers a collection worth exploring. This assortment had a remarkable selection of 42 options showcasing abstract and artistic designs.
Image Credits: amazon.com
They were crafted from microfiber fabric, offered a luxurious softness, and were conveniently machine-washable. However, it is worth noting that they are available in just three sizes.
Bedroom Curtain Ideas To Style Your Space
When selecting bedroom curtains, consider the size and shape of your windows, the amount of natural light you want to allow in, and your bedroom's overall theme and color palette. Curtains play a significant role in setting the mood and enhancing the overall aesthetic of your space. Here are some bedroom curtain ideas to help you style your space.
1. Sheer Elegance
Image Credits: amazon.ca
Sheer curtains are popular for bedrooms, creating an ethereal and romantic atmosphere. These curtains are made from lightweight fabrics like chiffon or voile, allowing soft natural light to filter through while maintaining privacy. Sheer curtains can be paired with heavier or best bedroom blinds for added functionality.
2. Bold and Vibrant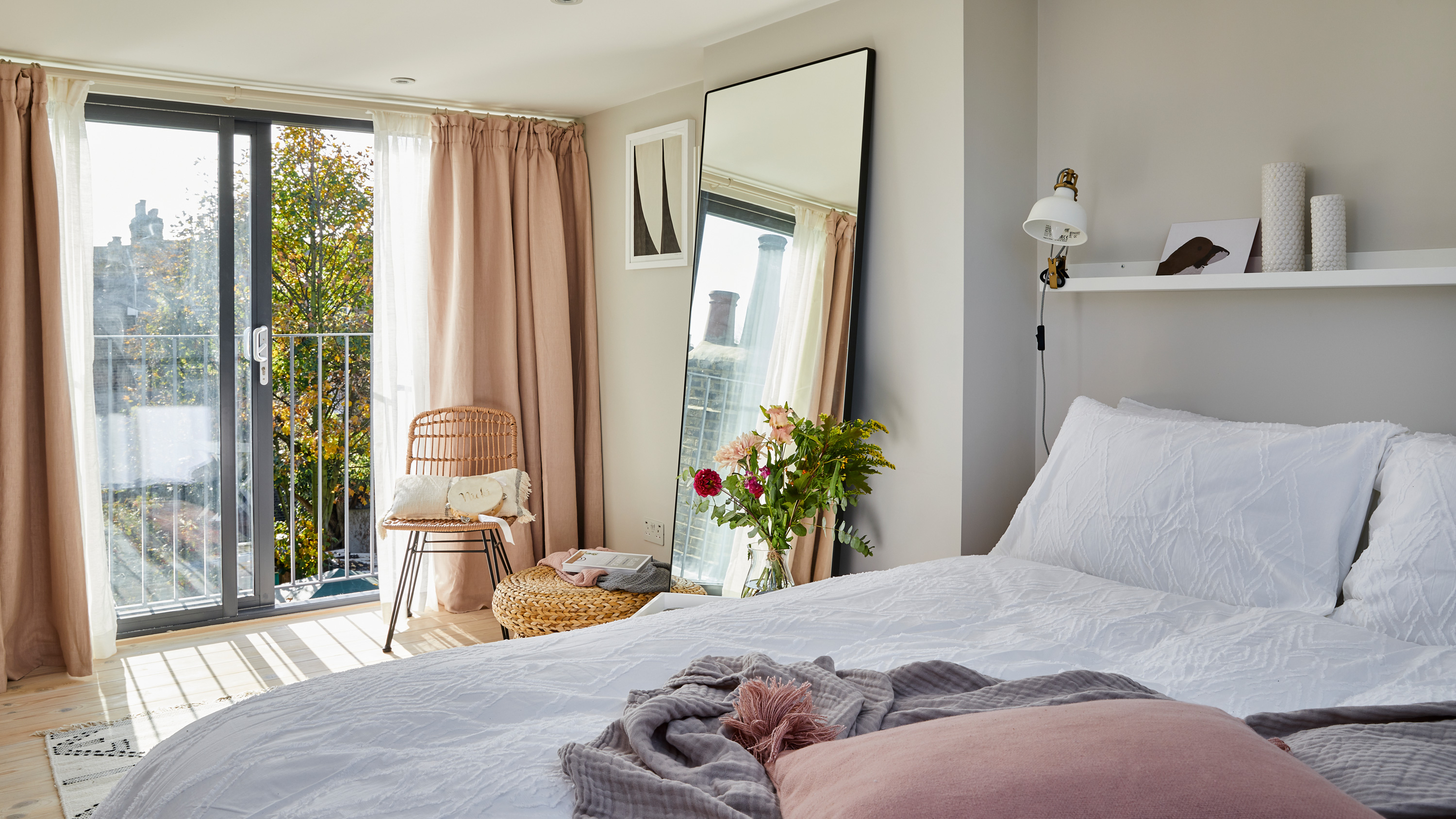 Image Credits: realhomes.com
Choose bold and vibrant colors or patterns if you want to make a statement with your bedroom curtains. This works particularly well in bedrooms with neutral or minimalistic decor, as the curtains become a focal point. Choose curtains with vibrant hues or eye-catching patterns to inject energy and personality into your space.
3. Floor-to-Ceiling Drama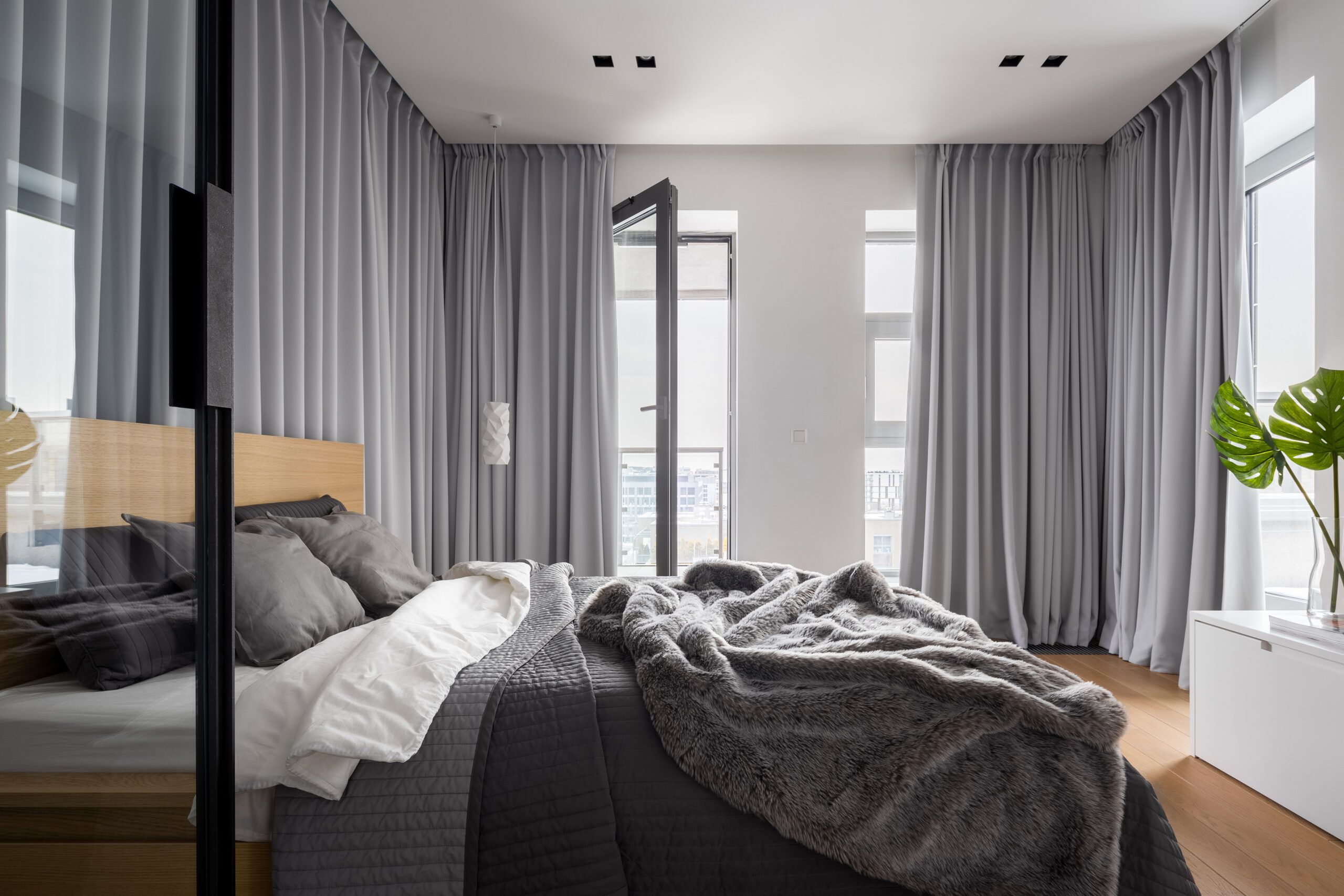 Image Credits; thisoldhouse.com
Installing floor-to-ceiling curtains instantly adds drama and elegance to a bedroom. This style elongates the room, making it appear more spacious and grand. For a luxurious feel, use heavyweight fabrics like velvet or silk. Alternatively, light and flowing materials create a dreamy and whimsical ambiance.
4. Layered Textures
Image Credits: homedit.com
Layering different curtain textures adds depth and visual interest to your bedroom decor. For example, you can combine sheer curtains with heavier drapes or add a valance. This layering effect not only enhances the aesthetic appeal but also provides versatility in terms of light control and privacy.
5. Natural and Organic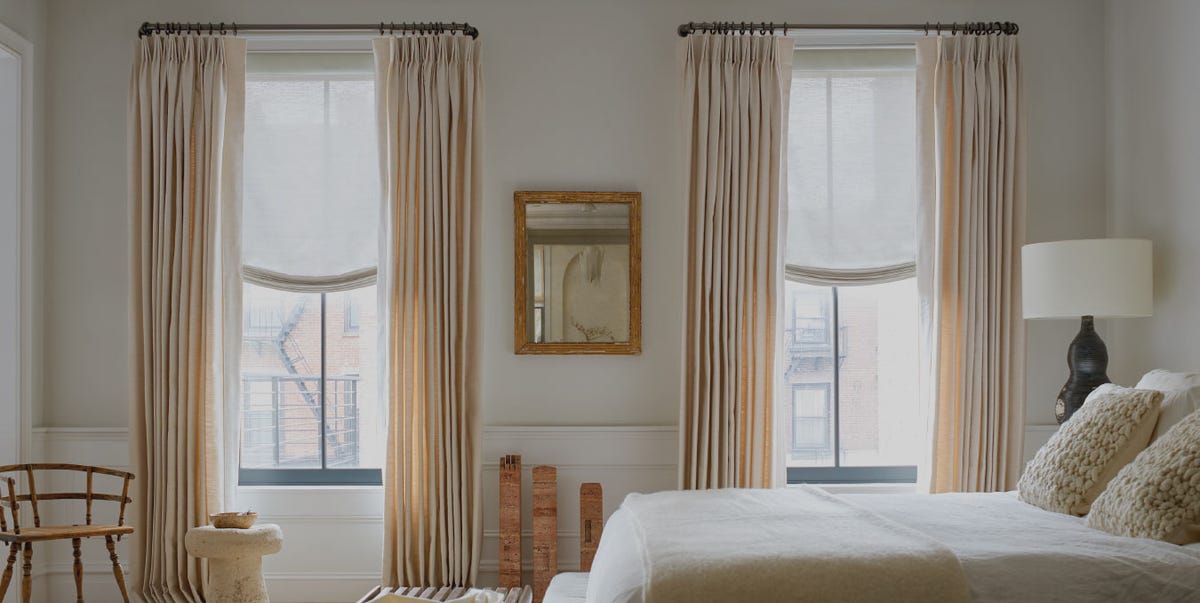 Image Credits: goodhousekeeping.com
Incorporating natural materials into your bedroom curtains brings a sense of warmth and earthiness. Linen, cotton, and bamboo are popular for a relaxed and organic feel. These fabrics often have a light and breezy texture, making them suitable for bedrooms with a natural or rustic theme.
6. Blackout Functionality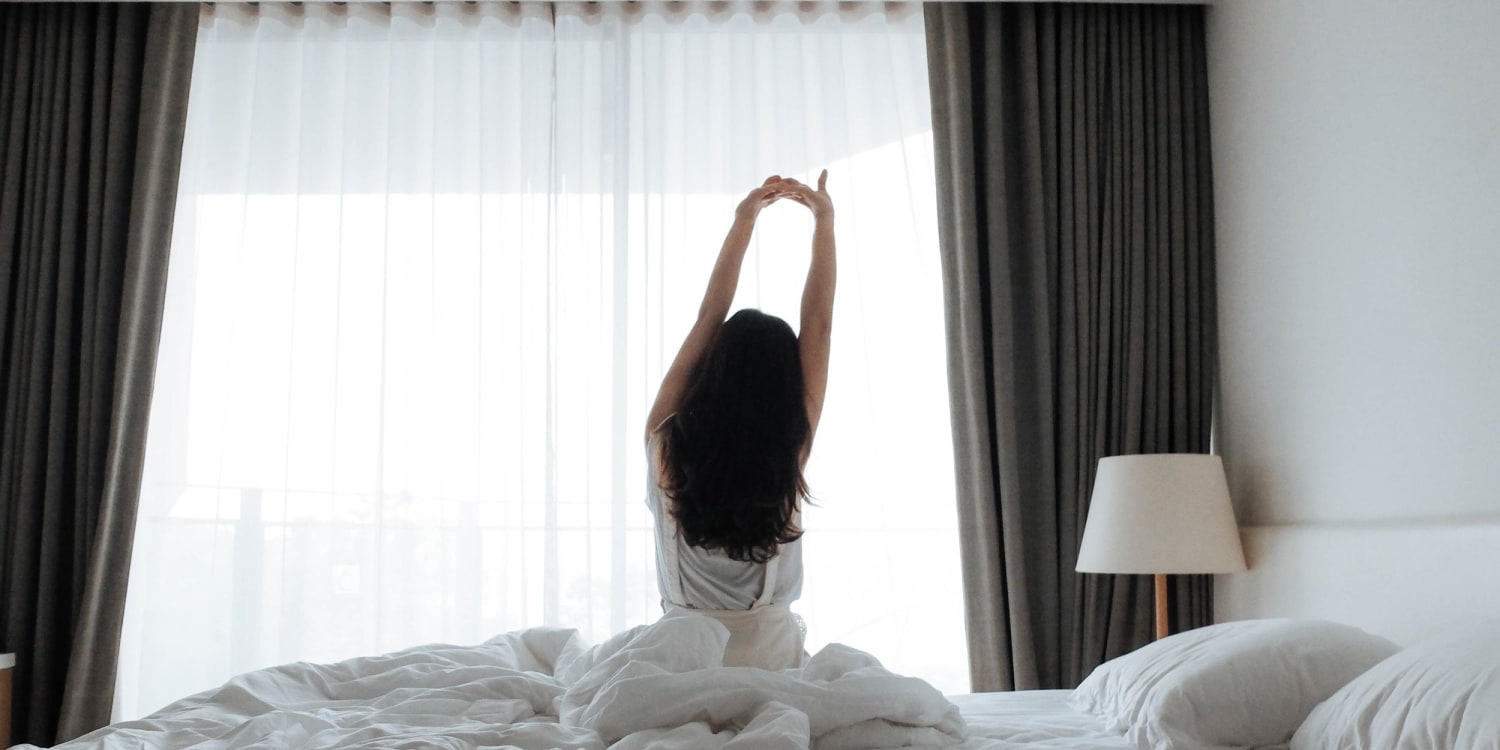 Image Credits: today.com
Consider blackout window curtains if you prefer a completely darkened room for better sleep or to block out external light sources. These curtains have a special lining that effectively blocks sunlight, making them ideal for bedrooms exposed to streetlights or early morning sun. The best blackout curtains are available in various styles and colors to suit your decor.
7. Playful Prints
Image Credits: spiffyspools.com
Adding curtains with playful prints or patterns can be a fun way to express your personality in the bedroom. Depending on your style, you can choose from various options, such as floral designs, geometric patterns, or abstract motifs. Consider your bedroom's existing color scheme and theme when selecting prints that harmonize with the overall decor.
8. Bohemian Vibes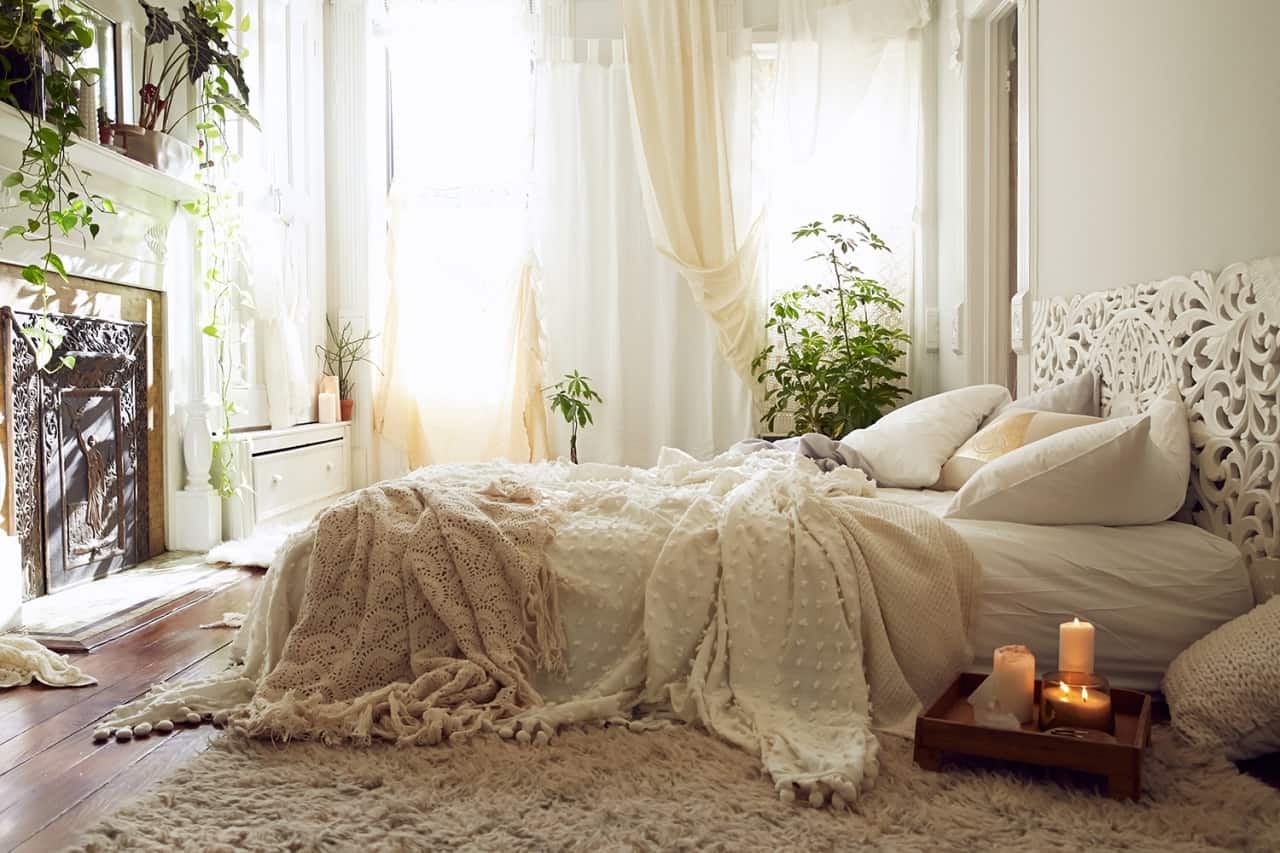 Image Credits: trendir.com
For a bohemian-inspired bedroom, incorporate curtains with boho elements. Look for curtains with tassels, macramé details, or fringe accents. These textures and embellishments bring a relaxed and eclectic vibe to the space, adding visual interest and a touch of free-spirited charm.
9. Minimalist Simplicity
Image Credits: istorage.com
If you prefer a clean and uncluttered look, opt for curtains with minimalist simplicity. Choose solid-colored curtains in neutral shades like white, beige, or gray. These curtains blend seamlessly with a minimalistic aesthetic, creating a serene and calming environment. Focus on clean lines and understated elegance when selecting the curtain style.
10. Romantic Canopy
Image Credits: thespruce.com
Creating a romantic canopy effect with curtains adds a touch of luxury and intimacy to your bedroom. Hang curtains from the ceiling around your bed to create a cozy and private space. Choose lightweight and sheer fabrics that gently drape, evoking a sense of romance and creating a dreamy atmosphere.
Factors To Consider When Selecting the Best Bedroom Curtains
When selecting the best bedroom curtains, several factors must be considered to ensure they match your style, meet your needs, and create a comfortable environment for rest. Here are some tips to help you choose the right bedroom curtains:
1. Purpose and Function
If privacy is a priority, choose curtains with a heavier fabric or add a privacy lining. Opt for sheer or light-filtering curtains to control the natural light entering the room. Alternatively, blackout curtains are an excellent choice if you need complete darkness for quality sleep.
2. Fabric and Texture
Linen curtains with lighter fabrics like cotton provide an airy and casual look while allowing some light to filter through. They work well in bedrooms with ample natural light. Heavier fabrics like velvet, brocade, or thick polyester blends provide better insulation, light blocking, and sound absorption. These are ideal for bedrooms where light control and privacy are paramount.
3. Color and Pattern
Neutral colors like white, beige, or gray are timeless and versatile, blending well with various decor styles. They create a serene and calming atmosphere. If you prefer a more vibrant or dramatic look, consider patterned curtains, prints, or bold colors that add visual interest to the space. Just ensure that the chosen color and pattern harmonize with the rest of the room's color palette and decor.
4. Curtain Length
Floor-length curtains create an elegant and formal look, elongating the space and adding a touch of luxury. They work well in rooms with high ceilings. If you prefer a more casual and contemporary feel, consider curtains that hang just below the window sill or midway between the window sill and the floor. Make sure the length doesn't interfere with furniture or heating vents.
5. Curtain Header and Hanging Style
Curtain rod headers are a classic and simple option for lightweight fabrics. Grommet headers provide a contemporary look and allow the curtains to slide smoothly along the rod. Tab top headers offer a casual and relaxed vibe. Additionally, you can use curtain rings with clips or hooks for a more customized and versatile hanging style.
6. Light Control
Light control is crucial in the bedroom, as excessive light can interfere with sleep quality. If you need a dark sleeping environment, consider blackout curtains or curtains with a blackout lining. These are specifically designed to block out light and provide maximum darkness. Be sure to check the light-blocking capabilities of the curtains before purchasing them, as some curtains labeled as blackout may still allow some light to filter through.
7. Maintenance
Some fabrics are machine washable, while others may require professional cleaning. If you prefer low-maintenance options, look for curtains that are easy to clean, such as those made of synthetic materials or fabrics that can be spot cleaned. Also, consider the fabric's durability, especially if you keep the curtains for long.
8. Budget
Setting a budget for your curtains helps narrow your options and prevents overspending. Curtains come in a wide range of prices, from affordable to high-end. Determine your budget beforehand and explore options within that range. Remember to consider the quality and durability of the curtains alongside the price.
9. Samples and Swatches
If possible, obtain samples or swatches of the curtain fabric before making a final decision. This allows you to see and feel the fabric in person and assess its color accuracy, texture, and quality. It also allows you to compare it with other elements in your bedroom, such as wall color, furniture, or bedding. Samples or swatches can be ordered from curtain retailers or obtained from local stores, helping you make a more informed choice.
10. Installation
Some curtains include hardware, while others require you to purchase them separately. Ensure you have the necessary tools and resources for proper installation. If you're unsure about installing the curtains yourself, it's advisable to seek professional help to ensure they are hung securely and correctly.
Frequently Asked Questions On Best Curtains For Bedroom
1. How many curtain panels should you hang per rod?
The number of curtain panels to hang per rod depends on the desired fullness, fabric width, and personal preference. As a general guideline, hanging two curtain panels per rod is preferred for a standard fullness. However, if you prefer a more gathered or luxurious look, you can increase the number of panels accordingly.
2. How do I hang curtains in my bedroom?
To hang curtains in your bedroom, start by measuring the window width and determining the desired curtain length. Install a curtain rod above the window frame, ensuring its level. Attach curtain rings or hooks to the curtains, then hang them on the rod. Adjust the curtains for proper curtains drape.
Whether bedroom curtains should touch the floor depends on personal preference and the desired aesthetic. Some individuals prefer curtains that barely touch the floor, while others prefer them to pool on the floor for a more dramatic look. Practical considerations such as the length of the curtains and the presence of pets or children should also be considered. Ultimately, it's a matter of personal style and practicality.