Gaudi architecture is one of the most expressive forms of architecture. It derives inspiration from anarchic geometric forms of nature with a hint of religious themes. Gaudi architecture is named after Antoni Gaudí, a Spanish architect who was the pioneer and practitioner of Catalan Modernism.
We have highlighted some of the characteristics of this type of architecture, and some of the Gaudi buildings that have been declared UNESCO world heritage sites.
History of Gaudi Architecture
As mentioned above, Gaudi's work testifies to his eclectic and rugged nature. Of course, his style greatly contributed to the field of architecture. Gaudí buildings derive inspiration from the Neo-Gothic movement and organic shapes and styles. The architect's work championed contemporary culture due to his use of unique forms to manipulate nature-based forms to create flowing and extravagant structures.
Due to this architectural style, Antoni Gaudí devoted his life to buildings that are today considered to emulate free-flowing recognizable forms and features, that incorporate color. While his work was considered to extrapolate from nature, oftentimes, it also ventured into the imaginary. This showcased his personal style. Some of his works that still live reflect an inquisitive mind that questioned the necessity of some architectonic solutions.
In his lifetime, Gaudí's works spoke for themselves. He proposed many projects and impressed the right people. His work differed greatly from other architects of his time. In 1878 he managed to showcase his work at the Paris fair. He is best known for his Catalan Modernism architectural style.
Nearing the end of his life, Gaudí stopped all his other projects and focused solely on the Sagrada Familia. Unfortunately, Gaudí died without seeing the end of his work.
Below, we have explained some of the characteristics of his architectural designs for a better understanding of Antoni Gaudi's work.
Characteristics of Gaudi Architecture
Most of Antoni gaudí's work can be found in Southern Spain, in the city of Barcelona. Here are some major characteristics of Gaudi architecture:
1) Religious Imagery
Being a devout Catholic himself, Antoni Gaudi expressed himself through religious imagery in his work. An interesting fact is due to his staunch faith and expression in depicting religious and biblical imagery, he was fondly referred to as "God's architect." The use of religious imagery was consistent with all his work depicting at least one important biblical figure.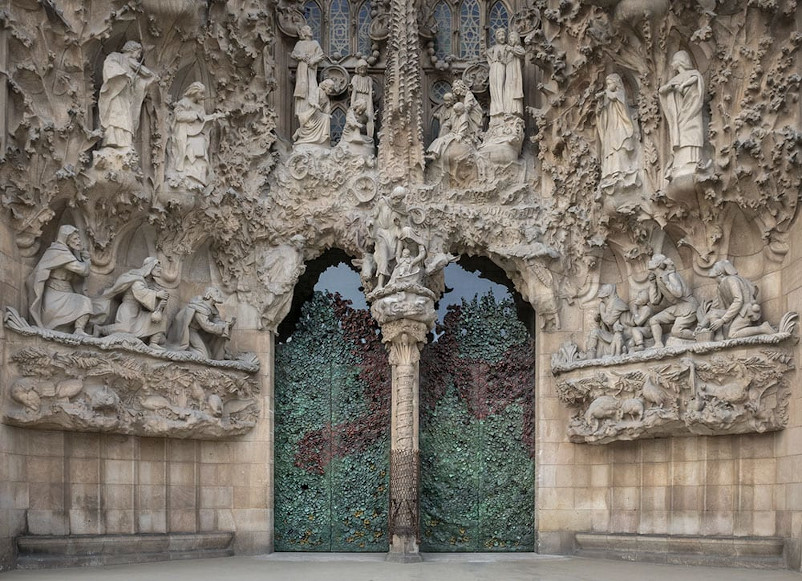 Image source: catalannews.com
During Antoni Gaudí's lifetime, most of the population was illiterate and could not read the Bible. Therefore, he wanted to tell the story of Jesus through religious visual elements and very detailed sculpture. His creative genius was poured into Catalan architecture; each side of the structure depicts different aspects of Jesus' life.
The three most common facades of Biblical imagery include the celebration of the birth and life of Jesus. The imagery culminates in the Nativity. Other depictions of religious architecture include the crucifixion and ascension to heaven and the story of the message and teachings of Christ and Christianity.
2) Bright Color and Texture
The varied texture and large color palette of Gaudí architecture are visible even today. The distinct color palette is not limited to the interior or exterior. It is visible in and out of all the buildings Gaudí designed. In the spirit of using a diverse color palette, Gaudí observed the use of ceramic tiles to make mosaics.
Image source:blowingrockartandhistorymuseum.com
These tiles were not new but discarded pieces that he used to create beautiful imagery. Most of the mosaics depict ancient poetry and Catalan nationalism. Gaudi spent his time creating beautiful and endless quilts of mosaics. This style was also extended to the roofs and all around the buildings.
Additionally, the mosaics enabled the buildings to claim a structural richness of forms and volume. In most ways, these designs showcased freedom of rational rigidity while appreciating any form of the classic premise.
3) Organic and Natural Designs
A young Gaudí spent most of his life observing nature around him. This would later come out in his architectural designs, where he would use biomimicry on all his buildings. Some of the features of this distinctive style include spiral stairways, gargoyles, honeycomb gates, catenary arches, caves, and tree-inspired columns.
Image source: taragona.casa
The tree-inspired columns and caves are very present in his buildings. The hyperboloid design curves as it stretches upwards and is meant to mimic the way a cave looks like. Gaudí's style aligns with previous architectural styles as it improves them and encapsulates the essence of Barcelona.
Not only did the natural designs make the buildings beautiful, but they were also functional. Several structures that contain biomimicry act as thermal regulators. The designs also act as large entryways for light and fresh air.
4) Complex Arching Vaults
Gaudí's works also employed the use of structural elements based on complex ruled surfaces. He was the chief architect in all of his works and this technique can be observed in all of them. He used this technique to increase the structural efficiency of his buildings. Using a series of catenary arches, he revolutionized the field.
Image source: insider.com
An inverted catenary arch is capable of holding great amounts of weight. Unlike the gothic style, the arch is also made out of light materials like brick and tile. Furthermore, the curvaceous geometry of the vaults is used as a tool to study string and weight models which are also common in Antoni Gaudi's works. A great example is the attic of Casa Mila.
5) Papier Mache
Gaudí's architecture also features papier Mache mainly for the aesthetic. The vision that Gaudi had was too expensive to be carved on stone, and it would take too much time. It would also be too hard to carve on wood. The next best thing was papier Mache. He carved flowers, leaves, vines, and other intricate designs into the paper before using them in the interior of the buildings.
Image source:inhabityourhome.com
Gaudí's influence on the environment also got him labeled as a master of recycling. Ultimately, using paper and discarded tile to make mosaics was his signature. A fascinating fact is that he didn't draw his plans in two dimensions like other architects. He simply envisioned everything and worked with anything moldable, like clay, paper, and rope.
For reference, he used animals like lizards and human beings. With every detail of his work bringing in something new, it makes sense that all his buildings are each unique. There are some resemblances, and parallels can be drawn when it comes to the technique, but each design is unique in its way, which paved the way for modern architecture.
Gaudi Architecture Buildings in Barcelona
If you are ever in Barcelona, then you should visit most of the Gaudi architecture that is a symbol of culture and embody some aspects of modern architecture. Here are some buildings designed by Antoni Gaudí.
a) Casa Mila
Architect: Antoni Gaudi
Years Built: 1906-1912
Casa Mila is also known as "La Pedrera" which means stone quarry. It is known by this name because the stone was used on the exterior of the building and the stone façade of the balconies. Casa Milà La Pedrera has one of the most beautiful and iconic terraces. This is due to the sculptural chimneys, and air vents that the architecture student designed.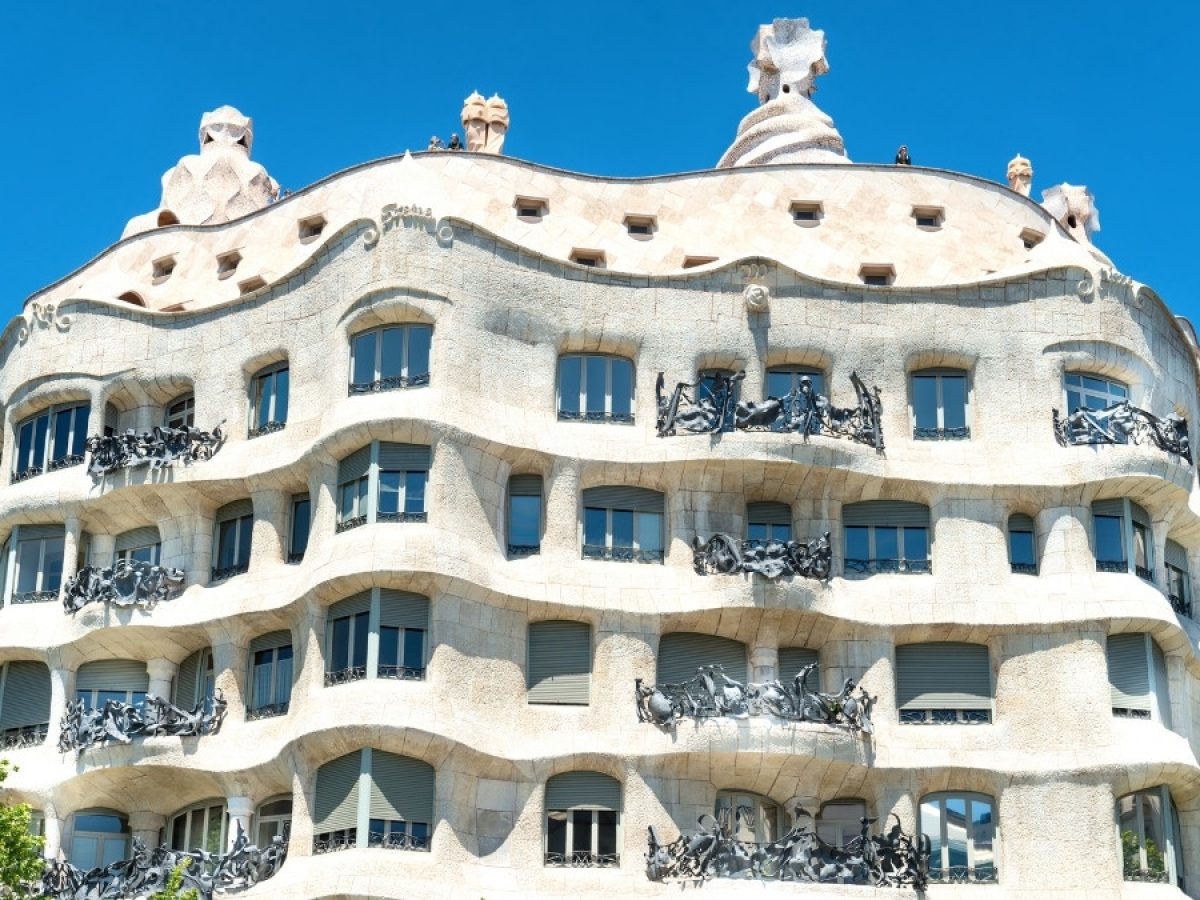 Image source: thebettervacation.com
The Casa Mila is his last civil work and is considered a type of architecture that has shaped modern era. It is full of curves that are not only decorative but are functional as they let in natural light. As he was a pioneer of recycling, this aspect comes out in the chimneys and air vents. Waste glass and ceramics adorn these points. Another point of beauty is the underground parking for carriages.
This space is also reminiscent of one of the unfinished works of Gaudi. It was never completed even after Gaudí's death. However, from the terrace, you can see La Sagrada Familia: Gaudí's most important work.
b) Sagrada Família
Architect: Antoni Gaudi
Years Built: 1882-present
This is the best-known work of Antoni Gaudí. It is also the best example of the Catalan Modernisme era. After Gaudí was appointed as architect, he tried to retain some aspects of the Cathedral. As is typical with most cathedrals, the Barcelona church cross-floor plan had to be retained. He did depart from the Gothic style and history by using some of his techniques, but he also combined gothic and Modernisme.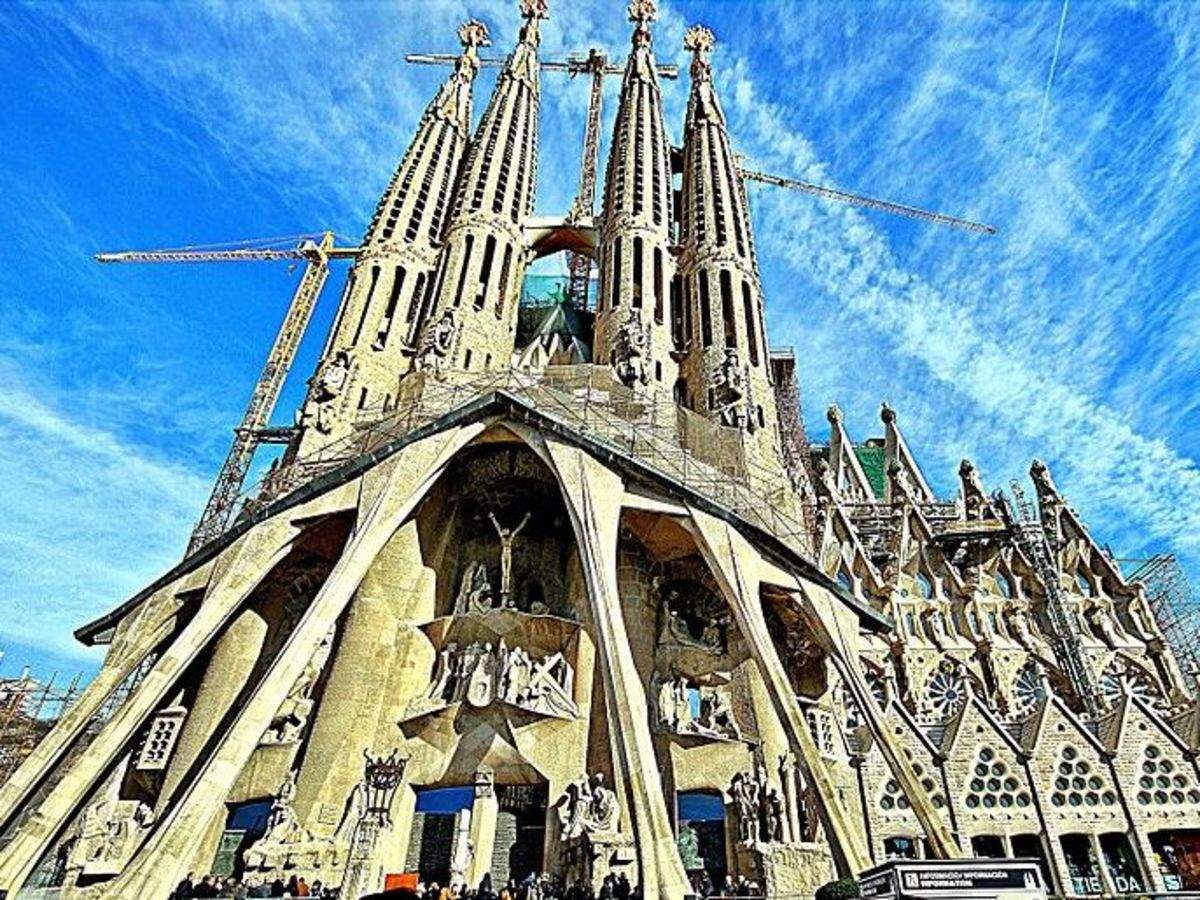 Image source: timesofindia.com
The Sagrada Familia uses angled columns and hyperboloidal parabolas, helicoids, and conoid vaults for load bearing. This ensured that there was no need for flying buttresses. Therefore, the cathedral had enhanced acoustics and better light reception. This was different than the cathedrals built before.
The construction is still ongoing and is proposed to be finished in 2026. Gaudí knew and accepted that he would die before ever seeing the completion of his work.
c) Park Güell
Architect: Antoni Gaudi
Years Built: 1900-1914
Park Güell palace is one of the best illustrations of Trencadis, which is the use of mosaic. The work on Park Güell was where the technique of using broken and vivid tiles was developed. Additionally, most of the tile mosaics were created with influences of nature, and religion. To ensure that the park blends into the scenery, brick, and other natural materials were used.
Image source: tiqets.com
The respect for the surrounding nature is what makes this park as beautiful as it is. It is also a good reminder of Gaudí's whimsical nature. He liked to experiment with visual elements from nature and architecture, and Park Güell is a great embodiment of it.
The Park Güell also hosts the Gaudí House Museum and houses a large collection of furniture and other works made by Antoni gaudí during his lifetime. The park is now owned by the Barcelona city council.
d) Casa Batlló
Architect: Antoni Gaudi, Josep Maria Jujol
Years Built: 1904-1906
The Casa Batlló building has a very unique local name. Locally, it is known as "casa dels ossos" which means house of bones. It is labeled that way because of its skeletal and visceral-like properties. The arched roof of the building was likened to the back of a dinosaur or dragon. It features flowing sculpted stonework, and beautiful irregular oval windows.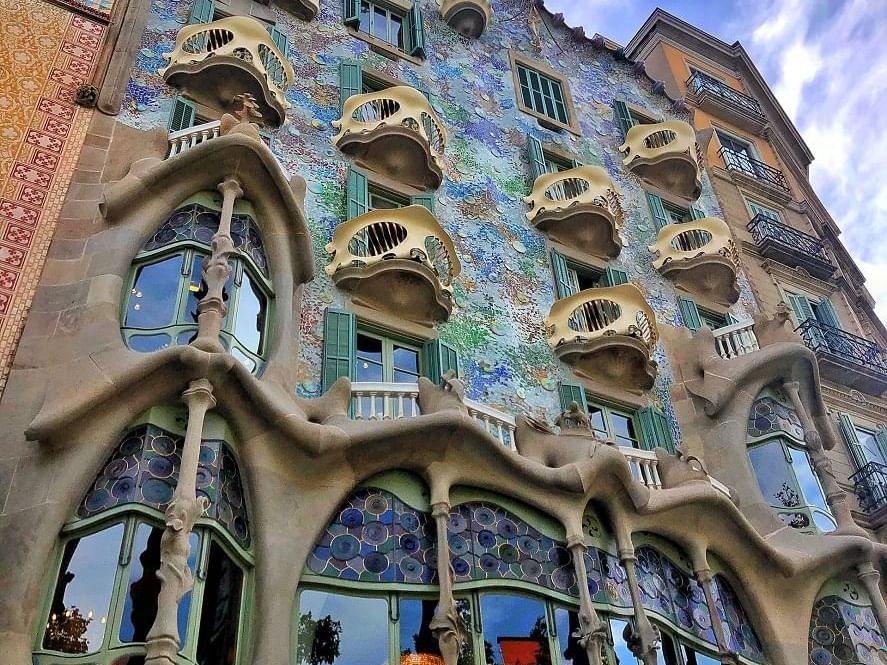 Image source: hotelcontinental.com
As usual in Antoni Gaudí's work, the structure has deliberately avoided straight lines. Additionally, much of the stone facade is decorated with broken ceramic and stained glass tiles. The top of the building is a crown, and the arch of the roof is reminiscent of a dragon. Glass mosaic represents what would be scales on a dragon.
One of the towers has a cross with four points representing a compass bearing. To depict the staunch devotion of the architect, the building is decorated with monograms of Joseph (J), Maria (M), and Jesus (JHS).
e) Casa Vicens
Architect: Antoni Gaudi
Years Built: 1883-1885
Casa Vicens is a product of all of Antoni Gaudi's architectural work. While the building was a restoration project, it didn't stop Gaudi from doing his best work. The walls were redone in green and gold motifs with delicate oriental styles like vines and leaves. In other decorative elements, using red and copper opened up rooms.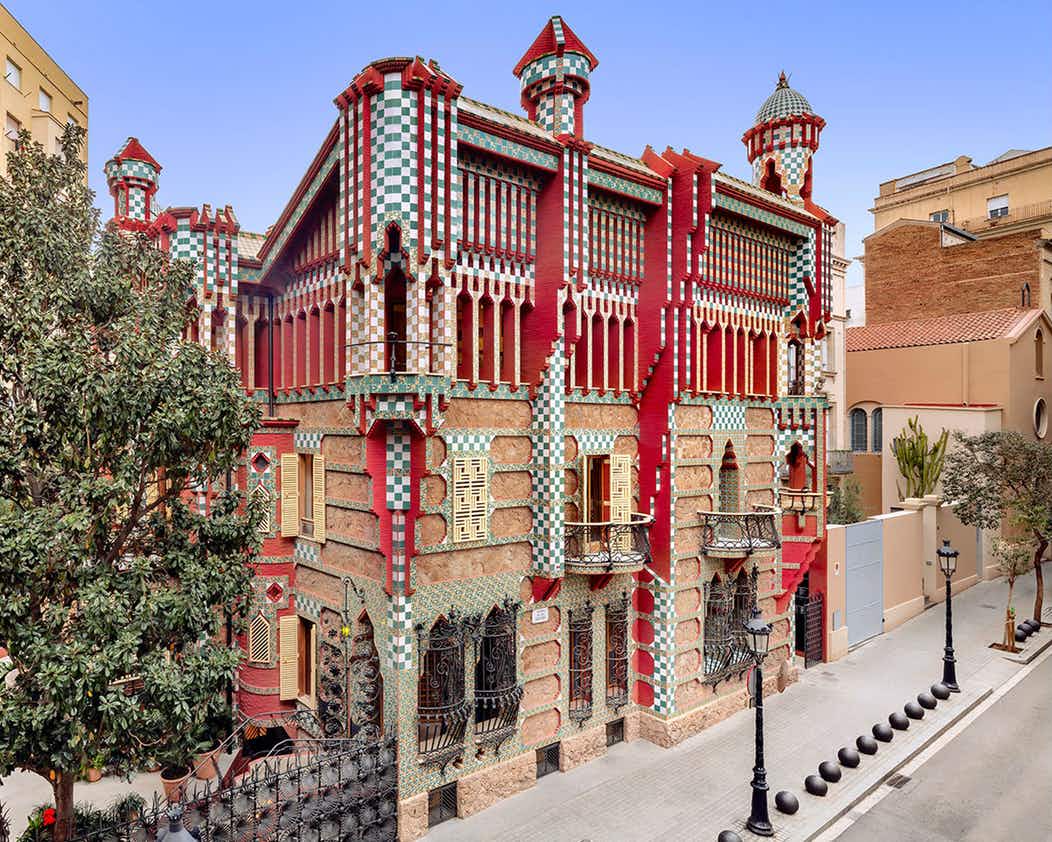 Image source: mobles114.com
Papier Mache was also used in various rooms in the building. It is evident that the papier Mache has been preserved in what can only be considered a technique unique to Modernisme. Like most Gaudí buildings, the architect gave every room in the buildings, continuity. The building was declared a UNESCO world heritage site in 2005.
f) Palau Güell
Architect: Antoni Gaudi
Years Built: 1886-1888
The Palau güell is one of the first major works of Antoni Gaudi and is located in La Rambla. The Catalan architect loved Barcelona, and this was his way to pay homage. The palace has a total of 20 chimneys as is typical of most of Antoni Gaudi's works. The aim was to build something magnificent but functional.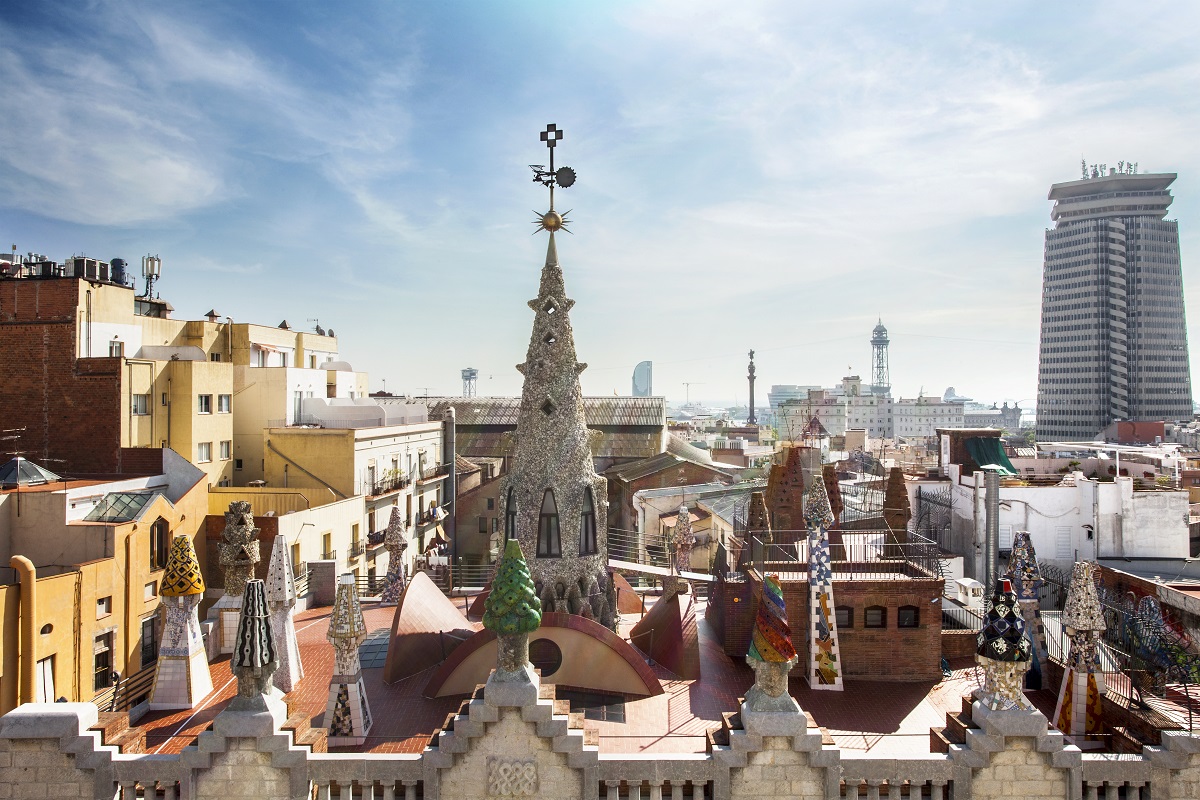 Image source: nbp.com
This is why the property is large and contains apartments, exhibitions, and event rooms. The architect also decorated the house with ironwork, stonework, glass, and ceramics.
The Bottom Line
These are some of the most outstanding works of Antoni Gaudi. An architect who revolutionized the field and pioneered some architectural styles that are still used today. These styles are still revolutionary in their beauty and intricacy. His use of curved lines and natural forms was the highest point of his career as an architect.
Featured image source: culturetrip.com