A home extension is a popular way to add value to your property, add visibility and improve your space. Again with a home extension, you can create extra bedrooms, bathrooms, living rooms, or kitchens. Ultimately, you can get the space you need and still stay in the area you love.
In fact, 58% of U.S. homeowners told a 2018 Chubb survey that they "definitely" or "probably" would renovate their homes during 12 months. One of the most popular projects selected is an extension to the home. This is because older homes, such as those built in the 1970s, average just 1,400 square feet, compared to 2,600 square feet today. But when it comes to getting the most out of your place, adding a unique and inspiring extension to your property is the way to go.
In this guide, we have gathered some of the best home extension ideas to suit any home design style, size, and wide range of budgets. So read on to find out more!
1. A Spacious Double Storey 
Image Source: barclayfirth.com
A two-story extension is a great way to add more room to your house. You can add an extra bedroom above a new diner area or even create a new office area if you want to work from home. In addition, you can make your home look more conventional by using large windows on the added floors for generous amounts of glazing.
2. Modern Kitchen Is a Great House Extension Idea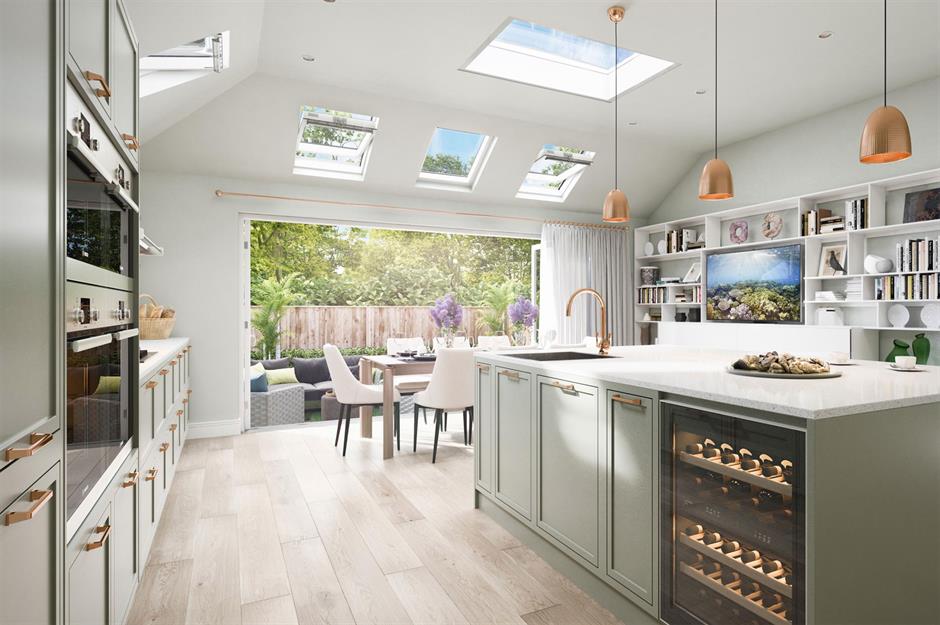 Image Source: loveproperty.com
Planning a kitchen extension is a great idea to maximize your home's space. For my kitchen extension project in my home, I decided to go with a contemporary kitchen design. I extend my kitchen from the rear side of my home next to my outside sitting area. To customize the space, I used modular units combined with end panels and worktops and installed all the gadgets I needed to make my life easier.
3. Extend Up Into the Roof
Image Source: granddesignsmagazine.com
Utilizing the roof space is another amazing and popular house extension idea for bungalows or single-story homes. This extended roof design creates a wonderful light-filled space, enough space to create a relaxing room, a bedroom, or a playroom.
Alternatively, you could create a roof garden or roof terrace. For this idea, you can incorporate fiberglass or powder-coated steel planters in our designs and use ceramic planters for feature trees to add impact.
4. Build a Porch
You can also extend the front of your home by adding a porch. A porch is a fantastic house expansion idea that will help add character to a dull or featureless frontage while providing extra indoor space. It is especially worth considering adding a porch if the front door opens straight into your living room.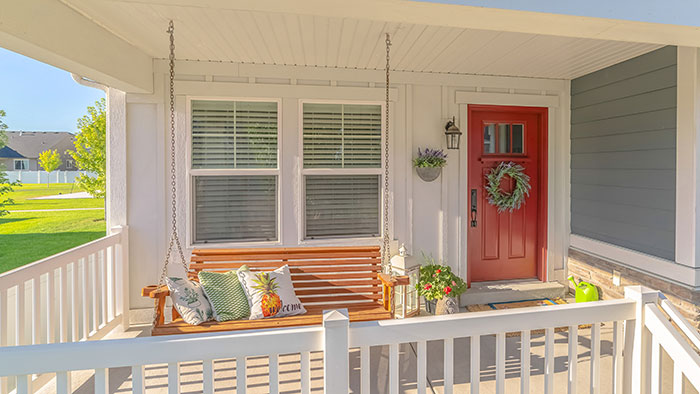 Image Source: schlage.com
Ideally, you should construct your porch in a style that suits the original architecture and in proportion to the size of your house. If you are going for an enclosed porch, ensure that you use more or large windows so that it won't affect the quantity of light entering your house. To make the area more functional, you can add your favorite pieces of furniture and some decor.
5. Raise the Ceiling
Image Source: beacon-canada.com
Raising your ceiling is a great home extension idea for a room like a kitchen, dining, and seating area to make it feel bigger. To make the space look even better and bring in more natural light to the space, you can add a show-stopping roof lantern.
Alternatively, you could use ceiling cads or whitewashed boards to add texture and improve the room's acoustics
6. Verander House Extension
Image Source: patioandgardenshading.co.uk
Extended verandas or covered outdoor spaces will provide a great eating or sitting area for the warmer months. For this project, you can choose a simple conventional style or a traditional option like a loggia. Then, add your favorite outdoor furniture to make it look complete.
7. A Side Return Extension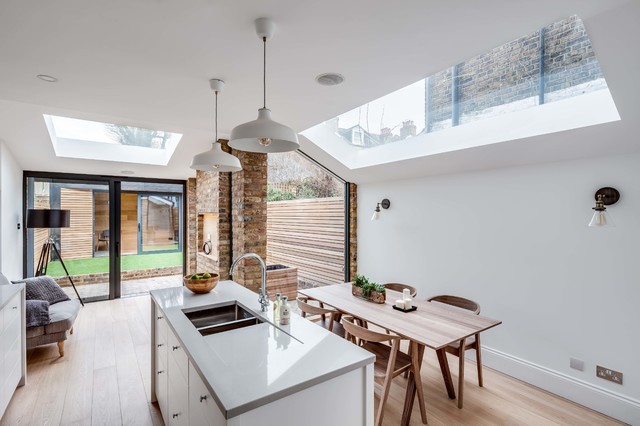 Image Source: hzcdn.com
This is a conventional way to expand your house and create additional space. However, to successfully create a fully functional side return extension, you must strike a balance between expanding the interior space and sacrificing too much garden space.
Ideally, you can Install a glass wall and ceiling in your side return, add a dining bench area with storage on the side or even add glass internal doors and windows to add light through your home.
8. Consider an Annex
If you have enough garden space, an annex is a sensible and manageable solution than extending your existing house. You can use this extra room as a guest bedroom, playroom, outside kitchen, or a min relaxation room.
9. Consider Cantilevered House Extension Ideas
A cantilever house extension ideas vary; they can be anything from an overhanging balcony to a hanging bedroom extending past the supporting walls of a room. Although you might need a structural engineer for this project, it is worth venturing in.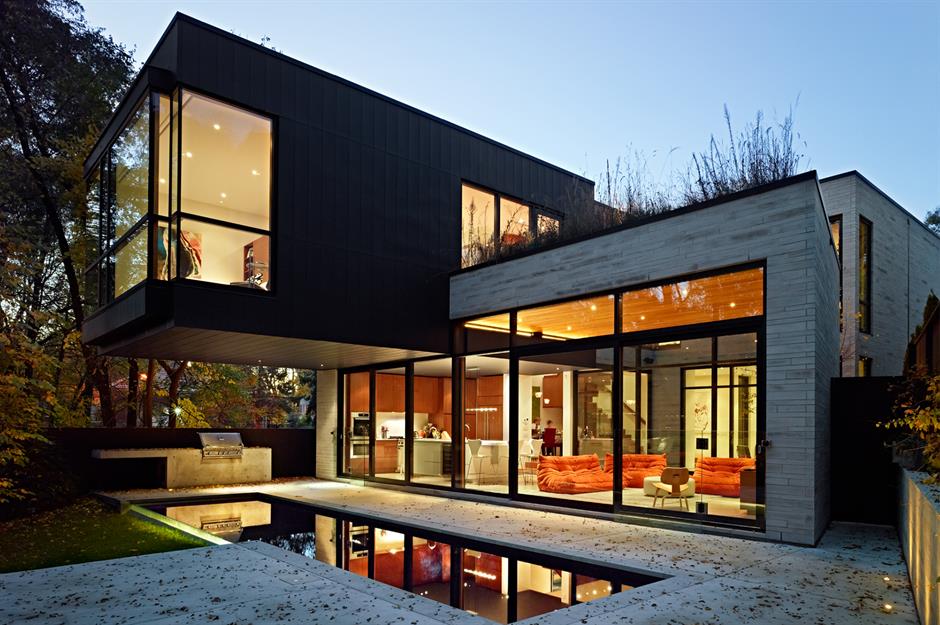 Image Source: loveproperty.com
You can use the expanded space for the mezzanine and balconies or make it a whole new space for your living space or bedroom.
10. A Garden Room
If you are looking for an additional room in your home, but you dont have enough space close to your home, you could opt for a garden room. For my extension project, I created a covered area for my kids to enjoy their playtime regardless of the weather.
Image Source: roomsoutdoor.co.uk
However, you can design your room to match your needs. For example, you can design your garden room as a garden room bar, peaceful home office, theatre room, hobby area, or home gym.
11. Add an Atrium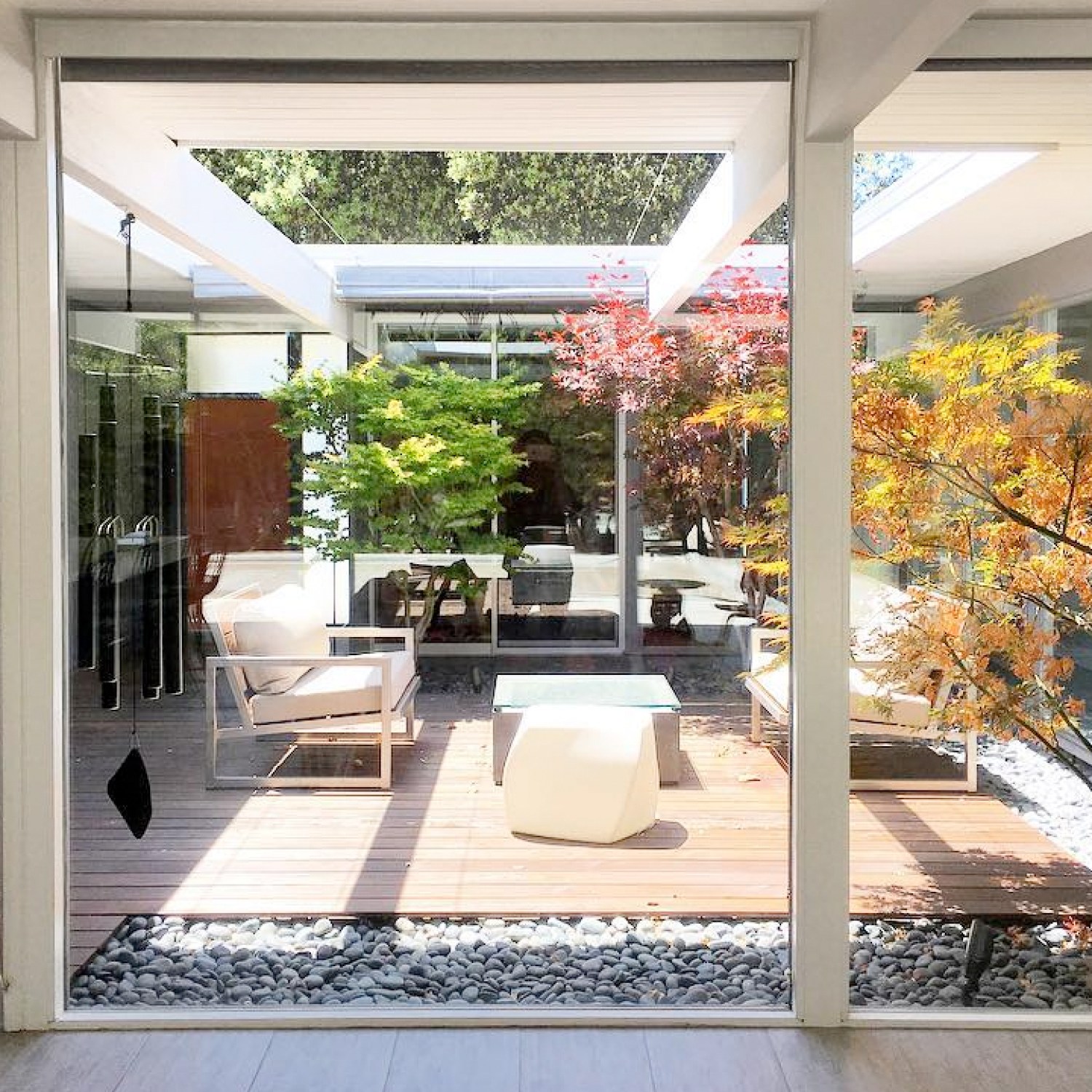 Image Source: houselogic.com
An atrium is another way of bringing in light and often create a design statement entrance. You can style your atrium using a contemporary or traditional design. For this style, we opted to go with the contemporary design with large slide open-glass windows attached to the main house.
12. Choose a Portable Option
A portable and stand-alone construction in your garden is advisable if you need extra space but don't want to commit to a permanent foundation. However, portable buildings for the home needn't be as basic as a shed. 'She Sheds' are gaining momentum, with females favoring a place outside the home to retreat.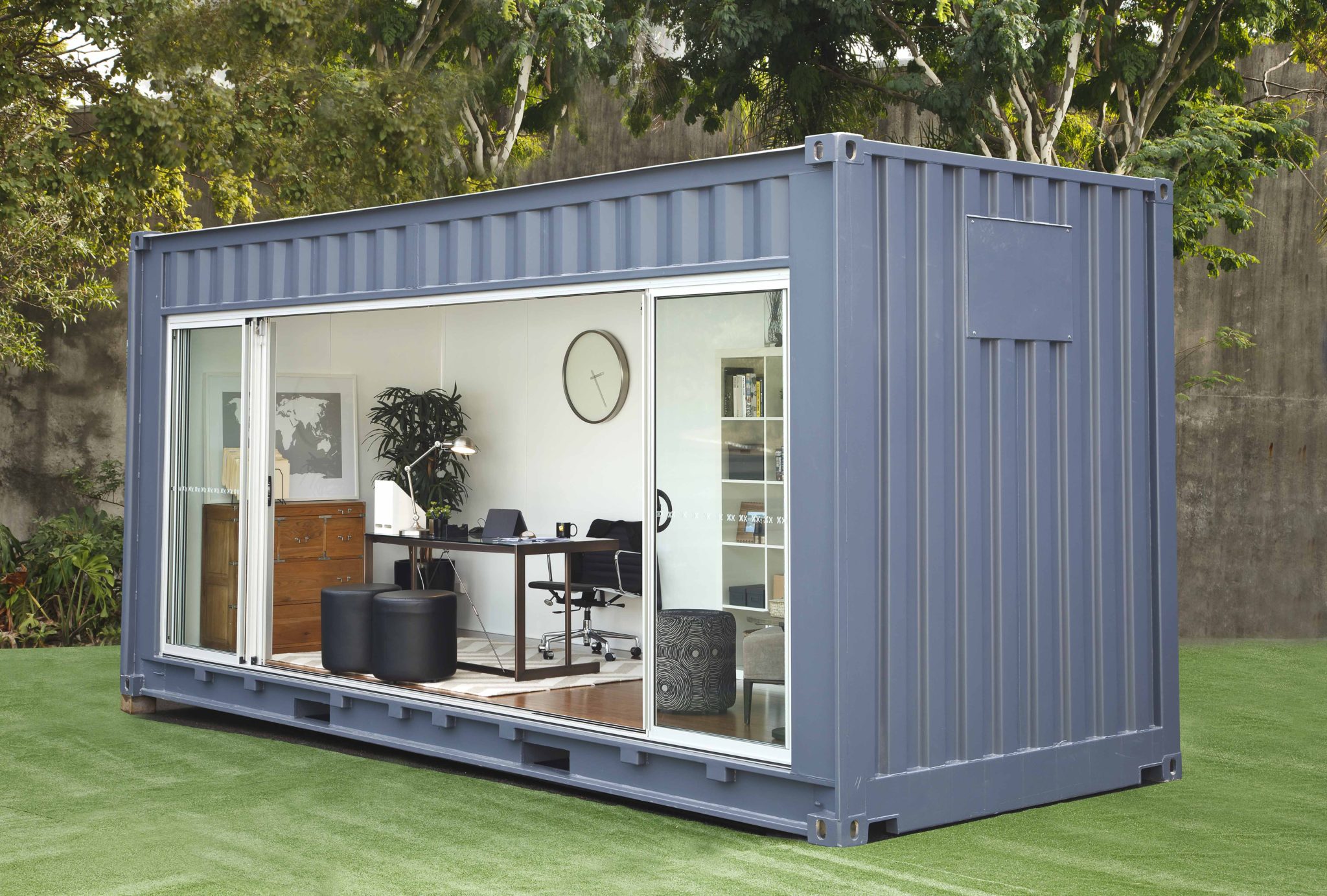 Image Source: theinteriorsaddict.com
Meanwhile, men use these outhouses as 'man caves' perfect for gaming and relaxing. Therefore, to truly make a statement, choose a stylish wooden design, paint bold colors inside and out, and fashionably decorate with soft fabrics and soft furnishings for an enjoyable escape from the home.
13. Add a Sunroom
Image Source: BobVila.com
Another amazing project I decided to do for my home is to add a peaceful and quiet sunroom. I had a new addition for my sunroom extension that I could easily access via a door inside my living space. And since I spend most of my time inside, I designed my sunroom as a min living room with part of it as a min library where I spend part of my day reading.
Alternatively, if you are working under a tight budget, you can convert an existing room into a sunroom to use as additional space.
14. Add a Detached Studio or Guest House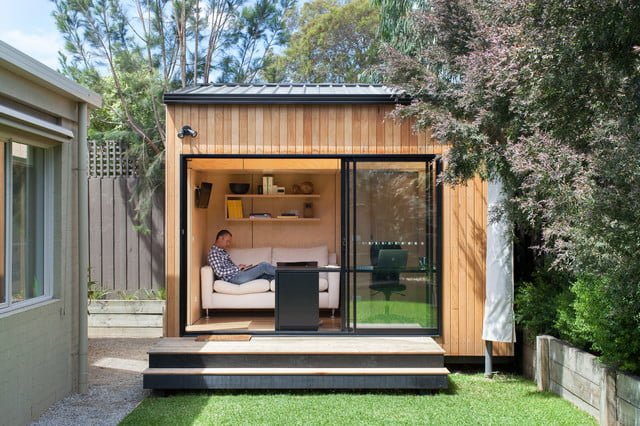 Image Source: buildgreennh.com
This flexible approach to adding extra space to host visitors is amazing. You can build a small cabin that will accommodate your guest. Then, add functional furniture and decorate the space. If need be, you could also add a bathroom for convenience.
15. Utility Room Extension
Image Source: herringbonekitchens.com
Want to add a utility room to your home or make an existing utility room larger? A utility extension can help you create a dedicated area for those more 'unsightly' household jobs, such as laundry.
To make the space functional, start by adding the basics, like, making provisions for washing and drying appliances and a large sink. Also, consider adding tall cabinetry to accommodate your ironing board, mops, and brushes.
16. Add a Bathroom
It's apparent that bathrooms are sometimes not part of the plan when extensions come to mind, but it can be a great idea. Apart from adding resale value to the home, an extra bathroom will make life much easier, especially for large families.
Image Source: mybuilder.com
There are various ways you can add different accessories to your current bathroom extension project. For instance, you can add elegant pendant lights, silver fixtures, and a classy bathtub to complete the look.
17. Extend Out the Front 
Traditionally, homeowners choose to extend the back of their property. However, this means eating into your garden space and hiding your stunning architecture from view. Instead, you can extend your living and entertaining area out of the front of your home.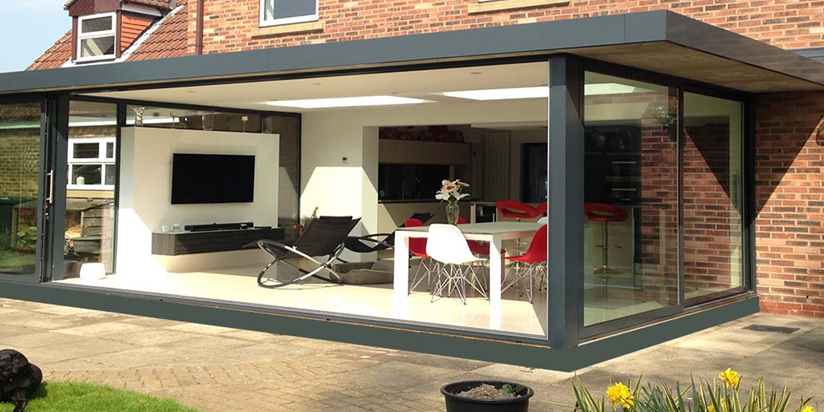 Image Source: labc.co.uk
You also have plenty of design options to help your place stand out from all the rest on your street. Opt for glass walls that will help flood your home with light and your choice of light-inducing home features. Alternatively, consider an all-over stone facade for a more traditional feel.
18. Bring the Upstairs Down 
Statista reports that the average U.S. property is home to 2.54 persons. Despite this, the U.S Census details that 43% of homes have three bedrooms, 36% have four, and 11% have five bedrooms or more. So if you don't need all these bedrooms, it's wise to move your kitchen upstairs.
Image Source: dalyluxuryhomes.com
Doing this will open up the ground floor of your home and create the impression of an extension without needing to fork out for one. And you'll also benefit from better views and light by moving your kitchen up a level.
19. Gain Outside Space with a Balcony
A balcony extension to your home will extend your space and bring natural light and ventilation. This home extension idea will work for your master bedroom, dining room, or even your living area.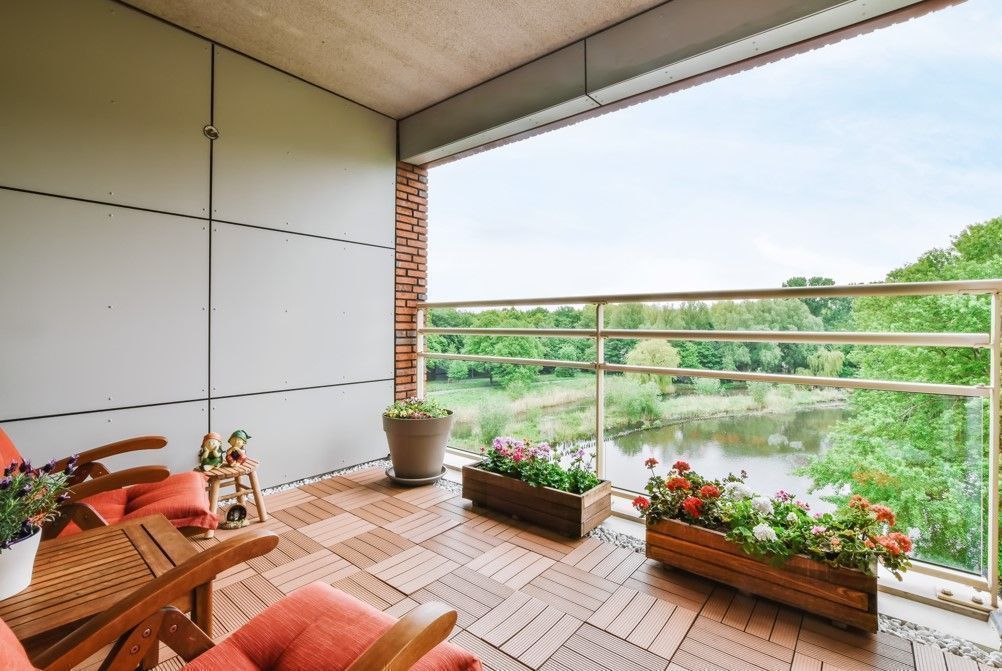 Image Source: magicbricks.com
If you want to achieve a contemporary home design, you can design with functional outdoor furniture, add one or two flower pots, and use glass instead of installing grills to enclose the space.
20. Create a Walkway Between the Garage and the Home
Creating an extended walkway between your garage and your home is another great home extension idea. A covered walkway or a breezeway provides shade making it more convenient for you to access the garage from the house.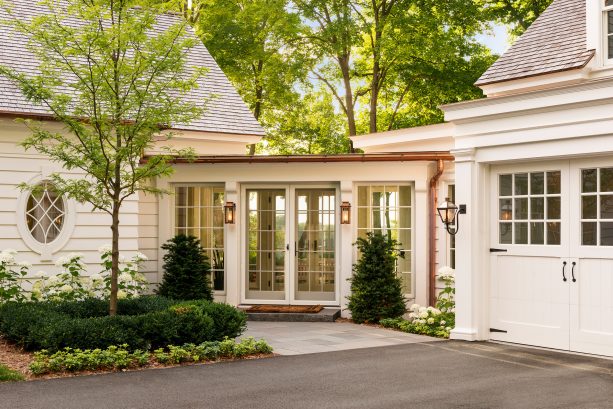 Image Source: jimenezphoto.com
You can design your breezeway similar to the one in the image above. Cover it fully with doors and windows. You could also add detailed decor features to make the area look more stunning.
Factors to Consider Before You Start Your Home Extension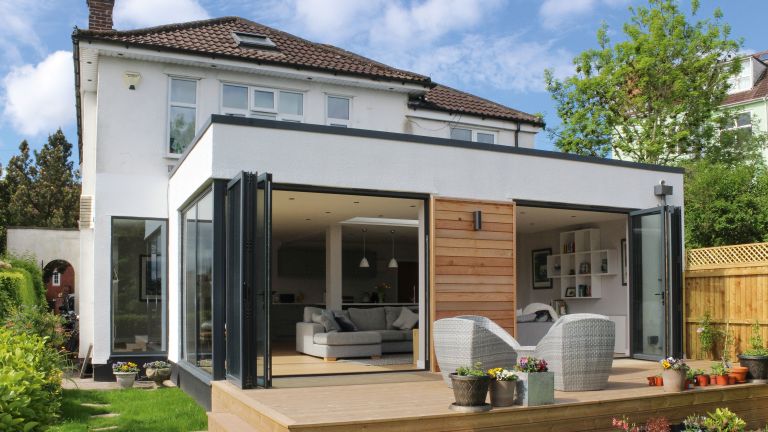 Image Source: thearchitectsdiary.com
1. Will the Extension Add Value to Your Home?
Before beginning your big home expansion project, it's worth sense-checking if the project will be beneficial in the long run. For instance, if you are extending the existing space, it will especially matter with your home design, and it would help if they could add value to your home.
It is also ideal to contract a local estate agent and ask for their view on your project. They should be able to evaluate how much value the project would bring to your home. In addition, they will help you properly budget for your extension project.
2. Permitted Development and Planning Permission
Most of the best house extension ideas will require permission before conducting them. Even though some, like a living room extension, will not need you to have permitted development rights, it's important to inquire about it before you begin so you can be on the right side of the law.
For instance, for a single-story extension, there are usually height restrictions. You can not build a single extension higher than 4m to the eaves and the ridge. Again extensions need to be created with similar materials to the existing property.
3. Building Regulations
Any home extension or renovation needs to comply with international building regulations. This means you need to contact your local building control officers to help certify your project. Alternatively, you must ensure that your project manager or contractor is self-certified.
Suppose you renovate or extend your home, and all the building requirements are unmet. In that case, you will be forced to take the extension down, and you might even have trouble selling your home if you dont have the relevant Building Regulations certificates.
4. Home Insurance Cover
Before conducting your home extension project, you must contact your home and content insurance to inform them about it. This is because most home extensions will increase the rebuild cost of your house, so the insurer will need to consider that when pricing premiums.
Also, as you make you extend your home, there is a risk of damaging your home. If this happens and you have not informed the insurers about the project, you will be forced to cover costs yourself.
5. Neighbors
Extension projects can cause disputants or confrontations with neighbors. So if you dont plan on acquiring planning permission, you should talk with your neighbors in advance. However, acquiring the planning permission will save you all the hassle since the local planning authority will consult your neighbors.
Home Extension Costs
Image Source: Pinterest.com
The cost of home extensions will vary from project to project depending on the size of the home extension, the structural work involved, and your location. On a rough estimation, the average 4m x 6m extension costs $690.20 to $39,136.04. Bear in mind that this cost may even go higher if your extension is not a same-level house extension project.
Conclusion
When extending and renovating your home, choose unique and quirky designs to enhance your property. By extending out the front, opting for a portable option, or rejigging the layout of your existing home, you'll benefit from more space and a better first impression.
Image Source: glasspace.com