Sliding furniture can be a nuisance, especially when they scratch your smooth flooring surfaces. The good news is that there are several tricks to keep furniture from sliding and ruining floors.
Wood floors, laminate, and tile floors are some of the most popular flooring finishes. While they make your space look good, they are known to keep furniture sliding on floors. The good news is that there are several ways to solve this problem. And while not all solutions look good, you can pick from our list and find one aesthetically pleasing solution.
Five Ways to Stop Furniture From Sliding on Floors
Depending on your preference and your flooring type, some solutions to stop furniture from sliding. Let's look at a few ways how to keep furniture from sliding on floors.
1. Area Rugs
Sale
Area Rug Living Room Rugs: 3x5 Indoor Abstract Soft...
EXCELLENT HOME DECOR AREA RUG: Each area rug will become the...
SOFT AND SKIN-FRIENDLY: You can set up rugs for every family...
WASHABLE AND EASY TO CLEAN: Don't worry about dirt hiding in the...
MODERN & ABSTRACT AREA RUG: Rugs feature a unique neutral...
MORE DURABLE AND NON-SLIP: If you wanna a durable area rug, this...
One of the best solutions for sliding furniture is using area rugs. Area rugs are effective when you use them to keep your couch legs from sliding on floors. They are not only an alternative to ensure your furniture doesn't keep sliding and ruining your floors but are also comfortable enough to walk on.
Image Credits: italianbark.com
Depending on the kind of floor finishing you have, the rug can sometimes begin to slide. The best aesthetic solution for this is to invest in a non-slip pad that ensures your area rug remains in place. Area rugs can easily blend with interior décor without looking out of place.
I found the Indoor Abstract Soft Fluffy Pile Large area rug very comfortable, with an abstract design that gave it an aesthetic look. I loved how effective it was at preventing my sofa from sliding.
2. Buy Rubber Pads
Non Slip Furniture Pads 8 pcs 1 1/2" X-Protector -...
✌ IS CHAIR MOVING TOO EASY AND INTERRUPTING YOUR REST ON IT?...
✌ TENACIOUS ADHESIVE – FORGET ABOUT FURNITURE GRIPPER COMES...
✌ STRONG AND EFFECTIVE DOUBLE FURNITURE GRIPS - 8 SQUARE self...
✌ ANTI SKID FURNITURE STOPPERS PERFECT FOR ANY FURNITURE! Our...
✌ X-PROTECTOR IS A REGISTERED TRADEMARK – AVOID COPIES. WE...
Rubber pads are another option for keeping furniture legs from ruining your floors, especially hardwood floors. Purchasing rubber pads is probably the cheapest of all the solutions mentioned for sliding furniture. All you have to do is buy a set of rubber pads from a store and place them under the furniture legs.
Image Credits: alibaba.com
Depending on the size of your furniture legs, you can choose between large pads or small ones. Simply measure the size of your furniture legs before purchasing a rug pad.
The X-Protector Anti-slip furniture pad is an excellent choice for furniture legs. After buying a set of these for my 2-seater sofa, I had no issues with it sliding to the wall all the time. I loved that they have a tenacious adhesive that ensured they didn't slip off from the legs like other brands do.
3. Furniture Grippers
CasterMaster Non Slip Furniture Pads - 2x2 Brown Round...
STOPS YOUR FURNITURE FROM MOVING. Are you tired of your furniture...
PROTECTS ALL FLOORING. CasterMaster caster cups protect ALL...
SMALL FAMILY BUSINESS. We are a small family business. We have...
COMES IN MULTIPLE SIZES! We are excited to offer 2x2 inch, 3x3...
100% SATISFACTION & MONEY BACK GUARANTEE. We value our customers...
Furniture grippers are a great solution to sliding furniture, especially on hard flooring surfaces like hardwood flooring, vinyl flooring, laminate floors, and others. They are inexpensive and can easily be re-sized to fit your couch legs or table legs. Furniture grippers will require you to cut them to fit your furniture legs.
Image Credits: lazda.com.ph
Noteworthy, when furniture grippers are placed on debris and dirt, they can easily cause damage to floors. Therefore, when using furniture grippers, ensure your floors are clean.
I tried the Round Rubber Anti Skid Caster Cups Leg Coasters from CasterMaster for a while. I used them to hold my bed and also my sofa. Even when my son jumped on the sofa, these grippers firmly held the furniture in place without disappointment.
4. Leg Felt
Chair Leg Floor Protectors Extra Small 24PCS -...
✔[Fit is best]24pcs Extra small chair leg covers.Round foot...
✔[Quality upgrade and optimization]Meldel Improved Chair...
✔[Easy installation]Soft floor protector for table and...
✔[Wide range of use]Can be suitable for most shapes of...
✔[Anti scratch and noise reduction]Wear chair leg...
Felts are another great option for keeping your furniture from scratching your floors. They are a perfect alternative when you want to protect your hardwood floors.
Image Credits: islamiyyat.com
It is important to note that while felt pads are suitable for protecting your floors, they may not be as effective in stopping sliding furniture. For this reason, felt is commonly used with furniture regularly moved around. One of the best places to use felt pads is under the legs of your dining chairs.
I love my living room hardwood floor, and I must mention how much relief I got after purchasing the Furniture Felt Silicone Integrated Chair Foot Covers from Meldel. The shape is not restricting, so I could easily slip them on furniture with different leg shapes and sizes. Meldel Improved Chair Leg Protectors are a great option to prevent scratching of wood floors.
5. Dust Your Hardwood Floor
Dust will always work against you when trying to find a solution for sliding furniture. When you place your furniture on dusty floors, they are still likely to slide, even with anti-slip solutions. Therefore, to minimize sliding furniture, ensure you always keep your floors clean.
For instance, furniture grippers and rubber pads quickly wear out when placed on dusty floors. Clean your hardwood floors as often as possible to ensure your grippers serve their purpose longer.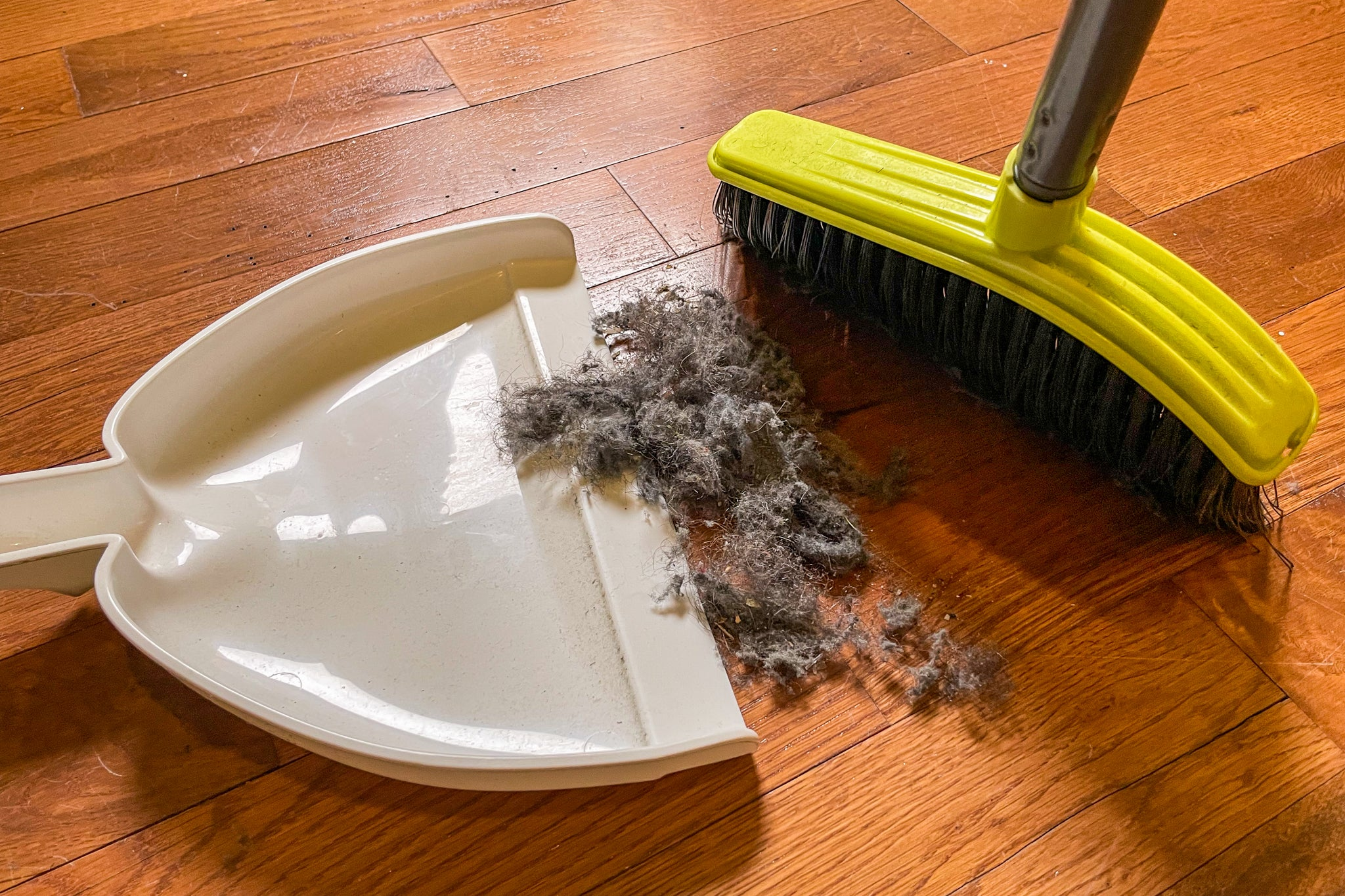 Image Credits: nytimes.com
6. Stop Blocks
Some solutions for keeping furniture from sliding may not be suitable for all types of furniture pieces in your home. Large or heavy pieces of furniture, such as large recliners, are best used with stop blocks. While purchasing stop blocks is more expensive than other solutions, you can choose the DIY enthusiast way and create yours.
You can create stop blocks from wood by tracing the shape of your furniture legs into the cardboard. Using the wooden blocks between the furniture and the wall will help prevent the recliner couch from sliding on the floor.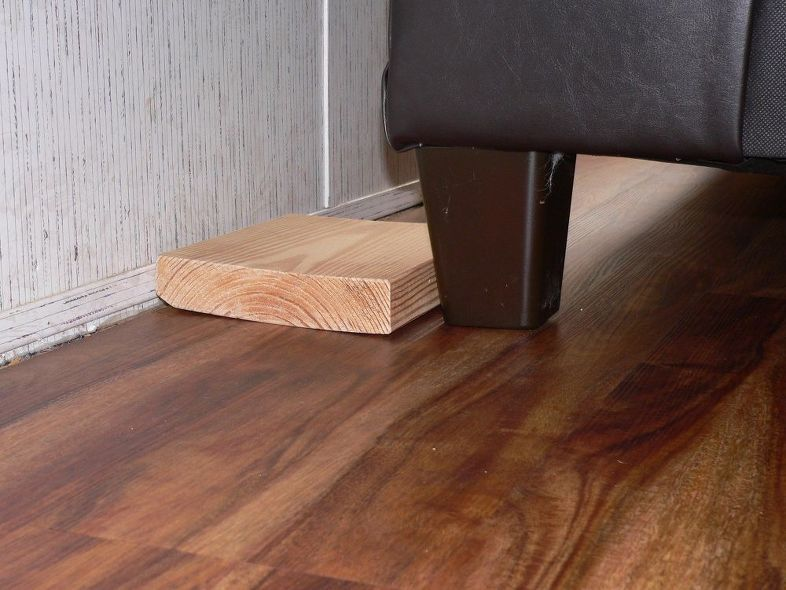 Image Credits: pinterest.com
FAQs
I). How do I keep my sofa from sliding on hardwood floors?
When you are dealing with furniture with legs that are not prominently visible, silicone or rubber pads are the best options. They are also affordable compared to other options. However, you can also add an area rug to serve as both parts of your décor and keep your sofa from sliding.
II). How do I make my furniture not slide?
There are several ways to ensure your furniture doesn't slide and ruin your floors. Area rugs are an aesthetically pleasing solution for keeping furniture from sliding. Other options include:
III). How do I keep my furniture from sliding on the wall?
The best option for keeping furniture from the wall is using stop blocks, also called wall spacers. Nonetheless, wall spacers are not effective for furniture that is in an open living area away from the wall.
IV). How do you keep furniture from sliding on the carpet?
The best way to keep furniture from sliding on the carpet is to use rubber pads or a rubber rug pad to hold it in place.
Conclusions
It is important to take care of your floors, especially hardwood floors. Ensure the aesthetic value and quality remains intact for longer by keeping your hardwood floor clean. Ensure you use appropriate measurements for every product bought to help with sliding furniture like your living room couch.
With suitable pads or grippers, floor maintenance, and cleanliness, you can protect your floor from damage. You can purchase most of these products online and from your local home improvement store.