The kitchen should be a space where you enjoy your time and if you are short of kitchen design ideas this is the read for you. Bigger kitchens are slightly easier to design than a small kitchen as they have space to include all the kitchen design ideas in your wish list. This does not mean you cannot make a great kitchen remodel with a small kitchen as you should always work with what you have. You can remodel any kitchen by using kitchen island ideas or country kitchen ideas. Some of the kitchen remodeling ideas you can use include:
1. Countertops
In today's world, trendy countertops can be a challenging choice to make. The decision is usually deciding between solid surface or laminate kitchen countertops, concrete or stainless steel countertops. Laminate is more friendly cost-wise but the best choice is the Quartz countertop or granite countertop which act as long-term investments because of their durability. They are made from natural stones, yet harder than natural stones, and are an excellent addition to the heart of your home boosting resale value while providing the latest cooking surface.
Quartz countertops have a dazzling finish and produce harder surfaces. They create a timeless look and have no end in sight. This solid countertop is resistant to water, scratch, bacteria, heat, stains, and also low maintenance and this is an important characteristic as the countertop can be used as a surface area for kneading, mixing or chopping ingredients. You should, however, avoid excess heat that easily can cause damage to the material. These granite and quartz countertops usually work well with under-mount kitchen sinks.
2. Adding a striking backsplash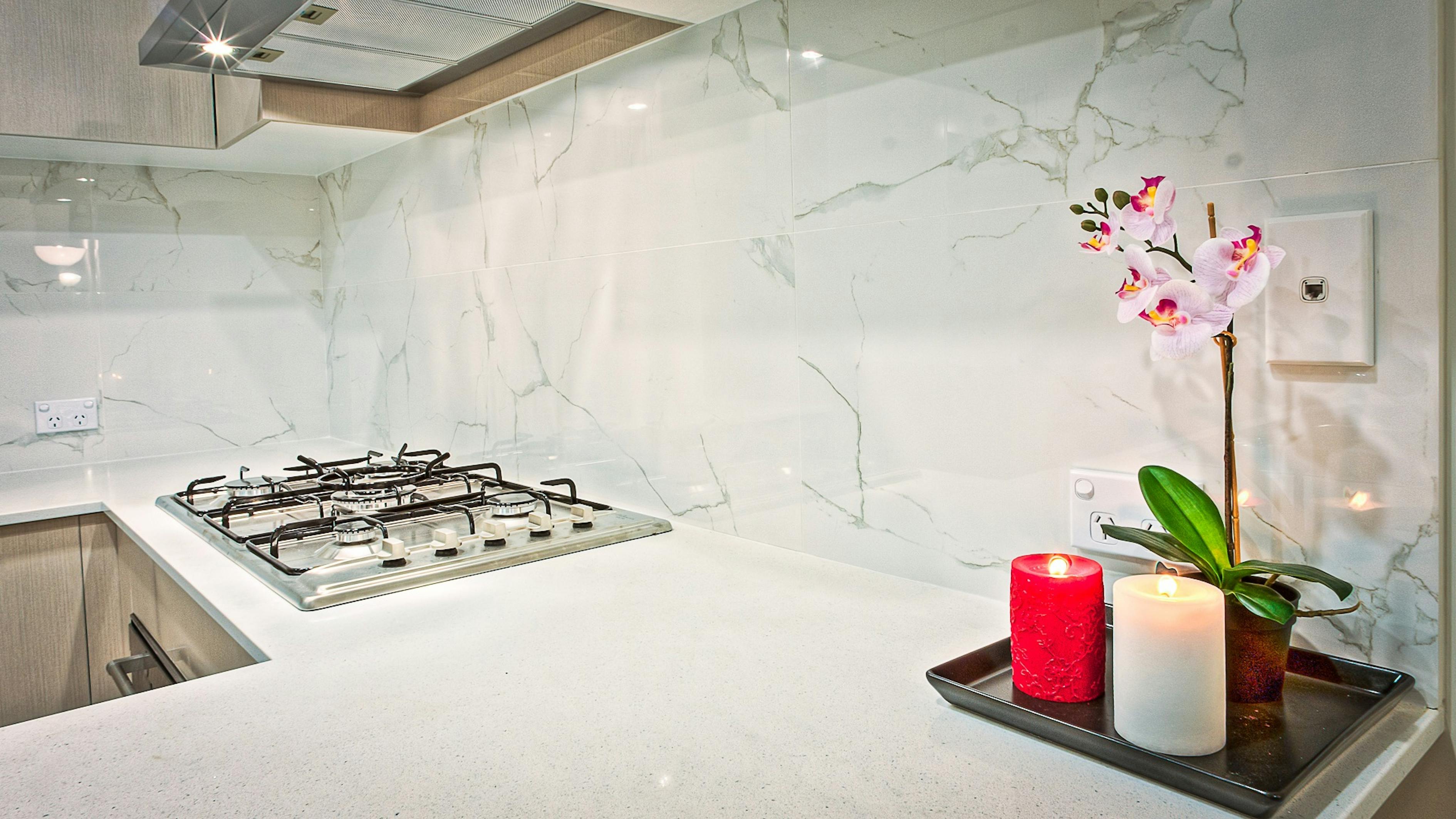 Most backsplashes are DIY so the price of the kitchens backsplash addition is on the lower side. The most appealing backsplash is the tile backsplash or the shimmering glass tile which attracts attention because of its detail. A subway tile is one of the options you can use for a glass backsplash. A subway tile has a classic appearance and therefore hardly looks outdated. Backsplash also make stick-on tiles (check out Sticky Tiles) for an even lower cost.
3. Pendant lights
Most people are not keen on the kitchen lights and the lights are often ignored. For kitchen lights, it is recommended you choose bold and big ones. The only thing you should watch out for in your kitchen makeover is the size of the big bold pendant light you choose to avoid it being overwhelming in your kitchen space.
4. Upgrading Your Kitchen Cabinets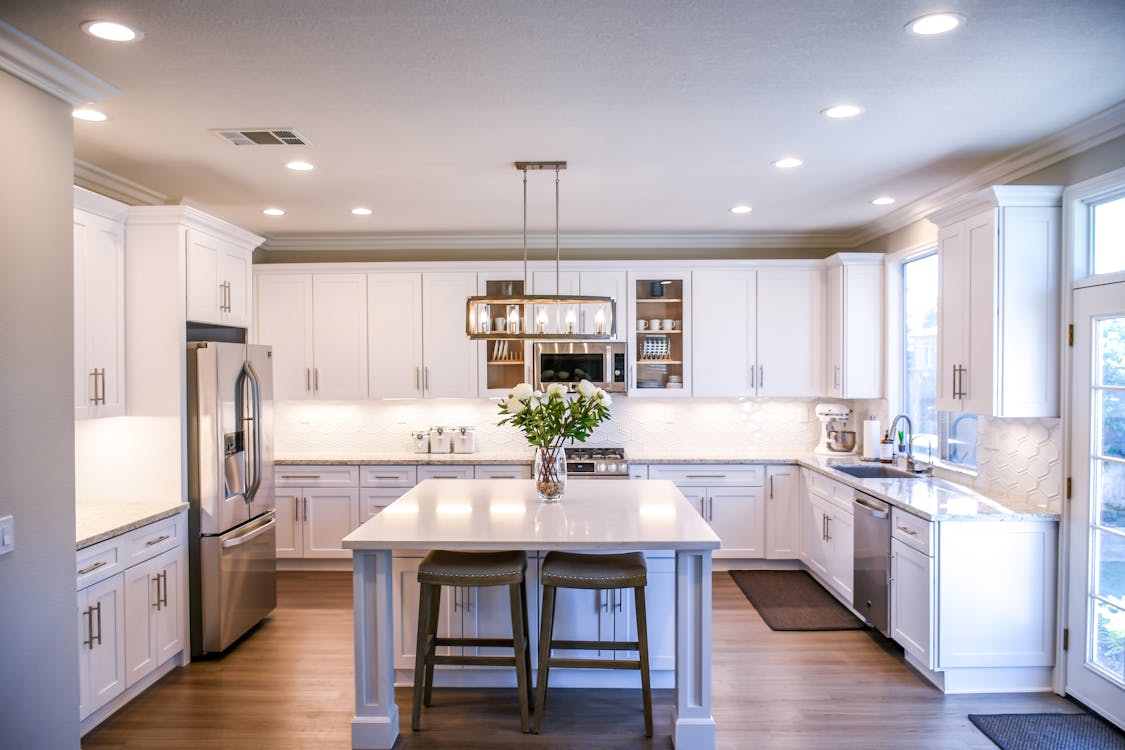 Cabinets should be one of the top renovation kitchen ideas on your kitchen decorating ideas list because they transform the whole kitchen look and attract maximum value in your kitchen remodel. Full replacement of your kitchen cabinets is not always necessary but sometimes you might need to tear all of them down in some cases. Change of the cabinets does not have to be a costly job as it can be as simple as using a different paint colour in your kitchen remodel. Another way to remodel your current cabinet is to creatively come up with wood cabinet pulls or handles which are in accordance with your inspiration kitchen designs.
You can also choose to go with open shelves instead of having upper cabinets. Open shelving makes good use of small corners in any room of your house creating additional space to store any kitchen essentials where space would have otherwise not be utilized with upper cabinets. Hanging shelves can be part of open shelving and can be used in any kitchens, dining room, living room, or bathroom.
5. Upgrading your appliances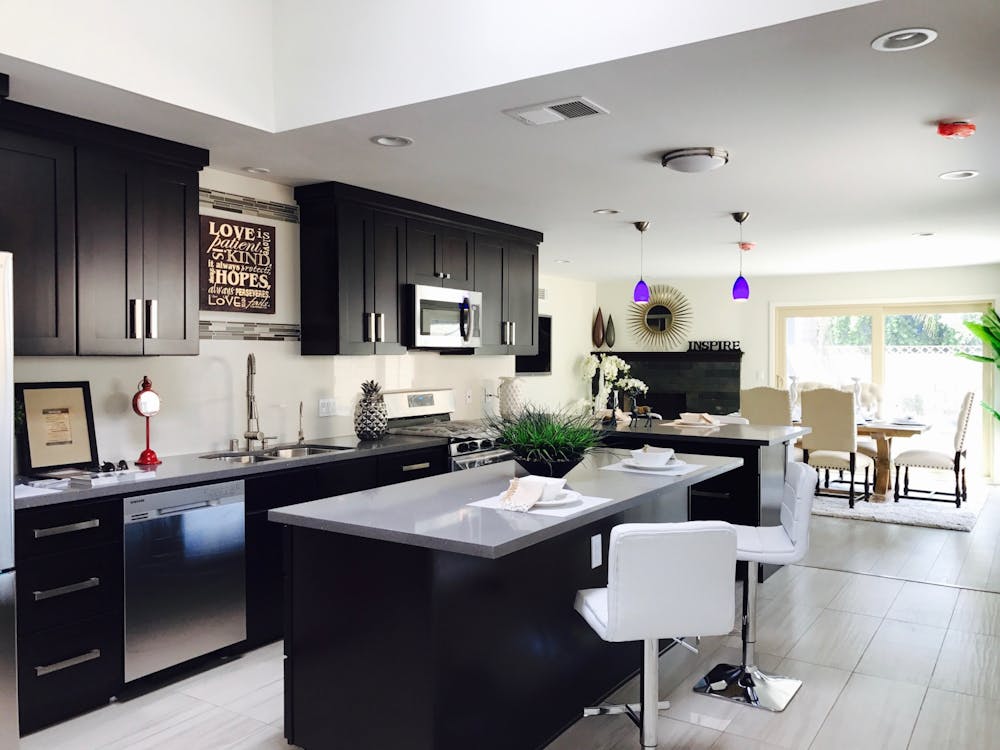 You should invest in savvy appliances that are you need every day, have compact kitchen designs and are mostly multifunctional while providing the best of services. An example of multifunctional appliances would be a hot water tap in place of a kettle.
In addition, built-in appliances are recommendable than standing appliances as they help homeowners keep surfaces clear of clutter and as a result achieving a neater look in your home. Nowadays there are a variety of appliance options for small restricted spaces such as drawer lengths and depths and also a range of cavity sizes.
6. Farmhouse Sink
Farmhouse sinks will never go out of style as the best ones and more common ones are made of either stainless steel or porcelain. They are timeless pieces and add a distinguishing look and are very spacious. The best editions come with one or two basins and an exposed front apron design. They can be a bit on the pricey side are a great addition to your kitchen and are designed to work with an existing sink cabinet.
Should you get an island?
A kitchen island can take up a lot of space and can be inconvenient for a small kitchen renovation. When you add a kitchen island, the cabinets, appliances, countertops, or sinks costs go up. The benefits of an island design are you get more room for appliances, more storage room, more counter space, and more eating area in your home. You should use an island if you have enough room in your home and also if you have enough money for installing the island.
For small kitchen design ideas, you can use a Lshape layout that offers that same solution. The L-shaped is good as it can be used as more working space as a breakfast bar and also a prep area. If you need additional storage and workspace, you should use butcher block countertops, moveable trollies, or pull out worktops. These can be easily placed elsewhere when you are not using them.
Kitchen Renovation Planner Checklist
1. An architectural drawing of your existing kitchen
The drawing should clearly show your doors and windows location, the plumbing lines, heating, and electrical outlets. Whether you are using an interior designer or doing it yourself, this drawing is a requirement. If you are working alone, you can create the drawing by using the 3-D kitchen design software.
2. A folder with ideas
This idea folder is a folder that has architectural details, pictures of different rooms, materials, or products that are pleasing to your eyes. Additionally, this folder should also consist of what you don't like about your kitchen space and what you would prefer in your kitchen decor either from a friend's kitchen or from a show or magazine. The main purpose of this idea folder is to capture the most important details you would prefer in your kitchen.
3. A detailed wish list
This is a list that consists of your inspiration meaning what you would like your kitchen to look more like, your goals, and your preferences. Examples would be what styles would like, how much more storage space would you prefer, a variety of kitchen storage ideas, and even would you prefer a built-in bin or a portable one. Such preferences should be organized in a matter of priority from the must-haves to the might-likes.
Kitchen Remodeling Common Mistakes
Budgeting irresponsibly
Picking up all the latest trends. Not all trends will work for your house.
Trying to do it yourself
Picking the wrong size
Lack of decision making
Overdesigning the kitchens
Choosing the appliances as the final step of renovating the kitchens
5 Signs It's Time to Renovate Your Kitchen
Renovating your kitchen makes the space more functional and beautiful, boosting your home's value, which can be beneficial if you want to sell soon. The good news is that there are many kitchen remodeling ideas online that can help you transform your outdated kitchen into a more functional and aesthetically pleasing space. Given that a kitchen remodel is a relatively huge investment, many people aren't always ready to tackle it unless there are some pretty solid reasons. If you're undecided about whether to renovate your kitchen, here are a few signs you should go through with your remodeling project:
1. Your Kitchen Lacks Space
One of the main reasons to update your kitchen is if you've outgrown the space. If you usually bump elbows when you're more than one cook in the kitchen, you should consider remodeling the space to create more room for food prep and storage, and serving meals. If your kitchen looks cramped and tiny, renovating it can help expand the space to accommodate your growing family. A kitchen remodel also allows you to reorganize the space to improve its flow, so more people can be in the kitchen helping out without getting into each other's way. With plenty of counter space, everyone can have their own space to prepare meals and accomplish other tasks.
2. Your kitchen looks old and deteriorated
You may also want to renovate your kitchen if it appears deteriorated and in bad condition. A deteriorated kitchen often has missing or broken cabinet doors, peeling countertops, cracked tiles, leaky taps, and loose fixtures. These structural problems can make your kitchen unpleasant for preparing meals and family gatherings and even make cleaning the space difficult.
If your kitchen looks like it's falling apart, it might be time to update it. A comprehensive kitchen update can help address these structural issues, keeping the space in the best condition and aesthetically pleasing. Not addressing these issues can cause more damage to your kitchen, costing you more to repair.
3. Your kitchen's layout doesn't match your lifestyle
If you love cooking, but your kitchen's layout makes preparing meals difficult and less enjoyable, then a kitchen renovation might be the solution you need. Whether your kitchen's layout or design doesn't fit your lifestyle, redesigning the space can maximize the flow of activities and productivity.
Engaging an interior designer's services can help you plan the kitchen and create the perfect layout to make the most of the available space. Improving your kitchen's layout can also make your cooking area more functional and usable, making it easier to work in and more enjoyable to spend time in. Your designer will also help you choose a style and color scheme for your kitchen that fits your unique lifestyle and taste.
4. You Have Outdated Appliances
Older kitchen appliances tend to malfunction more often and run inefficiently, making cooking an unpleasant experience. As a result, they are often more expensive to maintain and run than newer appliances. They also take up plenty of space since they're bigger and are more difficult to clean than most modern models.
If your kitchen has old appliances that are less energy efficient and require constant repairs, upgrading them can be the best option. Replacing your older appliances with modern options can make your kitchen more functional and energy efficient. This will help lower the cost of running your kitchen appliances and allow you to prepare meals faster and more efficiently.
5. You want to increase your home's value
Another great reason to remodel your kitchen is when you want to boost the value of your home. Like bathroom remodels, renovating your kitchen will give you a high return on your investment when you decide to sell your home. The kitchen is also usually the first area homebuyers look at when buying a home. Putting your home on the market when your kitchen looks poorly designed and outdated can be a major turn-off to potential buyers. If you're looking to sell your house soon, you should consider upgrading your kitchen to make it more appealing to potential homebuyers and help you sell faster and for top dollar.
FAQS
1. What is the cheapest way to renovate a kitchen design?
The cheapest way to renovate your kitchen is to find a focal point of your kitchen and design it according to your inspiration. It is not necessary to renovate everything in your kitchen rather you can add a splash of colour that will change up the whole look of the place. The cheapest area to design would be replacing the kitchen cabinets, changing the countertop kitchen design, or playing around with the lighting.
2. What does a typical kitchen remodel cost?
The kitchen remodel of a typical would cost somewhere from $13290 to $37553 depending on the quality of materials, size of the room, and also the type of kitchen layout in your house. This cost could cover changing up the cabinet facade, any paint job done, sink replacement, and installing a tile backsplash. Ensure as a homeowner you come up with a budget and stick to it according to your inspiration kitchen remodel ideas.
3. In what order should you renovate a kitchen?
The first step in the renovation of a kitchen is making your wish list of all your inspiration designs that would complete your home look.
Secondly, come up with a budget to cover all the renovations in the kitchen.
The next step that follows is to hire a contractor or designer and get the list of work that will be done, the timeline, and how much it will cost. The more details you have the better your chances of achieving the design.
Demolish to make room for the new kitchen design and if you find any issues when demolishing like faulty wires, make sure they are fixed first
Determine the location of task lighting fixtures and also the appliances and install mechanical systems. This is where you ensure the HVAC, electricals, and plumbing are installed.
Install insulation which is added in between the studs on the walls, the drywall is primed and laid over top and the flooring is installed. You should ensure this is done before the cabinets are up.
Install cabinets and the countertops
Make the final finishes which include the paint job in preferred colours, fix knobs and handles, lighting fixtures, and the kitchen backsplash.
4. What's trending in kitchen remodelling according to AD?
The trending designs according to AD at the moment are stainless steel accents, white marble cabinets, warm wood elements, glossy white surfaces, and gleaming gold surfaces.
5. Can I use home equity line of credit to fund my renovation?
Yes. This is best used when the project will take a longer time. A home equity line of credit offers low-interest rates that are tax-deductible. Additionally, you can protect your investment by buying home insurance. A disadvantage of a home equity loan is that you must pay fees and closing costs, similar to a mortgage.