Applying the best-LED lights for the bedroom correctly can give your room a more welcoming and cozy feel. The same is somewhat accurate if the lighting installation is done incorrectly. You can expect inconsistency and a tacky, contrived feel.
What are the best LED lights for bedrooms, and how can you best apply the LED lighting for that look you are yearning for?
There are countless possibilities for LED light strips, so we've narrowed your search for you. There's an LED strip for everyone, whether you're looking for simple, cost-effective lighting, voice-controlled LED lights that change color to the rhythm of your music, or mood lighting for recreational purposes.
The Nexillumi 50-foot LED light strip is our top selection on this list of the best LED strip lights due to its wide range of illumination capabilities, ease of setup, and compatibility with Alexa, Google Assistant, and Siri for hands-free voice control.
Our second selection, Govee's LED Strip Lights, is packed with fascinating lighting features smarts for an even more affordable option. The third option is the Philips Hue Bluetooth Smart Lightstrip which is easy to install. There are plenty of other intriguing options available, each with something special to offer. Read on to find out which is best for you! Also, follow through with this article for some LED lights for bedroom ideas.
Are LED Lights In Bedrooms Safe?
Image Source: usmagazine.com
Absolutely, bedroom LED lights are secure.
They don't release UV or infrared radiation, are unlikely to catch fire and provide very few safety issues. Because of its high efficiency, most of its energy is converted into light instead of heat. So you can unwind without worrying about anything.
Nevertheless, keep in mind that LED lights generate blue light, which may be seen when using smartphones and tablets, as well as when staring at LED lights. The wavelength of blue light is shorter than that of other hues.
Many studies have found that blue light improves cognition and increases attentiveness. While this is invigorating during the day, we want to soothe the body with sleep-inducing light at night.
While searching for the finest LED lights for bedrooms, keep this in mind. Use a warm white color to promote relaxation and create a cozy, melancholy atmosphere. Use natural and cool white LEDs for the most visibility and brightness in your kitchen or bathroom.
5 Best Bedroom Led Light Strips
1. Nexillumi LED Strip Lights, Color Changing RGB LED Strip
Nexillumi 50Ft Strip Lights Music Sync Color Changing,...
【More User-Friendly Ways to Control Your Lights】① Download...
【Upgraded high adhesive double sided tape, Easy...
【Upgraded Safest UL listed Power adapter and cords】The...
【Infinite Applications for Home Interior Decoration, Dorm Room...
The Nexillumi 50-foot LED light strip uses 540-LM LED lights to produce eye-catching accent lighting in nearly any space. The LED strip light we bought featured two adjustable 25-foot strips that could be cut to suit any room, and there were also plenty of straight and L-shaped connectors available.
Image Source: Nexillumi.com
Although they are not too brilliant, our lights had an average power usage of 80 to 90 watts, but they still offered adequate lighting to improve visibility. The "Illumi home" light application was what we used to adjust brightness, choose completely customizable colors, and sync with musical beats. We were provided with a remote control, which we could use with smart home devices or on our smartphones.
Even better, these smart strip lights had a microphone mode that allowed us to sync the lights to the music we played. Again, using a small mic on the controller switch, we could easily change the colors of the smart light strips. Plus, it had an alarm function that lets us gently increase the light source in the color of our choice—which could surprisingly mimic a natural sunrise.
2. Govee Smart LED Strip Lights for Bedroom
Sale
Govee Smart LED Strip Lights for Bedroom, 32.8ft WiFi...
Hands-Free Voice Control: Govee 2 Rolls of 16.4ft LED lights for...
Wireless Smart App: The Govee Home app offers you advanced...
Music Sync: A built-in mic allows the LED light strip to sync to...
Bright Light: The 32.8ft smart Govee LED strip lights for bedroom...
Easy to Install: Our all-in-one smart LED lights kits come with...
The Govee 32.8-foot smart LED light strip provides nearly 33 feet of brilliant illumination and can be customized with up to 16 million color possibilities via the Govee home app. The light strip we bought could also be linked to Amazon Alexa and Google Home for voice control of lights. We could easily turn on or off lights as we enter a room or change the color settings without lifting a finger.
Image Source: Govee.com
Unlike most smart light strips, these best LED strip lights came with two flexible 16.4-foot rolls and only required 36 watts for optimal functionality. What we enjoyed most was the fact that we could use a smartphone to schedule operations. Plus, the sound-responsive microphone was amazing; they prompted the led light strips to change color with the music beats.
We also discovered that the Govee Smart strip lights offered a good combination of attributes, from adhesive strength to color selections to scheduling. Plus, the app had amazing scheduling possibilities and lighting settings based on sceneries or personal preferences. It also had an outstanding connection.
We gave Govee extra credit for including support clips that may be screwed in or adhered to hold the larger portions of the electrical cord if necessary.
3. Philips Hue Bluetooth Smart Lightstrip
Sale
Philips Hue Bluetooth Gradient Ambiance Smart...
Get a seamless blend of flowing multicolor light in a single LED...
Bluetooth compatible for easy connectivity, set the mood...
Choose from 16 million colors or use preset light scenes to Read,...
Perfect for accent light behind or under furniture, cabinets, or...
Compatible with the Hue Bridge, unlock the full Hue experience...
A light strip can greatly improve your home's atmosphere, but the LEDs may be a little overbearing at times, which is why we like the Philips Hue Smart Lightstrip. You may still pick from 16 million hues, but different colors can mix together to produce a seamless, ombre appearance.
Image Source: Philips. com
To enhance the user experience, the tiny LEDs are housed in a strong silicone wrap with a milky finish. This additional dispersion produces a soft light and may help minimize eye strain. Plus, just like the standard light bulbs from Philips, these best-LED strip lights work perfectly.
The Philips Hue Gradient Ambiance Smart Lightstrip is a component of the Hue system, which allows us to connect and control numerous lights over Bluetooth. Smart assistants such as Alexa, HomeKit, Microsoft Cortana, SmartThings, and Google Assistant could also be supported to make your life easier.
Overall, this smart light strip is stylish, simple to operate, and packed with useful functions. However, because of the expense, it is perfect for customers who already have Philips Hue lights or wish to start utilizing them for their smart lighting system.
4. WYZE Light Strip Pro, WiFi LED Strip Lights
Sale
WYZE Light Strip Pro, 32.8ft WiFi LED Strip Lights,...
Multi-color segment control: Displays up to 16 RGB colors at once...
Music Mode: Sync your lights to the beat of your favorite tracks...
Protective coating: A clear epoxy coating protects the advanced...
Trimmable design: Designated cut areas allow precise...
Voice Control: Command your lights with your voice by asking...
The Wyze Light Strip Pro is the way to go if you want a relatively inexpensive light strip with much flexibility and control. The LED light we selected had the ability to automatically set color temperatures based on the time of day, a built-in microphone to match our music, and a vacation mode to deter burglars.
Image Source: Wyze.com
The best feature is that this 32.8-foot strip has 16 customizable segments simultaneously showing 16 of the 16 million RGB hues and tunable whites. Plus, the Wyze Light Strip Pro, like most other LED light strips, was easy to install thanks to the accompanying adhesive and clips. We even cut the epoxy-coated strip at specific points to achieve a perfect fit for your selected position, but the strips could not be connected.
Even better, the led strip lights were Alexa and Google Assistant compatible, allowing us to control the strip with our voices. There was also a music option, which allowed the Light Strip Pro to sync with our music. Unfortunately, the Wyze app is the only way to activate Music mode. You can't use Alexa or Google Assistant voice instructions, and the single-button controller only allows you to cycle between a sequence of solid colors, with a long press turning off the strip.
5. LIFX Lightstrip Color Zones, WiFi Smart LED Light Strip
Sale
LIFX Lightstrip Color Zones, Wi-Fi Smart LED Light...
3.3' smart light strip kit - perfect width for horizontal TV...
Rich color combinations, and tunable white for bias lighting -...
Polychrome Technology - 8 addressable zones that can animate with...
Control: Voice, Scheduling, Scenes, Effects (eg Move),...
Why Wi-Fi? Control from anywhere. No bridge or hub required. (Use...
Another choice that immediately won us over was the LIFX Lightstrip with Color Zones, which is simple to install. We had these RGBW LED lights linked to Apple HomeKit, Samsung SmartThings, IFTTT, Alexa, and google assistant in what seemed like a split second. Each allowed voice control to alter the color and brightness level and switch on/off the lights.
Image Source: LIFX.com
These lights weren't the brightest we tested at 1,400 lumens, but even at 30% brightness, we had no trouble illuminating a dark bedroom. The eight varied color zones it offers are its most distinctive feature.
The LIFX app had many helpful features, like scheduling and grouping, as well as many entertaining lighting effects and preset color schemes. Using the microphone on our phone or tablet, the LIFX app could even make the lights dance to a song's beat or a movie's sound.
Best Bedroom LED Light Ideas For Your Bedroom
Image Source: ledhut.co.uk
1. Place The Lights Behind Your TV Or Monitor.
If you are a person who has a workstation in their bedroom, you can create a cozy accent by placing the lighting behind your monitor. While the lighting does not take over your screen's usual light, a great ambiance is made at your workstation.
Image Source: i.ytimg.com
You Can Recreate This Look By
If you have strip lights, cut them to the exact size of your workstation. Use tape to secure the LED strip lights while the back edge faces the wall. When you allow the face of the lighting tape to show, the lighting idea you are looking for will not suffice.
2. Use The LED Lighting On Your Shelves To Add Some Personality.
Image Source: i.pinimg.com
Neon lighting has been proven to add a bold personality. You can use a different or preferred color of the lights and place them on your bedroom's shelf. You will notice a different feel, like a live atmosphere, every time you access the room with the LED light strip on. You get various options in terms of design to choose from that match your preferred style.
One thing to keep in mind to get fantastic results is to stick to the theme of your bedroom. Find lights that go hand in hand with the color of your walls and bedding. Even themes give a more comfortable feel.
To Create This Look;
Consider the theme in your bedroom and get LED lights that go hand in hand. While the lights do not have to match the entire theme, they can check your object, such as a green cactus placed on your wardrobe. Keep the LED light strips just next to the decorative object to enhance the look.
3. Use An LED Floor Lamp For Your Reading Corner.
Image source: inoleds.com
It is undoubtedly true, and your bedroom will serve as a place for so many activities. You can use your room for work or study. If you intend to study in your room, get a floor lamp and have an LED lighting idea. The lamp or overhead light enhances the lighting in the specific corner intended for your studies.
You may also use them in different corners of your room if you are looking for a techy and futuristic feature.
To Create This Look;
Decide what color of the LED floor lamp you want, as they come in different colors and at affordable prices. Some, however, can be customized so you can change them to look how you prefer them. Purple lights are suitable for activities such as watching movies and gaming. Slightly brighter lights are better for studying.
Place it next to your study chair or bed when the fixture is ready. If you do not intend to use them for studying, you can place the lights in different corners.
4. Backlight The LED Lights Behind Your Curtain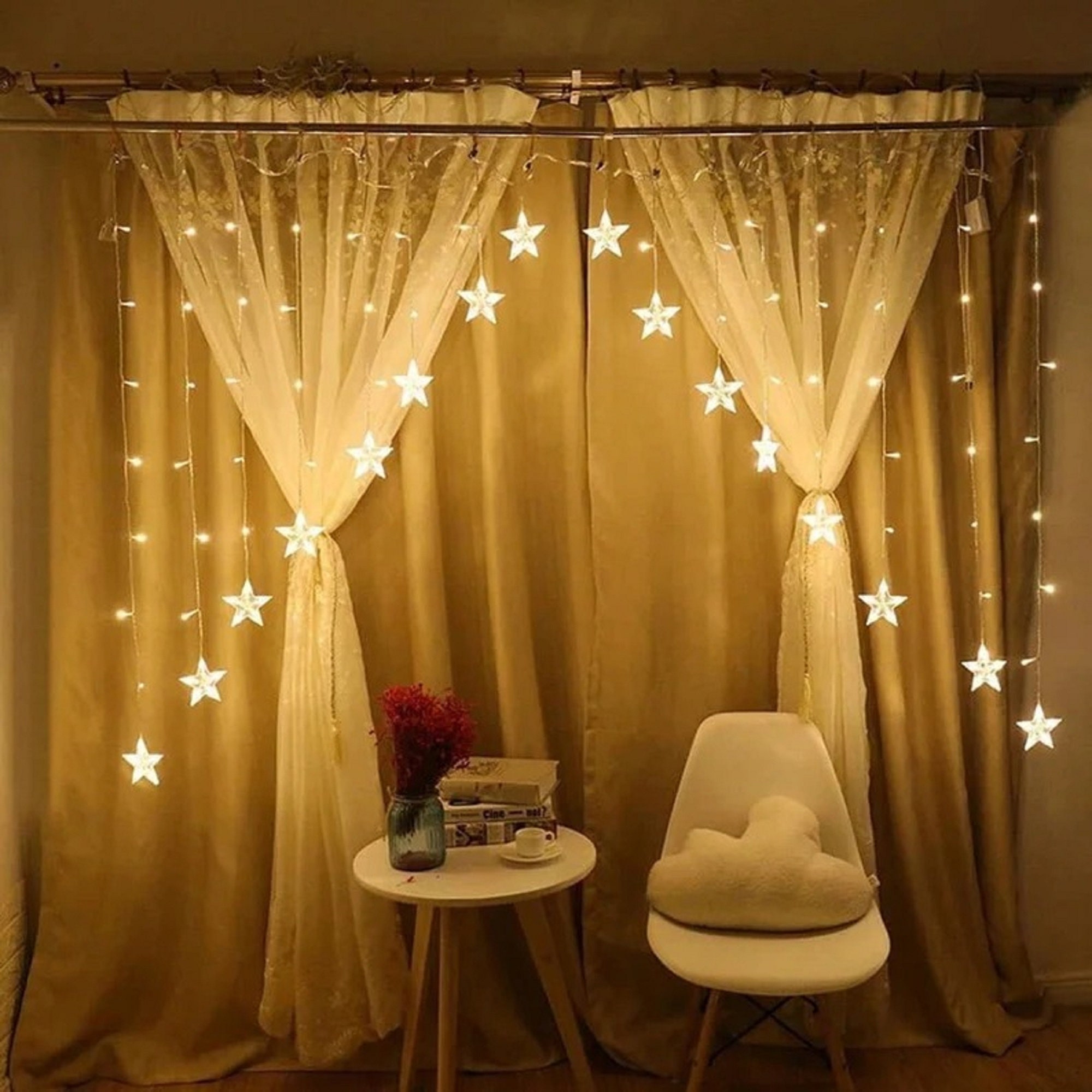 Image Source: i.etsystatic.com
The intention of placing these lights behind your curtains is to give your bedroom a hotel feel. To achieve this feel, however, your room must be darkly themed. That includes your curtains to allow some balance between the natural lighting and your room's LED lights.
To Create This Look;
Add a valance to your window that helps to hold the curtain rod. A warm-colored LED strip is an excellent place to start before installing the lights. Having brightly themed curtains will easily overpower the LED lighting, resulting in no effect being felt.
5. Highlight Your Bed With Indirect Lighting
Image Source: home-designing.com
Using LED lighting on your bed helps enhance your reading area and gives a naturally calming feel to your bedroom. Some LEd features are extraordinarily intense, and having indirect features will significantly help to contain the same.
To Create This Look;
Choose fixtures that equal the width of your bed. Let the plywood panel installed beneath the fixture act as the headboard piece. The lighting should match this board's color to help enhance your bedroom's feel.
6. On The Bottom Of The Bedroom And On The Ceiling
Image Source: lepro.com
Using the best LED lights on the bottom of the bedroom rather than traditional bulbs is also a great idea. The light can promote sleep and prevent eye discomfort if you're lying in bed and playing with your phone. If we need to get up in the middle of the night, the light can also enlighten us, but it will not glare into our eyes and disrupt our sleep.
To Create This Look;
Choose flexible LED rope lights that can easily go around your bed and your ceiling. Place a circle of LED light strips on the bottom of the bed without switching on the main light at night. But you need to remember that the light bulbs must match the color of your room decor.
7. Stylish LED Monopoint Task Lighting For A Minimalist Look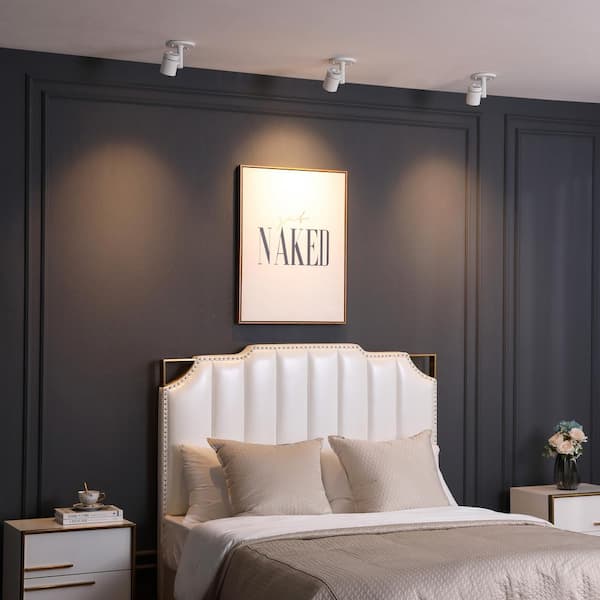 Image Source: thdstatic.com
This little LED lamp is ideal for minimalist settings that require efficient task illumination. The little directional pendant, or monoprint, in this room may be pointed in one of two directions: either toward the bed or the desk area. Its warm hue complements the wood tones of the room's furnishings.
To Create This Look;
In your minimalist bedroom, use a wooden furniture motif and warm neutral grays for the wall color, bedding, and accent seating. Decorate the room with artwork, literature, and window coverings that have a deeper color than the walls. Finally, a bright, natural hue like green, orange, or blue is what your LED bulb light should be.
8. Internally Illuminated Drawers
Image Source: bedroomstylereviews.com
Lighting is often added to regular drawers and cabinets in a room, but this premium feature is fantastic for illuminating the gloomy nooks of these storage places. The application is considerably more user-friendly, thanks to motion sensors. Imagine finding what you need in a cabinet at night without switching on the overhead light. Thankfully, you can make this simple alteration to your own furniture.
To Create This Look;
Select or construct bedside tables with drawers, and consider how you'll engineer the lighting—whether a switch or a motion sensor will control it. Apply your LED light tape on the drawer's top horizontal edge. To disguise the shining light dots, you might, if required, build a barrier in front of the light strip.
9. Highlight Floor Corners To Draw Attention.
Image Source: led-lighthouse.co.uk
Although corners in bedrooms can occasionally be awkward locations, they can be readily spruced up with plants and other furnishings. This corner is given more drama and intrigue by the addition of an LED floor piece. The LED string over the bed continues the notion of strong lighting accents that draw attention to certain areas of the bedroom.
To Create This Look;
Keep the bedding and wall colors in your bedroom light. Use darker accents in the blankets, pillows, and rug. With careful consideration for symmetry, an LED strip hung on the wall above frames the bed.
Put a two-piece setup, such as a plant and a woven basket or a tiny stool like in this illustration, in a vacant area of your bedroom. Last but not least, mount tiny LEDs on the wall directly behind the setup. Preferably, cover it with a diffused film to prevent the light dots from shining through.
10. Enhance Your Wardrobes With Subtle Accent Lights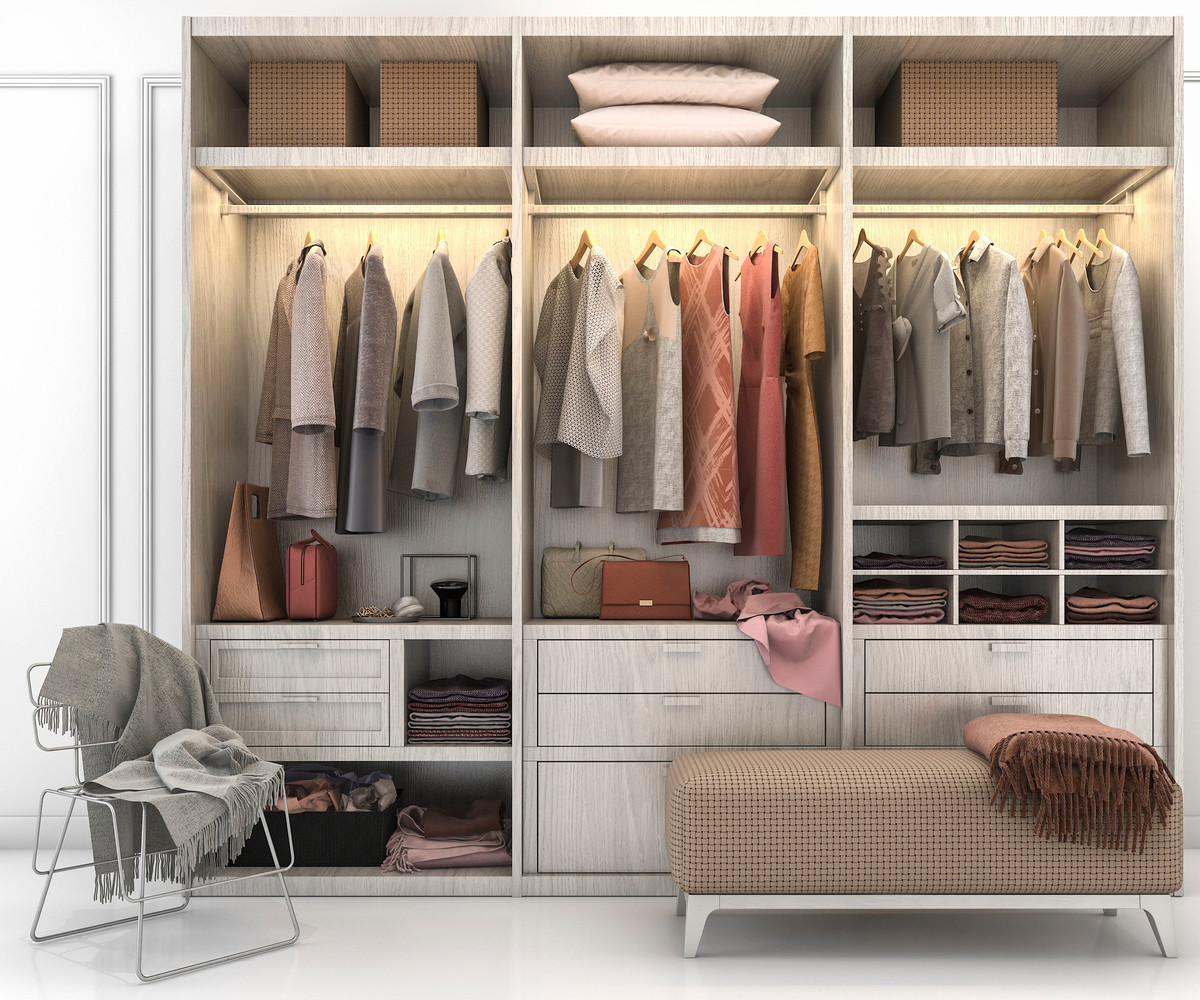 Image Source: kanlux.com
Wardrobes in bedrooms are frequently rather simple in appearance, but LED lighting can easily liven them up. This dressing room has an LED lamp in the middle of the room that has a diffuse film over it to soften the brightness.
You'll see lighting emphasizing the wood wall panels and the herringbone wood flooring above and below the wardrobe. The closet and the wall behind it are a deeper hue, which grounds the visual area and produces a dramatic impression when lit. This application contains cozy lighting and ambiance at night.
To Create This Look;
Consider using this kind of application in your space if your design is airy and bright but you still want a dramatic effect. Create a low shelf with a ledge on your wall unit so that you can attach an LED strip pointing down to it.
Using a darker panel behind the wardrobe with a different texture from the rest of the room will provide contrast to the space. It may be wood paneling or wallpaper. Make sure the wood you choose for your building blends well in terms of color and doesn't overpower the space.
Last but not least, mount the LED strip lights directly below the ceiling on the top surface of the closet.
Important Qualities To Look For While Purchasing LED Bedroom Lights
Image Source: flexfireleds.com
What are the main characteristics of LED lighting that matter for bedroom design? A well-crafted, compact, and unnoticeable lighting system always makes a big visual statement. For this reason, decorators adore them and often won't annoy you with any garish, loud, or distracting lighting. When buying LED strip lights for the bedroom, there are a number of aspects we should think about.
1. Color
In essence, your home's design and color scheme heavily influence the color of the LED light strip. In order to create a more colorful environment, we occasionally utilize RGB light with a controller to vary the hues in addition to the warm white and natural white light we often use in rooms. In actuality, a person's bedroom serves as their primary area of rest.
The lighting in the bedroom affects more than just the illumination; it also affects the mood and quality of sleep. So, it is preferable to use low-illumination, low-color temperature LED strip lights for the bedroom rather than extremely bright or dazzling lights.
For instance, we may utilize a yellow light source to create a warm sleeping atmosphere that can make individuals feel cozy and alive.
2. Remote Control
Convenience is a key consideration when purchasing and utilizing lighting in the entire bedroom. Currently, LED strip lights have a remote or voice control as standard equipment. Nevertheless, some smart LED strips also let you alter the color or brightness of the LED string lights using an app or your voice. We no longer have to be concerned about tripping over the foot of the bed at night.
3. Brightness And Dimmability
Bedrooms often require less lighting than kitchens and baths. This should be taken into account while selecting LED strip lights for bedrooms. We also require a dimmer to control the brightness since we require varied light intensities as the time of day varies. A dimmer for LED strip lights can increase energy savings as well.
4. Safety
We spend around eight hours a day in bed, so keeping ourselves safe there is crucial. In order to feel more comfortable using our bedroom lighting, we should consider the safety rating of the LED strip lights we purchase and choose reputable companies like LED Lighting Ever.
Conclusion On Led Light For Bedroom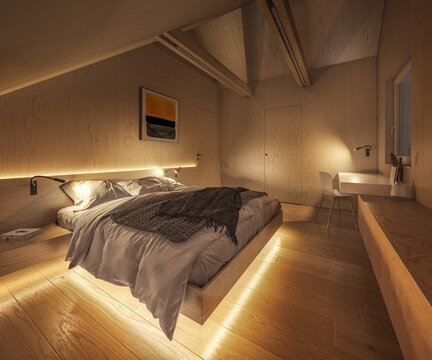 Image Source: t3.ftcdn.net
You can quickly change your bedroom's look and feel by investing in LED lighting. These types of lighting continue to become famous and have evolved into strips, LED bulbs, and light plucks. Unlike earlier times when you could attach them only to furniture, you can now connect them to your computers and TV.
Frequently Asked Questions On Led Light For Bedrooms
Image Source: Colohas.com
1. Is LED Light Good For The Bedroom?
As LED lighting can provide a variety of light tones, you may design more personalized lighting arrangements. This is really helpful in the bedroom since there can be some parts where concentrated light is needed and other areas where a warmer, more inviting light is more appropriate.
2. What LED Light Is Best For The Bedroom?
Different LED lights are favorable for the bedroom, depending on personal preferences. Some of the best types include:
A) LED Stripes Or Tape Lights
They provide a continuous length of light at regular intervals (LED emitters mounted on a narrow, pliable circuit board). Run this under bed frames, under headboards, and through entrances and windows. LED strips may be trimmed to size, and most have peel-and-stick backing for simple installation.
B) The LED Rope Lights
Small LEDs are enclosed in a long, translucent, flexible PVC tube that allows light to pass through.
C) LED Light Bulbs 
LED light bulbs look like conventional incandescent or fluorescent bulbs and fit into standard screw-in connectors.
D) Dimmable LED Lights
They may be adjusted to increase or decrease their brightness, allowing the user more control over the illumination in their bedroom.
E) Smart LED Lights
These lights communicate with an app or home helpers such as Google Assistant or Alexa. In contrast to standard bulbs controlled by a wall switch, they allow you to control lights remotely.
3. Which Color LED Light Is Best For The Bedroom?
As sleeping is the primary function of a bedroom, you should pick hues that promote restful sleep. A bedroom's ideal LED lighting colors are red, orange, and yellow. However, because red light has a lower color temperature than regular sunlight, it is said to be the best hue for sleeping.
4. Which Light Is Good For The Bedroom?
A ceiling fixture is usually sufficient for a modest bedroom. A rail system combined with LED lighting is a good solution for bigger spaces. If the recessed spotlights include an adjustable reflector, their light may also be positioned on shelves and cabinets to illuminate their compartments efficiently.
Remember, you should also consider the quality of your lighting. A warm color temperature can help to create a pleasant atmosphere in your bedroom since it is softer and easier on the eyes than a cool-toned temperature.