The master bathroom is a room that plays a huge role in how my day starts or ends. Once I realized this, I decided it was time to remodel the room and bring in new energy and design. In the process, I learned a lot that I will share in this article to give you an easy time when renovating your bathroom.
First, how much does a master bathroom remodel cost? It cost me $9000 to remodel my bathroom, but that is because there were no extensive structural changes. The national average bathroom remodel cost would be around $11000, which is subject to change yearly. Nevertheless, different bathroom remodels range between $5500 t0 $17000.
In this article, I will discuss bathroom remodel ideas and give tips on what I did to save on cost. I will also highlight where you will most likely spend your money renovating.
Master Bathroom Remodel Tips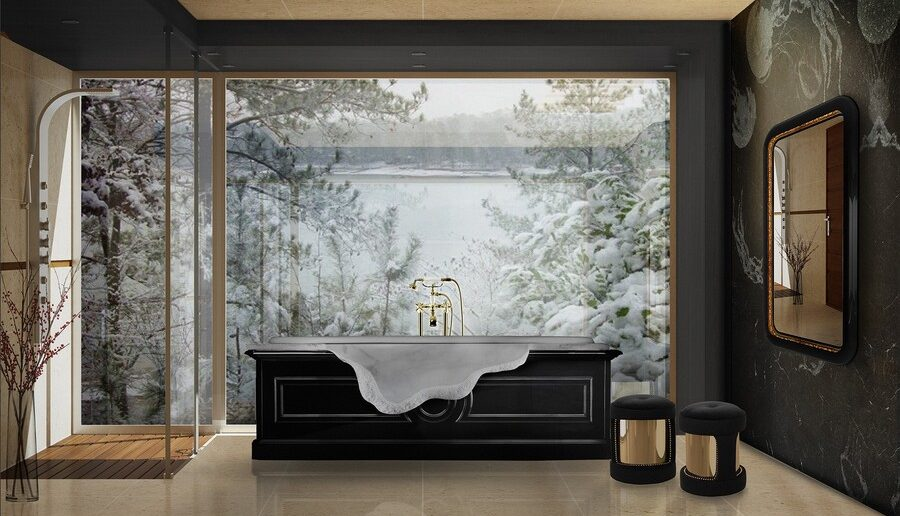 Image Source: bestinteriordesigners.eu
1) Add More Storage
There are a lot of comforts that having more storage in a bathroom has brought me. My wife and I are no longer clashing because everyone has enough room to place their things around.
More storage contributes to neatness, which was a huge consideration when I remodeled my bathroom.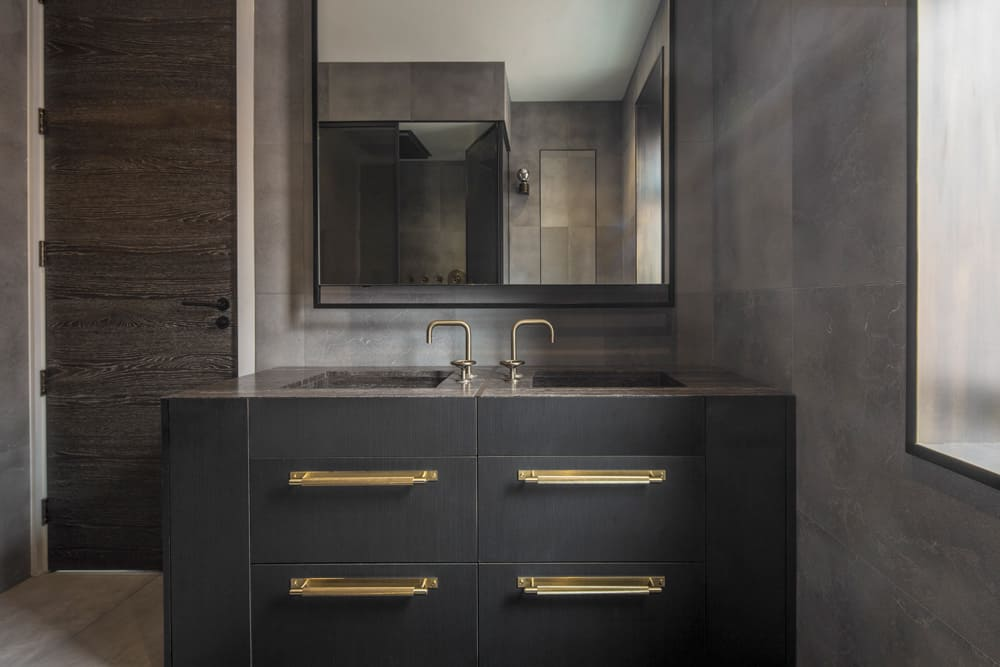 Image Source: roselindwilsondesign.com
There are subtle ways to achieve storage in a master bathroom without looking like a store with items on a shelf. You can have a master bathroom storage area if you have the space.
2) Plumbing
To remodel the bathroom, a structural change might have to happen. I was getting rid of the toilet and separating it from the main bathroom for my bathroom. For this reason, I had to do extensive plumbing.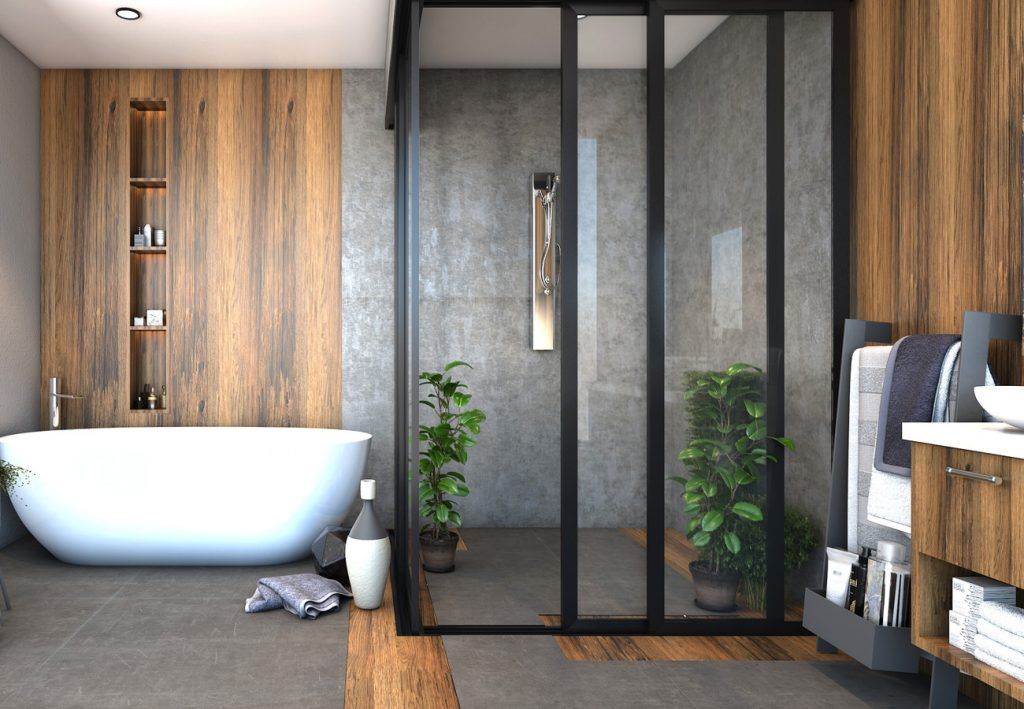 Image Source: teleconstructions.co.uk
Keep in mind that plumbing is one of the things that might carry the most costly when changing the bathroom layout. Therefore, it is almost inevitable to avoid plumbing when remodeling the master bathroom.
3) Open Up the Space
There is nothing better than having an open space in the master bathroom. The master bathroom is my personal oasis that had to feel like one. A tiny and claustrophobic bathroom is nothing close to an oasis.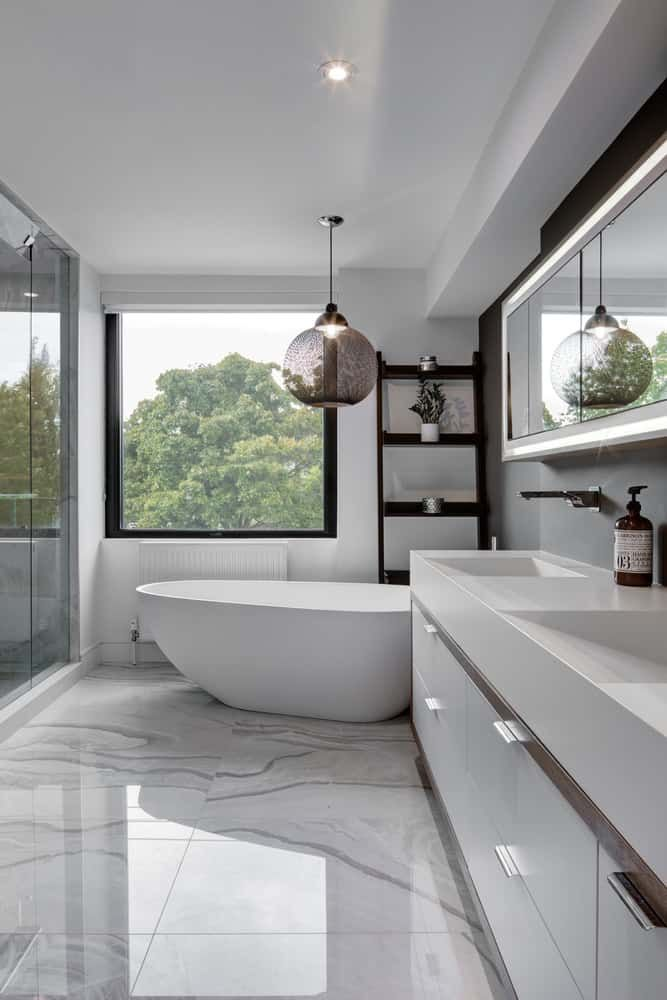 Image Source: pinterest.com
There are many ideas for opening up a bathroom that we will talk about below.
4) Change Lighting
Image Source: homedit.com
Light can affect the human mood in many ways, and the one thing I had to pay attention to when renovating my master bathroom was the lights. I went for natural lighting, one of the best decisions I made for my bathroom. Changing the lights will signify the renovation because it dramatically changes how the bathroom looks.
5) Shower Stall or Not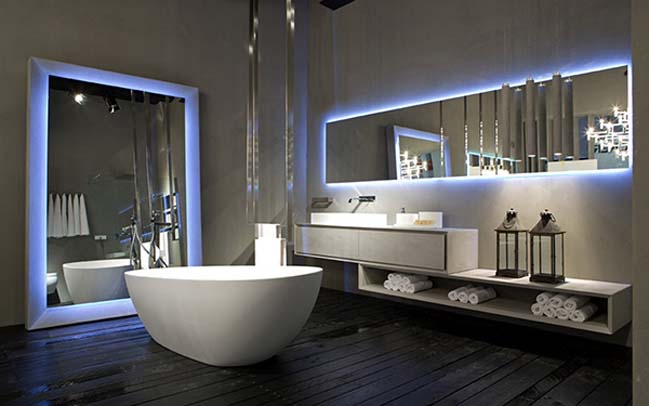 Image Source: 88designbox.com
If you have a shower stall, there are good-looking ones. During my master bathroom remodel, I removed the shower stall, which greatly opened my bathroom by creating the illusion of more space. However, the shower stall hindered me, especially when cleaning the bathroom.
Still, shower stalls work for some people and can be a great addition to a bathroom.
6) Soundproof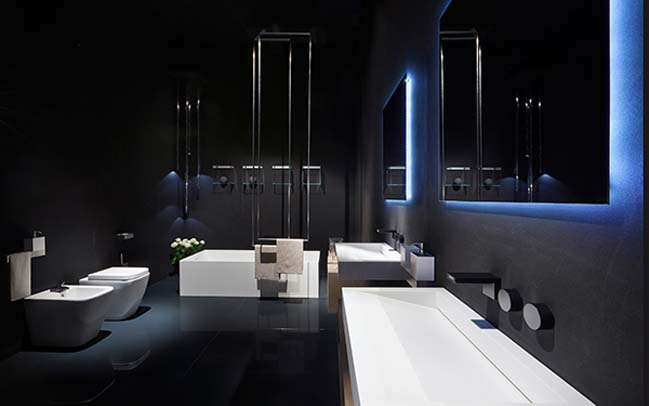 Image Source: 88designbox.com
I wake up early when my wife is still asleep. The challenge she used to face most was the noises I made when showering; now, that is a thing of the past. If you love singing in the shower, it is time to get some soundproof doors for your master bathroom.
7) Duality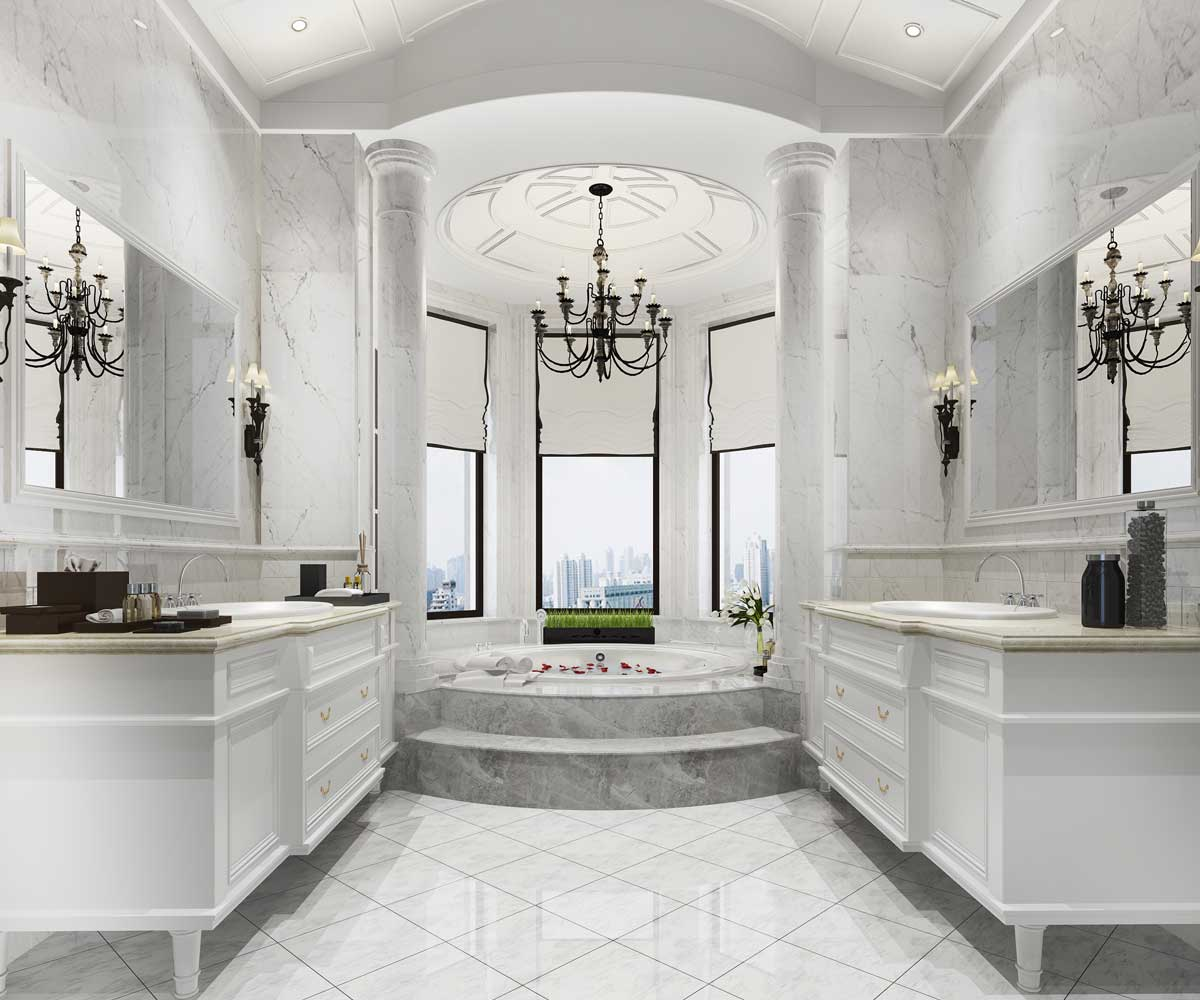 Image Source: seattlestyleremodel.com
Getting two of everything in my bathroom helped save a lot of time and added to the convenience of my bathroom. There are two sinks, two sets of cabinets, two shower heads, multiple mirrors, and more. When my wife and I are in the bathroom, it is a shared space, and a lot of time is saved, especially when in a hurry.
8) Toilet Remodel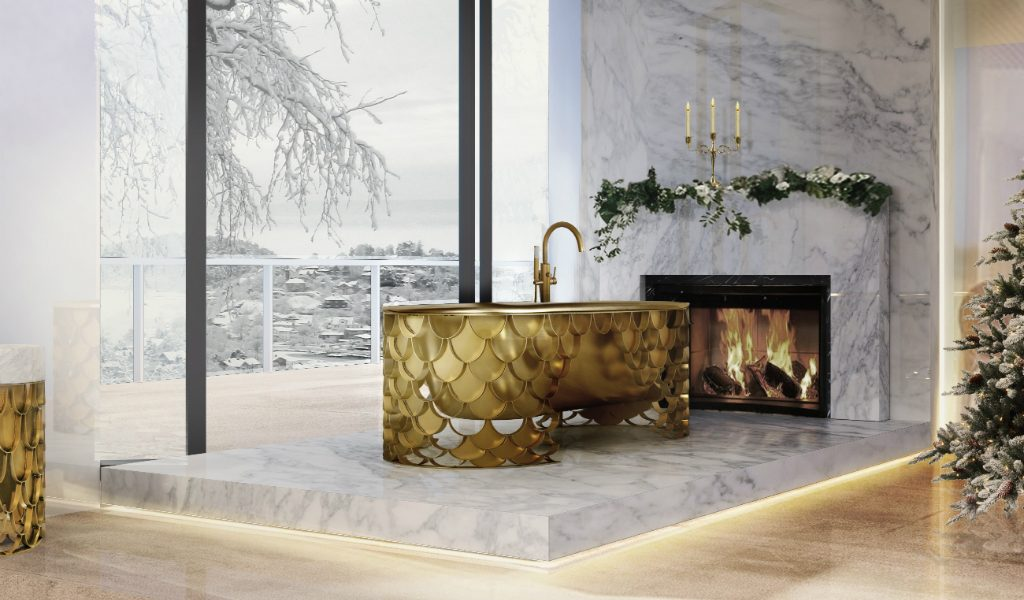 Image Source: bocadolobo.com
Most master bathrooms have the shower and the toilet sharing the same room. The best way to remodel a toilet is to get the best toilet seat you can afford.
9) Shower Heads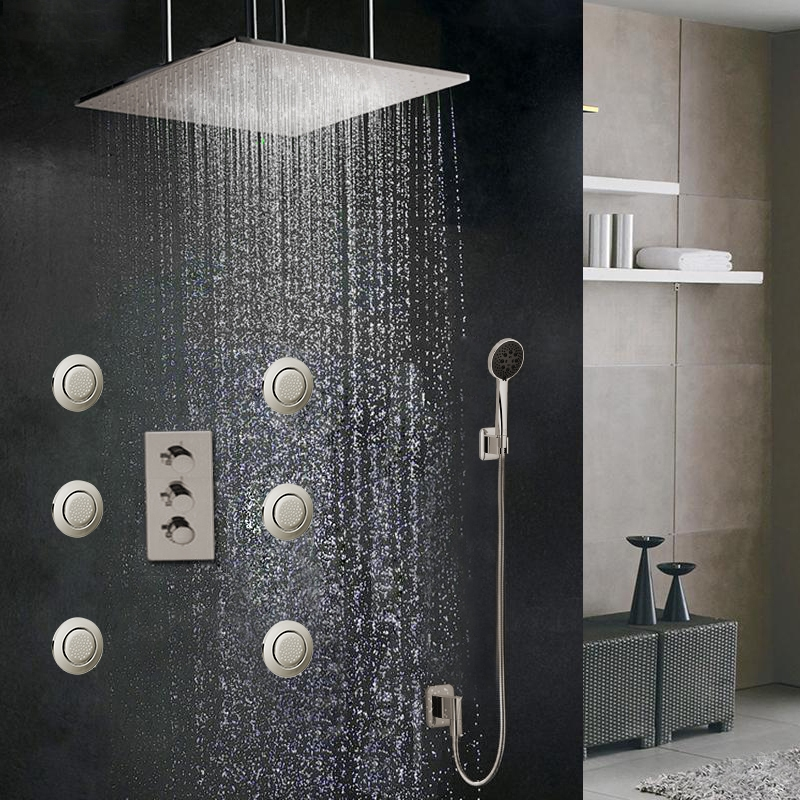 Image Source: fontanashowers.com
This is one of the simplest design changes the bathroom can enjoy. If you know how to connect the electrical wires on the showerhead correctly, you can use a new showerhead within a day. Any change is a good change, however small it is.
10) Advanced Planning and Budgeting
Going into any project without a good plan is never a good idea—a plan for both remodeling and renovation. Get an estimate of the things you will use in the remodeling and leave some extra cash in case anything else arises.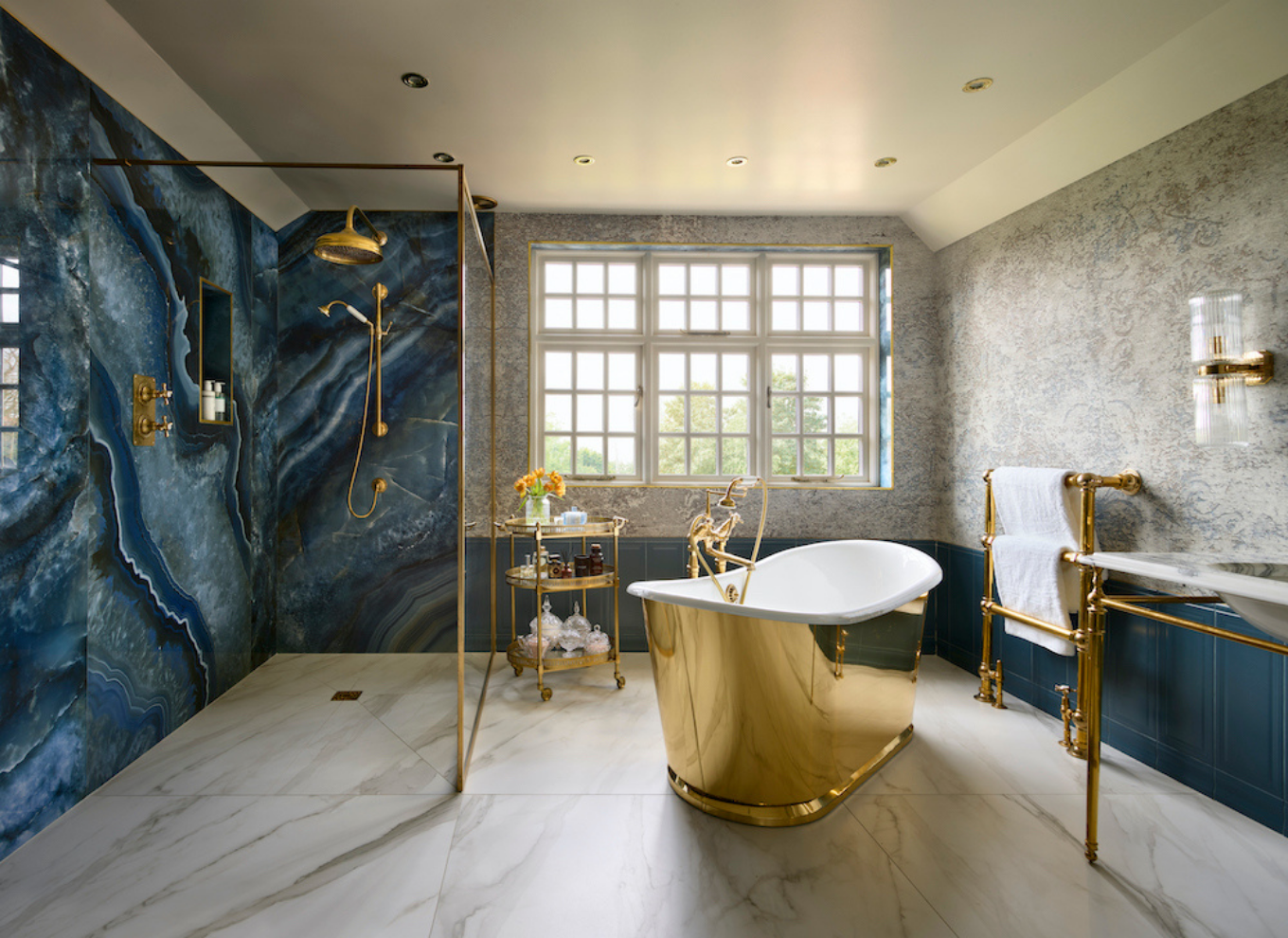 Image Source: theenglishhome.co.uk
Planning creates room for adjustment, especially if you have to move to a different bathroom. For example, the guest bathroom came in handy when remodeling my master bathroom.
11) Getting the Right Permits
If you do not get any required permits, there might be a chance that your project might stall. This is especially the case when you live in an apartment and is planning to change the plumbing. This might affect your neighbors and cause mayhem.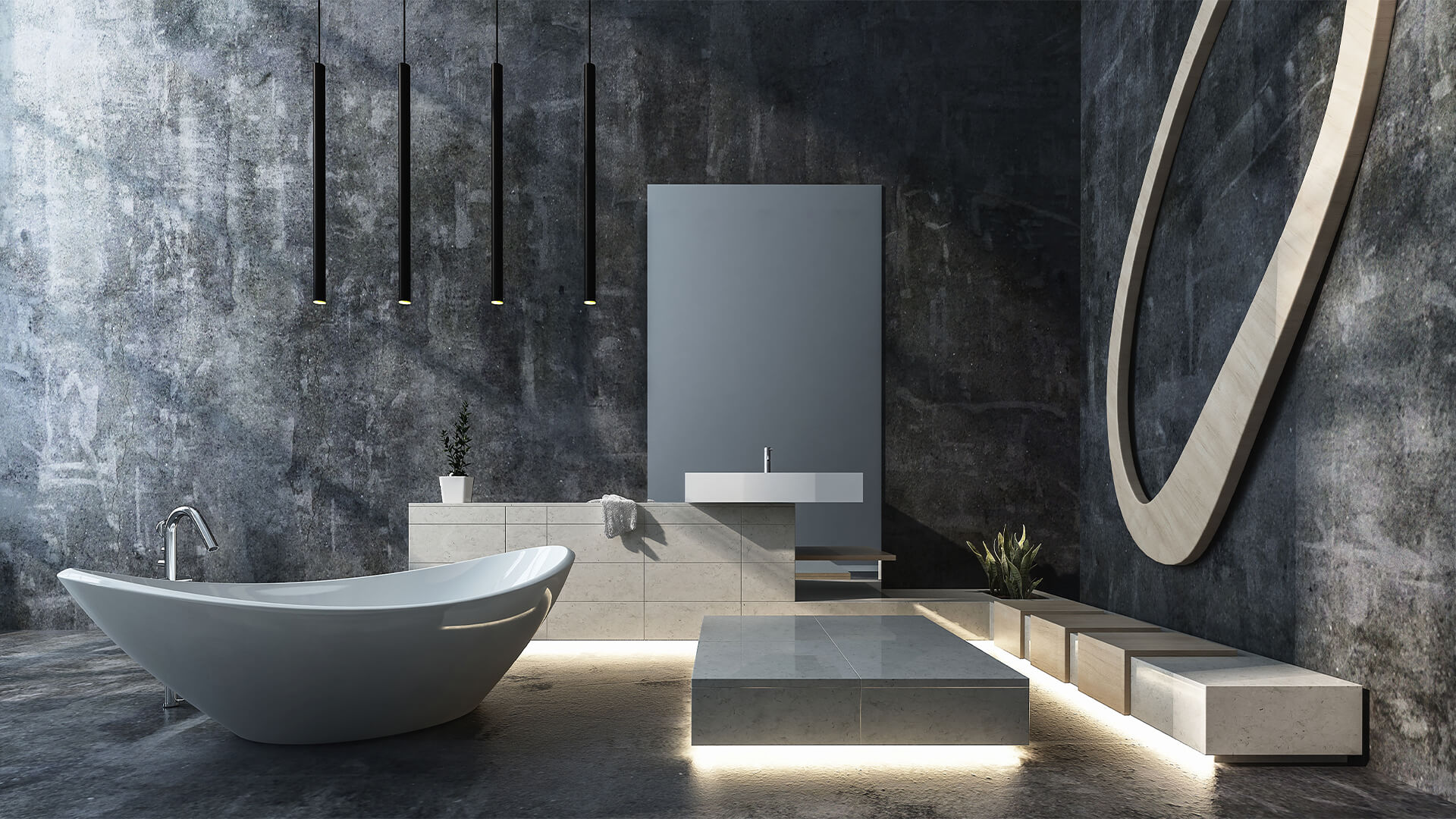 Image Source: build-review.com
The building permits are available at the county offices, and you can check with your apartment manager before you embark on anything.
Master Bathroom Remodel Ideas
a) Lighting
Lighting was at the top of the list for my new master bathroom ideas. A master bath is a place where warmth should exist. For this reason, I incorporated the following lighting ideas.
i) Natural Light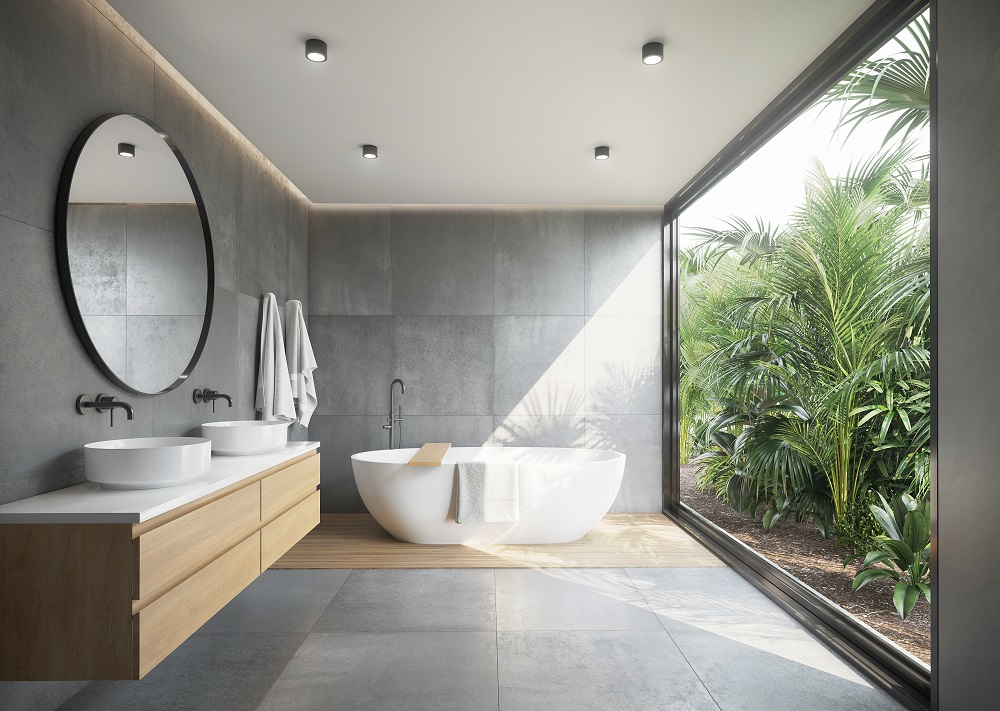 Image Source: pabs.com.au
Nothing beats a bathroom with natural lighting. Of course, this might not work for everyone, especially if your bathroom is not on the outer side of the house. However, there are ways to achieve natural lighting.
If you live in an apartment with neighbors, there are one-sided glasses you can use to achieve natural lighting. However, you will have to draw the curtains at night because the glasses always work when the light comes from outside and not inside.
ii) Chandelier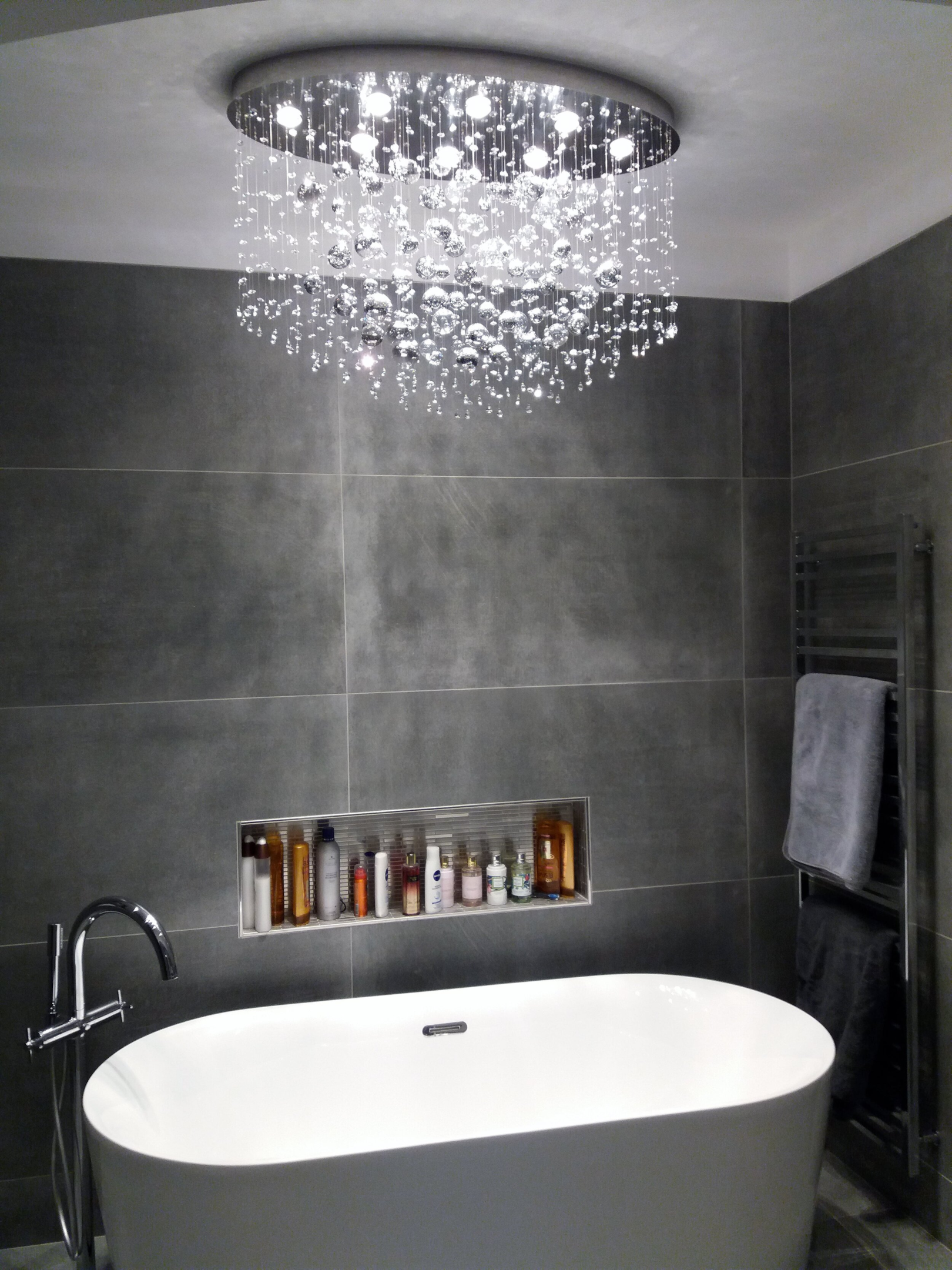 Image Source: wranovsky.com
What do you want to look up to if you have a bathtub? Certainly not an empty ceiling. A chandelier brings a strong character to the bathroom and gives dramatic lighting for a relaxing time. A chandelier balances out a bathtub and makes a bathroom classy.
iii) Wall-Lights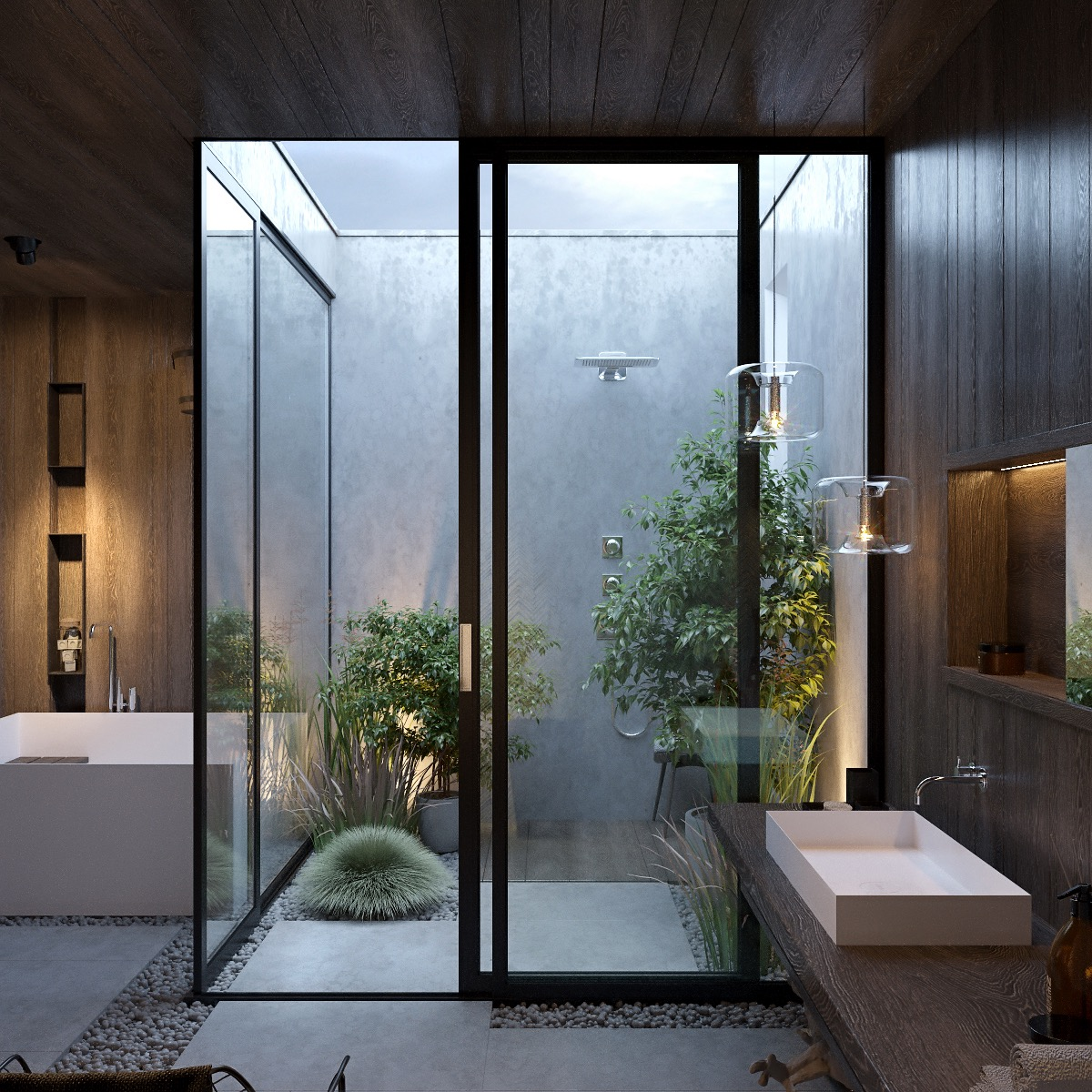 Image Source: home-designing.com
The most subtle way to light up the bathroom is to have moody wall lighting. Walls are bare in most cases and offer a chance to try different things. Lights will never go wrong.
iv) Candles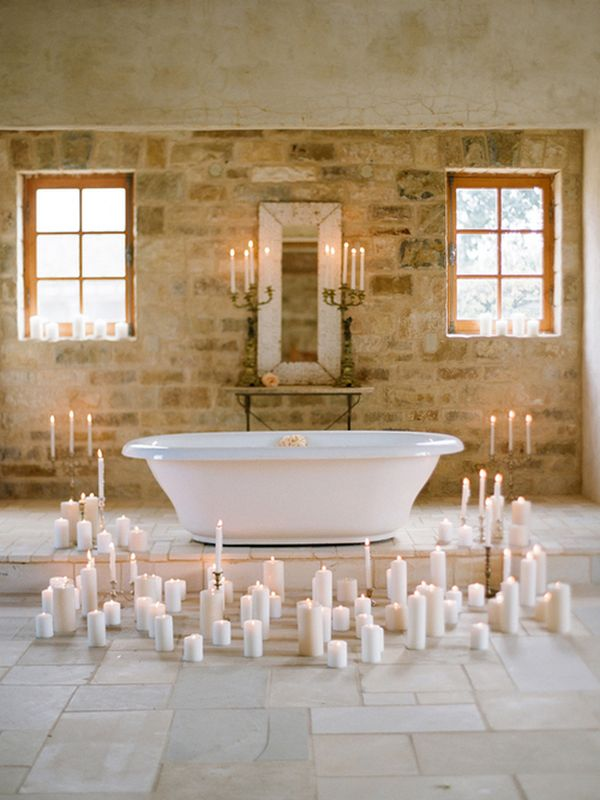 Image Source: homedit.com
Candles should have been at the top of this list. Scented candles give the bathroom a good vibe and make it relaxing for the hard days. In addition, candles can act as the primary light source. If placed correctly, there is a dramatic effect that the candles can have.
What's better, candles work during the day too.
b) Wall Tiles
The walls are in my direct line of sight whenever I am in the shower. For that reason, there was no way I would leave my walls the way they initially were. One major thing to consider when going for tiles is how easy it will be to clean them.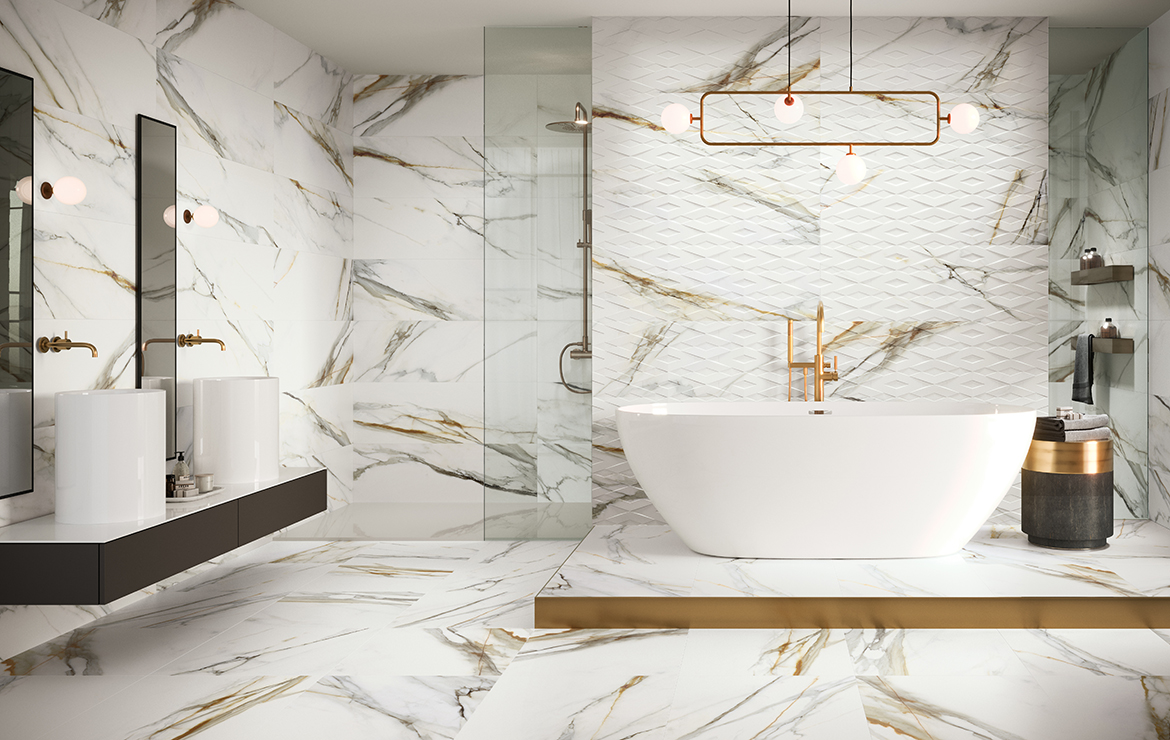 Image Source: macsbathrooms.com
Tiles should complement the floor and have a similar theme as the one you are going for in the master bathroom.
c) Freestanding Tub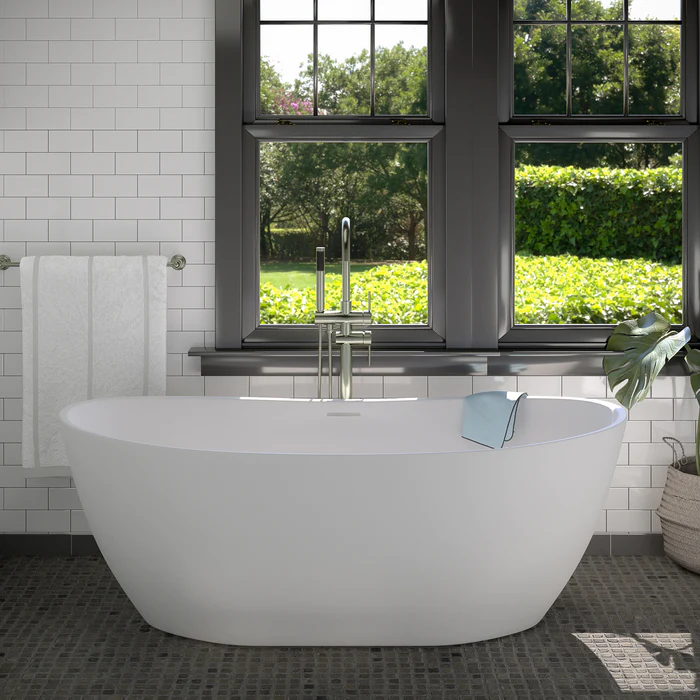 Image Source: barclayproducts.com
The best freestanding tub is a total upgrade to the master bathroom. Many changes come with installing a freestanding tub, but you will love the outcome when you do. The freestanding tub is easy to match with everything else. Having a freestanding bathtub and a large window makes the setup look magical.
d) Bathroom Vanity
Image Source: lampsplus.com
I never knew a bathroom vanity meant a lot until I got my wife her own and one for myself. There is something special about having a personalized space in the bathroom. My wife can keep her medication, toiletries, soaps, shampoos, towels, and more all in one stop.
I, too, love the idea of having my sink and cabinets. However, a single sink was not cutting it for us, especially in the morning when we both needed to prepare and leave the house. A double vanity was the answer to all of our problems.
We had a chance to theme each bathroom vanity to suit each other's color preferences, and it worked out perfectly.
e) Cabinets
Image Source: bertch.com
Cabinets are perhaps the secret to bathroom neatness or the neatness of a room in general. They work well for the kitchen, bedroom, bathroom, and study. Cabinets make organizing things easy and fun. There is an option of having open shelving, closed cabinets, or both.
Cabinets are lockable so that any medicines are always safe from the kids whenever we are away.
f) Plants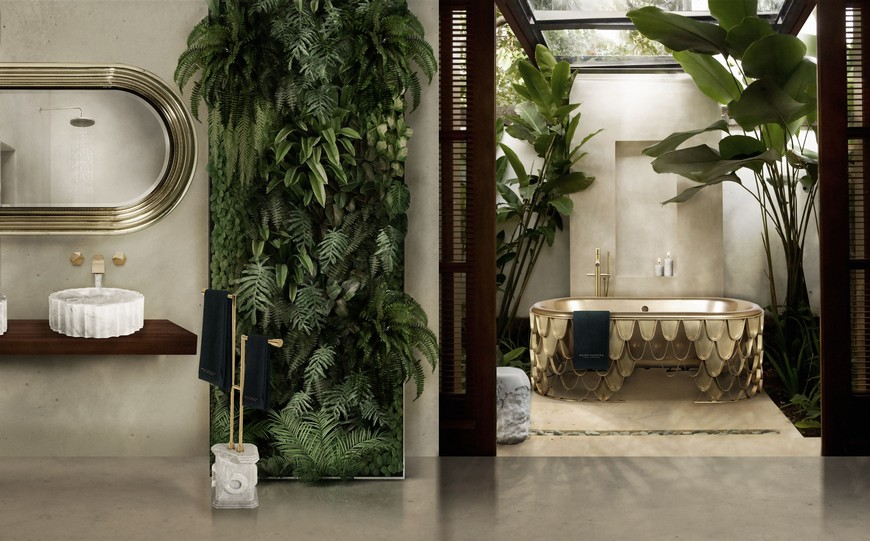 Image Source: luxurybathrooms.eu
During my bathroom renovation, I was actively going for a relaxed vibe. So one of the things I had to incorporate in the master bathroom space was an indoor plantation. This worked out nicely, especially by the window and the stand-alone bathtub. The open shelves are a perfect opportunity to have tiny succulents and cacti. Those look perfect and give the room a lot of character.
g) Flooring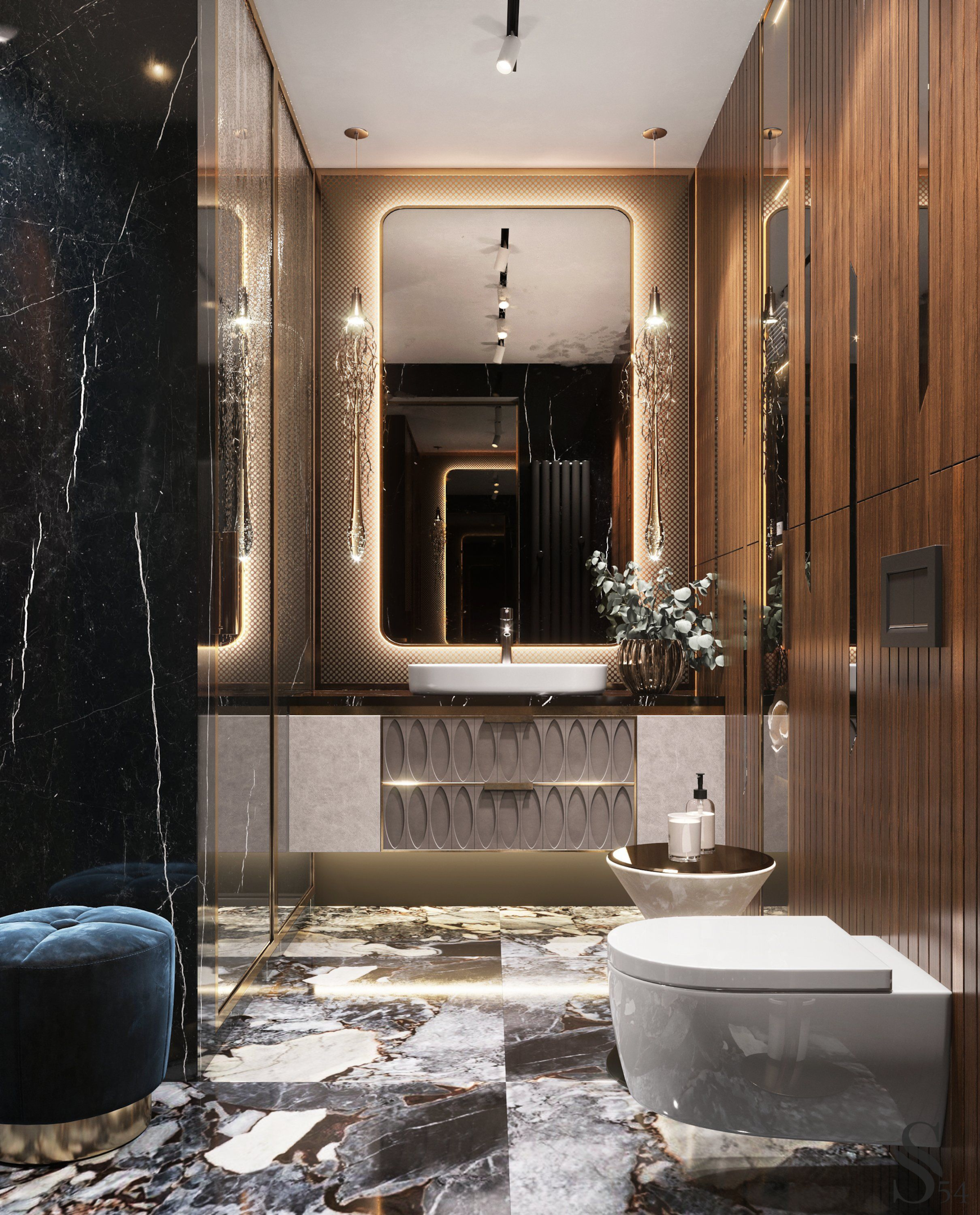 Image Source: pinterest.com
The floor was one of the major changes I made during my master bathroom remodel. The floor makes a huge difference when remodeling because it is in the direct line of sight for everyone. The floor was the unifying factor between my master bedroom and bathroom. I had to be smart about it.
I not only changed the tiles to match the design I was going for, but I also installed heated floors. This will come in handy during the cold seasons. In addition, heated floors add to the fun of using the bathroom without any limitations.
Different tile floors and many options suit your preference and personality.
The one secret I realized with tiling is that you can go for extra-large floor tiles or tiny ones. I went for the large ones, which made my bathroom look even larger.
g) Monochrome
Choosing colors during a master bathroom remodel can be a headache, especially if you have a partner and you both want personalized results. In such situations, double sinks, double vanity setups, and a duality of the whole bathroom setup create the chance to have two designs going.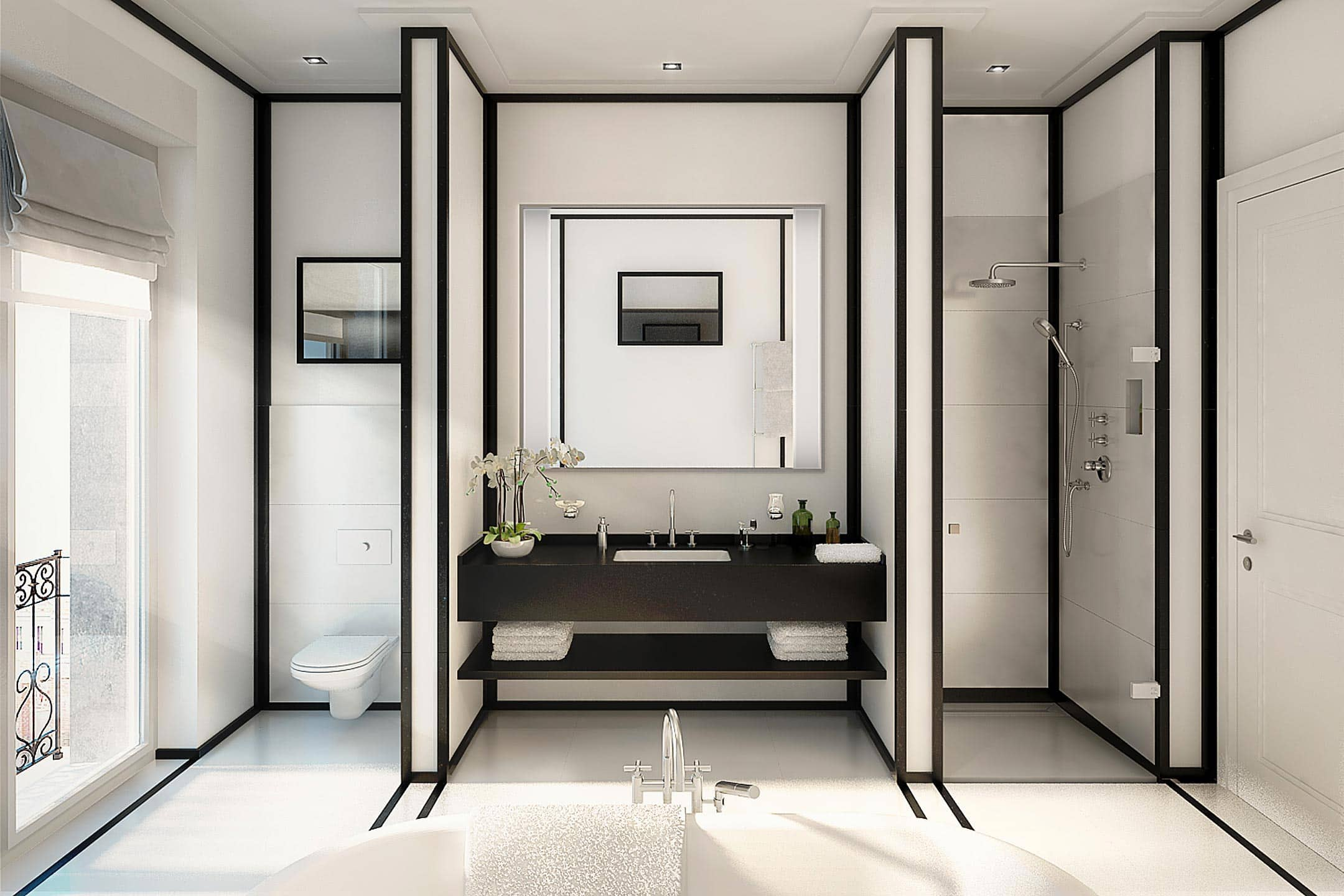 Image Source: ralfschmitz.com
A monochrome approach makes having one color for one person and another for the other easier. For example, in our master bathroom remodel, we had grey and white as the theme colors. Everything grey was mine, and everything white was my wife's. It was a very easy and beautiful idea to execute, from white cabinets to sinks.
Monochrome colors are easy to style and theme. Moreover, a monochrome approach is the easiest way to achieve neat designs, especially if you have a large shower.
h) Minimalist Design
Image Source: ziganna.com
A minimalist design makes the bathtub the focal point in the master bathroom. The bathtub is the first thing that catches the eye when you enter the bathroom. Everything else in the bathroom was added in moderation and was as hidden as possible. Nothing is in excess, and moderation seems to have yielded perfect results for me.
When it comes to interior design, less is more.
i) Master Bathroom with a View
If you have a view facing the beach or a forest, the bathroom is the best way to use the natural beauty around you. There is a lot of relaxation that comes with being one with nature. However, the bathroom view can primarily look at the stars at night if you do not have a backyard view.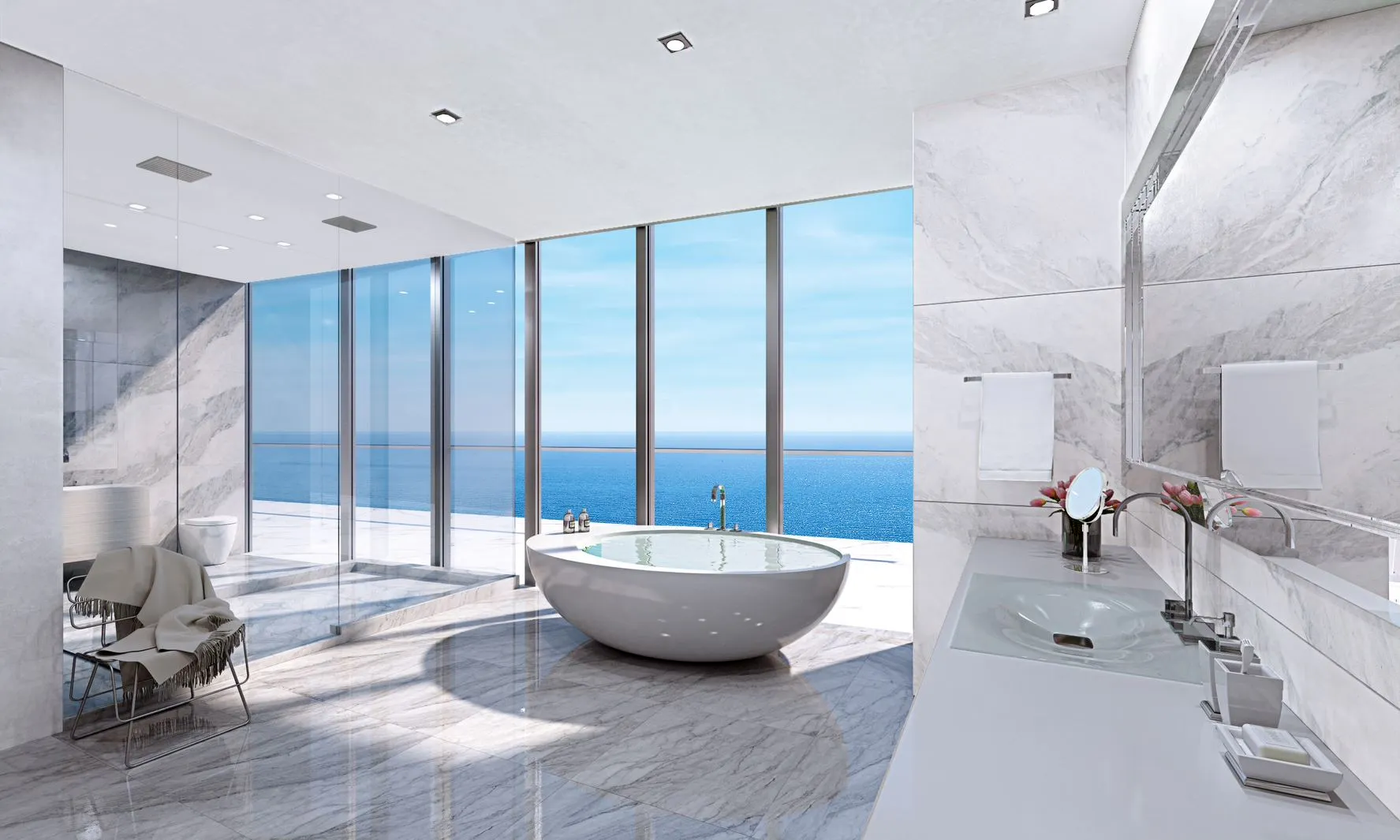 Image Source: architecturaldigest.com
When going for a view, this might be the best chance to relocate the bathroom. However, a remodel like this might be very costly.
j) No Walls
A bathroom without walls sounds like an idea from an architecture magazine. Yes, it is possible, and such bathrooms make for the most relaxing moments. To achieve this, you need to look at the best landscaping ideas to make the view around the bathroom worth remodeling.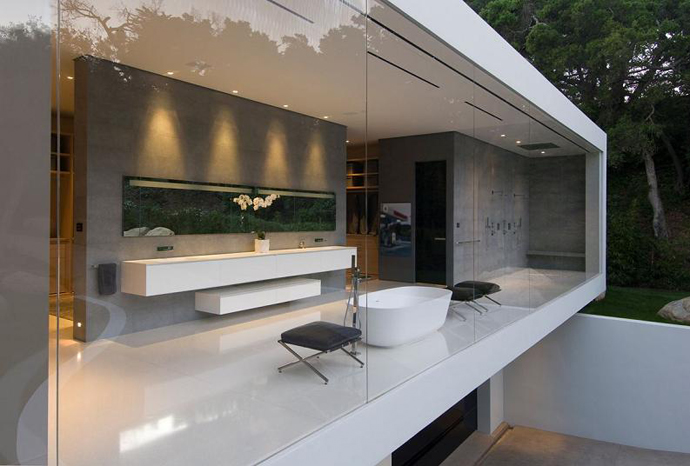 Image Source: architecturaldigest.com
A bathroom without a wall will have glass walls all around it or no walls at all. This approach will have more external factors like the weather around where you live and the amount of privacy you can achieve. You can pull off a no-wall bathroom if you live in the tropics or along the equator.
k) Furniture and Seats
I have a very large bathroom. If you are going for a larger bathroom than the one you had before, one of the things to include is a seat. Many people take these for granted, but seats add character to the bathroom and come in handy when doing things such as clipping nails, applying lotion, and more.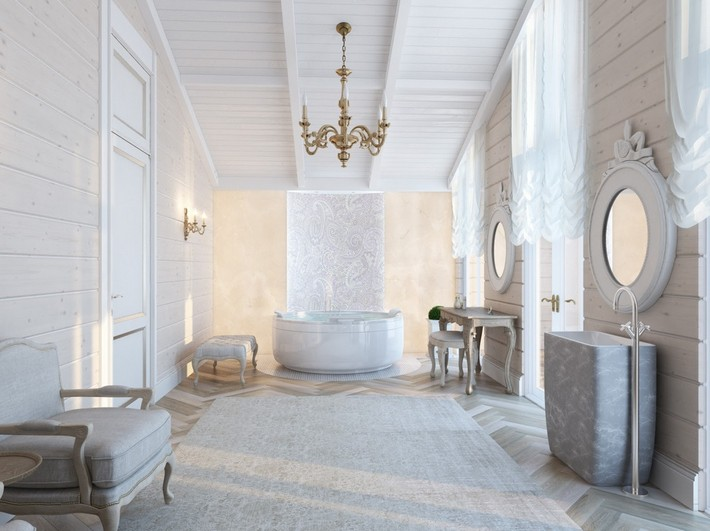 Image Source: maisonvalentina.net
Sometimes you need to sit and let the face mask do its thing. This is where a seat will come in handy.
One culture I have adopted since my master bathroom remodel is having banter with my wife as she relaxes in the bathtub. The seat comes in handy in such moments. That way, we can share a glass.
Alternatively, a shower bench can work instead of a seat. I prefer a seat because I can move it around. As long as the shower has enough room to sit on, the space will be more comfortable.
l) Mirrors
Mirrors come in handy for small bathrooms because they have the illusion of a larger space. There are a lot of ways of incorporating mirrors in the bathroom. Wall-to-wall mirrors work for some people as long as they are strategically positioned.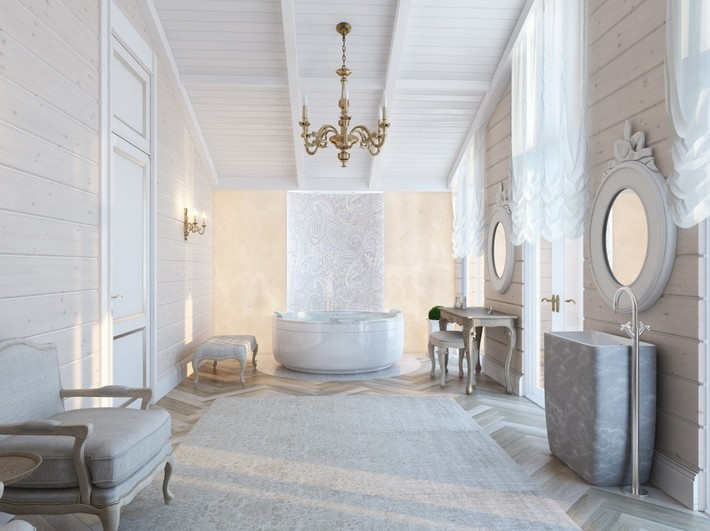 Image Source: home-designing.com
Mirrors work well with cabinets and sinks. Different mirror shapes add to the allure, making every single sink look unique. For example, my sink has a more solid-shaped mirror, while my wife has a rounded mirror.
The mirror presents an opportunity to work with lighting in creative ways. This is where wall lighting comes in handy.
The mirror can hide behind a mini-cabinet, making it a hack for anyone going for a minimalist design.
m) Countertops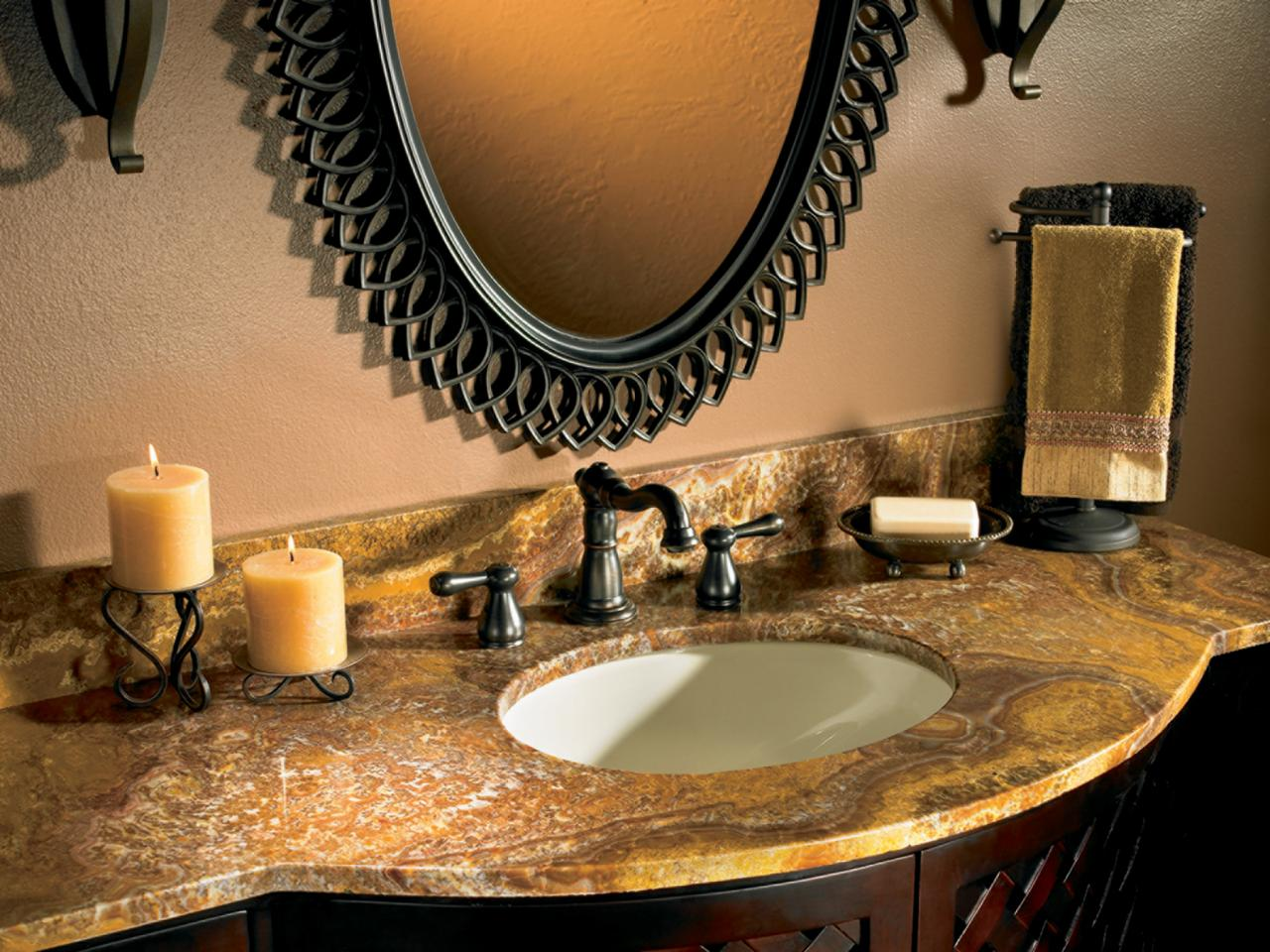 Image Source: hgtv.com
Countertops are some of the most sought bathroom design ideas. The countertop offers many characters; you can not take chances with the counter. You can use natural materials to create the countertop design. We went for marble counters for my end of the bathroom. My wife has white countertops, and she seems to like them.
n) Paint Color
There are different interior design color combinations that work perfectly together. The color you choose should represent your personality or the vibe you are going for. For example, I have a slightly different color for my master bathroom from my bedroom. This creates the feeling of moving from one room to the other.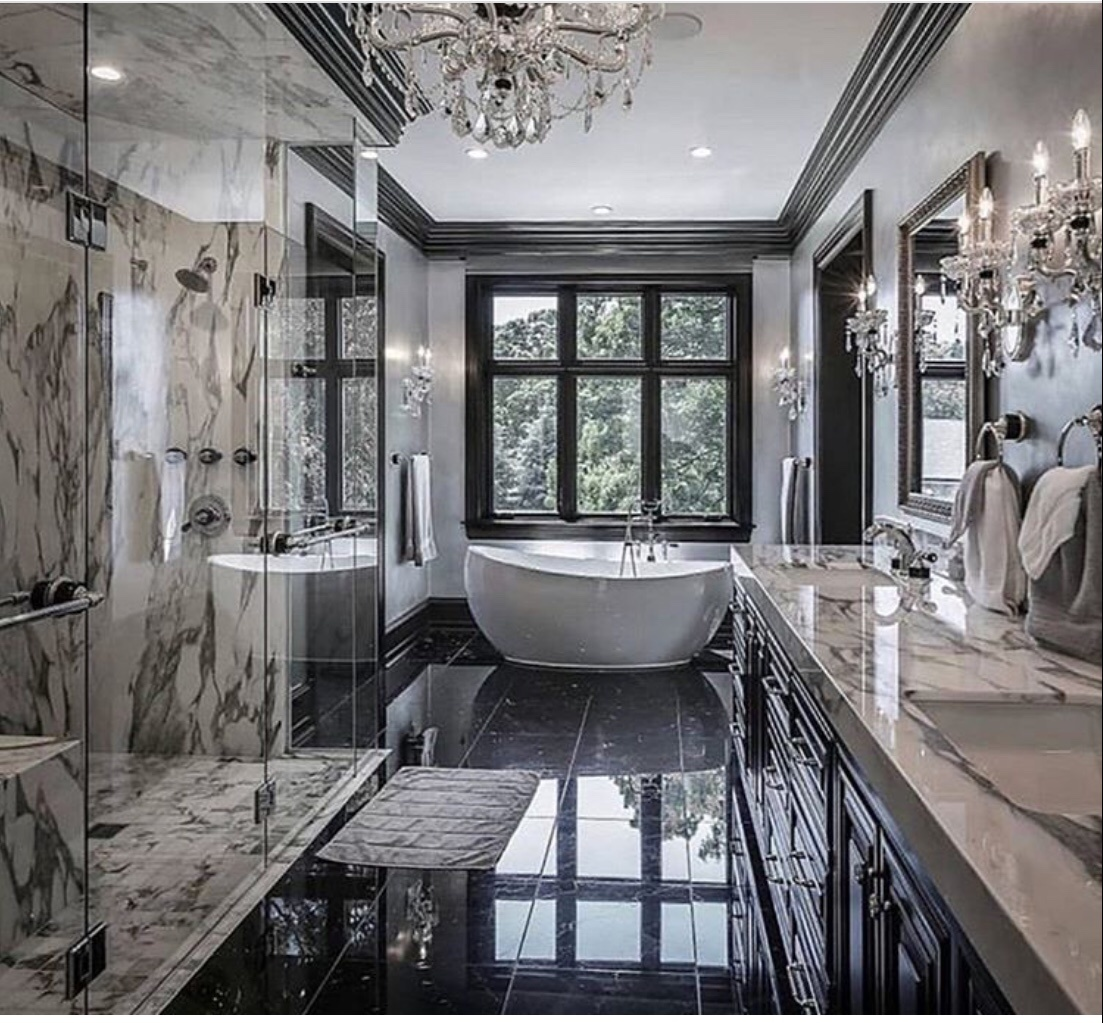 Image Source: thewondercottage.com
Playing around with different colors is easier if you have an enclosed shower. However, I have a walk-in shower, so it makes sense to keep the colors consistent.
Here are some colors you can try out in your new bathroom remodel.
O) Shower-Heads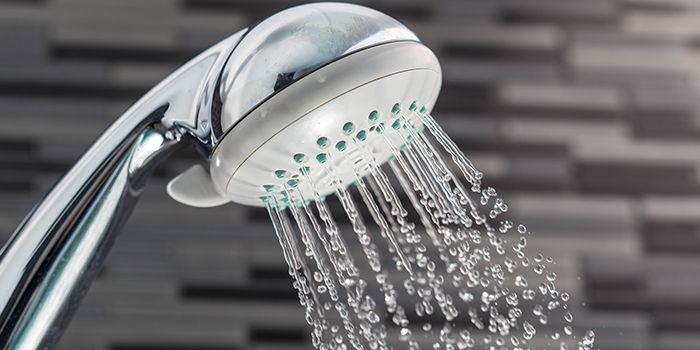 goodhousekeeping.com
As I said in the beginning, changing the shower head is one of the easiest ways of achieving a bathroom remodel. It is a simple task that can make the biggest difference. In addition, a shower head can be a huge upgrade if done correctly. After all, there are exciting shower-head combinations to choose from.
p) Classic/Vintage Theme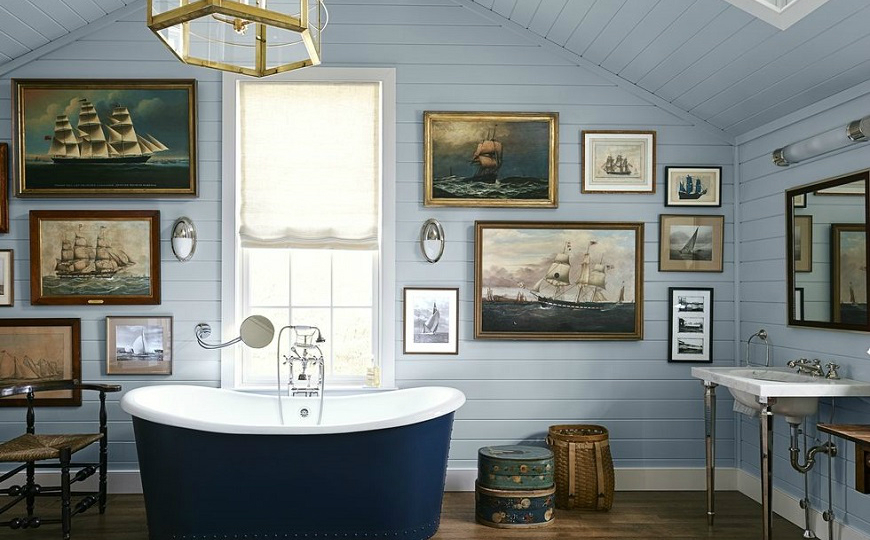 Image Source: luxurybathrooms.eu
Your bathroom must have a theme to look classy and well thought out. While you can go for a modern and minimal design, the classic and vintage shower designs are still some of the best showers you can find. You can play around with the 70s theme and achieve some nice designs from wallpapers to tap-heads.
Bathroom Remodel Cost Factors
While there are many designs we can discuss, none are achievable without determining where the money will be spent when remodeling the bathroom. Here are the areas where you are most likely to spend some money based on my experience.
1) Labor Costs
Labor is one of the things I paid close attention to. Even with the best materials and budget, poor labor can ruin everything. Getting non-professionals is a grave mistake one can make. I got my labor from a construction company, which worked well for me. However, labor can be charged using the hours that the workers are likely to take.
2) Materials
Materials are perhaps where you will spend most. I went for the best materials to suit my master bathroom design ideas. My main goal was to achieve the best outcome, and the materials played a huge role.
3) Permits
I can have the best labor and materials, but I will have wasted my money without the permits. There is a lot of liberty that comes with the permits. Getting a permit means being considerate to your neighbors and the environment. Permits do not cost much, but if not taken, they can be a fatal flaw in your project.
4) Interior Design
While we all love going online to google ideas, using a professional interior designer is advisable. This is because they have an eye for what works best in different situations. For example, while the bathroom interior will be a personalized experience, interior designers often achieve the best results.
5) Plumbing
Plumbing is an unusual step when remodeling the bathroom. I was shifting from a closed shower to a walk-in shower. Walk-in showers automatically mean that the old shower walls have to come down, and the plumbing will be different from what it was before. This will be a slightly costly affair.
6) Transportation
Transporting materials can be a one-time thing, but it is a cost factor you must consider. For example, I had to hire professional movers to help with the bathtub.
Final Thoughts
My bathroom remodel is one of the best things for my house. The master bathroom is a space that keeps positive and relaxing energy that I can not change for anything. The master bathroom remodel cost will be worth every penny.
Image Source: losangeleshomes.eu