Have you recently purchased a house with a concrete swimming pool in the backyard, or do you already own a property with a concrete pool that has degraded into more of an eyesore than a useful feature?
If yes, this article will help you choose your next move in your swimming pool adventure. We'll guide you through the swimming pool remodeling tips, ideas, and costs of modifying your pool.
Let's get started!
Swimming Pool Remodel Tips
Planning pool renovation might be intimidating, but it's an excellent opportunity to update an existing pool and increase the value of your house. Getting suggestions and guidance from experienced professionals might be beneficial if you want to renovate your pool but aren't sure where to begin.
Pointers on Pool Remodel
a) Status
Before planning your pool restoration, it's important to evaluate the current state of your pool. Keep an eye out for any pool damage or problems and any features or design choices you don't like. This evaluation will assist you in making decisions regarding your remodeling project and help you reach the outcomes you desire.
b) Consider Functionality
When redesigning your pool, consider aspects other than aesthetics. Consider your way of life and how you utilize your pool to ensure that your refurbishment meets your demands. You won't be able to appreciate your inground pool if it isn't effective or useful.
c) Create a Budget
It's easy for expenses to go up rapidly during a restoration job, so getting a strong financial start is critical. First, think about the amenities and design components you want to include in your pool restoration, and then look up the cost of each component. It will assist you in choosing a reasonable budget so that you may complete your job without going over budget.
d) Find a Contractor
The pool contractor you pick will greatly impact your project results and the level of service you get. As a homeowner with a pool, you should know that a pool service provider will help you install the maintenance easily. Spend time researching local contractors to identify the one who provides the greatest value for your requirements before selecting. Evaluating your possibilities is a good idea by getting different consultations and prices.
Swimming Pool Remodel Ideas
It would be best to consider integrating various options while renovating your swimming pool. They may include;
1. Incorporating Fire Features
A gorgeous fire bowl could be a great upgrade to your outdoor space.
Any pool or patio set will look lively with fire elements. The main fire bowls in the market are made of prefabricated shallow concrete materials that are usually square or circular in designs ranging from 24 to 48 inches in size. These fire features are built with propane or natural gas piping to fire-start the bowls.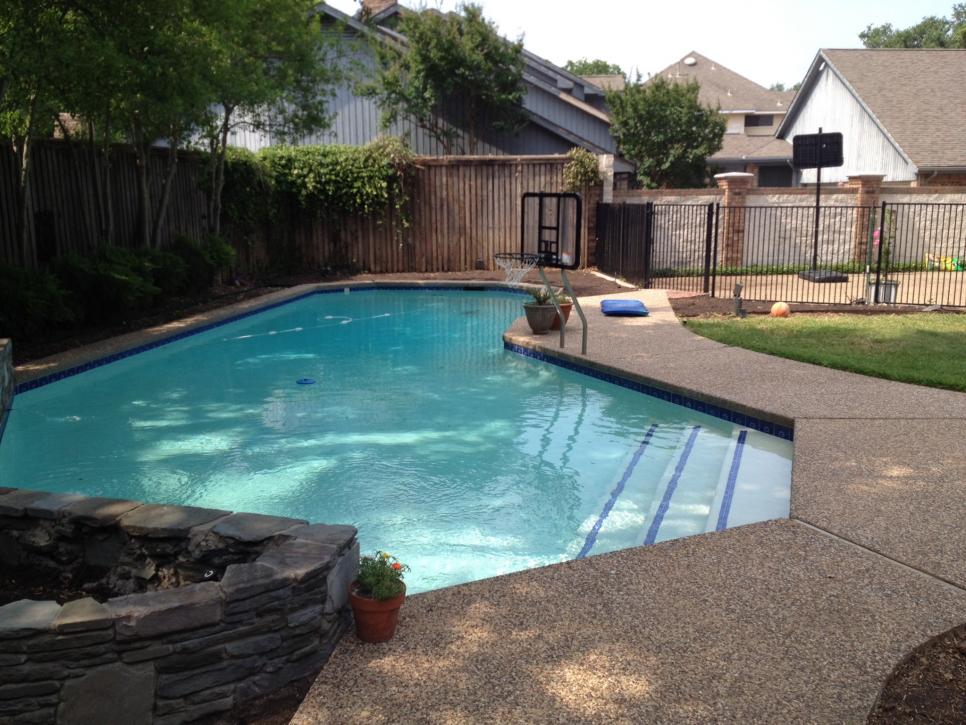 Image Credits: Pinterest.com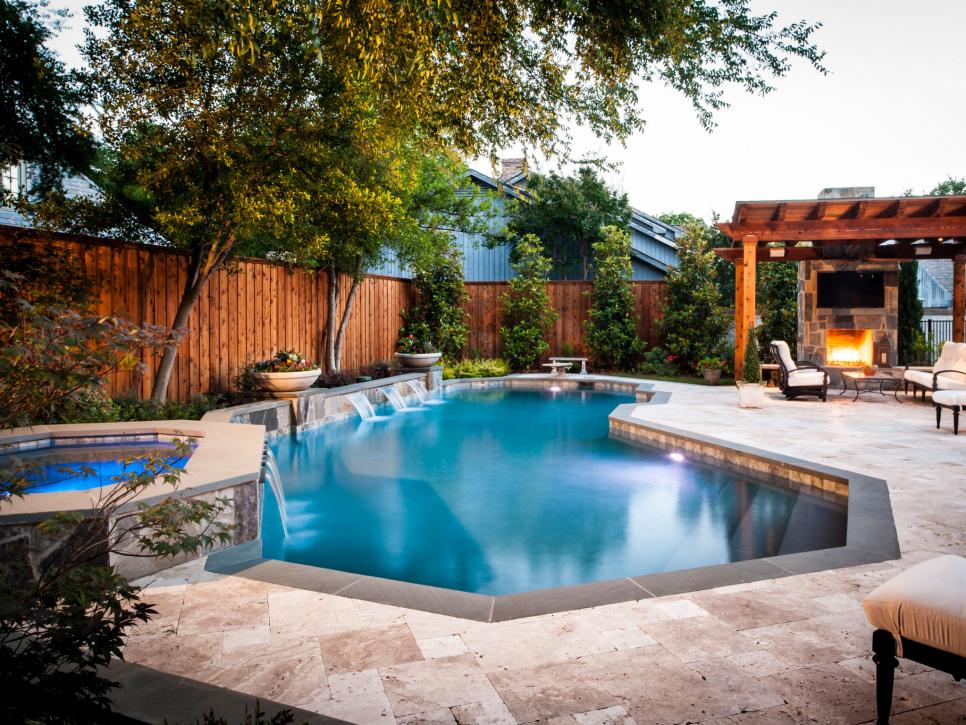 Image Credits: Pinterest.com
We recommend you link your modern pool with an automation-management system or use a convenient remote control to adjust the flame's intensity.
2. Include Water Elements
Adding water features brings beauty and enjoyment to your outdoor space. Your pool remodeling ideas may utilize a variety of types. A few of the most well-liked features include rock waterfalls, cascading falls, and deck jets/laminar. A stunning rock grotto or waterfall may best fit your ideal pool renovation.
Image Credits: bluehaven.com
Image Credits: bluehaven.com
The water element will transform your pool into an oasis that looks as though Mother Nature has caressed it by the sight of water running over artificial or natural stone. Another advantage is that, depending on the feature's size, height, and design, you will enjoy the lush sound of water pouring or falling. Or perhaps you want the eye-catching result of curved deck jets or laminar.
Image Credits: marquisgardens.ca
These features project thin, arching streams of water onto the pool's surface below and are built into the pool deck or its inner walls. A cascade or "sheer-descent" waterfall is another well-liked water feature you should consider. These elements will be integrated into the wall of your pool, often in the form of a bond beam, creating a "sheet" of falling water.
Image credits: jandy.com
Image Credits: jandy.com
Water descents that are "solid"—smooth and flat—are among the styles, while others disintegrate into a torrent of raindrops. The cascades come in a variety of shapes and sizes. A single feature might span many feet (12 to 18 inches). Additionally, your pool contractor can put in a sequence of cascades along a high beam (a section of pool wall typically extending 18 inches or higher above the pool surface.)
You can also introduce an outdoor shower as an accessory.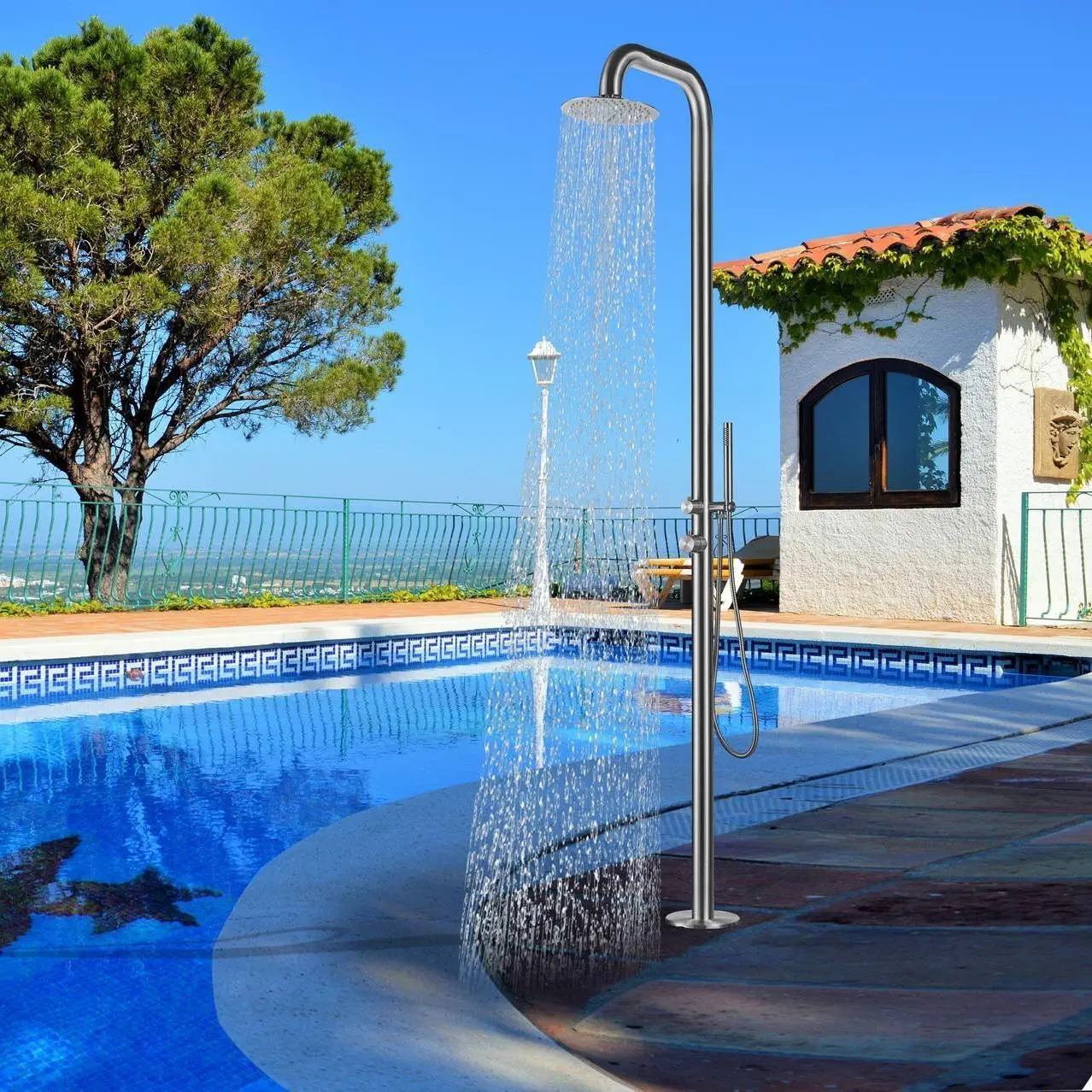 Image Credits: archiexpo.com
You can also consider installing a scupper, a more recent trend in water elements in pool designs. This attachment concentrates the descending water into a narrow cascade or a circular, tube-like flow, depending on its size and form. Any water features you include during pool remodeling will undoubtedly provide pleasing effects.
Image credits: c-m-p.com
3. Constructing a Sunbathing Ledge
Tanning ledges are concrete spans that you can add when undertaking your pool remodeling process. A tanning ledge may not be as visually stunning as fire or water elements. Still, it offers a significant advantage in terms of usefulness and convenience. You can build them inside the pool's border, miming broad, shallow steps or benches.
Image Credits: ledgeloungers.com
Depending on size and arrangement, your pool may utilize several alternative shapes. We recommend you install a Baja shelf, also known as the "sun shelves," that measures 4 to 10 feet long, several feet broad, and go up to 3 to 18 inches deep.
The ledges are the perfect size for reclining directly in the water without fully emerging your body due to their proportions and modest depth. One or more chaise lounge chairs can be placed on 8 feet long tables and at least a foot deep. We recommend you consider installing solar patio umbrellas as they provide shade and save energy.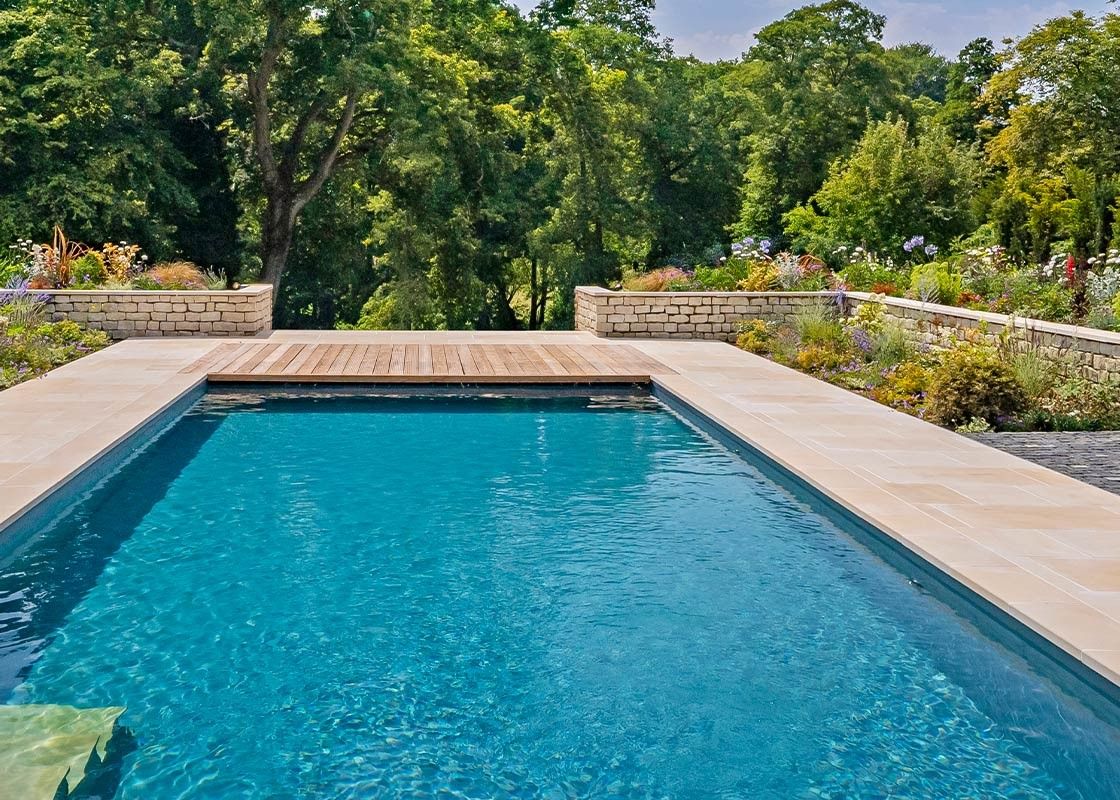 Image Credits: calpool.com
Image Credits: calpool.com
These submerged perches can also be used as a supervised play area for young children, with the same applying to your pet dog that likes to cool down in a few inches of water without swimming in the deeper parts of the pool.
4. Install Decks or Pavers
The solution to a lovely outdoor update that complements your backyard should be to add a new pool deck or pool pavers. A pool deck or patio is as crucial to well-planned landscaping as the pool.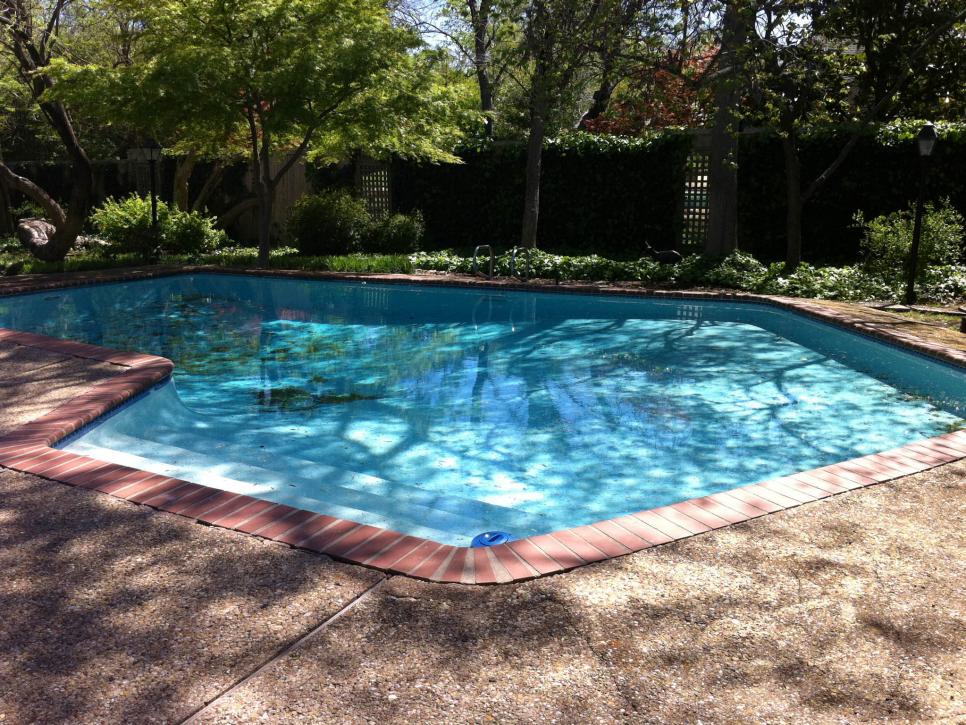 Image Credits: Pinterest.com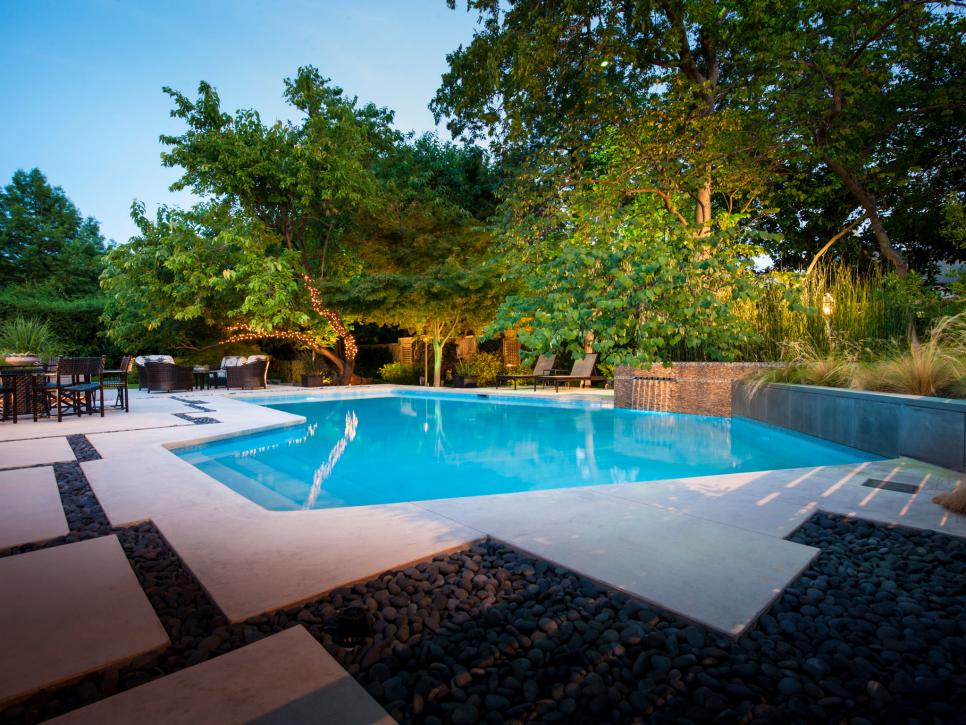 Image Credits: Pinterest.com
The installation will come in handy since we spend more time on the deck than in our swimming pools, sunbathing to playing or entertaining our visitors. You need to think about an exterior design to complete your landscape. For example, a paver deck will elevate your swimming pool to the next level if you're trying to create a tropical retreat, a natural cave, or a contemporary masterpiece.
You may use any material to build a lovely pool deck using: Stone pavers, wood Decking, tiles, or poured concrete.
5. Light up the Outside of Your Home
Beautiful outdoor areas frequently go into the shadows after dusk. By bringing more light to the area, you may instantly bring out the fineness in your outdoor oasis's scenery, marble, and vegetation during your pool remodel. Additionally, lighting may give your outside space a new depth and a cozy feel.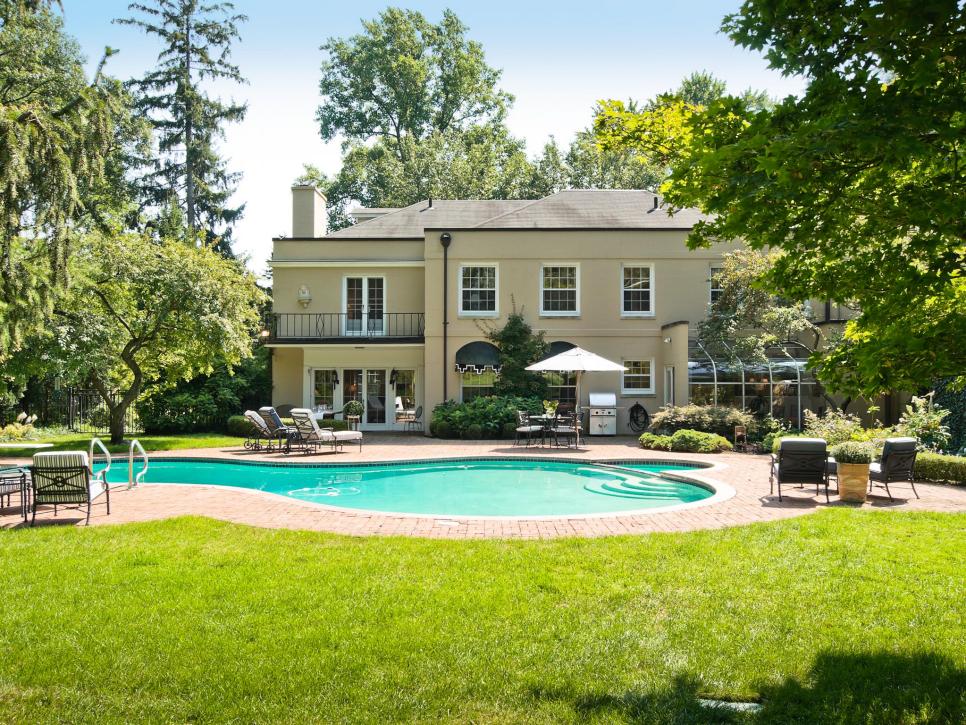 Image Credits: Pinterest.com
Image Credits: Pinterest.com
Consult an expert to help you choose unique lighting ideas to enhance your landscape. We advise using low-voltage lighting to give your landscape a tranquil atmosphere at night. Garden lights should be safely buried next to objects like plants, sculptures, walls, and pillars. The lighting gives your overall surroundings a lovely, enhanced appearance by angling and concealing the lights.
Image Credits: alaglaspools.com
6. Insert Waterline Tiles
You'd be stunned at how much of a difference installing waterline tiles can improve your pool's aesthetic. The cost might be less than $1,000, comparable to pool remodeling. If you already have waterline tiles placed, which many concrete pools do, you may get the same effects by switching out the tiles.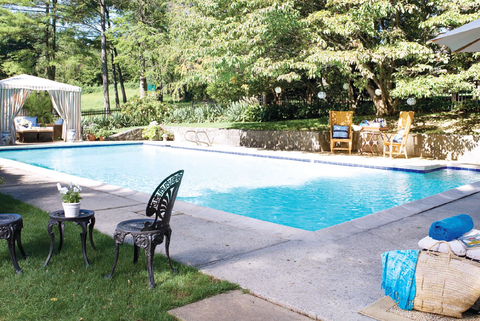 Image Credits: clayimports.com
Image Credits: clayimports.com
New tiles give the pool deck a brand-new aesthetic, but if you decide to replace them, it would be wise to resurface them. In addition, some tiles could need a better surface than you already have, which would need a larger expenditure.
7. Install UV Sanitation System
Why not take it further and install a UV sanitizing system if you're trying to decrease the chemicals necessary to maintain your pool?
Image Credits: alaglaspools.com
Most germs are driven out of your pool by ultraviolet light's antibacterial impact. Although it won't eliminate the need for chemicals, it is a positive start. In addition, the system is confined so it won't affect the pool's appearance.
8. Incorporate Sprinklers
If you are on a tight budget, incorporating water features is a great renovation choice since you can decide how much money to invest. You will invest as little as a few hundred dollars since great options are available for any budget.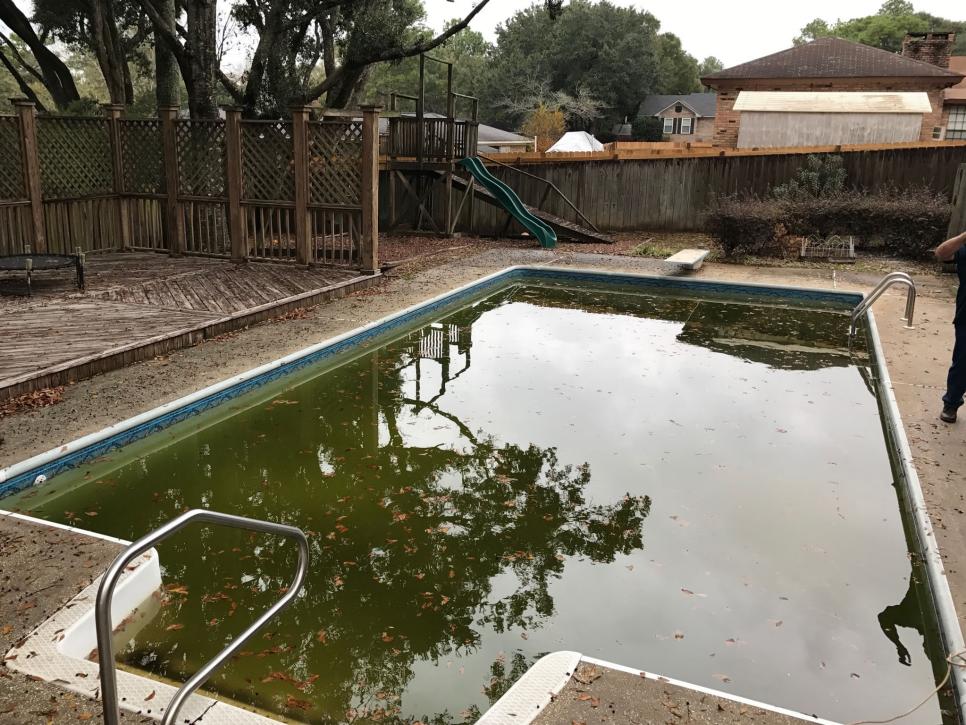 Image Credits: Pinterest.com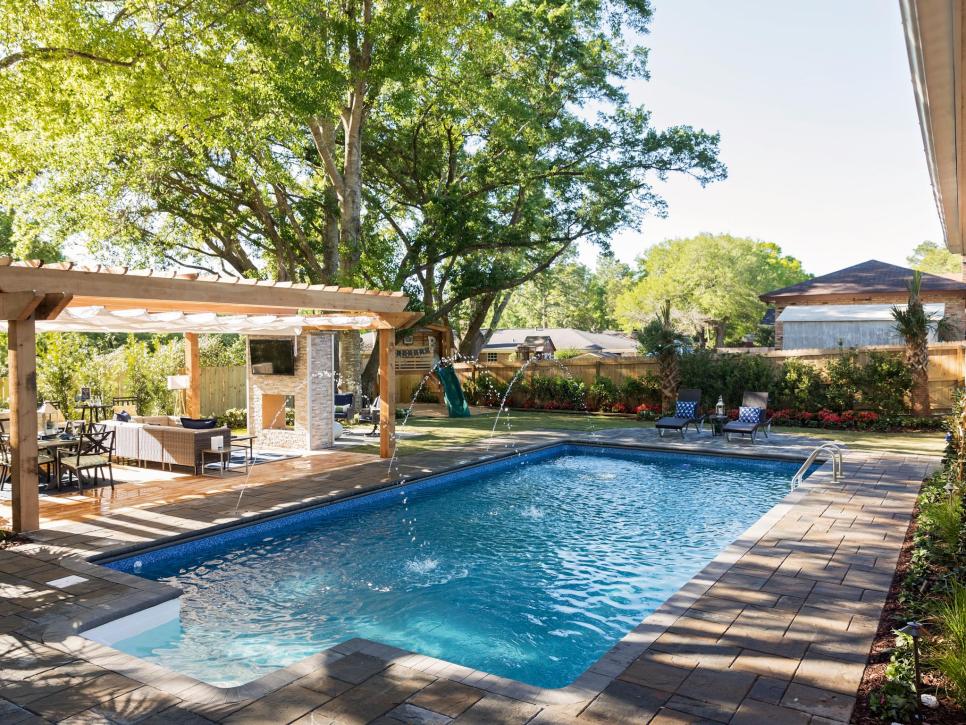 Image Credits: Pinterest.com
There are also many possibilities if you spend more money on your refurbishment. Additionally, no matter how much money you spend on renovations, water features have a lasting effect. For example, you can revitalize an old pool with a modest cascade of natural stone.
9. Deck Resurfacing
Resurfacing the deck is the most striking remodeling you can do, short of altering your pool's geometry. Your pool decking possibilities are probably much more reasonable now than they were years ago when you built your deck.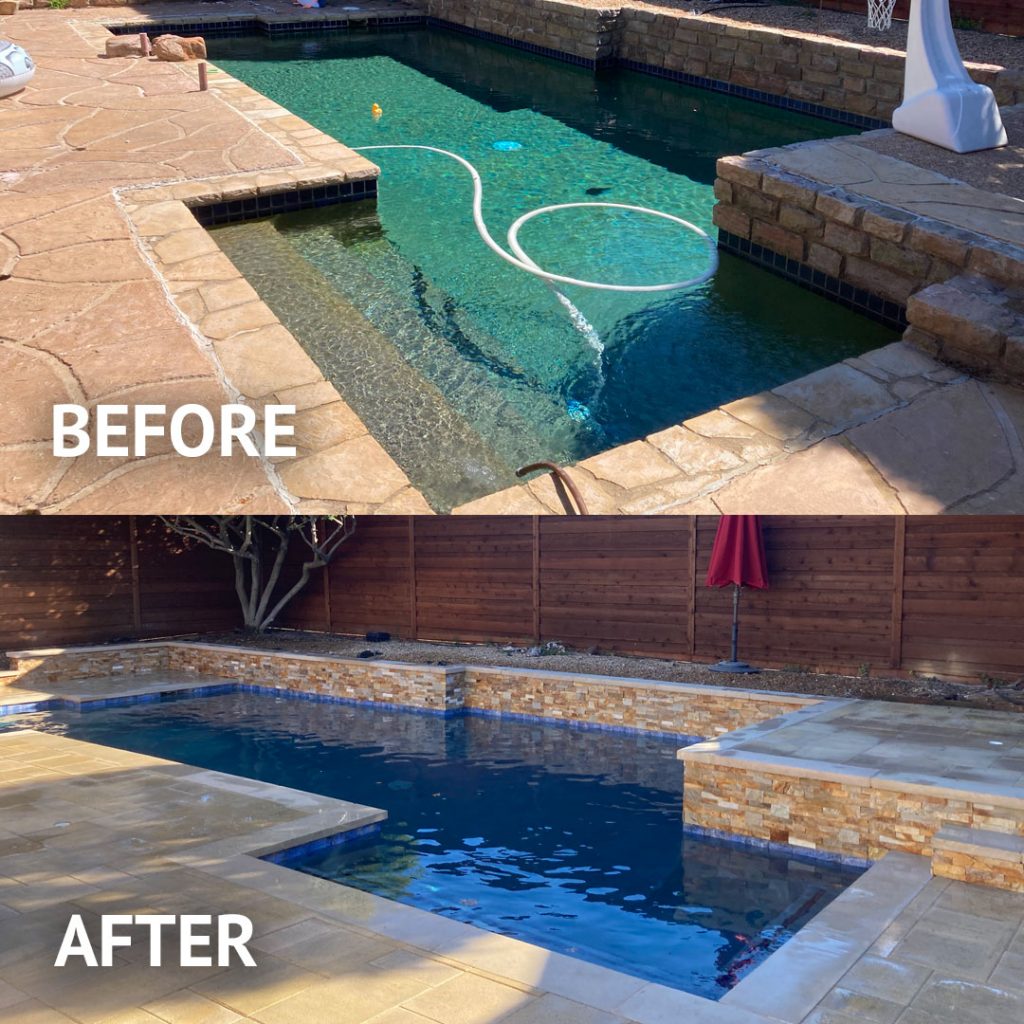 Image Credits: willshapools.com
The alternative that will be easiest for your pocketbook is to resurface your deck with concrete and move on. However, embellishments like imprinted and spray pattern overlays may bring a lot of personality to a concrete deck.
10. Install a Patio or Pergola for Your Outside Living Space
In your pool remodeling ideas, you should think about including a pergola. You get to enjoy more outside time with friends and family while enjoying the sunshine and fresh air in your outdoor living area when you build a patio to your existing pool.
Image Credits: thepatiocompanyma.com
Adding an outside building like a pergola, gazebo, or pavilion is another option. Each choice will add style and utility to your landscape design and raise the market price of your house. A covered patio will offer the ideal location for entertaining or lounging at home if your goal is to give your backyard some shade or to build the ideal platform for your stone fire pit.
11. Integrated Landscape
Updating your landscape design may have several advantages, including increased curb appeal, improved air quality, and keeping your backyard cooler.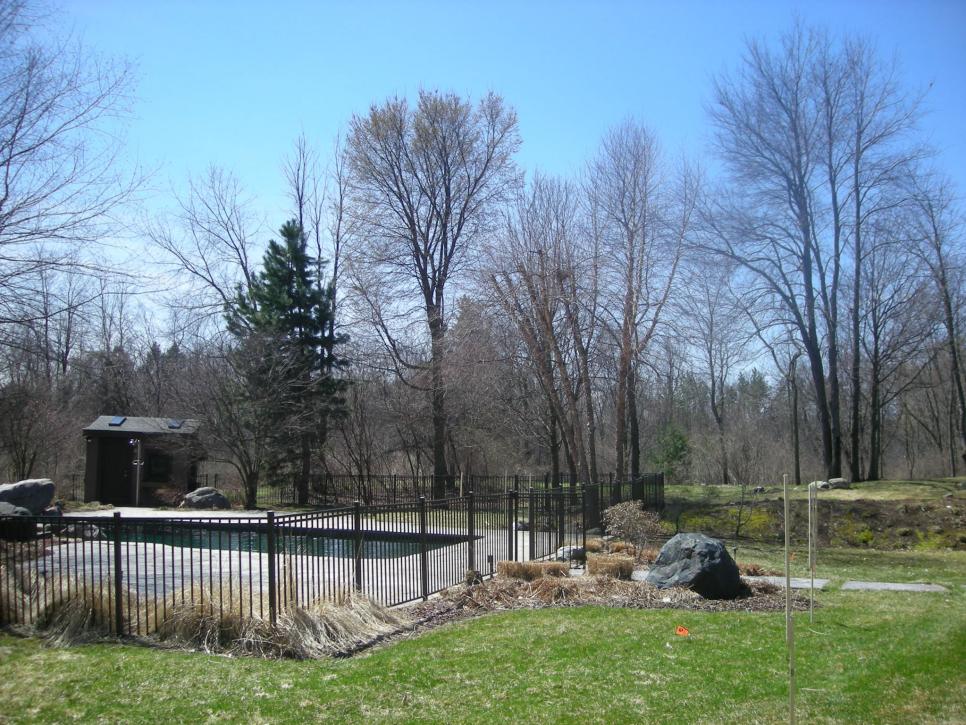 Image Credits: Pinterest.com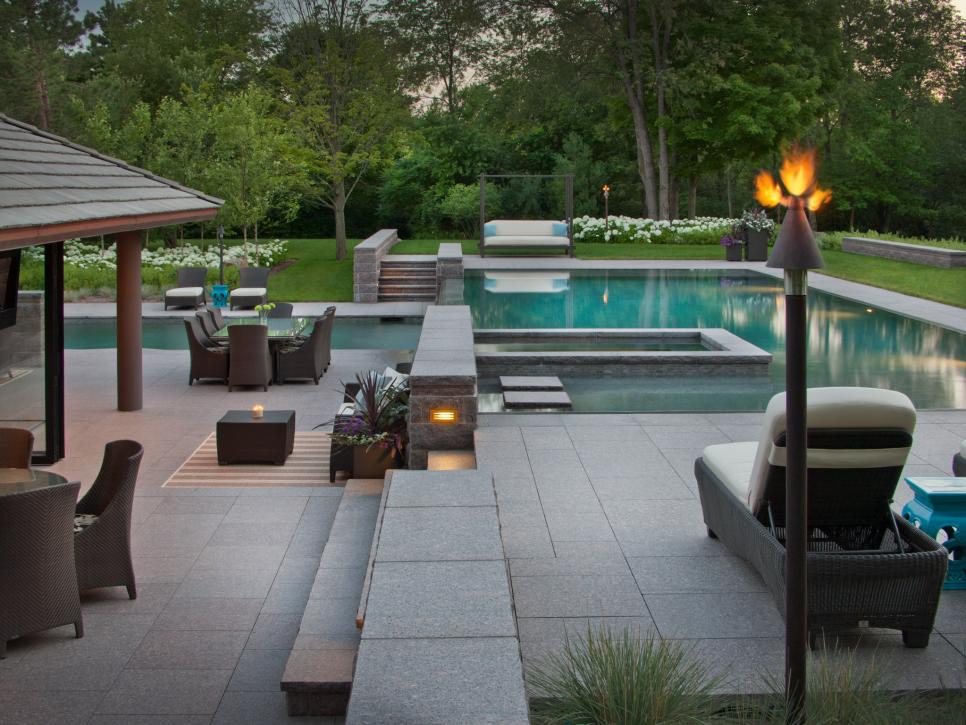 Image Credits: Pinterest.com
Every landscape has unique natural beauty. You can remodel your outside area into a comfortable, fashionable, and multipurpose living environment that you and your family can use all year. There are so many beautiful options for a lavish pool remodel. You should consult your contractor about your pool remodeling project if you have a plan or are simply considering ideas.
Swimming Pool Remodeling Costs
Costs for remodeling a pool vary widely depending on the job. For example, whereas comprehensive repairs might cost $150,000 or more, a basic patchwork can cost you $70 per linear foot.
a) Costs of Pool Restoration
Major repairs can cost up to $120,000 or more, whereas minor restorations, such as changing a plastic liner, often cost around $1,800 or less. In addition, repairs may entail several simultaneous jobs, including replacing the whole tile surface and installing a glass fence. These repairs demand a lot of work. In addition, these projects often include a large team of swimming pool experts, dramatically raising prices.
b) Replacing Pool Steps
A basic metal ladder will cost around $200 to provide a pool access point; however, installing a full wall step might run you $5,000 or more. Repairing cracks and fractures in your pool steps will cost you around $50 per linear foot.
Image Credits: lathampool.ca
You can alter the stairs structurally, requiring added work and material costs. We recommend you make a beach entry or a zero-entry area an option for rebuilding deteriorated stairs. Zero-entry pools have a little slope from the deck or patio, extending a shallow area for access that resembles a beach. Adding this amenity will cost you between $20,000 to $80,000, similar to modifying the size or design of your existing pool.
c) Coping
It would be best to consider coping with a protective lip surrounding pools to prevent water from leaking beyond the walls. The cost of replacing coping ranges between $30 to $50 per linear foot, based on the style.
d) Changing the Dimensions
Modifying the form for a vinyl pool starts at roughly $25,000, while a concrete (gunite) pool costs around $65,000. While undertaking this intrusive renovation, you must replace the whole pool liner. The cost of a new pool, installation, and earth-moving labor are all included in the total.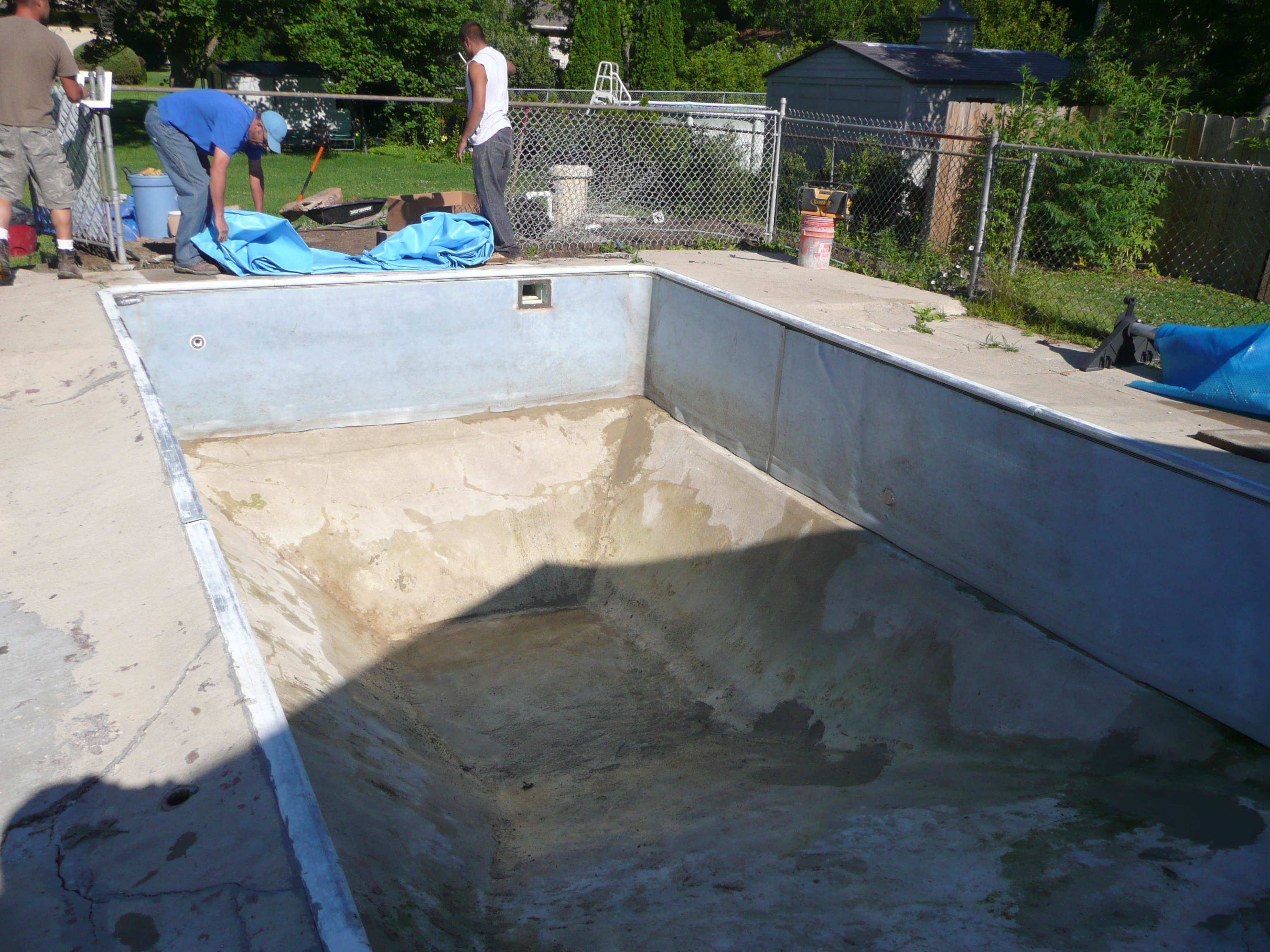 Image Credits: penguinpool.com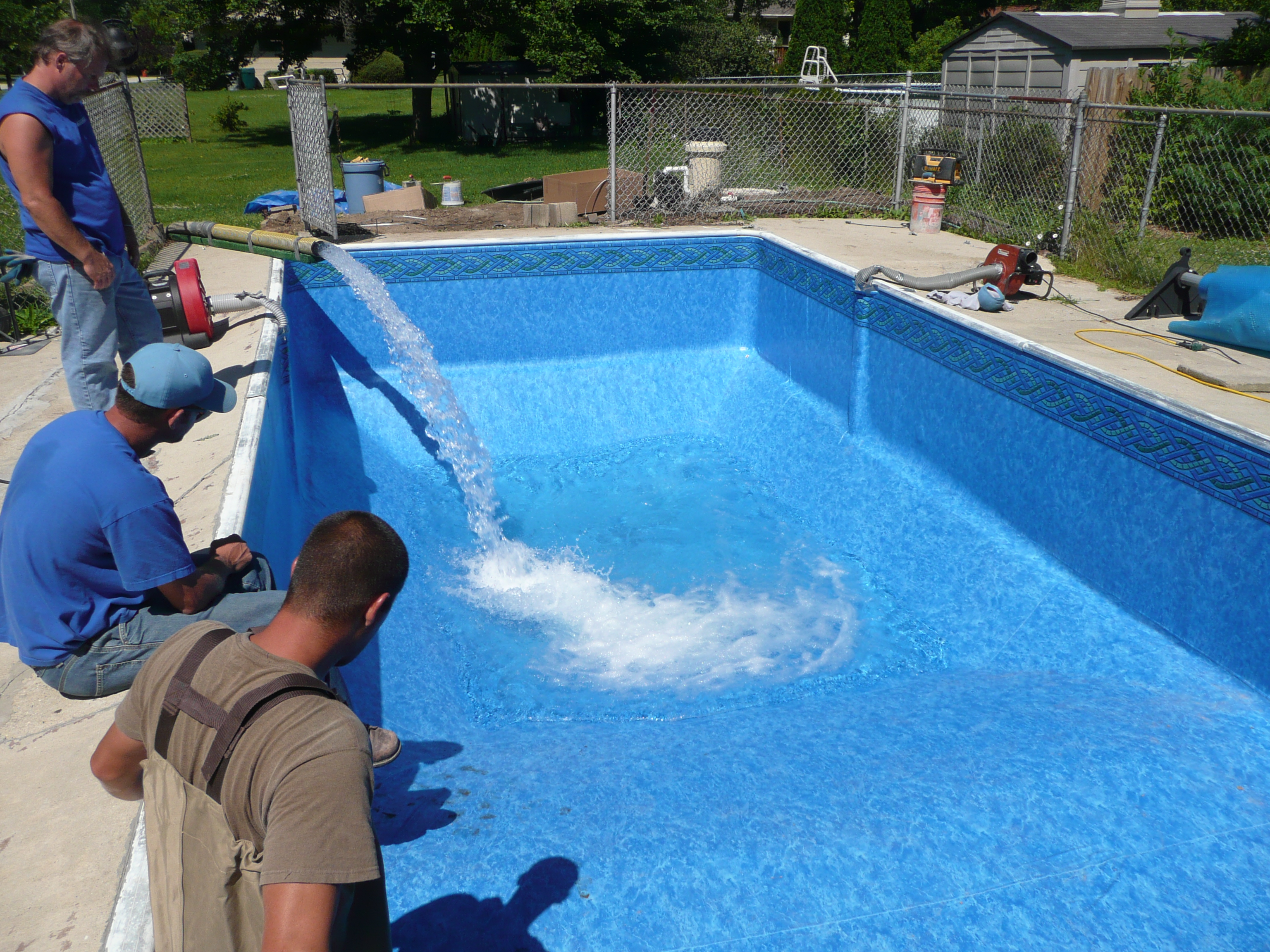 Image Credits: penguinpool.com
e) A Pool Pump or Chlorination System
Pumps can cost anywhere from $200 to $1000, with an installation cost of roughly $650. Chemical feeders, often known as automatic chlorination systems, cost around $2,500 each.
f) Converting Chlorine Water to Saltwater
A chlorinated pool may be converted to a saltwater pool for an average cost of $2,000, although the price can vary from $500 to $3,000.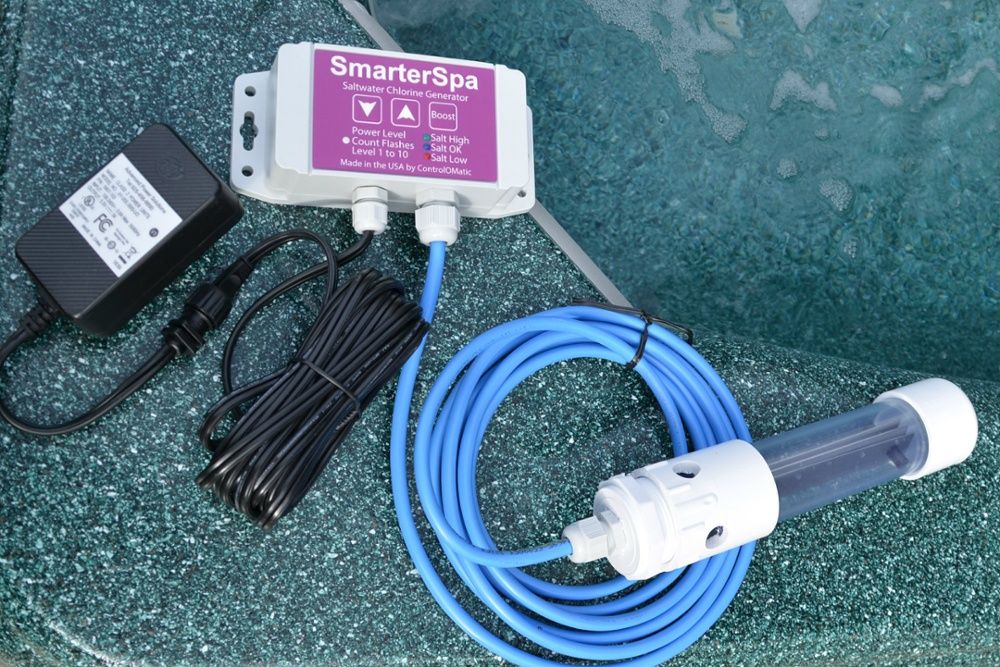 Image Credits: riverpoolsandspas.com
g) Re-Grouting
Re-grouting tile may improve the aesthetic of your pool and help avoid leaks. However, the bigger your pool, the more you may anticipate paying for this service, as re-grouting tile costs about $5 per square foot.
h) Remodeling the Pool Deck
Pool deck construction may range from $2,5,00 to $10,000, depending on the size and features of the deck. Resurfacing the pool deck is a choice if you presently have one but would like to upgrade it. For example, a 750-square-foot pool deck needs basic resurfacing work that costs between $2,000 to $4,000. While the price of stamped concrete varies from $5,500 to $15,000, incorporating a decorative overlay costs between $5,000 to $9,000.
i) Re-Tiling
Depending on the style of tile you select, the cost of materials to re-tile a pool might range from $5,000 to $100,000. Glass tiles will be more expensive than basic ceramic tiles, which will be closer to the top end of that price range. Additionally, labor should cost you at least $20 per hour.
j) Replacing a Leaf Net or Skimmer
You will need pool skimmers to maintain a clean swimming pool. A new in-ground pool skimmer can cost between $1,000 to $3,500, whereas you can replace an above-ground pool skimmer for about $150. You may get a portable leaf cleaning net for under $60 to capture material skimmers cannot remove.
k) Installing Pool Lights
Pool lighting installation might cost anything from $500 to $3,000. Since this is an intrusive undertaking, you should ideally install lights while other significant pool upgrades occur.
Image Credits: jandy.com
Costs for standard lighting include:
Large LED: $400–600
Small LED: $50–400
Flamboyant: $30-$70
Fiber optics: $20 to $55
l) Adding a Slide
Pool slides may cost anywhere from $1,500 and $16,000 to build, depending on how sophisticated the component is.
m) Pool Fence
Fencing might cost between $2,000 and $20,000 for a 160-foot enclosure or between $10 and $150 per foot. Many states have varying laws governing fencing around home pools to protect neighbors and animals. A protective barrier for families with children or pets is crucial from a safety perspective.
Typical fence supplies include:
Glass: $10,000–$20,000
$1,000 to $3,00 for a mesh screen
Wood: $5,000–$10,000
Metal: $5,000
n) Spillover Spa or In-Ground Hot Tub Addition
Installing a hot tub to your existing pool will cost you around $18,000, including labor, comparable to constructing a hot tub alone. Labor costs make up a significant portion of this total since professionals need to dig a sizable hole to create a way for the new liner.
Image Credits: floridapoolpatio.com
o) Water Features
Adding a water feature to your pool typically costs between $450 and $1,900, depending on your location's kind, size, and labor costs.
p) Diving Board
Ensure your pool is deep enough for safe diving before installing a diving board, which you can usually do for about $1,000.
q) Converting a Concrete Pool to a Vinyl-Lined Swimming Pool
On occasion, homeowners will switch out a costly and demanding concrete swimming pool with a significantly less expensive vinyl swimming pool. A vinyl-lined pool replaces a concrete pool for $50,000 to over $100,000. The price includes any additional costs for modifying the area for the replacement, together with the cost of removing the old concrete pool and building the new vinyl-lined pool.
Note: Due to the flimsy liner and transient nature of vinyl liner pools, it's uncommon for clients to spend this much money on one. For this reason, fiberglass pools are the most popular choice among those who replace their concrete pools with other swimming pool designs.
r) Converting a Concrete Swimming Pool to a Fiberglass Pool
You can anticipate spending between $60,000 to over $100,000 to replace your concrete pool with a fiberglass pool. The price of replacing a concrete pool with a fiberglass pool includes removing the old concrete pool, installing a new fiberglass pool shell, and doing additional work to ensure the pool fits in the ground.
Image Credits: lathampool.com
Contrary to popular belief, having a hole from a prior pool in the ground doesn't always work in your favor when establishing a new fiberglass pool. In these cases, extra backfill is required at an additional expense since the hole may be too large for the new pool.
Factors to Consider When Remodelling a Swimming Pool
a) Size
The larger your pool, the more you might anticipate spending on a remodeling job because many pool remodeling projects are charged per square foot or linear foot.
b) Liner and Pool Type
In-ground pools are often more expensive to modify than above-ground pools since you can only carry out your pool remodeling ideas on an in-ground pool. For instance, above-ground pools often cannot accommodate the addition of fire pits and water elements. Pool renovation work for above-ground pools typically costs between $250 and $4,000, but in-ground renovations often cost between $5,000 and $40,000.
The expense of renovation also depends on your liner type. For instance, it normally costs more to renovate fiberglass liners than vinyl liners.
Frequently Asked Questions
a) How can a swimming pool be upgraded?
Based on your interests, there are many ways to update a pool. Gas-powered firepits, underwater LED lighting, rockface waterfalls, and mosaic tiles are typical components of contemporary swimming pools. In addition, you may add a waterfront entry to your pool deck for a more contemporary appearance instead of a conventional ladder.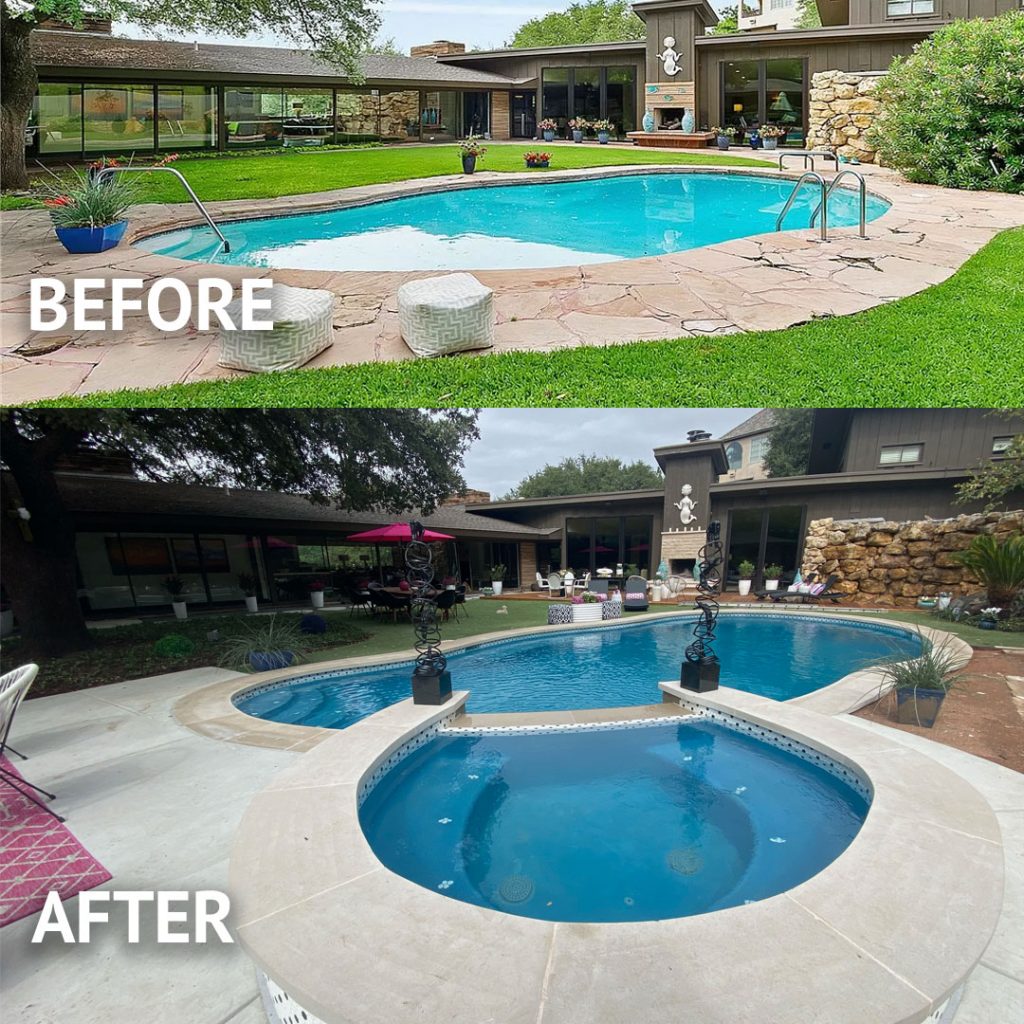 b) Can an old in-ground pool be expanded?
 You can expand inground pools by emptying them, clearing the old liner, digging out where the new pool will go, installing new siding, and finally rebuilding the entire liner. Gunite will cost you $80,000, while vinyl will cost between $20,000 to $50,000.
Image Credits: Pinterest.com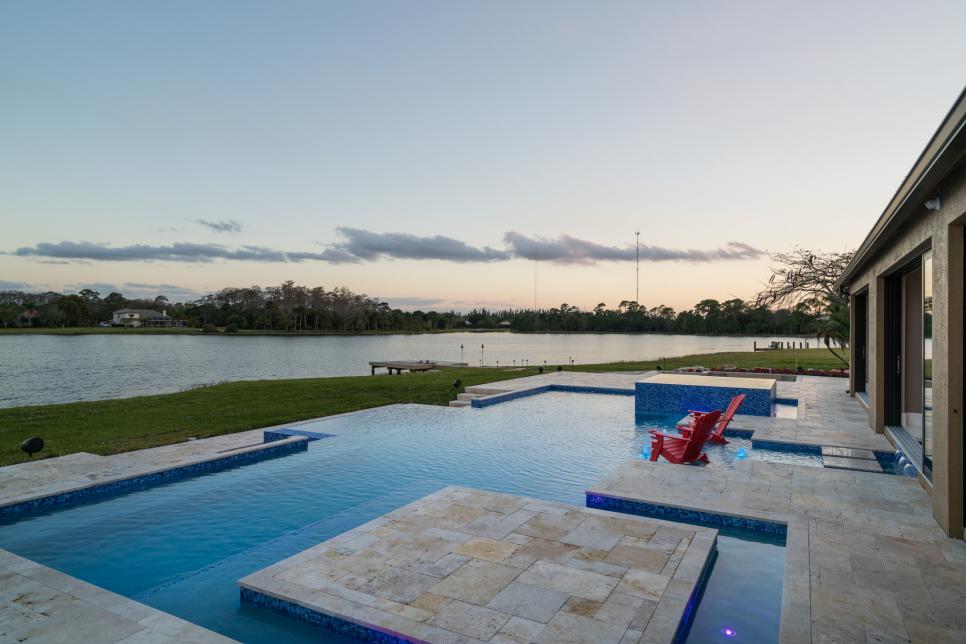 Image Credits: Pinterest.com
c) What pool renovations can you do that use the least energy?
It would help if you resurfaced in a different color to reduce evaporation and heating requirements. Also, repaint the surface to lessen the demand for heating and evaporation.
Install a pump with a variable speed.
Change to LEDs to save electricity.
Modernize old plumbing systems.
Featured Image Credits: texaspoolrepair.com