Nowadays, people are really into renovating and updating their pop-up campers. Everyone seems to be doing a pop-up camper remodel and turning them into little mobile houses. And in the end, it's making camping trips a lot more appealing for those who prefer home luxuries while they travel.
However, you can significantly improve the RV's interior without major renovations. It's not always necessary to rip out everything inside a recreational vehicle and start from scratch when giving it a makeover. You can make a big difference by completing a number of minor tasks.
If you're having problems with your pop-up camper, you might want to give it a facelift and update it in accordance with the RV remodel tips and ideas.
What Is a Pop-Up Camper?
A pop-up Camper is a trailer-mounted RV that can be folded into a huge box. One of the best things about a pop-up camper is how quickly and easily it transforms from a compact storage size to a sizable living area.
A pop-up tent camping trailer is substantially smaller than other large RVs such as a Class A RV, Class C RV, travel trailer, or fifth wheel. More often than not, larger appliances and amenities are not included.
Most pop-ups have at least two queen-sized beds that extend out of the front and back when setting up (some have a third bed that extends out of one side), a small kitchen with a sink and stovetop, a dining table (that can be turned into a tiny bed), and plenty of storage throughout.
Image Source: rvblogger.com
It's also possible to find non-standard amenities in pop-ups, like a refrigerator, air conditioner, and heater, as well as a tiny bathroom with a toilet and a shower.
One of the key advantages of a pop-up camper over a hard-sided one is that it is much easier to tow and store. This enables many automobiles, most minivans, or smaller SUVs to tow a pop-up easily.
Additionally, storage is simple for the average household because you can keep it in your garage or compound, on the side of a regular driveway, or even in a backyard.
Pop-up campers are more accessible to an average family than most RVs. The fact that pop-up tents are far less expensive than camping trailers is another great advantage.
Pop-Up Camper Remodel Tips and Recommendations
1. Plan the Pop Up Camper Remodel
Planning your goals and where you want to splurge is crucial to keeping the remodel (and yourself) organized and easy to account for everything you need to purchase during the process.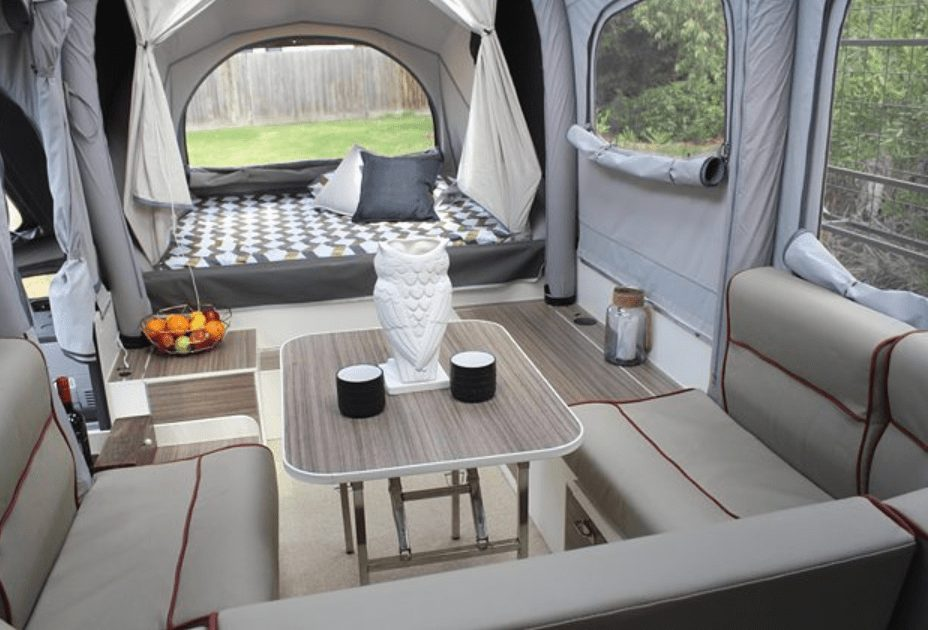 Image Source: camperguide.org
To get the style you want for your pop-up camper while keeping costs to a minimum, here are some tips you should consider during your planning stage;
a). Determine the Design or Style
The first step of a successful remodel is settling on a design aesthetic. I love the combination of industrial, modern, and farmhouse styles. It's crucial for you to choose the items in your style that are important to you. These could include bedding, a rug, decor items, wallpaper, etc.
b). Find the Items You Want to Include in Your Style
Once you settle on a design, come up with a list of everything you want to include. It's crucial for you to choose the items in your style that are important to you. These could include bedding, a rug, decor items, wallpaper, etc.
c). Narrow Down to the Most Important Items
Prioritize it by picking the items that mean the most to you. These should be things you want so badly. Set aside a significant chunk of your budget for them and compromise on other items that aren't as high on your list of priorities.
2. Check and Repair Any Structural or Mechanical Problems
Before making a remodel, inspect the pop-up camper for any structural or mechanical problems. For example, water damage in the pop-up camper roof, walls, and the ceiling is common. Therefore, you should test for it by pressing on the walls and ceiling.
It's also a great idea to have someone with mechanical knowledge inspect the vehicle's axles, appliances, tires, and pullouts. An RV technician or a tire shop can usually fix mechanical problems. However, repairing structural problems like water damage is a little more challenging.
You should be able to replace any smaller walls or ceilings on your own, but be prepared to employ a handyperson to handle larger repairs.
3. Always Prep the Different Surfaces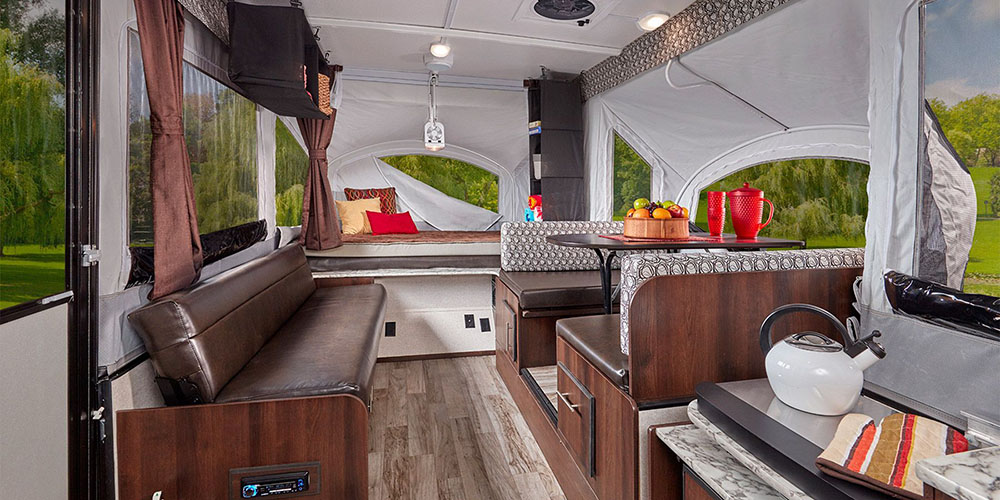 Image Source: camperguide.org
It's not uncommon to find a combination of particle board cupboards, solid wood furniture, and veneer finishes in recreational vehicles. The majority of walls are covered in wallpaper or painted boards.
Additionally, you might find even more surfaces like glass, poly doors, and other plastic panels, depending on how old your pop-up camper is. One of the most time-consuming and crucial steps in this procedure is preparing each surface for an effective coating.
4. Install Dividers or More Shelving on the Inside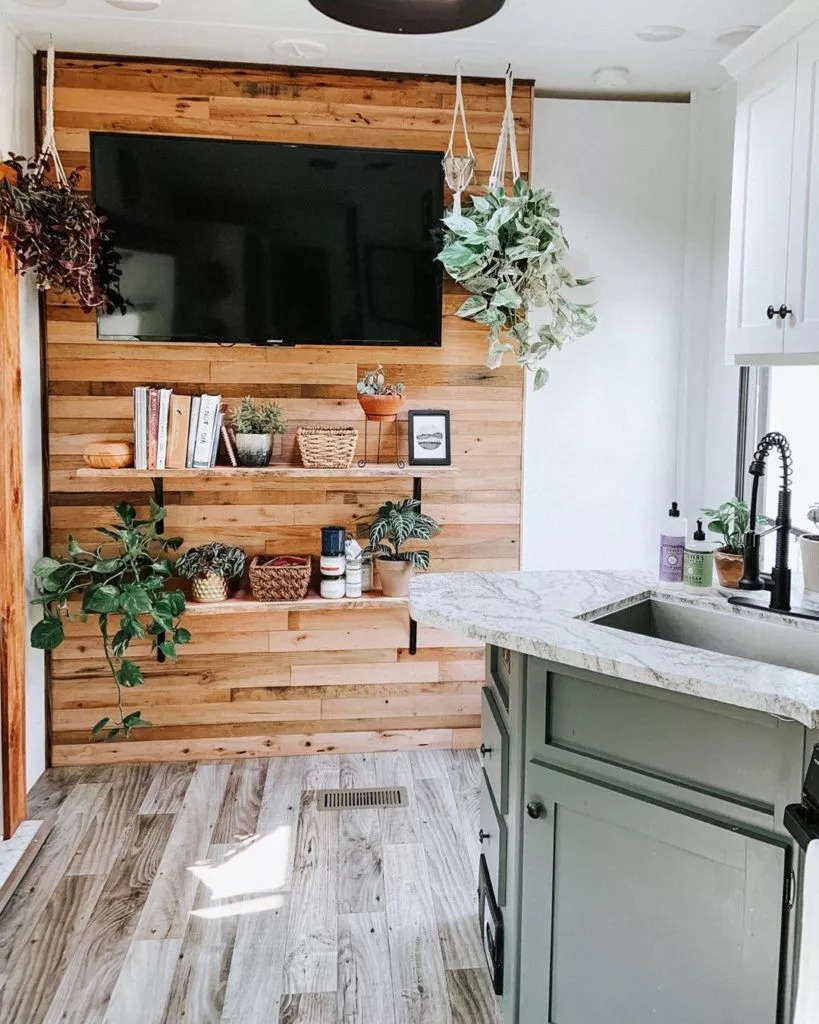 Image Source: instagram.com/choosing.less
Add extra shelves inside the cabinets so your basket containers can fit, and keep the space as tidy as possible. This way, you use every inch of the camper cabinets and keep everything labeled and arranged.
Paint those cabinets and then add shelf liners. You can add oval and rectangle labels and mark the cabinets and shelves. Remember to keep some cabinets at full height to accommodate all the tall kitchen appliances.
5. Paint the Interior of Your Pop Camper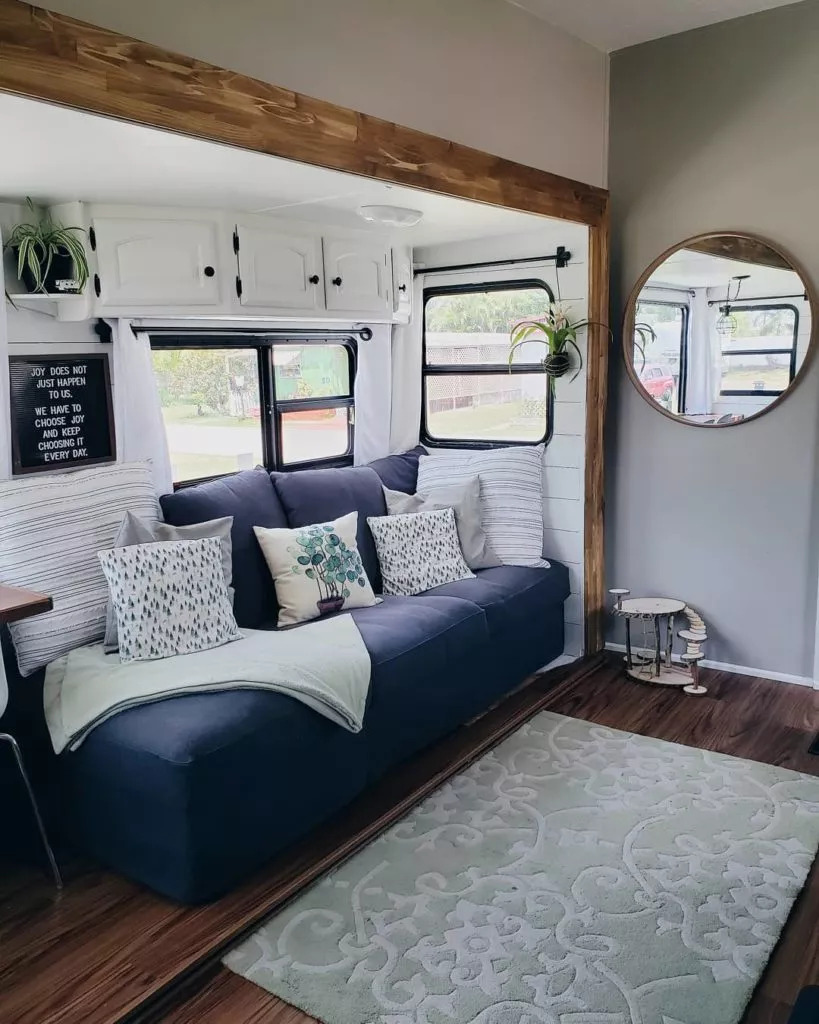 Image Source: instagram.com/rvsandtreess
The interior of your pop-up camper can be painted to make it feel more like home! To brighten your living area, eliminate dark, dismal colors and choose brighter colors like white, beige, gray, sage green, or light blue. Lighter colors help reflect light better, giving the impression that your camper van is larger.
Whether you take the oil-based or shellac primer route, we can't stress how important it is to use a high-quality primer. Water-based primers can become wet and occasionally lift off a porous substrate, which could lead to paint lifting or cracking.
Additionally, oil-based paint is recommended for laminate (fake wood) since it sticks to the material better.
6. Replace the Furniture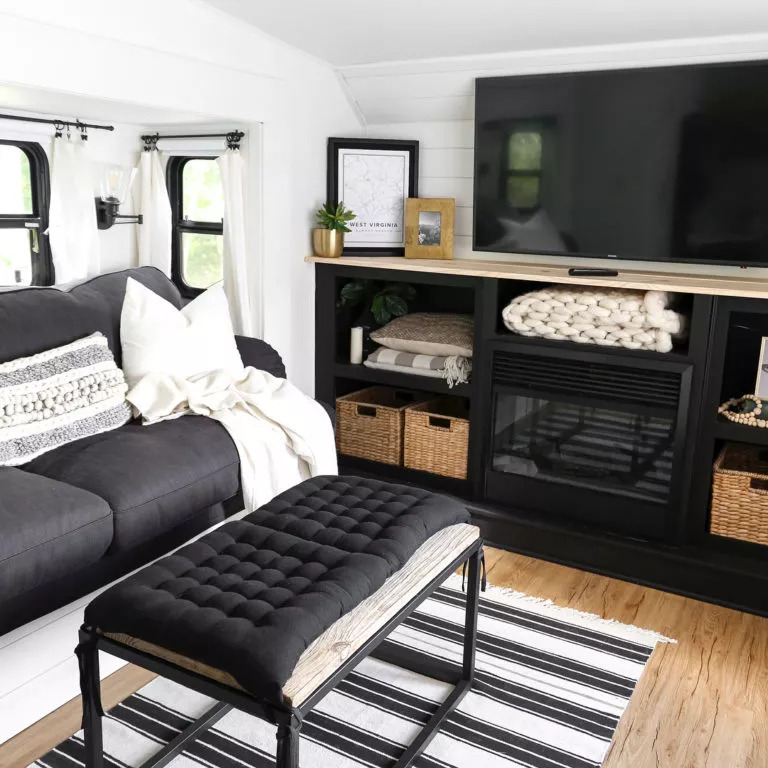 Image Source: instagram.com/plumprettydecoranddesign
The interior of a new pop-up camper likely has fresh furniture. However, if your pop-up camper still has the original furniture and is stained, faded, or ripped, it is time to change it before renting it out.
The ideal option is the lightweight, space-saving furniture from IKEA. Due to their dual functionality as a couch and a bed, futons are a brilliant option.
7. Update Your Kitchen's Backsplash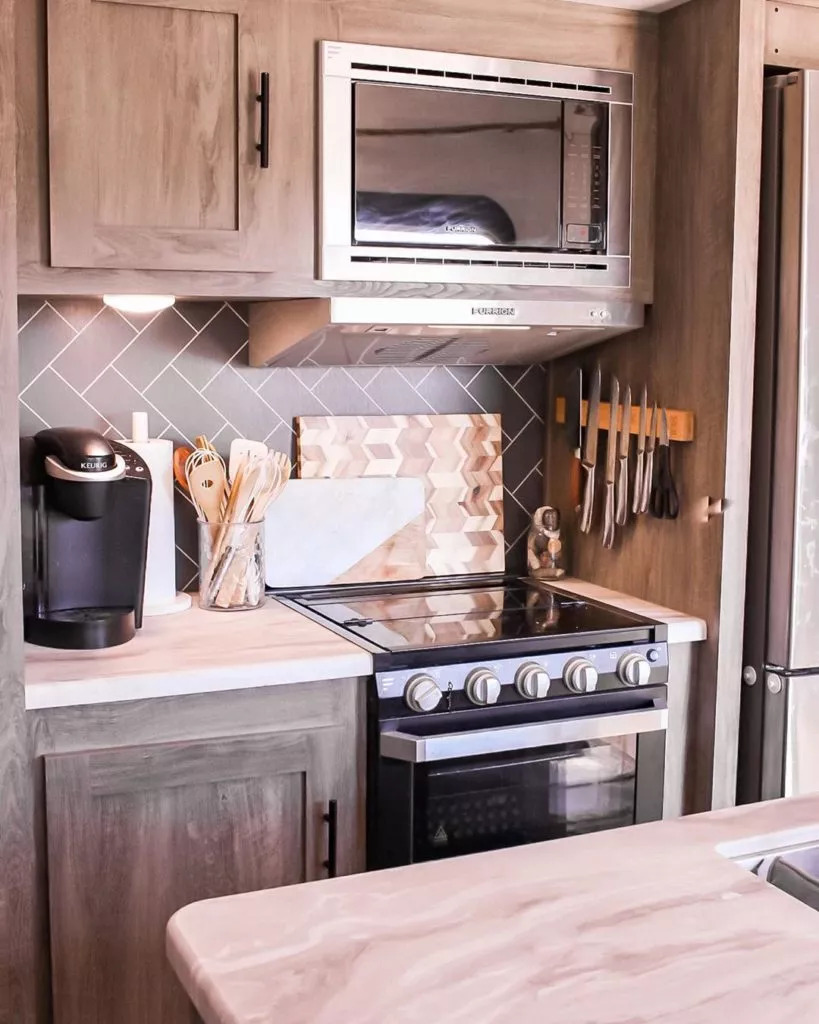 Image Source: instagram.com/laurencicileo
Do you know about the peel-and-stick backsplash sheets that are available today? They improve the entire appearance of the kitchen.
The best part is that it's simple to put up. You can get them in any big-box hardware shop or on the internet, and they come in a range of colors and designs to complement your existing decor.
8. Take Down the Valances and Put Up the Curtains
The valances can be easily removed from the walls and ceilings. After that, all you need is some fabric and a staple gun to give them a new look. If the blinds in your pop-up camper are in good condition, but the valances are stained or otherwise unattractive, this is a perfect solution.
You can also opt to replace valances with curtains if you like. Curtains can create a more intimate atmosphere in the pop-up camper bedroom and block out light when needed. Curtains are a great alternative to the blinds or shades that come standard in most pop-up campers.
9. Refresh the Countertop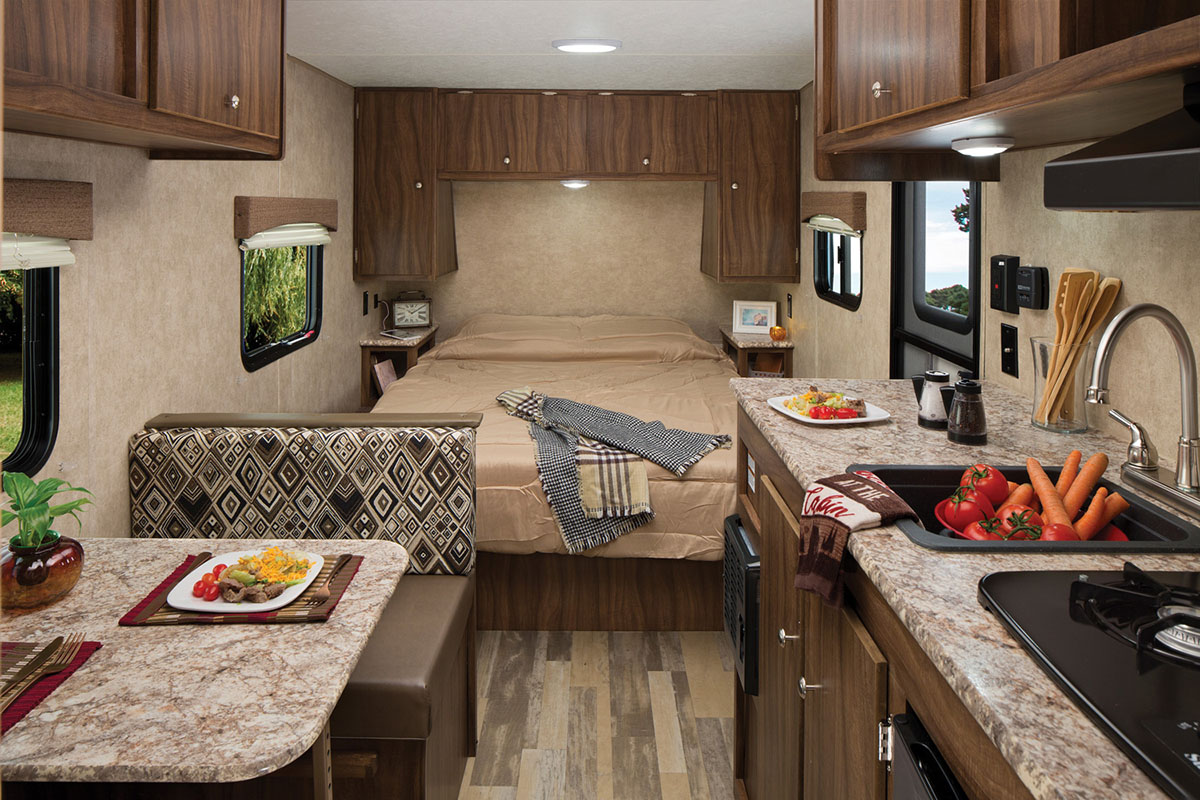 Image Source: camperguide.org
Since there aren't many counters, replacing them is often a cheap project. However, you can paint them or use the best peel-and-stick for countertops if you don't want to take on that task.
Different countertop coatings are available, ranging from granite to concrete and everything in between. Apply tape along the wall and around the water fixtures.
10. Decorate
Don't skip this easy but crucial step when renovating your pop-up camper's interior. However, it's equally crucial that you don't overdo it. Decal stickers are great since they stay put no matter how far you go.
If you don't have any heavy artifacts, you can always use command strips, hooks, and mounting putty to get the job done. Additionally, adding throw cushions and blankets can contribute to the creation of a cozy, welcoming atmosphere.
11. Consider New Windows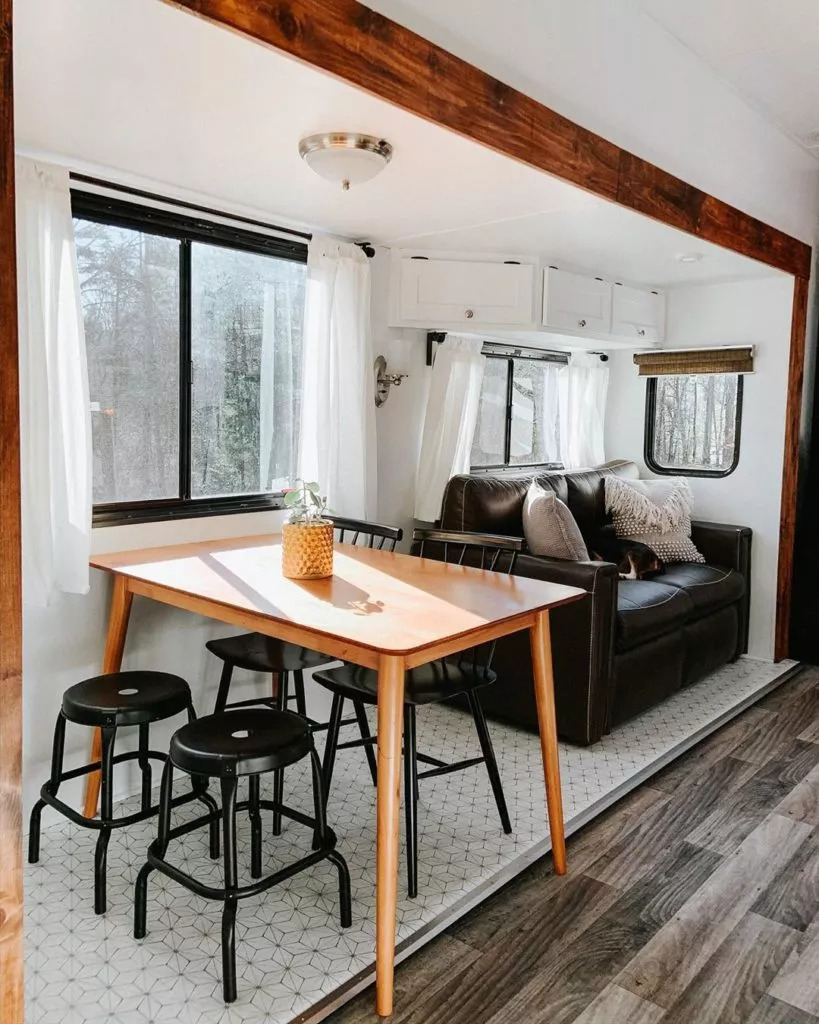 Image Source: instagram.com/choosing.less
All camper vans need to have adequate ventilation. A great way to update the appeal of your home is by installing new, all-weather windows instead of your old ones. Make sure the windows you put in are long-lasting, can withstand severe weather, and are tinted to keep out the sun.
Caulking the windows properly will ensure that the pop-up camper remains dry in the rain, sleet, hail, or snow. The final step is to install chic window coverings to block out the sun and keep the room cool during the day.
12. Renovate the Walls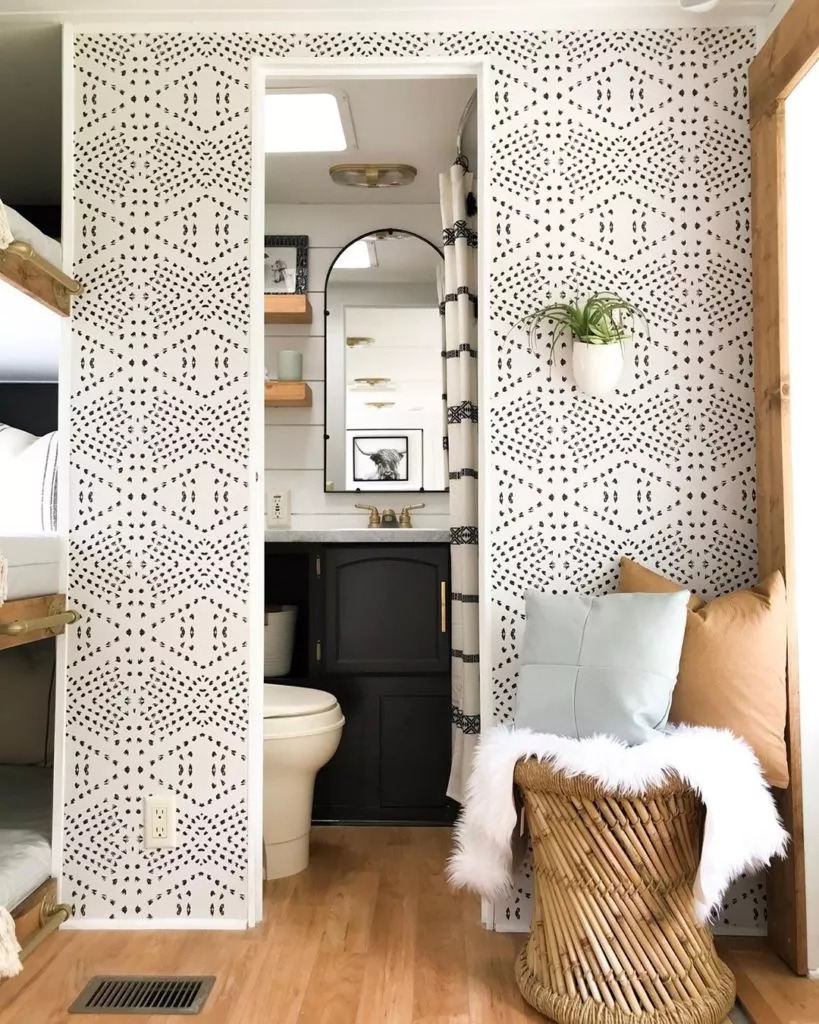 Image Source: instagram.com/troopnashville
Wall coverings should be changed with new ones to freshen up the room. To create a refined farmhouse aesthetic in your pop-up camper remodel, utilize white shiplap wall planks.
Decorate the interior of your camper with interesting pattern wallpaper. Choose peel-and-stick wallpaper for an accent wall if you don't want to commit much.
13. Include Accents Made of Reclaimed Wood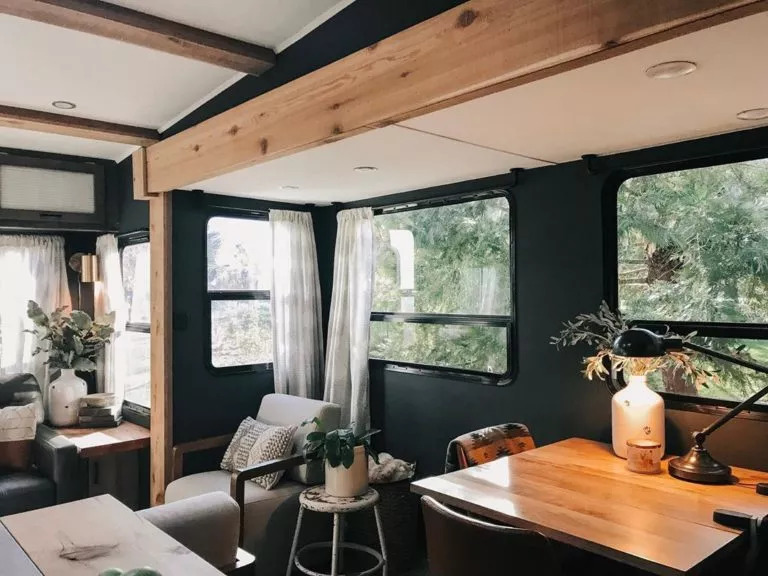 Image Source: pinterest.com
Reclaimed wood may give your pop-up camper furnishings new life. For example, you can use old wood to construct kitchen tables, countertops, ceiling beams, or flooring, depending on the size of your pop-up camper.
The interior of your pop-up camper will feel more natural and mirror the outdoors if it is built using reclaimed wood.
14. Improve Your Pop-Up Camper Floor with New Flooring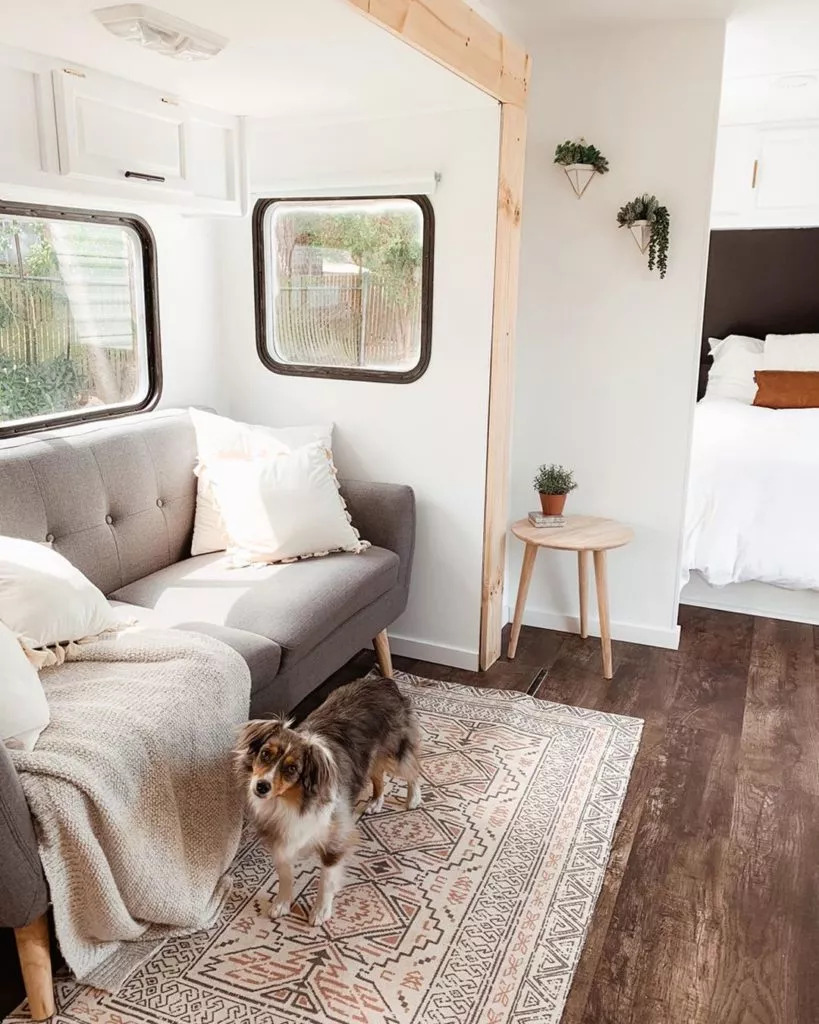 Image Source: instagram.com/danielvanhorn
Is the flooring in your pop-up camper displaying symptoms of deterioration? The new flooring should be installed as part of your camper remodels. Choose from simple-to-install materials like hardwood, laminate, vinyl, or tile to increase the durability of your floor for camping trips.
15. Modernize the Interior Lighting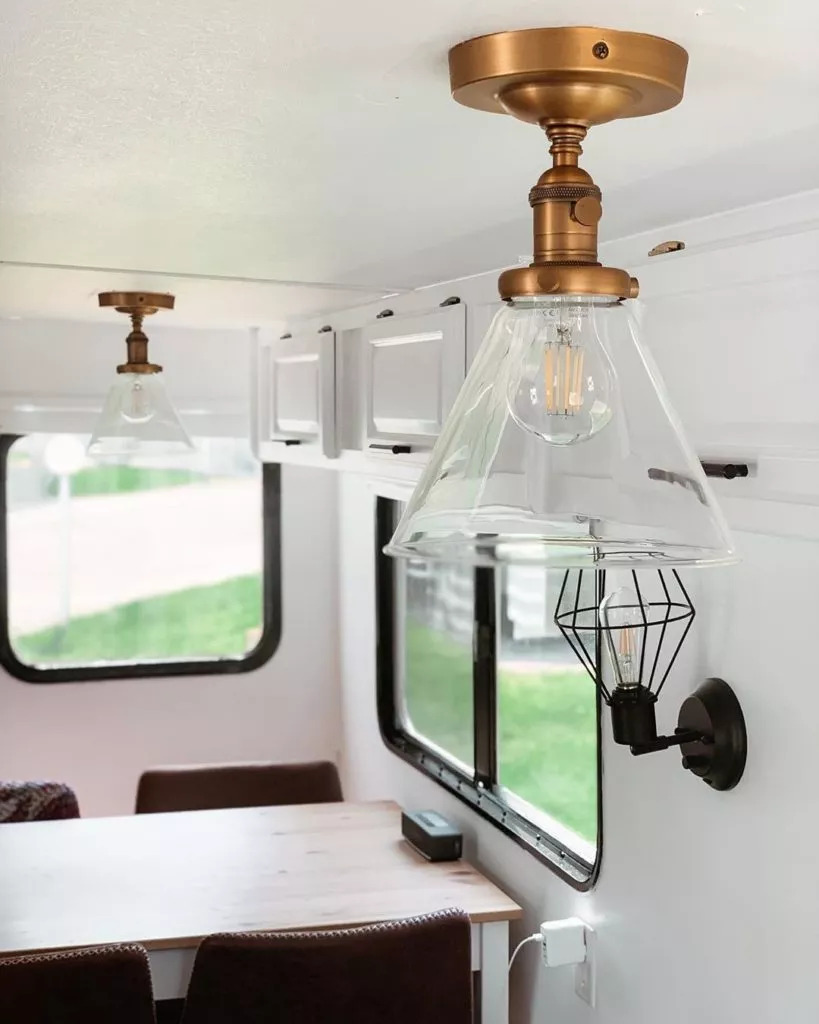 Image Source: instagram.com/danielvanhorn
If the inside of your pop-up camper is excessively gloomy, it may be time to replace the lighting. To give your camper a more contemporary appeal, replace outdated box lights with brand-new fittings and LED bulbs.
Install a flush-mount dinette light that you won't run into in your eating area. Wall sconces are another option for adding light to a bathroom or living area.
16. Insert a Skylight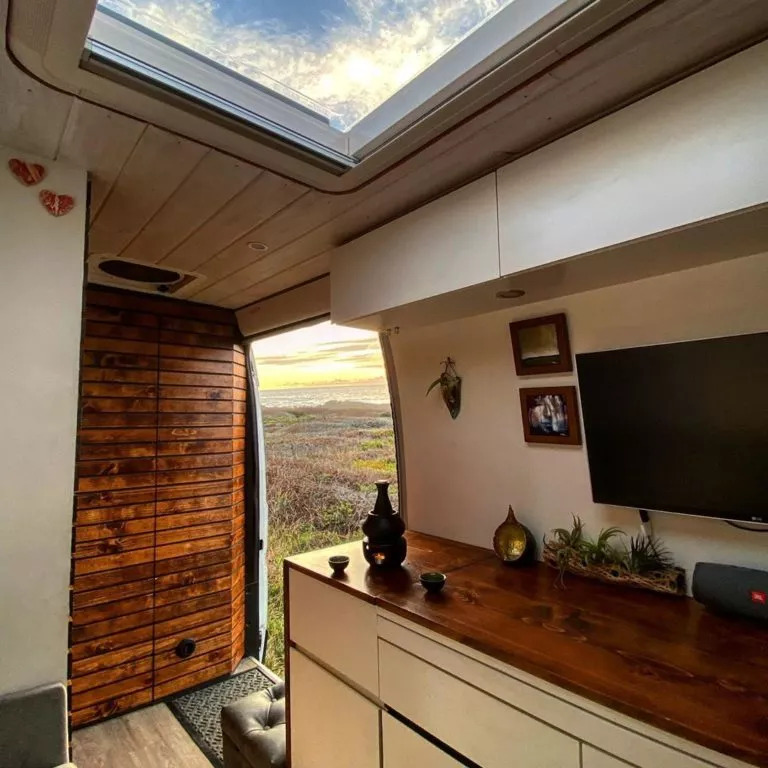 Image Source: instagram.com/the_tennis_promaster
By including a skylight in the roof, your camper will appear larger. Skylights, available in various styles and dimensions, are the ideal method to bring more natural light into the inside of your pop-up camper.
To help block out any direct sunlight during peak hours and better seal the inside for sleeping at night, add pleated shades to the skylight of your pop-up camper.
17. Improve the Built-In Shower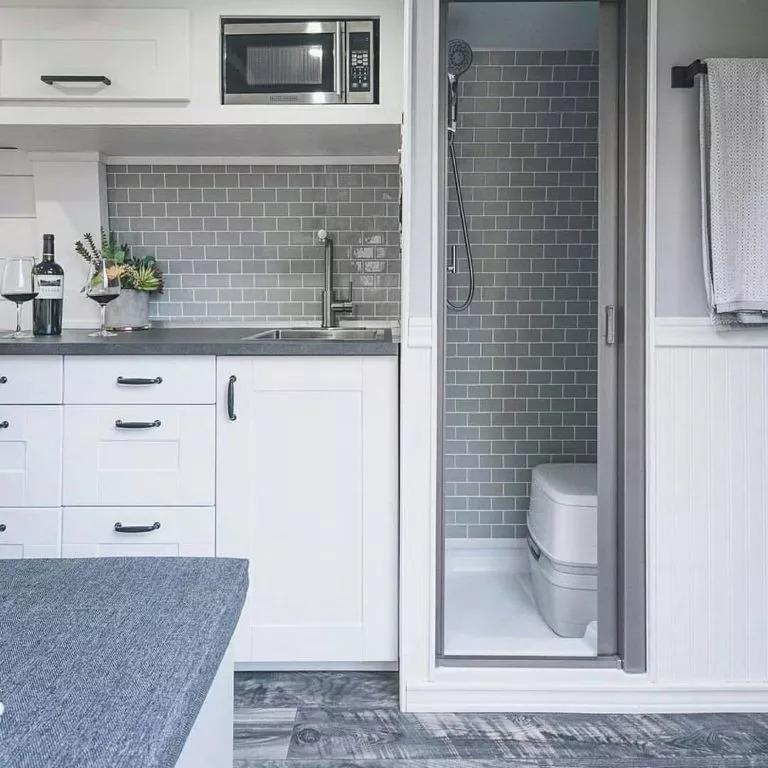 Image Source: instagram.com/campervanbuild
Using the shower in your pop-up bathroom is essential if you live on the road. Build a shower with a high-pressure shower head and an attachable hose for this custom van design.
Use a non-skid shower pan with high sides on your shower floor to prevent water from flowing out. In addition, the interior of the pop-up camper shower can be given a fun, decorative touch by installing patterned tiles.
18. Including a Kitchen Island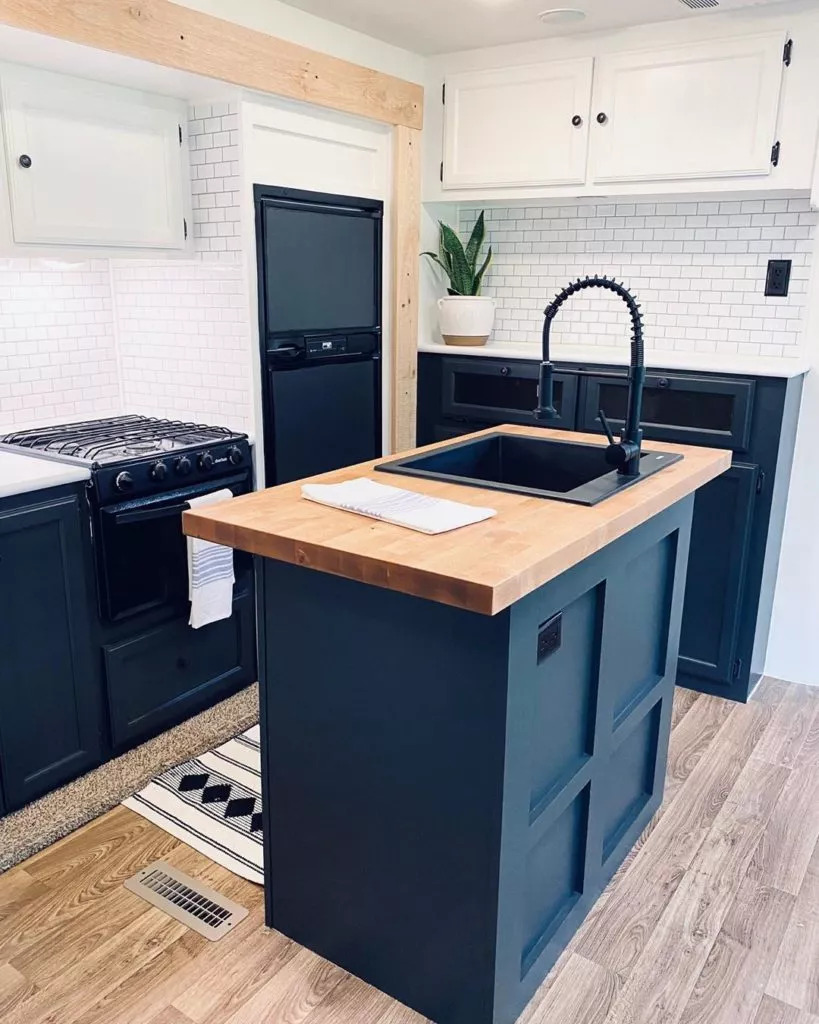 Image Source: instagram.com/_erin_buerschinger_
Install an island to free up counter space in your pop-up camper. Also, move the sink to the kitchen island to free up more space for food preparation on other surfaces.
You may add the island for additional cabinet space to store dishes, silverware, utensils, and other kitchen necessities.
19. Elevate the Space in Your Room with a Loft Bed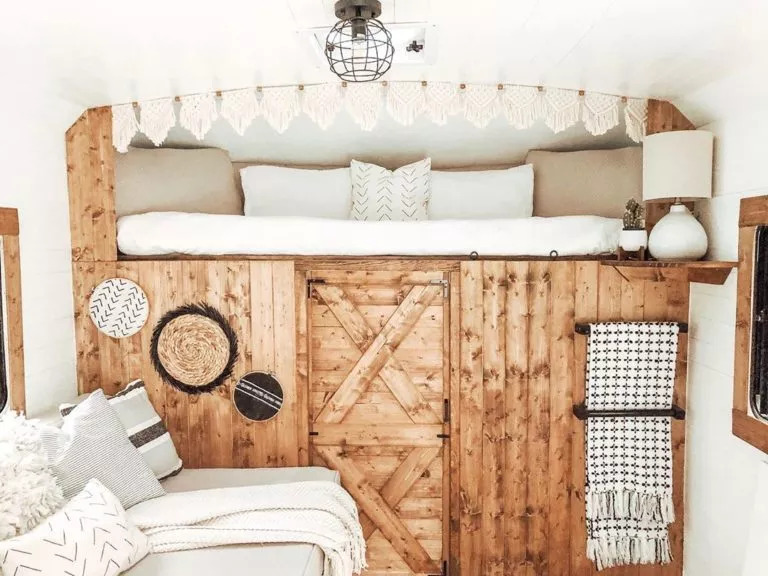 Image Source: instagram.com/theroamin30s
Need to make the most of your pop-up camper space? Build a loft bed! Many compact campers without a dedicated bedroom loft the bed as a space-saving measure. Just be sure to include a ladder or some built-in stairs so you can easily enter and exit your loft room!
20. Include Solar Panels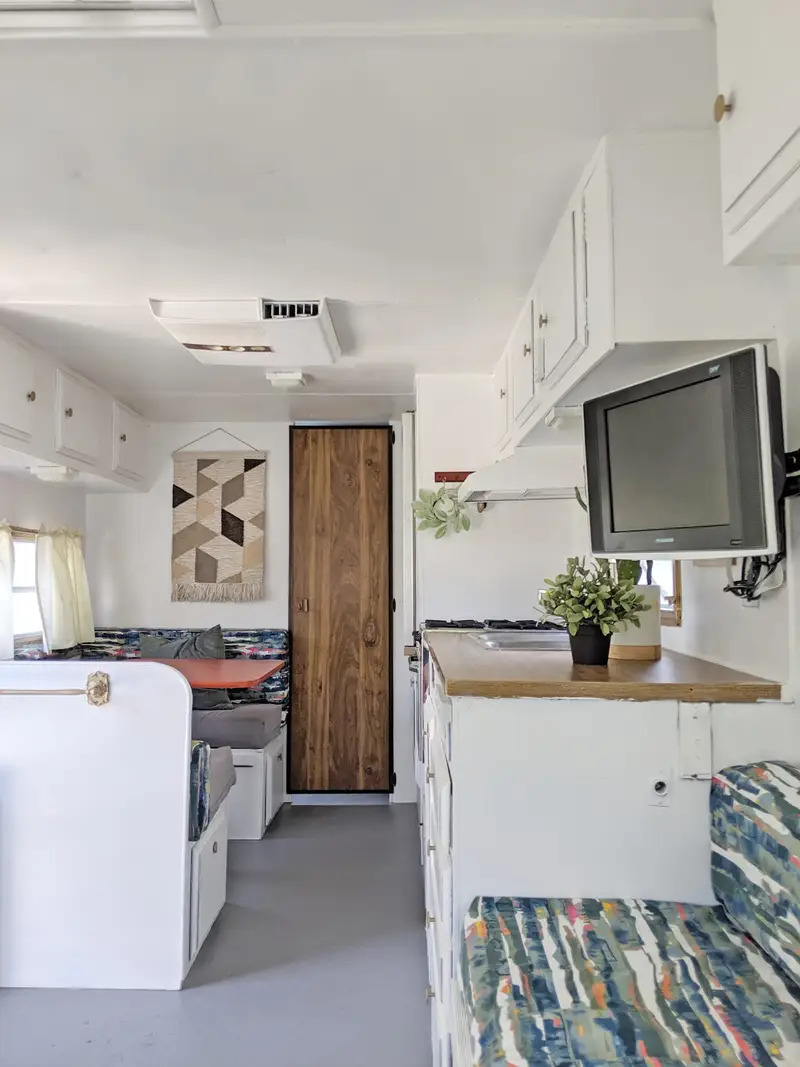 Image Source: instagram.com/sumnerrvcenter
You must learn to be more sustainable to live on the road. For example, your pop-up camper's roof could benefit from solar panels, which would require less power from a generator.
Additionally, solar panels are a fantastic method to increase the lifespan of your pop-up camper's batteries and can even help you save money on the gas needed to heat your vehicle.
21. Modernize the Exterior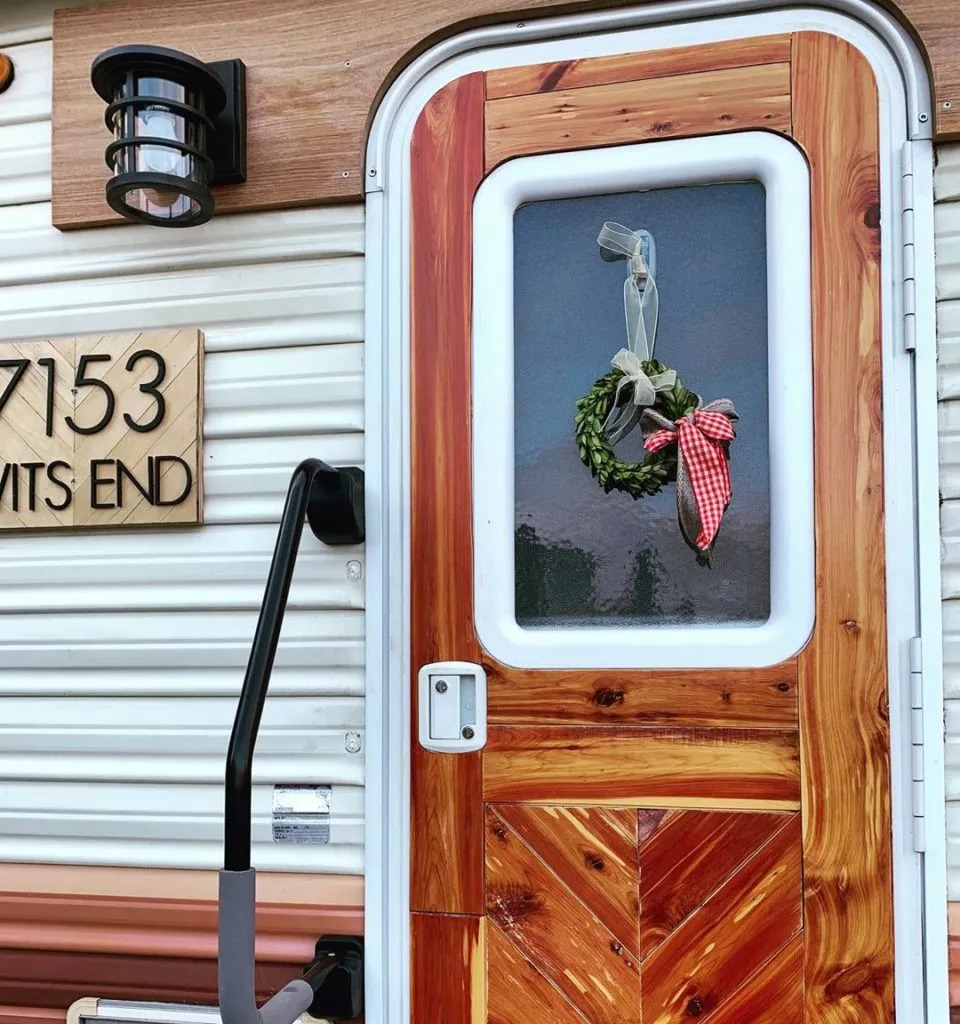 Image Source: instagram.com/robyns__nest__
The exterior of your recreational vehicle should not be overlooked. Consider painting the van's outside in a vibrant color like blue or green instead of something more subdued like white or gray.
Replace the siding with fiberglass or aluminum and add better insulation. And replace an outdated pop-up camper door with an improved version.
Pop-Up Camper Remodel Ideas
1. A Boring 1990 Pop-Up Camper Remodel to a Modern Design
Before: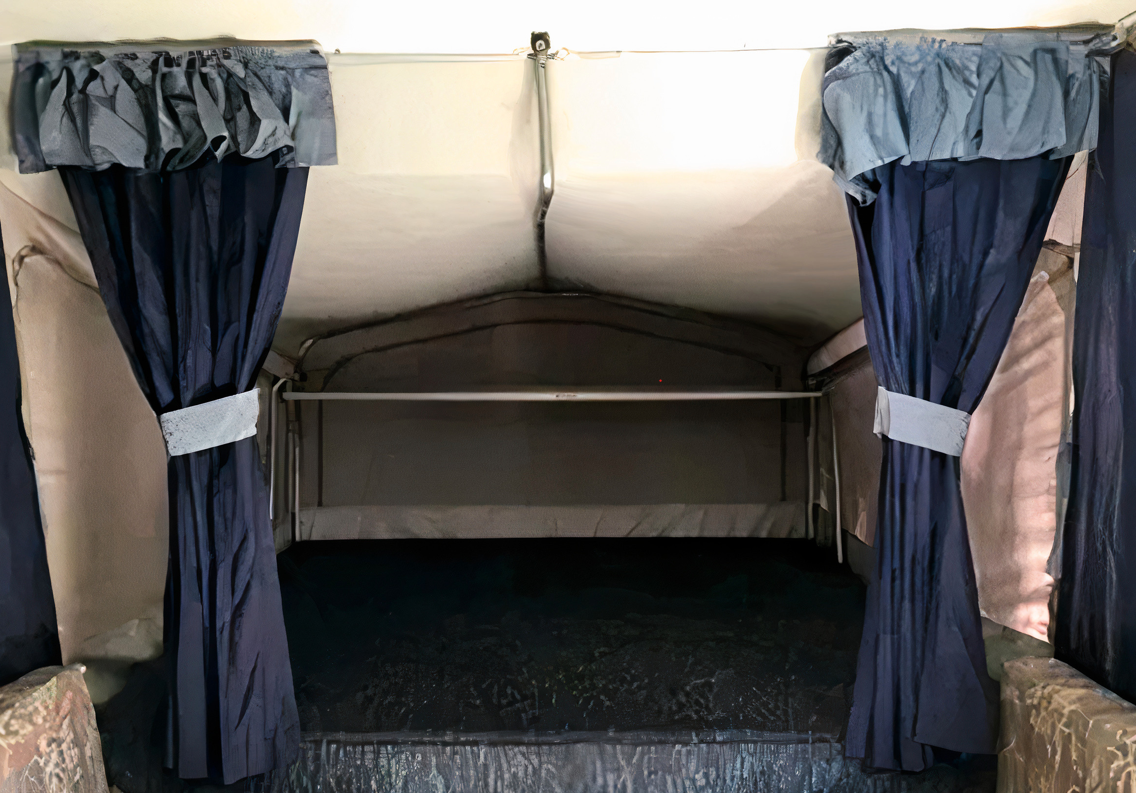 Image Source: refreshliving.us
A 1990s tent trailer had potential, and Jenny of Refresh Living used her creative skills to transform it into a one-of-a-kind camper.
After: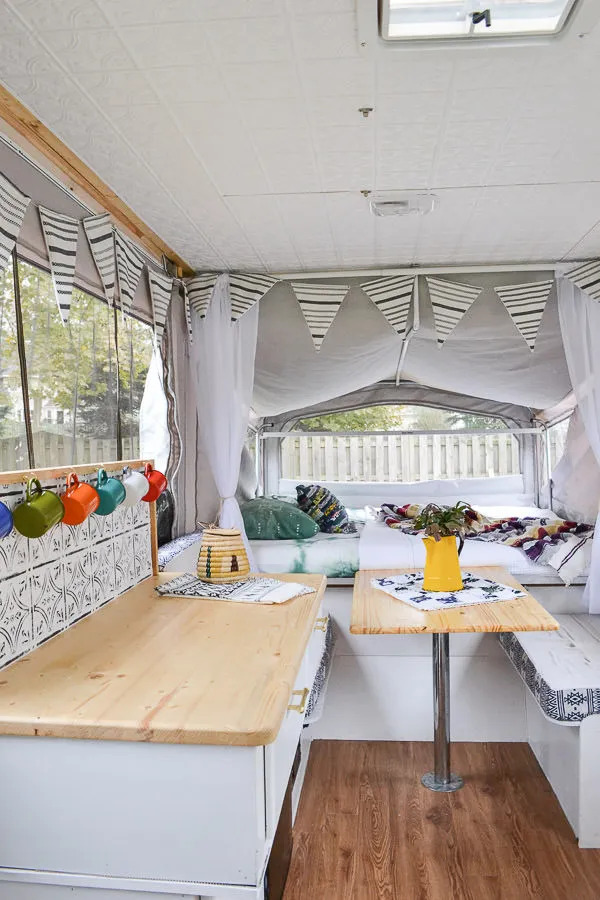 Image Source: refreshliving.us
A pop-up camper from the 1990s receives a full makeover, which includes a new roof to replace the old one's leaking one. Vintage throws and DIY shibori-style linens are used for the bedding. Of course, indigo dyes are used in traditional shibori, but they chose dark green instead because it's ideal for camping.
Since there wasn't a table in the camper, they built one out of an in-floor base and recycled the legs from the table in the former camper. The table and the upgraded countertops were made out of edge-glued pine panels.
The white cabinetry looks amazing with lawless hardware, which is about a thousand times nicer than the original blue plastic pulls. Additionally, they replaced the outdated ice box cooler with a mini-fridge.
2. A Dull Pop-Up Camper Remodeled to a Brighter Space
Before: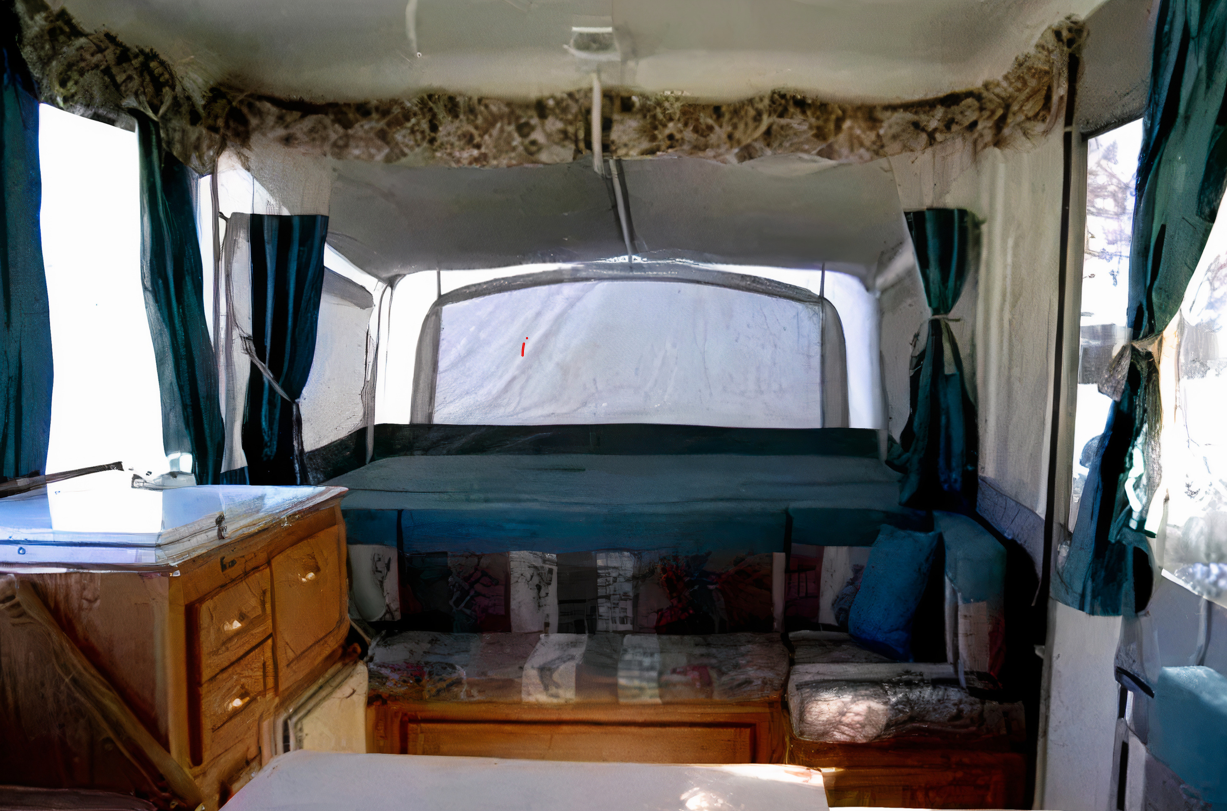 Image Source: dreamingofhomemaking.com
This pop-up camper was originally intended for Sarah Wagner's sister-in-law, but she kept it for herself. They had various color options but decided to go with gray.
After: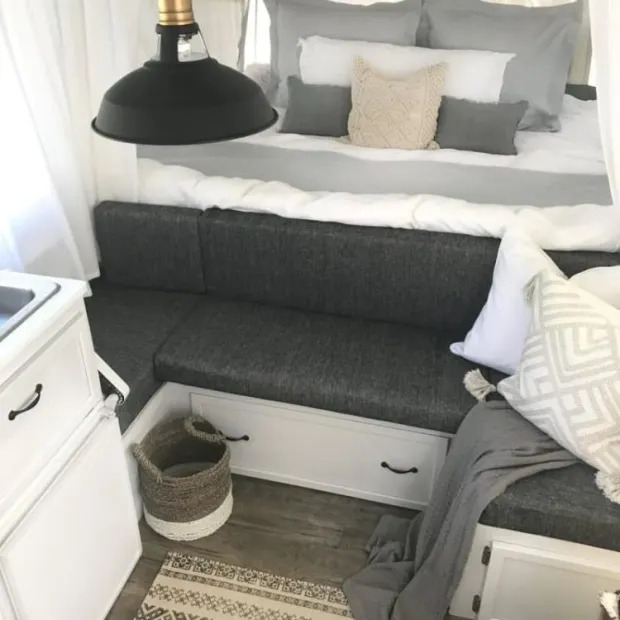 Image Source: dreamingofhomemaking.com
The pillows added a touch of texture and superb quality to the space. The Putnam coverlet was added to create a layered design, and a Pryor Duvet and euro shams were added.
What some paint can do to a room is simply astounding. White paint was added to the walls and drawers to brighten the inside space.
If you looked at these floors, you wouldn't know they were made of sheet vinyl. The light is mounted on a hook and has a plug, ensuring enough light in the pop-up camper.
3. A Wild Pattern Sofa Given a Modern Look
Before: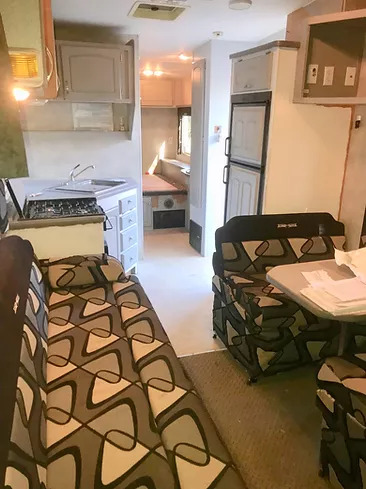 Image Source: rvingdogsandwine.com
The wild pattern on the jackknife and dinette sofas had to go, so they removed them and had them professionally reupholstered.
After: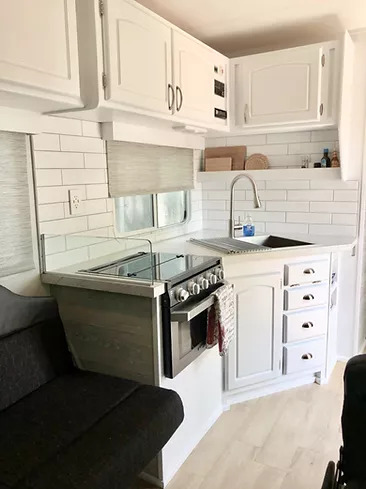 Image Source: rvingdogsandwine.com
The seats were upholstered with a combination of pleather and commercial-grade fabric. Unfortunately, the cabinet door was the only thing they salvaged from the old sink vanity.
They created room for a microwave where the TV once stood and installed a new Ferrion range. They also installed new Formica countertops and a white tile backsplash with grey grout.
The queen bed in the "bedroom" was comfortable, and we added some accent walls using peel-and-stick wallpaper throughout the camper.
4. A Cramped Up Pop Up Camper Remodel Remodeled to Look Bigger and Brighter
Before: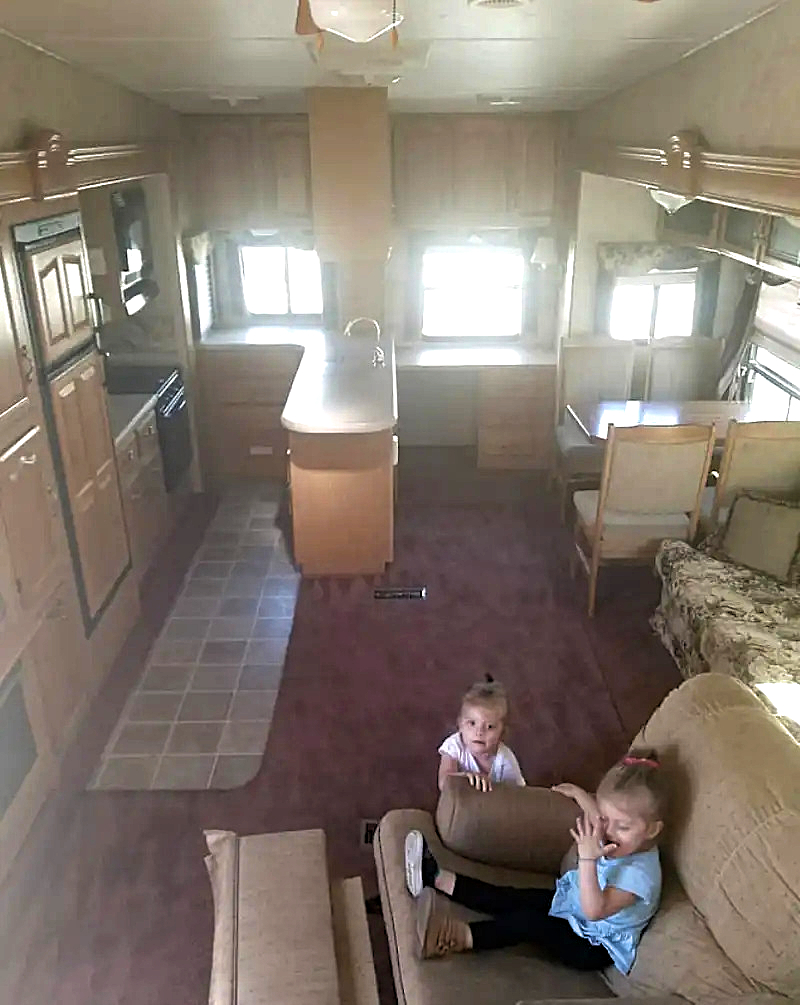 Image Source: insider.com
April Gilleland and Jason McMillan knew their pop-up camper required a complete renovation before they moved in with their two girls.
The original RV had worn-out furniture and appliances and dark wood paneling throughout. The full pop-up camper renovation took six weeks instead of the couple's initial estimate of one week.
After: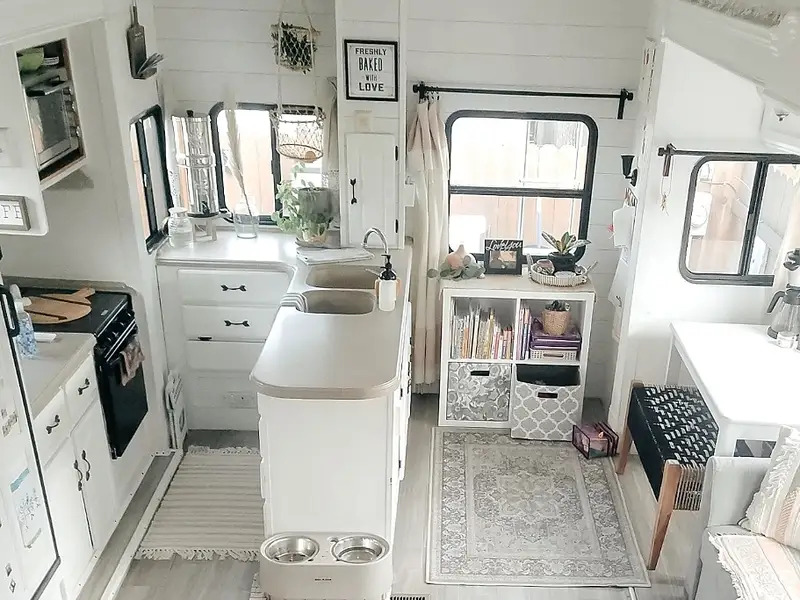 Image Source: insider.com
The room appears larger and brighter after the renovation. The paint job gave the room an amazing pop and made a huge difference.
5. A 1970s Vintage Pop-Up Camper Remodeled to an Up to Date Space
Before:
Image Source: allthingswithpurpose.com
A mother from Michigan named Sarah Lemp began remodeling recreational vehicles in 2014 and acquired this 1970s-era Coachmen Cadet RV on Facebook Marketplace.
Lemp stated that the first steps are to solve water issues and remove damaged items before she even starts rebuilding.
After: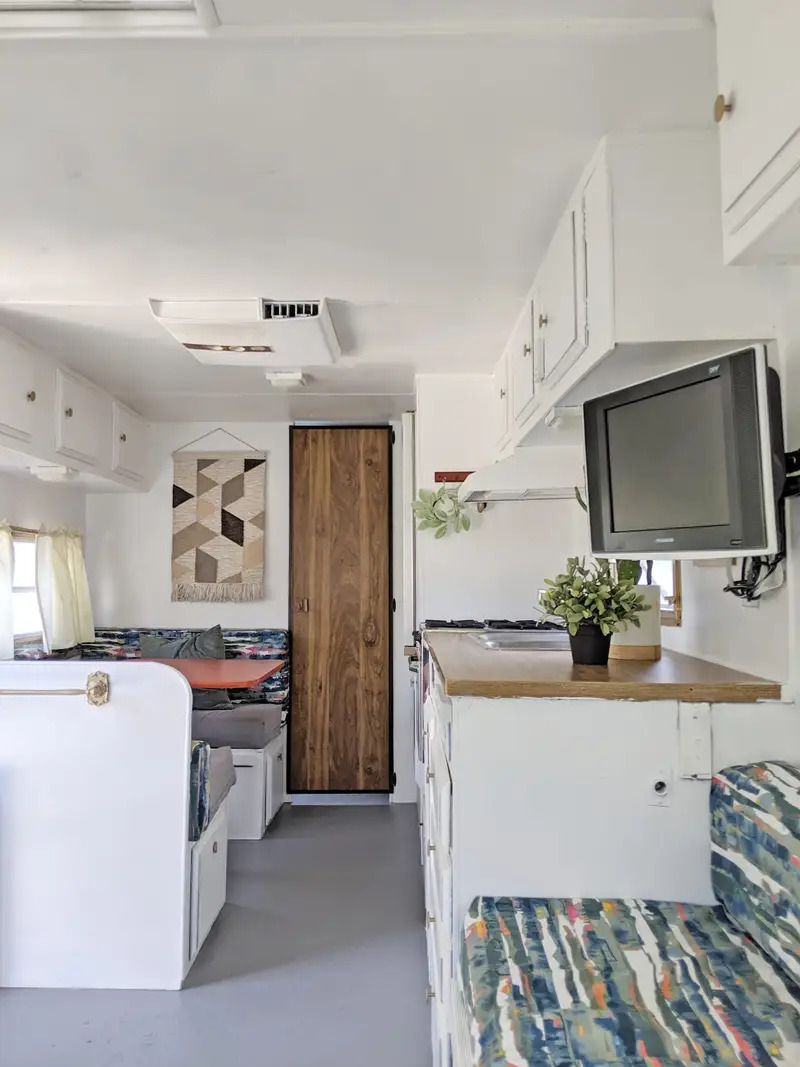 Image Source: allthingswithpurpose.com
Despite being a vintage trailer, the room feels more modern after the remodeling. She claims that while some people are tempted to use trendy items like cement countertops, she chooses to utilize light items in her remodels since she believes these items are too heavy for the car.
Pop-Up Camper Remodel Costs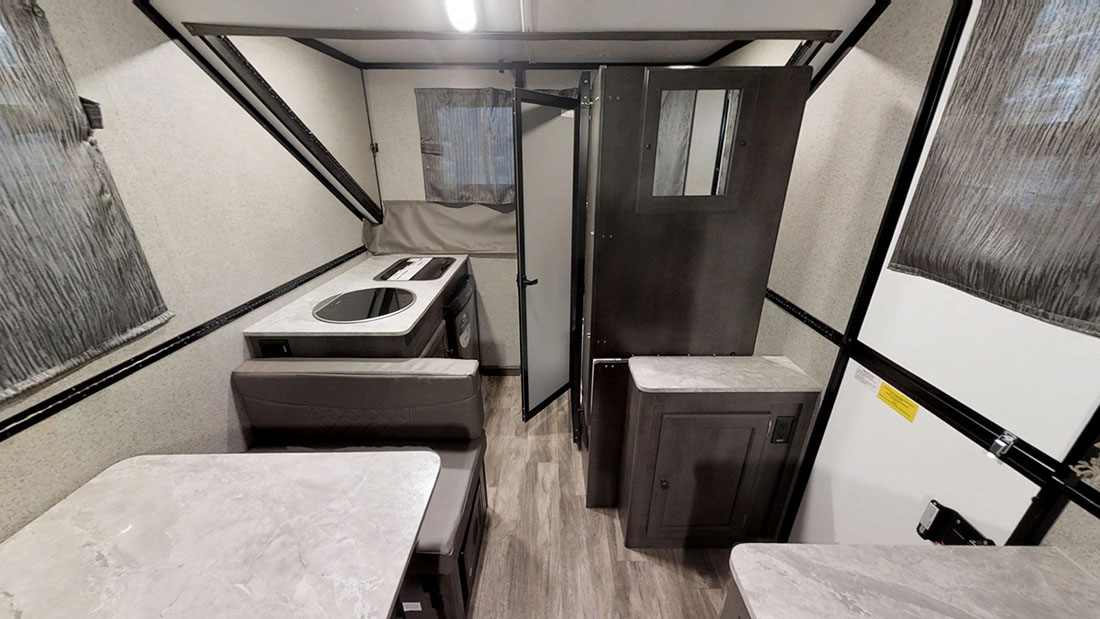 Image Source: camperguide.org
When considering a pop-up camper remodel, the cost is one of the concerns people have the most. However, since most people don't live in pop-up campers, it might be challenging to justify high remodel costs.
You probably don't want to spend thousands of dollars on a remodel, even if your pop-up camper serves as your primary residence. Fortunately, converting a travel trailer or pop-up camper doesn't have to be very expensive. Try the following suggestions to reduce costs:
1. Paint, Flooring, and Additional Materials
If you want to buy paint, flooring, and other goods at a significant discount, consider going to a store like a Habitat for Humanity.
If you're looking for inexpensive paint and don't care too much about color, be sure to ask a professional because paint can also be obtained at hardware stores at a significant discount when a wrong color is mixed accidentally.
2. Rugs, Furniture, and Decorations
You can consider visiting some neighborhood garage shops or thrift shops for furniture and décor. While it would take a little more effort to shop at these places, you might save hundreds of dollars while still getting a new style you love.
Furthermore, you can discover that the parts you find give you fresh remodeling ideas for campers.
3. RV-Specific Parts
Since a pop-up camper is a type of RV, we strongly advise going to an RV salvage yard if you need items designed specifically for a pop-up camper for your first camping trip.
This will give you many options for used camper parts and could result in significant financial savings. To get the greatest deal, be sure to be prepared to haggle.
Conclusion
There is no denying the convenience of owning a little home on wheels. Who, after all, wouldn't want to return to their comfortable place wherever they happened to be? It goes without saying that doing a pop-up camper remodel may be necessary if you consider your camper to be home.
As you've seen, a pop-up camper remodel is entirely possible. Renovating a camper can yield aesthetically pleasing results and functionally better than those of a factory-fresh pop-up camper.
Featured Image Source: camperguide.org