So you have decided to add a reliable power backup plan to avoid the effect of emergency outages. However, you have a metal roof and keep asking, can you put solar panels on a metal roof? The answer is yes; you can put solar panels on a metal roof.
You can find a guide on how to install solar panels on a roof if you want to do it alone. This differs with the type of metal roof as they have different bracketing systems. Let's go through tey types of metal roofs to understand better.
Types of Metal Roofs
a) Standing Seam Metal Roof
This roof style comprises numerous flat, wide metal panels pinched together to create a continuous, hidden seam. Between each of them is a vertical leg; this is the elevated seam.
Image credits: gartalkblog.com
When used with the best underlayment for a metal roof, it is not only lightweight and resilient, but it is also watertight. Metal standing seam roofs were created particularly with solar panels in mind.
High-strength aluminum clamps are fastened to the vertical legs by the installer using a single bolt. The mounting rail is secured without drilling any holes in the roof.
Asphalt shingle owners must inspect and repair theirs yearly to ensure there are no perforations in the metal, which keeps it watertight. To do this, you will need the best roof underlayment for asphalt shingles.
b) Metal Tile Roofs
There is another way to install solar panels that don't involve drilling holes or breaking through metal. Metal tiles are already fastened to the mounting rail.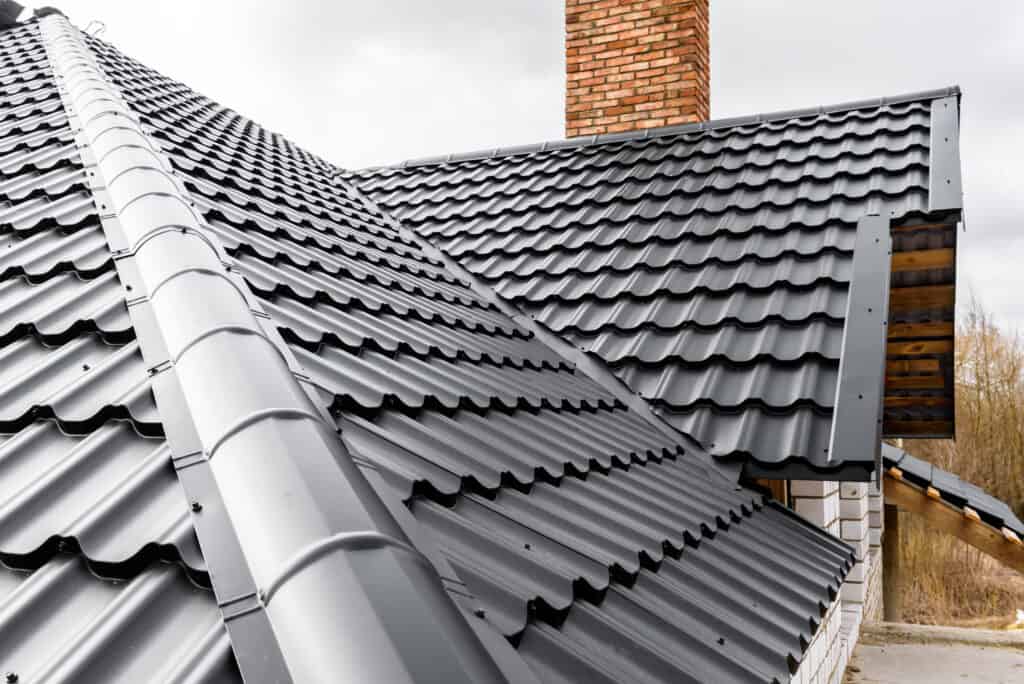 Image credits: roofclaim.com
Aligning them with existing tiles and replacing them is a straightforward process. The panels are quickly joined using guiding metal rods, and the unit clicks into place.
Since the new tiles are identical in shape to the old ones, neither an eyesore nor unwelcome gaps for moisture to enter are produced.
They provide the roof with natural defense, keeping it in good shape.
c) Corrugated Metal Roofs
You cannot install solar panels on to corrugated metal roof before drilling holes; every precaution is taken to keep them watertight.
It needs a unique mounting setup that makes use of straddle block brackets. The lower crest, where the rain gathers, is left free of holes because they are tightly attached to the top ridge.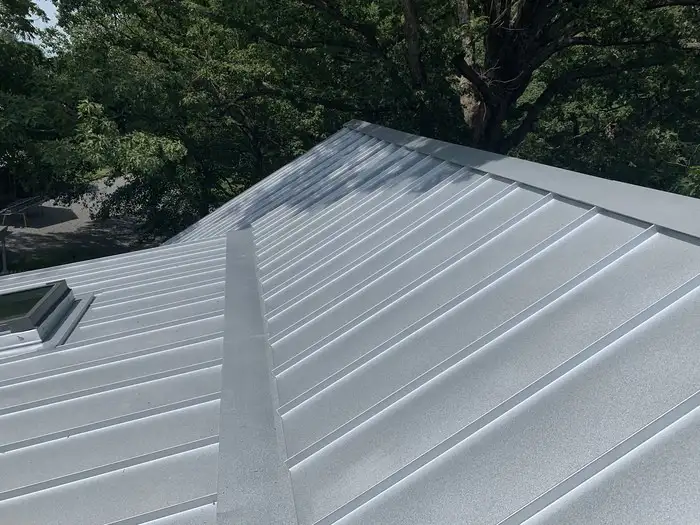 Image credits: skywalkerroofing.com
The holes in high-quality brackets are sealed with thick rubber gaskets, which are more effective and less messy than applying sealant gum. In addition, any pitched metal roof or panel gaps of variable sizes can be fixed with straddle blocks.
To ensure secure installation, the blocks line up with the installation grommets on the back of solar panels.
Solar Panels Most Suited for Metal Roofs
a) Thin-Film Laminates
For quick and simple installation, these are the best. They don't require drilling or penetration to be installed on metal roofs.
Image credits: shoponline.solar.com
Additionally, these are aesthetically pleasing due to their sleek and clutter-free design.
b) Crystalline Panels
These generate significant energy daily and offer a unique mounting mechanism for metal and shingle roofs.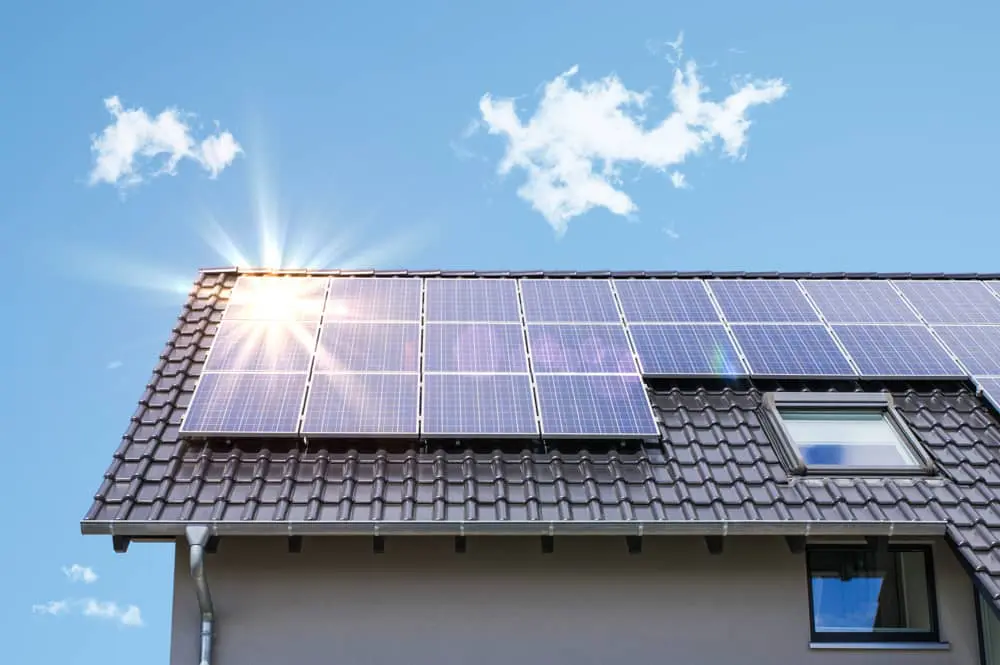 Image credits: LGCYpower.com
Even if these are larger than thin-film panels, you can be confident that they will serve you for up to 25 years before productivity declines progressively.
Advantages of Installing Solar Panels On Metal Roofs
a) Durability
Solar PV panels have a 25–30 year lifespan. Therefore, the lifespan of the sort of roof you wish to use must be longer than that of the Photovoltaic panel you intend to use for you to produce solar energy at cost-effective levels.
Metal roofs provide the kind of sturdiness required to produce solar energy efficiently, as they have a 60-year lifespan. By choosing metal roofing, you may prevent the long-term expense of your pursuit of renewable energy from costing you an arm and a leg because you will eventually need to replace your roof material.
b) Sustainability
Metal roofs are made of recycled materials, making them a compelling choice over other types.
Utilizing metal roofing will help you encourage environmental sustainability because you'll be able to use recycled materials more frequently, which will reduce pollution.
c) Resilience to High Winds
In contrast to other roofing materials, metal roofs hold up well in strong winds. Ensure the brackets you use to fix your solar panels are installed appropriately and securely.
When mounting solar panels using brackets, it is best to do so through the metal roof's highest point while creating a seal between the brackets and the metal sheets. With such a setup, the solar panels are safely anchored to the metal roof and may take advantage of the metal roof's wind resistance.
d) Flexibility
Photovoltaic solar panels come in two different varieties: silicon and thin film. While thin-film photovoltaic panels are flexible, silicon panels are larger and more rigid.
Both solar panels can be installed on metal roofs, giving you various options. In addition to these, metal roofing can also benefit from solar laminates.
PV solar laminates are available as strips that stick to the metal roof surface, providing yet another method for capturing solar energy.
e) Energy Efficient
Your home will stay cool throughout the warmer months if your metal roof has reflecting paint on it. In addition, the energy required to control internal temperature is further reduced by adding solar panels to metal roofs that already have this paint covering.
As a result, using solar panels and metal roofs together can help you achieve better energy efficiency and the resulting cost savings.
f) Ease of Installation
Compared to solar arrays on conventional tiled roofs, all non-drill systems require significantly less installation time and work.
On a variety of roof types, specialized bracketing techniques enable non-intrusive installation. It shields the roof beneath each panel and stops leaks as well.
g) Low Maintenance Costs
Traditional roofs, particularly those made of asphalt shingles, must be inspected frequently to remain in optimal condition. However, metal roofs like steel or others require almost no maintenance.
You can benefit from living in a cooler, more energy-efficient house without worrying about your monthly maintenance expenditure.
Factors to Consider When Installing Solar Panels On Metal Roofs
a) Metal Roof Color
The color of your new metal roof, if you're putting one before your solar system, can assist you in enhancing energy efficiency.
Image credits: hometips.com
Lighter colors will save the most energy. This is because lighter colors are better at reflecting the sun's heat, while darker hues, like black, absorb more heat.
Darker colors only reflect 5 to 20% of sunlight, whereas light colors can reflect anywhere between 55 and 90%.
b) Angle
You must position solar panels to receive the most sunshine to get the most out of them. Therefore, a fixed, roof-mounted solar energy system should ideally be built at an angle corresponding to the area's latitude.
Image credits: bobvilla.com
Frequently Asked Questions On Solar Panels on Metal Roof
1. Does installing solar panels on metal roofs damage the roof?
You won't harm your roof in the short or long term if your solar panels are placed per industry standards. In addition, solar panels can shield your roof from damage.
Solar panels are built and placed to resist a good deal of abuse from nature; however, they are not indestructible. Instead, they'll provide a cushion, protecting your roof from normal aging wear and tear.
You can be confident that installing solar panels on a metal roof will prevent leaks from entering your building. On standing seam roofs, solar panels may often be fitted without penetrations.
2. Are metal roofs and solar panels compatible?
Yes, metal roofs are the best roofing material for solar panel compatibility. They are popular among roofing companies and solar installers because of their strength, which can easily sustain the weight of the solar array, panels, mounting racks, and related hardware.
It's important to remember that not all solar contractors are experienced with mounting solar on metal roofs, especially in some regions where asphalt shingles are still widely used.
3. Can any potential leaks cause damage?
It is extremely unlikely that installing solar panels will cause any leaks. However, if any leaks occur, get in touch with your installer to see if the warranty covers the repair.
The easiest approach to stop any post-installation leakage is to have an installer conduct a thorough examination first.
4. Which roof type can solar not be installed on?
Solar panels are not suitable for slate and wood roofs. As an illustration, installing solar panels on cedar shingle roofs is dangerous. When mounting solar panels on slate roofs, it's crucial to use standoffs to prevent drilling into the slate.
5. What are the cons of using solar panels?
The initial cost is high
Efficiency is weather-dependent
More power production needs more solar panels hence more space