When it comes to recliners, nothing can match the comfort, durability, and quality of American-made recliners. The United States has a long-standing tradition of excellence in furniture craftsmanship, and American-made recliners are no exception. In our article, we will delve into the world of American recliners and explore some of the best options available today.
Let's get started!
For a heads start, we will introduce you to the top three products we chose, with Mercury Rocking Recliner by La-Z-Boy topping the list due to its contemporary and timeless design, which makes it a versatile choice for eclectic home decor.
For our second choice, we went with the McCoy Swivel Rocker Recliner by American Eco Furniture because the recliner is crafted using eco-friendly materials and manufacturing processes, as the company prioritizes using sustainable resources.
For our third selection, we chose the Brooklyn Leather Recliner by Arhaus because of its standout reclining mechanism features, which allow you to adjust the chair to your preferred position effortlessly.
Our Top 5 Best American-Made Recliners
1. Mercury Rocking Recliner by La-Z-Boy
Check Price
The Mercury Rocking Recliner by La-Z-Boy is a stylish and comfortable piece of furniture designed to provide exceptional comfort and relaxation, making it a good recliner for back pain. La-Z-Boy is a renowned brand known for its high-quality and innovative recliners, and the Mercury Rocking Recliner lives up to the brand's reputation.
Image credit: gardner-white.com
One of the standout features we liked about the Mercury Rocking Recliner is its rocking functionality. It is equipped with a smooth and effortless rocking mechanism that allows you to gently sway back and forth, adding an extra dimension of relaxation to your seating experience.
The design of the Mercury Rocking Recliner is both contemporary and timeless, making it a versatile choice for eclectic home decor. We also appreciated that it features clean lines, sleek curves, and padded armrests for comfort. The recliner is upholstered in premium materials, including high-quality fabrics or luxurious leather, ensuring durability and elegance.
It features generous seat cushions, a backrest, and a footrest, providing optimal support and plushness. The recliner also has a padded headrest, which cradles your neck and head for added relaxation.
2. McCoy Swivel Rocker Recliner by American Eco Furniture
The McCoy Swivel Rocker Recliner is an excellent piece offered by American Eco Furniture, a renowned manufacturer of sustainable and environmentally friendly home furnishings. This recliner combines comfort, modern styles, and eco-consciousness to provide a versatile and luxurious seating option for your living space.
Image credit: dutchcrafters.com
One of the standout features of the McCoy Recliner is its sleek and modern aesthetic. It features clean lines, a streamlined silhouette, and high-quality upholstery, creating a sophisticated look that can seamlessly blend into various interior styles. We liked that the recliner is available in different fabric options, allowing us to choose the one that best suits our taste and complements our existing decor.
The McCoy Swivel Rocker Recliner is crafted using eco-friendly materials and manufacturing processes. The company prioritizes using sustainable hardwood frames, water-based glues, and non-toxic finishes. Additionally, the recliner is upholstered with organic fabrics or recycled materials, reducing its environmental impact.
The seat and back cushions are generously padded with high-density foam, providing excellent support and plush comfort. The recliner also features an adjustable reclining mechanism, allowing you to find your preferred position effortlessly. The swivel feature lets you rotate the chair in any direction, making it convenient to engage in conversations or access different room areas without getting up.
3. Brooklyn Leather Recliner by Arhaus
The Brooklyn Leather Recliner by Arhaus is a luxurious and stylish seating option for ultimate comfort and relaxation. Arhaus, known for its commitment to high-quality craftsmanship and attention to detail, has created a recliner that seamlessly blends comfort and elegance.
Image credit: arhaus.com
The Brooklyn Leather Recliner is expertly crafted with a solid hardwood frame, ensuring durability and stability and eliminating the worry of buying lubricants for eliminating squeak. The frame is then padded and upholstered in top-grain leather, known for its softness and luxurious feel. One of the standout features of the Brooklyn Leather Recliner is its reclining mechanism, which allows you to adjust the chair to your preferred position effortlessly.
In terms of design, we would like to attest that the Brooklyn Leather Recliner boasts a timeless and versatile aesthetic. We liked how its clean lines, tufted backrest, and tapered legs gave it a modern and sophisticated look that can seamlessly blend into various home decor styles. Whether you have a contemporary or traditional style, this recliner can be a stylish centerpiece in your living room, study, or entertainment area.
4. Bradington Reclining Lounger by Bradington Young
The Bradington Young 3-Way Loungers are luxurious and stylish reclining chairs offered by the renowned brand Bradington Young. It is a division of Hooker Furniture designed to provide exceptional comfort and functionality, allowing you to relax and unwind in style.
Image credit: bradington-young.com
The Hanley Lounger features a 3-way reclining mechanism, meaning we had multiple options for finding our desired position. This lounger can accommodate your preferences, whether you want to sit upright, recline partially, or fully stretch out without worrying about how to stop your recliner from sliding on the carpet. An easy-to-use lever or button controls the smooth reclining action, ensuring a seamless transition from one position to another.
Crafted with attention to detail, this leather furniture showcases exquisite craftsmanship. We also liked how it is available in a range of high-quality upholstery options, including top-quality leather and fabric choices, allowing you to customize it to suit your personal taste and home decor.
The padding and cushioning of the Hanley Lounger are designed to provide optimum comfort. The seat and back cushions are generously filled with high-density foam, offering excellent support and plushness. The padded armrests add to the overall comfort, allowing you to rest your arms while lounging.
5. Johnson Quick Ship Tufted Leather Recliner
The Johnson Quick Ship Tufted Leather Recliner offers a luxurious and spacious seating option for Club Furniture. Designed for ultimate comfort and relaxation, this recliner is specifically crafted to accommodate individuals who require more room to sit and enjoy their leisure time.
Image credit: clubfurniture.com
One of the standout features of the Jackson recliner is its oversized design. The generous dimensions ensure ample space for individuals of larger stature or those who prefer a roomier seating experience. The chair's wide seat and high backrest provide excellent support and allow easy reclining movement and positioning.
Crafted from real leather, the Jackson recliner exudes elegance and durability. We liked how the leather upholstery adds a touch of sophistication to any room and offers a smooth and comfortable seating surface. The tufted button detailing on the backrest and footrest add a classic and timeless aesthetic to the overall design.
In terms of additional features, the Jackson recliner also includes a built-in footrest that extends when the chair is reclined, allowing you to elevate your feet and achieve a more comfortable position. The sturdy construction and high-density foam padding ensure long-lasting durability and optimal support for years to come.
Factors to Consider When Purchasing American-Made Recliners
1. Quality of Materials and Construction
When buying an American-made recliner, one of the most critical factors is the quality of materials and construction. Recliners made in the USA often prioritize superior craftsmanship, ensuring they are built to last. Look for recliners made from high-quality hardwood frames that provide strength and stability. Solid wood frames like oak or maple are preferable over particle board or plywood.
Image credit: adobeinteriors.com
Additionally, pay attention to the cushioning and upholstery materials. High-density foam or individually wrapped coils provide optimal comfort and long-lasting support. Top grain leathers or high-quality fabric upholstery ensure durability and add an elegant touch to your recliner. American recliners often utilize premium materials carefully selected to withstand regular use and maintain their appearance over time.
2. Design and Style Options
Another factor to consider when purchasing an American-made recliner is the design and style options. Recliners come in various styles, from classic to contemporary, allowing you to choose a design that complements your existing decor. Consider the size of the recliner and how it will fit into your living space. If you have limited space, look for models with wall-hugging or space-saving features.
Furthermore, consider the range of motion and functionality that the recliner offers. Some recliners have additional features like power reclining, adjustable headrests, lumbar support, or built-in USB charging ports. Evaluate your specific needs and preferences to find a recliner that offers the desired functionality while providing exceptional comfort.
3. Comfort and Ergonomics
Comfort and ergonomics are paramount when selecting an American-made recliner. Since the primary purpose of a recliner is relaxation, it should provide optimal support for your body. Look for recliners with multiple reclining positions, allowing you to find the perfect angle for lounging, napping, or watching TV. Consider the level of padding and cushioning provided and the contouring and support for your back, neck, and legs.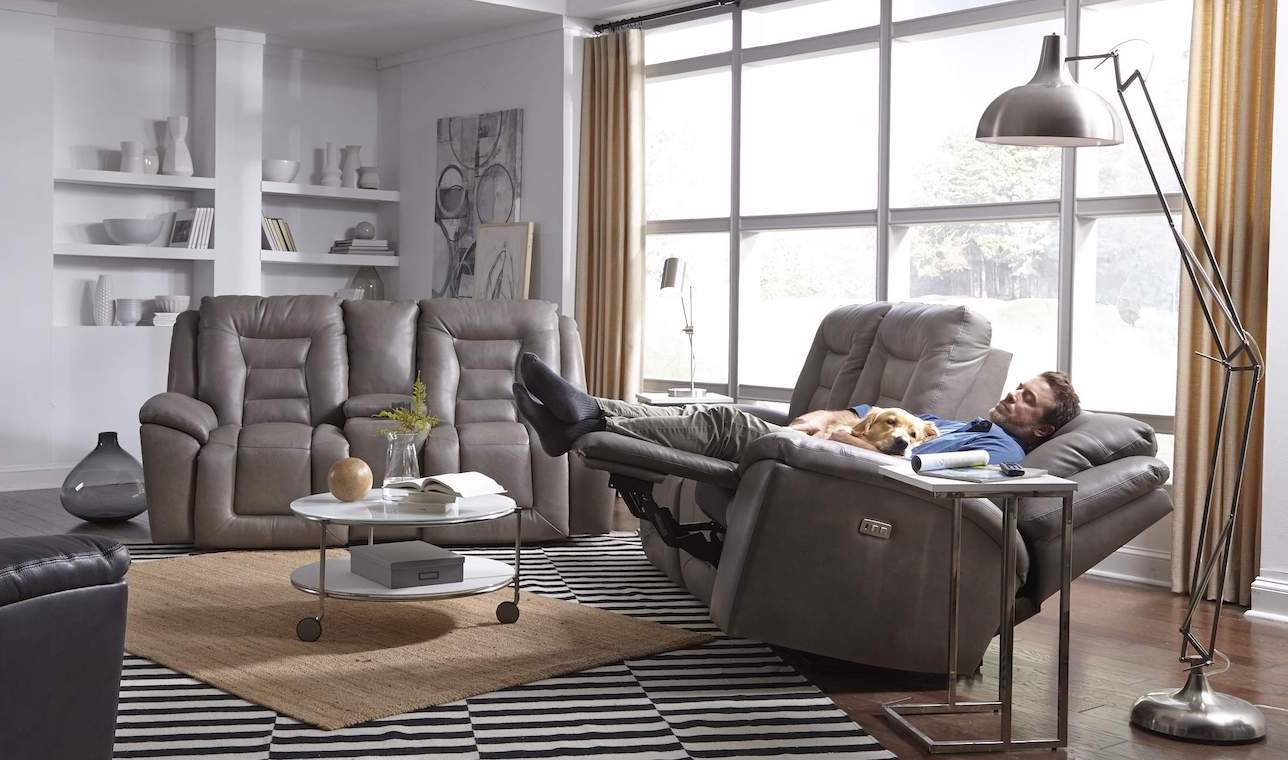 Image credit: southernmotion.com
Additionally, pay attention to the size and dimensions of the recliner. It should comfortably accommodate your body proportions, ensuring you can sit or recline without feeling cramped or restricted. Some furniture companies offer customized options, allowing you to choose the cushions' firmness, the backrest's height, or the seat depth to suit your preferences.
4. Durability and Warranty
Investing in an American-made recliner means choosing a product built to last. Durability is crucial to ensure that your recliner withstands daily use and retains its comfort and functionality. Check for robust construction, including reinforced joints, heavy-duty mechanisms, and durable upholstery. Reading customer reviews and seeking recommendations can provide insights into the recliner's durability and longevity.
Furthermore, consider the warranty offered by the manufacturer. Reputable American manufacturers often provide warranties that cover the recliner against manufacturing defects and structural damage. A comprehensive warranty is a sign of the manufacturer's confidence in their product's quality and can give you peace of mind knowing that you are protected if any issues arise.
5. Ethical and Environmental Considerations
Purchasing American recliners also supports ethical manufacturing practices and reduces your environmental footprint. Many American manufacturers prioritize fair labor practices and comply with stringent safety and environmental regulations.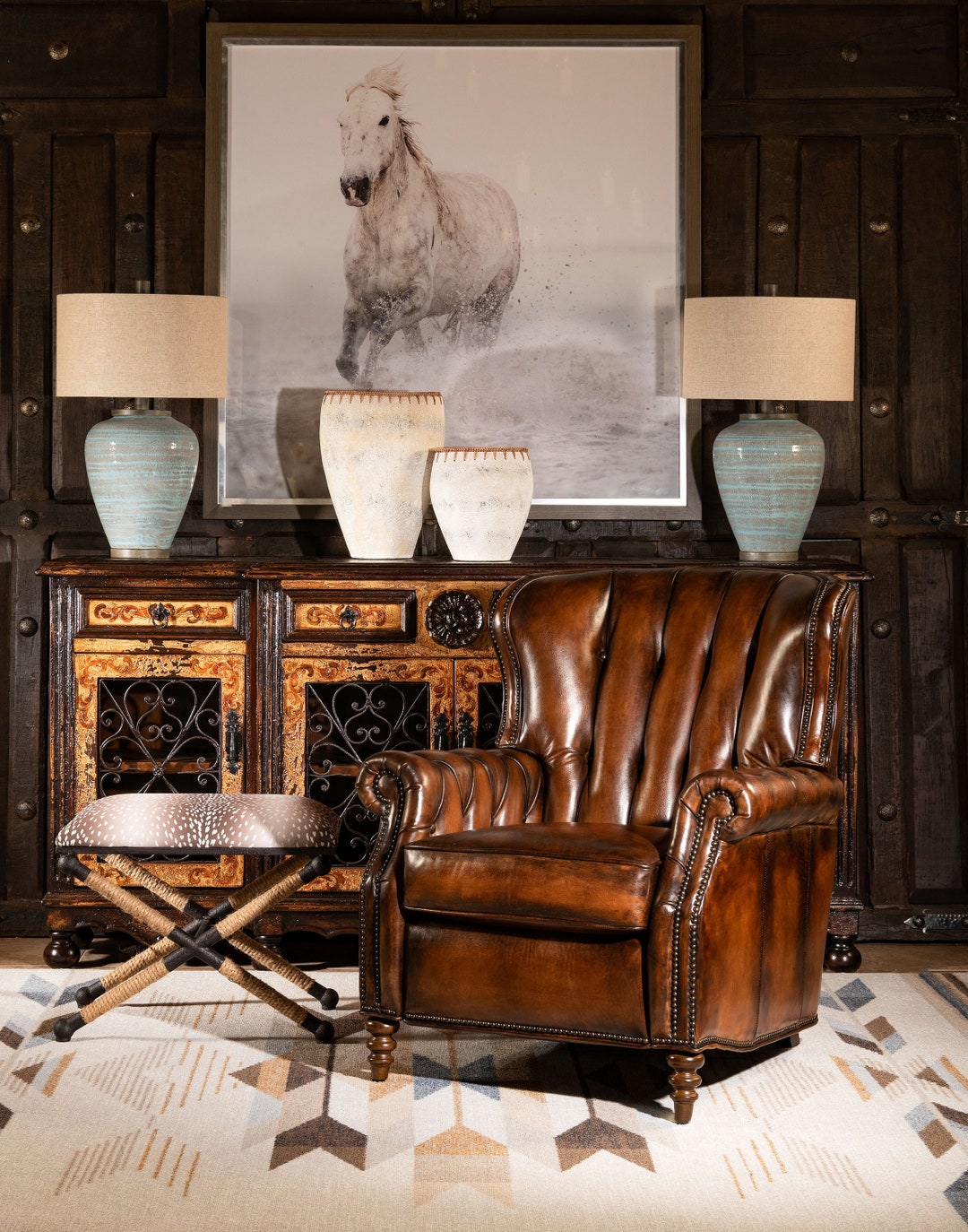 Image credit: etsy.com
Look for recliner brands that promote sustainable practices, use eco-friendly materials, not synthetic leather or faux leather and bonded leather, or employ responsible sourcing methods. Furthermore, buying locally produced recliners reduces the carbon footprint associated with long-distance shipping. Supporting American manufacturing helps the local economy and contributes to a more sustainable future.
Conclusion
American recliners embody a craftsmanship, quality, and customization tradition deeply ingrained in the nation's manufacturing heritage. From superior materials to meticulous attention to detail, these recliners represent the pinnacle of comfort and durability.
By supporting American manufacturers, consumers acquire a beautifully handcrafted piece of furniture and contribute to preserving local craftsmanship and ethical manufacturing practices. Regarding recliners, choosing American-made means choosing an exceptional quality and timeless comfort.
Frequently Asked Questions on American-Made Recliners
Image credit: yelp.com
a) What is the lifetime of recliners?
The lifetime of recliners varies depending on several factors. A well-made and properly maintained recliner typically lasts 5 to 20 years or more. The quality of materials used, construction, and frequency of use play crucial roles in determining longevity. High-end recliners from durable materials tend to have longer lifespans than cheaper, lower-quality alternatives.
b) Are recliners better than beds?
Recliners and beds each offer distinct advantages for comfort and relaxation, catering to individual preferences and needs. Recliners excel in providing customized support, allowing users to adjust positions to alleviate specific pain points and enhance circulation. They are space-efficient and ideal for short-term lounging or reading.
Conversely, beds are designed for long-term rest, promoting proper spine alignment and ensuring a more restorative sleep. They accommodate varied sleeping positions and are suitable for couples.
c) What are the disadvantages of a recliner sofa?
Recliner sofas offer comfort and relaxation but have a few drawbacks. Firstly, their bulky size can consume significant space, making them unsuitable for smaller living areas. Additionally, their mechanical components are prone to wear and tear, leading to potential malfunctions over time, which may be costly to repair.
The reclining feature can also be a safety concern, especially for households with children or pets, as there is a risk of entrapment or injury. Moreover, some recliner sofas lack ergonomic support, causing discomfort during prolonged sitting periods. Lastly, their premium features often come with higher price tags, making them less budget-friendly for some consumers.
d) Do recliner chairs use a lot of electricity?
Recliner chairs generally do not consume a significant amount of electricity. Most modern recliners use a small motor or mechanism to facilitate the reclining feature, which consumes minimal power during operation. While the exact energy usage varies depending on the model and usage frequency, it is generally considered quite low.