Everyone likes to cook outside. This is why barbecues are so popular; there is something almost spiritual about communing with nature while preparing food that speaks to our inner souls. This has inspired some people to build custom outdoor kitchens, usually on their decks but sometimes closer to their backyard gardens.
If you are handy and have the extra time, building a high-end outdoor kitchen is far simpler than one would think, especially if one has the time and money to do so. However, if you are not handy or very busy, doing this on your own is intimidating.
If this hits a little closer to home, do not hesitate to hire a professional. There are many options locally and online for prefabricated and custom outdoor kitchen systems, offering ready-to-go personalized designs with full functionality, including ranges, barbecues, ovens, pizza ovens, fire pits, sinks, refrigeration, and more. There are many reputable and well-reviewed specialists in your state as well. Yelp and Google are great resources for finding a custom outdoor kitchen designer and builder.
If you have the ambition to try it yourself, remember the easiest way to start or decide on the best design that fits your needs: all you need to do is decide on where you will build it, what you want to power it with, and any specific types of cooking or recipes you utilize the most; do that, and everything else is easy.
Custom Outdoor Kitchen Ideas
1. All-in-One Grilling Station
This All-in-One built-in grill station is for you if you want everything on a single, straight island. It is a must-have feature for any outdoor kitchen. Consider a high-quality stainless steel grill with multiple side burners for cooking sauces.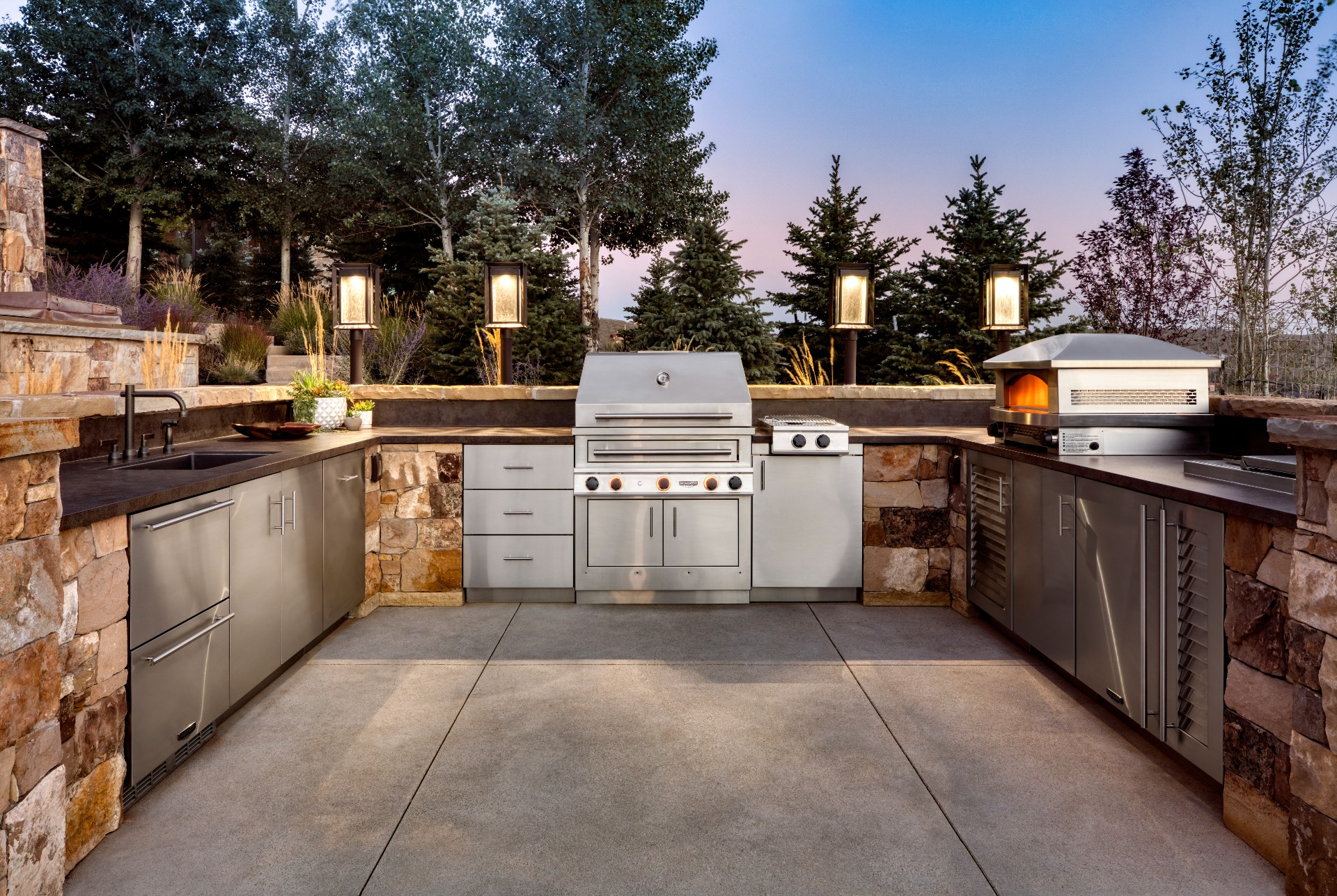 Image Source: homesandgardens.com
Choose a grill with a rotisserie and an integrated temperature thermometer for even more cooking flexibility. Depending on your tastes, you may also choose a charcoal or gas grill.
2. Custom Grill Island with Pizza Oven
A wood-fired pizza oven is an impressive addition to any outdoor kitchen. It allows you to bake pizza, bread, and other baked foods outside while enjoying the great outdoors. Choose a high-quality oven with a large cooking surface and an integrated thermometer for maximum versatility.
Image Source: brownjordanoutdoorkitchens.com
So you can do it all if you're craving fresh pizza, bacon, eggs, or hamburgers! This island also has storage, a pull-out trash can, and a pantry. Besides, there is plenty of counter space left over for food prep.
3. Custom Outdoor Kitchen Sink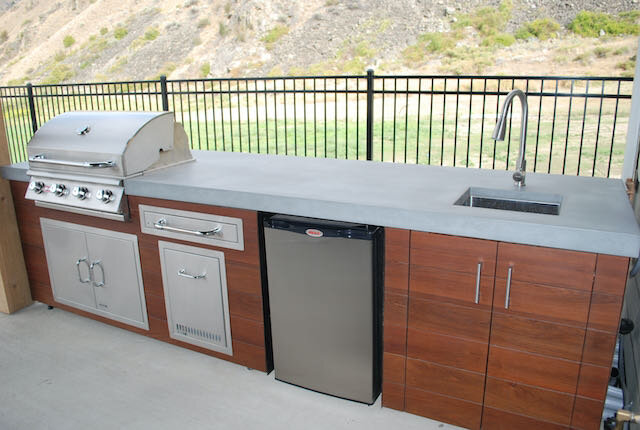 Image Source: craftncast.com
An outdoor sink is another useful addition to any outdoor kitchen. You can conveniently use it to rinse fruits and vegetables, wash dishes, and clean up after cooking. For easy cleaning, go for a stainless steel sink with a built-in drain and faucet. You can opt for a single or double sink, depending on your needs.
4. Outdoor Kitchen with a Refrigerator
Image Source: perlick.com
A built-in refrigerator is a perfect way to keep your food and beverages chilled and within reach. For smaller outdoor kitchens, consider an under-counter refrigerator or mini-fridge; a full-size refrigerator is best for larger spaces. Choose a refrigerator with a built-in freezer and a weather-resistant finish.
5. Outdoor Bar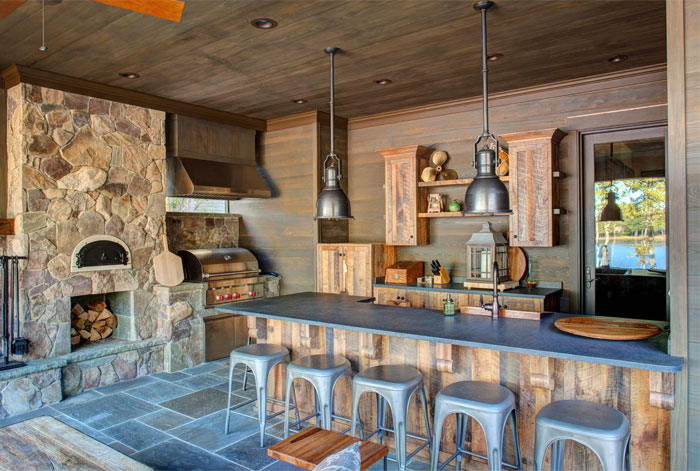 Image Source: interiorzine.com
An outdoor bar creates a space for guests to unwind and enjoy drinks as you prepare the food. Consider installing a built-in sink, wine cooler, and ice maker for even more convenience. Depending on your preferences, you can choose a bar with chairs or a stand-alone bar.
6. Outdoor Fireplaces
Adding a fireplace to your outdoor kitchen will make it feel cosier and more inviting. It creates an intimate setting, perfect for hosting get-togethers. When choosing an outdoor fireplace, consider the fuel type you intend to use, such as wood or gas.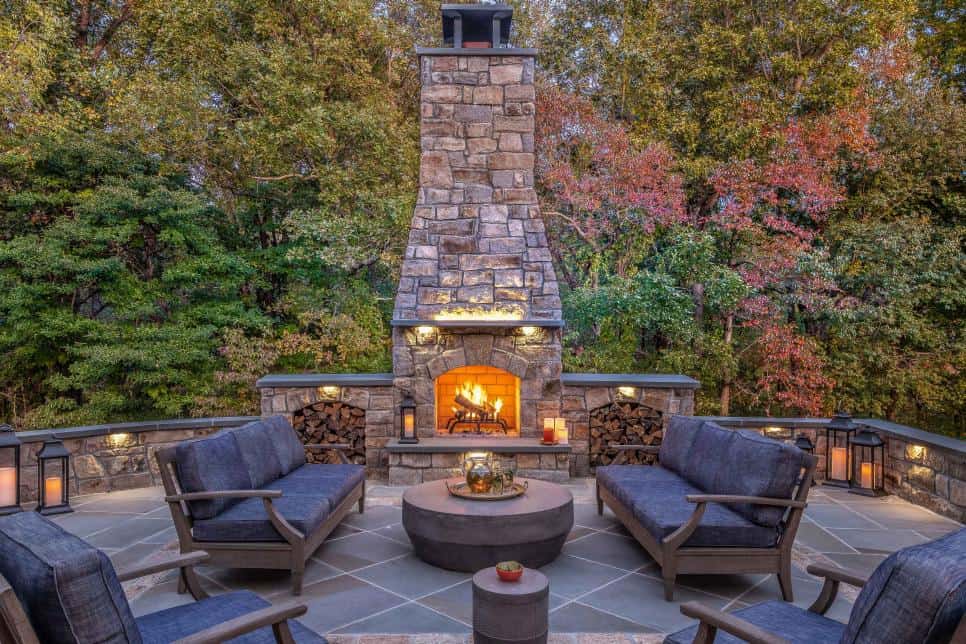 Image Source: southweststonesupply.com
A wood-burning fireplace creates a rustic and authentic touch to your kitchen. In contrast, a gas fireplace is convenient and easy to use. Besides, consider installing a gas or wood-burning fireplace with a chimney to ensure proper ventilation and safety.
7. Outdoor Speakers for Entertainment
Image Source: symspire.com
An outdoor stereo system is another great addition to an outdoor kitchen. It's a great way to entertain yourself and your visitors in the kitchen. When choosing outdoor speakers, consider those that are Bluetooth-enabled for easy connectivity with your phone or other devices. It would be best to go for weather-resistant speakers that can withstand the elements.
8. Custom Outdoor Kitchen with Built-in Seating
Image Source: loveproperty.com
Including built-in seating in your outdoor kitchen is a terrific way to make the most of available space while providing guests with a warm and welcoming setting. Add a built-in bench for people to sit on if you have an outdoor living area, bar, or fireplace. For aesthetics and comfort, you can customize the seating area with pillows, cushions, and other decorative touches.
Things To Consider Before Building a Custom Outdoor Kitchen
Building a custom outdoor kitchen requires careful planning and consideration of several factors. By thinking through these key factors, you can create a beautiful, functional, and durable outdoor living space that meets your needs. Here are several things you should consider before starting your project.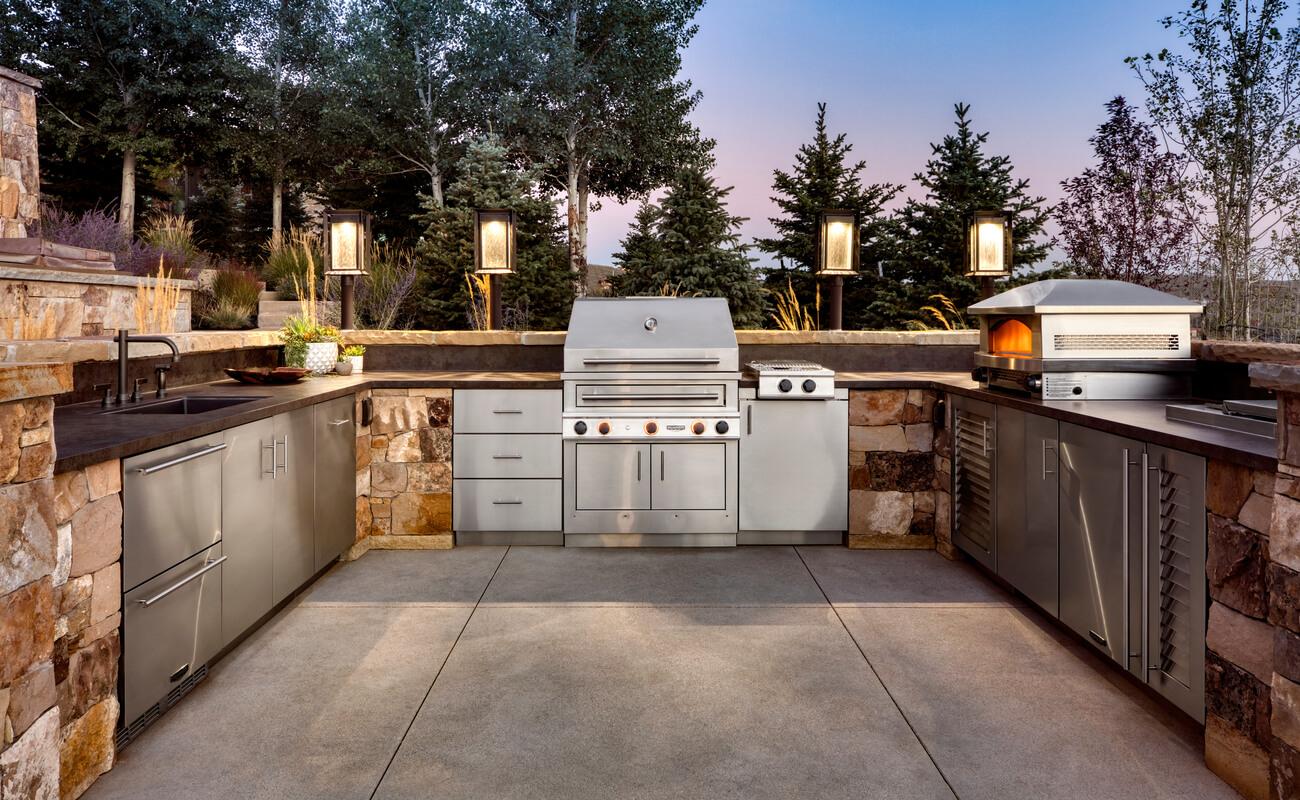 Image Source: kalamazoogourmet.com
1. Size and Layout of Your Outdoor Space
Consider the size and configuration of your outdoor area before installing an outdoor kitchen. This will help determine your kitchen's size, scale, appliance placement, and other features. Besides, when measuring your outdoor area, consider how you want to use the space, such as for dining, cooking, and entertaining.
2. Functionality and Design of Your Kitchen
Before building custom outdoor kitchens, consider the functionality and design concept, such as the appliances you will need, the layout of the cabinets and countertops, and the general design and aesthetic. Consider how you want to use your outdoor kitchens and what appliances are crucial, such as a refrigerator, built-in grill, sink, or storage space. Additionally, consider the flow of traffic in the outdoor area and how you will accommodate your family members and guests using the outdoor kitchen.
The obvious consideration is where to build it. The best place is to build it on a deck; this ensures that the kitchen will be easy to clean; make sure that several maps are placed throughout to ensure that the place does not get too slick, and keep in mind that you will want to spray under the deck every so often to avoid pests coming around.
You can also build it in your backyard but remember to lay a cement floor. This is a better idea, as the cement floor is easier to clean and can make the posts for the roof much easier to place as well as sturdier.
4. Materials and Finishes
Choosing the right materials and finishes for your outdoor kitchen is critical for aesthetics and durability. Consider choosing weather-resistant materials for cabinets and countertops, such as stainless steel, concrete, or stone. Besides, choose finishes that are easy to clean and maintain. Furthermore, consider the color and texture of the materials to make sure they complement the design and aesthetic of your outdoor living space and your house.
5. Utilities and Infrastructure
Installing utilities and infrastructure, such as gas and water, for your outdoor kitchen is critical for optimum performance and safety. Consult a licensed professional to ensure your utilities are properly installed and up to code. Ensure that your premium appliances have access to essential utility sources—for instance, water and drainage lines for your sink and gas lines for your grill.
6. How to Safely Run Electricity
If you are building a high-end outdoor kitchen, you will need to power the equipment. The obvious way is to use a series of extension cords; this is simple but may create potential tripping hazards. You can install some wiring; the wiring would go under the deck and tie into the house. While it would require an actual electrician, it would ensure no potential issues. Also, if you use a cement floor, you can build the outlets into the floor, which helps cut down on potential issues.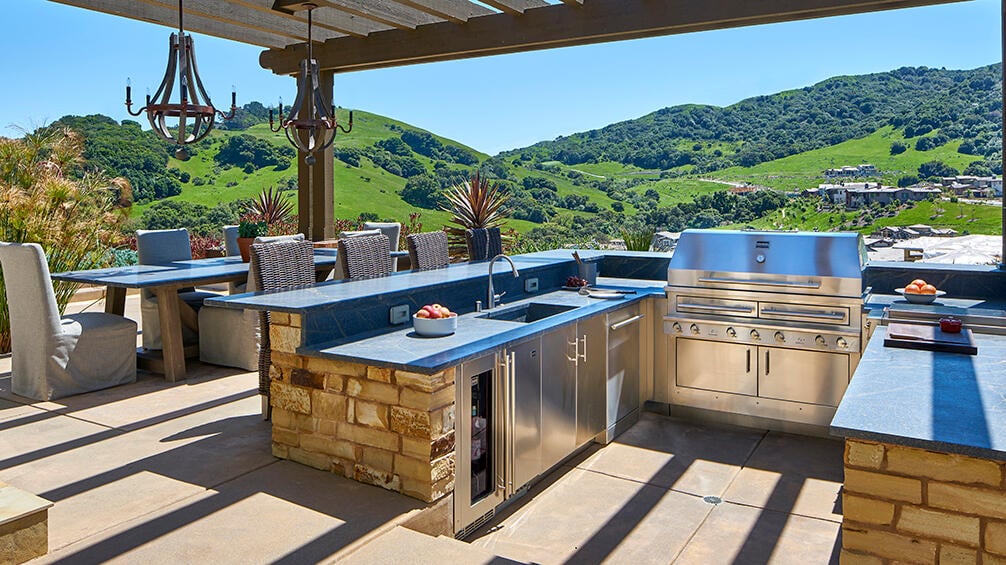 Image Source: amazingribs.com
You should not need to use the power of the main house; you can use solar to power the outdoor kitchen or even an actual generator. These options need to be seriously debated while planning, as they both need to be allowed for in the plans; the generator, for example, needs to be insulated against sound and its fuel source allowed for.
7. Weather Conditions
Consider your location's weather conditions while designing and building your dream outdoor kitchen. Outdoor kitchens should be built to withstand the elements, especially if you live in a harsh weather area. For instance, if you live in a rainy area, ensure your outdoor kitchen has sufficient drainage and is constructed with waterproof materials. On the other hand, if you live in a hot climate, consider building a shade structure or covering to protect yourself and your guests from the sun.
8. Budget
Building a custom outdoor kitchen project may be costly, so consider your budget before starting it. Determine your spending limit and prioritize your expenses. Consider building your outdoor kitchen in phases, starting with the basics and adding additional features as your budget allows.
How Do You Plan to Use Your Outdoor Kitchen?
It would be best if you allowed for what you will be cooking. Barbecue is obvious, as you can gear the kitchen easily enough for a barbecue; this ranges from the tools and gear you need to cook to ensure you have room for any ingredients. You can also use a grill; it is easy enough to power, and if you remember to make it large enough, it can handle various ingredients and pots simultaneously. You can also set up a fire pit; while it is advised to put it on the edge of the area, it makes a great place to cook spit-roasted foods, hot dogs, and marshmallows.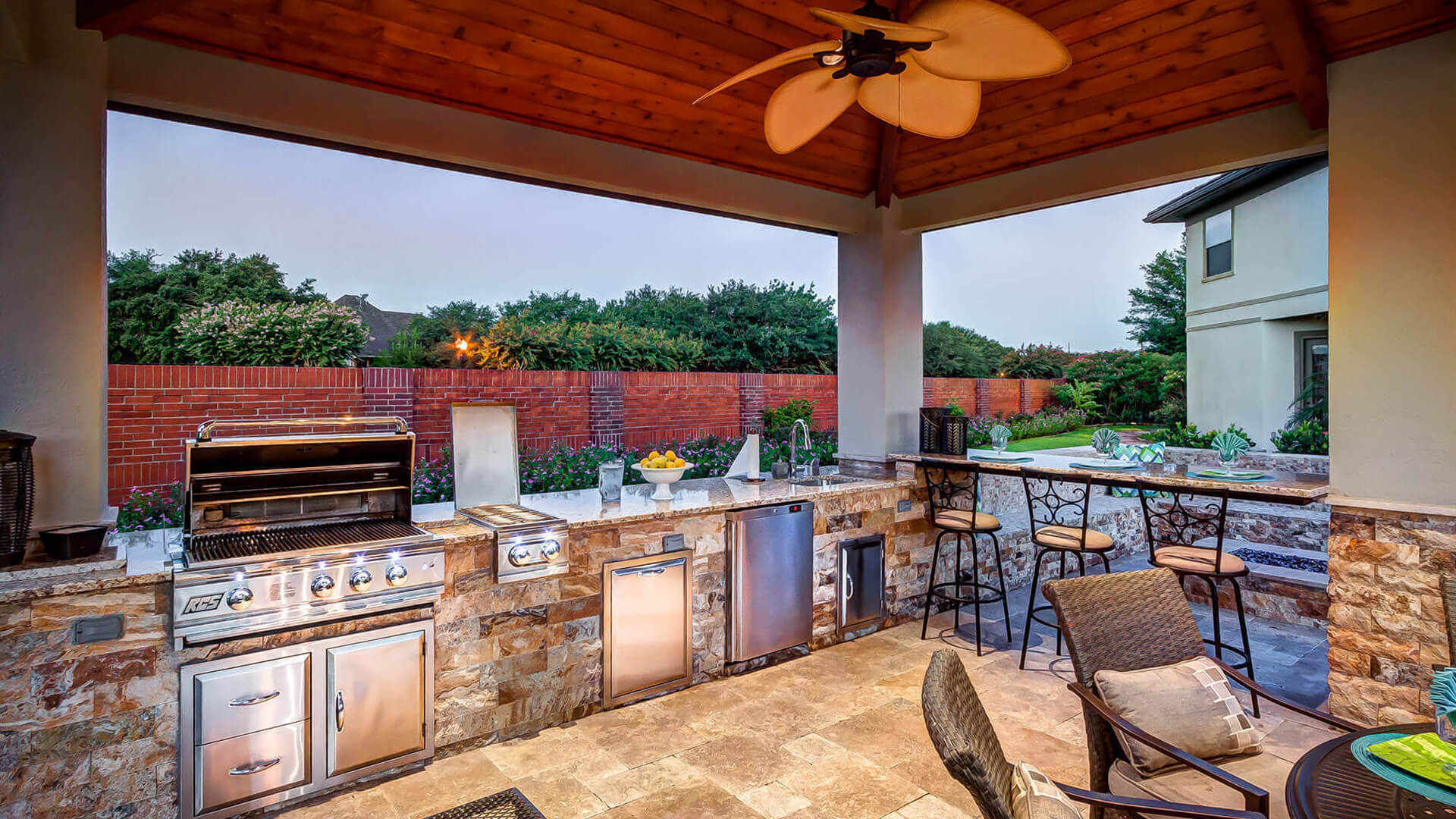 Image Source: creekstoneoutdoors.com
When it comes down to it, building a high-end outdoor kitchen can be a lot of fun and give you a wide variety of options. Make sure you have a wide variety of shelving for various ingredients and tools, a decent cutting area to maximize your time outside, and even a decent cooler or refrigerator for ingredients that need to be kept cool, like meat or alcohol. The bottom line is that you should have some fun planning it; do that, and you will find plenty of use for it for years.
Frequently Asked Questions About Custom Outdoor Kitchens
1. Is It Worth It to Build an Outdoor Kitchen?
The decision to build an outdoor kitchen depends on individual needs and preferences. Here are some things to consider before building an outdoor kitchen space.
Do you enjoy cooking and entertaining outdoors? An outdoor kitchen can be a good investment if you love hosting barbecues and outdoor events.
Consider the climate conditions where you live. If you live in an area with a colder climate and a shorter outdoor season, an outdoor kitchen won't be worth it, unlike someone who lives in a warm climate for most of the year. Also, consider if you are willing to put in the time and effort necessary to maintain your outdoor kitchen.
2. How Much Does It Cost to Build a Custom Outdoor Kitchen?
A custom grill island with a pizza oven.
The cost of building a custom grill island with a pizza oven varies based on the size, materials used, location, complexity of the design, and local labor expenses.
A simple grill island with a pizza oven will cost you between $8,000 and $15,000. This would include high-quality built-in grills, countertops, a pizza oven, and storage space. On the other hand, building a custom grill island with a pizza oven might cost $20,000 or more, especially if you want a larger, more elaborate design.
3. Can I Build My Own Outdoor Kitchen?
If you're good with tools, you can build an outdoor kitchen yourself. Building an outdoor kitchen is a complex project requiring construction, plumbing, and electrical wiring expertise. If you have experience with do-it-yourself projects and home renovations, then building an outdoor kitchen may be a rewarding and cost-effective project.
It's crucial to keep in mind that building a custom outdoor kitchen can be time-consuming and challenging. If you are not confident in your experience to accomplish the project on your own or don't have the right skills, we recommend hiring a professional contractor to ensure that the project is done correctly and safely.
4. What is the Best Design for an Outdoor Kitchen?
The ideal outdoor kitchen design depends on personal needs, tastes, and budget. Here are some things to consider while building your outdoor kitchen project.
Functionality: An outdoor kitchen should be built to make all appliances and work surface easily accessible. Consider the outdoor kitchen layout to ensure it is easy to use and navigate.
Materials: Go for high-quality, weather-resistant materials such as stainless steel, natural stone, or concrete.
Style: Select a design style that fits your home's architecture and reflects your style preferences.
Appliances: Invest in appliances designed for outdoor use, such as built-in grills, sinks, and refrigerators. Consider the quantity and size of appliances depending on the intended purposes and how often you will use your outdoor kitchen.
5. Is It Cheaper to Build My Own Outdoor Kitchen?
Depending on the details, you might save money by building a custom outdoor kitchen on your own rather than hiring an expert. Building your outdoor kitchen can be a cost-effective option if you have experience with construction, plumbing, and electrical work and have the necessary equipment and tools. Saving money on labor and supplies is a double bonus of doing the project yourself.
On the other hand, hiring an expert contractor can ensure your custom outdoor kitchen is built securely and in line with all relevant regulations. A contractor's services extend beyond resolving issues that crop up during building, including providing advice on the project's layout and materials. Although hiring a contractor can be more expensive up front, the time and energy it saves are well worth the investment.