Gone is the era when you had to book a conference room with an overhead projector or carry a projector and laptop to give your presentation. Nowadays, you only need an iPhone, and you can project your presentation or documents on the go.
So let's find out how to use an iPhone as a projector.
Are Projectors iPhone Compatible?
Of course, you already know that iPhones can't actually project, and there's no such thing as an Apple projector. However, iPhones can be connected to projectors, and there are multiple iPhone-compatible models on the market. Mini projectors for Iphones are a great option when you need to present important documents.
Outputting visual content from your phone on an external display is necessary sometimes since we rely more on mobile devices for work or school. Therefore it is easier to connect your iPhone to a projector. However, the process of connectivity will differ among the projector devices.
How to Initiate a Presentation Using Your iPhone
You can easily connect your iPhone to a projector in two ways: wirelessly or with cables. You can connect wirelessly on a wi-fi network, use a cable, or use Bluetooth connectivity to transmit audio. Here are the ways you can connect your iPhone to a projector.
1) Wireless Option
This is the preferred option for most people, especially if you don't want to carry wires around, and if you forget one cable, you won't be able to do the presentation. Here's how to connect your iPhone to a projector wirelessly.
a) Airplay
Airplay is the most dependable and easiest method of using your iPhone. It is versatile and can be used every day. However, you first have to find a projector that's Airplay compatible. Newer models might be compatible, but not all of them. So you might want to check the specifications of your phone.
Image Source: lifewire.com
Airplay only offers screen sharing. Therefore, you should ensure you are ready to cast before connecting. Apart from images, the service also supports movies and videos. It can also work on Apple tv. Here's how to connect via Airplay.
Connect your iPhone to the same Wi-Fi network that the projector is on.
Tap the screen mirroring slider to turn it on.
Find the name of your projector or Apple TV and click on it.
Move the mirroring slider on the right until it turns green.
Click on "done" to enable screen sharing.
b) Allplay App
If your devices are not Airplay compatible, this app will get you connected regardless. Although many other apps can easily connect your iPhone and projector, this is the best after Airplay. Additionally, this app works the same way as Airplay; you must be on the same Wi-Fi connection.
Image Source: googleplay.com
To connect the Allplay app to your projector:
Make sure your Bluetooth is on.
Go to the notification center.
Click on the screen mirroring button.
Find the name of your projector and click on it.
Click on "ok" to enable screen mirroring.
Your iOS device might support Airplay, but your trusty old Epson projector might not, which is why you might need the best projector for home and office use.
Therefore, that's where this presentation app comes in. After connecting the devices via the app, choosing the device you want is a matter of selecting it. Additionally, this app supports functions and can use an X-box gaming console, Chromecast, Amazon Fire TV, and Roku.
2) Wired Option
For some people, a wired connection is better because it's faster. For example, when you connect your iPhone to your projector with a cable, the presentation runs in real-time on both devices.
There are many upsides to using wired connections, and the best one is that no lags are happening or Wi-Fi is needed. Here are cable options you can use.
a) Cable/Wired Connection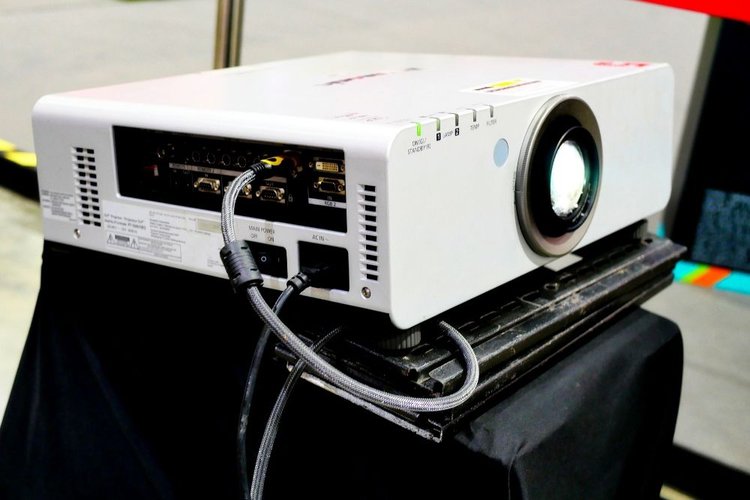 Image Source: pointerclicker.com
Much like the wireless connections, the wired connections also share your screen. Also, setting this method up is easy since it is the same process as most wired connections. The difference lies in selecting between :
Here is how to set up an HDMI connection:
Plugin the lighting adapter into the charging port of your iPhone device.
Connect the HDMI cable to the adapter and the other end to the projector.
Switch to the right input for your projector so you can see the screen.
How to set up a VGA connection:
Connect the adapter to your iPhone
Plug the VGA cable into the projector and to your phone
Click "VGA INPUT" on your screen
Keep in mind that some projectors have both HDMI and VGA ports. Nevertheless, always go for HDMI since the image quality is better. Therefore, it is the best option to transmit data.
b) Using a Dongle
Image Source: howtogeek.com
Even though most iOS devices lack ports, Apple made up for that via a USB dongle. However, connecting a dongle requires more than one piece of hardware. To begin with, you will need the dongle and a HDMI cord to connect your iPhone screen to the projector.Afterward, you will also need a cord to connect the two devices.
Remember that you might need to consider what cable to use since not every portable projector has a HDMI cable output. Some still have the older VGA port outputs. Additionally, the cable has to be long enough so that the projector and your iPhone's screen are not far away from the projector screen. It will help if you get a length that will give you the best-projected image during your presentation. This ensures your images don't project onto the ceiling.
Getting the Most Out of Your Projector and iPhone: A Guide
By now, you already know what method you will select for connectivity. Of course, every device must have its equipment for the best functionality. Even connecting your Apple tv to a projector requires some hardware.
Here are some tricks on how to get the best out of both worlds.
a) Turn Off Sleep Mode on iPhone
Sleep mode disables notifications. Therefore, you might think it is the best choice; however, it isn't. This is an essential tip when you are presenting a slide show. If you fail to turn off sleep mode while presenting, you could end up with a black screen in the middle of your presentation. However, it is important you know that private notifications could pop up as you are presenting.
b) Have Audio Under Control
When it comes to projectors, audio is a bit tricky. Even if your projector has speakers, you might not have an audio output. However, if you are presenting wirelessly, ensure audio is enabled.
On the other hand, HDMI is best if your presentations are on a wired connection. Still, you might be disadvantaged if your projector only has a VGA adapter.
c) Some Applications Lack Compatibility
If you are using anything other than Airplay, you might have to compromise on quality. Therefore, keep this in mind before your presentations. Also, even if you are using Airplay and a third-party app, you might have a lag or disturbance even with a wired connection. The same applies to using your projector as a home theater. In fact, for watching movies, you need the best home theater projector for cinematic experiences.
d) Lag
If you connect your iPhone to your projector when you game on your phone, it might be time to get a quality projector. Even if you use Airplay, you might get lag because iPhone projectors are not equipped for gaming. They are more suited for small presentations and casual movie watching.
e) Charge Your Phone as You Present
It's no secret that iPhones, especially well-used ones, have horrible battery life. Additionally, when you use your iOS device to project, it might drain your battery faster.
Of course, the last thing you want during a presentation is your iPhone going off. Plus, it could cut short an important presentation. Therefore it is advisable to charge your battery as you present.
The Bottom Line
You can use your iPhone device as a projector in countless ways. After all, nothing beats watching movies and gaming on a big screen.If you use your iPhone with a projector often, you should invest in an iPhone projector for the best experience.
Featured Image Source: thehometheaterdiy.com