Did you know that 17 % of your home water goes into your shower? Showering is one of the fundamental ways people use water at home. That's why the bathroom is such an essential part of your house. A walk-in shower is the perfect solution if you've been considering upgrading your bathroom to something more modern and functional.
This post will discuss what a walk-in shower is and walk-in shower remodel tips, Ideas, and costs. Let's get started!
What is a Walk-in Shower?
As the name suggests, a walk-in shower is one you can walk into without dealing with doors, curbs, and curtains. These bathrooms usually feature glass panels and have a modern and spacious look that makes them appealing to install.
Now that we've defined walk-in showers let's check out some of the best ideas for your renovation.
Walk-in Shower Remodel Ideas
Replacing your existing shower will take lots of time and planning. You'll need to choose the best remodel design from multiple ideas to ensure you have a great solution for your needs. So, this section will cover various walk-in shower ideas to give you a clear picture of your options.
1. Partially Enclosed Walk-in Shower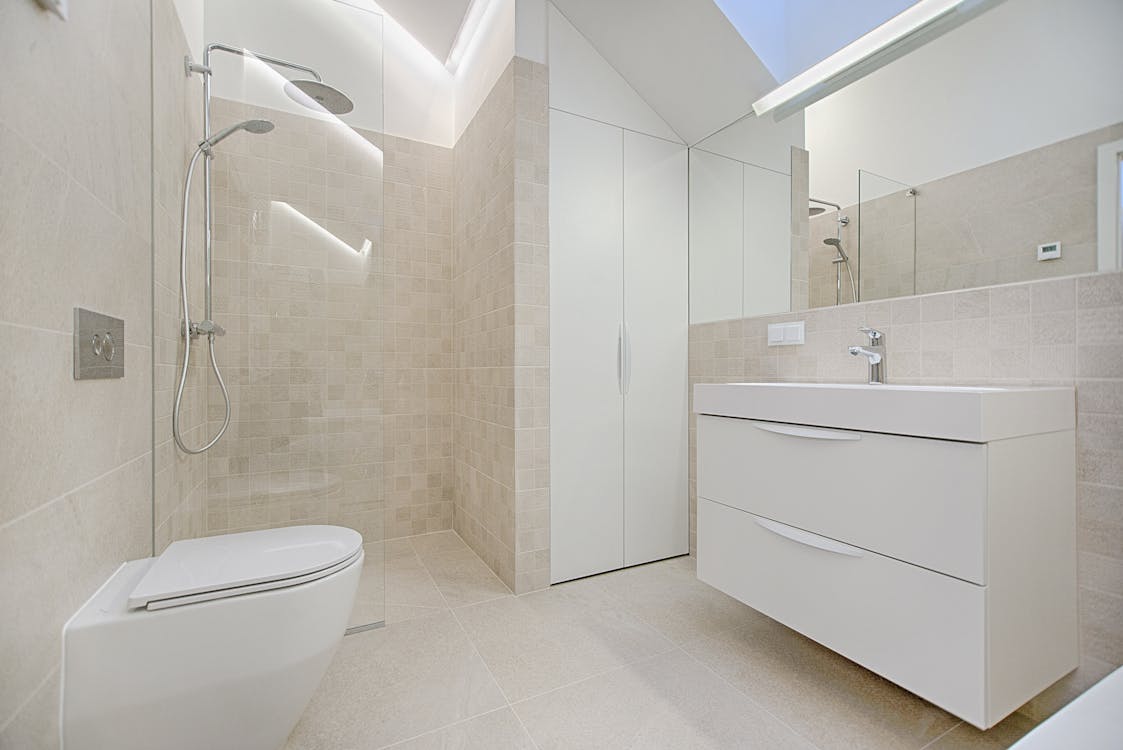 Bring the comfort and luxury of a spa into your home with this walk-in shower design. Unlike most walk-in showers, this one features three different shower heads; a wall-mounted, hand-held, and rain showerhead. This gives you multiple options on how to enjoy your bath.
The glass and white-themed color pallet gives the bathroom an elegant feel that will encourage you to spend more time freshening up. The sink is also modernized to resemble a white cabinet giving the bathroom a sleek look.
2. White Marble Walk-in Shower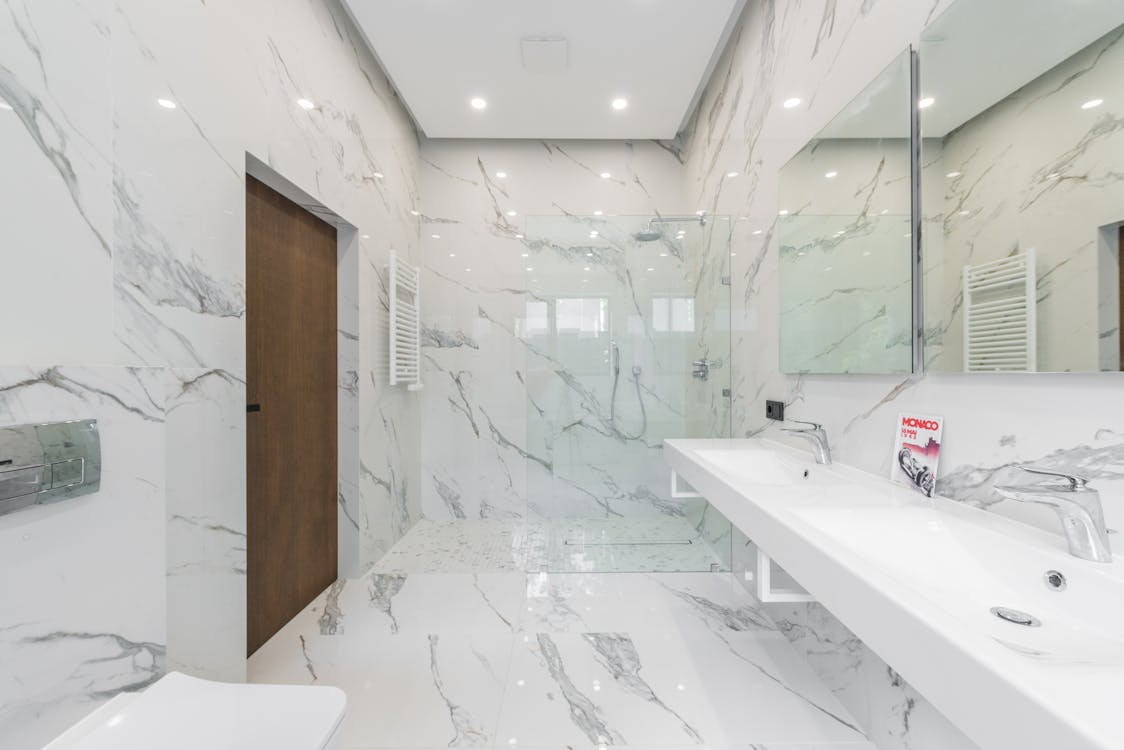 Our second idea for your new walk-in shower is this white marble delight. The marble almost appears seamless from the walls to the bathroom floor. The glass panel separating the shower stall from the rest of the bathroom almost looks invisible.
The dark brown door strongly contrasts the entire bathroom in a central location. The white color on the walls, floor, and ceiling will reflect every beam of light that enters the bathroom. As a result, you'll be showering in a well-lit space, whether day or night.
3. Floor Tiled Walk-in Shower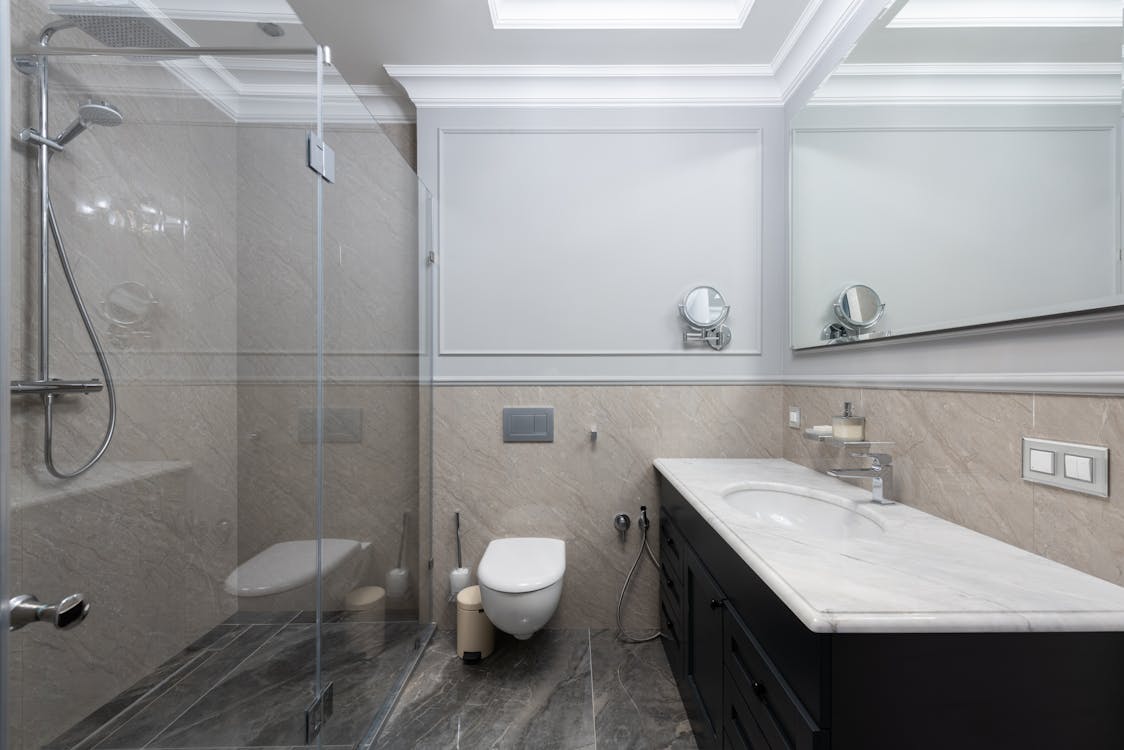 If you don't want an all-white design for your shower remodel, you can get a combination of harmonic neutral colors like in the bathroom above. The floors are made of grey tiles, the cabinet is black with a white sink top, and the upper parts of the walls are white.
This design is great for a small bathroom that you want to look more airy and spacious. The minimalist feel makes for a cozy and inviting shower space that doesn't look too busy.
4. Tile Pattern Walk in Shower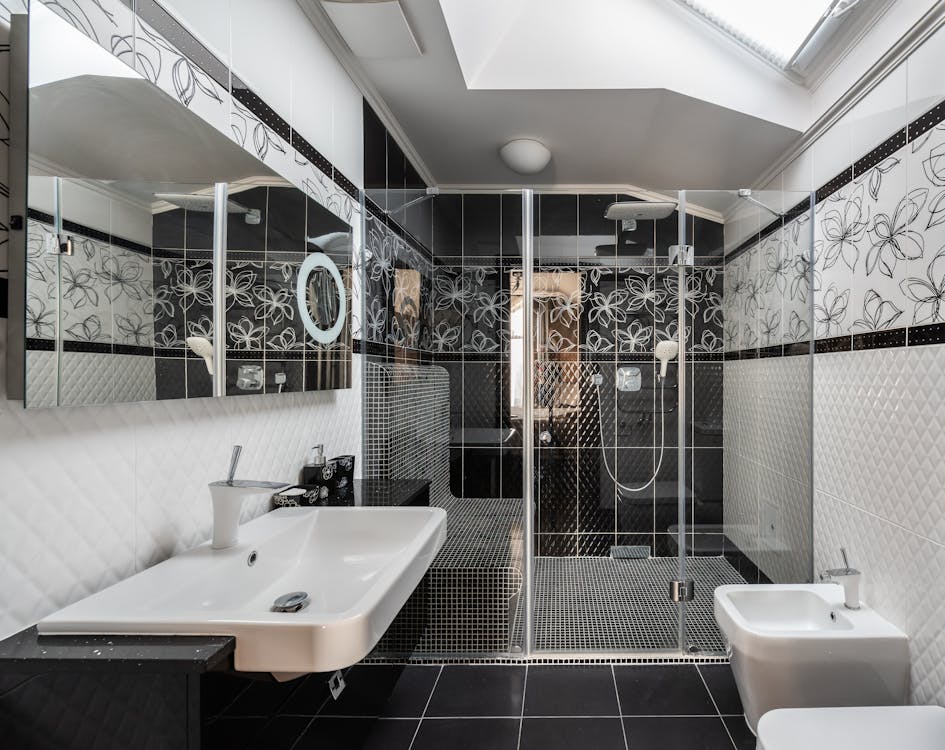 Another option among the best walk-in shower ideas is this stylish bathroom with patterned tiles. The floors and part of the walls have black tiles, while a portion of the tiles has a flower pattern. If you thought that black can't work in a walk-in shower, this design proves you wrong.
The shower area has a different floor than the rest of the bathroom. There's still enough white to keep the bathroom bright during the day and night.
5. Corner Walk-in Shower Cabin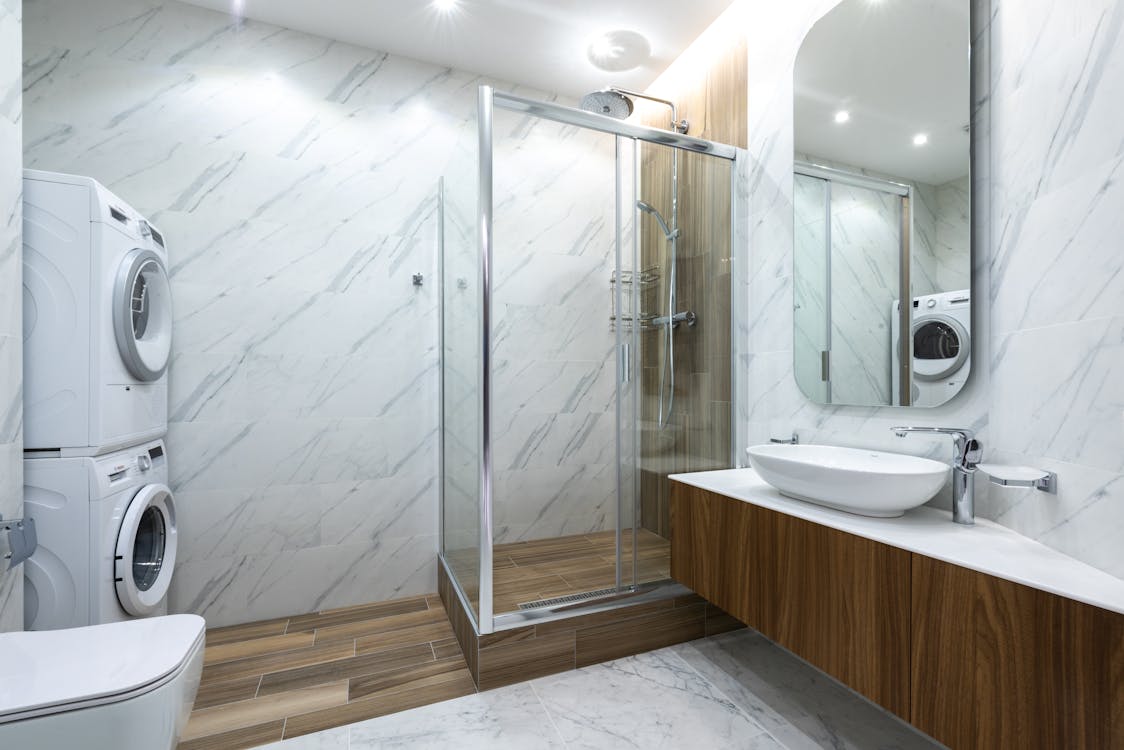 Here's another excellent idea for a small bathroom remodel. This walk-in shower has a cabin in the corner of the room, allowing you to add a washing machine or bathroom furniture without hassle. The floor features a waterproof wood-like coating which matches the brown color on the sides of the cabinet.
The bathroom walls are white marble, ensuring enough reflection to keep the area lit. It's the perfect combination of style, simplicity, and convenience.
6. Contemporary Walk-in Shower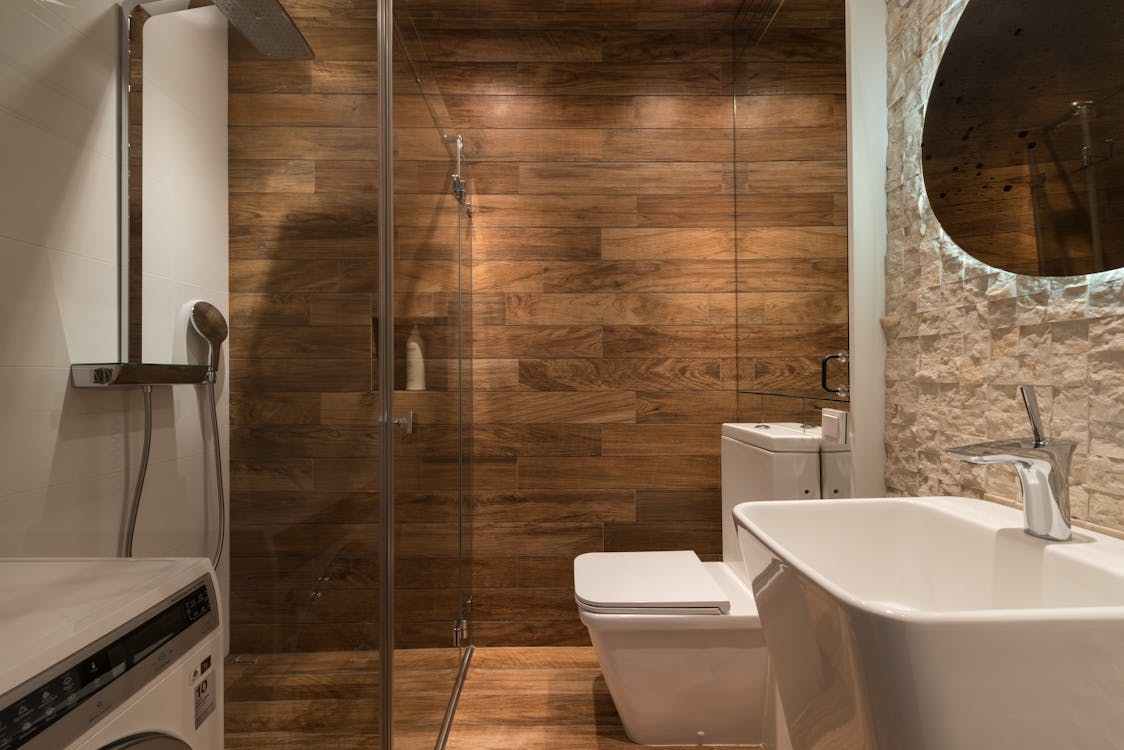 There's something elegant about combining white with light brown hues. This custom walk-in shower features a cabin with glass doors, a white sink, and a textured wall with an oval mirror.
The floor and one wall are brown, adding a wood grain feel to the bathroom. If you don't want a dominantly white bathroom, this is design great way to spice things up.
7. Walk-in Shower + Tub Combo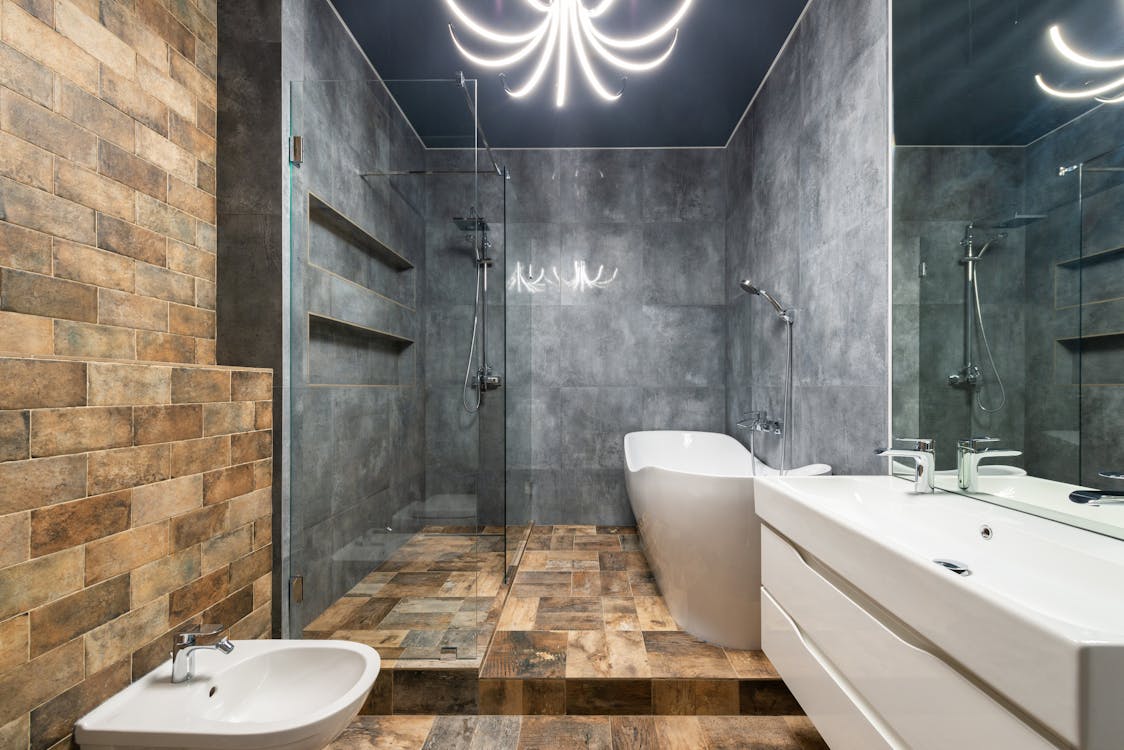 The next walk-in shower idea features both a shower and a tub. You can include both elements if you want the ultimate bathroom experience. You can take showers when you are in a hurry and relax in the tub when you have time to unwind.
One of the ways to reduce your walk-in shower cost of a tub-shower combo is to use your existing bathtub instead of buying a new one. Nevertheless, this design will make your bathroom look spacious and modern. Here are the best freestanding tubs you can consider for your project.
8. Panel-Walled Walk-in Shower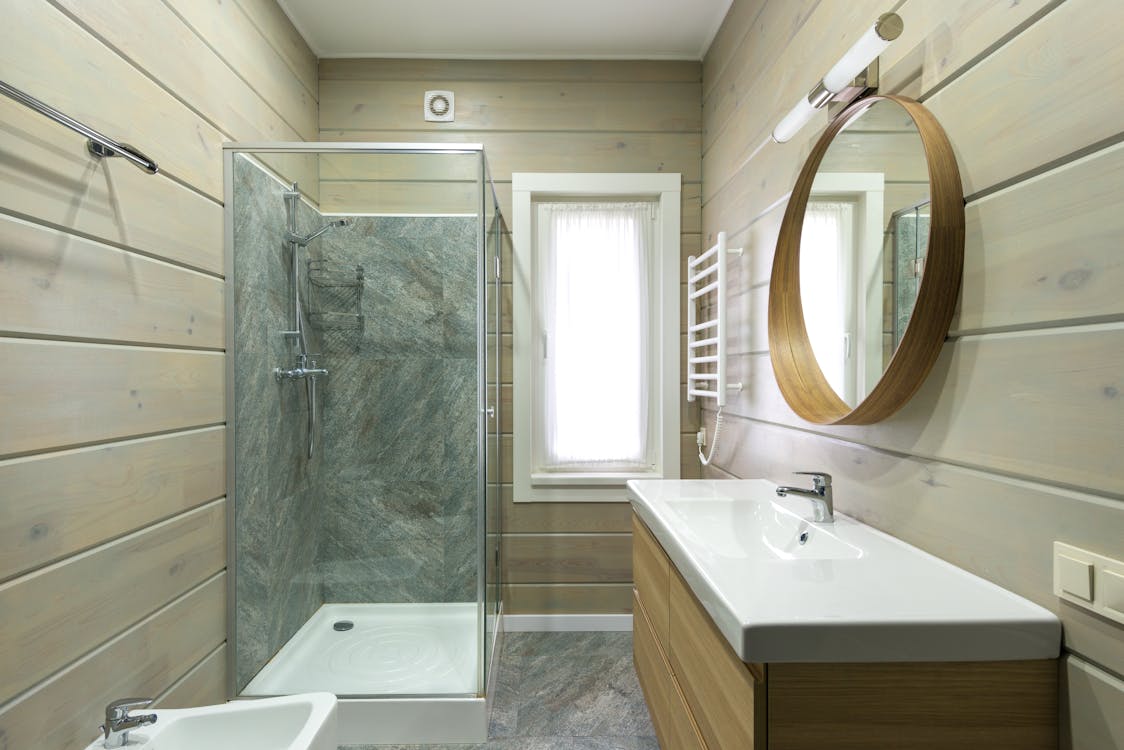 You don't have to go with a standard shower design when you can go big with a contemporary walk-in bathroom. This custom walk-in shower design has the entire room inside panels that give your bathroom a spa-like feel. The shower cabin is enclosed in glass panels, and there's a white shower pan, meaning water won't spread to the rest of the bathroom floor.
The walls inside the shower cabin are covered with the same marble that is on the floor. The sink is on top of a wooden cabinet, and there is an oval mirror above it for added convenience.
9. Modern Walk-in Shower with Storage Cabinets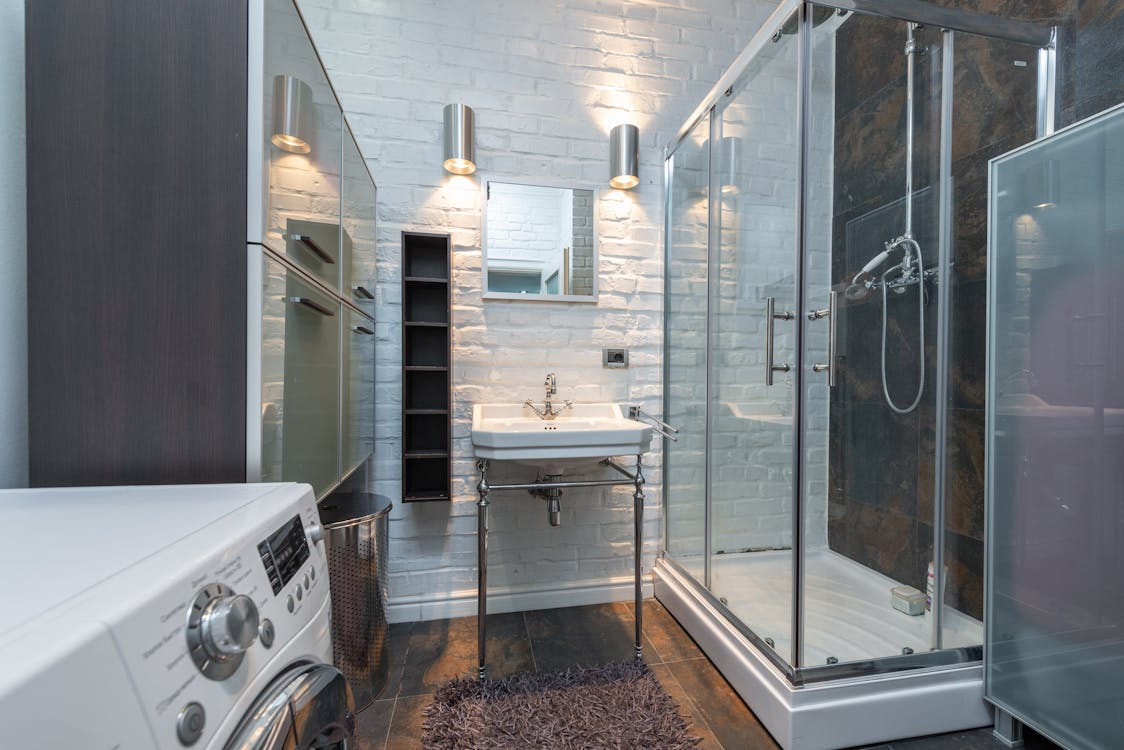 If you prefer to keep things where needed most, this shower remodel idea is what you are looking for. It features an enclosed shower with glass doors on one side of the bathroom and a large wall cabinet on the other. This design is convenient because it allows you to store toiletries and other bathroom essentials in the same space.
If you have a washer and want to keep it in the bathroom, you could store the detergents, fabric softeners, and related items in the cabinet. Since the shower space is enclosed, you can add carpet to the bathroom floor since it won't get exposed to moisture as you shower.
10. Curved Shower Cabin Bathroom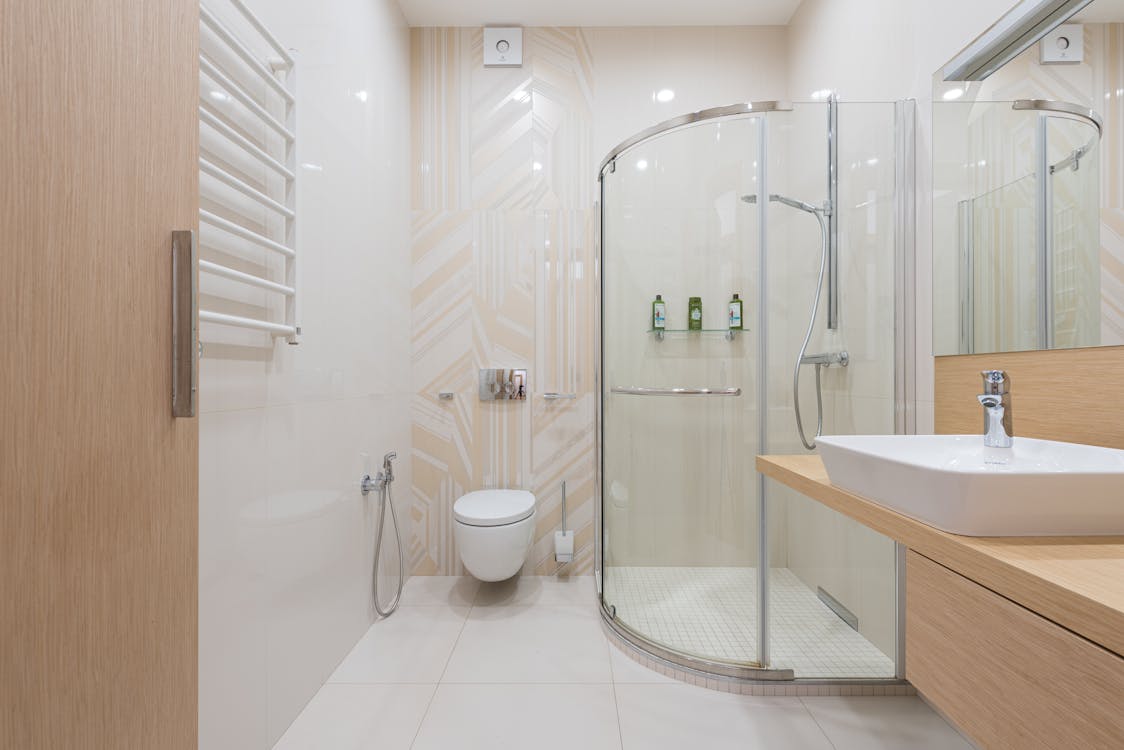 You can add warmth and vibrance to your bathroom by adding furniture like in the model above. This renovation idea features a shower cabin that has a curved design. Unlike most walk-in showers, which feature a rectangular or square shower cabin, this unique cabin saves more space and has an appealing look.
The floors, walls, and ceilings are white, which helps maximize natural light to keep the room bright during the day.
Factors Affecting the Cost of Walk-in Shower Remodels
There are two main factors that affect shower remodel costs. We'll discuss them in this section to ensure you can formulate an accurate budget for your shower remodel project.
1. Size and Shape of the Bathroom
The size of your bathroom per square foot can affect the total cost of renovation. As you would guess, renovating smaller bathrooms could cost less than larger ones. This is because the size determines the number of materials and work that will go into your walk-in shower renovation.
The shape and layout of walk-in showers can also affect your budget. Straightforward designs, in most cases, cost less than complicated ones because they don't require as much time and expertise to execute.
2. Type of Walk-in Shower
The next factor determining the overall cost of your shower remodel plan is the type of walk-in bathroom you want to install. Let's take a quick look at the different options available.
i. Prefabricated Showers
A prefab shower is a bathroom unit made in a factory, so it only has to be assembled and installed in the home. It's usually manufactured using acrylic, fiberglass, and plastic, making it an affordable option if you are on a tight budget.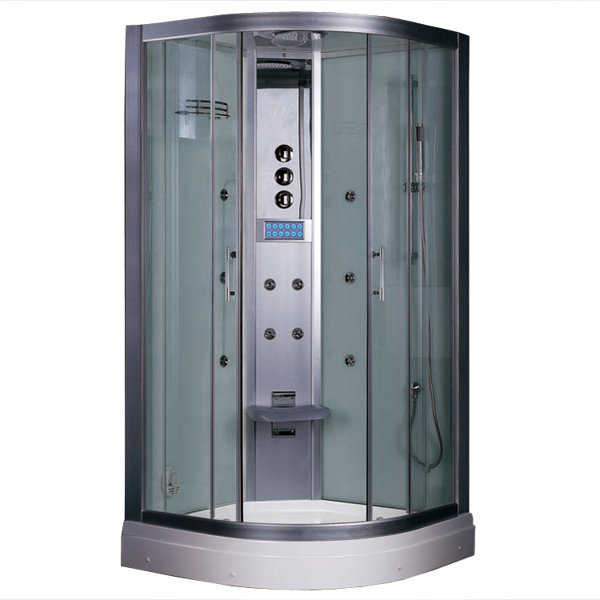 Image Credits: wayfair.com
The design and colors of prefab showers are limited since these units are made in bulk. So, if you don't want a prefabricated shower, you'll be better off with a custom walk-in shower. The average cost of a prefab shower ranges between $815 and $913.
ii. Custom Walk-in Shower
If you'd rather choose most, if not all, the details about your walk-in shower, then you need a custom design. Unlike prefab showers, these are entirely built according to the preference of the owner.
Unfortunately, these bathrooms are more expensive than prefabricated showers, so they aren't ideal if you are on a tight budget. The average cost of custom walk-ins is between $6,000 and $10,000. Keep in mind you'll probably have to demolish your existing shower to install a custom one. So, you'll need to budget for the demolition as well.
iii. Shower-Tub Combo
The last option is a shower-tub combo, a classic design that includes a walk-in shower and a tub. You could simply get both for added convenience. It's an excellent choice for a family, so the kids bathe in the tub while teens and adults can take showers.
These bathroom remodels cost anything between $4,600 to $6,600, which is the sweet spot if you want something between cheap and very expensive.
Cost Breakdown of Walk-in Shower Materials
Each of the construction materials you need for remodeling walk-in showers has its own price. If you want an accurate budget for your project, you should know how much each material will cost. So, here's a breakdown of the different materials needed for a shower remodel.
1. Shower Doors
The doors of your shower are among the first things to think about. If you choose a prefab shower, you don't have to consider the door since it'll be included in the package. However, if you want a custom walk-in shower, the shower door is a critical consideration.
Framed doors – These doors are cheap and easy to install, costing about $200. While a framed shower door is readily available, you need to ensure the frame won't interfere with the design of your shower cabin.
Sliding doors – This shower door has a sliding mechanism for stacking one part of the door in front of the other. This means that the shower will be partially enclosed even with the door open, so they are better suited to larger bathrooms. These doors cost close to $300.
French doors – These doors fully open and give a small bathroom a roomy feel. They are more expensive, costing about $900 because they are custom-made.
Frameless doors – These are some of the most stylish and cost between $900 to $2500.
2. Tiling and Marble
Tiles and marble are the most common materials used to make your bathroom surrounding. The exact cost of your tiles and marble will depend on the size of your bathroom. You can use these materials on your shower floor and walls.
Usually, ceramic tiles cost about $2 to $50 per square foot. Fortunately, ceramic tile is so resilient that it can last longer than half a century and can be customized according to your preferences.
On the other hand, we have cultured marble, which is more expensive. It costs about $700 to $2,000 because it delivers a luxurious appearance and feel. It's great if you have a high budget for your remodeling project.
3. Shower Pan
If you want your remodel to be as efficient as possible, you need to replace your shower pan. A shower pan is a pan-shaped, waterproof barrier that sits inside the shower stall. It collects the water from your bath and directs it to the drain to keep the rest of the bathroom dry.
You could go with a ready-made shower pan which will cost about $200 to $500, or a custom one which goes for about $650.
You can transform your walk-in shower into a spa-level bathroom by choosing premium-grade shower heads. There are some which are mounted into the ceiling to make it seem as if it's raining instead of your standard wall-mounted shower head. Check out how to clean a shower head.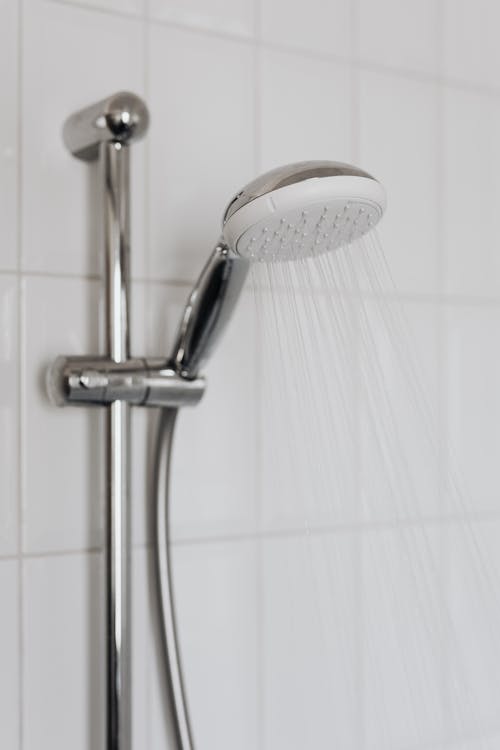 You could also get a hand-held shower head if you want a more flexible time in the shower. The best one depends on what is most convenient for you. If you want a comprehensive luxury shower, you can get all three types of showerheads.
4. Labor Costs
Next, you'll need to consider the cost of shower installation in terms of labor. You'll need the help of various professionals to set up a walk in shower remodel successfully.
The labor costs will include the following services;
Plumbing
Professional tiling
Waterproofing
Permits
Demolition
Tips for Maximizing your Walk-in Shower Remodel
If you want to increase your home value as much as possible when renovating your walk-in shower, follow the tips below.
1. Reuse Your Existing Tub
There's no need to budget for a new bathtub if you already have one. Unless your bathtub has functional issues, you can keep it and have it reinstalled during the remodel. Of course, it's okay if you don't want a tub in your new walk-in shower. However, a tub allows you to decide between a shower and a bath, depending on your time.
2. Bigger is Better
Renovating your shower with a walk-in design is one of the ways you can make a small bathroom appear bigger. Nevertheless, you don't have to restrain yourself if you have more space available. A bigger walk-in bathroom has a better visual appeal than a small one.
So if you can make the bathroom bigger, the best time to do so is during your renovation.
3. Add Convenient Custom Features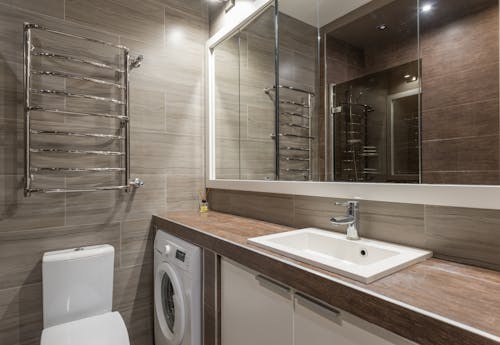 You should also add a custom niche to make your bathroom more functional or convenient. For instance, some people prefer to keep the washing machine in the bathroom. In such a case, you can include a cabinet in the room to store essentials like detergent, soap, fabric softener, etc. This will also make it easier to access toiletries in the bathroom. Check out the best towel rack for your bathroom.
Benefits of a Walk-in Shower Remodel
There are many benefits of renovating your bathroom to a walk-in shower. Let's discuss them below.
1. Better Access
One of the advantages of getting a walk-in shower is that it provides access to the shower more easily than regular bathrooms. This is a critical feature for the elderly and people with disability. It can be challenging for these individuals to step into tubs or walk over a lip on the floor.
A walk-in shower allows you to effortlessly access your shower, making it less of a hassle to use your bathroom. Plus, if the walk-in shower is built to last, you should consider the ease of using it in the future. Think as far ahead as you can since you don't know how convenient it will be to walk into your shower a decade from now.
2. Easy to Clean and Use
Thanks to shower pans and other drainage features, walk-in showers don't allow water to sit around. As such, it becomes less likely that scum and residue will build up inside your bathroom. Plus, the glass panels are easier to clean than traditional shower stalls. You don't have to worry about water spreading all over the floor when cleaning your walk-in shower since it contains all the water in one place.
3. Can Fit Inside Different Sizes of Bathrooms
Something that makes walk-in showers popular today is that they can fit any type of bathroom without hassle. If you compare the standard size of a bathtub setup with a walk-in shower, you'll realize that a walk-in design takes up less space.
With a walk-in shower design, you can add other items in the bathroom, like a washer or cabinet, without cluttering the space. So, whether you have a small or large bathroom, a walk-in shower is a great idea.
4. Easy to Customize
The best way to get a bathroom that matches your style and preferences is to get a walk-in design. This is because these showers come in different forms allowing you to choose one that meets your expectations. You can choose between tiled or marble floors and walls, different types of panels, and colors.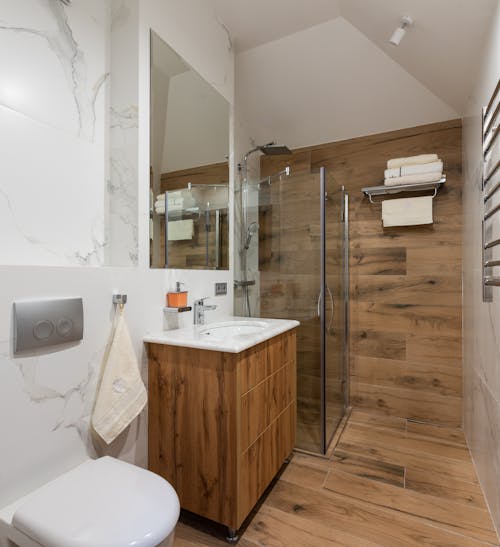 The more spacious your bathroom, the wider the variety of your customization can get. You can include cabinets, steam kits, tubs, and similar features to make your bathroom more functional.
5. Increases the Value of Your Home
A walk-in shower remodel can make your home appear and feel more luxurious. These bathrooms are among the selling points real estate agents focus on when selling houses. So, if you want a higher home value to ensure a larger return when selling it, you should renovate your walk-in shower.
Additionally, this shower design can improve the aesthetic of your home enough to impress guests. It also enhances the functionality of your home, making it a satisfying place to refresh and clean up.
Conclusion
Renovating your bathroom to a walk-in shower can be the best decision you can make for your home. A walk-in bathroom can make your interior space look more stylish while improving the functionality of your house. Additionally, it's one of the ways you can enhance the value of your home if you end up selling it in the future.