Luke Bryan has a farmhouse in Tennessee, Nashville, and a beach house in Florida.
Luke Bryan is a country singer and songwriter who can convert you into a country music lover without trying. As we answer the question, where does Luke Bryan live, you'll notice the theme of family.
In addition to being a great country musician, Luke is a family man who loves his household. You'll see he's named his homes after their late family members to honor them.
Background on Luke Bryan
Image Source: countrynow.com
Luke Bryan is an award-winning American country music singer and songwriter. He is so good that his debut single, "All My Friends Say," peaked at No. 5 on the Hot Country Songs chart. Afterward, he went ahead to release his first album in 2007 and has maintained a successful career since. 
Luke Bryan is married to a beautiful woman named Caroline Boyer, who he met at Georgia Southern University while they were both there. This was back in 1998. Although the couple went their separate ways for a while, they reunited later to create their beautiful family. 
Luke and Caroline married in December of 2006 and have two sons. Thomas Boyer Bryan was born in 2008, and Tatum Christopher Bryan was born in 2010.
The couple also adopted their nephew and two nieces. These are Til, Jordan, and Kris.
Let's now look at the estate of Luke Bryan.
Where Does Luke Bryan Live?
Luke Bryan has a beach house in Florida nicknamed Snowman and a farmhouse in Nashville nicknamed Red Bird Farm.
1. Florida Beach House (Snowman)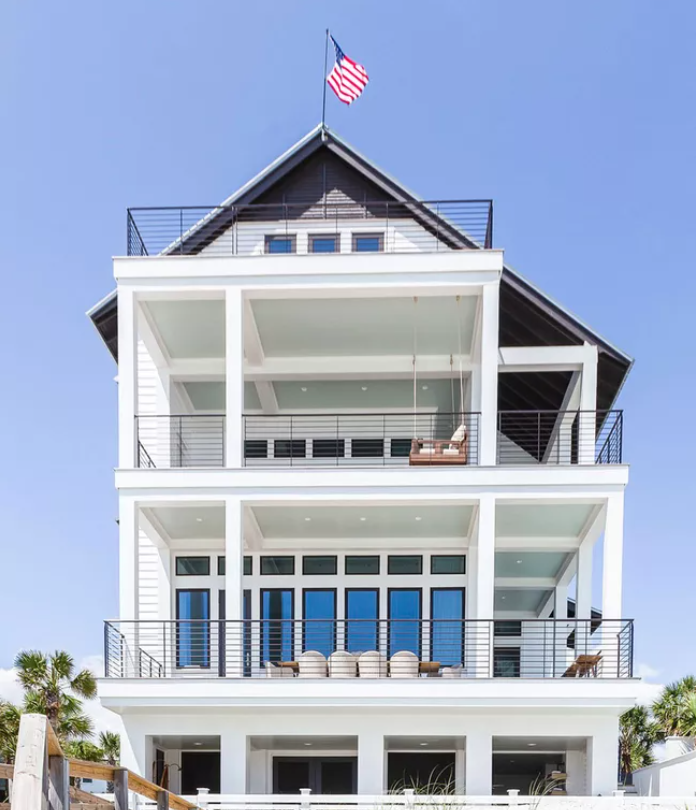 Image Source: bhg.com
Luke Bryan's beach house in sunny Florida is nicknamed Snowman after his late brother Chris. Chris died in an auto accident when the award-winning singer was 19 years old, and this is his way of honoring him.
The Santa Rosa house is located at the beachfront and was built in 1994. The pristine waters of the ocean make this the perfect spot to enjoy sunny Florida with your family. This is exactly what Luke Bryan does with his household.
Luke Bryan's beach house is 4 stories high and has some cool features. Some of these include a pool and spa, an outdoor dining area with a view of the beach, simple steps, and amazing views of the beach from several areas of the house.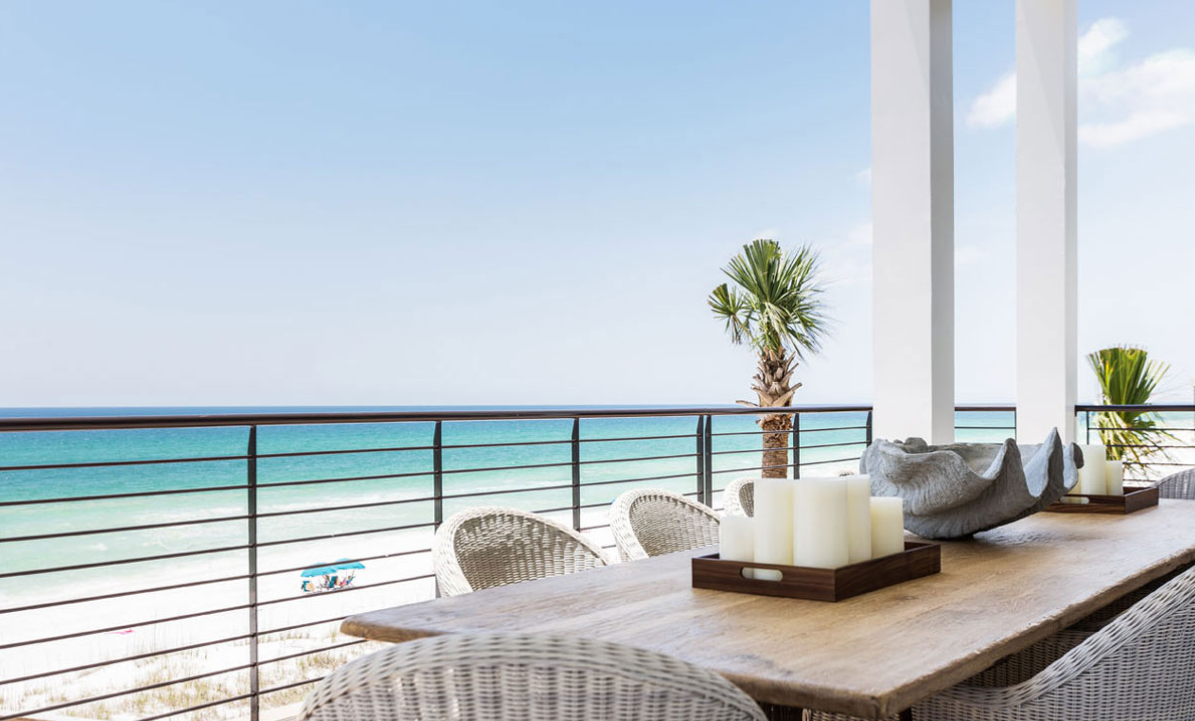 Image Source: beachpretty.com
Luke Bryan and his wife, Caroline, had to renovate the beach house after they bought it. They replaced the weather-beaten wood exterior with modern white paneling. The house was built in 1994, showing how much it needed improvement.
Other changes they made included converting the rooftop deck into the home's fourth floor. They also made the main floor into an open floor plan. They did this by knocking off some of the columns to create the space.
Interior Design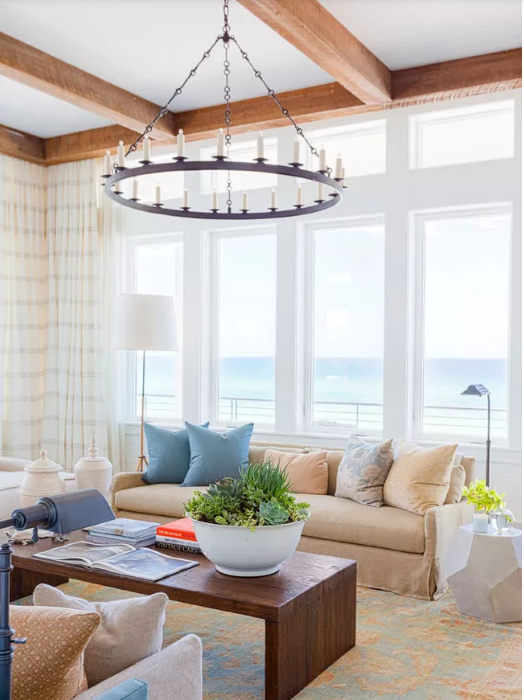 Image Source: bhg.com
The interior designer for the project was Chad James. Luke Bryan also contracted him to design his Nashville home interior.
James was thorough and conscious when designing this home. The beach house interior designer stated, "I love walking into an art gallery and spotting a piece of art across the room that draws you over. That's the sort of feeling we wanted this house to have. It's all about being drawn to that ocean view."
And you can see that in the design of the living room. There are views of the ocean all around.
Some themes stand out in the interior design of the home. Here are a few:
a) Relaxed and Cozy 
Image Source: beachpretty.com
Unlike their other homes, this is the place where Luke Bryan comes with his family to relax and unwind. Given his busy career, having a place where time moves slowly and the atmosphere is serene is a priority for Luke. 
James understood the assignment and designed the home with a serene and welcoming vibe. The breathtaking ocean views and the large open space offer a relaxing atmosphere. 
In addition, the large-scale slip-covered furnishings make the living room a place where friends and family can gather comfortably. 
b) Natural and Neutral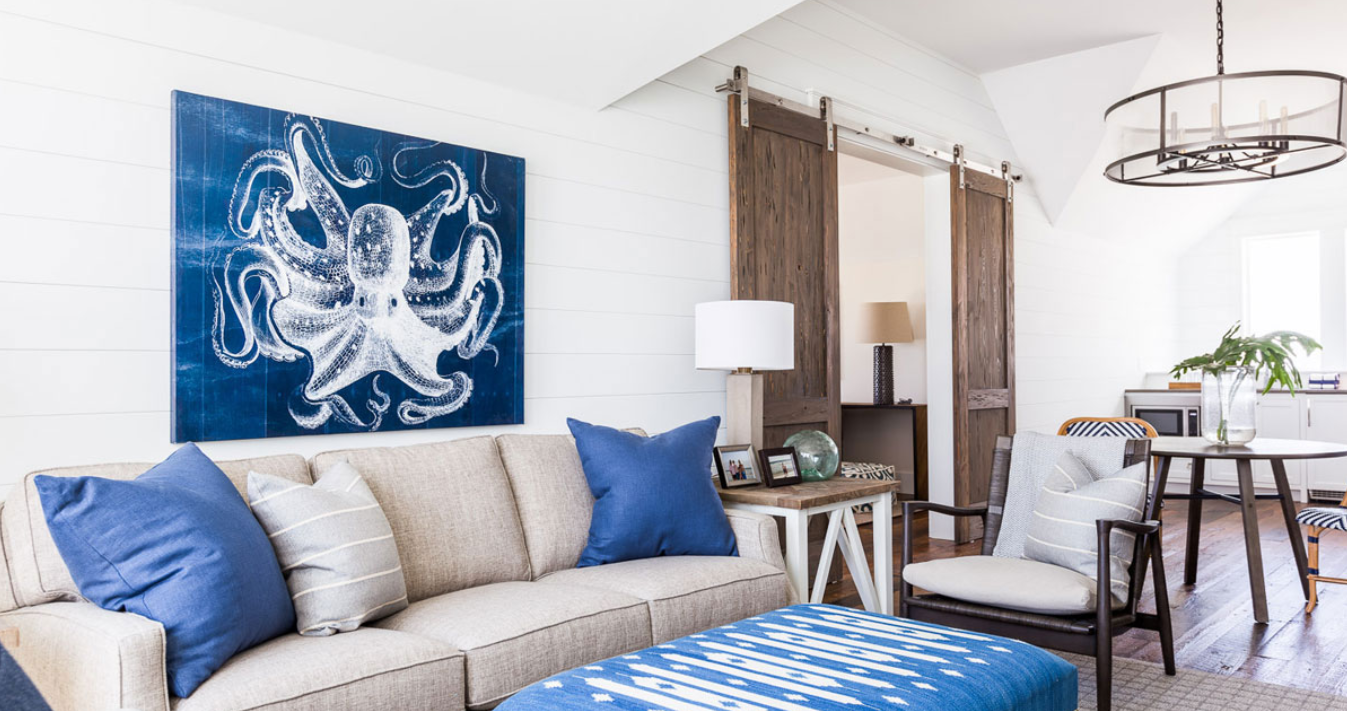 Image Source: beachpretty.com
The vibe of the home is natural and neutral. The blend of naturals goes well with the sea and the pristine sands. James used the beautiful dark blue of the water as an accent color for the home. 
In addition to the organic color palette, some parts of the house are made of natural materials. You can read more about decor ideas here.
2. Farmhouse in Tennessee, Nashville (Red Bird Farm)
Image Source: nashvillelifestyles.com
The couple nick-named the Brentwood property 'Red Bird Farm' in honor of Luke's late sister Kate, and Caroline's niece, Brett. Brett was only 7 months old when she passed away from a heart condition. 
The couple bought the piece of land back in 2014 and went ahead to build their beautiful home. The farmhouse is located in the town of Brentwood, Tennessee. This is just outside Nashville. The home boasts a main house and a guest house. 
Image Source: nashvillelifestyles.com
The main house covers an impressive 10,000 square feet. It has two stories and comes complete with three bedrooms and two baths. 
Interestingly, the family stayed in the guest house before the main house was completed. The guest house sits on 1,800 square feet of land and boasts three bedrooms and two baths. Other rooms in the guesthouse include a living room, kitchen, and media room. 
In addition to the 10,000 sq main house and 1,800 sq guest house, the Tennessee compound also has a 7,000-square foot barn.
Image Source: nashvillelifestyles.com
The barn is named Brett's Barn after Caroline's niece, and the family hosts several charitable events there. These charity events fall under The Brett Boyer Foundation, which raises money to help fund research for advanced treatments for kids living with congenital heart disease.
The barn is also filled with rescue animals. Some of these include several miniature horses, a goat, a white pony, donkeys, and pigs.
Decorating a farmhouse is not an easy fit, but Luke Bryan and his wife did a good job, as evidenced by the photos above. Check out this article on farmhouse decor ideas for more inspiration.
You can also read about Ashton Kutcher's sustainable farmhouse for more information on how to merge farmhouse and sustainability.
Take Away
Image Source: beachpretty.com
Luke Bryan is a successful country music singer and songwriter who greatly values family. We've seen how family influences the design of his homes. The beach house was designed to give the family a great serene place to escape everything.
On the other hand, the farmhouse in Tennessee was designed to be a proper home for his family and a place to honor family members who have passed.
Featured Image Source: beachpretty.com