The laundry room is probably the last place that comes to mind when you think of your favorite spaces in your house. Yet, we can't do without it. Even with a dedicated laundry room, it probably still wouldn't rank as your favorite room, but that doesn't mean you can't think of ways to make it work for you.
The challenge with a small laundry area is striking a balance between space and style. There's also the issue of storage or rather lack of it. With this design, you ideally want to save on space and get as much storage as you can. We rounded up our top and favorite laundry room ideas that will help you make the most of what you have. They come packed with decorating ideas and are sure to get your brain pumping with lots of ideas on what you can do.
1. Mudroom -Laundry Room
Image Source: Armelle Habib
The American coined term, mudroom, refers to a home's causal secondary entrance specially dedicated to removing "muddy" boots, coats, and wet clothing before entering the main house. The entrance is intended to provide storage and ensure the main areas of the home remain clean and tidy. Combining the mudroom is one of the most popular small laundry room ideas and designs. It's ideal as it creates more space to hang and dry clothes. It also allows you the convenience of cleaning, for instance, throwing in the muddy coat into the washing machine or sink directly.
Combining the two allows you to use organizational equipment like brooms, mop rails, pull-out laundry baskets, and wall-mounted ironing boards. In addition, having a large sink with a retractable spray tab can be useful; hence muddy boots and shoes can be hosed off, or even dog bowls can be rinsed and refilled.
Tip: If planning on adding a mudroom to your home, ensure ample space is allocated in your renovation or new build.
The small laundry room design above features hardwood flooring with lots of storage, which are two key features that are necessary for both a mudroom and a laundry room.
2. Double Your Load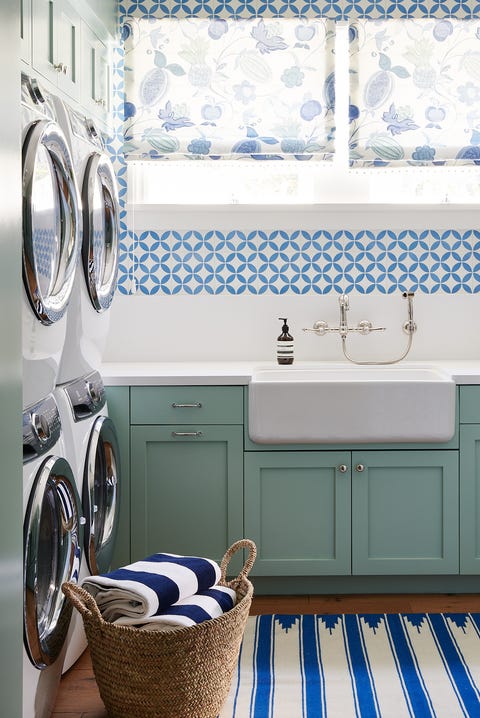 Image Source: Mark Sikes
When you've got a large family, laundry day can be quite the challenge. So it's advisable to consider doubling up your machine count that way, you can reduce on time.
The small laundry room design above incorporates various shades of blue, which provide a welcoming distraction from the additional appliances.
3. Liven It Up With A Pop Of Color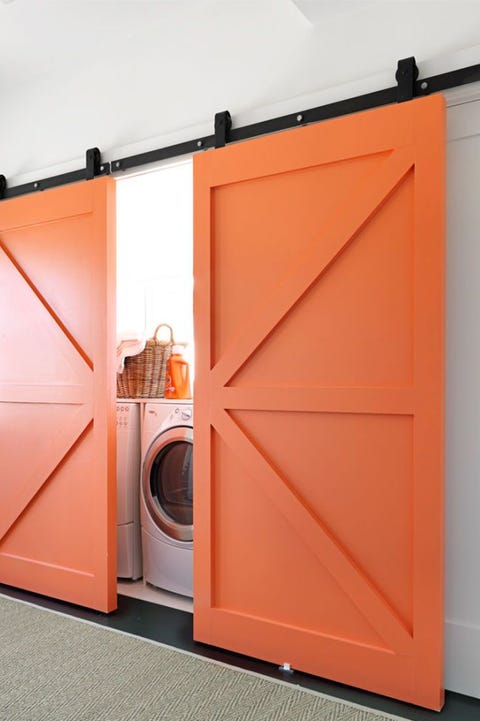 Image Source: Jonny Valiant
If you've been wondering what to do with your barn doors, well, paint is a great choice to liven up a space. For example, it's common to find laundry space hidden in some homes, and this is where the sliding barn door comes in. With your choice of color, you can liven your barn doors such that the space doesn't feel like an afterthought. Additionally, you can always think of your barn doors like a gift box hiding a surprise.
The sliding barn door of the laundry room above is painted a vibrant and bold orange that immediately catches your eye.
4. Crispy White = Crispy Clean
Image Source: renoguide.com.au
The white and off-white aesthetic has been on trend for a while, and it's not without reason. White creates the illusion of space and expands a room. In addition, white is commonly used in cleaning areas since it makes it easier to keep surfaces clean.
The white laundry room is complete with a sink, folding station, stacked washer and dryer, ironing board, and lots of built-in storage. The laundry room appears to be extremely organized and what's even more impressive is that it only took half a wall of space. In addition, the white aesthetic brings in a lot of natural light into the room, making it appear fresh, clean, and airy.
5. Pull Down Drying Rack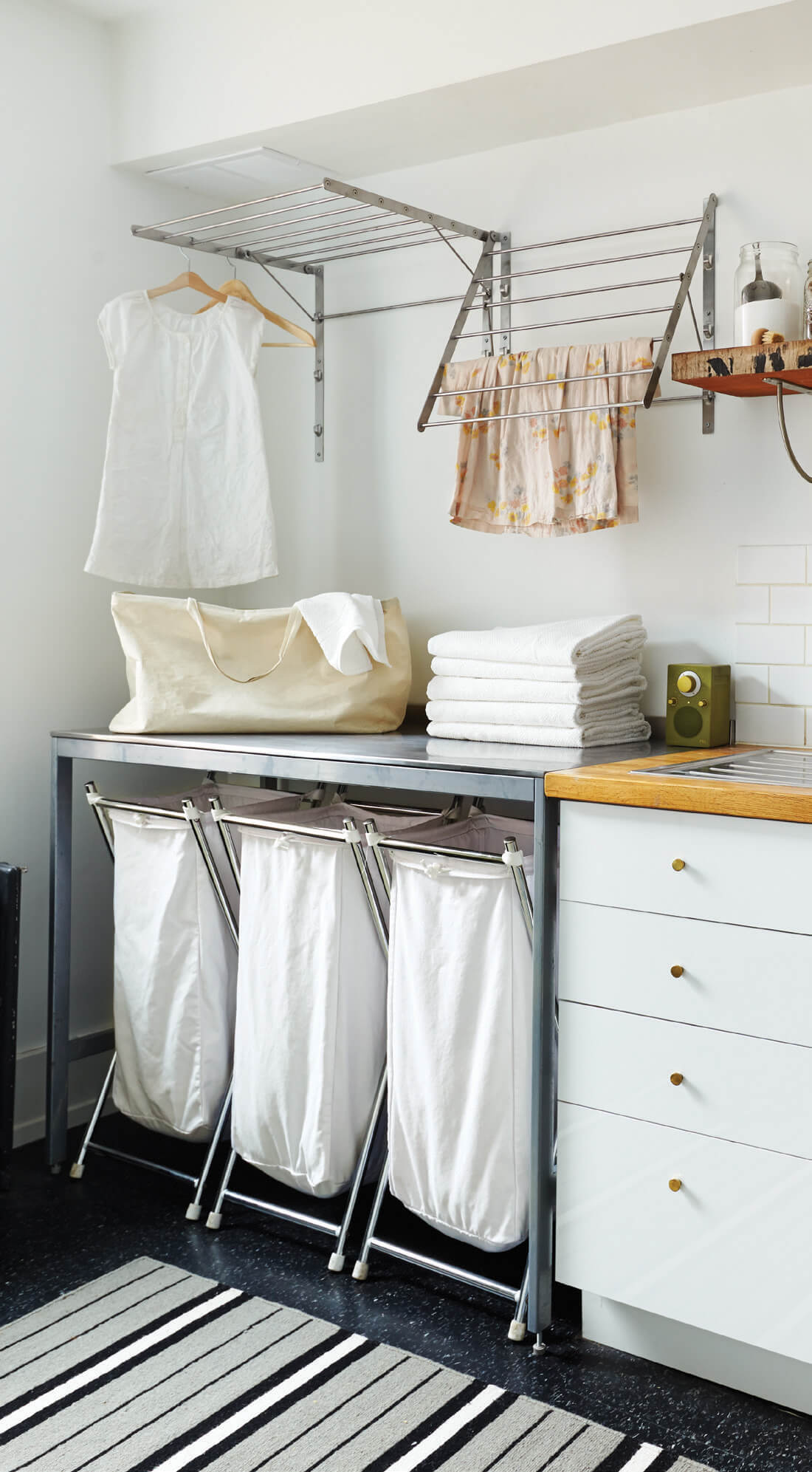 Image Source: bkgfactory.com
The beauty of having a dedicated laundry room is that you can incorporate features like a mounted drying rack that saves floor space. What's great about these dry racks is that when not in use, you can fold them up so that they don't get in the way of washing, drying, and folding. So they are an efficient way to hang and dry clothes whilst allowing you to save up on space. Plus, they come in handy, especially during those heavy laundry days.
6. Tucked Away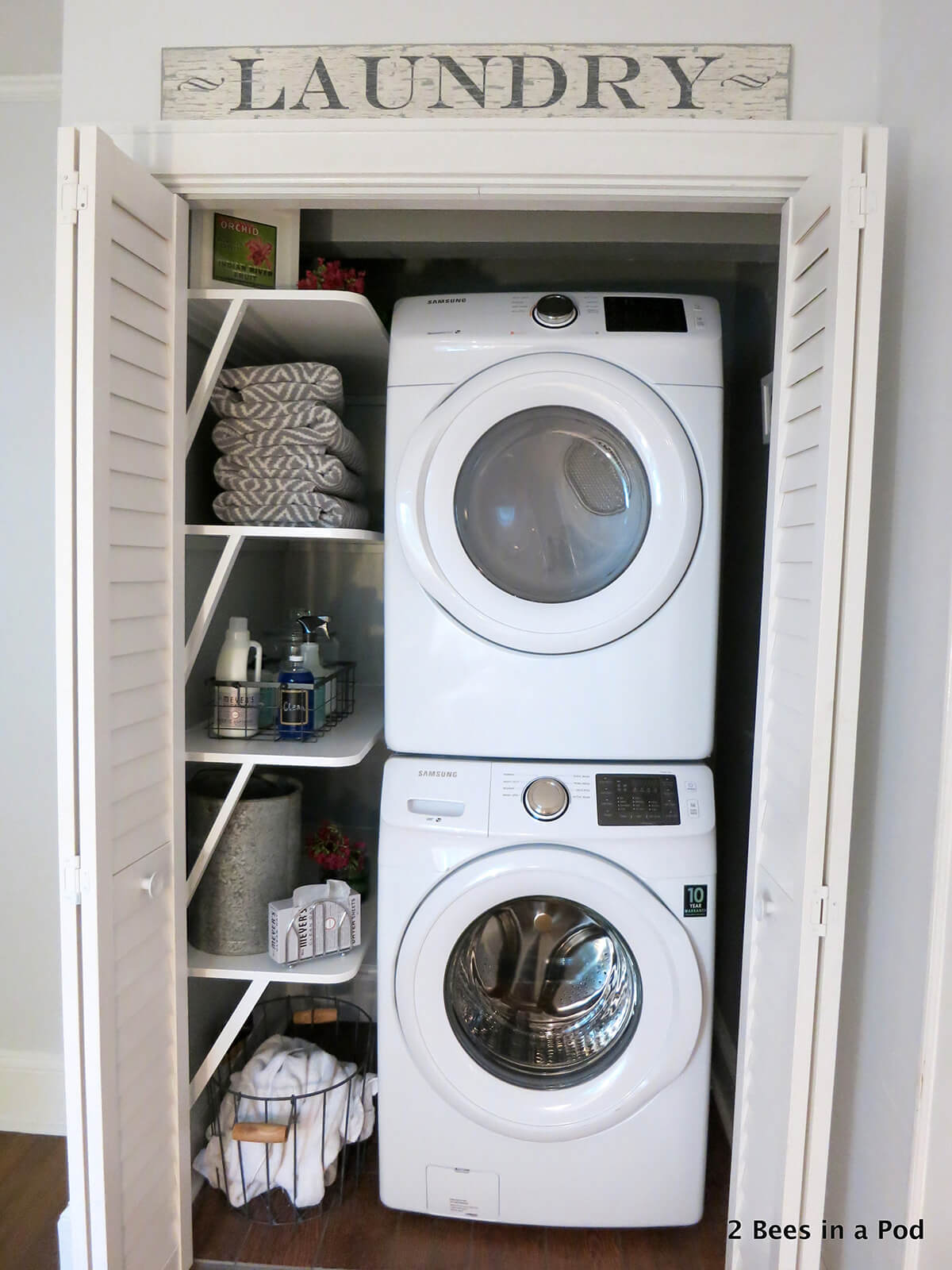 Source: 2beesinapod.com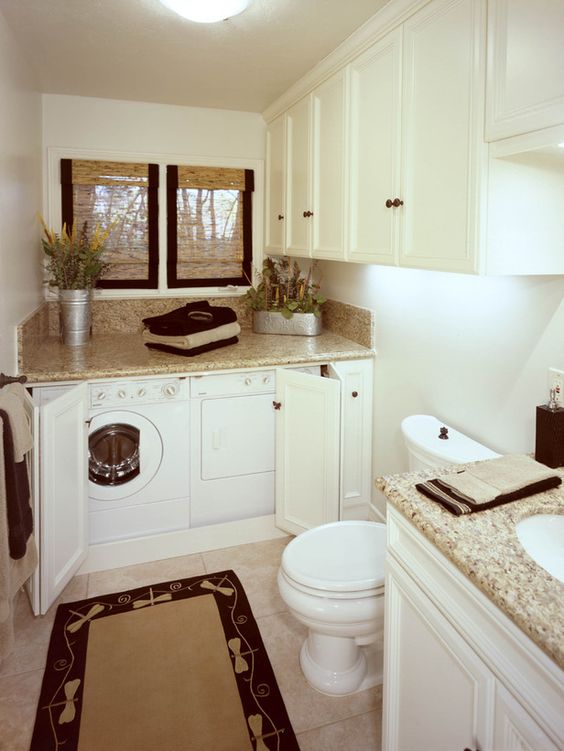 Image Source: renoguide.com.au
The concept of tucking away your washer and dryer behind cabinets is mostly seen when you're combining a laundry room and bathroom. It's a great way of cutting down on space as these two rooms feature similar installations such as drains, sinks, faucets, countertops, etc. In addition, it makes your work easier, especially when it comes to sorting out the water supply and drainage.
The cabinets can be painted the same color as the walls to help the storage blend in. If you have a front-loading washer, it makes it even easier, as this is a great way to hide them and keep them from being exposed in open floor plans.
The same applies if you've got a cabinet-style storeroom. You can stack the washer and dryer on top of the other and add shelves for the necessary items to make laundry day easier.
7. Saving On Storage & Space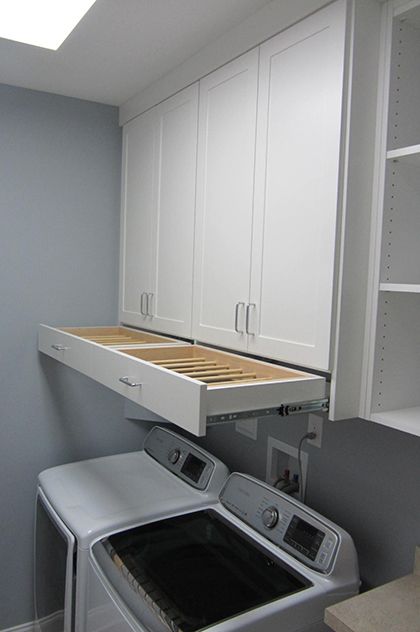 Image Source: renoguide.com.au
When it comes to a dedicated laundry room, there's nothing like too much storage. In fact, the more storage you have, the better. The trick comes in when you've got a small space to work with.
A small laundry room is all about working with what you have. It's about being economical with your space. What you're looking to avoid is walking into a laundry room that's demotivating because it's messy and disorganized. Storage helps with organization and overall cleanliness, and peace of mind.
There are different designs you can incorporate into your small laundry room.
Having a mix of drawers and pull-out shelves makes it easier to designate specific spaces to store laundry supplies and store laundry essentials whilst allowing you to fold clean clothes properly.
Having a pull-out drying rack is great as it saves on space. But, at the same time, the cabinets provide the needed built-in storage.
Other storage ideas include pull-out hamper cabinet designs, which aid in keeping things organized whilst saving on time and minimizing movement. You can also keep your dedicated laundry room open with floating shelves. The storage solution can make your laundry room appear larger whilst offering extra spaces to store supplies.
Some homes feature smart storage solutions in the form of laundry cabinet design. Their hampers are kept accessible and open. At the same time, the cabinets double up as storage cabinets and a folding table. To save on space, you can also have an under-the-counter ironing board. This is super space-efficient plus accessible.
Image Source: renoguide.com.au
Open shelves and basket organizers are fantastically complementary. Plus, they are perfect for laundry rooms as they allow for storage flexibility, style, and movement. In addition, open shelves make it easier to avoid the cramped and disorganized look. You can also include color-coding to keep things neat and tidy to take it a notch higher. This works great, especially if you geek out over organization.
Lastly, to keep things from getting messy, you can utilize a vertical sliding organizer. It works well at hiding all the laundry and cleaning products from plain sight whilst keeping them within easy reach. This especially works great if you've got little ones who may find themselves in the laundry room once in a while.
8. An Outside Affair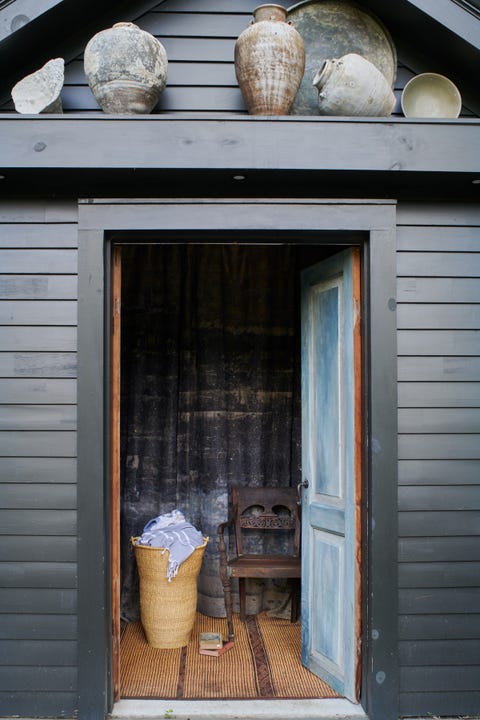 Image Source: Hadas Dembo
Don't have the extra space in your house for a dedicated laundry room? Well, if you don't mind hauling your laundry baskets now and then, consider converting your unused shed or pool house and bringing your dirty clothes outside instead.
The laundry room above features a striking black exterior and rustic farmhouse-style interior.
9. Add A Counter Top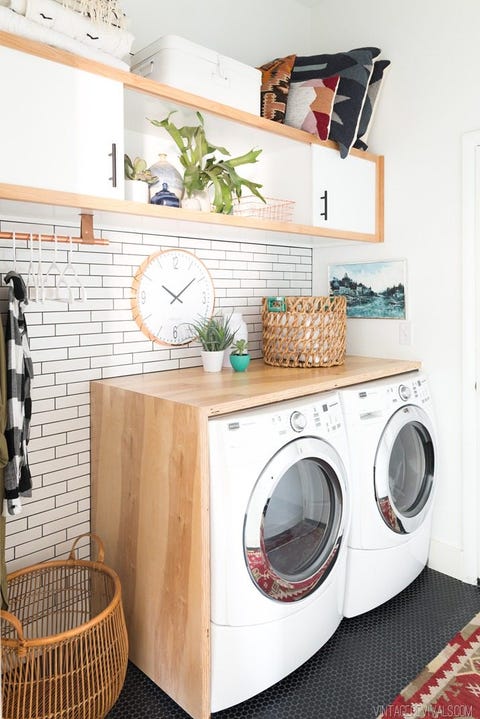 Image Source: Vintage Revivals
Countertops are best suited if you can't install your washer and dryer behind cabinets, closed-door or pre-built countertops. Then, all you need is to add an extended shelf on top of them. They give you sufficient space to fold your clothes right out of the dryer. In addition, it's also a great way to repurpose old furniture.
9. Rusticly Chic
Image Source: farmhouse_fixer / Instagram
When working with a tiny space, everything comes down to aesthetics and organization. For example, it's common to find a washer and dryer in a closet. The design below is of a rustic farmhouse chic laundry closet. What's pretty cool about this space is how they managed to decorate their laundry closet such that it doesn't feel cramped.
Everything is intentional, which is key when it comes to small laundry rooms. You're trying to save up on space and create as much storage space as you can. Everything feels purposefully decorated with the design below from the farmhouse sink and the reclaimed wood finishes. When thinking about small laundry room ideas, keep in that your space and closet should feel intentional and not like a throwaway room.
Another great thing about a closet is that you can use the back of the door to hand supplies on.
10. Use Wall Storage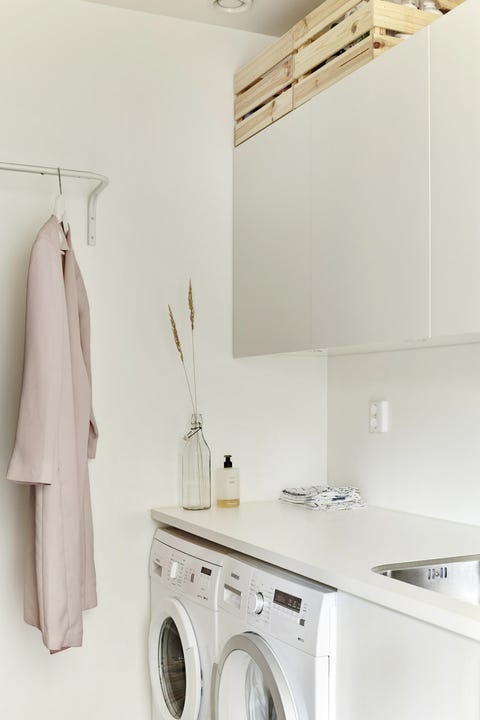 Image Source: Fantastic Frank
Small laundry room ideas are all about finding interesting ways to get the best of both worlds. Though the laundry room may lack space, it can definitely make up for it in style and decor. This is where your walls come in. Your laundry room should be the least stressful place in your house. So you can ensure that your walls make it easier for you to find all the essentials; that way, everything is convenient, and you're more efficient and productive.
Some small laundry room ideas take advantage of wall space by incorporating shelving and hooks, increasing storage.
There's also the option of a wall organizer, which helps keeps laundry essentially off the floor and counters. Hence you're not tripping over things while you're trying to get the laundry out of the machines.
Other wall storage laundry room ideas include repurposing crates like the design below to keep your cleaning supplies organized. They've been stacked on top of cabinets in the laundry room below, hence saving up on space. There's also the addition of a rod that doubles as a drying rack.
To hang clothes and save on space, you can consider wall mounted drying rack. It's especially great for the delicates or when you've got a heavy laundry day.
11. A Touch Of Fun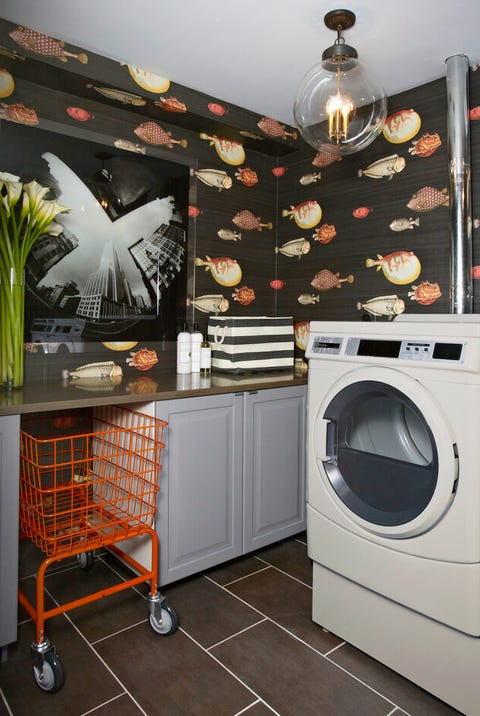 Image Source: Danielle Colding Design
Who said cleaning couldn't be fun? What's great about a dedicated laundry room is that you can make it your own. If you enjoy listening to music while you're busy taking the clothes out of the washer, why not install a sound system. That way, you can turn up your favorite Spotify/Apple playlist and have a great time.
Additionally, color psychology has proved that colors affect moods and feelings. Hence, most people want to be in a room that will make them feel a certain way. For instance, laundry is considered a chore duty. However, the laundry room below incorporates pops of orange contrasted with cool grays, and the fun blowfish print wallpaper gives it a lively and playful effect.
12. Exposed But Stylish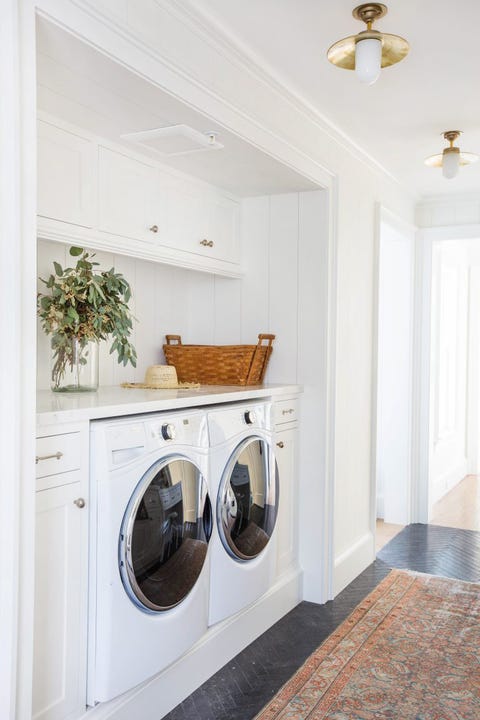 Image Source: Amber Interiors
If your laundry room is in the middle of a hallway, you might wonder if it's possible to still make the floor space appear stylish. Though there's little you can do about your machines being exposed, you can, however, working with the surrounding floor space.
The laundry space below blends in with the rest of the wall but is brightened up by the fresh florals and a colorful area rug.
Other small laundry room ideas when challenged with limited living space include fitting your machines under the stairs. For storage, you can include inset shelves. In addition, you can consider hanging tiny art pieces next to the machines to brighten up the space. Alternatively, painting the stairs a different color if looking to making it pop and add some style.