Whether your family is growing bigger or you just want to take advantage of the view in the uppermost room in your house, an attic remodel is a great way to reclaim space without having to build a new room for your home.
However, an attic remodel requires a lot of planning and effort to achieve the desired usability within the constraints posed by the odd configurations, structural factors, and building code requirements associated with this room. Planning ahead and consulting local experts can help you overcome most of these obstacles.
Read on to learn more about attic remodel tips, ideas, and makeover costs.
Attic Remodel Tips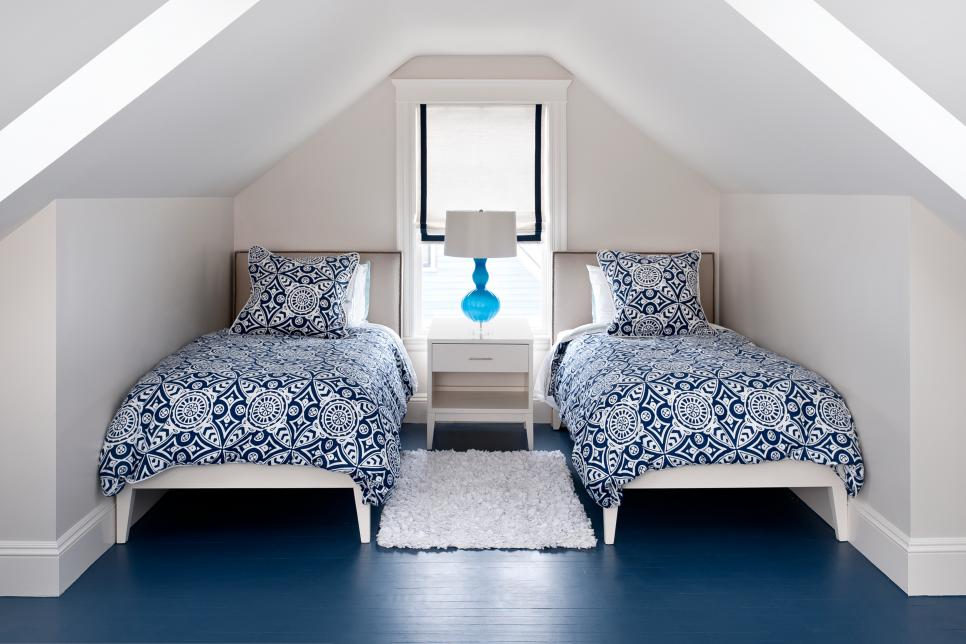 Image Source: hgtv.com
1. Know How You Want the Attic Space to Look
Before you begin, you need to know what you want to use in your attic: a bedroom, a playroom, or a loft. The more specific you are about the function, the easier it will be to balance the structural reality of your attic with functional elements.
2. Account for Codes and Safety
Every attic remodel is different, but there are a few established standards and practices that will guide your renovation. The first thing I did when remodeling my attic was to ensure that I followed the rule of 7s, which states that at least half of a finished attic should be at least 7 feet high, and the area must be a minimum of 7 feet wide, and 70 square feet.
To ensure that my finished attic accounted for the international building codes and safety, I hired a pro to come and inspect the structure.
3. Clean Out the Attic
Image Source: atticconstruction.com
Before I remodeled my attic, I cleaned out the area and got rid of any old junk I didn't need any longer. This way, it was easy to work on all the areas I needed remodeling. For instance, I wanted to add new insulation before installing my drywall, so I had to remove the old insulation first.
4. Wire the Attic for Electricity
Once my attic was brought up to code, and I had received my permit, I hired a licensed electrician to fix my wiring and ensure that all the electrical jobs met the code requirements. Hiring the electrician to help with my attic renovation helped me avoid many of the issues most homeowners tend to encounter.
However, if you are to do the wiring, ensure that you have at least one outlet on each wall or at least one outlet every 12 feet.
5. Pay Attention to Flooring
 Image Source: Pintrest.com
Depending on your current flooring situation, you might need to spiff up or replace the existing flooring altogether. For my attic remodel project, I decided to go with hardwood flooring. Though it was a bit costly, it was worth investing in.
However, before installing the hardwood flooring, I needed to build a subfloor since floor joists were visible on the floor in my attic. Therefore, after completing all my electrical and ventilation installations, I started to build my fully adhered vinyl subfloor.
To reduce sound traveling from my attic to the rest of the house, I decided to add insulation under the subfloor paneling using floorboards. Alternatively, you can use thick subfloor panels if you are working on a budget.
6. Insulate Your Attic
Attics are usually the hottest or coldest rooms in the house, depending on the time of year and the quality of your home's insulation. Creating a comfortable atmosphere for your remodeled attic requires expert planning, and you may need to increase insulation.
 Image Source: cloudfront.net
In addition to insulating my floor with floorboards, I also decided to insulate my walls and roof. For this part of my project, I used batt insulation with a vapor-retardant facing. I chose this insulation since it was flexible, easy to install, and could even be layered for additional coverage.
That said, you can choose to use any other insulation for your attic. The other best soundproof insulation types you can use in your attic include spray-foam insulation, Blown-In, and Loose-Fill Insulation.
7. Install a Drywall and Ceiling
Once I finished installing my insulation, it was time to give my attic its shape by installing drywall and ceiling. I decided to hang my drywall horizontally from my exposed studs and secured them with drywall screws. After that, finish by covering the seams and screws with drywall mud. Finally, for a more finished look, I decided to go for a dropped ceiling.
8. Light up the Place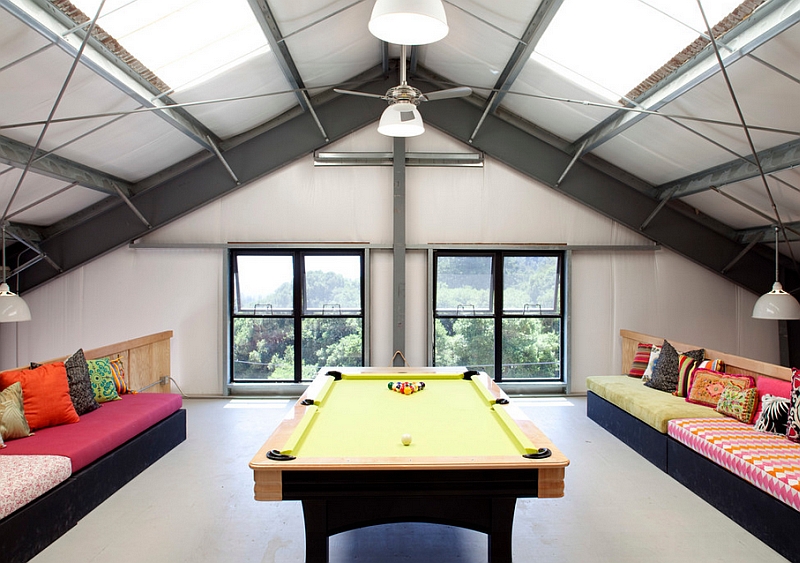 Image Source: decoist.com
Because my attic wasn't originally designed as a living space, the lighting is less than ideal. So to make the space more comfortable and inviting, I added a few windows and a few light fixtures.
9. Paint Attic Ceiling and Walls
Next, I painted my ceiling and drywall to make my attic look like a real living space. Since I had installed new drywall, I first primed the walls before painting them with two coats of my light blue paint.
Attic Remodel Ideas
Image Source: forbes.com
While having extra room for storage is a good thing, there is so much opportunity in attic spaces, particularly for those with an eye for turning blank walls into something incredible. Here are a few attic room ideas you can consider:
1. Attic Room Nursery
Are you in desperate need of a room for your little one? Then, you can transform your attic into a beautiful and peaceful nursery for them.
A perfect way to remodel this space into a nursery is to use pine shiplap wood on the wall and choose a soft or bright color scheme. Oranges, blues, greens, yellows, or purples are excellent choices for a girl's or boys' room.
Image Source: Pintrest.com
Install windows and galvanized barn lights to make the space appear bright, cozy, and inviting. Another great idea is to use the same shiplap wood to create funky and bespoke open storage. The budget-friendly shelving will look pretty amazing if you add some cute kids' decor.
You can also add a textured pouffe, cushioned chair, crib, and any other functional furniture you intend to use in the room. To make the room cozier, you can turn one corner of the attic into a classy reading nook.
2. Kids' Attic Playroom
You can turn your attic space into an epic place for your kids. But first, you need to childproof it and make the environment more conducive.
First and foremost, you want to do is add a protective carpet to the floor. Most attics have a hard floor that could cause injuries to your little ones. A wall-to-wall carpet is the best way to avoid this, allowing you to add color to the space.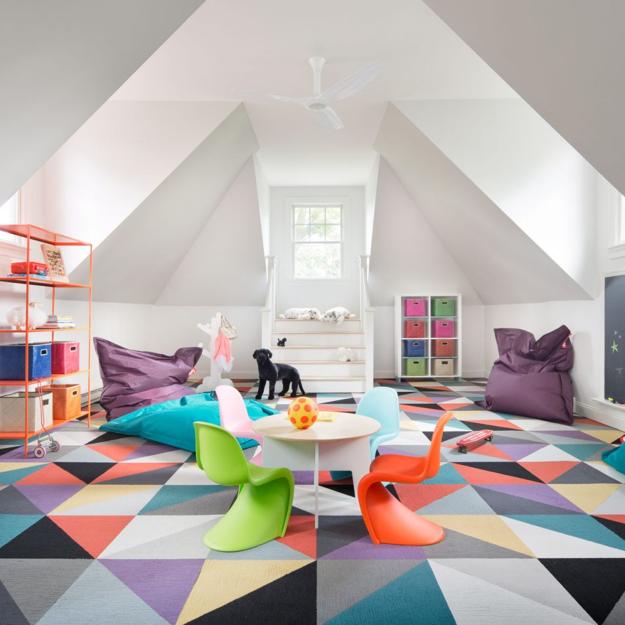 Image Source: lushome.com
After that, plan on how much storage you will need. You can create shelves to help stack books, toys, and other accessories. Lighting is the other significant element in the attic playroom that can make or break the entire space. You can add a window to usher the room's natural light. You can also install recessed and pendant lighting to create an illumination layer.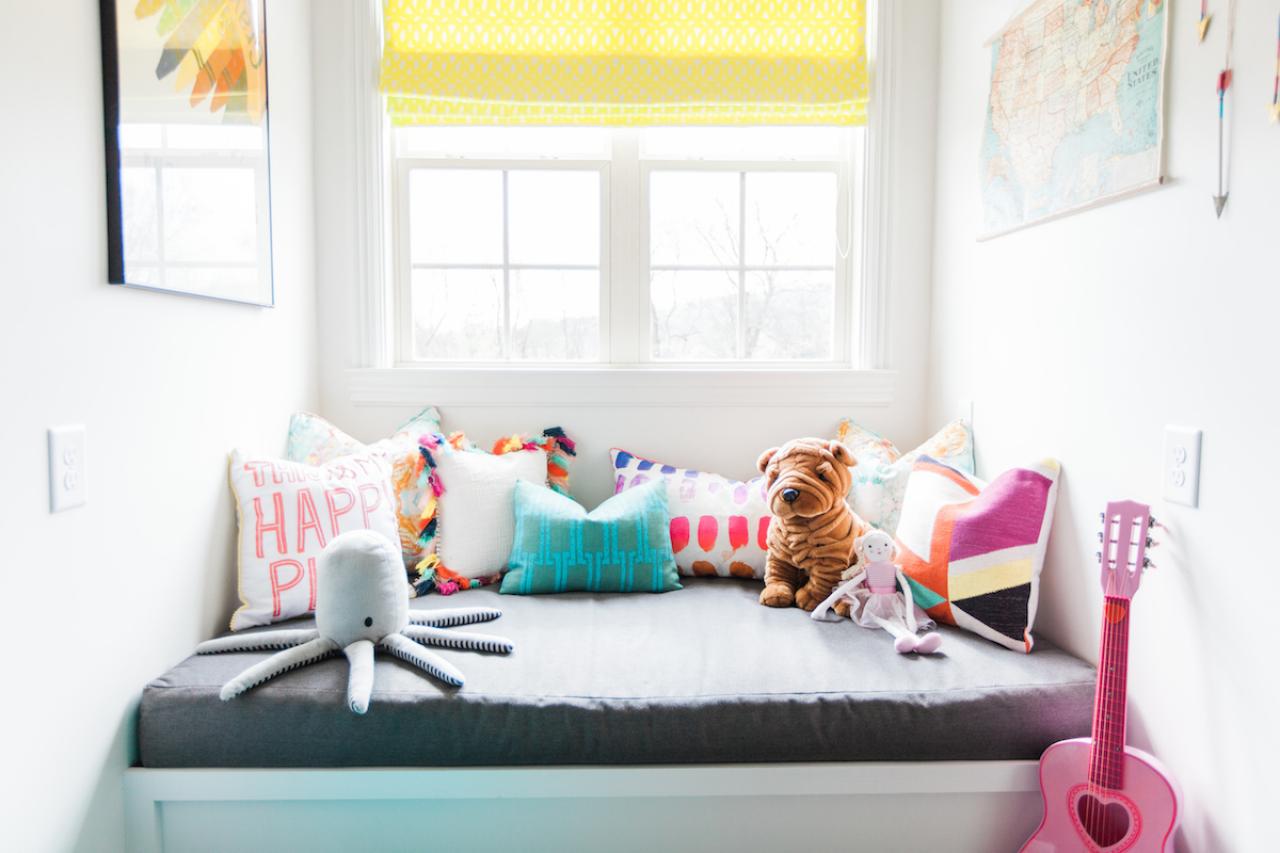 Image Source: hgtv.com
To make a ritual impact and inspire energy and calmness, you should go for warm and cool tones like reds, yellows, aqua, and blues. You can then dedicate one side of the room to create a craft or gallery wall where your kids can display their artwork and creations.
3. Attic Bedroom
Converting your attic area to incorporate an attic bedroom will bring the opportunity to create your dream bedroom. Your attic can be converted to cater to whatever you need, from creating a cozy main suite to providing a warm space for guests.
For a more modern bedroom style, you can incorporate plenty of pattern and tone that brings the room to life. For example, you can paint your walls a plain white color to bring a sense of unity. Then, add a bright-colored pillow and rug to add the ideal amount of vibrancy to the mostly white space. You can incorporate other functional furniture like a decorative console table and side hair to make the space look cozier.
Image Source: thespruce.com
Alternatively, you can choose a decorate your attic bedroom with a healthy dose of color. You can go for green-painted walls with a white ceiling making your small attic space look much bigger than it is. Pair this with wood accents and a patterned rug to allow the room to radiate earthy vibes.
4. Attic Bathroom
The unique look and feel of attic bathrooms present plenty of possibilities to try out ideas you couldn't do in normal bathrooms, like installing a sloped shower or hanging wallpaper on the ceiling.
Image Source: Shelterness.com
To achieve a class attic bathroom, you can decide to go for an all-white theme. Whether your bathroom is contemporary or historic, white features brighten up and simplify the space.
Using subway tiles in your attic bathroom will give your white-themed bathroom a classic look. A subway tile surround will be a perfect frame for the shower porthole in your attic bathroom, and the subway backsplash finishes off the look.
Image Source: hunker.com
Adding a glass panel is a fantastic way to create a simple divider for your bathroom without opting for a complete custom enclosure. Windows are often limited in attic spaces, so adding a skylight will be a great way to bring in some light.
5. Attic Craft Room
Craft rooms might not be a must in every home, but with extra room available, it can be a great idea, especially if you have kids or are an avid DIYer. To start, you will need enough storage space for all your supplies. You can designate one side of your attic for storage.
Image Source: designeatrepeat.com
Look for organizers that make the most of your supplies. For instance, you can have dowers to store your essentials and go for cups and baskets to store your colorful pens and pencils. You can also designate another side of the attic to display your artwork. To bring balance to the room, you can add a few colorful pieces of furniture and decor.
6. Attic Office
In the era of working from home, every square foot is valuable. So why not convert your attic into a quiet and peaceful space office zone?
If you have a small attic, you can consider using a simple color palette that will look crisp, chic, and utterly professional. Sometimes a monochromatic color scheme is a perfect way to add depth to your small space.
Image Source: mydomaine.com
Angeled or sloped ceilings and exposed rafters will provide an excellent backdrop for your creative workspace. In addition, you can consider adding pegboard or wall shelving units to store your essentials and display a few knick-knacks.
7. Dress Room
You can also convert your attic into a dressing room or walk-in closet. To start, you will need to construct a custom-made closet system for everything in your wardrobe. For instance, if you own more floor-length dresses than bags, consider utilizing more overhead rods than shelves.
Image Source: housing.com
With the system in place, you can add elegant lighting and a bright palette to turn your space into an equally sophisticated closet you enjoy. A modern chandelier paired with a classic floor runner encourages the eye to travel throughout the space.
Image Source: blogspot.com
To make your room more functional, you can add a vanity corner to the room. Save a part of the wall from nestling in a mirror and bench.
8. Theater Room
You can turn your attic into a cozy movie-watching nook with a little imagination. And you can decorate it out as much or as little as you want to.
The first idea to make your attic theater look and feel the part is to deck out the space. You can line up your entryway with framed movie posters, cover your ceiling with theater lights, and bring your elegant entrance together with an impressive theater sign if you want to go all out.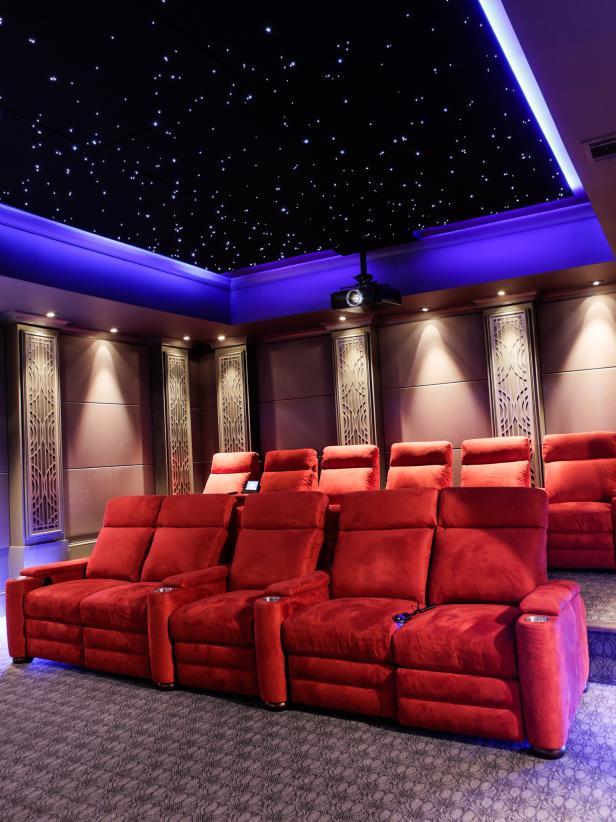 Image Source: hgtv.com
Then invest in the coziest couch you can find to enjoy the experience of lounging while you watch your favorite films. To make your theater room more interesting, you can create your own concession stand.
You can also invest in cozy finishing touches to make the room special. For instance, you can add a pillow you love clutching during high-intensity thrillers and place it on your movie-watching sofa.
How Much Does It Cost to Finish Remodeling an Attic?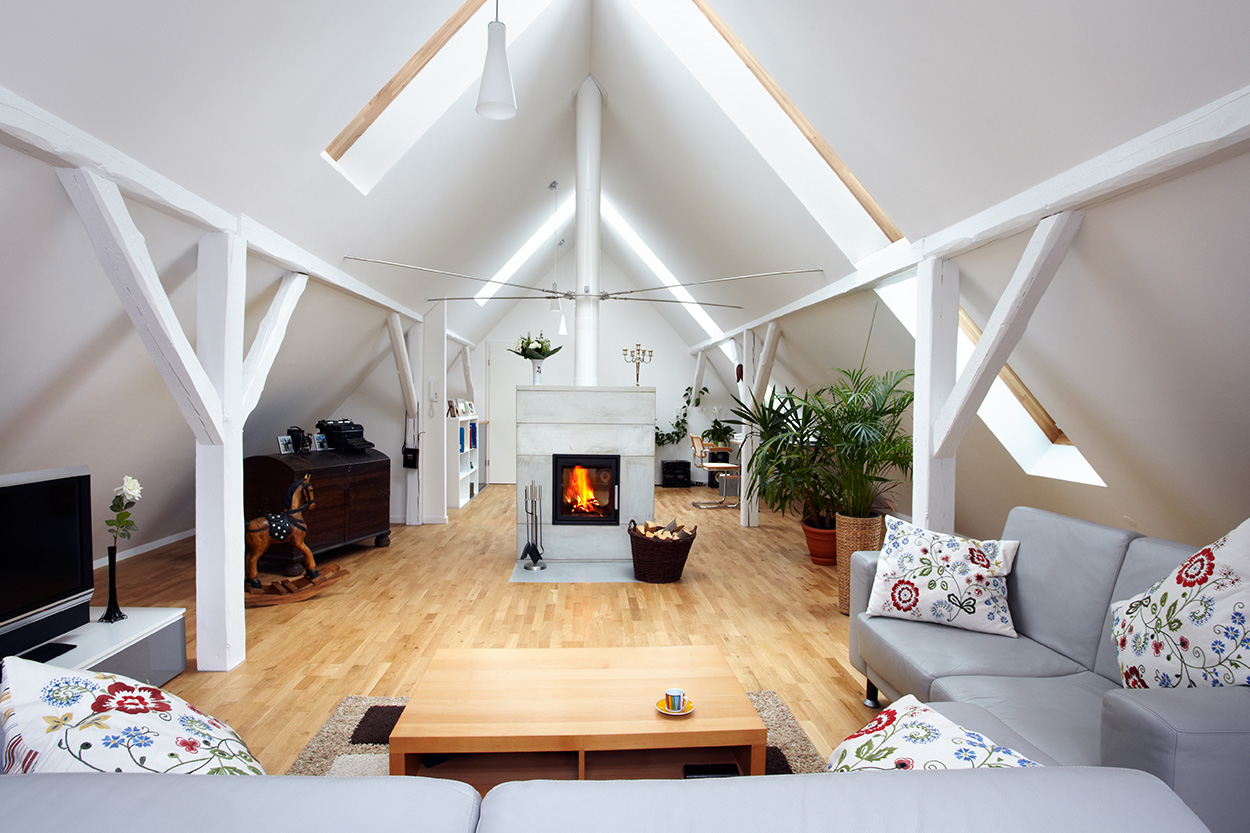 Image Source: homeandmoney.com
The price of remodeling an attic depends on a couple of factors, including the size of the attic, materials needed for the project, the state of the attic, and local labor rates in your location. For instance, if your attic already has insulation or good flooring, you will spend less than a person who needs a full attic renovation.
That said, the moderate cost to finish an attic remodel will range from $4,600 to $16,400. Typically it costs between $30 and $60 per square foot for standard tasks, including drywalling, adding insulation, and installing floors. However, if your attic needs extensive work to turn it into a living space, you can expect to spend up to $200 per square foot.
Here is a breakdown of the cost involved in remodeling your attic:
1. Permits
The typical cost of a permit for an attic conversion usually ranges between $150 to $500. Although this cost might not be necessary for some states, some require permitting for ventilation, electrical, and plumbing work.
Image Source: Pintrest.com
Additionally, you might need a permit if you plan to change your attic's structure. Even though most contractors handle permit requirements, you must check with your local permitting office beforehand to know what to expect.
2. Insulation
Image Source: ml58lemqnh9a.i.optimole.com
The cost of adding insulation will vary mostly on the type of insulation you choose, but it typically ranges between $300 and $1,700 for 1,000 square feet. However, if you need your existing insulation to be removed first, that will come at an additional cost of between $1 to $1.50 per square foot. Here are the price ranges of different types of insulations
Radiant barrier installation: $800–$3,000
Blown-in insulation: $900–$2,200
Spray foam insulation: $1,00–$3,800
Batt and roll Insulation: $1,000–$2,500
3. Flooring
Image Source: Pintrest.com
If you need to lay a subfloor in your attic, it will cost you between $500 to $600. However, if your attic floor joists are not visible, you can go ahead and install your floor. The typical cost of installing attic floors will vary based on the floor size and the type of material you choose, but it usually ranges between $200 and $6,400.
Here are the costs of some of the best attic floor choices:
Hardwood flooring: $6–$18 per square footage
Tile flooring: $4 and $25 per square foot
Vinyl flooring: $3 and $14 per square footage
Carpet flooring: $0.65 and $12 per square footage
Laminate flooring: $6 and $14 per square foot
Cork flooring: $2.50 to $11.00 per square foot
Marble flooring: $3 to $7 per square foot
4. Drywall
If your attic does not have drywall, you might need to install one before installing the walls. Typically you are likely to spend between $370 – $1,500 for drywall. However, the price will double if you need drywall for your ceiling. In addition, if you need a professional to help you install walls, you will cough up an additional $1900 to complete the job.
5. Installing Windows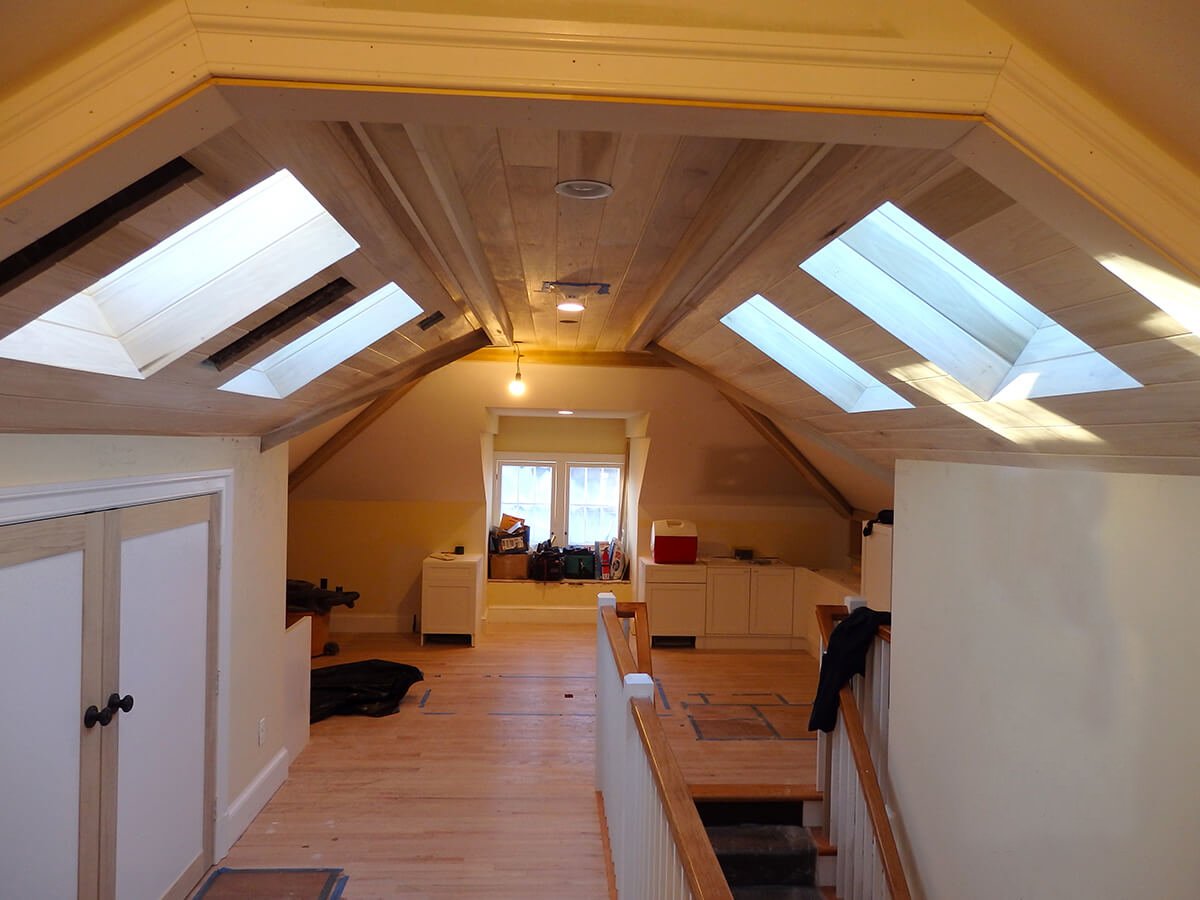 Image Source: gilday.com
The cost of adding attic windows will range between $200 to $10,000 per window. The cost range depends mostly on the type of windows you install. For instance, a ceiling window can cost up to $10,000, while skylights and corner windows will cost around $3,800 each. To get usable space and more natural light in your attic, you can install a dormer window that costs between $3,000 to $8,500. 
6. Plumbing
Plumbing costs anywhere between $1,000 to $10,000 depending on whether the rough-in is already in place, if you require new plumbing lines, and how many fixtures you need to be added. The cost might be lower if you already have proper existing plumbing in place.
Additionally, if you want to add a bathroom to finish your attic, you must hire a plumber. This will cost between $8,000 to $35,000, including the required materials and labor.
7. Electrical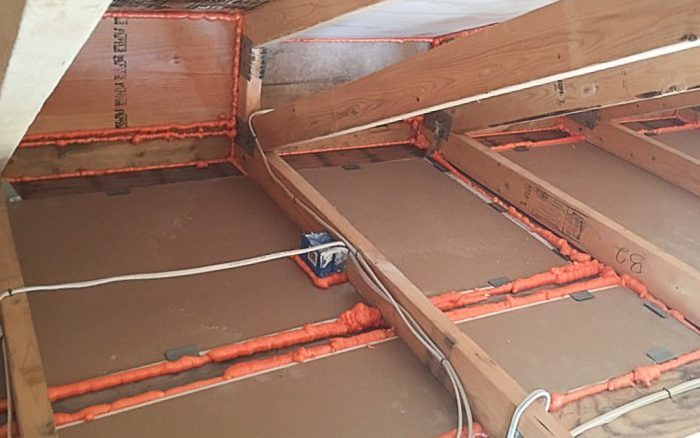 Image Source: c.dam-img.rfdcontent.com
Adding new electrics to your attic will cost between $1,000 to $3,400. This electrical price includes installing electrical wiring, which costs between $600–$2,200, installing electrical outlets, which goes for between $150–$300, and installing lighting features which are usually between $200–$850 per fixture.
8. HVAC
Adding the best HVAC system to the attic costs between $600 to $20,000, depending on the systems you want to be installed. If you want to install underfloor heating, it will cost you between $1,000 to $3,600 and for electric wall heaters, expect to pay between $600 to $1,000.
For vertical radiators, you will pay between $3,000 to $4,000, while larger suites that need to add a fireplace can cost up to $20,000. Adding ductwork and vents in your newly livable space will cost $500 to $900. Additionally, if you require adding an attic fan, which costs between $400 to $900.
Featured Image Source: thespruce.com