Barndominiums, a fast-expanding housing trend, are useful and provide significant benefits to homeowners. Thanks to the wide range of barndominium floor plans, you can build a barndo for a hobby or a business while still staying within your budget.
The floor plan assumes that a barndominium is a basic shell with exterior walls in a metal building where you only shop for styles and designs. So we got you whether you are starting to learn about the barndominium life or ready to begin the building process of your dream barndominium floor plan.
Why Barndominium Floor Plans?
Barndominium floor plans are crucial in building a new barndominium as they help you design your new home by maximizing your inside space, deciding what size of bedrooms you have, and how to set up the open area of the living room to the kitchen.
The floor plans allow you to design your own barndominium to fit your lifestyle, and they help you figure out a budget to work with. Although a barndominium's exteriors can resemble a barn with a rustic look, the floor plans of the barndominium interior are very modern.
In addition, the cost savings of building a barndominium are higher than building a stick-built timber frame home which costs $110 to $220 per square foot. Also, the timber building process is longer, making choosing the barndominium life a plus.
This article lists some of the best barndominium floor plans with pictures you can use to build your dream barndominium.
1. Open Concept Barndominium Floor Plans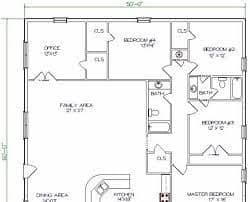 Image Credit: pinterest.com
Open plans maximize space by cutting down on separating rooms in the living, dining, and kitchen areas. With this floor plan, there is hardly any privacy, and walls are almost non-existent, allowing you to be part of what is happening in your living space while cooking in your kitchen.
2. Barndominium Floor Plan With Loft
Image Credit: pinterest.com
Depending on how they are designed, plans with lofts could be an open area that you can use as a game room, family room, craft room, and many more. These barndominium plans help maintain an open feel and don't shy away from natural light.
These homes have large barn doors and vaulted ceilings in the common areas and use the open space to feel and look larger. It may include a primary suite with a walk-in closet and an ensuite bathroom.
3. 30×40 Barndominium Floor Plans (2 Bedroom Barndominium)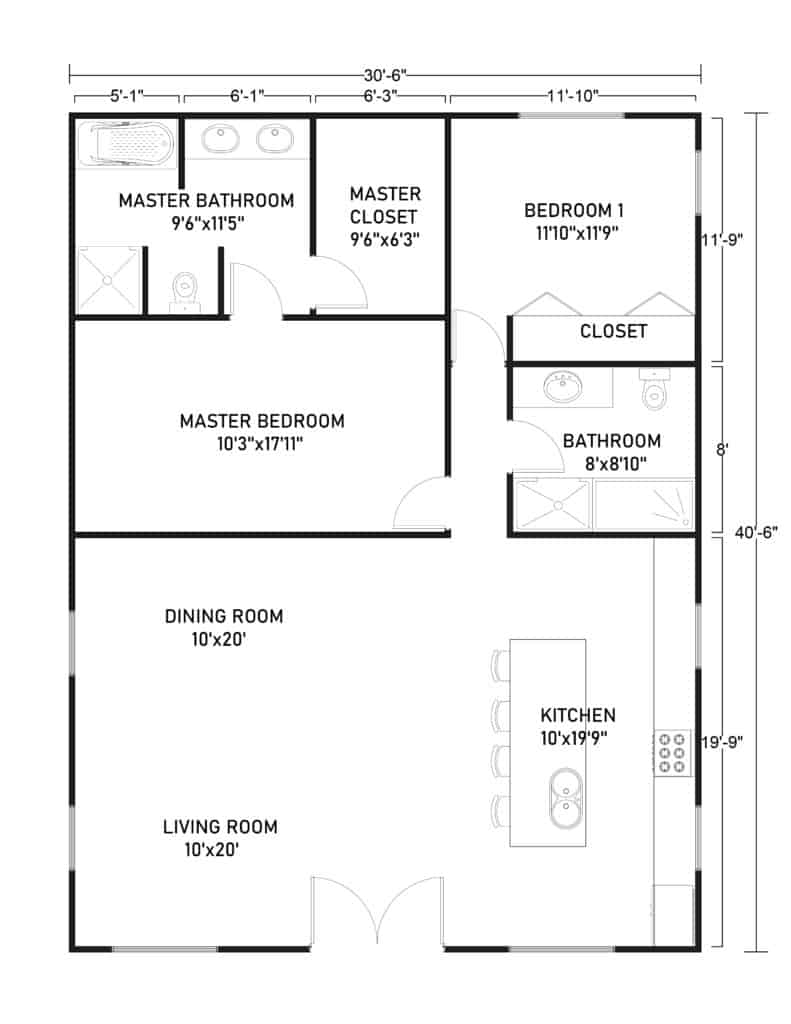 Image Credit: pinterest.com
Are you looking for a classic barndominium floor plan to offer a sanctuary for your family? This 30×40 barndominium plan allows two bathrooms, and each bedroom can be accessed from the one bedroom.
30×40 floor plan makes a dream home for most families since parents and kids don't have to get out of their bedroom to access the toilet.
4. 40×40 Barndominium Floor Plan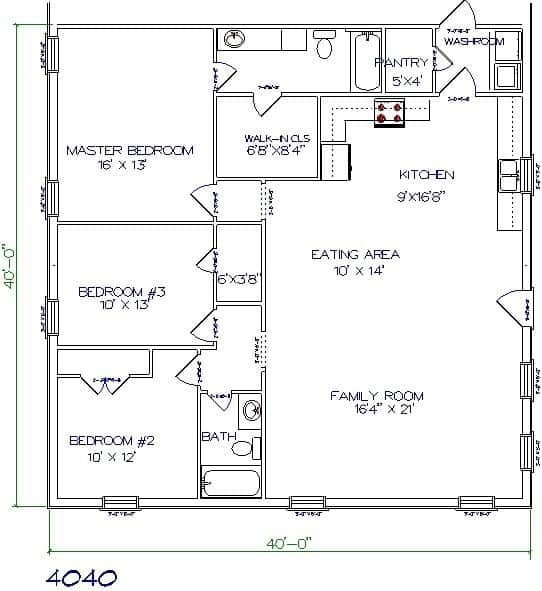 Image Credit: innovativebuildingmaterials.com
We recommend this 40×40 floor plan if you want a small barndominium for your family. It consists of a small but attractive plan to give you plenty of space to live comfortably while allowing your style to shine.
Although these barn homes are about 800 square feet, they have enough room to accommodate two bedrooms with enough space for your bedside tables, a bathroom with a vanity sink or double sinks, an open living area, and a kitchen with countertops and cabinets.
5. 40×50 Barndominium Floor Plans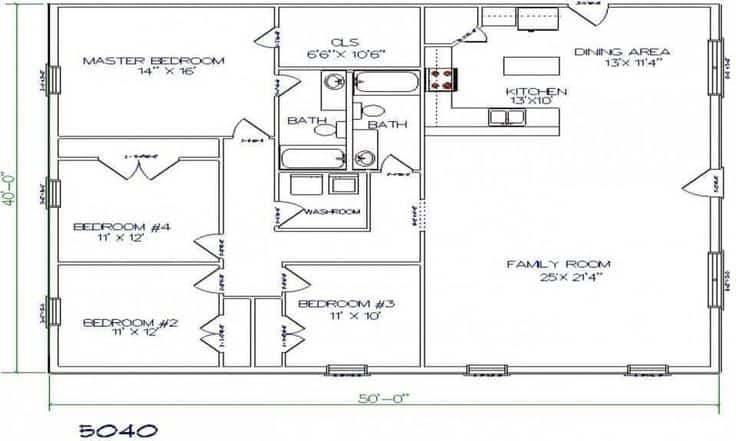 Image Credit: innovativebuildingmaterials.com
With the 2000 square feet, you will get enough space to accommodate an office and three bedrooms. In addition, two bedrooms can share bathroom access through a hallway from the living area.
However, this plan doesn't have a formal dining space but utilizes the kitchen island as a place to eat. The utility room can also be a laundry room with a half bath on its opposite side.
6. 60×60 Barndominium Floor Plans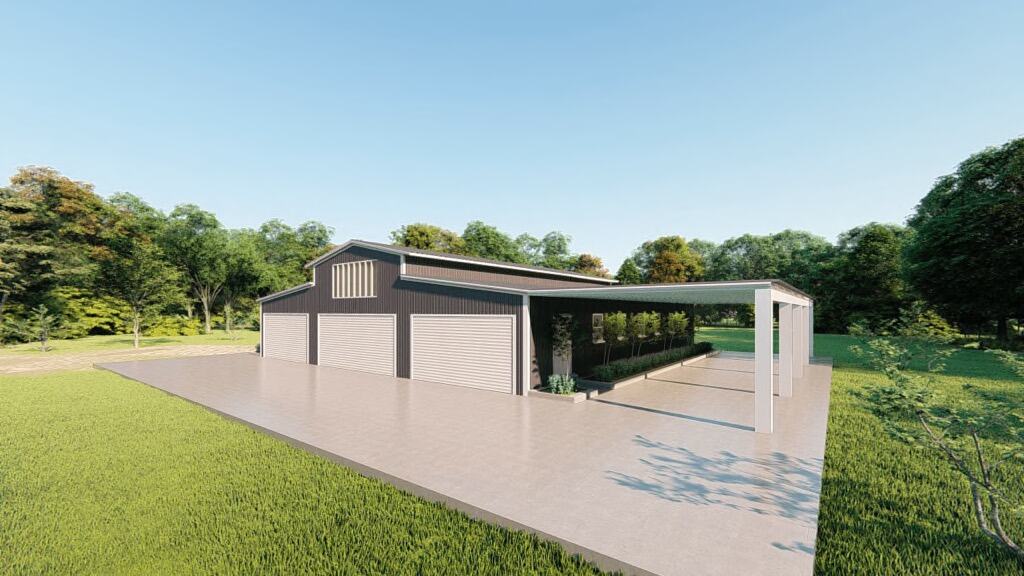 Image Credit: innovativebuildingmaterials.com
This is your best plan if many people surround you, so you need space to host large parties and big holiday gatherings. Although homes using this plan vary in design, they mostly contain three bedrooms, allowing you to accommodate guests when planning your party comfortably.
They also include one master bedroom big enough to allow an oversized bed and bedside tables and enough storage in dressers and closets. The kitchens also have abundant countertop space and cabinets. Also, the plan might feature a formal dining room with access to patio decks or doors or a casual dining area that is also a media or gaming room.
7. 3 Bedroom Barndominium Floor Plans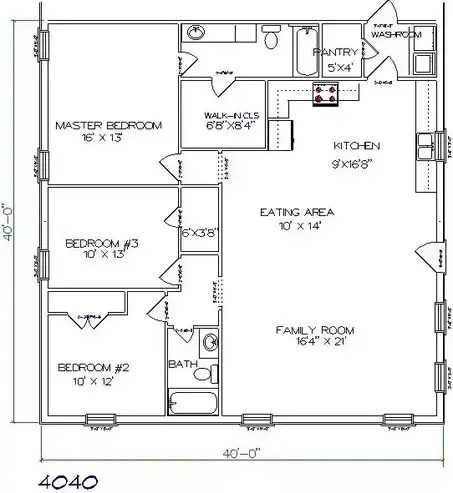 Image Credit: barndominiumgarage.com
This floor plan demonstrates how livable and open a barndominium design is. For a feeling of greater space within the barndominium, the great family room, kitchen, and dining area are completely open. Apart from the master bedroom, it has two other bedrooms, slightly smaller than the master bedroom.
8. 4 Bedroom Barndominium Floor Plans
Image Credit: flooringdesignn.blogspot.com
This one is among the best floor plans for a barndominium for a family larger than three. In addition to a kitchen, a living room, two bathrooms, and numerous other spaces, you'll get four bedrooms.
These plans are two stories; some come with a loft area that flows into the bedrooms and overlooks the main living areas.
Although you have a four-bedroom floor plan, it doesn't mean all of them to have to be used as bedrooms. Instead, you can customize your extra room as a game room, office, or guest room.
9. 5 Bedrooms Barndominium
The spacious 5-bedroom barndominium floor plan gives you a wide open space and enough privacy to accommodate large families. To avoid cramping, it has two floors, where the first floor features open living space and a kitchen area to give you a relaxed vibe as soon as you are in the barndo.
You get a laundry room, half bath, garage, and shop space when you get downstairs. Also, the dual master suites, three spacious bedrooms, and two additional full bathrooms are on the second floor.
This layout maximizes space and allows large windows in almost every room, giving your living spaces an airy and light feel. Lastly, if you don't need the five bedrooms, convert one into an office space, and the shop space can become a game room.
10. Two-Story Barndominium Floor Plans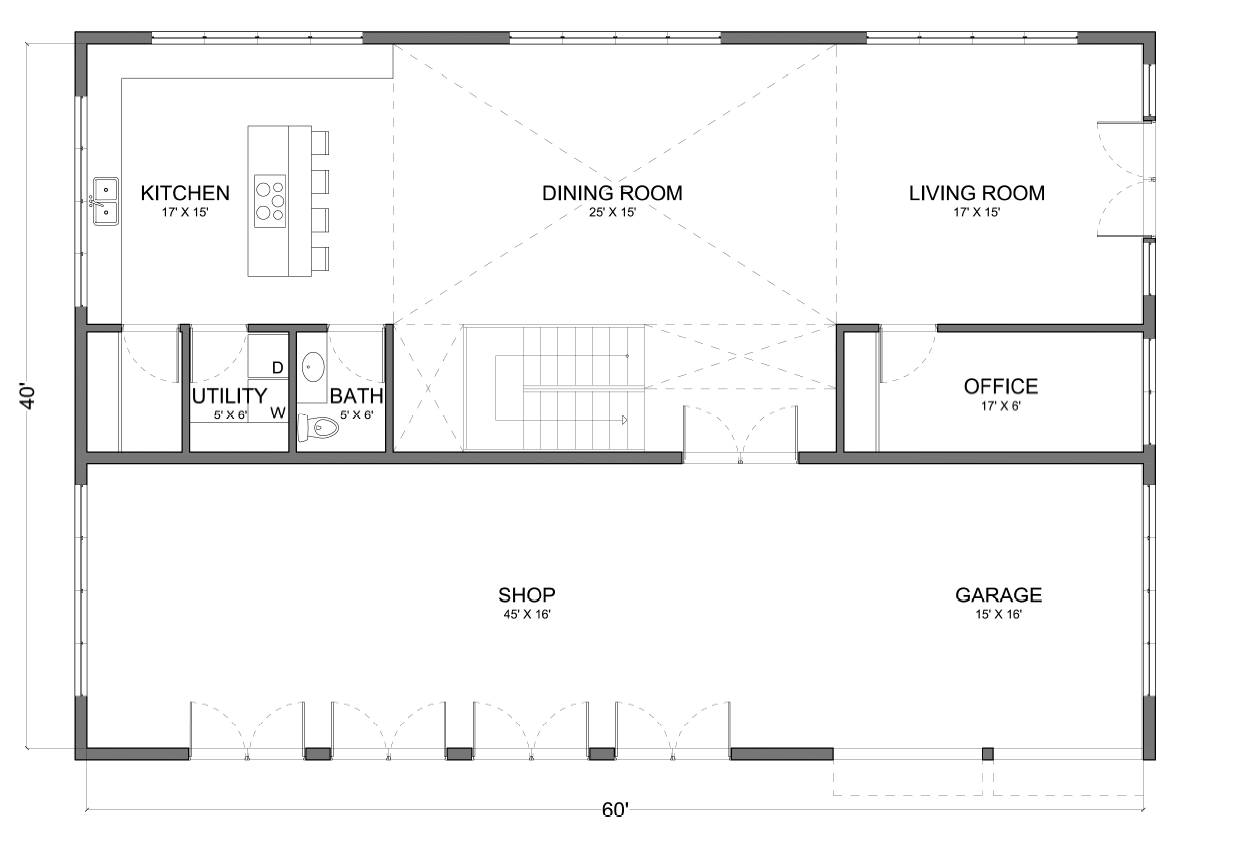 Image Credit: innovativebuildingmaterials.com
This two-story barndo plan comprises an open living area which you can access from either the garage or through the double front doors.
The first level features a kitchen and a large living space, and although there is no dining area set aside, the kitchen area is spacious enough to place a dining room in its corner. On the second level, you will see two large bedrooms, each with a bathroom.
This is a perfect plan for large families thanks to its space and since it can also leave room for a home business or to enjoy your hobbies. Lastly, there is a large family room where you can gather to play games, watch movies, or place a pool table.
11. 6 Bedroom Barndominium Floor Plans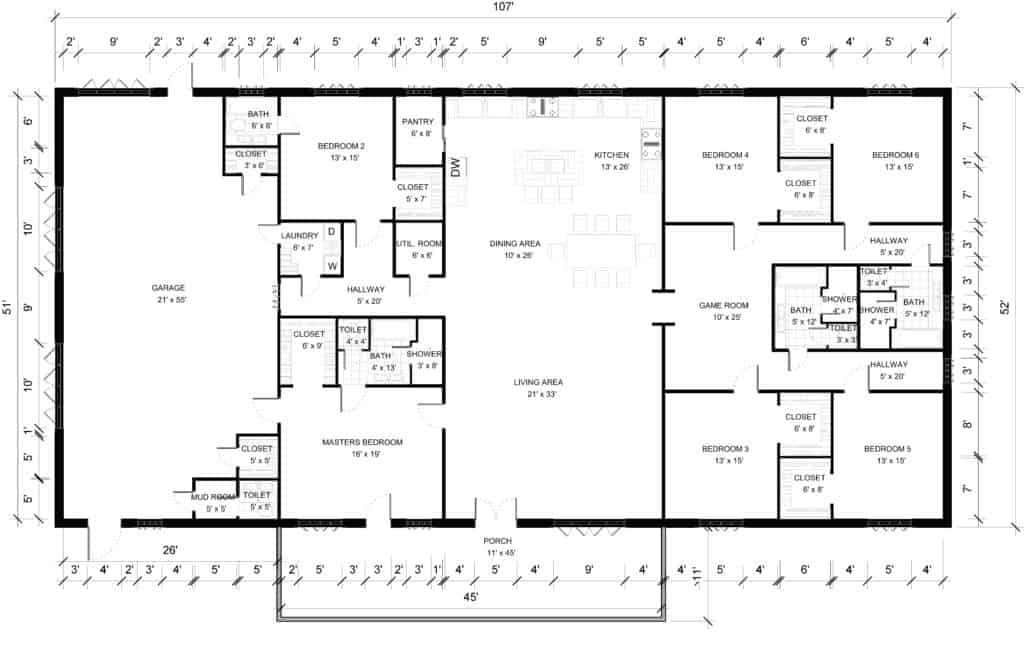 Image Credit: barndominiumlife.com
Most 6-bedroom floor plans are two levels to prevent the barndominium from appearing overly cramped with all the bedrooms, living space, and kitchen. This model is perfect for a large family since there is one master bedroom and five extra bedrooms, each with its bathroom
12. Farmhouse Style Barndominium Floor Plan
Image Credit: pinterest.com
A farmhouse floor plan comes in two levels; the first level includes a master suite with an entryway leading to the great room. The other end has a dining and kitchen area, but this plan doesn't show if there is a pantry, but you can create a custom design.
It also has a guest bathroom off the entryway, a closet, and stairs that lead to the upper-level stairs. The second level features a loft where you can check down on the first level. One side has two bedrooms that share a bathroom, and the bedroom on the other side has its bathroom.
13. Barndominium with A Shop Floor Plan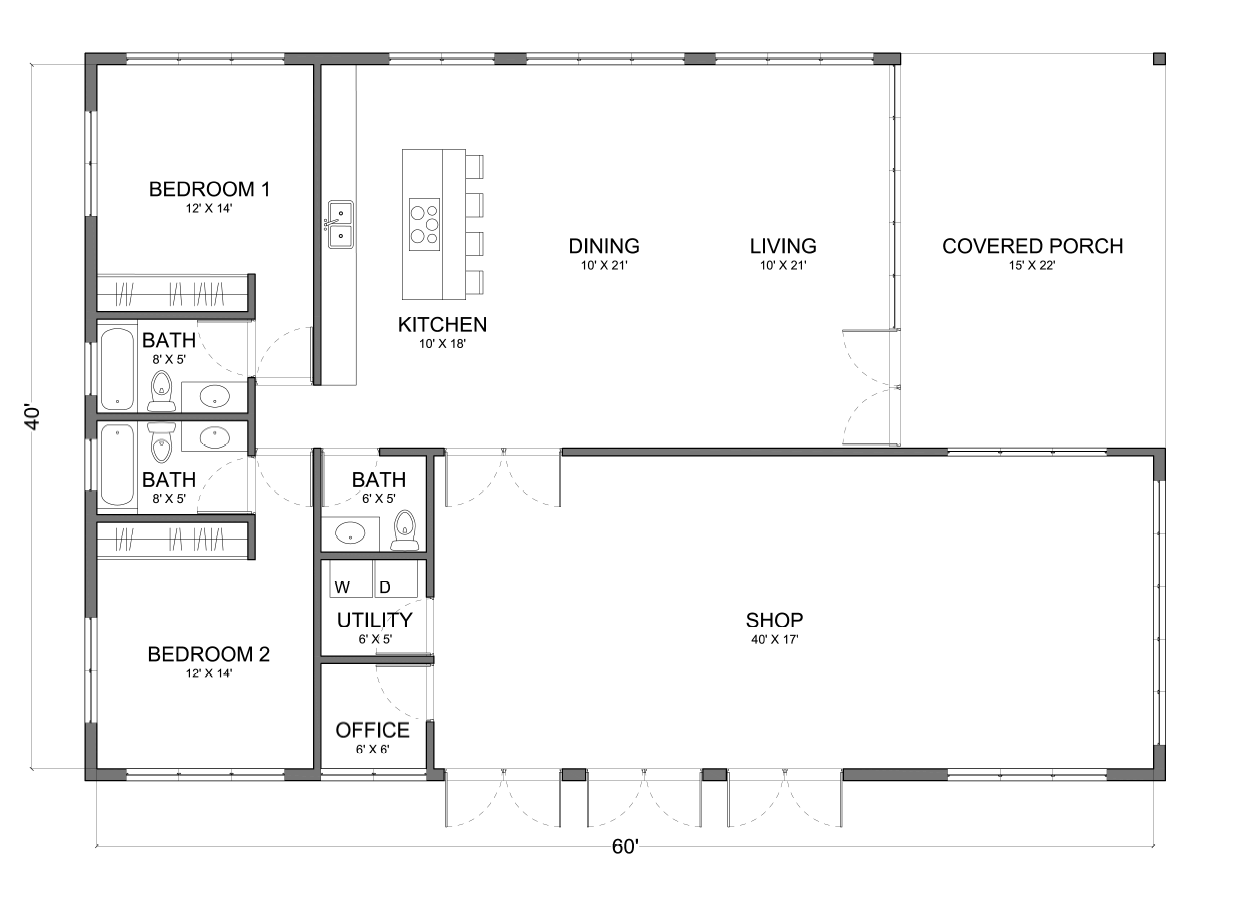 Image Credit: innovativebuildingmaterials.com
This barndominium shell plan is meant for people who play as much as they work since it includes a shop. Plans with shops can be used for various things, including as a home business or to store recreational toys.
The home plan consists of a large covered porch that enters an open living, kitchen, and dining area. Two bedrooms come with full baths attached and windows on the two walls.
Can You Draw Your Floor Plan?
Yes, you can draw your floor plans using the best floor plan software. However, looking for available barndominium floor plans with pictures online with an architect and a builder would be ideal. Doing this with professionals gives you a better idea of what your rooms will look like with furniture and shows you how much private space you will have, even if your rooms are large enough.
What are Some Standard Features of Barndominium Floor Plans?
To know what you expect from barndominium floor plans, you will need to know some of their common features. They include:
Barndominiums have wide open flows of space
Some incorporate both living quarters and workshops
Some designs resemble, and some don't resemble traditional barns
Floor plans range from 1,000 to 5,000 square feet
The large porches, balconies, and decks are common in outdoor living spaces in barndominium layouts
Floor layouts will feature multiple lofts and stories
It is common to find huge garages in barndominium floor layouts
How Much Do Barndominium Plans Cost?
Generally, a barndominium floor plan costs between $800 – $2,900 for one pdf file and a license for one building project. However, the price varies depending on different factors, including the sets or copies of plans, the format of the plan (PDF vs. CAD software files), and the license agreement, which can either be single use or unlimited usage.
All in all, the construction cost of barndominiums is lower, but there are things you should consider to make the floor plans different from other house plans. Some key considerations include:
Entryway design
Exterior wall material
Wraparound porch
Exterior design elements
Vaulted Ceilings
Garage Placement
Gambrel roof
Window placement
Factors to Consider When Choosing the Best Floor Plan?
1. Number of Bedrooms
For most floor plans, the number of bedrooms is one of the most significant factors to consider when making a choice. Whatever floor plan you opt for, you should ensure you have enough bedrooms to accommodate your family or the one you plan to have in the future.
Some may also want an extra bedroom to accommodate their guests. the barndominium is a shell that allows you to get the freedom to design your floor plan as you want.
2. Number of Windows
When choosing your ideal floor plan, you will want to consider how many windows you want every room to have and where you want the windows to be. To make this decision, you will also need to consider the size of the windows, like the floor-to-ceiling in the living area.
3. Type of Doors
This is another major consideration as there are many types of doors, like sliding barn doors on bathrooms or sliding glass doors on the master suite heading to the patio. With the wide range of house plans, you can design a door yourself, get a builder to design, or choose a floor plan with one.
4. Local Building Codes
Lastly, when designing your barndominium plans, you must know your local building codes. These regulations inform you how to make your barndominium adhere to your local area's rules. Some of them include
How to make your barndominium fire resistant
How many bedrooms can you have per square footage
How many windows should be in each bedroom
How tall can your building be
How many safe exits should you have
How wide should your hallways be
Height of a light switch
The structural integrity, ventilation, construction materials
Conclusion
Whether you are looking for a floor plan with extra bedrooms, a tiny house plan, a shop, or a dedicated office space, there is something on or list. When it comes to the barndominium cost of building, it is most varied, but on average, it costs about $30- $40 per square foot to build. We hope the above barndominium floor plans will help you find the best home for your needs.
We also covered what you need to know before you choose a barndominium floor plan, and now, it's time to decide the best floor plan for your needs.
Image Credit: homestratosphere.com